Yushu Tibetan Autonomous Prefecture, whose capital is Yushu City, is one of the eight prefecture level administrative regions in Qinghai. It is the first Ethnic Autonomous Prefecture in Qinghai Province and the second one in China. Yushu means "historical site" in Tibetan and there are indeed many historical sites.
Bordering Tibet in the south, with an altitude of 4493.4 m, Yushu has unique plateau natural landscape and Tibetan folk customs. Besides, it is where Yangtze River, Yellow River and Lancang River, three most important rivers in China originate. The special geographic environment endows Yushu with rich plant resources and make it the habitat of many rare animals. It is really an unforgettable experience to see the scenery and animals in person.
Why Visit Yushu:
Unparalleled Beauty of National Nature Reserves - Yushu is home to three national nature reserves, which are Hoh Xil, Sanjiangyuan, and Longbaotan. They all remain their original beauty with rivers, mountains, grasslands, and form a friendly ecological environment where plants and animals co-exist in harmony.
Long History & Buddhist Culture - Princess Wencheng Temple witnessed the past between Yushu and the Tang Dynasty (A.D. 618-970) and the over 2 billion stones written with Buddhist mantras in Jianan Mani Wall shows the belief of the locals in Buddhism. 
Distinctive Tibetan Customs and Festivals - Yushu belongs to Kangba Tibetan area. The customs and traditions are well preserved. During festivals such as the Tibetan New Year and Horse Racing Festival, the locals will dress up and attend many Tibetan-featured activities, which is also a special experience for tourists.
Accessible with Flights from Beijing, Xian, Chengdu, etc. - Yushu operates direct flights from Xining (1h20min), Beijing (4.5h), Chengdu (1h40min), Xian (3.5h) and Lhasa (1.5h), which makes this remote region much easily to reach.
...
Yushu Attractions & Things to Do
Yushu is a place where you can get both natural and cultural explorations. Hoh Xil, though located a little far, is a fascinating nature reserve that you will not regret visiting. Besides, the featured attractions telling you the past and customs of the mysterious Yushu are also worth an in-septh exploration. Check the best must-visits to plan your Yushu itinerary.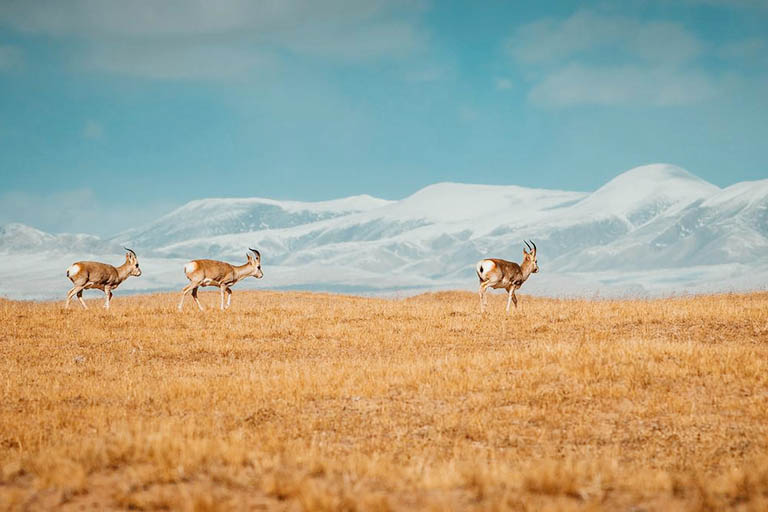 Hoh Xil Nature Reserve
Hoh Xil (可可西里自然保护区) is one of the best-preserved areas for original environment. It is also one of the nature reserves built in China with large area, high altitude and rich wildlife resources. Hoh Xil is known as the "forbidden zone of life" because of its cold climate and harsh natural conditions. To protect the reserve, tourists are not allowed to go deep in the scenic area but you can appreciate its beauty on the highway nearby.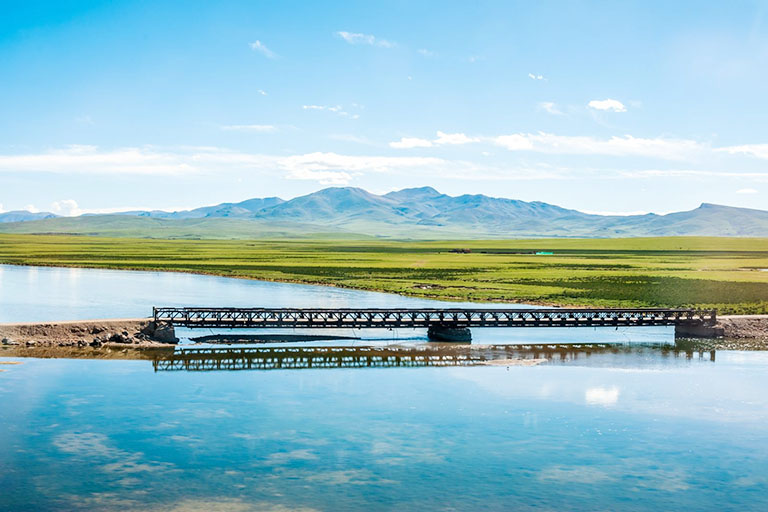 Sanjiangyuan Nature Reserve
The total area of Sanjiangyuan Nature Reserve (三江源自然保护区) is more than 316,000 square kilometers. It is the headstream of the Yangtze River, Yellow River and Lancang River, which owns it the title of "China water tower". The reserve boasts of high-altitude wetlands, with an average altitude of about 4000 meters, and well-reserved ecological environment with 9 vegetation types and 69 species of national key protected animals.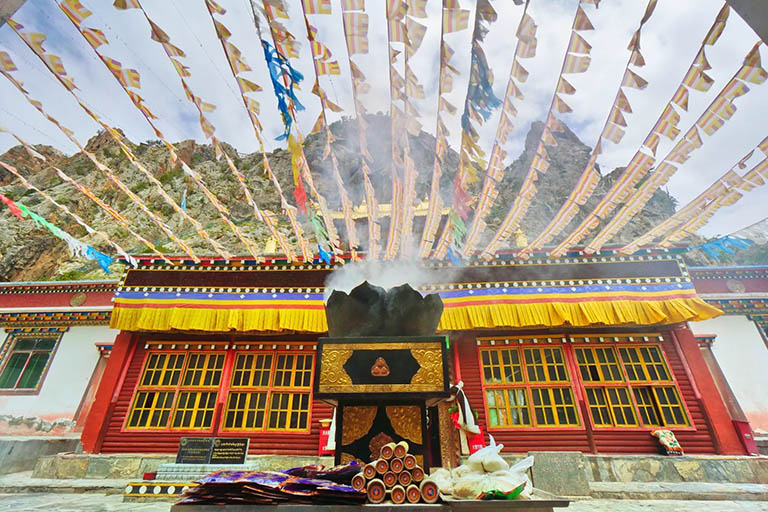 Princess Wencheng Temple
Princess Wencheng Temple (文成公主庙) is a magnificent and precious historical and cultural relic left by Princess Wencheng when she came to Tibet in AD 641 in the Tang Dynasty. After Princess Wencheng left, people here made statues on the wall according to the portrait of the princess and later built a temple to commemorate her. The temple has become a symbol of unity between the Tibetan and the Han people.
Jiegu Monastery
Jiegu Monastery (结古寺) is famous in Tibetan areas of China for its magnificent architecture, numerous monks, and rich cultural relics. The whole temple is built on a ridge and looks like a multi-storey pavilion. The monastery has been rebuilt after it was destroyed in the earthquake in 2010. Though only 1.5 km from the town, it still takes some efforts to walk the uphill road in such a high-altitude place.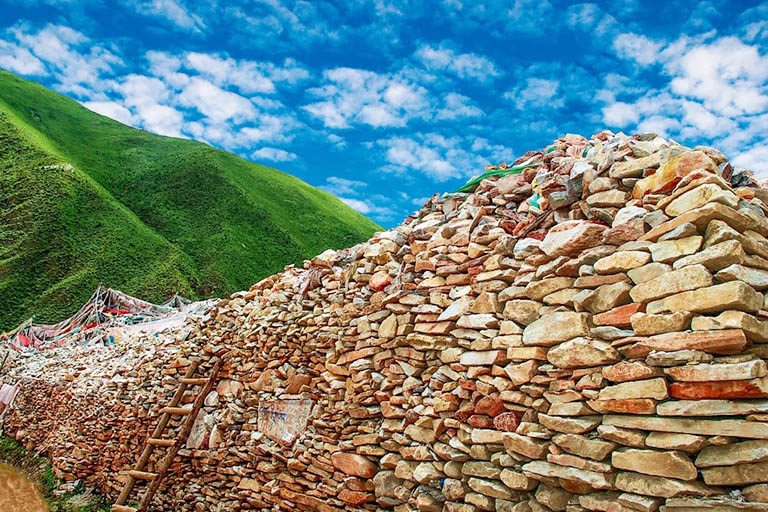 Seng-ze Gyanak Mani Wall
Seng-ze Gyanak Mani Wall (嘉那玛尼石经城) or Jiana Mani Wall is piles of stones with Buddhist mantras carved or painted on them. It is of great religious importance to the locals. The wall is now 283 meters long, 74 meters wide and 2.5 meters high with more than 2 billion mani stones. It is the largest mani wall in the world, which covers an area larger than a football field. Prayer flags are everywhere to see, and the red pagoda stands in the center, sacred and solemn.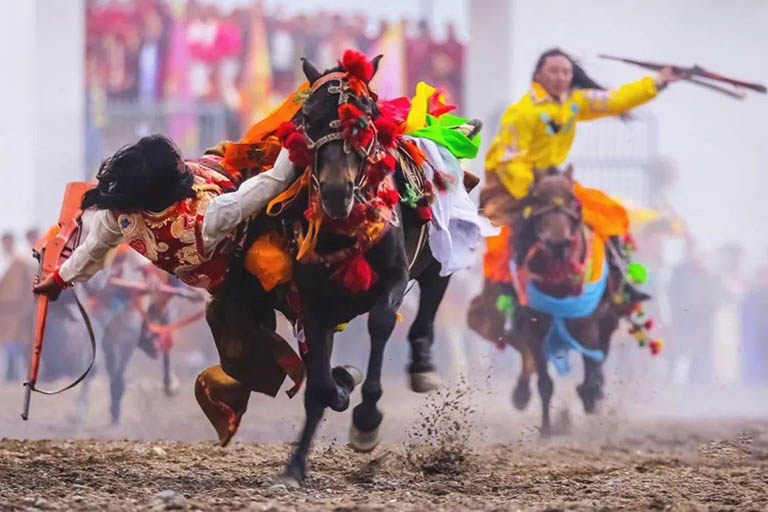 Yushu Horse Racing Festival
Horse Racing Festival (玉树赛马节) can date back to Tubo Period (A.D. 633-842). It is usually held in late July with many activities such as singing and dancing performance and tug-of-war apart from the horse racing. During the festival, the grasslands are covered by tents and locals will dress in traditional costumes to watch or take part in the performances. Hotels need to be booked in advance if you are traveling Yushu in this period.
Yushu Weather & Temperature - Best Time to Go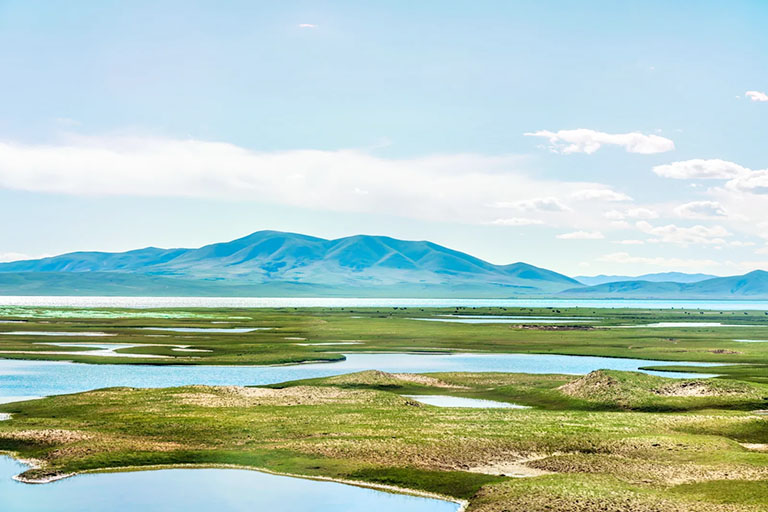 Yushu has a typical alpine climate with high altitude, complex terrain, and harsh environment. There are no distinctive 4 seasons but more like the difference between cold season and warm season. Generally speaking, May to October belongs to the warm season and the others are cold season. The annual average temperature is about 3 ℃, with the lowest temperature of - 27 ℃ in January and the highest temperature of 28 ℃ in July or August. The annual average precipitation is 486 mm, most of which concentrates in July and August. Yushu has long hours of sunshine with many sunny days and strong ultraviolet rays. The annual sunshine hour is about 2500-2700 hours.
The best time to visit Yushu is from May to October, especially in July and August when the trees and grasslands all turn vibrant green and there is a big chance to encounter some local festivals.
Tips: Yushu has strong sunlight and is always cold at night, bring extra layers to keep yourself warm and sunblock clothes, sunhat, sunglasses, sunscreen against strong ultra-violet radiation.
Yushu Transportation
▶ Get to Yushu
Yushu has no railway station but has an airport connecting several cities in China. You can fly to Yushu directly or get to Xining first (Xining has more flights with major cities in China) and then take a flight or car to Yushu.
Useful Link: How to Get to Xining >
By air: Yushu Batang Airport (IATA:YUS 玉树巴塘机场) is about 22 km, 30 minutes' drive from Yushu. It operates direct flights between Xining (1h20min), Beijing (4.5h), Chengdu (1h40min), Xian (3.5h) and Lhasa (1.5h). Airport shuttle bus is available and is scheduled according to the arrival time of the flights. You can also take a taxi to Yushu.
By bus: Xining Bus Station (next to Xining Railway Station) operates over 10 daily buses to Yushu through national highway 214, which is in good road condition. But it is a very long journey of about 11.5 hours, quite challenging for most people.
• Xining Bus Station (西宁汽车客运中心) Address: No.1 Jianguo Street, Chengdong District, Xining City 西宁市城东区建国大街1号
• Yushu Bus Station (玉树汽车站) Address: National Highway 214, Yushu City, ushu Tibetan Autonomous Prefecture, Qinghai Province 青海省玉树藏族自治州玉树市G214
▶ Get Around Yushu
The public transportation such as bus is not very convenient in Yushu. To travel around the main attractions such as Princess Wencheng Temple and Jiegu Monastery, you can take a taxi or charter a car. For further attractions such as Hoh Xil Nature Reserve, charting a car is a must for independent travelers.
By Private Car - Top Recommended: Because Yushu is located in a remote region and main attractions are far away from each other, traveling with a private vehicle and a local guide is quite helpful. There are some local buses, but they are very inconvenient for travelers. To better acclimatize yourself to the altitude and get a better travel experience, it's highly advised to get around Yushu by private car. Please feel free to contact us for transportation help.
Yushu Accommodation: Where to Stay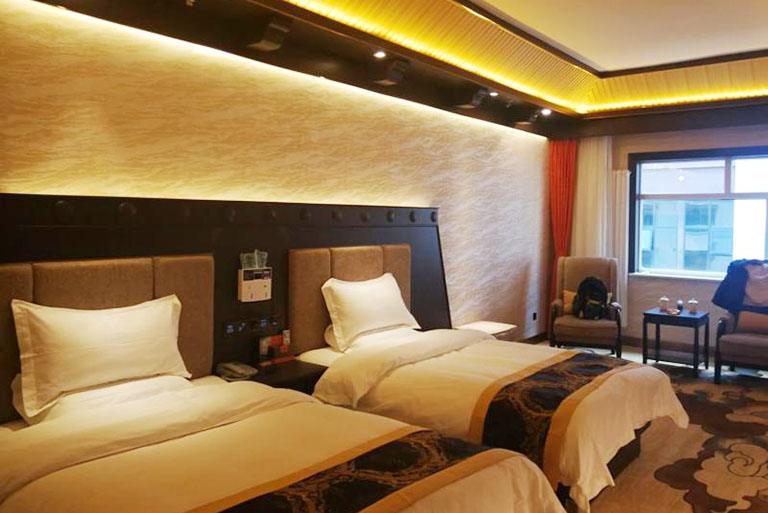 Most hotels in Yushu gather in Qionglong Road (琼龙路), Jiegu Avenue (结古大道), and Zaqu South Road (杂曲南路). The accommodation condition is not as good as it in other cities like Beijing or Shanghai, but still, there are several 3-star hotels where you can have a comfortable stay. Other 2-star hotels and homestays are also available but they may only provide basic accommodation facilities. The price varies a lot in summer and winter, but in most cases, it is between CNY 100-500 for a standard room.
Recommend Hotels in Yushu: Yushu Sanjiangyuan Hotel (玉树三江之源大酒店 ★★★) Western Airport Aviation Hotel (西港航空酒店 ★★★), Shand Nima Grand Hotel (玉树香德尼玛大酒店 ★★★)
Useful Yushu Travel Maps
Yushu is a less traveled destination compared with other cities. Here we provide some travel maps of Yushu to help you know its location and major attractions. You can click to enlarge the maps to get more details for planning your trip. Moreover, these updated maps are free to download.
Other Popular Destinations in Qinghai
Located on Qinghai-Tibet Plateau, Qinghai Province not only creates tremendous natural wodners like crystal blue salt lakes, magnificent Yardan landforms, majestic mountains, vast grasslands and precious nature reserves, but also presents unique culture of diverse ethnic minorities. Besides Yushu, the following are four highly-praised destinations tourists love to visit. You can pick one or more for an in-depth exploration of the natural and cultural sepctacles of Qinghai.
Other Popular Destinations in Western China
Though far away from the eastern and central developed cities, northwestern China is a beloved dream land for tourists to trace back to the ancient Silk Road and discover less-tourist lanscape and experience the diverse minority culture. As one of the birthplace of many ancient Chinese civilizations, you can also find time-honored relics in this region. Here are four best places selected for you to enjoy the stunning plateau scenery, vast deserts and glorious culture and history, make a special, meaningful and memorable adventure. You can easily travel to these charming places from Xining. (Check all destinations in China.)
Plan your Qinghai Yushu Tour
Yushu is usually visited by tourists who want to make an in-depth adventure of Qinghai. The most popular and classic itinerary is to spend 1 to 2 days visiting the attractions in or near Yushu downtown such as Princess Wencheng Temple, Jiegu Monastery, and Jiana Mani Wall, then take another day to Hoh Xil Nature Reserve. If you start your Qinghai tour from Xining, you can take 1 day to explore the Kumbum Monastery, Dongguan Mosque of Xining and make a day trip to the beautiful Qinghai Lake and another day tour in Chaka Salt Lake and then fly or drive to Yushu. After your Yushu trip, you can continue a plateau journey to Tibet, where you may need 3 to 4 days to discover the holy Lhasa and more days to visit Shigatse, Mount Everest, Mount Kailash, etc.
The following are our most popular Qinghai tours covering the best highlights, you can choose from a favorite one according to your schedule and interest or contact us to customize a special one on your own.
Recommended Tours
MORE