Rongwo Monastery - An Ancient Tibetan Buddhist Monastery
Rongwo Monastery (隆务寺) is located at the foot of the West Mountain of Rongwo Town, the capital of Huangnan Tibetan Autonomous Prefecture in Qinghai Province. It has been the spiritual center of local people for over 600 years and is the birthplace of Regong art. It is not as crowded as Kumbum Monastery in Xining or as desolate as other small temples. In Amdo area, Rongwo Monastery's scale, status and influence are second only to Labrang Temple in Gansu Province and Kumbum Monastery in Qinghai Province.
History of Rongwo Monastery
Rongwo Monastery was firstly built in A.D. 1310 in the Dade period of the Yuan Dynasty and rebuilt in 1370 in the Ming Dynasty. After that, it has been expanded and repaired many times. At first the lamas of the Rongwo Monastery belonged to the Sykya Sect of Tibetan Buddhism, but later they converted to the Gelug Sect and turned their monastery into one of the biggest Gelug monasteries in Qinghai. The central court of Yuan and the following Ming and Qing dynasties all underscored Rongwo, which had trained many eminent lamas. In 1958, the monastery first opened to public. The monastery combines Tibetan and Han Chinese architectural styles, and serves as an important religious and cultural center. It now has three academic institutes and more than 500 lamas. Shartsang Kaldan Gyatso (1607-1677) is recognized as the 1st re-incarnation of Rongwo Samten Rinpoche and the current 8th re-incarnation was recognized in October 1991.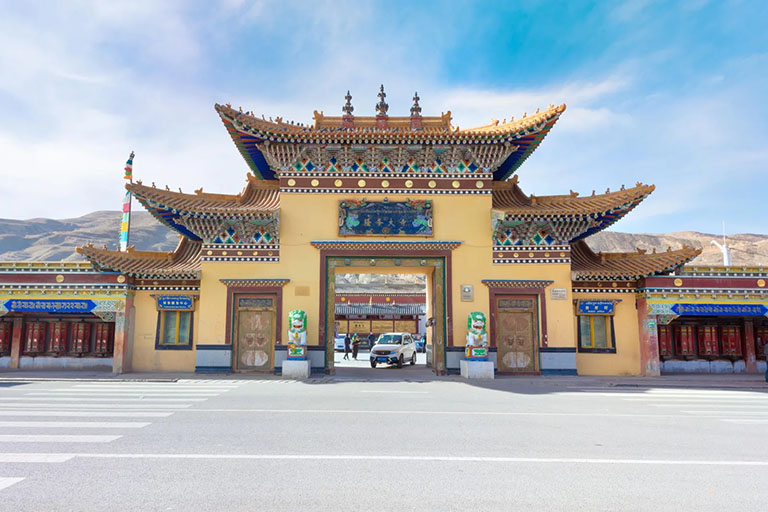 Entrance of Rongwo Monastery
Top Attractions & Things to Do in Rongwo Monastery
Marvel at the 11m Tall Golden Statue of Tsongkhapa
In the open land of Rongwo Monastery stands a golden statue of Tsongkhapa (1357-1419, founder of the Gelug Sect of Tibetan Buddhism). The statue is 11 meters high and with a pedestal of 26 meters in perimeter. The lotus seat is inlaid with gold and jade treasures. The whole body of the statue is stained with gold powder, looking brilliant and like the Buddha is shedding light upon the believers. You can always see people put there palms together devoutly and pray in front of the Buddha for health, wealth, good luck or answering the unsolved puzzles in their minds.
Admire Cluster of Tibetan Buddhist Buildings
Rongwo Monastery, like other Tibetan Buddhist temples, is made up of many scattered buildings. The Palace of Shartsang (夏日仓行宫) is the highest building in the monastery, showing the respect of Shartsang, the revered religious leader in Tongren. Main Assembly Hall (大经堂), where the monks chant sutras and hold grand activities, is the essence of the various buildings. It's located in the center of the temple with an area of more than 1700 square meters and a perimeter of 170 meters. Inside the building, there are 18 giant pillars, 146 short pillars, and dozens of statues of Sakyamuni. Another building you can not miss is the Hall of Maitreya Buddha (弥勒佛殿). It may not be noticeable, but important. The Maitreya Buddha worshipped there was built in 1742. The once grand hall was destroyed and repaired later, now people can only find the past grandeur through the solemn Buddha.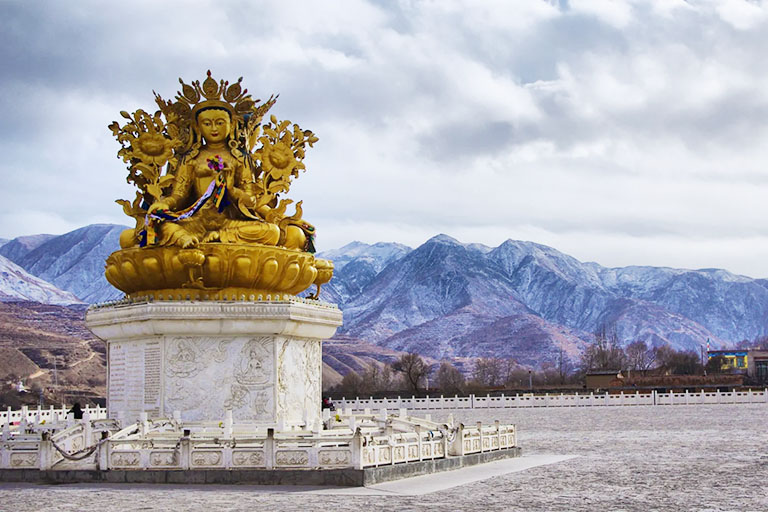 Golden Statue of Tsongkhapa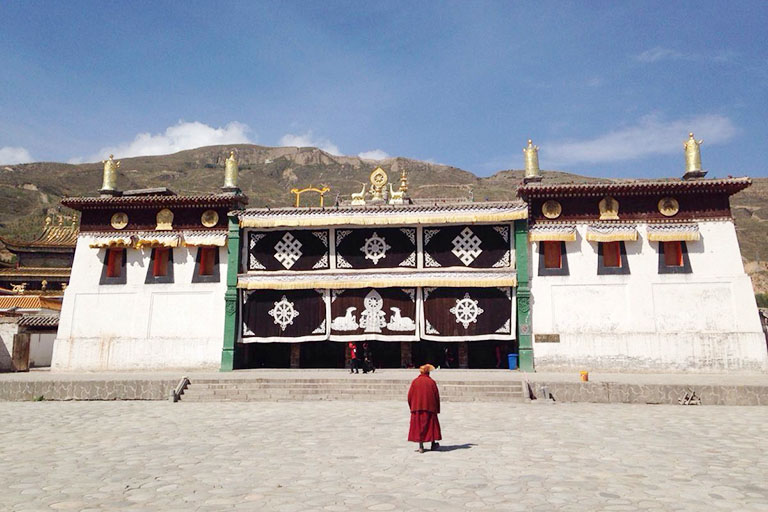 Main Assembly Hall
Appreciate Distinctive Regong Art
Regong art, the traditional folk art of Tongren County, Qinghai Province, is one of the national intangible cultural heritages. It originated in the Tibetan area of Huangnan in Qinghai in the 13th century, and developed with the prosperity of Rongwo Monastery. Regong Art mainly includes Thangka, murals, embroidery, sculpture and other painting arts. It usually tells the story of Buddha in Tibetan Buddhism, Tibetan historical figures and myths, legends, epics and so on. In Rongwo Monastery, you can see outstanding representatives of Regong art in the buildings. For example, in the Main Assembly Hall, there is a mural of all the mountain gods (25 in total) that Regong people believe in.
Take Part in Buddhist Activities
The monks, usually 2 as a pair, one sitting on the ground and the other standing, will debate over Buddhism every afternoon in the Main Assembly Hall, which is an unforgettable scene for tourists who have never seen that before. Besides, grand religious activities are often held in the temple, and the Amdo Tibetan Opera cultivated from Rongwo Monastery is also performed from time to time. There are various large-scale folk activities in villages near Rongwo town all year round. The grandest one might be the New Year Prayer Fair (新年祈福法会) which is usually held from the 7th to 16th day of the first lunar month. Tourists coming to Rongwo can often appreciate the charm of "Wonderland of the Western Regions", written by Ming Emperor Xizong in 1626.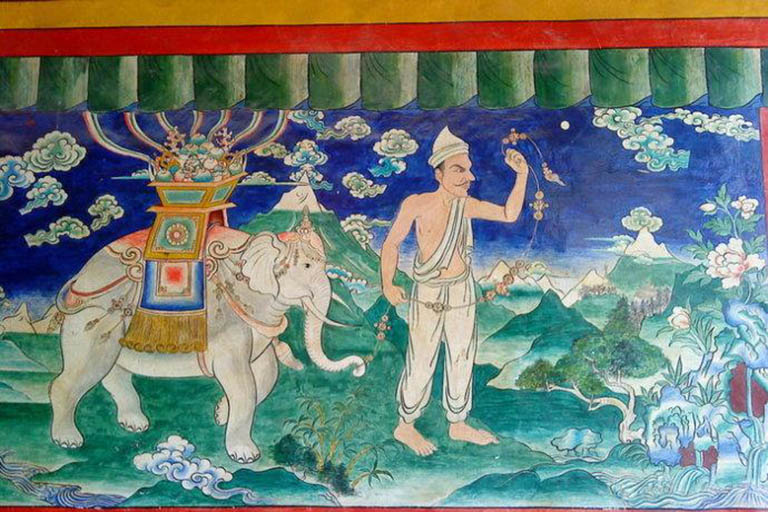 Mural in Rongwo Monastery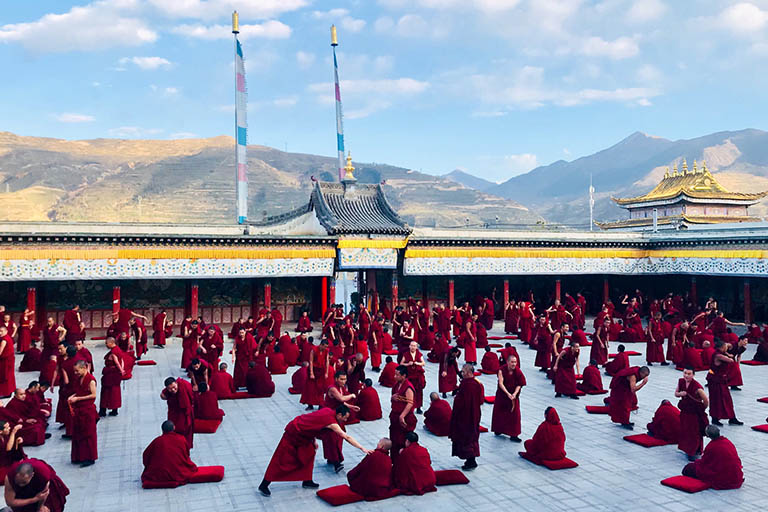 Buddhism Debate in Rongwo Monastery
How to Get to Rongwo Monastery
Rongwo Monastery is located in Tongren County, Huangnan Tibetan Autonomous Prefecture, Qinghai. To get to Rongwo Monastery, you need to get to Xining first. Rongwo Monastery is about:
170 km, 2.5 hours' drive from Xining City;
310 km, 4.5 hours' drive from Qinghai Lake;
450 km, 6 hours' drive from Chaka Salt Lake;
90 km, 1.5 hours' drive from Kanbula National Forest Park;
160 km, 2.5 hours' drive from Xining Railway Station;
140 km, 2 hours 10 minutes' drive from Xining Caojiabao International Airport;
Step 1: Get to Xining First
As the capital of Qinghai Province, Xining acts as a transfer hub in northwestern China and can be reached easily. It is available to take a flight to Xining from Beijing (about 2.5 hours), Shanghai (about 3.5 hours), Xian (about 2 hours 45 minutes), Chengdu (1 hour 40 minutes), Guangzhou (3 hours 15 minutes), as well as many other major cities or provincial capitals. Located in Lanzhou-Xinjiang High Speed Rail, travelers can take a high speed train to Xining from Lanzhou, Zhangye, Jiuquan, Jiayuguan, Turpan and Urumqi. Normal trains are also accessible to Xining from Beijing, Xian, Shanghai, Chengdu, Guangzhou, etc. but they take longer time. Read more about Xining Transportation >
Step 2: Xining to Rongwo Monastery Transfer
There are a dozen of buses a day running from Xining Passenger Transportation Center (西宁客运中心), which is next to Xining Railway Station, to Tongren, which is only 2 km from Rongwo Monastery. The bus usually runs 3 hours but for the specific schedule, you need to find out at the bus station because it may change sometimes.
Travel with China Discovery: If you want to get rid of hustle of public transportation and troublesome navigation, you can book a private tour package which covers sightseeing, dining and transfer from us. Our knowledgeable local tour guide and skilled driver will escort you to Rongwo Monastery with speed and convenience, and take care of all the details. You just need to focus on sightseeing. Contact us to customize a worry-free Rongwo Monastery tour package now!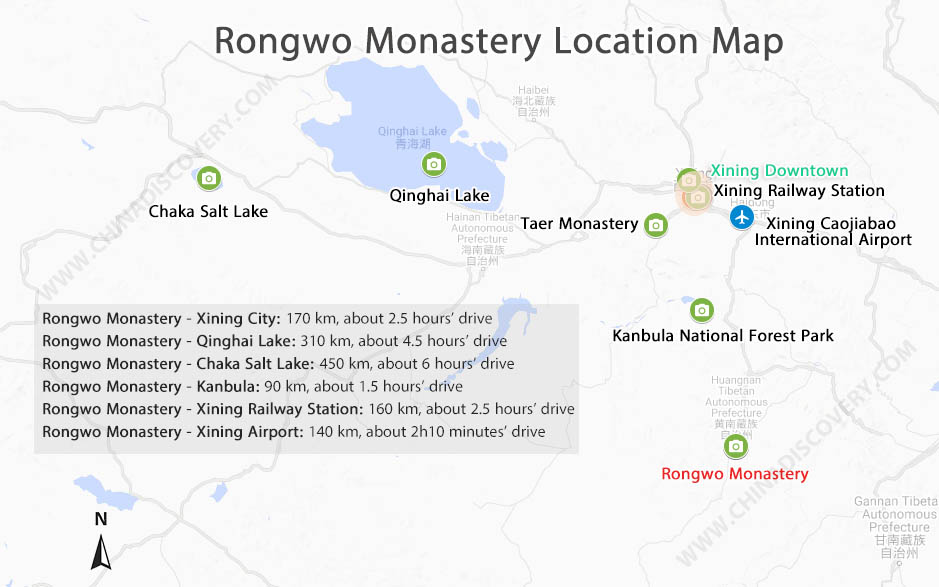 Click to enlarge Rongwo Monastery Location Map
Click to enlarge Xining Flights Map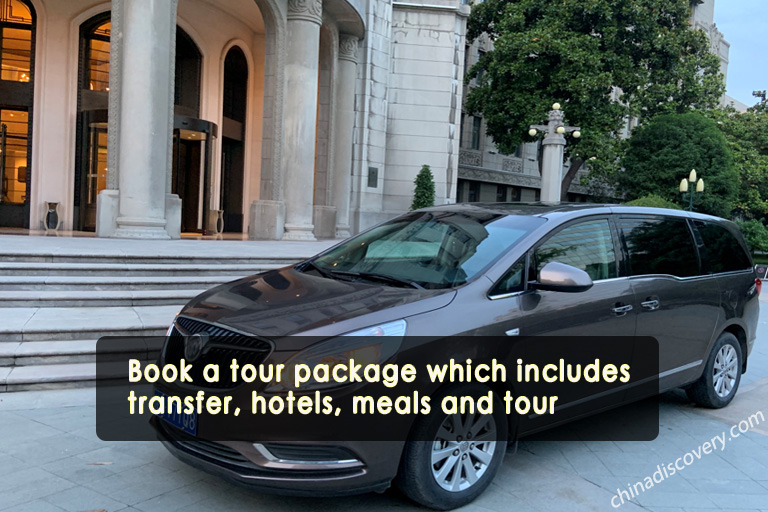 China Discovery Private Transfer
Essential Tips and Etiquettes for Visiting Rongwo Monastery
1. Where to Stay When Visiting Rongwo Monastery
Rongwo Monastery is right in Tongren County, where you can find some hotels and homestays. Your basic accommodation needs can be met although they don't have facilities as good as those in big cities. Recommended hotels are Shengyu Tianlun Hotel, Yunlong Hotel, HongFengDe Hotel, Xinshijia Business Hotel, etc.
2. Temperature & What to Wear
Tongren, where Rongwo Monastery locates, has a continental plateau climate featuring in low temperature and low precipitation. The annual average temperature is only 5.2°C and it has a sharp temperature difference between day and night. Therefore, even if you go to Tongren in summer (June to August), a coat is needed, let alone other months.
3. Respect Religious Beliefs
Rongwo Monastery is a Tibetan Buddhist temple. Tourists need to dress properly (long-sleeved clothes and long pants), respect the religion and keep quiet when visiting. If you want to take photos with the lamas or local people, ask for permission in advance.
How to Plan a Qinghai Tongren Trip
Known for the Regong Art, Tongren has something really Tibetan and artistic for you. Only about 2.5 hours' drive from Xining city, Tongren is usually visited after Xining.
The most popular and classic itinerary is to spend 1 to 2 days visiting main attractions in & around Xining including Kumbum Monastery, Dongguan Mosque of Xining, and make a day trip to the beautiful Qinghai Lake and another day tour in Chaka Salt Lake and then drive a few hours to Tongren.
☛ 3 Days Qinghai Short Stay Tour
☛ 4 Days Qinghai Lake Chaka Lake Tour from Xining
Tongren is known for its Regong Arts and the Tibetan Buddhist Temples. You can spend about 2 days here visiting Rongwo Monastery, the most famous temple in Tongren and appreciating the beautiful Thangka paintings and murals in the temples as well as Regong Art Museum and Regong Art Academy.
☛ 4 Days Qinghai Lake Landscape Tour Plus Tongren Authentic Tibetan Culture and Art Exploration
☛ 5 Days Amdo Tibetan Culture Experience Tour
After sightseeing Tongren, travelers can continue a journey to Gansu since Tongren is really close to Xiahe of Gansu Province. When in Xiahe, you can use 1 to 2 days to discover the holy Labrang Monastery and more days to visit Sangke Grassland, Bingling Temple, etc. For those who have more time to travel, it's highly advised to extend the trip further to Zhangye, Dunhuang, Jiayuguan, and Xinjiang along the Silk Road. You can also contact us to customize a trip according to your own itinerary and interests. Just tell us your needs and we will take care of everything!
☛ 7 Days Miraculous Land Tour from Dunhuang to Zhangye Xining
☛ 7 Days Qinghai Lake Zhangye Danxia Badain Jaran Desert Wonders Tour
☛ 10 Days Northwestern China Treasures - Qinghai Gansu Highlights Tour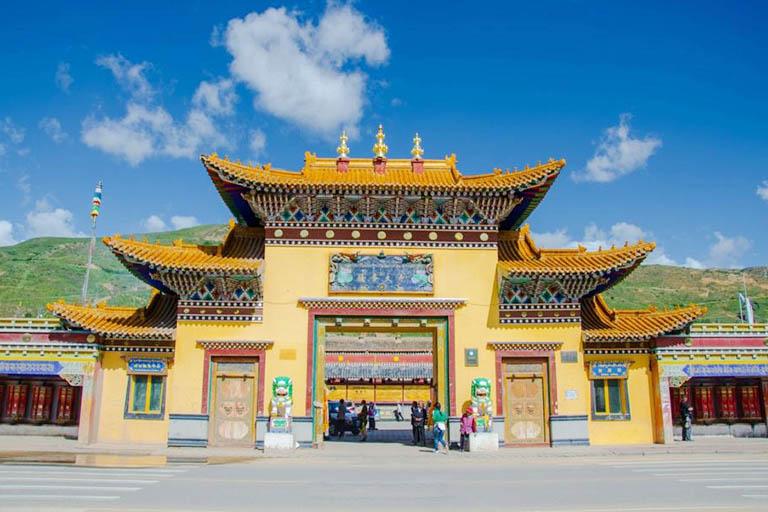 Rongwo Monastery in Tongren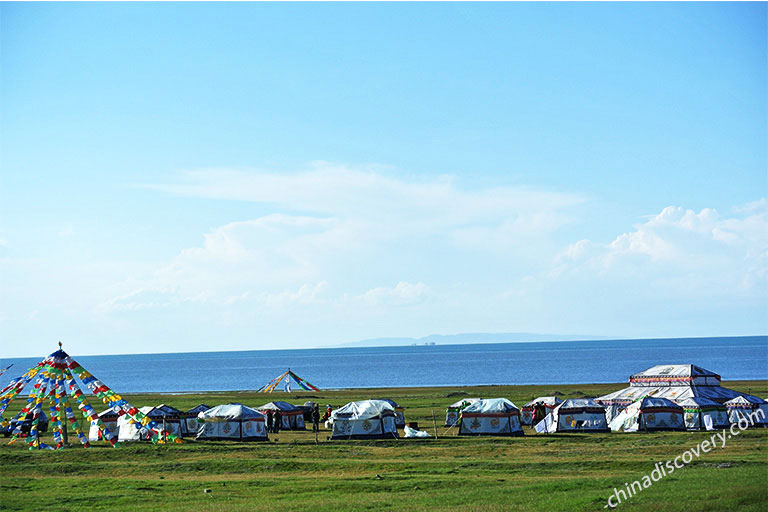 Erlangjian Scenic Area in Qinghai Lake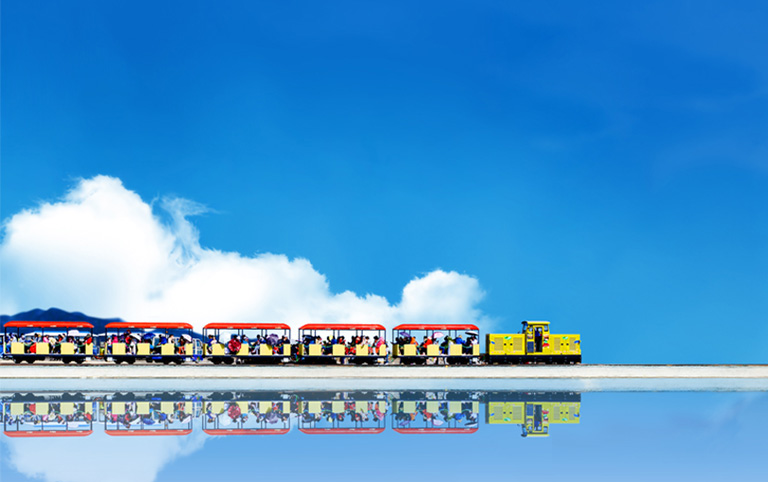 Ride the little train in Chaka Salt Lake
Keep Reading About Qinghai Attractions
Keep Reading About Qinghai Tours & Travel Guide
Recommended Tongren Tours
Top 3 Tongren tours chosen by most customers to explore Tongren in the best way. Check the detailed itinerary, or tailor your own trip now with us.
4 Days Qinghai Lake Landscape Tour Plus Tongren Authentic Tibetan Culture and Art Exploration

Xining / Qinghai Lake / Tongren / Xining
5 Days Amdo Tibetan Culture Experience Tour

Xining - Tongren - Xiahe - Linxia
7 Days In-depth Discovery Tour of Qinghai Culture & Nature

Xining / Kanbula National Forest Park / Tongren / Dawu / Amne Machin / Qinghai Lake / Xining
Start planning your tailor-made holiday to China by contacting one of our specialists. Once inquired, you'll get a response within 0.5~23.5 hours.
Customize a Trip
Have a question? Get answers from our travel experts or guests
Your Question:

Your Name:

Your Email: