First Impression of Kanbula National Park
Kanbula National Forest Park is a large scenic area located in the intersection of the Qinghai-Tibet Plateau and the Loess Plateau, about 110 km to southern Xining City. It covers an area of 152 square kilometers and enjoys an altitude between 2,100 and 4,000 meters. Because of the natural treasures it owns, Kanbula is listed as a national park and AAAA scenic area. Danxia landform is Kanbula's biggest highlight that attracts many travelers, photographers, nature lovers, adventures, etc. Some Buddhist monasteries and nunneries hidden in the forest adds more spiritual atmosphere to this stunning scene. Besides, there are many Tibetan villages allowing you to take a short glimpse of local people's daily life.
Highlights of Kanbula National Park
Natural scenery including Danxia landform is the main attraction in Kanbula National Park. The virgin forests, gorgeous canyons, turquoise waters, etc. always give you a great visual enjoyment. More than that, Kanbula National Forest Park also provides cultural fun.
Admire the Dazzling Danxia Landform in Kanbula
Danxia landform is a unique type of petrographic geomorphology formed from red sandstones and conglomerates of largely Cretaceous sage. If you have been to Zhangye, you must have seen the beautiful Danxia landform with brown, orange, yellow and white landscape in the result of sandstone and mineral deposits. This amazing view can be enjoyed in Kanbula National Forest Park as well. The Danxia landform of Kanbula is unique in its weirdness, precipitousness and exquisiteness. Its main features of odd peaks, caves and cliffs covers a total area of 13 square kilometers. There are totally 18 featured peaks with various postures, huge ones shaping like pillars, pagodas, towers, castles, etc., and smaller ones resembling human being and animals. Standing in the viewing-deck or walking along the winding trails caved on the cliffs, you may feel like entering a sculpture kingdom.
In addition to its aesthetic value, the landform of Kanbula also enjoys scientific significance. It records the dynamic geological processes inside and outside the earth since the Tertiary in the transition zone of the first and second level landforms in China, as well as the uplift of the Qinghai-Tibet Plateau and changes in climate and environment.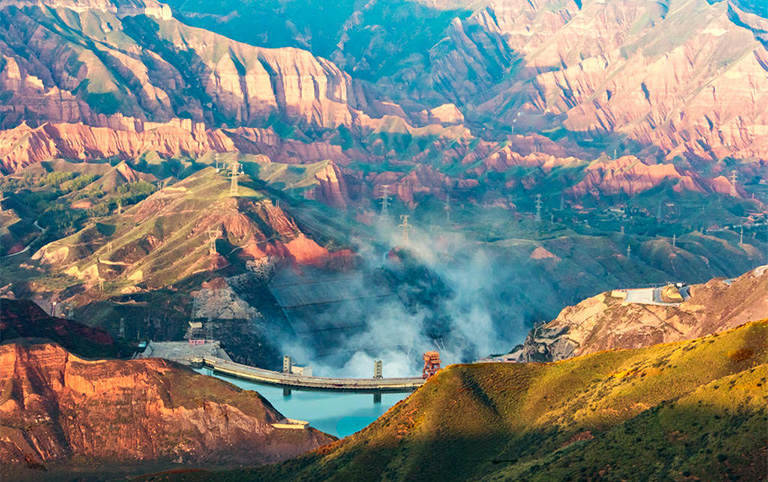 Amzing Danxia Landform in Kanbula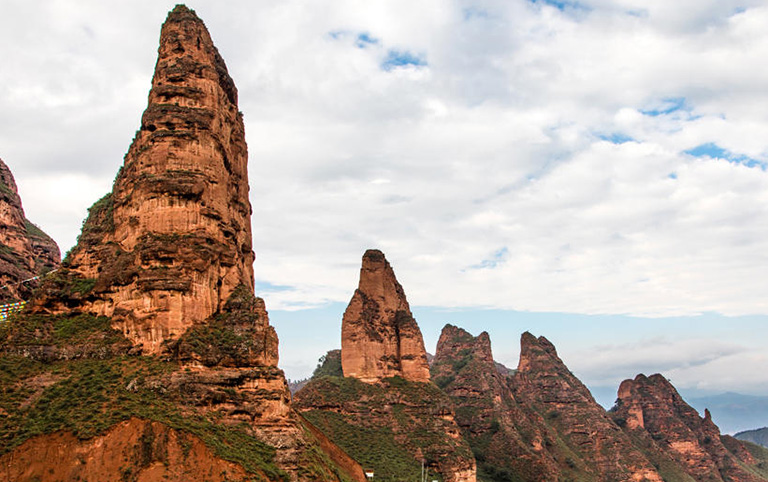 Interesting Peaks in Kanbula
Appreciate the Magnificent Waterscape in Kanbula
Besides getting amazed by the special landform, you will be given an awesome view of astonishing waterscape as well. The rich water resource endows Kanbula with flowing mountain streams, tinkling waterfalls and colorful rivers. Lijiaxia Reservoir is currently the largest double-row turbine hydropower station in the world and the third-level large-scale hydropower station on the upper reaches of the Yellow River. It is known as Kanbula's one remarkable attraction that integrates the scenic beauty and the functional use of irrigation, flood control and generation. The Yellow River in Lijiaxia Reservoir will give you a subversive impression of what the Yellow River looks like. Unlike the Yellow River you may have seen in other cities like Lanzhou, Yinchuan, Linfen (Hukou Waterfall), Luoyang, Zhengzhou, etc., the Yellow River in Kanbula is totally emerald green or sapphire blue in a fine day. No wonder, Qinghai is known as the "the source of the three rivers, the Chinese water tower".
Because of the water stored in the reservoir, many other attractions are formed in Kanbula National Forest Park, like Shaliu Bay, Shaliu Island, Ruqi Bay, Ruqi Island, and Golden Tortoises.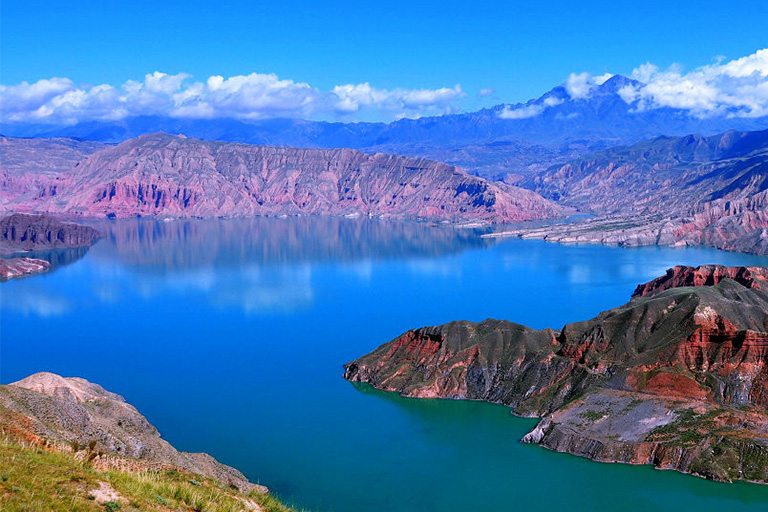 Blue Water of The Yellow River in Lijiaxia
Enjoy the Rich Flora and Fauna in the Beautiful Forest
Kanbula National Forest Park is a site of special significance to conservation for its high flora and fauna diversity. There are more than 800 species of plants in the dense forest, ranging from temperate valley grassland, to a cold temperate coniferous broad-leaved forest and high mountain sparse vegetation. The ever-changing spatial pattern of vegetation adds infinite charm to the forest park. Besides, many seasonal plants also make the scenery distinct in different time. In every April, the apricot blossoms makes the spring of Kanbula more attractive. In June and July, the hillside and valleys are full of many unnamed wild flowers bloom, In the golden autumn, the frosty leaves are colored to a mixed view of red, yellow, orange… The biodiversity of the site is exceptionally rich as well. Many rare birds and animals appear in the grasses, such as deer, marmot, sheep, squirrel, lark, eagle, etc. In addition, the herds of cattle and sheep roaming on the grassland under the blue sky and white clouds, and the fields of rapeseed flowers also add a beautiful scenery to the forest park.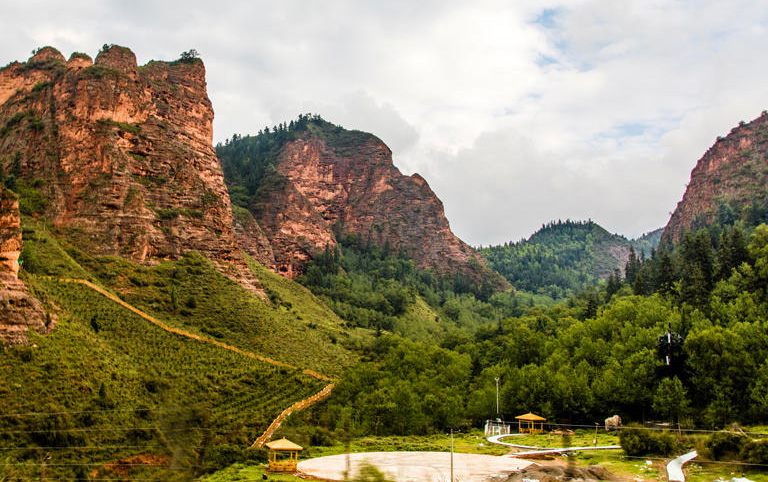 Kanbula Dotted with Red Landform and Green Forest
Soak the Cultural Fragrance in Buddhist Monasteries and Tibetan Villages
Other than the wonderful sightseeing, it is also available to probe into Tibetan Buddhism and local life. Kanbula is one of the places where Tibetan Buddhism developed in its post-proliferation period. In the 11th century, three high-ranking Tibetan Buddhism monks came to Kanbula due to the extinction movement in Tibet to promote Buddhism, allowing Tibetan Buddhism to be passed down here and carry forward. In the Qing Dynasty (1636~1912), another religious leader of Tibetan Buddhism presided over the construction of three temples among the peaks, making Kanbula the place where monks and nuns co-exist as well as different sects of Tibetan Buddhism co-exist. There are four Tibetan villages in Kanbula and most villagers preserves their traditional costumes and lifestyle. Visiting these monasteries and villages, you can take an insight of the local history and folk customs, like Tibetan opera, Buddhist museum, Tibetan costumes, etc.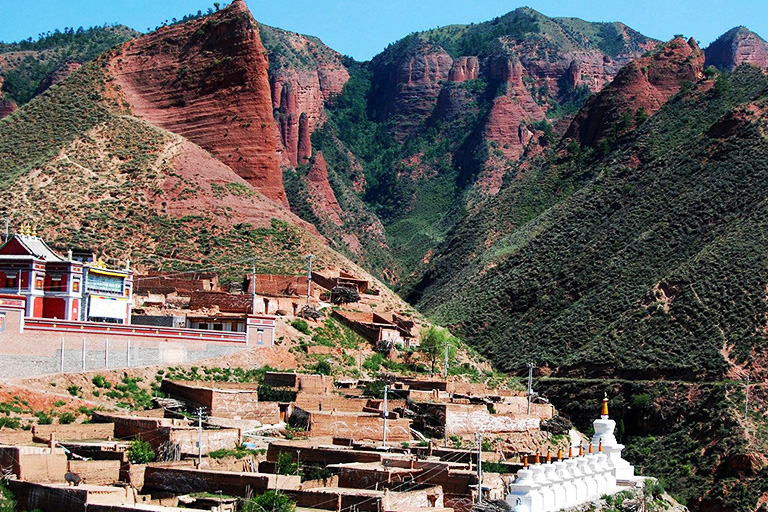 Tibetan Monastery Hidden in the Park
How to Travel Kanbula National Forest Park
Kanbula National Forest Park is such a large scenic area that you can hardly travel by walking. The sightseeing bus are cruise are accessible to save your energy and spare more in the best sightseeing.
By Park Bus: The Park bus is available to take you to the sightseeing spots one after another. Zigzagging up and down the ridge of the peaks, the bus taking you to enjoy the scenery from different perspectives. Many opportunities will be given to you to walk, take pictures and relax.
By Cruise: Cursing on the peaceful river is quite an enjoyable experience. Both sightseeing ships or speed-boat are available for your option. It is quite relaxing and comfortable to take a leisurely sightseeing ship while speed-boat offers an exciting journey.
Taking a trip combining park bus and cruise experience is strongly recommended. You can firstly take park bus from the east gate via Lingshan Mountain & Shengshui Lake, Guishan Mountain & Pinghu Lake, Nanzong Peak, Xiaoyao Peak,, etc., and then take a cruise from Nanzonggou Wharf to Beian Wharf.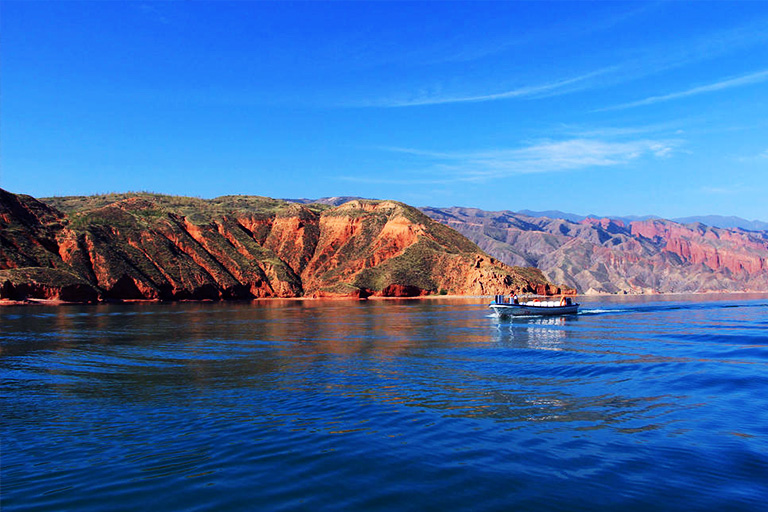 Taking A Cruise in Kanbula
Kanbula Weather and Best Time to Visit
Lying deep in the hinterland of Asia and far away from the ocean, Kanbula National Forest Park belongs to the typical desert steppe and forest steppe climate. The temperature in Kanbula is much lower than the city area like Xining. With cold winter and cool summer, it has an annual average temperature of about 2°C. July is the warmest month with an average temperature of about 12°C and January is the coldest month with an average temperature of about -11°C. Undoubtedly, Kanbula is a good place to escape from the summer heat.
Generally, traveling in different seasons permits you to view different landscape. In spring, apricot blossom in the mountains are attractive. In summer, many wild flowers are in blossom. Kanbula is colorful in autumn because of multi-colored leaves. In winter, the peaks covered with white snow are quite stunning. However, if you want to visit in the best time, May to October is suggested, especially in summer (June to August) when Kanbula becomes a perfect summer resort.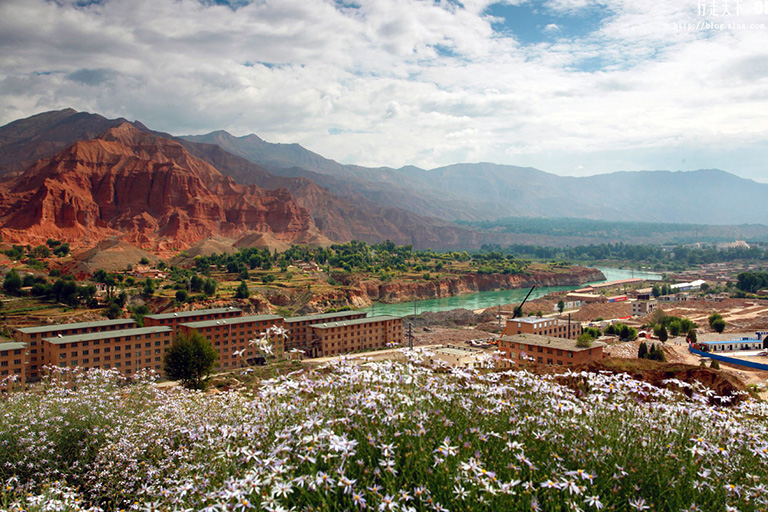 Wild Blossoms in Kanbula in Summer
Kanbula National Forest Park Transportation
Where is Kanbula National Forest Park
Kanbula National Forest Park is located in Jianca County, Huangnan Tibetan Autonomous Prefecture, Qinghai. It is
40 km to Jianzha County, about 50 minutes' drive;
90 km to Tongren County, about 1.5 hours' drive;
110 km to Xining City, about 1.5 hours' drive.
How to Get to Kanbula National Forest Park
There is no flight or train getting to Kanbula National Forest Park directly. Most travelers reach Xining – the capital and the tourist base of Qinghai first and then transfer to Kanbula Forest Park.
Getting to Xining: Xining can be reached by flight from most of the major cities in China, like Beijing, Xian, Shanghai, Chengdu, Chongqing, Guangzhou, Hangzhou, Xiamen, etc. Travelers can also take a high speed train to Xining from many cities in northern China like Xian, Lanzhou, Zhangye, Jiayuguan, Turpan, Urumqi, and other connected cities, such as Chengdu, Chongqing, Taiyuan, etc. Check more about Xining Transportation here>
Xining to Kanbula: There are about several daily long-distance buses running to Lijiaxia Bus Station (李家峡汽车站) in Kanbula Town from Xining Bus Station (西宁汽车客运中心), taking about 1.5 hours. Then, you need to chart a private car to the park, taking about 10 minutes (about 4 kilometers).
Travel with China Discovery
If you want to get rid of hustle of public transportation and troublesome navigation, you can book a private tour package which covers sightseeing, dining and transfer from us. Most of the local roads are steep and have many dangerous bends. Our private care in good condition and experienced local drivers can be trusted. They will escort you to Kanbula National Forest Park with speed and convenience, and our professional guide take care of all the details. You just need to focus on sightseeing. Contact us to customize a worry-free Kanbula National Forest Park tour package now!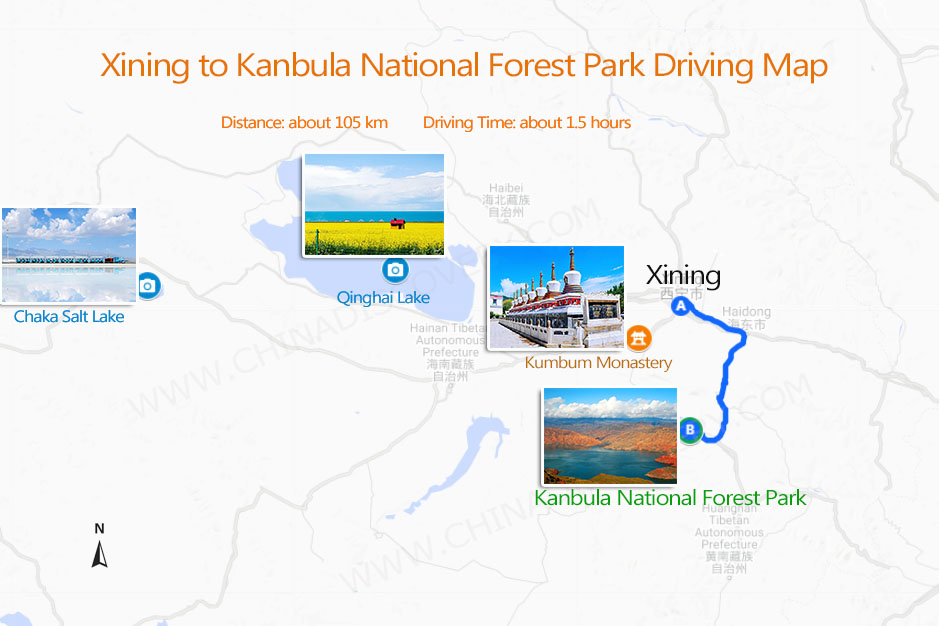 Click to enlarge Xining to Kanbula National Forest Park Map
Click to enlarge Xining Flights Map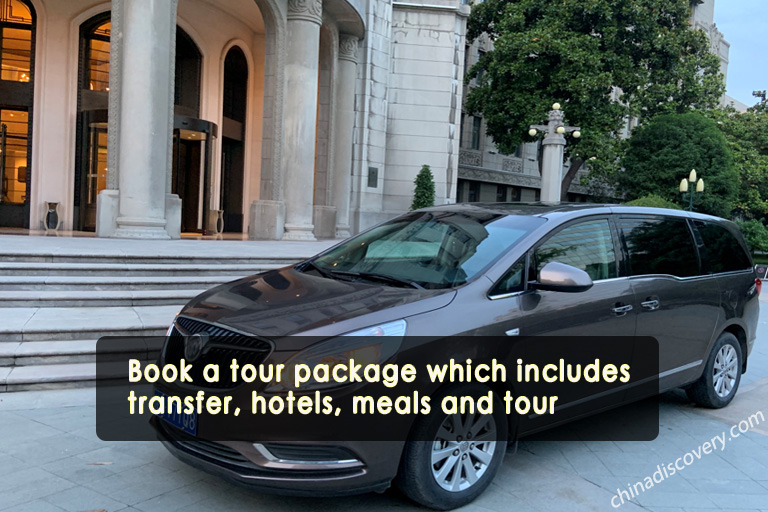 China Discovery Private Transfer
Other Tips for Kanbula National Forest Park Travel
Where to Stay in Kanbula National Forest Park
Dehong Village (the tourist center of the Kambula National Forest) and Kanbula Town both offer Tibetan-style homestays and guesthouse with basic conditions. However, almost all travelers choose to go back to Xining for accommodation because more hotels with good facilities and service are available. The most recommended area to stay a night in Xining is Xining downtown around Chengzhong District.
Dressing Tips
It is necessary to bring the best cold-proof equipment in winter, like the down jacket, warm sweaters, gloves and scarfs. In spring and autumn, outdoor jackets and sweater are helpful to protect you from the strong wind. In summer, it is also important to bring an extra coat to keep warm. Besides, sunhat and umbrella is also helpful.
Kanbula National Forest Park Tickets
Admission: CNY 50 Per Person
Sightseeing Park Ticket: CNY 100 for single trip from Eastern Gate to Nanzonggou Wharf
Cruise Ticket: CNY 100 per person for single trip from Beian Wharf to Nanzonggou Wharf, CNY 100 per person for round trip between Beian Wharf and Huxin Island
How to Plan A Qinghai Tour
How to Get to Qinghai: Xining is the transfer hub of Qinghai, and you can get there by flight from Beijing (2.5h), Shanghai (3h), Guangzhou (3h15min), Lhasa (2-3.5h), Xian (1.5h), etc. or by train to Xining from Xian (4-5h), Lanzhou (70min-2.5hrs), Zhangye (2h), Jiayuguan (3.3.5h), Dunhuang (6h), etc.
Best Time to Visit Qinghai: May to October is available to travel most area in Qinghai, especially July and August when the weather is most comfortable.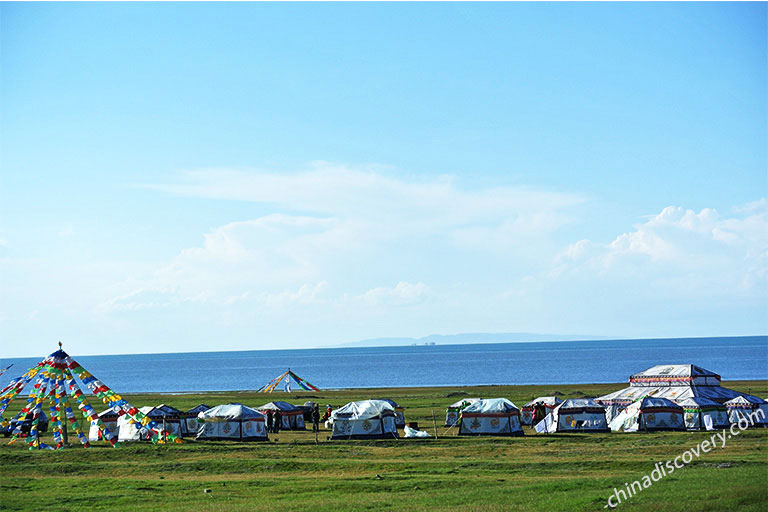 Erlangjian Scenic Area in Qinghai Lake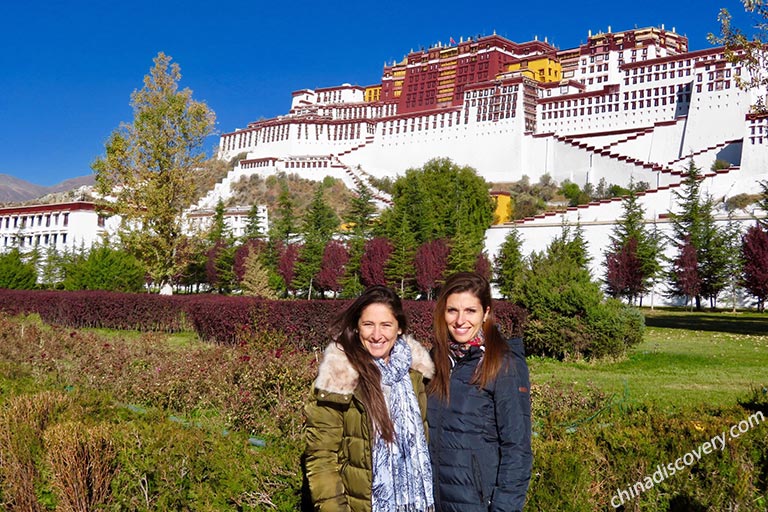 Julie and her friend from France visited Potala Palace in Lhasa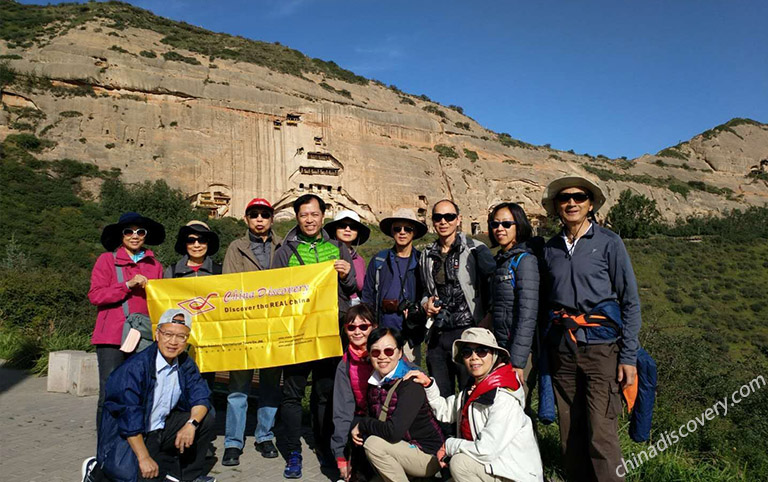 Mrs. Chan's group from Canada visited Matisi Temple along the Silk Road
Keep Reading About Qinghai Attractions
Keep Reading About Qinghai Tours & Travel Guide
Recommended Qinghai Tours
Top 3 Qinghai tours chosen by most customers to explore Qinghai in the best way. Check the detailed itinerary, or tailor your own trip now with us.
6 Days Qinghai Lake Zhangye Danxia Rainbow Mountains Dramatic Tour

Xining - Qinghai Lake - Chaka Lake - Zhangye
4 Days Qinghai Lake Kanbula National Forest Park Geographic Wonder Tour

Xining / Kanbula National Forest Park / Qinghai Lake / Xining
7 Days In-depth Discovery Tour of Qinghai Culture & Nature

Xining / Kanbula National Forest Park / Tongren / Dawu / Amne Machin / Qinghai Lake / Xining
Start planning your tailor-made holiday to China by contacting one of our specialists. Once inquired, you'll get a response within 0.5~23.5 hours.
Customize a Trip
Have a question? Get answers from our travel experts or guests
Your Question:

Your Name:

Your Email: