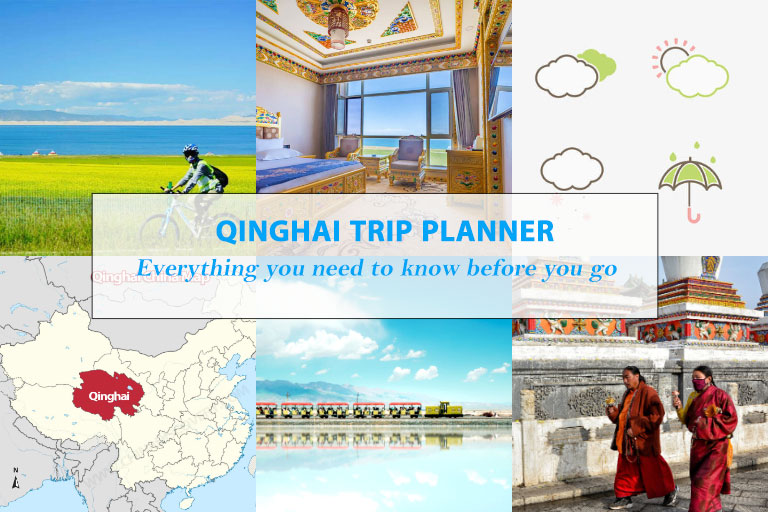 How To Plan A Trip To Qinghai: Qinghai Trip Planner 2023/2024
Qinghai, literally meaning Blue Sea in Chinese, is most famous for its homonymic lake - Qinghai Lake. It is a bold province occupying a vast area of Qinghai Tibetan Plateau and featuring in various kinds of amazing landscape. It may not be the top travel destination for the first-timers to China, but travelers who love wild nature, Tibetan culture and adventure never hesitate to head out into this special land. In Qinghai, you are able to enjoy an unspoiled wilderness, such as numerous salt lakes with enchanting colors, sky-kissing snow-caped peaks, high-altitude grasslands scattered with wild animals, splendid Danxia landform, the world-class plateau railway, etc. Of course, cultural encounter is also a big lure of Qinghai. As an important part of Amdo in the Tibetan world for centuries, it is well-preserved with valuable Tibetan cultural treasures. Some of the richest cultural experience is always discovered behind the traditional ornate doors of its monasteries, pagodas and museums.
Though it is quite easy to travel to Xining (the provincial capital) and its surrounding, Qinghai is still a relatively remote province with some inconveniences to travel. Qinghai Trip Planner is here to help you focus on what to do and see, where to stay, when to go, more practical information you need to know before you go. Just plan your own Qinghai tour with China Discovery.
As a province larger than many countries in EU, Qinghai really offers many places to go and many natural or cultural scenery to enjoy. What you can't miss in Qinghai includes:
◆ Qinghai Lake - China's Largest Lake and the World's Second-Largest Lake: Qinghai lake is undoubtedly the premier draw for visitors. It is attractive with breathtaking beauty of blue waters, and nearby sprawling peaks, grasslands and farm fields. When the butter-golden rape flowers in full blossom in every July and August, many travelers and photographers come to marvel at the rolling fields. Erlangjian is the major scenic area of Qinghai Lake. Apart from sightseeing, it is available to join in some interesting activities like cruise or hot air balloon. Chaka Salt Lake, about 150 km away from Qinghai Lake is also a charming lake. Known as the mirror of the sky, it shows spectacular reflection of the surrounding view.
◆ Xining - the Tourist Base Camp with Cultural Assembly: As the capital of Qinghai, Xining is always the place to unveil a Qinghai tour. There are many places where you can explore different aspects of Qinghai, including Kumbum Monastery - a significant Tibetan monastery with wonderful arts, Tibetan Medicine & Tibet Culture Museum - an informative museum well displaying Tibet culture (like architecture, calligraphy, costumes, thangkas…) and Tibetan medicine, Dongguan Mosque - One of the Four Greatest Mosques in Northwestern China with eye-catching architecture…
◆ Tongren - the Birthplace of Regong Art: Tongren is a peaceful place with slow-paced lifestyle, ancient temples, beautiful villages and exquisite Thangka. Regong art (including Thangka, embroidery, woodcut, sculpture, architectural decoration, etc.) born in Tongren is in UNESCO Intangible Cultural Heritage list. Rongwo Temple (Longwu Temple) is a must see in Tongren and many precious exhibitions are collected in the temple. Moreover, many other villages and temples are also worthy of your visit for a wonderful cultural exploration.
◆ Kanbula National Forest Park - Top National Park with Danxia Landform: It is a big park with dazzling Danxia landform and poetic waterscape. Visiting Kanbula, you will be surprised to find that the Yellow River is not really yellow here. In the sunny day, the blue water together with an azure sky and multicolored earth shapes an astonishing painting. There are well-equipped viewing-decks offering the best vista of the forest and river and you can also take a cruise.
◆ Amne Machin Snow Mountain - One of the Four Sacred Mountains in Tibetan Buddhism: With the main peak reaching a heaven-scrapping altitude of 6,282 meters, Mount Amne Machin enjoys stunning natural views consisting of glimmering glaciers, snow peaks as well as a rich diversity of flora and fauna. Amne Machin is heavenly not only in its scenic splendor but also in its religious status. Many pilgrims traveling from far to make a kora around his mountain. For trekking enthusiasts, it is also available to take an over 10 days trek around the top of the mountain.
In addition to these five great destinations, you can also visit Yushu to take an off-the-beaten track exploration in Hol Xil Natural Reserve or appreciate the headstream of the Yangtze River, Yellow River and Lancang River in Sanjiangyuan Nature Reserve. For a more in-depth trip, turn to Golmud for incredible natural landform in Kunlun Mountains Geopark.
Keep Reading: Qinghai Lake Travel Guide | Xining Travel Guide | Tongren Travel Guide | Golmud Travel Guide | Yushu Travel Guide | Top 12 Attractions in Qinghai | All Qinghai Travel Guide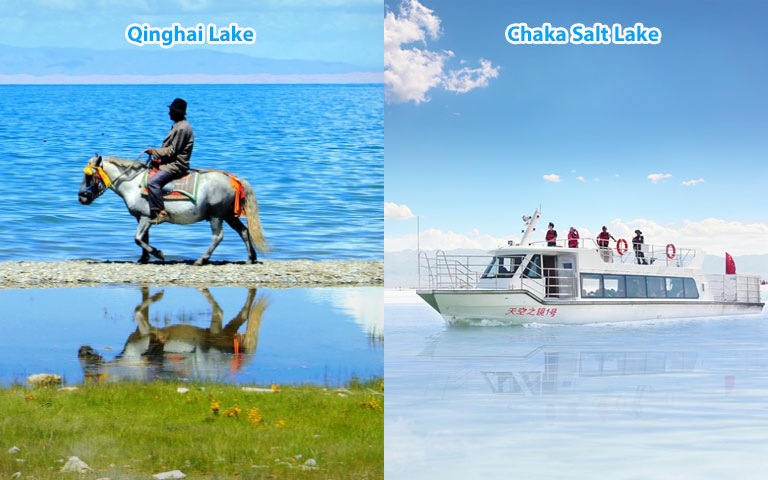 Two Most Beautiful Lakes in Qinghai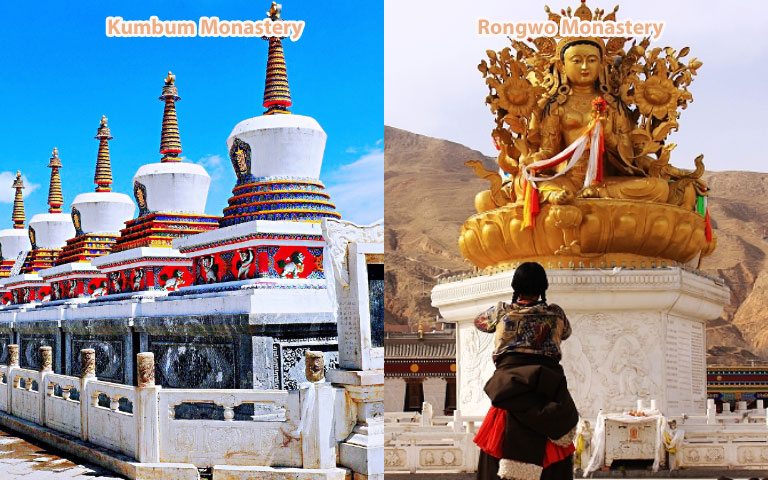 Two Most Beautiful Monasteries in Qinghai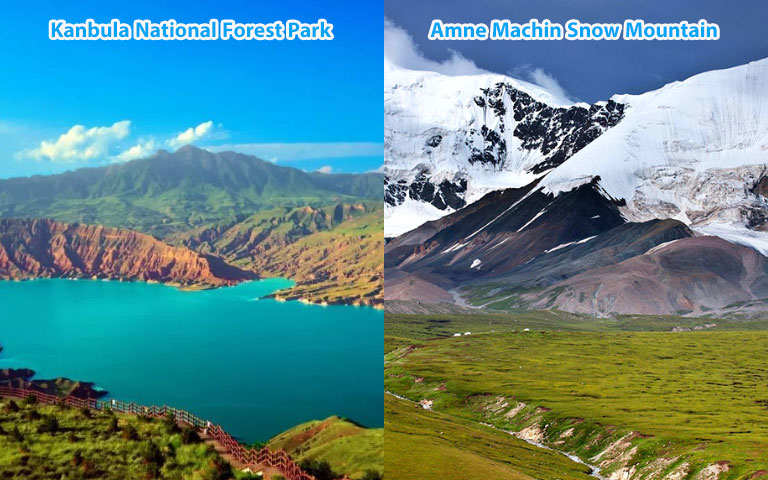 Unique Landform and Mountain in Qinghai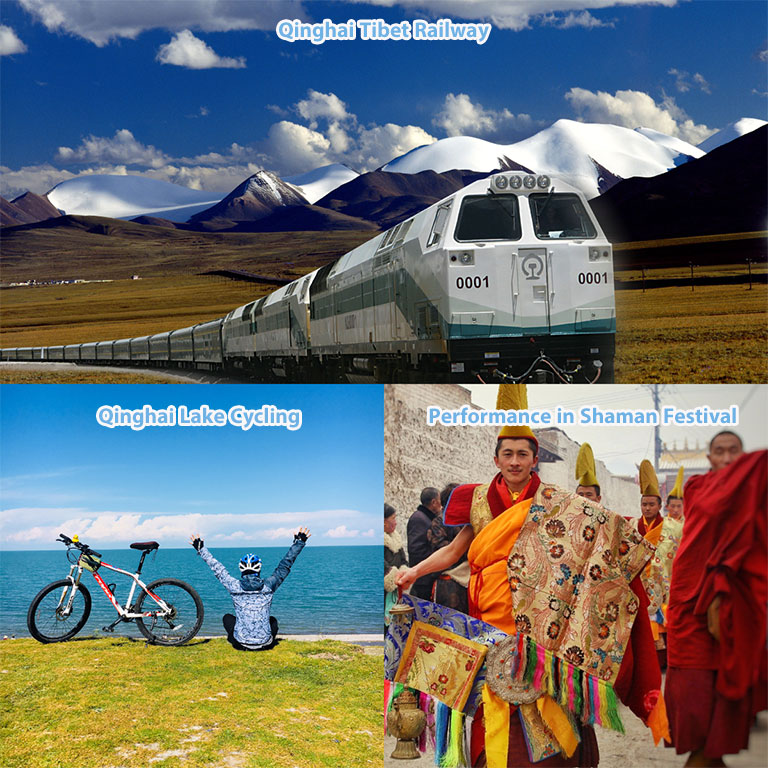 Wonderful Experience in Qinghai
Qinghai offers not only remarkable sightseeing, but also many special experience. No matter you are a cultural seeker or an outdoor activities lover, your needs can be met in Qinghai.
Qinghai Tibet Train Experience: A Qinghai Tibet train experience must be the top experience in Qinghai and even in China. Qinghai-Tibet Railway stretching from Xining to Lhasa is a world-class railway in the high plateau. As the train climbs up many steep mountains and trudges towards the roof of the world, the great panorama of the Qinghai-Tibet Plateau through the window will come into your eyes. Don't let the high altitude scare you off. Every train to Lhasa is equipped with oxygen supply to help your body get accustomed gradually.
Cycling Experience: Some travelers prefer a different way to travel and cycling is good choice. Most cyclists choose to bike around Qinghai Lake because of the mind-blowing vista. Generally, it takes about 2 days to enjoy a cycling experience in the most beautiful section around Qinghai Lake, from Jiayi Temple to Shinaihai Town. There will be some ups and downs on the road but the scenery along the briny shoreline makes your efforts worthy. Of course, if you are a cycling enthusiast with excellent physical condition, it is also available to bike from Xining to Qinghai Lake directly.
Shaman Festival: Celebrated by the Tibetan in the villages of Tongren County, Shaman Festival is a grand occasion for the local people to pay sacrifice to Mountain God. During this festival, all the villagers will gather and bring offerings. Lots of traditional activities like sacrifices to gods, cheek skewer, God dancing, climbing dragon poles, playing God drums, singing "Layi", mountains opening, etc. can be watched.
Keep Reading: Qinghai Tibet Railway
A Qinghai tour can be short or long just based on your own time and interest. Generally, a classic Qinghai tour needs at least 3 days, but some travelers may also spend more than two weeks discovering the different aspects of Qinghai in a slow pace.
3 Days in Qinghai: For travelers who have limited time and just want to focus on the essence of Qinghai, we suggest you spend 3 days exploring Qinghai Lake and highlights of Xining (like Kumbum Monastery, Tibetan Medicine & Tibet Culture Museum and Donguan Mosque). Erlangjian Scenic Area is the best epitome of Qinghai Lake and about 3 hours are recommended for sightseeing. On your trip from Xining to Qinghai Lake, you can take a short stop in Riyue Mountain.
4~5 Days in Qinghai: With one more day, you can add Chaka Salt Lake or Kanbula National Forest Park into your itinerary for a natural view different from Qinghai Lake . If you are interested in Amdo culture or Regong Art, spend 1 more day visiting Tongren. If you love outdoor activities, you can enjoy a Qinghai Lake cycling experience in another 2 days.
6+ Days: Certainly, more days allows you to have a better discovery of Qinghai. If you happen to visit Qinghai during Shaman Festival, you can have a 6 days Shanman Festival exploring experience. You can also pay a sacred visit to Amne Machin Snow Mountain or have an in-depth trip with both nature and culture appreciation. Feel free to contact us and tell your preference, we can customaze a trip accordingly.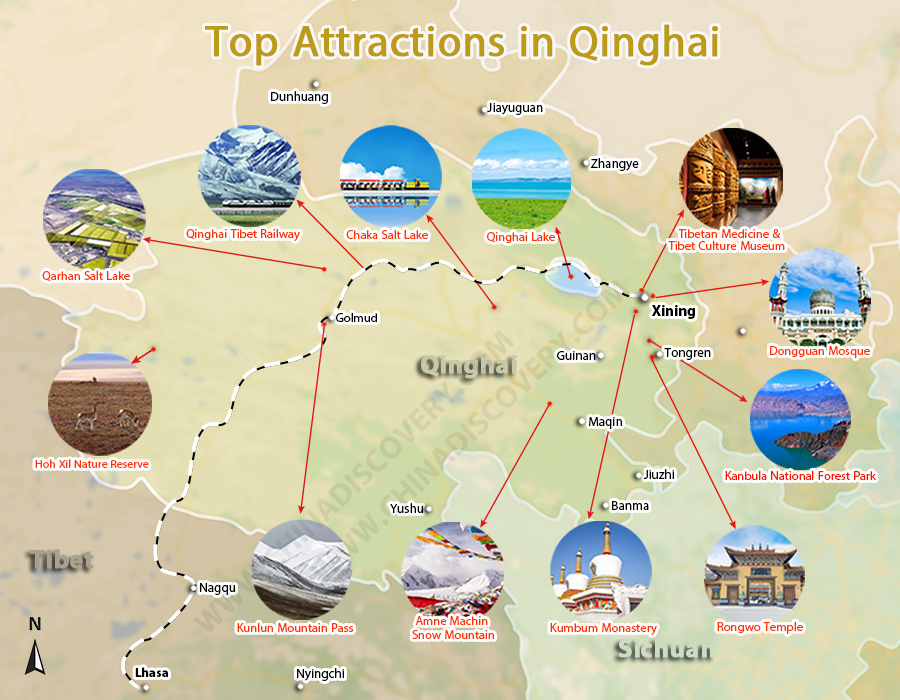 Qinghai Attractions Map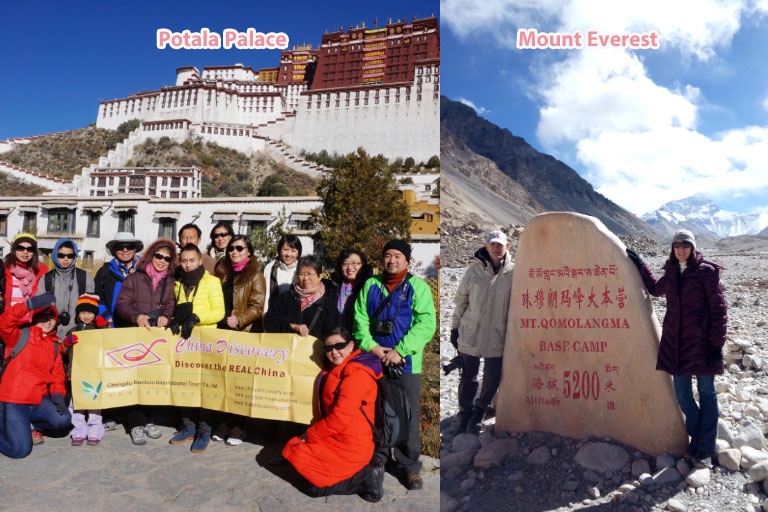 Our Customers' Experience in Tibet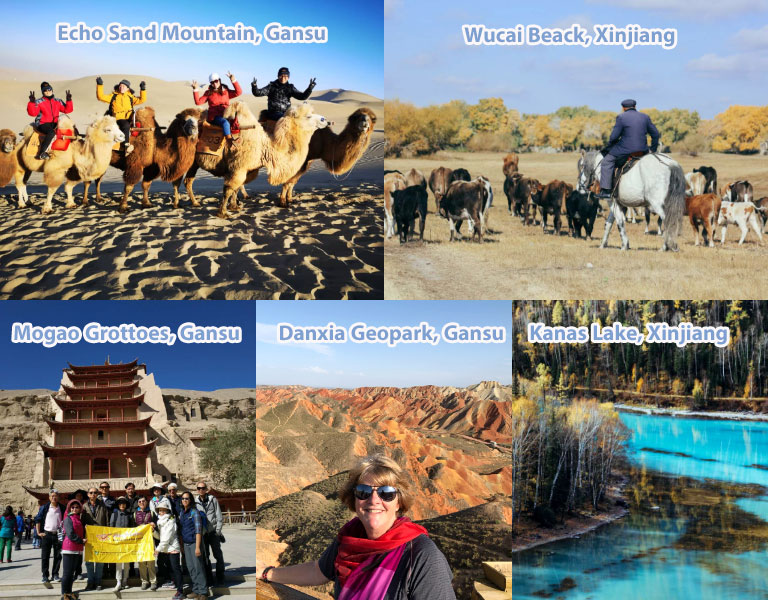 Our Customers' Experience in the Silk Road
It goes without saying that the landscape of Qinghai is remarkable, but it will be a pity if you just visit Qinghai and skip its captivating neighbors. In northern and western China, there are a lot of destinations to extend your Qinghai tour, including Tibet (Lhasa, Namtso, Everest, Gyantse, Shigatse, etc.), Gansu (Zhangye, Dunhuang, Jiayuguan…), Xinjiang (Kashgar, Turpan…) and other Amdo Regions (Gannan, Xiahe, Aba…).
Tibet - the Roof of the World: Located in the Qinghai-Tibet Plateau, Tibet shares something in common with Qinghai. With a higher altitude, Tibet offers more plateau views especially high-plateau lakes, snow peaks and glaciers. Far more than that, Tibet is a great Buddhist kingdom dotted with more religious sites. Taking a train is a popular way to travel between them. What you can't miss in Tibet are Potala Palace, Jokhang Temple, Sera Monastery, Palcho Monastery, Tashilhunpo Monastery and Mount Everest. It takes about 4~13 days to take a classic Tibet tour.
Gansu and Xinjiang - Golden Section of the Silk Road: The Silk Road is rather a historical travel route on which you can experience interesting history and exotic culture. Moreover, an almost dizzying agglomeration of desert, grassland, raging river and colossal mountains can be spotted as well. The biggest highlights along the Silk Road are Zhangye Danxia Geopark, Dunhuang Mogao Grottoes, Dunhuang Echoing Sand Mountains, Turpan Karez System, Turpan Jiaohe Ancient City, Kashgar Abakh Khoja Tomb, and Kashgar Id Kah Mosque. A Silk Road tour needs about 5~11 days usually.
Amdo Region - Important Tibetan Cultural Area: Amdo is one of the three traditional regions together with U-Tsang in the west and Kham in the east. Its main area includes Qinghai Amdo Tibetan Region, Gansu Amdo Tibetan Region (like Gannan) and Sichuan Tibetan Region (like Aaba). Many travelers choose to travel from Xining to Aba via Tongren, Gannan, Xiahe and Linxia. In Amdo Region, there are lots of natural and historical wonders, such as Labrang Temple, Sangke Prairie, Langmu Temple, Jiuzhaigou Valley, Huanglong National Park, Bipenggou Vailley, etc.
Of course, it is also worthwhile to enjoy an overall China tour including some other top destinations in China, like Beijing - the present and old capital of China, Shanghai - an international metropils with lots of skyscapers, Xian - the old capital of 13 dynasties, Guilin - China's most beautiful place with Karst landscape, Chengdu - the panda's hometown, etc.
Keep Reading: Tibet Tour Packages | Gansu Tour Packages | Xinjiang Tour Packages | Sichuan Tour Packages | How to Plan A China Tour
Located in the plateau and far away from the sea, Qinghai belongs to the typical plateau continental climate. Its climate has a feature of long sunshine time, strong UV radiation, long cold season and less warm season.. Usually, the annual average temperature in the whole province ranges from -5.1°C to 9.0°C and the temperature gap is large between day and night. The coldest month is January with an average month between -17.4°C and -4.7°C while the warmest month is July with an average temperature between 5.8°C and 20.2°C. Qilian is the coldest area and Minhe is the warmest area in Qinghai. The distribution trend of annual precipitation is gradually decreasing from southeast to northwest and most areas have an annual precipitation of less than 400 mm.
In order to enjoy the most comfortable climate, June to August is the best time to visit Qinghai. If you want to avoid the crowds, other months between May to October are also recommended. It is quite cold in winter time, but it is still available to visit most destinations like Xining, Qinghai and Tongren. Please always remember to bring warm clothes even in summer and use sunblock, sunglasses and hats to protect your skin from sunburn.
Keep Reading: Qinghai Weather | Best Time to Visit Qinghai Lake | Best Time to Visit Xining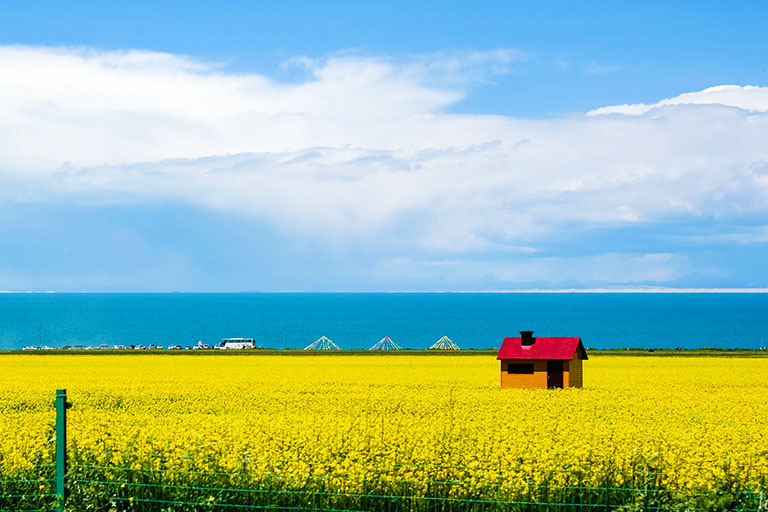 Qinghai Lake in Summer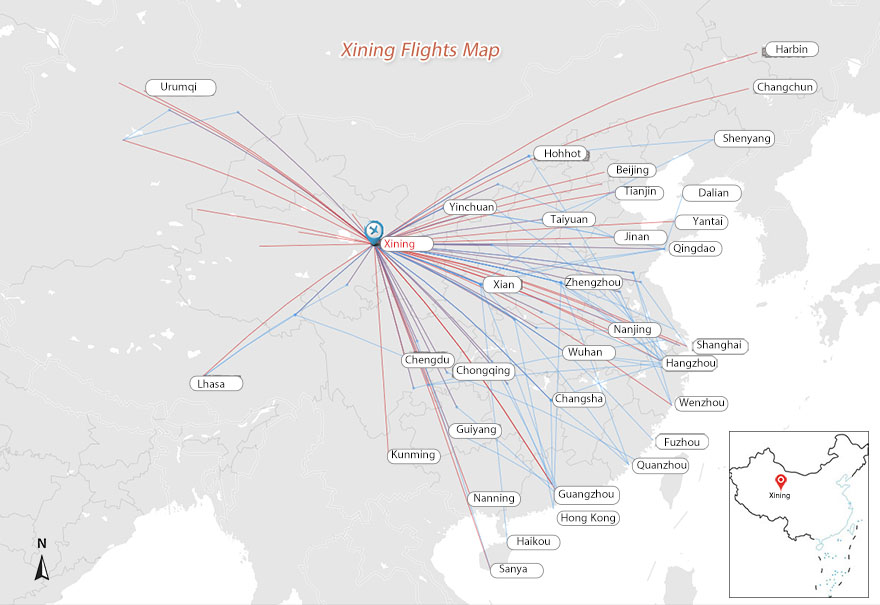 Xining Flights Map
99% of the travelers choose to start a Qinghai tour from Xining. As one of the most important transfer hubs in northwestern China, Xining can be reached conveniently.
Get to Xining: Xining Caojiabao International Airport is Qinghai's only international airport that can be reached by international flights from some cities in Asian countries like Bangkok (Thailand), Tokyo (Japan), Seoul (South Korea), Kuala Lumpur (Malaysia), etc. as well as most major domestic cities like Beijing (2.5h), Shanghai (3h10min-6h), Guangzhou (3h15min-5h), Xian (1.5h), Lhasa (2-3.5h), Chengdu (1h40min-4h), Chongqing (2h), etc. Xining Railway Station receive high speed trains on the Silk Road from Xian (4-5h), Lanzhou (70min-2.5h), Zhangye (2h), Jiayuguan (3-3.5h), Dunhuang (6h), Turpan (8-9h), Urumqi (9-10h)… and normal trains to main cities in China such as Beijing (19-22.5h), Chengdu (12.5-15h), Chongqing (13.5h), Taiyuan (14.5-20h), Jinan (23h)…
In addition to Xining, there are 6 other airports like Geermu Airport, Yushu Batang Airport and Huatugou Airport which only have flights within Qinghai and several flights connecting a few cities like Beijing, Chengdu, Xian and Lhasa.
Xining to Other Destinations in Qinghai: In fact, the transportation within Qinghai is not so convenient and driving is the most frequently-used way to travel in Qinghai. For independent travelers, there are long-distances buses available to take you to some cities, counties or towns and you always have to make transfer to get to the scenic area. Traveling with China Discovery, you are able to enjoy the flexible and comfortable private transfer.
Keep Reading: Qinghai Transportation | How to Get to Qinghai Lake | How to Get to Xining
During your travel in Qinghai, you may find different kinds of accommodation available. In general, you will get more choices in Xining and the accommodation in some destinations might be rather simple and basic.
Where to Accommodate in Xining: In Xining, it is possible to stay a night in various hotels from luxurious hotels to economical hostels. The most recommended area to accommodate is Xining downtown around Chengzhong District where it is quite convenient to dine and shop around. Recommended hotels include 5-star Sofitel Xining, 5-star Qinghai Hotel, 4-star San Want Hotel and 4-star Huachen Hotel. If you need to catch an early flight or train, you can choose to accommodate near the airport or train station.
Where to Accommodate in Qinghai Lake: There are two accommodating areas near Qinghai Lake, namely Erlangjian Area and Heimahe Town. Because of the close distance to main scenic area of Qinghai Lake, most travelers prefer a stay in the hotels in Erlangjian Area. There are a few comfortable hotels. Some travelers also choose to stay in Heima Town for a quick access to the beautiful sunrise.
Except for Xining, the accommodation conditions in most other regions of Qinghai might be very basic. However, you can still find some comfortable stays in the popular tourist sites like Chaka Salt Lake, Tongren, Golmud, etc. If you have a high demand on hotels, we suggest you drive back to Xining for accommodation if possible.
Keep Reading: Qinghai Accommodation | Where to Stay in Xining | Where to Stay in Qinghai Lake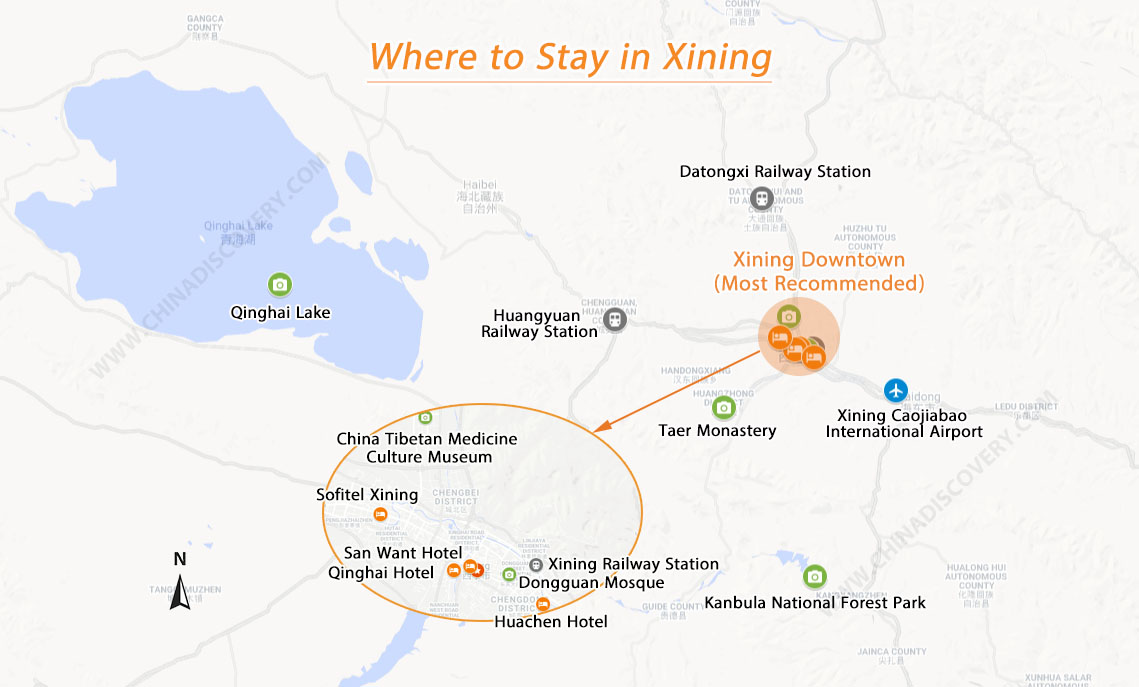 Xining Accommodation Map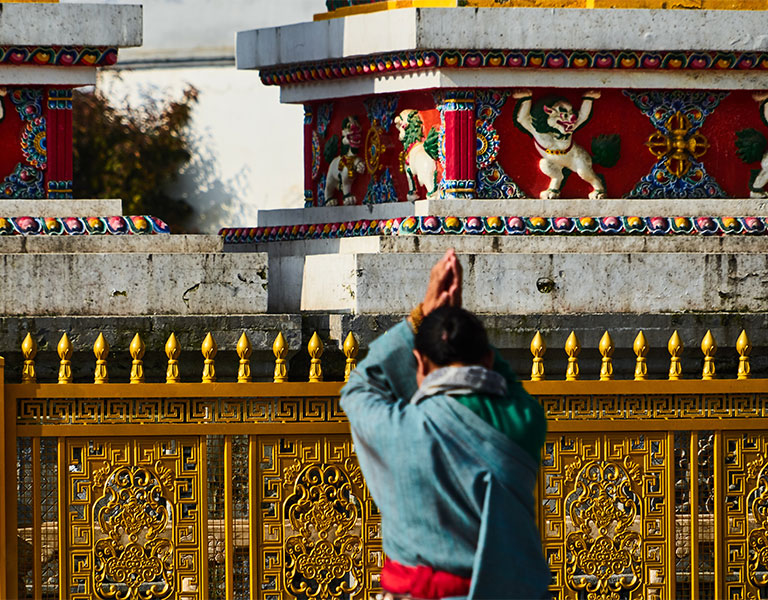 A Pilgrim in Kumbum Monastery
In order to have a more efficient Qinghai trip and avoid unnecessary conflicts with local people , it is necessary to make a good strategy in advance, here we prepare some helpful travel tips for you.
Local Dietary Habit: The dietary in Qinghai focuses on halal with beef and mutton as main food material. It is easy to find some traditional Chinese dishes in the local restaurants. In Xining, there are some western restaurants available as well offering European meals.
Local Custom: Some Tibetan owners welcome you with a white scarf-like hada, remember to hold it with both hands and hang it on the neck. Do not touch the statues or religious implements displayed in the monastery. It is also polite to walk around the monastery or lake in clockwise.
High Altitude Sickness Prevention: Though only a few people may get high altitude sickness in Qinghai, it is important to avoid strong activities and drink more water if it is your first time to high-altitude area. It is also helpful to take a full physical examination to make sure you are able to travel to high plateau.
Photography with Permission: Usually, photography inside the halls of the monastery is forbidden but taking pictures of the outside architecture is allowed. It is advised to ask the permission whenever you want to shoot the monastery, the local people or the animals.