How to Get to Qinghai & Get around Qinghai 2024
Qinghai is a province on the plateau of northwestern China. With distinctive plateau scenery of crystal clear lakes, majestic snow mountains, vast grasslands, Qinghai is treasure place that has been underestimated for a long time. Besides, the traditional customs of Tibetan Buddhism are well-preserved here. You can have an authentic experience of the local religion and tradition when traveling around the monasteries and exploring the villages. Or you can extend your Qinghai trip to the neighboring Tibet and Gansu for an in-depth adventure of western China.
Transportation is one of the most important factors people need to consider when planning a Qinghai trip. Here we provide you with detailed Qinghai Transportation Guide on how to get to Qinghai by flight and train, and how to travel around Qinghai to main attractions and cities.
Recommended Qinghai Tours:
Where is Qinghai
Qinghai is located in the northwest of inland China, covering a total area of 722,300 square kilometers and having jurisdiction over 2 prefecture level cities and 6 autonomous prefectures. It borders Gansu in the north and east, Xinjiang in the northwest, Tibet in the south and southwest, and Sichuan in the southeast.
Quick Jump to:
Get to Qinghai by Flight
In the whole Qinghai Province, there are 7 airports in total. Among them, the most frequently used airport for visitors is Xining Caojiabao International Airport (IATA: XNN) as it operates flights between most cities in China. It is also the only international airport in Qinghai that connects with some cities in other Asian countries such as Bangkok in Thailand, Tokyo in Japan, Seoul in South Korea, Kuala Lumpur in Malaysia… Other airports such as Geermu Airport (IATA: GOQ), Yushu Batang Airport (IATA: YUS) and Huatugou Airport (IATA: HTT) only have flights within Qinghai and several flights between Beijing, Chengdu, Xian or Lhasa. Therefore, Xining is the first choice for travelers.
Note: If your city do not have flights to Xining, you can fly to bigger cities such as Beijing, Shanghai, and Guangzhou first and then transfer to Xining.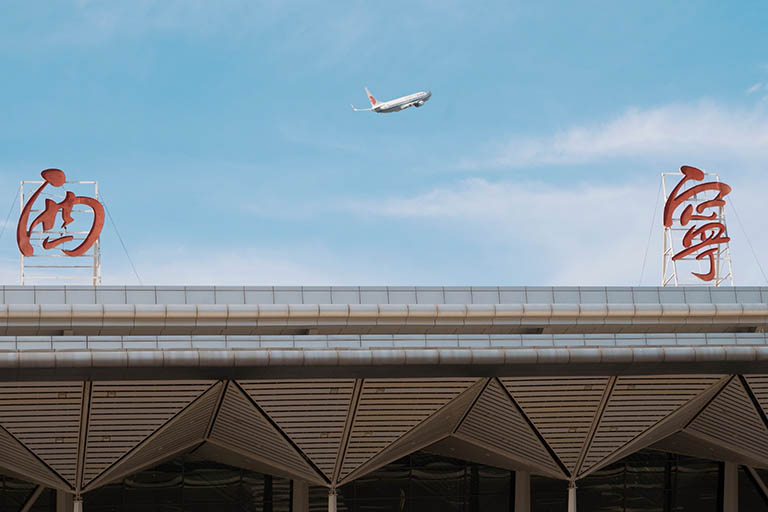 Xining Caojiabao International Airport
Get to Qinghai by Train
There are 3 main railways in Qinghai, which are Qinghai-Tibet Railway, Lanzhou-Xining Railway and Lanzhou-Urumqi High-speed Railway, so you can take trains to cities on these railways in Qinghai such as Xining, Golmud, Delingha, Huatugou, Wulan, etc. Other parts like Yushu, Guoluo, Huangnan and Hainan do not have train stations. Xining Railway Station is the most chosen station and it operates high speed trains on the Silk Road from Xian in Shaanxi to Urumqi in Xinjiang and normal trains to main cities in China such as Beijing, Lhasa, Chengdu, Taiyuan...
Qinghai Tibet Railway
Qinghai Tibet Railway is the world's highest plateau railway, starting from Xining to Lhasa with a length of 1956 km and 85 train stations. The whole train journey needs 20-22 hours. Along the road, you will be amazed by the breathtaking landscaped of Tibet Plateau. You will pass through beautiful Qinghai Lake, deserted mountains in Delingha, Hoh Xil Nature Reserve with scattered Tibetan antelopes, yaks and donkeys, Kunlun Mountains, Sanjiangyuan (Three Rivers) National Nature Reserve and grasslands in northern Tibet.
▶ Check more about Qinghai Tibet Railway >>
☞ 6 Days Xining to Tibet Lhasa Train Tour by Qinghai Tibet Railway
Xining Railway Station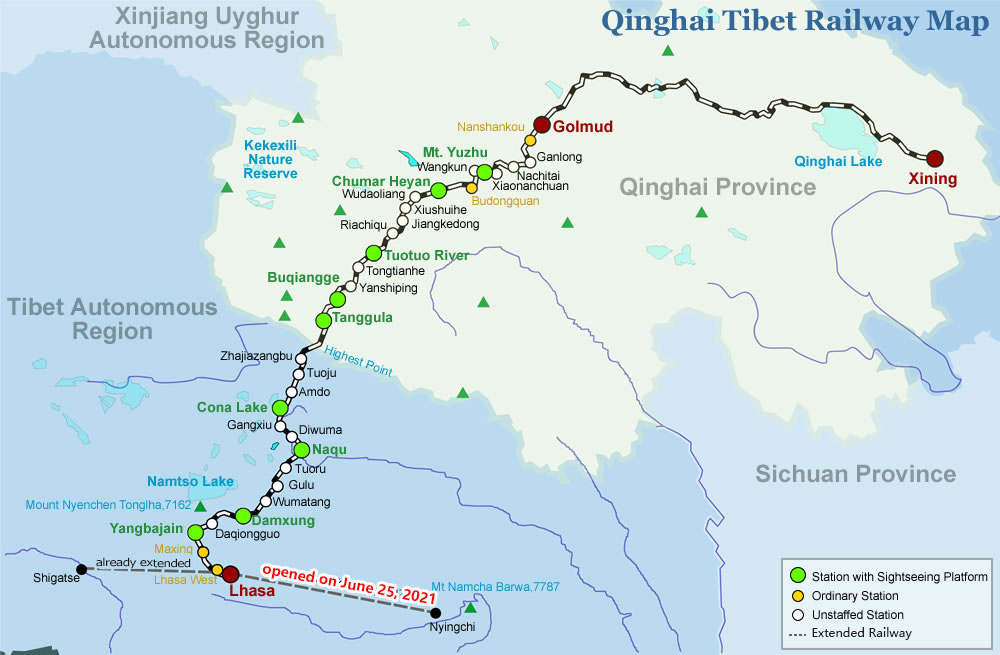 Qinghai Tibet Railway Map
How to Get to/around Xining
Xining is the gateway city of Qinghai and can be conviently reached by flight, train, or car. Tourists usually get to Xining first and then start their Qinghai trip.
▶ Check more about Xining High Speed Trains >>
How to Get to Qinghai Lake
Qinghai Lake is located in the intersection of Gangca County, Gonghe County and Haiyan County in eastern Qinghai Province. Almost all travelers travel to Qinghai Lake from Xining, which is about 150 km, 2.5 hours' drive away.
How to Get to Qinghai Lake from Xining
Erlangjian Scenic Area is the essence of Qinghai Lake and getting to Qinghai Lake always means traveling to Erlangjian Scenic Area. The most recommended transfer way is chartering a car or finding a reliable travel agency like China Discovery that can take care of every detail in your trip. In this way, you can have a more flexible trip and make stops on the way when you encounter beautiful scenery such as the farming fields and endless grassland in Riyue Mountain. Long-distance bus is also available. There are about 6 regular buses running from Xining Bayilu Bus Station (八一路汽车站) to Erlangjian Scenic Area. Most of them depart in the morning from 7:30 to 9:30, taking about 3 hours. But the real-time schedule should be subject to that shown at the station.
▶ Check more about How to Get to Qinghai Lake >>
☞ 4 Days Qinghai Lake Chaka Lake Tour from Xining
☞ 4 Days Qinghai Lake Kanbula National Forest Park Tour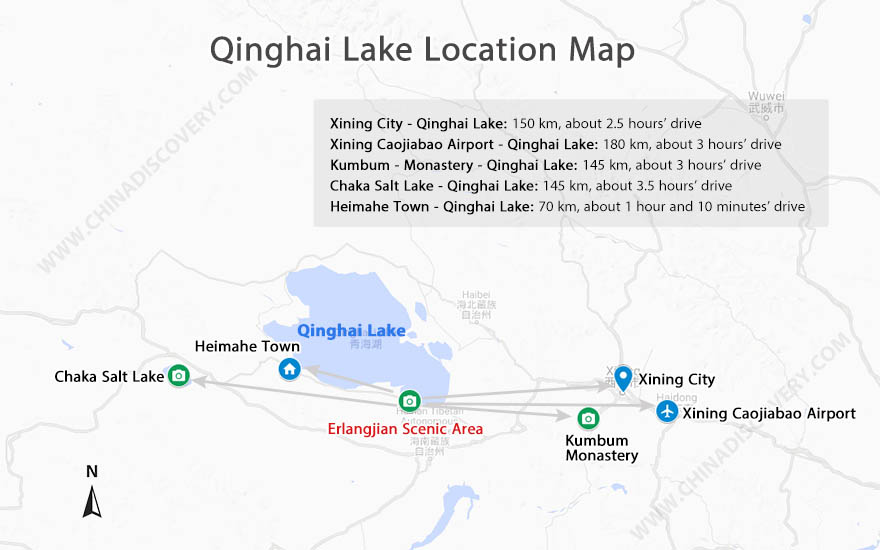 Qinghai Lake Location Map
How to Get to Chaka Salt Lake
Chaka Salt Lake is renowned as "Mirror of The Sky" for its crystal blue water. It is located in Chaka Town, Wulan County, about 300 km (4.5 hours by car) to Xining, 150 km to Qinghai Lake. As a remote lake from the downtown area, people usually travel from Xining to Chaka Salt Lake.
On ordinary days, Xining Passenger Station (next to Xining Railway Station) operates about 6 buses to Chaka town every day. When you arrive at the town, you need to walk 4 km or take a taxi to Chaka Salt Lake as no public transportation is available. In peak season, you can take Chaka Salt Lake Tourist Bus or "Sky Mirror" Tourist Train also at Xining Passenger Station. If you have any questions about the transportation or need transfer help, please feel free to contact us.
☞ 4 Days Qinghai Lake Chaka Lake Tour from Xining
☞ 6 Days Chaka Lake Zhangye Danxia Rainbow Mountains Dramatic Tour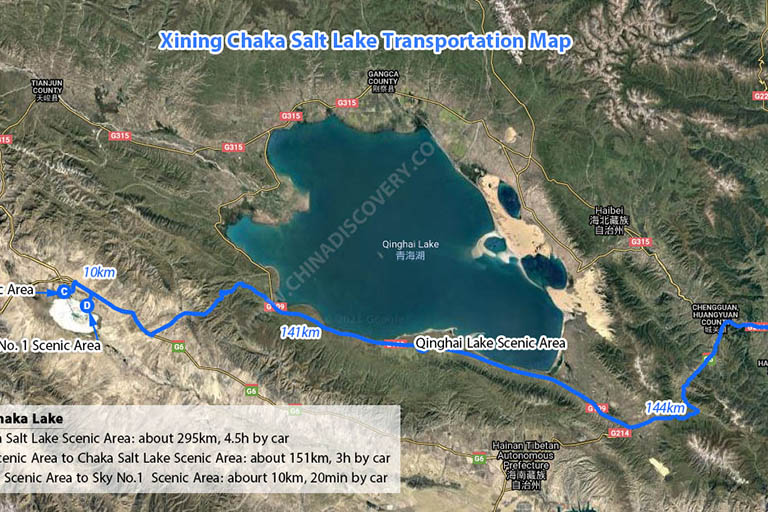 Chaka Salt Lake Transportation Map
How to Get to Golmud
Golmud (also called Geermu, Ge'ermu) is a county-level city of Haixi Mongol and Tibetan Autonomous Prefecture, western Qinghai Province. It is about 760 km (9 hours' drive) from Xining. This secluded place hides lots of marvellous natural wonders, including incredible salt lake, well-preserved ecological environment, sublime mountains and sources of leading ancestral rivers of China. You can get to Golmud by flight or train.
By flight: Golmud Airport (IATA: GOQ, ICAO: ZLGM, elevation: 2,842 m) is the airport serving Golmud. You can fly to Golumd directly from Xining (about 2.5 hours), Xian (about 2.5 hours), Chengdu (about 4 hours 15 minutes), Hangzhou (about 6 hours), Lhasa (about 1.5 hours), Zhengzhou (about 3 hours) and Wenzhou (about 6 hours). The airport is located about 16 km west of Golmud city, and it takes about 30 minutes by taxi or private drive, or 2.5 hours by public transport to downtown.
By train: Golmud Railway Station is a small train station used for local traffic and train travelers to Golmud. It is located on the Qinghai-Tibet Railway and Golmud-Korla Railway. Currently, the station just runs a few slow green trains between Golmud and Xining (6.5 ~ 9.5 hours), Lhasa (13 ~ 14 hours).
☞ 7 Days In-depth Discovery Tour of Qinghai Culture & Nature
Golmud Attractions Map
How to Ge to Tongren
Tongren is about 160 km (2.5 hours' drive) to the southeast of Xining. It is a small county in Huangnan Tibetan Autonomous Prefecture with an average altitude of about 2500 m. Tongren is known for its Regong Art and the Tibetan Buddhist Temples such as Rongwo Temple. As the birthplace of Thangka Paintings and Thangka Embroidery, Tongren is praised as "the hometown of Regong Art".
Tongren has no airport or railway station. Therefore, from major cities to Tongren, you need to get to Xining first and then drive or take a bus to Tongren. Every day from 7:40 am to 6:30 pm, there are many buses from Xining Passenger Station to Tongren. If you want to have a worry-free and more comfortable trip, you can also contact us to arrange a Tongren trip for you.
☞ 4 Days Qinghai Lake Landscape Tour Plus Tongren Authentic Tibetan Culture and Art Exploration
☞ 5 Days Amdo Tibetan Culture Experience Tour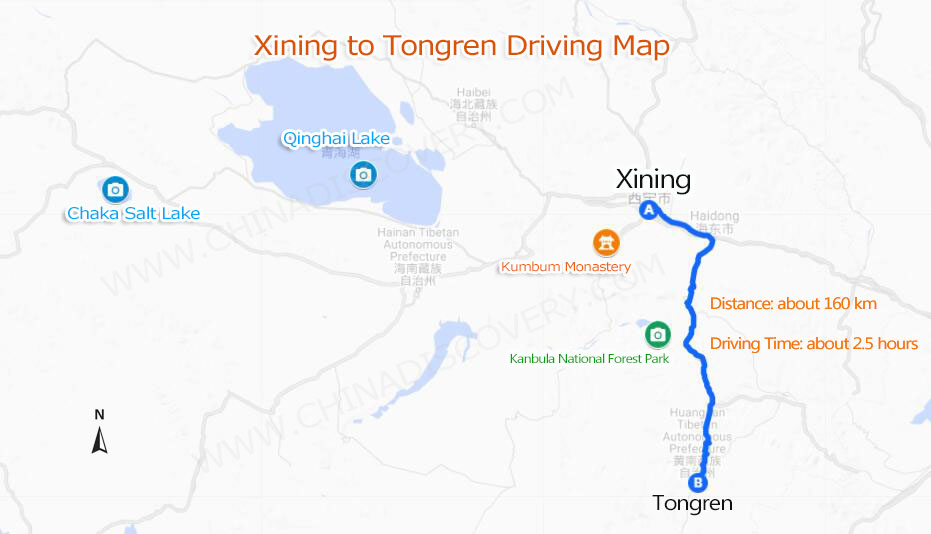 Xining to Tongren Map
How to Get to Yushu
Yushu is about 790 km (10 hours' drive) to the southwest of Xining. Bordering Tibet in the south, with an altitude of 4493.4 m, Yushu has unique plateau natural landscape and Tibetan folk customs. Yushu has no railway station but has an airport connecting several cities in China. You can fly to Yushu directly or get to Xining first (Xining has more flights with major cities in China) and then take a flight or car to Yushu.
By flight: Yushu Batang Airport (IATA:YUS 玉树巴塘机场) is about 22 km, 30 minutes' drive from Yushu. It operates direct flights between Xining (1h20min), Beijing (4.5h), Chengdu (1h40min), Xian (3.5h) and Lhasa (1.5h). Airport shuttle bus is available and is scheduled according to the arrival time of the flights.
By bus: Xining Passenger Station operates over 10 daily buses to Yushu through national highway 214, which is in good road condition. But it is a very long journey of about 11.5 hours.
☞ 7 Days In-depth Discovery Tour of Qinghai Culture & Nature
Xining to Yushu Map
How to Plan A Qinghai Tour
How to Get to Qinghai: Xining is the transfer hub of Qinghai, and you can get there by flight from Beijing (2.5h), Shanghai (3h), Guangzhou (3h15min), Lhasa (2-3.5h), Xian (1.5h), etc. or by train to Xining from Xian (4-5h), Lanzhou (70min-2.5hrs), Zhangye (2h), Jiayuguan (3.3.5h), Dunhuang (6h), etc.
Best Time to Visit Qinghai: May to October is available to travel most area in Qinghai, especially July and August when the weather is most comfortable.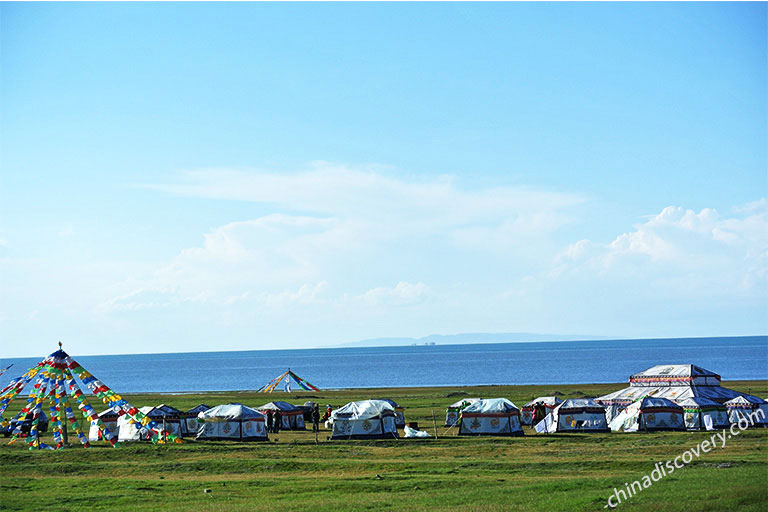 Erlangjian Scenic Area in Qinghai Lake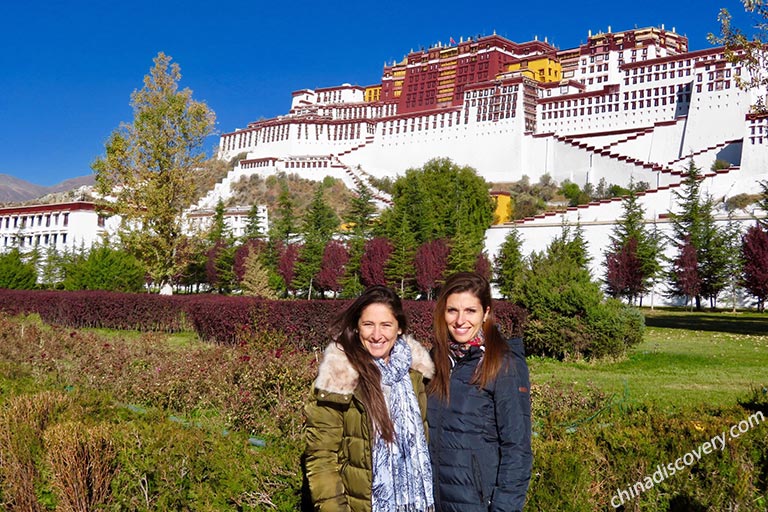 Julie and her friend from France visited Potala Palace in Lhasa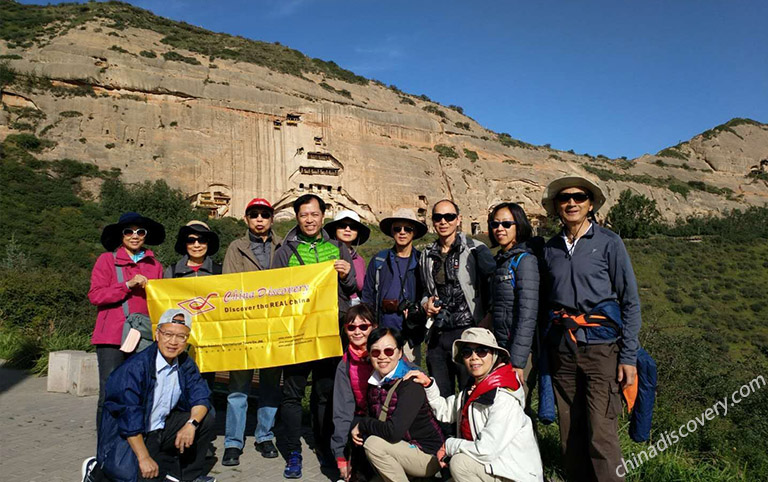 Mrs. Chan's group from Canada visited Matisi Temple along the Silk Road
Keep Reading About Qinghai Tours & Travel Guide
Keep Reading About Qinghai Attractions
Recommended Qinghai Tours
Top 3 Qinghai tours chosen by most customers to explore Qinghai in the best way. Check the detailed itinerary, or tailor your own trip now with us.
4 Days Enchanting Qinghai Lake Chaka Salt Lake Tour

Xining / Qinghai Lake / Chaka Lake / Xining
8 Days Qinghai Lake Zhangye Danxia Badain Jaran Desert Wonders Tour

Xining - Zhangye - Badain Jaran Desert
4 Days Qinghai Lake Landscape Tour Plus Tongren Authentic Tibetan Culture and Art Exploration

Xining / Qinghai Lake / Tongren / Xining
Start planning your tailor-made holiday to China by contacting one of our specialists. Once inquired, you'll get a response within 0.5~23.5 hours.
Customize a Trip
Have a question? Get answers from our travel experts or guests
Your Question:

Your Name:

Your Email: