Qinghai FAQs & Tips: Things to Know Before Visiting Qinghai 2023
Qinghai is a high-altitude area inhabited by many ethnic groups, which is quite different from the plain areas of China in terms of weather, religious tradition, etc., so it is necessary to make a good strategy in advance.
Weather & Scenery: When Is The Best Time to Visit Qinghai?
Qinghai has a variety of natural scenery with highlands, grasslands, lakes, snow mountains, Danxia landscape, deserts, etc. You can visit Xining in any season, to discover its beauty. 
♦ Qinghai Climate: Qinghai Tibet Plateau is a region with many winds, less rain, dry, low air pressure, low air density, and strong sunlight and ultraviolet rays. Please bring sunscreen, sunglasses, sunhat, and sunblock clothes. In addition, the weather on the plateau is changeable, and the temperature during the daytime and night varies a lot. Sometimes, you can experience the temperature of different seasons in only several days. Because the humidity is very low and the sir is dry, you may need to eat more vegetables, fruits, and drink more water to keep healthy.
♦ Best Season to Visit Xining: When most parts of the country are in high temperature and heat in summer, Qinghai ushers in the most comfortable season of the year from June to August. With cool wind, green grass, and rapeseed flowers all over the mountains, it is the best choice to come to Qinghai for summer vacation. Considering that many families travel during the summer vacation, there may be crowds in some attractions in July and August. Besides summertime, the late spring in March and the early autumn in September and October are also good seasons to visit Qinghai.
♦ Qinghai Rapeseed Flowers: it is mainly planted on the lakeside of Qinghai Lake. Generally, it starts to be planted in the middle and late June, and some of the early ones begin to bloom gradually. By July, it is already a yellow sea of flowers. Now the rapeseed flowers here are planted in batches, and some will be planted twice, so the flowering period is long.
♦ Qinghai Sunset & Starry Sky: Qinghai is located on the plateau, with thin air, less light pollution, and less rainfall. On a sunny day, you can see magnificent sunset and a beautiful starry sky. The sunrise in Qinghai Lake and the starry sky of Chaka Salt Lake are gorgeous.
Packing List: What to Pack for Qinghai Trip?
• Clothes: Winter clothes and sunblock clothes should be prepared for all seasons of travel. Even in summer, the night temperature here may be close to 0 C°. Long sleeve clothes and long trousers are a must; You need to cover your exposed skin as much as possible when you are doing outdoor activities.
• Shoes: sandals, comfortable sports shoes
• Sunblock: sunscreen or spray with high SPF, sunhat, sunglasses
• Moisture: Skincare products, lip balm, hand cream, and moisturizing lotion.
• Snack: Energy bar, chocolate, instant noodles, etc
• Water: it's better to bring some bottled water and a water bottle.
• Drugs: Carsickness pills, Supplement vitamins, other necessary medicines.
• Documents: Your valid documents like passport, visa, etc.
Acute Mountain Sickness(AMS): How to Prevent Altitude Sickness?
High Altitude Sickness is a kind of pathological reaction of the human body exposed to low pressure and hypoxia environment. It is a common disease in high-altitude areas. The average altitude of the Qinghai Tibet Plateau is about 4000 meters, and the oxygen of the atmosphere is only about 70% of that of the plain. It is normal for tourists to have a slight plateau reaction when they come to Qinghai for the first time. People may have mild dizziness, headache or loss of appetite, and other symptoms. They should rest well, especially on the first day of their arrival. They should not work out too much. It is better to have more rest on the first day when they arrive at the plateau; In addition, please prepare commonly used drugs. For guests with severe hypertension or heart disease, please bring your own medicines.
♦ Can Old People/Children Go There: People with healthy physical conditions can visit Qinghai. Relatively speaking, either young or old, as long as you are healthy, without serious cardiovascular and cerebrovascular diseases and other diseases that are not recommended to travel, they can take a trip to Qinghai. Generally, there is no problem for children and the old accompanied by their families.
Payment: Can I Pay by Mobile Phone or Cash?
You can use Alipay and WeChat pays in most of the regions. Some remote areas may need to use CNY cash. Credit cards are not recommended as a way of payment in Qinghai because they are only accepted by the Bank of China and only a few hotels in Xining accept credit cards. When visiting Qinghai, you are recommended to have your hotels, chartered cars, attraction tickets, and flights booked in advance.
Transportation: How to Get to and the Best Way to Visit It?
Qinghai is vast in the territory of Northwest China. Though the scenery is very beautiful, transportation is a big problem. It's hard to travel by public transportation, and many sceneries along the way can't be reached by public transportation, so charter a car or self-driving is the top choice. When you travel to Qinghai, you usually choose the provincial capital city as the starting point, that is, Xining. Since Lanzhou, the capital city of nearby Gansu is ais also close to Qinghai with convenient transportation, many people will choose to arrive in Lanzhou / Xining first by air/train, and then charter cars or find drivers to travel in Qinghai Province. 
♦ Flight: at present, there are many flights landing at/taking off from Xining Caojiabao Airport and Lanzhou Zhongchuan Airport, which can basically connect major cities in China. The transportation between Xining and Lanzhou is very convenient. The duration is only about an hour by high-speed bullet train.
♦ Train: with the high-speed rail routes from Chengdu to Xining, Xi'an to Lanzhou, Lanzhou to Xining, it is very convenient to take the high-speed rail to Qinghai, and basically you can easily reach Xining by high-speed train from most major cities in China. There are two railway stations in Xining and two railway stations in Lanzhou. When taking a train, you need to figure out the right station to go to.
How to find vehicles when traveling in Qinghai?
Before departure, you may need to plan the route ahead of time. It is suggested that you should relax the time and choose a well-known and reliable travel company like us. With a professional driver and tour guide, you do not need to worry about the Qinghai routes' conditions. You can just focus on sightseeing with both flexibility and safety of your Qinghai journey;
Accommodation: How's the Hotel in Qinghai and How to Prepare in Advance?
Qinghai has vast territory and beautiful scenery on the road. The facilities and environment of hotels may not be as good as those in big cities like Beijing and Shanghai. During the busy season from June to August every year, hotel occupancy will be much higher than normal days, so it is necessary to book your hotel in advance.
Suggestions for accommodation in peak season
1. In the peak season, the price of hotels increases, and the price is relatively expensive. Sometimes there is no room available, so we must book in advance;
2. If you book a hotel through a travel agency, it will be cheaper than if you book it by yourself, but make sure you find a travel agency with good organization and service;
3. In some remote hotels, the items provided may not be very complete. Some toiletries and towels are not available.
4. If you want to go out to set up tents, please ask for professional advice and local policy in advance, and ensure the legality and your safety first.
Documents: What Documents Do I Need to Travel Qinghai?
Qinghai has vast territory and beautiful scenery. However, foreigners are limited to visit some northern and eastern parts of Qinghai. In most other areas, you can bring your passport and visa to visit. For certain travel destinations in Qinghai and travel permit applications, please consult us before you start your journey in case you have any trouble during the journey.
Other Qinghai Tips on Food, Customs, Shopping, and Photography
♦ Food and Custom: The food in Qinghai is mainly halal, with beef and mutton as the main course. Tourists who don't eat halal food can have a lot of Chinese food to choose from along the way; In different areas, tourists should also pay attention to the dietary taboos of the local ethnic groups. For example, in Tibetan areas, tourists should avoid eating fish, horses, and donkey meat. When Tibetan people offer the scarf-like hada to show hospitality, tourists need to hold it with both hands and hang it on the neck, and do not take it off immediately. In Muslim areas, it is best not to eat the animal blood, the meat of pigs, horses, mules, etc.
♦ Shopping: don't buy any wildlife products in Qinghai or ask the local people about the price easily. If you are found carrying these goods by the customs or police, you may face great trouble.
♦ Photography: generally, it is forbidden to shoot in temples. If necessary, please follow the local regulations. Before shooting people, especially monks and women, you must obtain permission from the other party to avoid unnecessary trouble. When shooting in the field, you should keep in mind that safety is first and keep your camera in good condition, and do not lose it.
How to Plan A Qinghai Tour
How to Get to Qinghai: Xining is the transfer hub of Qinghai, and you can get there by flight from Beijing (2.5h), Shanghai (3h), Guangzhou (3h15min), Lhasa (2-3.5h), Xian (1.5h), etc. or by train to Xining from Xian (4-5h), Lanzhou (70min-2.5hrs), Zhangye (2h), Jiayuguan (3.3.5h), Dunhuang (6h), etc.
Best Time to Visit Qinghai: May to October is available to travel most area in Qinghai, especially July and August when the weather is most comfortable.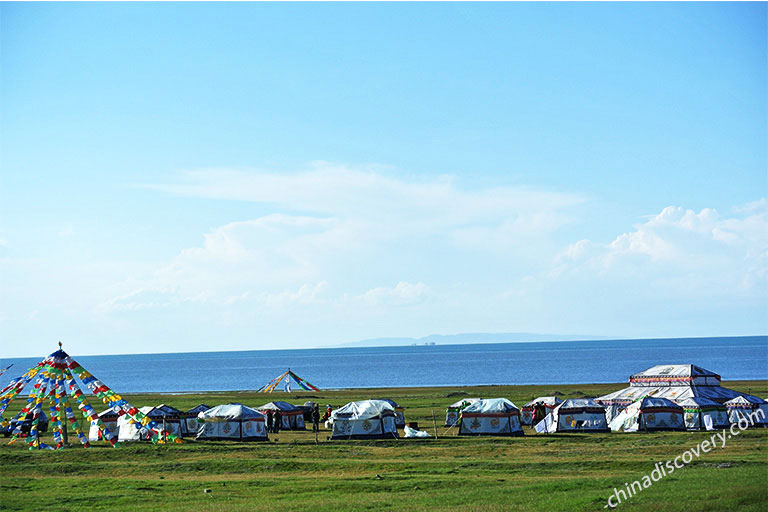 Erlangjian Scenic Area in Qinghai Lake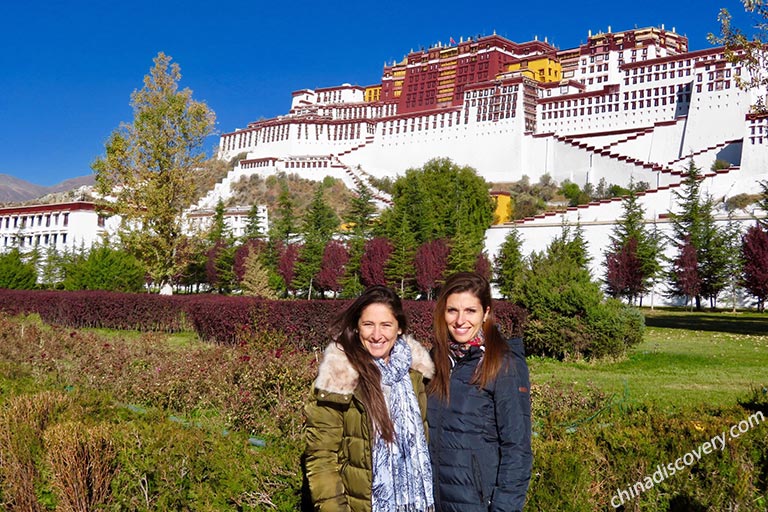 Julie and her friend from France visited Potala Palace in Lhasa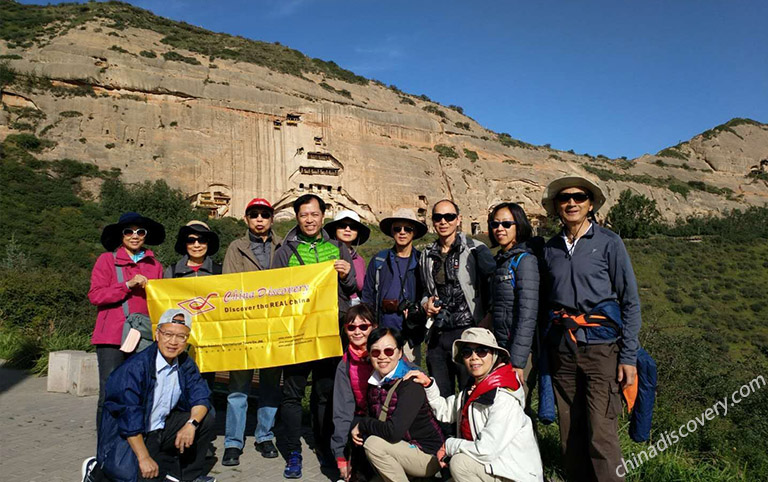 Mrs. Chan's group from Canada visited Matisi Temple along the Silk Road
Keep Reading About Qinghai Tours & Travel Guide
Keep Reading About Qinghai Attractions
Recommended Qinghai Tours
Top 3 Qinghai tours chosen by most customers to explore Qinghai in the best way. Check the detailed itinerary, or tailor your own trip now with us.
4 Days Enchanting Qinghai Lake Chaka Salt Lake Tour

Xining / Qinghai Lake / Chaka Lake / Xining
4 Days Qinghai Lake Landscape Tour Plus Tongren Authentic Tibetan Culture and Art Exploration

Xining / Qinghai Lake / Tongren / Xining
4 Days Qinghai Lake Kanbula National Forest Park Geographic Wonder Tour

Xining / Kanbula National Forest Park / Qinghai Lake / Xining
Start planning your tailor-made holiday to China by contacting one of our specialists. Once inquired, you'll get a response within 0.5~23.5 hours.
Customize a Trip
Questions & Discussions
Following are latest questions and answers from our webusers and customers. You can learn many useful information from the discussion and cases. You can also join in the discussions or ask your own question. Our experts will help you ASAP.
MenYuan County
I will be visiting Xining for 2 days. What is the best way to get to Menyuan to see the rape flowers? Is there a bus from the Xining Railway Station?
Dear Naomi,

Taking a tour package including tour guide and transfer is the most comfortable and recommended way to visit Menyuan. If you want to take bus, you have to take a taxi from Xining Railway Station to Xinning Road Bus Station (新宁路汽车站) to take bus to Menyuan County. But you don't have to get to the final stop Menyuan County, you can take off the bus at middle way - Qingshizui Town (青石嘴镇) to see the rape flowers.
Have a question? Get answers from our travel experts or guests
Your Question:

Your Name:

Your Email: