Qingdao Maps 2024: Updated, Detailed and Downloadable
Qingdao, a picturesque coastal city with both natural and cultural charm, is located in the eastern part of Shandong Province. In order to have a more efficient Qingdao tour, it is quite important to get a better understanding of Qingdao's location, transfer way and attractions distribution. Here we list the most helpful travel maps, including Qingdao Location Maps, Qingdao Transfer Maps, Qingdao Tourist Maps, etc. Feel free to download these maps and start a valuable Qingdao trip here.
√ 3 Days Qingdao Highlights Tour | √ 2 Days Qingdao City Short Stay | √ 4 Days Qingdao Qufu Mount Tai Essence Tour
Qingdao Location Maps - Where is Qingdao
Qingdao is located in the southeastern part of Shandong Province, bordering Yantai in north, Weifang in west and the Yellow Sea in east and south, while Shandong Province is a peninsula located in the eastern part of China, with Tianjin City in north, Hebei Province in northwest, Henan Province in southwest and Jiangsu Province in south. Check Qingdao location maps here:
Qingdao Transportation Maps - Get to/around Qingdao Map
It is quite convenient to get to Qingdao by flights and trains. Taking a flight is the fastest way to reach Qingdao. Qingdao Liuting International Airport can be reached by international flights from Seoul, Tokyo, Osaka and London as well as frequent domestic flights from China's major cities and tourist destinations, including Beijing (1.5h), Shanghai (1.5h), Xian (2h), Chengdu (2.5~3h), Chongqing (2.5h), Guangzhou (3h), etc. Besides, daily high speed trains are also available to take to Qingdao from Beijing (3~5h), Xian (8~9.5h), Shanghai (6.5~7h), Guangzhou (13), Hangzhou (7.5h), Suzhou (6.5h), Chongqing (13.5~15h), etc. Check detailed maps of how to get to Qingdao here:
Qingdao Tourist Maps - How to Travel Qingdao
There are many attractions to see in Qingdao. What you can't miss include Qingdao Beer Museum with great beer exhibition, Badaguan Scenic Area with beautiful villas, May Fourth Square with great night show, Laoshan Mountain with charming natural sightseeing, etc. You may wonder how to get to these attractions and how to travel them. Check the detailed travel Qingdao maps here:
How to Plan Qingdao Tour
Best time to visit Qingdao: March to November, especially mid-August to early September if you want to join Qingdao Beer Festival
How to get to Qingdao: High speed train from Beijing (1.5h), Jinan (2-2.5h), Tianjin (4~4.5), etc., and flights from Beijing (1.5h), Shanghai (1.5h), Xian (2h), Luoyang (1.5h), Guangzhou (3.5h), etc.
Where to Stay in Qingdao: Most recommended to stay in Qingdao downtown near May Fourth Square and along the coastline to Zhanqiao Pier for the convenient transportation and comfortable living environment.
Generally, a classic Qingdao tour takes 2~3 days, with the top attractions of Qingdao covered. It is recommended to spend 2 full days exploring the best highlights of Qingdao, including Qingdao Beer Museum which showcases the hundreds of years' history of Tsingtao Beer, Xiaoyushan Park which offers a valuable panoramic view of Qingdao City and nearby attractions, Zhanqiao Pier - the symbol of Qingdao and Badaguan Scenic Area with old villas of different architecture styles of over 20 countries. If you have more time, don't miss Laoshan Mountain where you are able to appreciate the beautiful mountain view and seascape together.
√ 3 Days Qingdao Highlights Tour
√ 3 Days Qingdao Beer & Seaside Tour
Qingdao is just a small piece of charming Shandong. If you want to add cultural savory into your trip, we strongly suggest you visit Mount Tai and Qufu. Mount Tai is the first UNESCO World Natural & Cultural Heritage site while Qufu is the hometown of Confucius. Spending another 2~3 days visit these two destinations will deliver you an unforgettable experience of Chinese culture discovery.
√ 2 Days Most Classic Mount Tai Hiking Tour
√ 3 Days Taishan & Qufu Tour from Beijing by Bullet Train
√ 6 Days Jinan, Qufu, Mount Tai & Qingdao Tour
Of course, you may be extremely interested in the best beaches and coastlines of Shandong province. It is also worthwhile to visiting Yantai, Penglai and Weihai in 3 more days. Or you could enjoy a comprehensive tour throughout the whole province to taste the brilliant culture and fascinating nature of Shandong in the most aspects in one go. Feel free to browse our all Shandong Tour Packages>
√ 7 Days Golden Coast of Shandong Tour (Qingdao / Weihai / Yantai / Penglai / Yantai)
√ 8 Days Shandong History & Culture Tour (Qingdao / Weihai / Yantai / Penglai / Yantai)
√ 10 Days Shandong Panorama Tour (Qingdao / Weihai / Yantai / Weifang / Zibo / Qufu / Mount Tai / Jinan )
Zhanqiao Pier in Qingdao
Confucian Temple Sacrifice in Qufu
Penglai Pavilion in Yantai
Travel with China Discovery
In order to get a Qingdao tour, It is strongly recommended to travel with China Discovery. Our local travel guide and driver will pick you up at the airport or train station as you arrive with an air-conditioned and non-smoking vehicle, and then escort you to your hotel or every attraction listed in your itinerary. Great freedom will be given to you whenever you need to stop for sightseeing and photograph. You are sure to enjoy a comfortable, safe and efficient experience.
Far more than that, China Discovery is professional to provide high-quality customizable tour. Before your tour, our travel expert will communicate with you one to one and make an itinerary according your own interest, need and budget. Every detail – transfer, hotels, attractions, etc. will be arranged well for you and you just need to focus on sightseeing. Feel free to contact us to start your worry-free private tour now!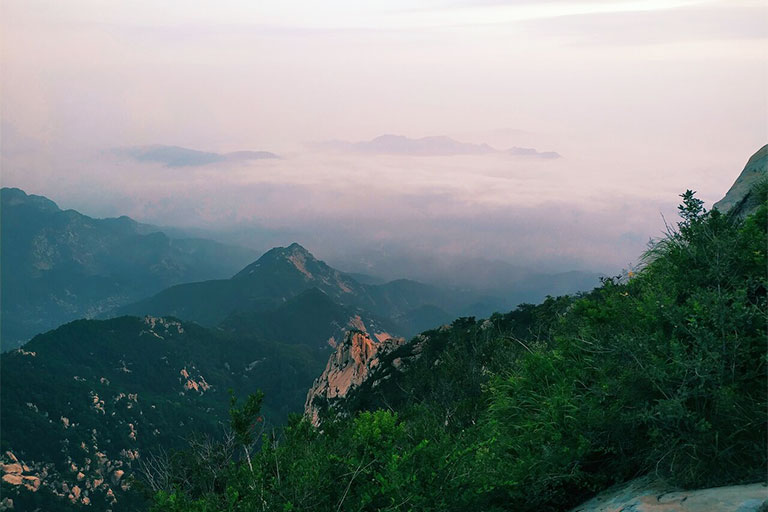 Mount Tai, Shot by Our Customer
More about Shandong Travel Guide
Recommended Qingdao Tours
Top 3 Qingdao tours chosen by most customers to explore Qingdao in the best way. Check the detailed itinerary,or tailor your own trip now with us.
4 Days Qingdao Qufu Mount Tai Essence Tour

Qingdao / Qufu / Mount Tai