Qingdao Comfortable Hotels | 4 Star Hotels in Qingdao
Qingdao is an international tourism city with beautiful coastal scenery, profound history & culture, and delicious sea food. It usually needs 2 ~ 3 days to enjoy all the essences of Qingdao.
Our recommended luxury and comfortable hotels in Qingdao with good sea-view, hospitable service, favorable location, and reasonable price will offer you a pleasant living experience during your Qingdao tour. During your stay, you are most recommended to stay in Qingdao downtown (May Fourth Square) as it has convenient access to all parts of Qingdao. If you plan to stay near Laoshan or the airport, here we also select some choices for you.
Useful Link: Where to Stay in Qingdao>>
Recommended Qingdao Tours:
✔ 2 Days Qingdao City Short Stay
✔ 3 Days Qingdao Highlights Tour with Laoshan Mountain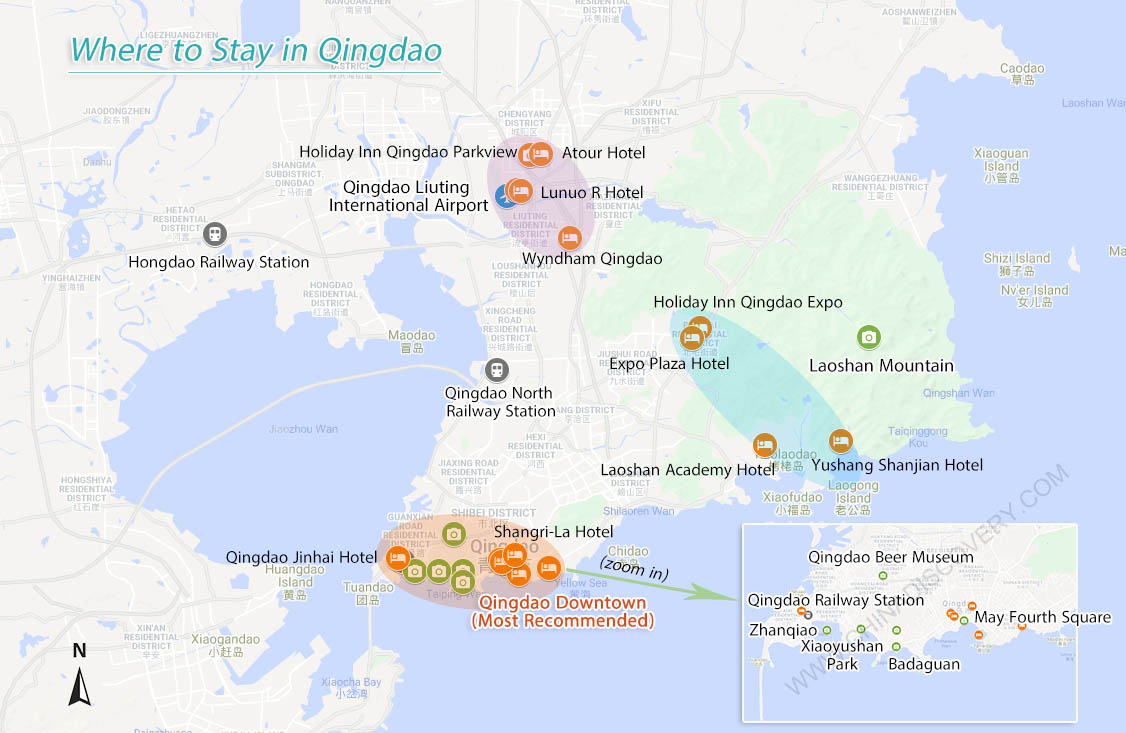 Qingdao Accommodation
How to Plan Qingdao Tour
Best time to visit Qingdao: March to November, especially mid-August to early September if you want to join Qingdao Beer Festival
How to get to Qingdao: High speed train from Beijing (1.5h), Jinan (2-2.5h), Tianjin (4~4.5), etc., and flights from Beijing (1.5h), Shanghai (1.5h), Xian (2h), Luoyang (1.5h), Guangzhou (3.5h), etc.
Where to Stay in Qingdao: Most recommended to stay in Qingdao downtown near May Fourth Square and along the coastline to Zhanqiao Pier for the convenient transportation and comfortable living environment.
Generally, a classic Qingdao tour takes 2~3 days, with the top attractions of Qingdao covered. It is recommended to spend 2 full days exploring the best highlights of Qingdao, including Qingdao Beer Museum which showcases the hundreds of years' history of Tsingtao Beer, Xiaoyushan Park which offers a valuable panoramic view of Qingdao City and nearby attractions, Zhanqiao Pier - the symbol of Qingdao and Badaguan Scenic Area with old villas of different architecture styles of over 20 countries. If you have more time, don't miss Laoshan Mountain where you are able to appreciate the beautiful mountain view and seascape together.
√ 3 Days Qingdao Highlights Tour
√ 3 Days Qingdao Beer & Seaside Tour
Qingdao is just a small piece of charming Shandong. If you want to add cultural savory into your trip, we strongly suggest you visit Mount Tai and Qufu. Mount Tai is the first UNESCO World Natural & Cultural Heritage site while Qufu is the hometown of Confucius. Spending another 2~3 days visit these two destinations will deliver you an unforgettable experience of Chinese culture discovery.
√ 2 Days Most Classic Mount Tai Hiking Tour
√ 3 Days Taishan & Qufu Tour from Beijing by Bullet Train
√ 6 Days Jinan, Qufu, Mount Tai & Qingdao Tour
Of course, you may be extremely interested in the best beaches and coastlines of Shandong province. It is also worthwhile to visiting Yantai, Penglai and Weihai in 3 more days. Or you could enjoy a comprehensive tour throughout the whole province to taste the brilliant culture and fascinating nature of Shandong in the most aspects in one go. Feel free to browse our all Shandong Tour Packages>
√ 7 Days Golden Coast of Shandong Tour (Qingdao / Weihai / Yantai / Penglai / Yantai)
√ 8 Days Shandong History & Culture Tour (Qingdao / Weihai / Yantai / Penglai / Yantai)
√ 10 Days Shandong Panorama Tour (Qingdao / Weihai / Yantai / Weifang / Zibo / Qufu / Mount Tai / Jinan )
Zhanqiao Pier in Qingdao
Confucian Temple Sacrifice in Qufu
Penglai Pavilion in Yantai
Qingdao Tours
Qingdao Travel Guide
More about Shandong Travel Guide
Recommended Qingdao Tours
Top 3 Qingdao tours chosen by most customers to explore Qingdao in the best way. Check the detailed itinerary, or tailor your own trip now with us.
Jinan / Mount Tai / Qufu / Qingdao