How to Travel from Hangzhou to Putuoshan?
How about a tour of traveling the picturesque Hangzhou and the Buddhist paradise Putuoshan (Mount Putuo) together? Absolutely GREAT! These two destinations are not very far from each other. Besides, they introduce you somewhat the top blend of natural beauties and cultural charms in China!
How to travel from Hangzhou to Putuoshan? Here we will tell you the detailed transportation info, including the locations, private car, bus, ferry, etc.
Best Hangzhou Putuoshan Tour:
☛ 4 Days Hangzhou Putuoshan Brief Tour
Where are Hangzhou & Putuoshan?
Hangzhou and Putuoshan are both located in Zhejiang Province, China. Hangzhou City is the capital of Zhejiang, while Putuoshan is a world-class Buddhist scenic area settled on the Putuoshan Island in Zhoushan City of Zhejiang. The direct distance from Hangzhou to Putuoshan is about 218 kilometers. However, Putuoshan can only be reached by ferry. Therefore, you cannot get from Hangzhou to Putuoshan directly but make a transfer at Zhoushan. Zhoushan has two wharfs offering ferry services to Putuoshan, including Zhujiajian Wugongzhi Wharf and Shenjiamen Banshengdong Wharf. At present, you can take a private car to one of these wharfs or take a bus to the bus stations in Zhoushan downtown or near the wharfs first, and then ride a ferry to Putuoshan.
Warm tip: Zhujiajian Wharf is more popular, because it has more frequent ferries and it is the only wharf providing night ferries. However, Shenjiamen Wharf is also a good choice to catch a ferry to Putuoshan during the day. Check more about Zhoushan to Putuoshan Ferry >>
Hangzhou to Putuoshan Map
Hangzhou to Putuoshan Private Car + Ferry (Top Recommended)
Time needed: from 3.5 hours
Recommended for: All the visitors
Getting from Hangzhou to Putuoshan by private car plus ferry is the best and most recommended way. With the help of private car service, you can get to the wharfs in Zhoushan directly, without the hassles to find the correct bus stations or ferry stations. Driving from Hangzhou to Putuoshan needs merely 3 hours around. And upon arriving at the wharf, you can get to Putuoshan in about 10~20 minutes by ferry.
We China Discovery also offer such warm private car service from Hangzhou to Putuoshan. Once you travel with us, our experienced local driver will escort you from your hotel/airport/train stations/tourist site in Hangzhou to the wharf in Zhoushan directly. And there will also be a professional guide accompany you all the way and introduce you the Buddhist culture of Putuoshan. If you are in need, please feel free to contact us!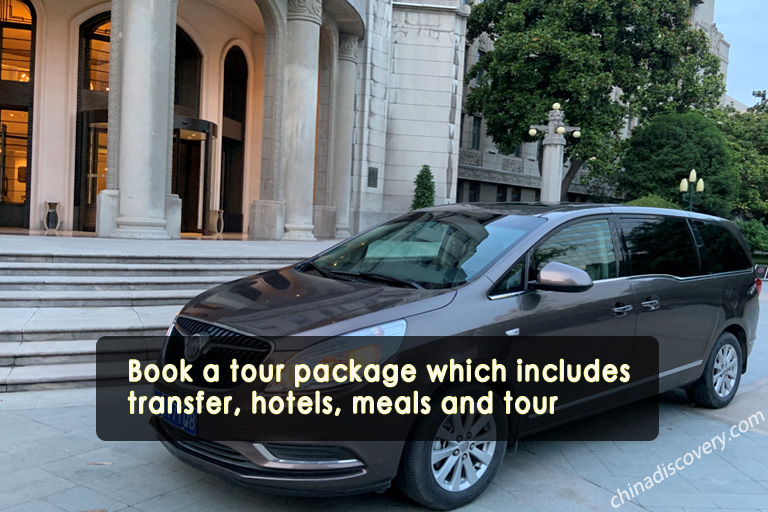 Hangzhou Private Transfer Service
Hangzhou to Putuoshan Bus + Ferry
Time needed: from 4.5 hours
Recommended for: independent travelers
In Hangzhou, you can also find frequent long-distance buses to Zhoushan. Many bus stations operates such bus services, like Hangzhou Bus and Passenger Transport Central Station (杭州汽车客运中心站), Hangzhou North Bus Station (杭州汽车北站) and Hangzhou South Bus Station (杭州汽车南站), etc. At least 3.5 hours are needed for the bus journey. For independent travelers who are not care much about the long period of bus tour, you can also take these buses into account, which are certainly the most budget choices. Buses departing from Hangzhou North Bus Station and Hangzhou South Bus Station are the best recommendations, because they will take you to the bus station near the wharfs in Zhoushan. Normally, buses are available between 7:00am to the 19:00pm, and there are more buses scheduled in the morning than the afternoon.
After arriving at the bus stations on the Zhoushan side, you are required to ask a taxi to get to the wharfs to catch a ferry to Putuoshan.
Hangzhou to Putuoshan Bus
Hangzhou to Putuoshan Train + Ferry
Time needed: from 3 hours, including 1 hour around by bullet train to Ningbo plus at least 2 hours by bus + ferry
Recommended for: bullet train lovers
In addition to the car and bus, you can also ride a high speed train from Hangzhou to Ningbo first, and then catch bus to Baifeng Wharf in Ningbo or Zhujiajian Wharf/Shenjiamen Wharf in Zhoushan to take a ferry to Putuoshan.
The high speed train ride needs about 1~1.5 hours. Every day, there are over 65 high speed trains for you to choose. Most of the trains depart from Hangzhou East Railway Station. And the rest depart from Hangzhou South Railway Station. All the trains arrive at Ningbo Railway Station.
From Ningbo Railway Station, you can head to Baifeng Wharf to take a ferry to Putuoshan. Baifeng Wharf is about 55 kilometers and 1 hour away from Ningbo Railway Station by car. The ferry from Baifeng Wharf to Putuoshan Wharf takes 70 minutes around. Besides Baifeng Wharf, you can also take a bus/car to Zhoushan, and then ride a ferry from Zhoushan Zhujiajian Wharf or Shenjiamen Wharf to Putuoshan. Zhoushan has more frequent ferries.
Ningbo Baifeng Wharf
How to Plan a Hangzhou Putuoshan Tour
A Hangzhou Putuoshan tour usually starts from Hangzhou, the bustling capital city with frequent international flights, domestic flights and also high speed trains. And visitors spend 3~4 days for such a tour, including 1~2 days to explore the highlights in Hangzhou, including the world-famous West Lake, Lingyin Temple, etc., and 2 days around for a Buddhism tour in Putuoshan.
☛ 4 Days Hangzhou Putuoshan Brief Tour
Besides, there are also visitors who visit nearby Shanghai or Ningbo first, and then go to Putuoshan and Hangzhou for exploration. A Shanghai Putuoshan Hangzhou tour or Ningbo Putuoshan Hangzhou tour takes about 3~5 days.
What's your preference? If you have any personal travel ideas, you can also contact us to customize a perfect tour!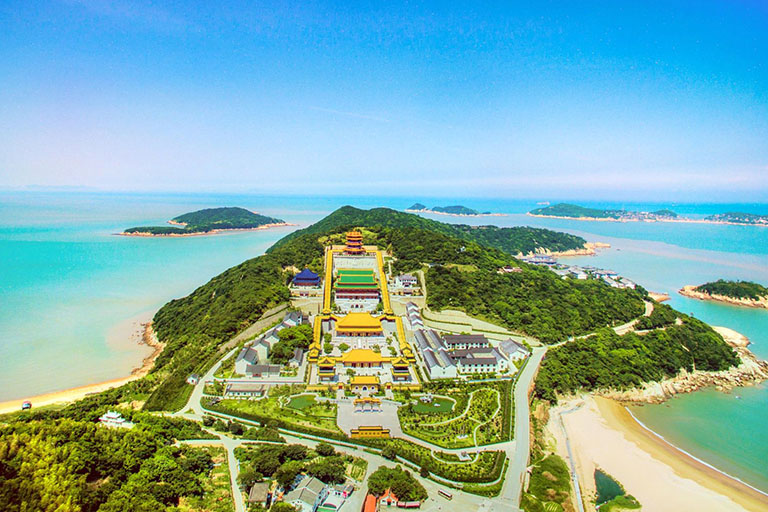 An Panorama View from Foding Mountain in Putuoshan
Travel Putuoshan with China Discovery
Looking for a worry-free Putuoshan Tour without checking ferry schedules and visiting routes? Travel with us China Discovery and let our professional travel consultant help you. No matter you are coming from Shanghai, Ningbo, Hangzhou or any other cities in and out China, we will carefully customize a perfect Putuoshan tour with your say, including your interests, budget, group size, time and every special need. Our experienced and knowledgeable guide will choose the best ferry to/from Putuoshan and introduce you the background of Putuoshan and Guanyin (Avalokitesvara, the Goddess of Mercy)!
If you are interested, please feel free to contact us!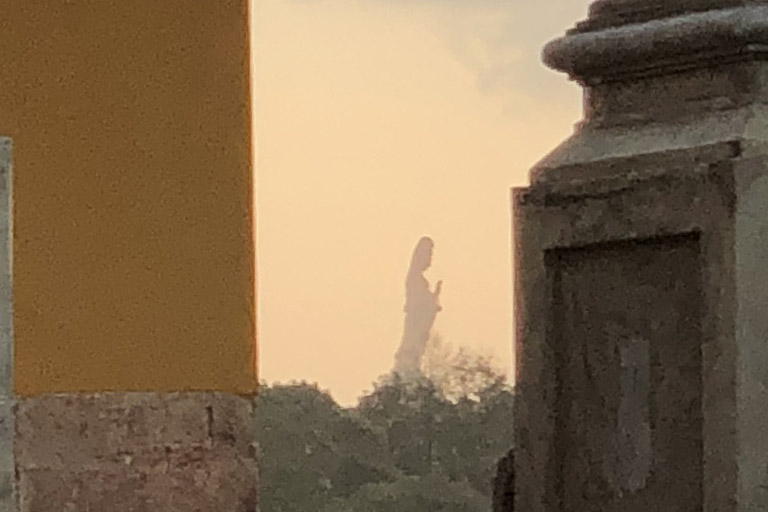 Our Customer John and his group visited Putuoshan in 2018
More about Zhejiang Travel Guide
Recommended Tours
Top 3 tours chosen by most customers to explore in the best way. Check the detailed itinerary, or tailor your own trip now with us.
2 Days Putuoshan Classic Tour from Shanghai

Shanghai / Putuoshan / Shanghai
4 Days Hangzhou Putuoshan Brief Tour

Shanghai / Putuoshan / Hangzhou
5 Days Buddhism Tour to Mount Putuo & Mount Jiuhua from Shanghai

Shanghai / Mount Putuo / Mount Jiuhua
Start planning your tailor-made holiday to China by contacting one of our specialists. Once inquired, you'll get a response within 0.5~23.5 hours.
Customize a Trip
Have a question? Get answers from our travel experts or guests
Your Question:

Your Name:

Your Email: