The Mystery of the Western Xia Dynasty and the Imperial Tombs
Led by Tangut, the Western Xia Dynasty is an imperial dynasty of China lasting from 1038 to 1277 when Genghis Khan and his Mongol armies swept in from the north, wiping out any trace of the former empire. It occupied a large area around the Silk Road, the most important trade route between China and central-Asia. The places it ruled over include Ningxia, Gansu, eastern Qinghai, northeastern Xinjiang, southwest Inner Mongolia, and southernmost Mongolia at its heyday. The emperors of the Western Xia Dynasty showed a high authority among their counterparts of the Liao, Song and Jin for their military power.
The history of the dynasties had been obscure and mysterious due to the absence of the documentary records until the pyramid tombs the imperial emperors were discovered. The preserved tombs and the burial objects allow the visitors to catch a glimpse of this dynasty. During one thousand years since the tombs were built, there have been numerous torrential flood in Helan Mountain areas, but miraculously none of them attacked these imperial tombs, which adding mysterious color to the Western Xia Imperial Tombs.
The Layout of Western Xia Imperial Tombs
The whole area of Western Xia Imperial Tombs stretches about 5 km from the east to the west and about 10 km from the south to the north. It covers an occupation of over 50 square kilometers. There are 9 massive imperial tombs along with more than 200 attendant tombs arranged in an orderly manner with beautiful Helan Mountain as a backdrop. The entire scale of the Western Imperial Tombs is approximate to the scale of Ming Tombs in Beijing. The structure of each tomb consists of platforms, watchtowers, the moon city, the inner city, temple tomb and other groups, and the main structures are aligned on a north-south axis geography in asymmetrical format according to the traditional Chinese style.
Highlights of Western Xia Imperial Tombs
Traveling to the Western Xia Tombs, visitors are mostly attracted by the tombs set in the vast Gobi desert and the unique historical atmosphere. The museum is also informative to tell the story of the Western Xia Dynasty and the collections are worthy of your time as well.
Tomb Sites - Tai Tomb, Yu Tomb and Jia Tomb
At present, there are only 3 imperial tombs open to the public, namely Yu Tomb(裕陵), Jia Tomb (嘉陵) and Tai Tomb (泰陵).
No. 3 Tomb, located in an open land, is presumed to be the Tai Tomb of the founding emperor Li Yuanhao (李元昊) who was a talent army general and always wanted to establish a country for Tanguts. Covering about 150,000 square meters, Tai Tomb is the largest mausoleum among the nine. Just like other imperial mausoleums, Tai Mausoleum was an octagonal pagoda originally. After the erosion of war and years, the shell of glazed tiles and wooden buildings had long been ruthlessly peeled off, leaving only the earthen pyramid hill standing proudly on the vast Gobi Desert. The tiered tomb walls, tomb platform, foundation and high towers can be figured out.
About 10 km away from Tai Tomb are Twin Tombs, namely Yu Tomb (No.1 Tomb) and Jia Tomb (No.2 Tombs). Yu Tomb of Li Ji (Li Yuanhao's grandfather) and Jia Tomb of Li Deming (Li Yuanhao's father) are adjacent to each other.
Western Xia Tombs Museum
The Western Xia Tombs Museum is a must-visit that provides you with a great perspective of the history of the tombs before you go. This two-story building consist of 6 parts, including the Brief History of Western Xia, the Culture of Western Xia, the Religion & Art of Western Xia, the Society & Economy of Western Xia, the Tombs of Western Xia, and Protection & Inheritance which introduce in detail many interesting story of Western Dynasty (such as the territory of the Western Xia Dynasty, the emperors of various generation) as well as over 5,000 pieces of unearthed funerary cultural relics (such as inscriptions, stone carvings, building components, porcelain, coins, copper and iron, etc.). In the display of cultural relics, the museum uses physical objects, charts, photocopies, creative paintings, sculptures, models, scenes, multimedia and other display methods and means to give the audience a large amount of cultural information and show the historical and cultural context of Western Xia Dynasty..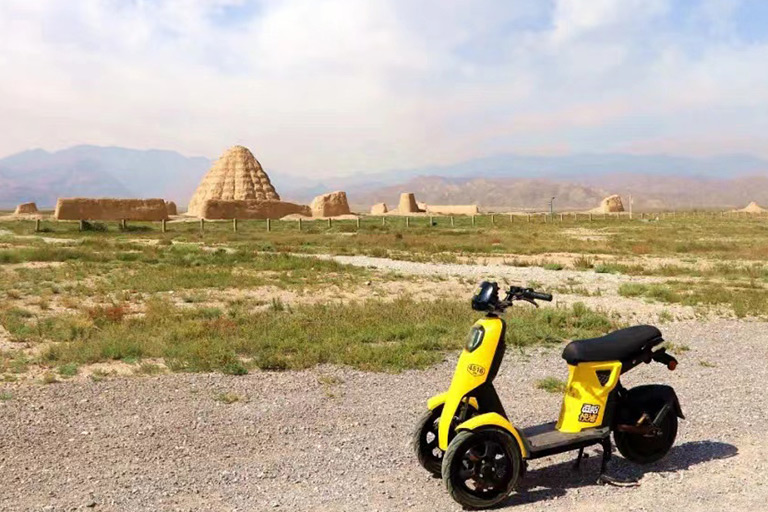 Tai Tomb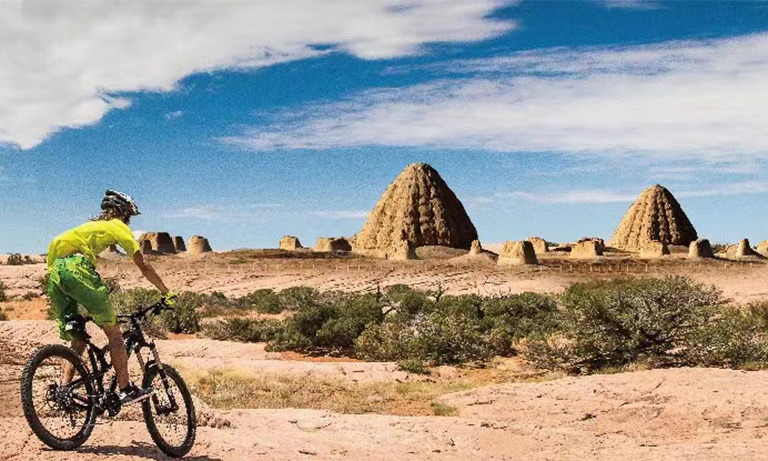 Twin Tombs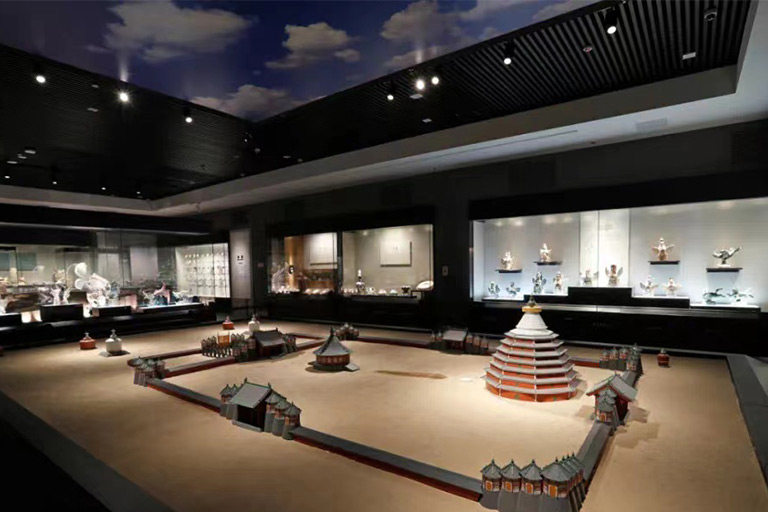 Western Xia Tombs Museum
☛ 5 Days Ningxia Discovery Tour from Yinchuan to Zhongwei Shapotou
Western Xia Imperial Tombs Location and Transportation
Where is the Western Xia Imperial Tombs
Located in the western suburb of Yinchuan City, Western Xia Imperial Tombs Scenic Area is about
30 km (about 35 minutes' drive) away from Yinchuan City;
20 km (about 20 minutes' drive) awary from Yinchuan Railway Station;
50 km (about 1 hours' drive) away from Yinchuan Hedong International Airport.
It is possible to get to Western Xia Imperial Tombs by public bus, but you need to transfer several times. Taking a taxi is a much more efficient if you can speak Chinese.
Travel with China Discovery
We strongly suggest traveling with a reliable travel agency like China Discovery who can offer you a worry-free private car with professional travel guide and skilled drivers. China Discovery is a leading travel agency offering private China tour packages with great flexibility, comfort and personalized services for decades. We have got 1,620+ good reviews on TripAdvisor.com, and 3,310+ China travel reviews from the customers. Before your travel, our experienced travel expert will communicate with you one-to-one and organize everything (accommodation, transfer, itinerary…) well. On your trip, our local travel guide will accompany you all the way and introduce the highlights of every place to you. All the experience can be tailor-made according to your group size, travel time, physical condition, personal interest, travel budget and other needs. >>Contact us now
Tips for Visiting the Western Xia Imperial Tombs
1. Inner Transfer
Park Bus (CNY 20/Person): There are park buses running from the Western Xia Dynasty Museum to No.3 Tomb, the Western Xia Art Gallery, the Western Xia Tablet Forest and Twin Tombs which save you a lot of time and energy.
Bicycle (CNY 40/2 hours): If you want to stretch your legs, you can rent a bicycle and ride across the times of the Western Xia Dynasty. Choosing an electric bicycle (CNY 50/hour or CNY 80/2 hours) is also available.
2. Parking and Dressing Ideas
Remember to bring some sunscreen, sunglasses and lip creams to protect your eyes and skin from the strong sunlight and dry air because you will spend a lot of time in the open air while visiting the tombs sites.
There is a big temperature difference between day and night in Yinchuan, so it is necessary to bring a coat even you visit in summer.
How to Plan A Yinchuan Tour
How to Get to Yinchuan: It is easy to take a flight to Yinchuan from Beijing (2.5h), Shanghai (about 3h), Xian (about 1.5 h), Guangzhou (about 3 h), Shenzhen (about 3.5h), Chengdu (about 1.5 h), Chongqing (about 2h), etc.
Best Time to Visit Yinchuan: May to October is the best time to visit Yinchuan. It is cold in late autumn and winter (November ~ next February) and rather windy in early and mid-spring (March and April).
Generally, a classic Yinchuan tour takes 3 days, and you can appreciate the amazing culture of the Western Xia Dynasty as well and the featured exotic charm quite different from the major cities in China. On your arrival day, take a short visit to the landmarks in Yinchuan City, such as Haibao Pagoda, Drum Tower, China-Arab Axis, etc. Then, spend a full day admiring the rich culture and art Ningxia in the Western Xia Imperial Tombs and the Rock Painting of Helan Mountain. Of course, you won't miss one of the top wineries where a cup of wine is offered. Before leaving, get an excellent view of Yinchuan in Ningxia Museum and visit the underground tunnels in Shuidong Cave in half a day.
☛ 3 Days Yinchuan History and Culture Tour
A Ningxia tour with itinerary only in Yinchuan is not complete. For more incredible landscapes, don't hesitate to extending your tour to Zhongwei. The top-haves include a visit to Shapotou Desert with beautiful wilderness and interesting activities and a peaceful and luxury accommodation in Suji Yellow River. For travelers in search of adventure, take a Jeep Safari through Tengger Desert. With more time, go to Guyuan to be awed at the valuable grottoes art in Xumishan Grottoes. See all Ningxia Tour Packages>
☛4 Days Best of Ningxia Tour with Tengger Desert Adventure
☛ 5 Days Ningxia Discovery Tour from Yinchuan to Zhongwei Shapotou
☛ 6 Days Ningxia Luxury Homestay Tour with Winery and Desert Camping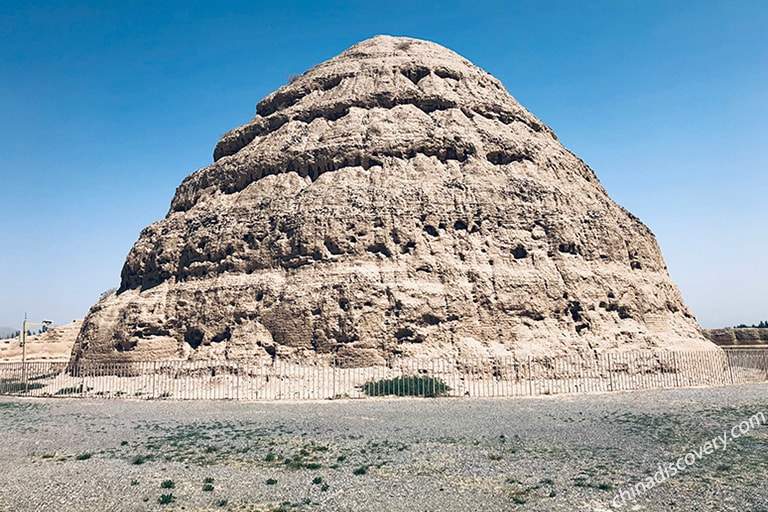 Our customer Jeff from USA visited Shapotou Desert in May 2021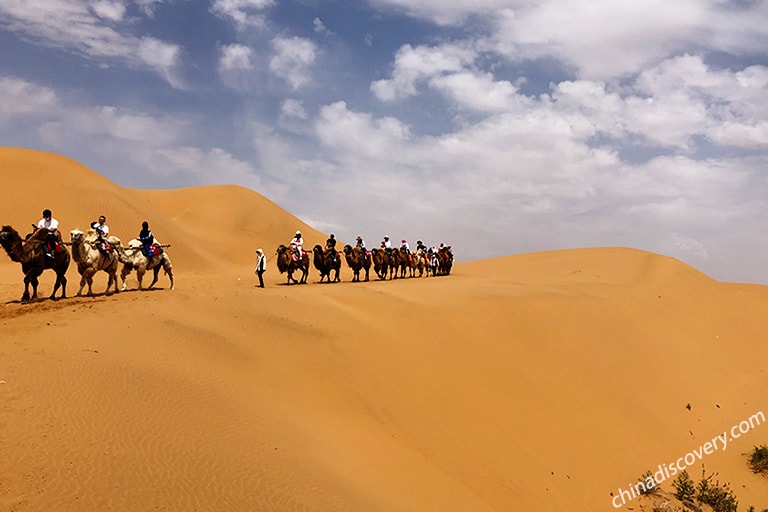 Our customer Jeff from USA visited Shapotou Desert in May 2021
All Yinchuan Travel Information
Recommended Yinchuan Tours
Top 3 Yinchuan tours chosen by most customers to explore Yinchuan in the best way. Check the detailed itinerary, or tailor your own trip now with us.
3 Days Yinchuan History and Culture Tour

Yinchuan City and around
4 Days Best of Ningxia Tour with Tengger Desert Adventure

Yinchuan / Tengger Desert
5 Days Ningxia Discovery Tour from Yinchuan to Zhongwei

Yinchuan - Qingtongxia - Zhongwei
Start planning your tailor-made holiday to China by contacting one of our specialists. Once inquired, you'll get a response within 0.5~23.5 hours.
Customize a Trip
Have a question? Get answers from our travel experts or guests
Your Question:

Your Name:

Your Email: