Why Visit Xumishan Grottoes
Diverse Artistic Styles: The excavation of Xumishan Grottoes began in the North Wei Dynasty (A.D. 365 - 534) and the periodic reconstruction were put during the later dynasties. Whether Buddhist figures or the painted murals retain their distinct features of their times. Visiting these grottoes adorned with various statues, wall paintings and inscribed stelae allows travelers to get a glimpse of different styles of stone engravings of China's different times.
Historical Significance: Xumi Mountain has served as an important gateway in the eastward spread of Buddhism and the westward movement of goods on the silk Road. Many mysterious stories are told in Xumishan Museum to help visitors get a better understanding of the history.
Great Scenery and Peaceful Environment: More than cultural exploration, the natural feast is also accessible in Xumishan Mountain. The red sandstone cliffs together with green trees and flowing river create an absolutely beautiful painting of nature. There are lots of paths for hikes around the area. Since this place is so far off the beaten path, you can easily find spots with complete peace and quiet.
Highlights of Xumishan Grottoes
The whole scenic area of Xumishan Grottoes can be divided into two parts, namely the museum near the front gate and the grottoes in the mountain. At present, there are 162 preserved grottoes distributed in 5 separate clusters in 5 peaks of the mountain, including Dafo Mansion Area, Taohua Cave Area, Yuanguan Temple Aera, Xiangguo Temple Area, and Zisun Palace.
Xuyushan Museum (须弥山博物馆)
The whole building Xuyushan Museum covers an occupation of 5,550 square meters and the exhibition area covers 4,500 square meters. There are five sections in the museum, which will walk you through the mystery of the Silk Road and fascinating art of Buddhist grottoes. Visitors can have a general view of the beginning of the Silk Road, the introduction of Buddhism, the status of Xumishan Grottoes, the Buddhist world, and 20 significant grottoes in China. It is strongly recommended spend half an hour appreciating the exhibitions before you get close to the grottoes.
Dafo Mansion (Great Buddha Mansion, 大佛楼)
Located in the southmost part of Xumishan Grottoes, the Great Buddha Mansion Area is the essence of the whole scenic area. There are five grottoes (No.1 to No.5 Grottoes) here and the Great Buddha Mansion (No.5 Grottoes) housing a giant sitting Buddha is the most famous one. The Buddha statue occupying the upper half of the entire mountain was excavated during the reign of Emperor Wuzetian in the Tang Dynasty (618 - 907), at the same time as construction of Lushena Buddha in Longmen Grottoes. Although this towering Buddha statue is carved from a sand cliff, it seems like a clay sculpture because of the super skill of the craftsmen.
Taohua Cave (Peach Blossoms Cave, 桃花沟)
Huadhua Cave (Peach Blossoms Cave), located in the west of the core area of Xumishan Grottoes, is named after the peach blossoms blooming in the valley in front of the caves every spring. There are 5 grottoes (No. 104 to No. 108) in this area constructed in the Tang Dynasty (618 - 607), and they are a typical representative of the super technique of the craftsmen art of the Tang Dynasty.
Xiangguo Temple (相国寺)
Xiangguo Temple, located in the north of the core area of Xumishan Grottoes, has 50 grottoes (No.50 to No. 103) totally, and these grottoes were mainly constructed in the North Zhou Dynasty (557 - 581) and Sui and the Tang Dynasties (581 - 907). No.52 Grottoes, - the Xiangguo Temple constructed in North Zhou Dynasty, is the most important one.
Yuanguang Temple (圆光寺)
Yuanguang Temple, located in the central part of the core area of Xumishan Grottoes, is the part with the highest numbers and richest kinds of statues and cavings. There are 5 grottoes (No.49 to No. 103), and most of them were excavated during North Zhou Dynasty. Other than the Buddha statues, there are also statues of followers, deities, and providers. Among these grottoes, No. 45 Grotto and No. 46 Grottoes house the most magnificent statues.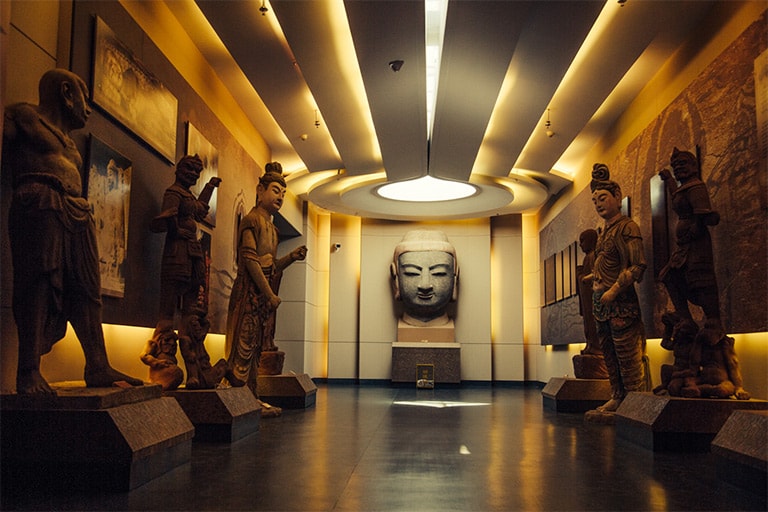 Xumishan Museum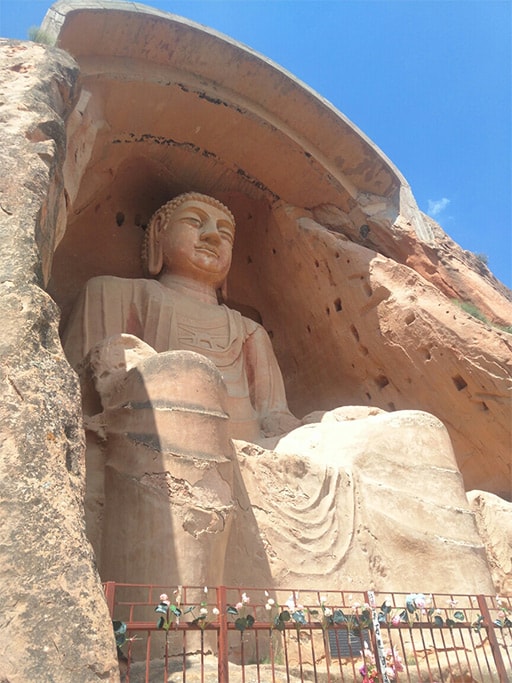 No.5 Grotto
Xumishan Grottoes Location and Transpiration
Where is the Xumishan Grottoes
Located in Huangduopu Street, Sanying Town, Guiyuan City, Ningxia (宁夏回族自治区固原市三营镇黄铎堡街), Xumishan Grottoes are
300 km (about 3.5 hour's drive) to Yinchuan City;
60 km (about 1 hour's drive) to Guyuan City.
How to Get to Xumishan Grottoes by Public Transport
Generally, it's convenient to get to Xumishan Grottoes by public transport, and you need to make several transfers. If you start your trip from Yinchuan, you can take a normal train (about 6.5 hours) to Guyuan, then take a public bus to Sanying Town (三营镇) from Guyuan, and take another public bus to Xumishan Grottoes. If you visit in low season, you have to rent a car to Xumi Grottoes from Sanying Town.
Travel with China Discovery
We strongly suggest travel with a reliable trave agency like China Discovery who can offer you a worry-free private car with professional travel guide and skilled drivers. China Discovery is a leading travel agency offering private China tour packages with great flexibility, comfort and personalized services for decades. We have got 1,620+ good reviews on TripAdvisor.com, and 3,310+ China travel reviews from the customers. Before your travel, our experienced travel expert will communicate with you one-to-one and organize everything (accommodation, transfer, itinerary…) well. In your trip, our local travel guide will accompany you all the way and introduce the highlights of every place to you. All the experience can be tailor-made according to your group size, travel time, physical condition, personal interest, travel budget and other needs. Contact us now>>
Tips for Visiting Xumishan Grottoes
Best Time: Generally speaking, the best time for Xumishan Grottoes is May to October. During the cold winter, Xumishan Mountain is always covered with thick snow, which make the trail hard and dangerous to walk.
Park Bus: The whole scenic area is too large to walk on foot. We suggest you travel by the park bus which stops in several spots and takes CNY 20.
Dressing: As there are lots of hiking trails, you need to wear steady and comfortable shoes
Packing: Bring some food and water, because there is no shop or restaurant in the scenic area.
How to Plan A Ningxia Tour with Guyuan
How to Get to Ningxia: It is easy to take a flight to Yinchuan from Beijing (2.5h), Shanghai (about 3h), Xian (about 1.5 h), Guangzhou (about 3 h), Shenzhen (about 3.5h), Chengdu (about 1.5 h), Chongqing (about 2h), etc.
Best Time to Visit Ningxia: May to October is the best time to visit Ningxia. It is cold in late autumn and winter (November ~ next February) and rather windy in early and mid-spring (March and April).
In order to make full of your holiday, we suggest spending 6 ~ 7 days taking an in-depth Ningxia tour with a visit Guyuan. Yinchuan is a good starting point for a Ningxia tour, and you are recommended to visit all its highlights in 3 days. On your arrival day, you can enjoy a short view of the landmarks in the city area, such as Haibao Pagoda, Drum Tower, China-Arab Axis, etc. Then visit the essence of Yinchuan City - Western Xia Imperial Tombs and the Rock Painting of Helan Mountain. Of course, visiting one of the top wineries and tasting a cup of wine are recommended experiences, whether you are a wine-lover or not. On the third day, go to Ningxia Museum and Shuidong Cave before driving to Zhongwei. It takes 1 ~ 2 days to have desert fun in Shapotou Desert. Visiting Tengri Desert in one day is also recommended. Finally, travel to Guyuan and probe into Guyuan's rich culture and history in Xumishan Gorttoes and Guyuan Museum before leaving.
☛ 3 Days Yinchuan History and Culture Tour
☛4 Days Best of Ningxia Tour with Tengger Desert Adventure
☛ 5 Days Ningxia Discovery Tour from Yinchuan to Zhongwei Shapotou
☛ 6 Days Ningxia Luxury Homestay Tour with Winery and Desert Camping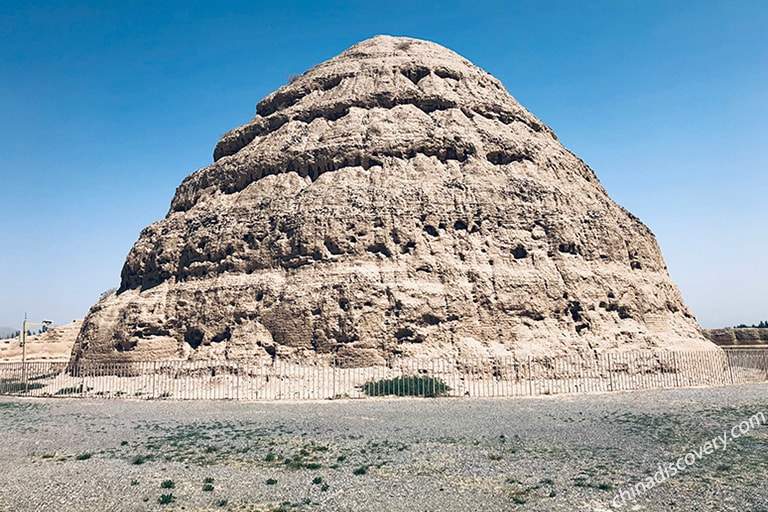 Our customer Jeff from USA visited Shapotou Desert in May 2021
Top Buddhist Grottoes in China
Recommended Ningxia Tours
Top 3 Ningxia tours chosen by most customers to explore Ningxia in the best way. Check the detailed itinerary, or tailor your own trip now with us.
3 Days Turpan Highlights Tour with Kumtag Desert

Turpan - Shanshan
8 Days Classic Xinjiang Tour including Urumqi Turpan Kashgar Tashkurgan

Urumqi - Turpan - Kashgar - Tashkurgan
7 Days Urumqi Turpan Highlights Tour with Kumtag Desert Adventure

Urumqi / Turpan / Kumtag Desert / Urumqi
Start planning your tailor-made holiday to China by contacting one of our specialists. Once inquired, you'll get a response within 0.5~23.5 hours.
Customize a Trip
Have a question? Get answers from our travel experts or guests
Your Question:

Your Name:

Your Email: