Why Visit Detian Waterfall, Guangxi, China?
Detian Waterfall, also known as Detian Falls, is located on the upper reaches of Guichun River, which winds through the border of China and Vietnam. Here, the waterfall on China's side, namely Detian Waterfall, belongs to Shuolong Town, Daxin County, Chongzuo City, Guangxi Zhuang Autonomous Region, which is about a 3-hour drive from Nanning, while on Vietnam's side, it is Ban Gioc Fall. These two waterfalls are only 20 meters or so away from each other. No matter which of them you visit, you can admire the other at the same time. However, considering the size and convenience, Detian Waterfall is far more popular.
Detian Waterfall crosses from China to Vietnam, spanning over 200 meters wide and dropping about 70 meters high, which marks it the largest transnational waterfall in Asia and the fourth largest in the world. The water volume of Detian is about five times that of Huangguoshu Waterfall, which is the Largest Waterfall in China and the entire Asia! Unlike any other falls in the world, Detian Waterfall drop in three stages instead of dropping into the pool in direct. The majestic view of falls with multiple layers is extremely impressive, let alone there are spectacular Guilin-like Karst peaks decorating as the backdrop!
Detian Waterfall Things to Do
Normally, you can appreciate the waterfall view while walking along the trail or cruising on a wooden boat. The former way gives you perfect pictures of the waterfalls, river and nearby Karst mountains, while the boat allows you to indulge in the water spray up close. At night falls, Detian Waterfall will be colorfully lit up and there are interesting shows about the love stories of Frog God and his girl performed.
Best Time to Visit Detian Waterfall
Where to Stay in Detain Waterfall?
The nearby Shuolong Town (硕龙镇), which is only 3.5 kilometers and 10 minutes away from the scenic area by car, has many comfort inns and 1~2 luxury hotels of different price range to stay. Most of the hotels there have air conditioner and Wi-Fi and almost all of them offer hot water, etc. Even though the standard may not mix that in modern cities like Beijing, Shanghai, Guilin, etc., the hotels there are still good choices if you take the unbeatable short distance from the scenic area into account. If you want more luxury choices, you can stay overnight at the Mingshi Scenic Area, which is about 25 kilometers and 50 minutes around from Detian Waterfall. If you have no further plans to visit other attractions after the visit of Detian, Mingshi Scenic Area is a fantastic choice, because it is located on your way getting back to Naning and boasts spectacular Karst Landscapes.
How to Get to Detian Waterfall?
Detian Waterfall is located in a secluded village on the southwest edge of China's Guangxi Province. The Waterfall, which is also adjacent to Vietnam, is off the beaten track and can only be reached by long-distance bus and private car. Normally, visitors ride a bus or car from Nanning to get there.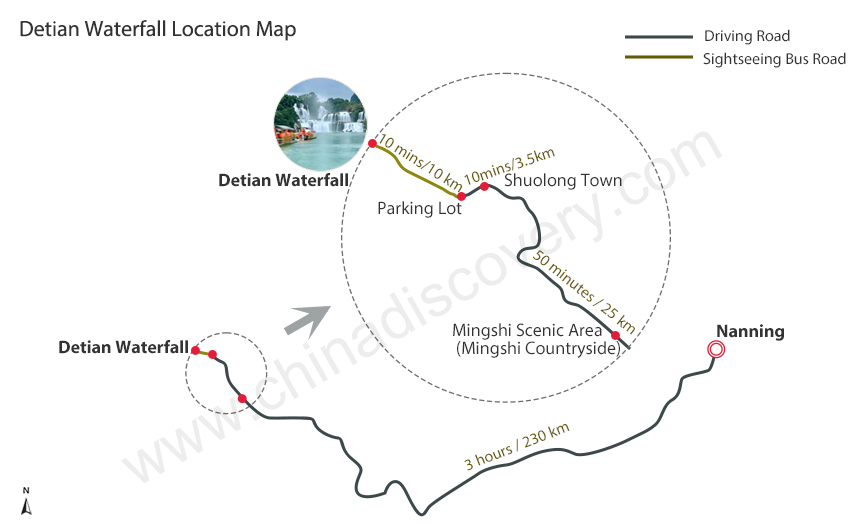 Get to Detian Waterfall from Nanning by Private Car (Top Recommended)
As the waterfall is hidden in the mountainous region that far away from the modern cities, riding a private car to get there is the best and most convenient way. Going with a private car, you can get from your hotel/airport/train station to Detian Waterfall in direct. Due to the shortage of convenient traffic system, this beautiful world is little known by the outside, however, the Karst Landscape there is no inferior to Guilin and Yangshuo. Therefore, you can also make middle stops at anywhere you prefer on the way. Everything is decided on your preference and convenience. We China Discovery also offer such warm private car service to Detian Waterfall. If you are interested, please feel free to contact us for help!
Get to Detian Waterfall from Nanning by Long-distance Bus (Recommended for Independent Travelers)
Nanning Fengling Bus Terminal and Langdong Bus Terminal also have tourist buses to Detian Waterfall. Every day at about 08:30am, there is one bus departing from each of the two terminals. Usually, the bus ticket won't higher than CNY 100 per person, however, it may be changed in the future according to the local policy. The buses are the best picks for those independent travelers who want to save money. However, it is not a good choice if you want some surprises during the bus journey, because it goes to the scenic area in direct.
How to Travel around in Detian Waterfall Scenic Area?
All the buses and cars must stop at the parking lot, which is about 10 kilometers away from the waterfall. At the parking lot, visitors are required to change to the sightseeing bus to get close to Detian Waterfall. The bus is included in your ticket.
After arriving at the major tourist area, visitors can admire the grand waterfall along the trails by the river. The trails wind to the waterfall and also a relatively high position, where you can get broad views of the waterfalls and the surroundings. Besides the walking, you can ride a bamboo boat at the port near the waterfall to get up close to the water spray. From the high point, you can hike down to the river or try the slide. Both the slide and boat need extra fee, which are about CNY 58 per person and CNY 30 per person in separate. The prices are only for your reference.
Detian Waterfall Nearby Attractions
This secluded world near Detian Waterfall also boasts many other Karst wonders and charming ethnic culture and legends. Highlights include Mingshi Scenic Area, Tongling Grand Canyon, Bama Longevity Village, etc.
Mingshi Scenic Area
Mingshi Scenic Area, or called Mingshi Countryside, is located on the way from Nanning to Detian Waterfall. The scenic area boasts idyllic countryside scenery and beautiful karst landscape that no less amazing than Guilin and Yangshuo, and thus enjoys a reputation as "Little Guilin". Here, visitors can enjoy countryside walking, bamboo rafting, cycling, etc.
In and around the area, there are many great resorts, luxury hotels and comfortable inns, making it also a popular choice to stay overnight.
Tongling Grand Canyon
Driving northwest for about 1 hour or so, you will arrive at Tongling Grand Canyon, the Beautiful Scar of the Earth. If Detian Waterfall introduces you the gorgeous landscapes above the water and ground, and then Tongling Grand Canyon will show you the amazing treasures hidden in the gorges and caves. Just as its name Tongling implies, which means leading to the soul, a trip to the canyon is a journey stepping to your heart. Everything will be solved here.
Bama Longevity Village
Bama Longevity Village is about a 4-hour drive from Detian Waterfall. The village is one of the five longevity villages in the world. According to a record-breaking research, this village has 30.8 people every 100,000 people, which is very magical! Every year, groups of worldwide visitors will come to the village to discover secrets to long life. Around the village, there are also many great Karst caves.
How to Plan a Detian Waterfall Tour
A Detian Waterfall tour usually starts from Nanning. Visitors spend about 2~3 days to explore this region.
A classic Detian Waterfall tour includes visits to the falls, Mingshi Scenic Area and Tongling Grand Canyon. The tour takes 2 days around.
For those who want more surprises, you can extend your trip to Bam Longevity Village. About one day more is enough.
Travel Detian Waterfall with China Discovery
No matter where you are from and how many people in your group, you can travel with us China Discovery to get perfect private tour to Detian Waterfall. We have professional travel consultant to customize tours for you and experienced local drivers to escort you from the airport/train station/hotel to the scenic area in ease and convenience! Everything is tailor-made for you and your group or family, including the itinerary, levels of hotel, types of car, etc. You can just indulge in the landscape and the echoes of our mother nature! The price is affordable. If you are interested, please feel free to contact us!