Top 13 Mount Tai Attractions - Things to Do in Mount Tai
Listed into world natural & cultural heritage site in 1987, Mount Tai (Taishan) is the Foremost of Five Sacred Mountains, while actually it's not the highest one within altitude of only 1545 meters. The reason why people named it as "First Mountain under Heaven" is because of traditional religion dating back to ancient emperors, like Qinshihuang-the first emperor in China, Qian Long emperor in Qing dynasty, etc. It was regard as the symbol of power.
Nowadays, things to do in Taishan can be vary and different. Visitors climb Mount Taishan would rather to appreciate stunning views of sunrise, clouds and witness ancient scenic spots, like South Heavenly Gate, the Heavenly Street and Jade Emperor Peak, and more Taishan Attractions awaiting you for visit.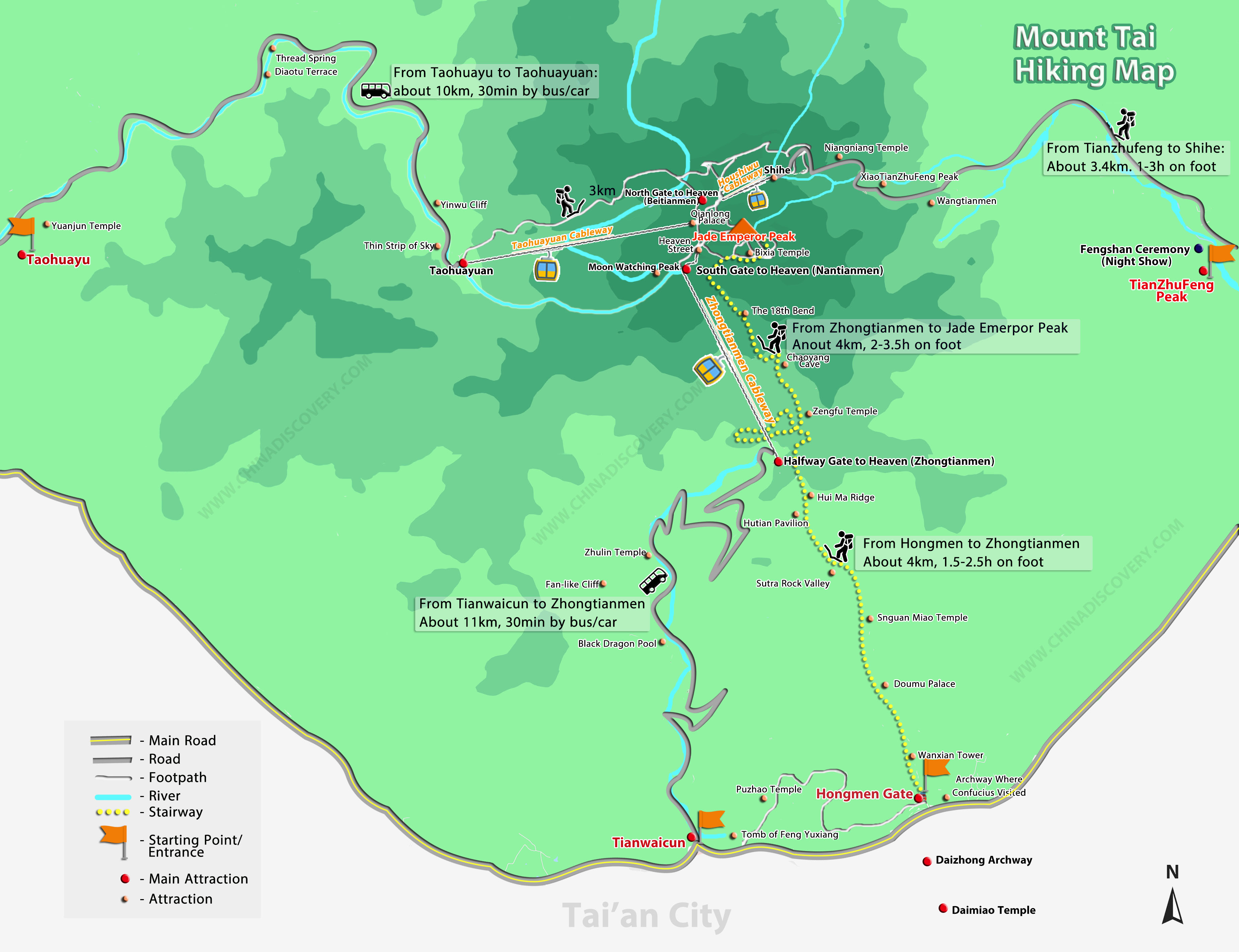 Taishan Hiking Map
How to Plan Your Mount Tai Tour
How to Get to Mount Tai: You can take both high-speed trains and normal trains to Tai'an from Beijing, Shanghai, Xian, Tianjin, Qingdao, Jinan, Weihai, Yantai, Zhengzhou, etc.
Best Time to Visit Mount Tai: From March to mid-October. It might be very crowded on weekends and the Chinese holidays.
Located in Tai'an City, Shandong, Mount Tai (aka Taishan Mountain), is regarded as the greatest of the Five Sacred Mountains in China, and listed as a UNESCO World Natural & Cultural Heritage Site in 1987. The highest Jade Emperor Peak is recorded about 1545 meters above sea level. Hiking uphill you can trek along the worshiping spots path the ancient Chinese emperors had come for; Reaching the top, you can have a panoramic view of the whole Taian city and enjoying the stunning sunrise and sunset, and it is recommended to spend 2 full days exploring the best highlights of Mount Tai including the Daimiao Temple (Museum of Taian City) at the foot of Mount Tai. You can also visit Mount Tai in a single day by taking sightseeing bus to Zhongtianmen, then hiking to the summit and descending by cable car.
✔ 2 Days Most Classic Mount Tai Hiking Tour
✔ 2 Days Enjoyable Mount Tai Hiking Tour
Taking a high-speed train and spending 2 more days, you can extend your trip to the nearby "City of Spring", Jinan which nourishes a number of famous springs and lakes of China, such as Baotu Spring Park, Daming Lake, Black Tiger Spring, etc. Also, about 85 km to Mount Tai is Qufu, the hometown of the greatest sage of China, Confucius, and you may understand the deep-rooted Chinese culture as you stepping into the Confucius Temple, Kong Forest, and Kong Mansion.
✔ 2 Days Taishan & Qufu Tour from Beijing by Bullet Train
✔ 3 Days Confucius Culture Exploration with Sidetrip to Mount Tai
✔ 4 Days Cultural Discovery in Jinan, Taishan & Qufu
Besides these cities near Mount Tai, Shandong greets you with not only the splendid culture but also the beautiful coastlines. The refreshing ocean air from Qingdao blows the fragrance from the old Beer factories; the colorful kites fly over the city Weifang and swans in pairs nestle in the havens of Weihai by the shimmering sea...all of these highlights of Shandong can be covered in about 8 days. Beyond Shandong, travelers often extend trip further to Beijing, Xian, Datong & Pingyao (in Shanxi), Luoyang & Shaolin Temple & Kaifeng (in Henan) and more stunning heritages and nature sights in China.
✔ 6 Days Jinan, Qufu, Mount Tai & Qingdao Tour
✔ 9 Days Beijing Shanghai Speed Train Tour with Confucianism Exploration
✔ 9 Days Shandong Panorama Tour
✔ 11 Days China World Heritage Tour in North China
Travel with China Discovery
China Discovery is an experienced, professional, and reliable travel companion devoted to offering high-quality and the best tour services for all travelers to China. In order to have a hassle-free journey and focus on the trip itself, it's highly recommended traveling with China Discovery. So, you can enjoy convenient airport pick-up and drop-off service and transportation to all scenic spots in a safe, clean, comfortable, air-conditioned, and non-smoking vehicle. Also, we will arrange a knowledgeable local tour guide, excellent accommodation, and dining arrangements to ensure you rest well and get a better understanding of springs culture in Jinan, Confucianism in Qufu, and Mount Tai culture in Shandong. You may select a favorite from our most popular Mount Tai tours or contact us to design a unique itinerary according to your personal time and preference.
Beautiful Sunset seen from Mount Tai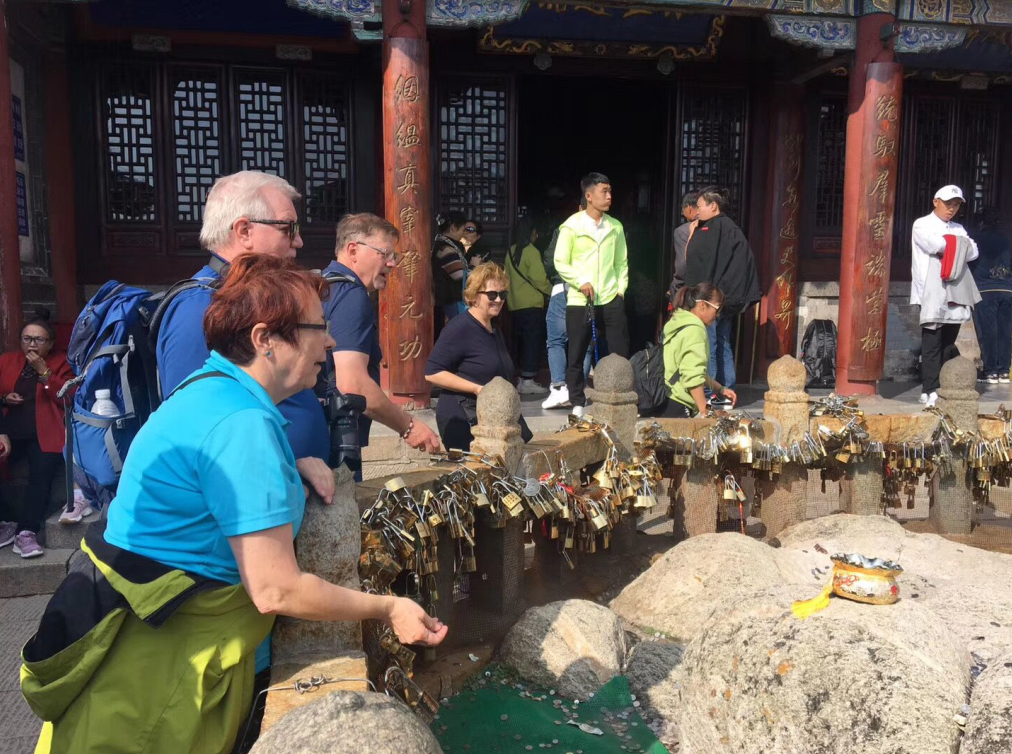 China Discovery Customized Mount Tai Tour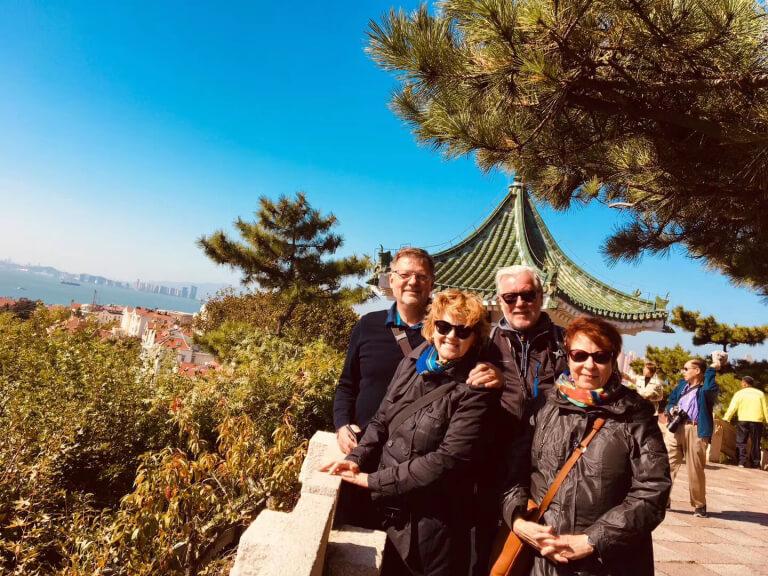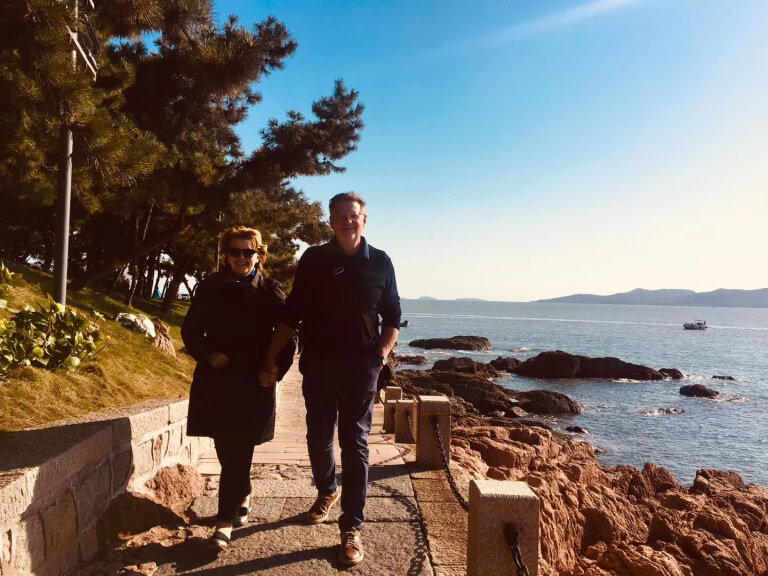 China Discovery Customized Shandong Tour to Qingdao (Xiaoyushan Park & Bathing Beach)
Top Mount Tai (Taishan) Tours
Helpful Mount Tai Travel Guide
Recommended Mount Tai Tours
Top 3 Mount Tai tours chosen by most customers to explore Mount Tai in the best way. Check the detailed itinerary, or tailor your own trip now with us.
4 Days Jinan Mount Tai Qufu Cultural Tour

Jinan / Mount Tai / Qufu
6 Days Best of Shandong Tour

Jinan / Mount Tai / Qufu / Qingdao