Where to Stay in Macau: Best Areas & Hotels for Macau Accommodation
As one of the fastest developing metropolises in the world, Macau is a dynamic, pulsating mecca of casinos with luxury hotels and gargantuan shopping malls. Located at the southeast coast of China and as an first-tier city of Asia, this "Las Vegas of the East" plays an essential role in the communication of China with other countries. Usually, most tourists may stay for about one day in Macau. However, you may find it is a little difficult for you to decide where to stay concerning your own budgets and interests, if you come here for the first time. Here we will give you a guide, including the best places to stay in Macau, the analysis of each area of Macau, recommended hotels in each area and tip of accommodation in Macau. After reading this article, we are sure you could choose the most suitable hotel for you to stay.  
Best Places to Stay in Macau - Choose Your Best
Macau is made of 4 areas: Macau Peninsula, Taipa, Cotai and Coloane. Macau Peninsula and Taipa are connected by 3 bridges. Macau Peninsula is the area where old Macau located at, so there are so many historical sites. Originally, Taipa in the north and Coloane in the south were separated but landfill created the Cotai where the largest casinos are. You can stay at Coloane if you are planning a longer trip to Macau and want to stay near the beach. Meanwhile, Taipa Village gives you a way to explore an authentic Macau. In addition, there are free shuttle buses between ferry or airport to some large casinos. You could choose to take them to your hotels near these casinos.
In these four areas, the best recommended places for staying are Macau Peninsula and Cotai. There are many hotels with good quality. Meanwhile, it will be convenient for you to catch flight or ferry, and enter mainland China. If you are more interested in shopping and gambling, Cotai is the right place to stay. If you are more interested in the food and historical heritage, you should stay in Macau Peninsula. However, a principle for you to choose the part of Macau you will stay at should be decided by the type of trip that you are looking for. In this way, the best place to stay in Macau in your mind may be different from what we suggested. Therefore, we explain features of each area in Macau in details as following. Actually the total coverage of Macau is about 32.8 square km which is not very large. However, it will be more convenient for you if you choose the most suitable area to stay.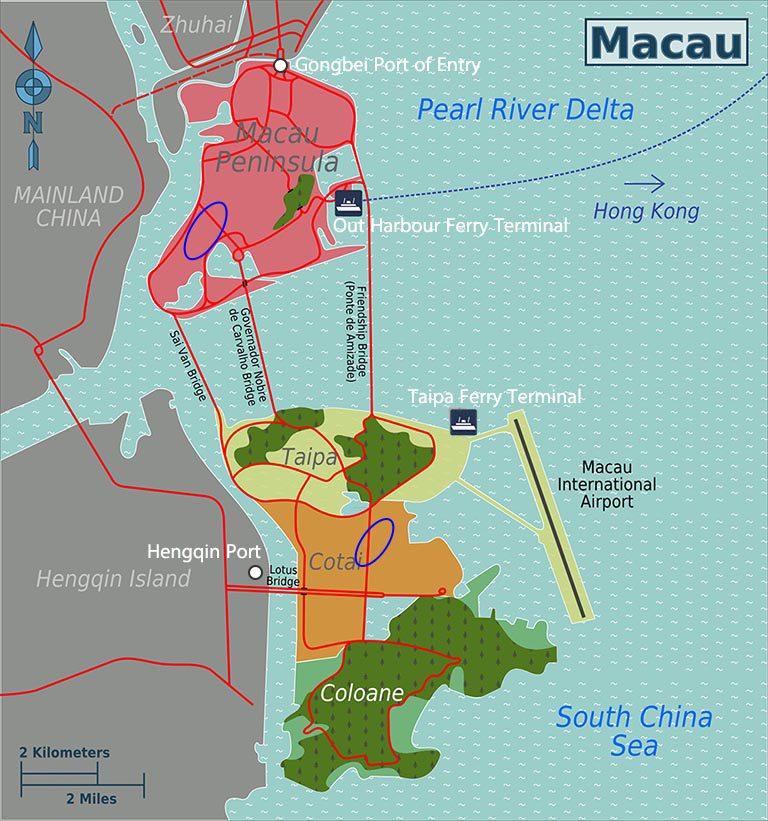 Macau District Map - Click for Attractions, Location & Transportation Maps of Macau
Hotels in Macau Peninsula - Best Places for Sightseeing & First Stay in Macau
The Macau Peninsula is the northernmost region of the city. It is connected to the Zhuahai of Guangdong Province and is one of the most densely populated areas of the city. It' s where you' ll find a small handful of boutique hotels as well as a good selection of affordable and good value accommodation options. You will find many relatively cheap hotels here. In addition, it will be very convenient for you to catch early ferry from the Out Harbour Ferry Terminal and enter in mainland China from Gongbei Port of Entry.  
Macau Peninsula houses the Historical Center of Macau inscribed in UNESCO World Heritage List. As there are over 20 historical sites, you could catch a glimpse of Macau' s history and culture to have a vivid understanding about Macau. You may also be fascinated by those interesting streets, intriguing shops and plenty of delicious restaurants. Meanwhile, some of the oldest casinos, like the Grand Lisboa, are located at the southern end of the district. Taking an adventure at Macau Tower can also be interesting for you. It is recommended to stay in hotels near Historical Center of Macau, so you can have a walk tour around the old Macau and these hotels are cheap with good value.
Recommended Hotels Near Historical Center of Macau:
Riviera Hotel Macau (5 Star)
Ole London Hotel (3 Star)
Macau Hotel S - (Formerly - Macau Hotel Sun Sun) (3 Star)
Grand Emperor Hotel (4 Star)
Other Well-known Hotels in Macau Peninsula:
MGM Macau (5 Star)
Mandarin Oriental Macau (5 Star)
Wynn Macau (5 Star)
Legend Palace Hotel (4 Star)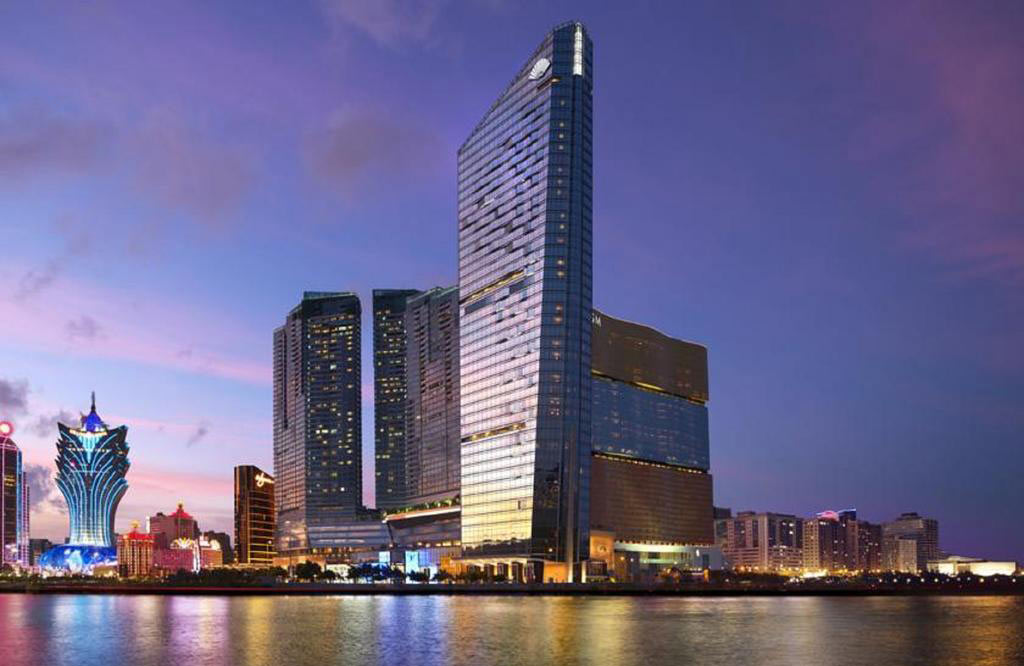 Mandarin Oriental Macau
Hotels in Cotai - Best Places to Visit Famous Casinos with Most Convenient Transportation
If you have heard of Macau before, you probably know that it is often referred to as "the Las the Vegas of the East" because of the many casinos, despite Macau is the actual gambling capital of the world as it is several times larger than Las Vegas. Most of these casinos, such as Venetian Macau, Parisian Macau and so on, are concentrated on the Cotai strip on reclaimed land that was previously water. Just like in Vegas, these immense casinos also feature upmarket hotels and restaurants, shopping malls with luxury fashion and lifestyle stores and round the clock entertainment complexes. Cotai is not just for gamblers. The area is filled with over 800 stores selling fashion, accessories, electronics, toys, etc. and is a true paradise for shopaholics, whether they like gambling or not. So there is plenty to do here during your stay.
It is advised to stay in hotels near the Cotai Strip, which are convenient to catch flight from Macau International Airport and ferry from Taipa Ferry Terminal. Meanwhile, it will also be convenient to enter mainland China from Hengqin port.
Recommended Hotels near Cotai Strip:
MGM Cotai (5 Star)
Four Seasons Hotel Macau, Cotai Strip (5 Star)
City of Dreams (5 Star)
Conrad Macao Cotai Central (5 Star)
Grand Hyatt Macau (5 Star)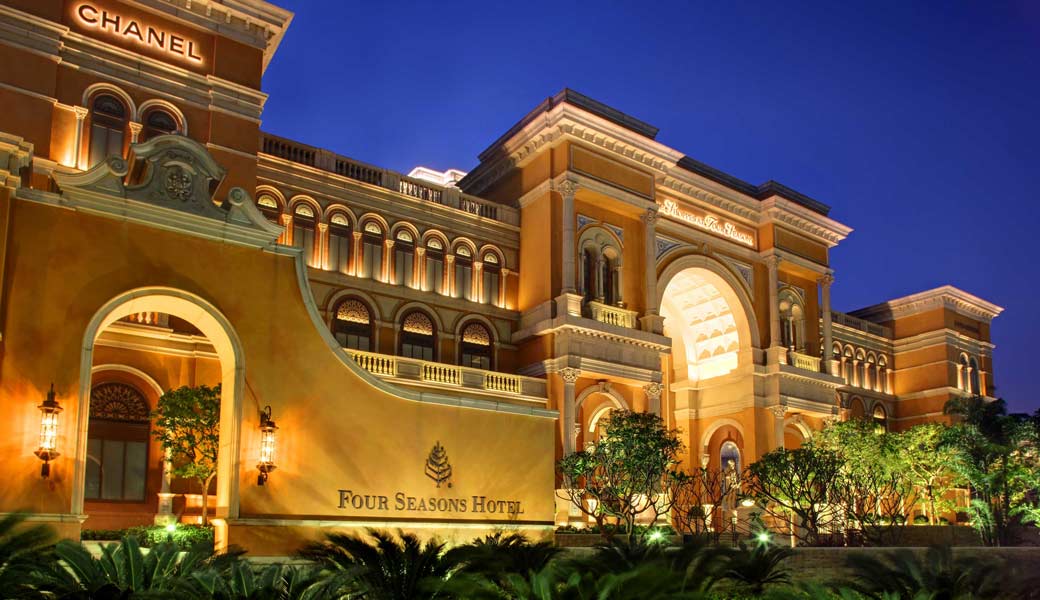 Four Seasons Hotel Macau, Cotai Strip
Hotels in Taipa - Best Places to Find an Authentic Macau, Catching Early Flight and Catching Early Ferry
The Taipa District is located between the Macau Peninsula and Cotai. It is a mostly residential neighborhood that has undergone significant redevelopment in recent years.
As a Portuguese colony for more than 400 years, Macau has developed a unique culture that blends European and Chinese values, cuisine and architecture. Nowhere is this unique fusion more obvious than Taipa Village, a cultural district on the island of Taipa. In spite of rampant development by casino resorts on the next-door Cotai Strip, Taipa Village has managed to cling onto its pastel-coloured houses, quiet backstreets and traditional restaurants. You could explore the charming and quaint village on foot. From wandering around waterfront to exploring those streets, this neighbourhood is bursting with history and culture around every curve. You can indulge your taste buds by trying unique and delicious Macanese food and seafood dishes. You could also buy local special foods as souvenirs to your friends. The most important part is that you can catch the early flight from Macau International Airport and catch early ferry from Taipa Ferry Terminal.
Recommended Hotels:
Altira Macau (5 Star)
The Macau Roosevelt (5 Star)
Grandview Hotel (4 Star)
Grand Dragon Hotel (4 Star)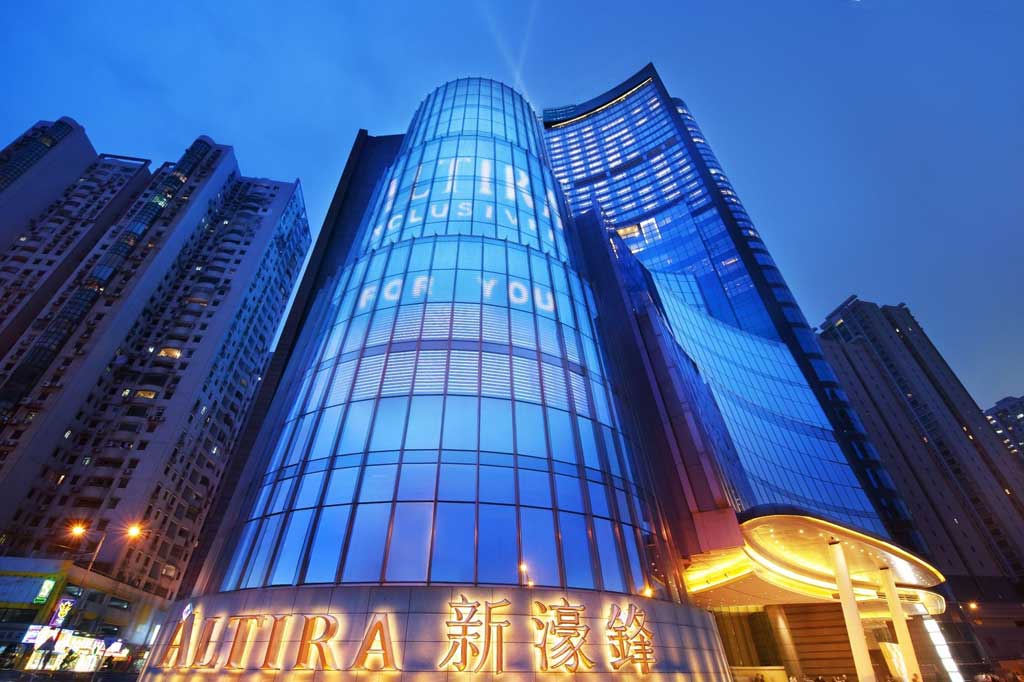 Altira Macau
Hotels in Coloane - Best Places to View Beach Scenery
Venture to Coloane Island to discover Macau beyond its casinos, a place where you can enjoy lush greenery, beaches, hiking trails, and seaside restaurants. For a taste of Macau' s true character and soul, look no further than Coloane. You could go to the Giant Panda Pavilion to see cute China Pandas. You could also explore the biggest beach of Macau - Hac Sac Beach. The water is quite clean and suitable for swimming. There is plenty of space and activities for everyone to enjoy, such as jet-ski and sail boat hire, plus other water activities. You could also stroll along the beach or buy local foods and barbecue from the many stalls along the beach. After lunch, you could take a nice walk on the beach or, even better, go by the white houses hidden on the right side of the stretch of sand. A trail called Long Chao Kok is easy to spot and leads into a couple of houses close to Cheoc Van beach. Passing the prehistoric stones on your left, you will discover a peaceful pagoda named "聽海軒" above the sea where you can rest. If you are lucky, you might even see pink dolphins!
However, there are not so many hotels in Coloane and there are not so many tourists choose to stay here.
Recommended Hotels:
Grand Coloane Resort Macau (5 Star)
The 13 Hotel (5 Star)
Pousada de Coloane Beach Hotel & Restaurant (3 Star)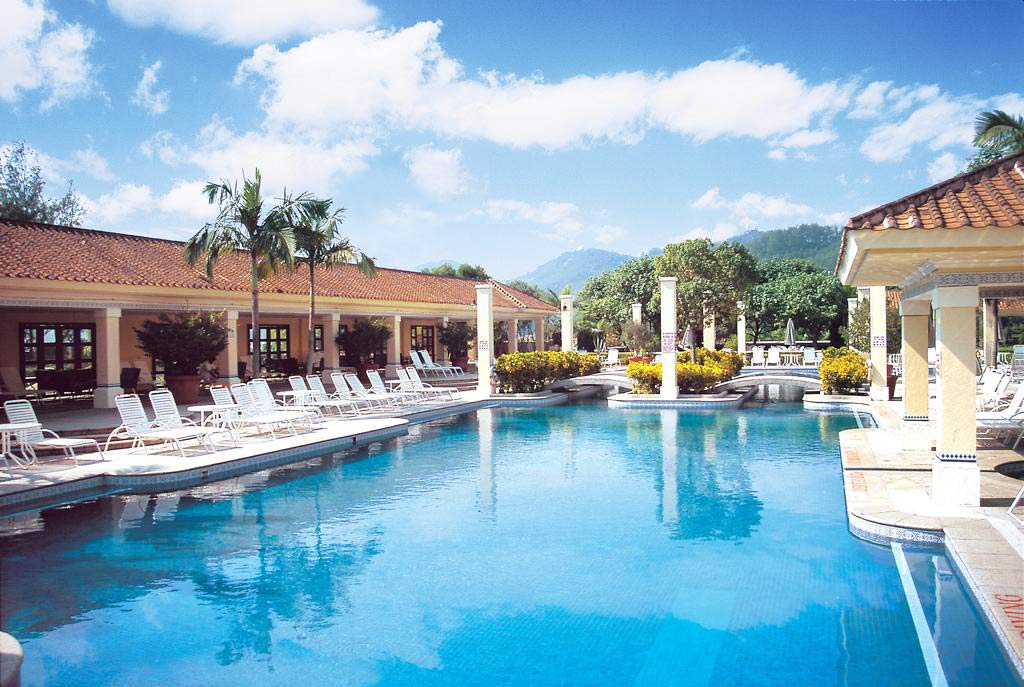 Grand Coloane Resort Macau
Tip of Accommodation in Macau
In the international metropolis Macau, the prices of accommodation are higher than those in mainland China, especially for hotels in Cotai. The prices of hotels varies according to the locations and grades of hotels. You could find that a standard double room of a 5 star hotel in Macau charges from ¥655 to ¥4884 per night. It would be easier for you find some boutique hotels with affordable prices in Macau Peninsula. In addition, some high quality hotels may have special promotion from time to time. Please feel free to contact us for latest information.
How Long to Stay in Macau
Most people regard Macau as their transfer station to mainland China or out of China. So they may stay in Macau for about one day. In one day, you could go to those top 12 recommended tourist attractions of Macau including Ruins of St Paul's Cathedral, A-Ma Temple, Macau Tower, Macau Museum, Venetian Macau, etc.
Besides, for many visitors, they also combine a trip to Macau together with Hong Kong, Shenzhen, Guangzhou, Jiangmen, Foshan and else to explore more attractions of Guangdong-Hong Kong-Macao Greater Bay Area of China.
>>2 Days Hong Kong & Macau Highlights Tour
Also, you can easily travel from Macau to any other hot travel destinations in China by flight or train, such as Beijing, Xian, Shanghai, Guilin, Lhasa, etc. China Discovery has designed many classic China tour packages including Macau. You can also customize one according to your own interests.>>Contact Us Now
Venetian Macau
Travel Macau & China with China Discovery
When you plan your journey in Macau or any places in China, you may worry about so much confused questions such as budgets, time, etc. Then why not choose to travel with us? China Discovery could help you plan your tour considering your own interest and demands. Our private consultant could give you professional suggestions and help you make your own tour package. Meanwhile, we have private transfer service for you, by which you will no longer worry about tiring transfers. When you enjoy attractions, our local tour guide will give you the most professional explanations which will give you better understanding about the attractions.
Recommended Macau Tours
Top 3 Macau tours chosen by most customers to explore Macau in the best way. Check the detailed itinerary, or tailor your own trip now with us.
3 Days Hong Kong & Macau In-depth Cultural Tour

Hong Kong / Macau / Hong Kong
6 Days Hong Kong Macau Shenzhen Fusion Tour

Hong Kong / Shenzhen / Macau / Hong Kong
8 Days Amazing Greater Bay Area Tour

Hong Kong / Guangzhou / Shenzhen / Macau / Hong Kong
Start planning your tailor-made holiday to China by contacting one of our specialists. Once inquired, you'll get a response within 0.5~23.5 hours.
Customize a Trip
Have a question? Get answers from our travel experts or guests
Your Question:

Your Name:

Your Email: