Macau Tourist Map, Macau Map with Tourist Attractions 2023
Macau, also known as Macao, is a world-renowned tourist region on the coastline of South China Sea. In this Macau Tourist Attractions Map Guide, we have collected all the useful maps with attractions in Macau and tourist destinations near Macau. Find the places you like most on those maps here, and you can also download and print the useful maps into use!
Macau Tourist Map: Attractions and Transports in Macau
Usually, to discover the essence of Macau, you need at least half day or one day. Although Macau is much famous when it comes to gambling, there are still tons of other things to do in this city, such as eat a Macanese Egg Tart, take a photo of Ruins of St Paul's, visit A-ma temple, make a gate with giant pandas in Macao Giant Panda Pavilion… Check more about things to do in Macau >>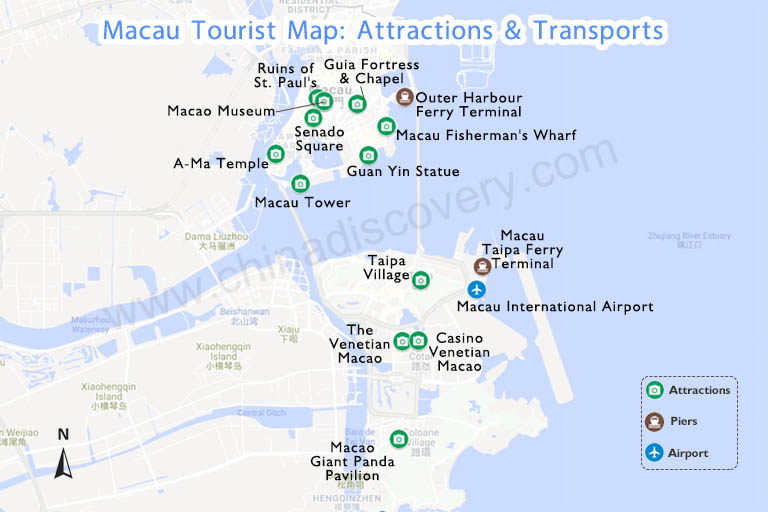 Click to Enlarge Macau Tourist Map
Map of Hot Tourist Destinations near Macau
The closest hot tourist city neighbors Macau is Zhuhai of Guangdong Province, which is just north of Macau in only several kilometers. From Zhuhai, you can catch high speed trains to other nearby cities like Shenzhen, Guangzhou, Shunde (Foshan, Guangdong) and Foshan (Guangdong). Convenient ferry service also links Macau with Zhuhai, Hong Kong and Shenzhen. Therefore, after the visit of Macau, tourists usually extend their trip to these popular tourist destinations in Guangdong - Hong Kong - Macau Greater Bay Area, and spend about half-day or whole day in Zhuhai, 1-2 days in Shenzhen and 2-3 days in Hong Kong. If you have more time, you can also take 2 days around to Guangzhou.
Check more about Macau Visa Policy >>
Click to Enlarge Hot Tourist Destinations Near Macau

Routes:
Hong Kong + Macau
Highlights:
private tour, flexible departure

Routes:
Canton Tower, Chen Clan Ancestral Hall, Yuexiu Park, Cantonese Food...
Highlights:
private tour, flexible departure

Routes:
Ping'an Finance Center, Shenzhen Museum, Splendid China Folk Village...
Highlights:
private tour, flexible departure
Travel Macau with Other Popular Tourist Cities in China
China is a diverse and colorful country with rich history, culture and also beautiful scenery to explore. After the tour in these southern coastline cities, you must have a fascinated feeling of the dazzling modern face of China. However, that's Not All China is! If you have more time, you are highly suggested to extend your journey to some of the other top tourist destinations in China and take a deeper explore of Chinese Kung Fu, Pandas, Museums, Ancient Villages, Buddhist Grottoes & Carvings, Taoist & Buddhist Mountains, Ethnic Festivals, etc. Guilin, Kunming, Guizhou, Huangshan, Chengdu, Yangtze River, Xian, Beijing, Shanghai, Luoyang, and Lhasa… Select the best places up according to your time and interest, and you will never be disappointed!
>> 6 Days In-depth Guilin Tour from Hong Kong
>> 7 Days Vibrant & Ancient China Tour from Hong Kong
>> 8 Days Hong Kong, Xian & Beijing Essence Tour
>> 21 Days China Holiday with Yangtze River Cruise Tour
Click to Enlarge Popular China Tourist Destinations on Map
Travel Macau with China Discovery
To travel Macau and China more easily and conveniently, you can travel with China Discovery! In your whole journey, our professional local guide and driver will escort you from your hotel, train station, airport to all attractions with comfortable private car with speed and convenience and let you catch the highlights of every site and the city, so you can get really relaxed on the way and focus on what you are interested. Besides, the tour can be tailor made according to your plan, time, interests and demands. If you are interested, please feel free to contact us and tell us your needs, and we will customize a memorable tour for you!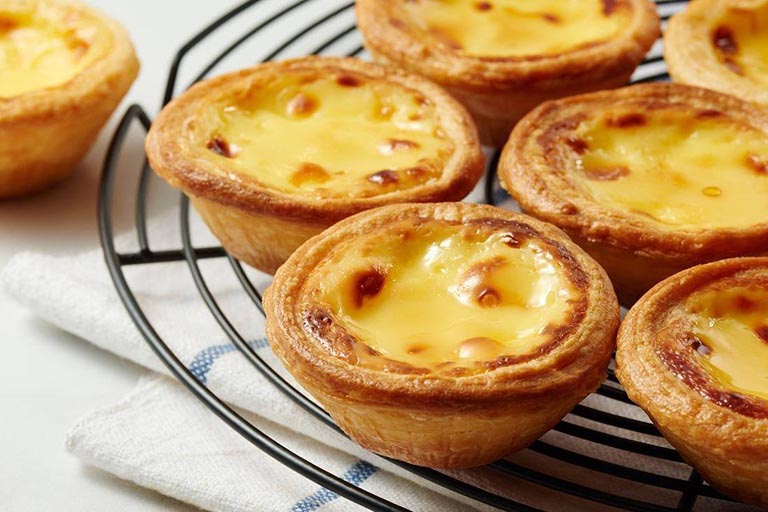 Macanese Egg Tart
Keep Reading
Recommended Tours
Top 3 tours chosen by most customers to explore in the best way. Check the detailed itinerary,or tailor your own trip now with us.
3 Days Hong Kong & Macau In-depth Cultural Tour

Hong Kong / Macau / Hong Kong
6 Days Hong Kong Macau Shenzhen Fusion Tour

Hong Kong / Shenzhen / Macau / Hong Kong
8 Days Amazing Greater Bay Area Tour

Hong Kong / Guangzhou / Shenzhen / Macau / Hong Kong