Recommended Best Luxury | 5-Star Hotels in Jinan
Jinan is the capital city and a famous "City of Springs" in central Shandong, which usually is used as a transfer center to Mount Tai, Qufu, Qingdao and other destinations in Shandong. Searching for the BEST hotels in Jinan with good location, wonderful services and reasonable price? Here we listed some of the most recommended hotels in Jinan city from the luxury 5-star hotels to the economic business hotels to satisfy your different needs and budget.
For more suggestions and information, you can contact us and tell us your travel plan in Jinan. We will help you customize your own trip at the best price.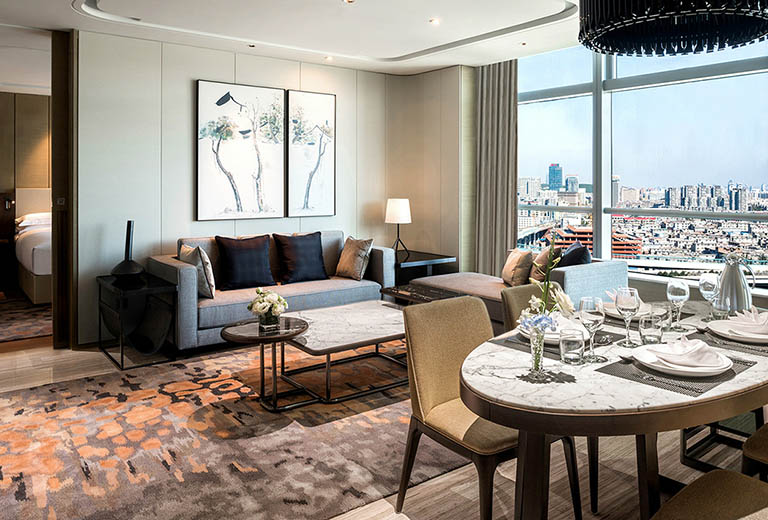 Jinan Luxury Hotel - Hilton Jinan South Hotel & Residences
How to Plan Your Jinan Tour
How to Get to Jinan: You can fly to Jinan from Shanghai, Xian, Guangzhou, Datong or take high speed train from Beijing, Shanghai and other Chinese cities.
Best Time to Visit Jinan: May, September and October when temperature is moderate comfortable and weather is probably good.
Top Attractions to Visit in Jinan: Baotu Spring Park, Daming Lake, Thousand Buddha Mountain, Shandong Museum …
Jinan, the capital city in central Shandong, is the famous "City of Spring" in China hiding numerous natural springs and picturesque city landscape. 1 day is suitable for visiting major spots in Jinan. But tourists usually take 4 to 5 days to travel Jinan with the best highlights in Shandong, including the sacred Mount Tai, hometown of Confucius - Qufu and beautiful coastal city - Qingdao.
During your day trip in Jinan, you can conveniently visit several attractions together in the city center, such as the Baotu Spring Park, Daming Lake, Black Tiger Spring and Spring City Square. In Jinan, it's also a good idea to learn the local culture and history in the Shandong Museum and make a leisurely hike on the Thousand Buddha Mountain. Next, you can take 1 full day to climb the Mount Tai and another day to worship the Confucianism in the "San Kong" of Qufu. While in Qingdao, you may spare leave 2 days to immerse in the mind-blowing seaside scenery and experience the energetic Tsingtao Beer.
✔ 2 Days Classic Jinan Spring City Tour
✔ 4 Days Jinan Mount Tai Qufu Cultural Tour
✔ 4 Days Qingdao Qufu Mount Tai Essence Tour
If times allows and you're quite interested in Shandong culture and beauty, it's strongly advised to explore more wonderful places, like the Capital of Kite - Weifang, fairyland Penglai of Yantai, pretty Weihai, etc. Beyond Shandong, travelers often extend trip further to Beijing, Xian, Datong & Pingyao (in Shanxi), Luoyang & Shaolin Temple & Kaifeng (in Henan) and more stunning heritages and nature sights in China.
✔ 8 Days Shandong History & Culture Tour
✔ 6 Days Classic Beijing & Shandong Tour (Beijing/Qufu/Mount Tai)
✔ 8 Days Beijing Shanghai STour with Confucianism Exploration & Mount Tai Hiking
Travel with China Discovery
China Discovery is an experienced, professional and reliable travel companion devoted to offering high-quality and the best tour services for all travelers to China. In order to have a hassle-free travel and focus on the trip itself, it's highly recommended travelling with China Discovery. So, you can enjoy convenient airport pick-up and drop-off service and transportation to all scenic spots in a safe, clean, comfortable, air-conditioned and non-smoking vehicle. Also, we will arrange knowledgeable local tour guide, excellent accommodation and dining arrangements to ensure you rest well and get better understanding of springs culture in Jinan, Confucianism in Qufu and Mount Tai culture in Shandong. You may select a favorite from our most popular Jinan tours or contact us to design a unique itinerary according to your personal time and preference.
Beautiful Daming Lake in Jinan
Sacred Mount Tai in Tai'an
Our American Group Tourists Visited Mutianyu Great Wall in Beijing
Jinan Travel Guide
Shandong Travel Guide
Recommended Jinan Tours
Top 3 Jinan tours chosen by most customers to explore Jinan in the best way. Check the detailed itinerary, or tailor your own trip now with us.
4 Days Jinan Mount Tai Qufu Cultural Tour

Jinan / Mount Tai / Qufu
Jinan / Mount Tai / Qufu / Qingdao
8 Days Shandong History & Culture Tour

Jinan / Mount Tai / Qufu / Zibo / Weifang / Qingdao