Located in the central Shandong, north of Mount Tai and south of Yellow River, Jinan is the capital city as well as the second biggest city, the political, economic, cultural, science & technology center and transportation hub in Shandong. However, Jinan is most known as "the City of Spring" who naturally store more than 700 karst springs underground and depicts a splendid painting of lotuses blooming on all sides, willows weeping on three sides and half of the city mountain views reflected in the lake. Regarded as a relaxing tourist destination integrated with spring, mountain, lake, river and city, Jinan is also a vital tourist base for transferring to Qingdao, Mount Tai, Qufu, Yantai and other popular destinations in Shandong and a national historical and cultural city with over 2,000 years of construction history.
Why Visit Jinan:
Unique Spring Culture - Special terrain, geographical structure and climate contribute to the amazing artesian springs in Jinan. And Jinan is the best representative of China karst spring city with the huge amount, abundant water, excellent water quality and magnificent spewing sights. The springs like flowing blood spread over all streets and alleys nourish the city and add fresh aura and charm, being a close part of local daily life. In Jinan, you can not only visit different springs, e.g. Baotu Spring and other notable springs nearby, but also can drink tea boiled by the spring water, attend spring culture festival, learn marvelous literatures left by famous scholars…
Beauteous City Landscape - Owing to the springs and green parks and mountains, Jinan refurbishes its look as a delicate, soft, quiet and beautiful lady of Jiangnan often mentioned in Chinese ancient poems. Time seems slow down here. It's quite leisure to see the lucid water, lovely fish swimming around, beautiful parks, exquisite gardens & halls, colorful flower blossom and spiffy city reflection on lake.
Numerous Literati Tracks - Jinan has attracted countless famous people from ancient times to modern era. Qianlong Emperpor, Li Qingzhao, Xin Qiji, Zhang Yanghao, Zou Yan, Bian Que, Qin Qiong, Fang Xuanling, Wei Xiang, Wang Xuetao, Li Kuchan are most known members on the list. Besides, famous ancient Tang Dynasty poets, Li Bai and Du Fu, Song Dynasty poets Su Shi & Su Zhe, and modern celebrated literati Lao She, Guo Moruo, Ji Xianlin either lived or studied in Jinan, and made massive trails and complimentary works you can easily find in Jinan.
Significant Buddhist Heritages - After Mount Tai became the first Buddhist center in Shandong in the Eastern Jin Dynasty (early 4~5th century AD), the eminent monk Lang Gong built Shentong Temple, in the northeast foothill and Lingyan Temple in the northwest side. The former temple is also called Langgong Temple, which is the first Buddhist temple in Shandong. Lingyan Temple once held up to 1,000 monks now is a crucial component of the UNESCO World Natural & Cultural Heritage of Mount Tai. In these ancient Buddhist shrines, tourists can see gorgeous ancient temples, pagodas, stone steles, old trees and deeply sense inner peace away from the chaotic urban.
Savory Diverse Shandong Cuisine - Cuisine is one of the emblematic factors of local culture. Shandong Cuisine, nickname Lu Cuisine, is also one of the Eight Traditional Cuisines in China with Sichuan, Cantonese Cuisine. Furong Ancient Street, Kuanhouli Street and downtown shopping centers near major attractions offer tourists various kinds of snacks and local dishes. When satisfying your taste buds, you may get more meaningful cooking knowledge of the ingredient, skill and story behind.
...
Top Attractions to Visit in Jinan
When coming to the famed "City of Springs", spring undoubtedly is the must-see and biggest attraction of Jinan. In downtown area, you can visit the three most famous scenic spots of Jinan, Baotu Spring, Daming Lake and Thousand Buddha Mountain, and other springs like Black Tiger Spring, Five Dragon Pool and some city parks. Moreover, before beginning your Shandong tour, you can pay a visit to Shandong Museum for learning cultural and historical essence of Shandong. Lingyin Temple in south suburb is a good place to capture ancient architecture and tranquility for Buddhist culture fans. Find more Jinan Attractions >>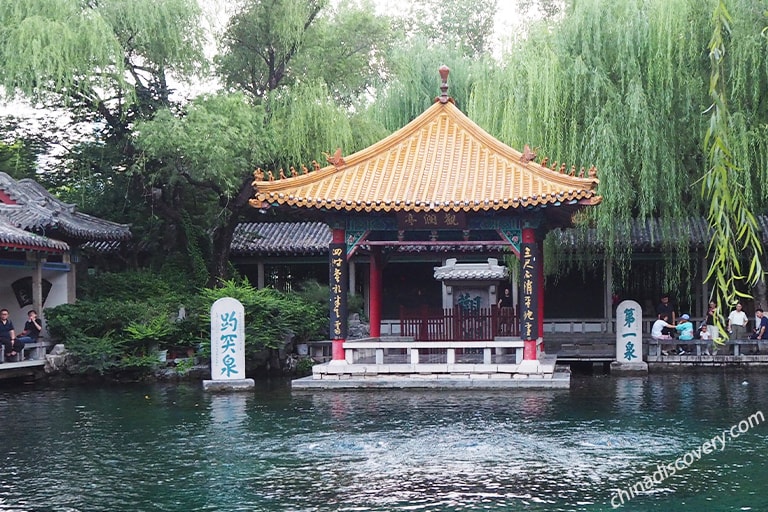 Baotu Spring
Ranking the top among all the 72 named springs in Jinan, Baotu Spring has been praised as the No.1 spring under the heaven by Qianlong Emperor of the Qing Dynasty. Through three outlets, an average stream of 70,000 crystal clear water spouts daily and remains 18℃ all year round.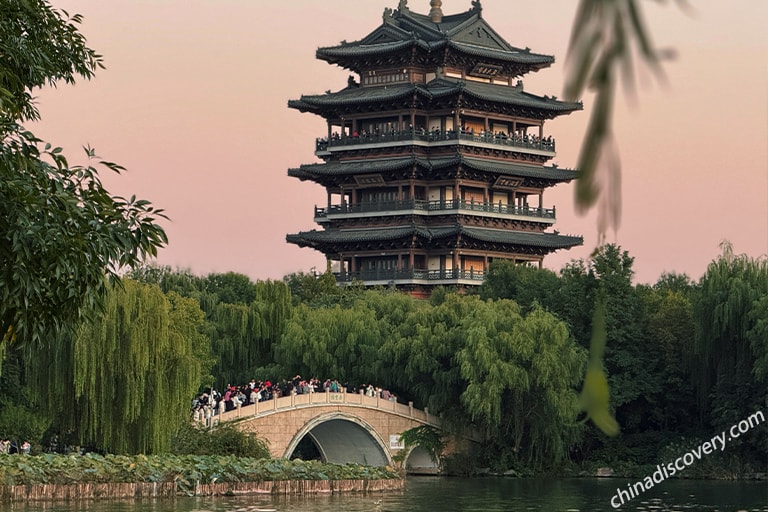 Daming Lake
Daming Lake, fed by spring of Jinan is a huge lake-themed park and one of the major city landmarks. Here presents most poetic and impressive sights, when peaceful lake reflect drooping willows, ancient & modern buildings and decorated with lovely Lotus flowers.
Thousand Buddha Mountain
As a stretch of Mount Tai with a low elevation of 285 meters, the mountain is most known for thousands of Buddhist statues on the cliffside. Tourists can also see giant golden sitting statue of Maitreya Buddha, a huge sleeping Buddha and some halls and temples.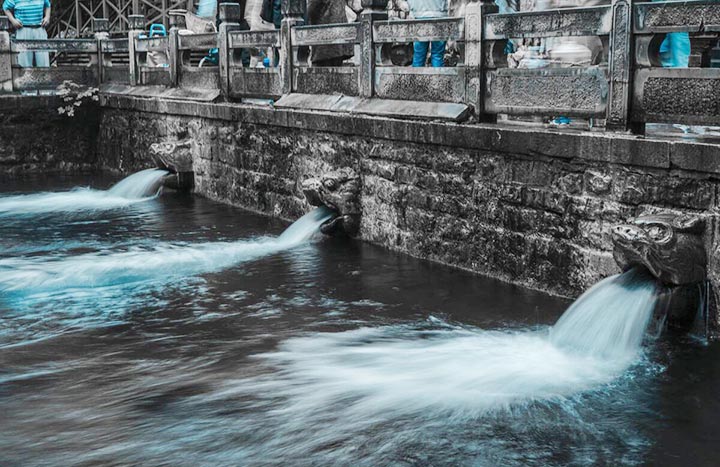 Black Tiger Spring
Named after the roaring sound when flowing through stone ditches, Black Tiger Spring is a famous spring with second largest outflow after Baotu Spring. Spring comes out via three stone-carved tiger heads and finally joins in the city moat.
Five Dragon Pool
Located in the north of Baotu Spring, this spring belongs to the four major spring groups together with 26 springs inside the park which offers the best water quality than any other springs.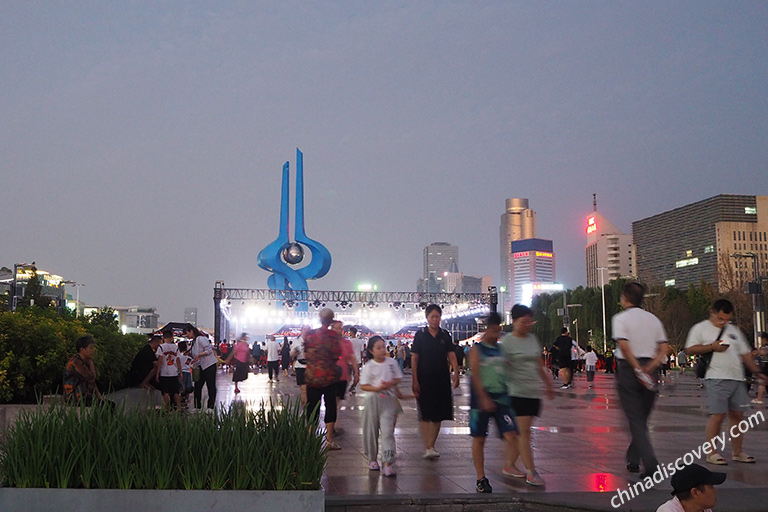 Spring City Square
It's a public leisure area located in the central downtown next to Baotu Spring and Daming Lake. You can watch various local daily life scenes here and see the fascinating Lotus Music Fountain in the evening.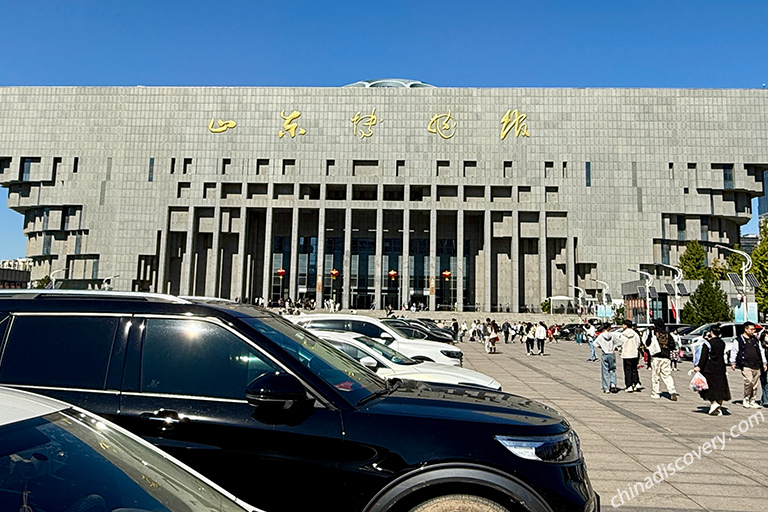 Shandong Museum
Shandong covering an area of 34,000 square meters and collecting more than 140,000 pieces of cultural relics is an excellent window to catch a glimpse of glorious culture and history of Shandong Province.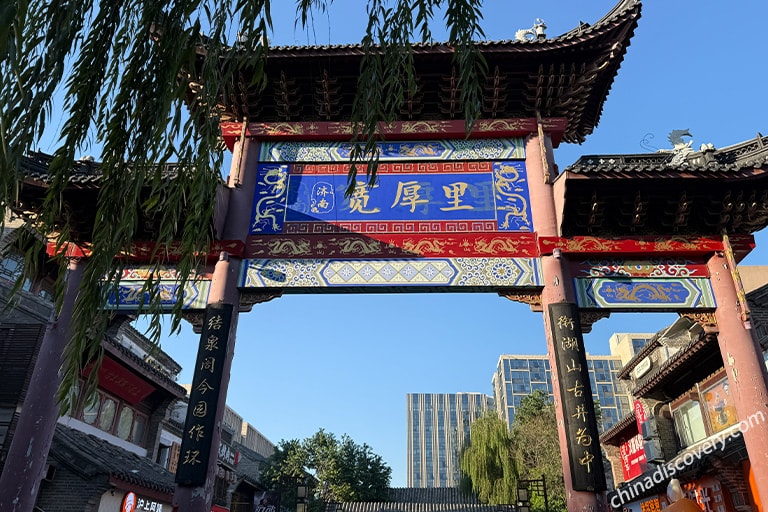 Jinan Kuanhouli Street
The street is a hot modern walking area representing the traditional commercial culture of Jinan. You can taste various local snacks, see traditional style residences & enjoy some intangible cultural heritages here.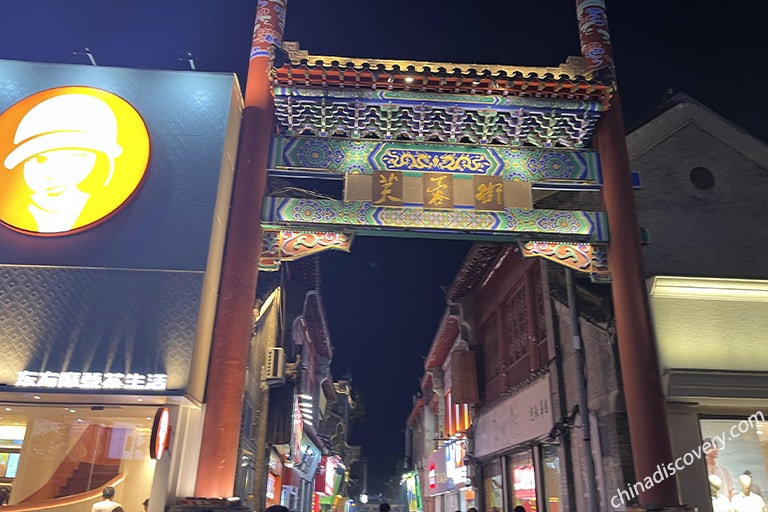 Furong Ancient Street
Named for the Furong Spring, the street now is a busy and crowed old snack alley. The surrounding areas were government and notable dwellings during the Ming & Qing Dynasties, all sorts of shops thus opened. Besides sampling local food, you can still sense the past prosperity from those old architectures.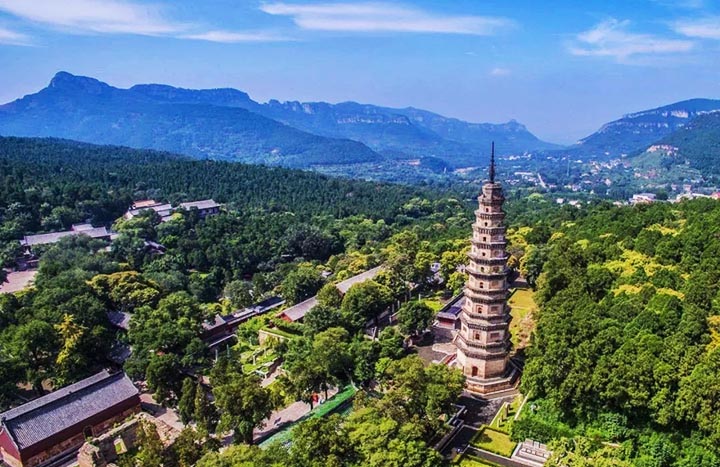 Lingyan Temple
Originally constructed in the Eastern Jin Dynasty over 1,600 years ago, Lingyan Temple is a part of the UNESCO World Natural & Cultural Heritage of Mount Tai. This shrine is less-visited but preserves serenity and massive ancient legacies, like the Pizhi Pagoda, Qianfo Hall and Tomb Pagoda Forest.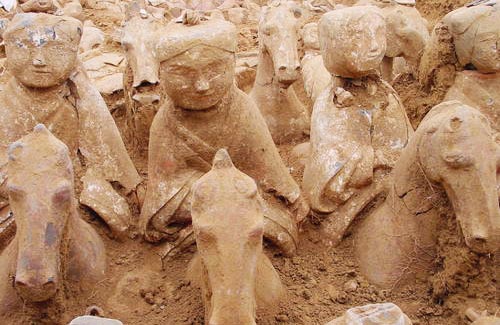 Terracotta Warriors of Weihan
Excavated on Wei Mountain in 2002, this site is a subordinate burial pit group of the Han Dynasty and the first discovered biggest terracotta army in Shandong. In the three pits, there are clay chariots, pottery pots, arrows, drums and many ceremonial items.
Top Featured Activities in Jinan
Sightseeing major attractions is the core but not the only thing to do during a Jinan tour. Getting involved in the local city culture, you will reap more fun and memorable moments, such as visiting more famous springs in Jinan, taking a stroll around the local parks, seeing beautiful flower blossom, tasting Shandong Cuisine in Jinan, visiting Buddhist spots and so on. Find one or some events that may interest you and make your tour interesting and meaningful. More about Top Things to Do in Jinan >>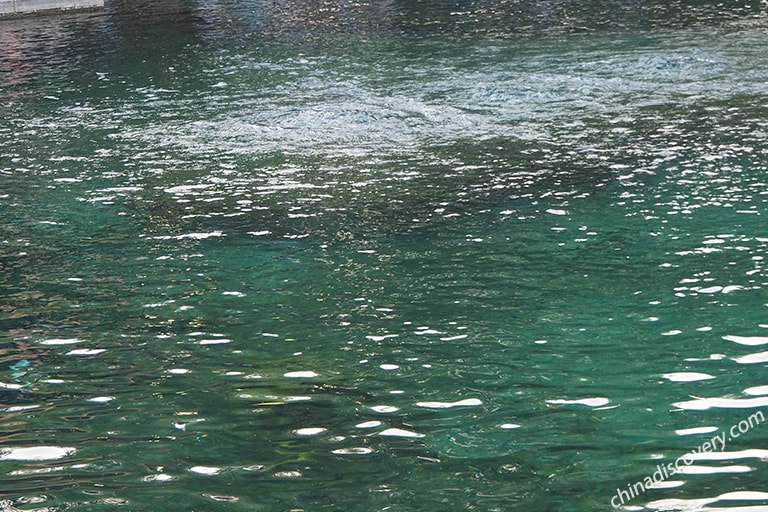 Explore Amazing Natural Springs
It's said that there are 733 wild springs hidden in "the City of Springs" - Jinan. Among the 72 named famous springs in Jinan, the four major spring groups are the most popular natural wonders you can't miss, namely, Baotu Spring, Black Tiger Spring, Five Dragon Pool and Pearl Spring. Luckily, they are all located in downtown within short distance.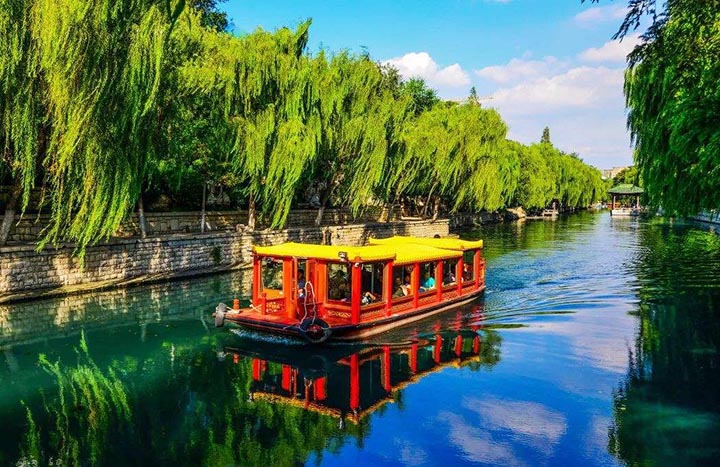 Walk Around in Beautiful City Parks
City center area owns several nice parks you can take a slow walk and view natural beauty and local daily routine. In Baotu Spring Park, you can see spouting springs, elegant gardens, famous inscriptions, while in Daming Lake Park, you can poetic lake embraced by weeping willows and scattered ancient style buildings. Spring City Square hosts dazzling music fountain and Huancheng Park is where the main springs and Daming Lake converge.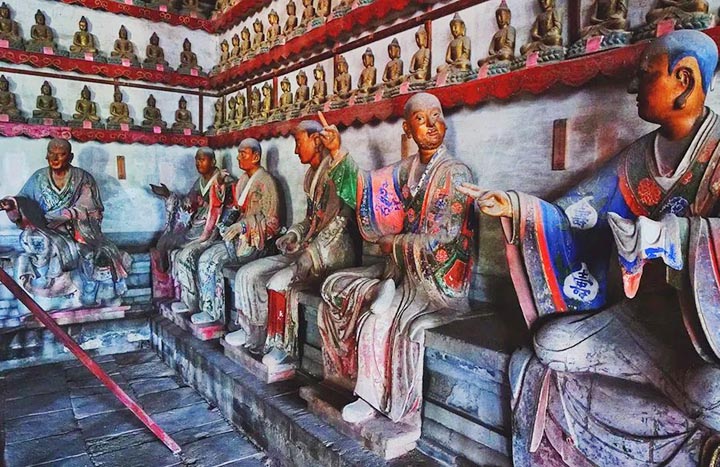 Visit Ancient Buddhist Sites
Shandong has witness the prosperity of Buddhist culture and art. In Jinan, you can visit Shentong Temple, the oldest existing ancient temple in Shandong built by famous Buddhist monk Long Gong in 351 AD, thousands of Buddhist statues carved during Sui Dynasty in Thousand Buddha Mountain, over 1600-year old Lingyan Temple preserving delicate stupa, tomb pagoda forest, temples…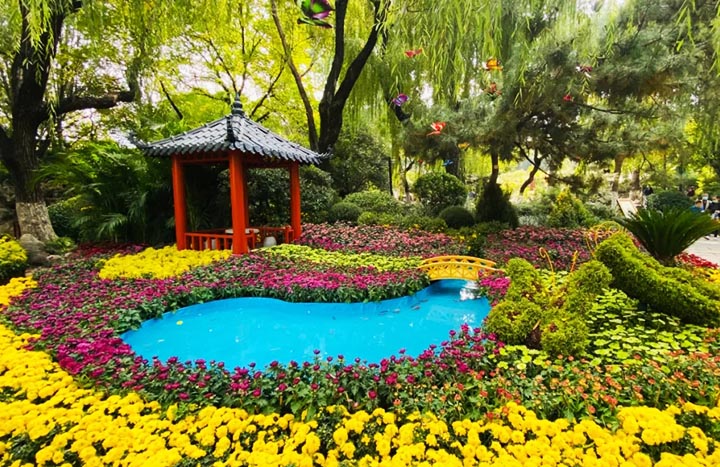 Attend Various Local Festivals & Shows
A year has four seasons and in each season, Jinan host different festivals to present its unique local customs and natural scenery. The grandest event is held during the Spring Festival, when Baotu Spring has colorful lantern show, Daming Lake opens cultural temple fair and Spring City Square provides folklore performances. Besides, there are Spring Culture Week & Summer Lotus Festival held in Daming Lake, Golden Autumn Chrysanthemum Festival in Baotu Spring Park.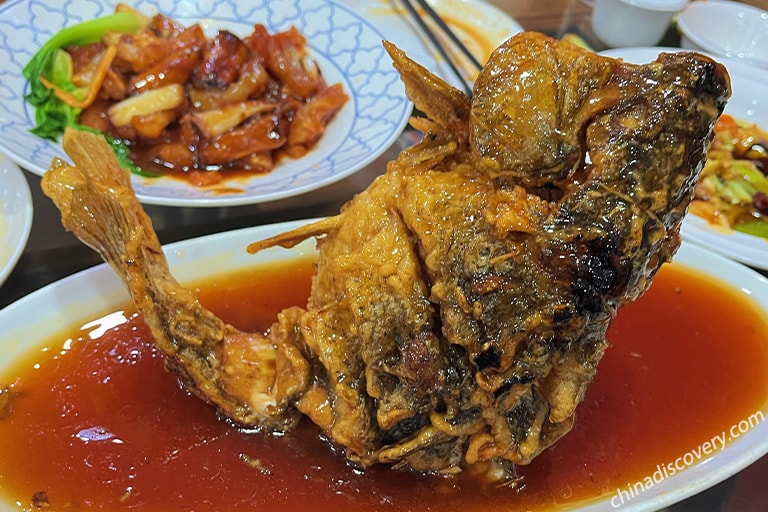 Taste Diverse Local Shandong Food & Snacks
In Jinan, the birthplace of Shandong Cuisine (one of the Eight Culinary Traditions of Chinese cuisine), you can try many notable food and snacks in downtown shopping centers and snack streets, such as as Quancheng Big Steamed Stuffed Bun, Milk Soup of Cattail, Oil Rotation, Tofu stuffed with vegetables, Nine-coiled Pig's large intestine, sweet potato with caramelized sugar, fried carp with sweet and sour sauce, Dezhou Braised Chicken, etc.
Jinan Weather & Temperature - Best Time to Go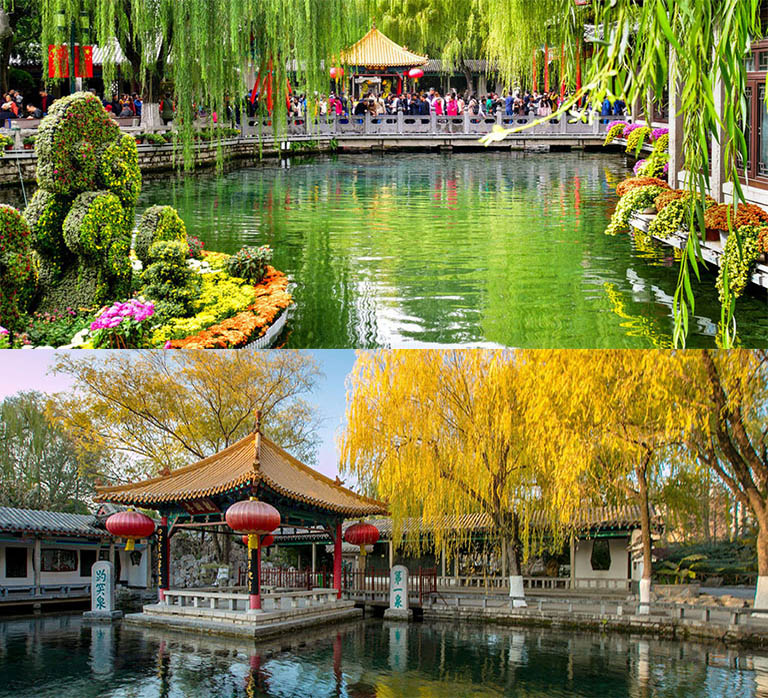 Located in Mid-latitude Zone and affected by solar radiation, atmospheric circulation and geography, Jinan enjoys a Temperature Continental Monsoon Climate with features of distinct monsoon and four seasons, abundant sunshine, dry spring, hot and rainy summer, cool and arid autumn and cold winter. The annual average temperature of Jinan is 13.6℃,and January is the coldest month with an average low temperature of -1.9℃,July is the hottest periods when the mean temperature rises up to 27℃. Jinan's mean annual precipitation is about 614mm and most rains happen in hot summer. Surrounded by mountains by three sides, Jinan has more summer rainfall than other northern cities. Generally, spring and autumn are the best times to visit Jinan for the moderate temperature, beautiful natural scenery and greater chance to see spewing springs.
See more details about Jinan Weather, Temperature & Climate >>
Transportation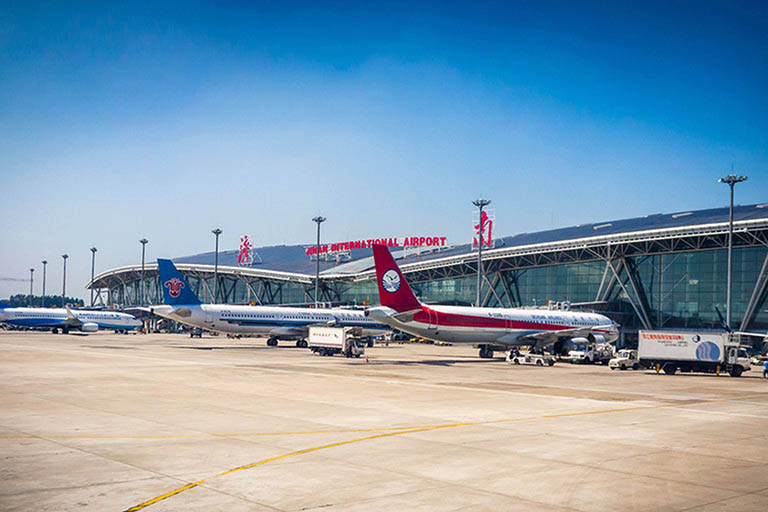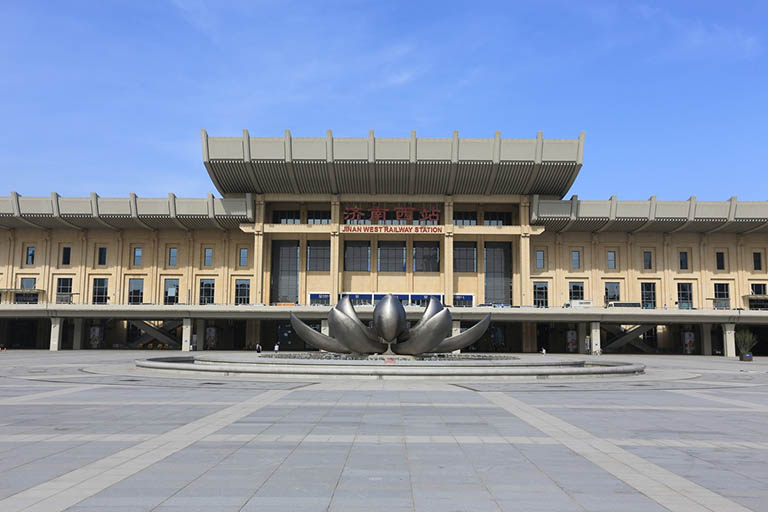 How to Get to Jinan
By Flight: Located in the northeast suburb of Jinan, about 1 hour's drive from downtown, Jinan Yaoqiang International Airport (IATA: TNA) is the only airport serving Jinan. It is also one of the major international air gateways in Shandong. Currently, the airport operates more than 140 air routes with over 90 cities at home and abroad. So, tourists can fly to Jinan from Yantai and Weihai within Shandong, and from Shanghai, Xian, Guangzhou, Shenzhen, Dalian, Datong, Chengdu, Chongqing and more other Chinese cities, and from Hong Kong, Macau, Taiwan, Seoul, Tokyo, Osaka, Nagoya, Singapore and some Asian cities.
>> Jinan Yaoqiang International Airport & Flights
By Train: Jinan is an important railway hub in Shandong, which is well-linked with other parts of China and major places in Shandong. In total, Jinan has 4 train stations in different location and for different railways. Jinan Railway Station, close to the city center, is a vital station that mainly runs normal trains on Beijing-Shanghai Railway and Qingdao-Jinan High Speed Railway. Another frequently-used station is Jinan West Railway Station in the west suburb handling most high speed trains to/off Jinan on Beijing-Shanghai High Speed Railway. Conveniently, taking a high speed train to Jinan from Beijing just needs 1.5~2 hours, 3~4.5 hours from Shanghai, 1~1.5 hours from Tianjin, 3.5~4 hours from Zhengzhou, etc.
>> Jinan Railway Stations: Location & Transportation
>> How to Get to Jinan / Beijing to Jinan / Shanghai to Jinan
How to Get around Jinan
Thanks to the dense railway network, tourists enjoy super easy, efficient and convenient transfer from Jinan to other destinations in Shandong by high speed train.
Jinan to Qingdao: Qingdao is about 365 km east of Jinan and taking a fast high speed train the most popular and common way to travel between them. It takes around 2~3 hours from Jinan to Qingdao by high speed train and 3.5~5.5 hours by normal train.
Jinan to Mount Tai: Mount Tai lies about 72 km south of Jinan. Private driving needs less than 1 hour, while a high speed train requires merely 20~50 minutes and a normal train takes 50 minutes.
Jinan to Qufu: Qufu, the "Hometown of Confucius", is situated about 150 km south of Jinan. You only need 30 minutes to 1 hour by high speed train and a longer duration of 2~2.5 hours by normal train.
Jinan to Weifang: Weifang, the international famous "Kite Capital of the World" is about 210 east of Jinan. You can get to Weifang from Jinan by nearly 1 hour's high speed train or 2~2.5 hours' normal train, 2.5~3 hours' private transfer.
Jinan to Yantai: Yantai is almost 460 km east of Jinan, which can reached by 1-hour's direct flight and 2.5~3.5 hours' high speed train.
Jinan to Weifang: Weihai is 520 km away from Jinan and a non-stop flight from Jinan to Weihai takes only 1 hour, a high speed train needs 3~4 hours.
Jinan Accommodation: Where to Stay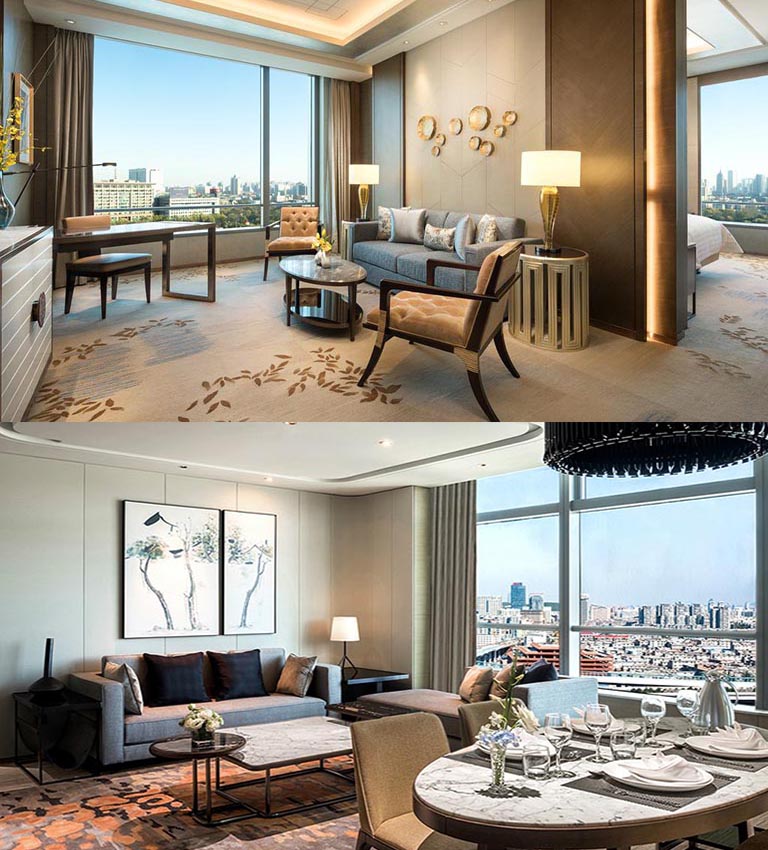 As the capital city and the economic and cultural center of Shandong, Jinan offers a large number of accommodation choices in different location, different standard and lodging rates. The most favorite and best places to stay is the downtown area where rightly locates near Baotu Spring, Daming Lake and many shopping centers. There you can select from a luxury 5-star hotel with perfect location and fancy facilities, services and environment, to mid-priced hotel and budget hostels. Also, according to your travel itinerary, you can stay in hotels near Jinan Yaoqiang International Airport and Jinan West Railway Station for transfer convenience. But the options are not so many as in the city center area and surrounding dinning and shopping is less as well.
>> Best Places to Stay in Jinan
>> Best Luxury 5-star Hotels in Jinan / Recommended Jinan Comfort Hotels
Jinan Maps
Here lists the most useful maps of Jinan to help you better know its location, top attractions to visit, best way of getting to & around Jinan, etc. You can click to enlarge the map and check more details and visit Jinan Maps to find more guide maps for your Jinan tour.
Other Popular Destinations in Shandong
Shandong, a coastal province in East China, offers both charming seaside landscape and rich cultural and historical heritages. Except the picturesque Jinan, there are much more great destinations in Shandong worth your exploration, including beautiful Qingdao, sacred Mount Tai, honorable birthplace of Confucianism - Qufu, Weifang, fairyland-like Penglai in Yantai, etc. The following are top recommended Shandong destinations to travel with Jinan.
Other Popular Destinations in China
China is vast and diverse. You can choose your favorite destinations among more than 70 tourist destination and regions, like Beijing, Shanghai, Xian, Chengdu, etc. Following are 4 popular destinations you may get interested in. Check all destinations in China.
Plan Your Jinan Tour
Jinan is a popular side strip destination from Beijing and a major transfer base for Qingdao, Mount Tai, Qufu, Weifang and other places in Shandong. Usually, tourists spend 1 day discovering highlights of Jinan, such as Baotu Spring, Daming Lake and Black Tiger Spring in city center. If you love the scenic Jinan and plan to stay longer, you can leave one more day to visit Shandong Museum and Thousand Buddha Mountain to view cultural essences.
Next, you can travel from Jinan to other Shandong destinations, take 2~4 days visiting Qingdao for alluring coastal scenery and energetic beer, have 1-day hiking trip on sacred Mount Tai and another day tour to Qufu, worshiping the erudite Confucius and his family mansion. China Discovery offers classic Shandong tour packages covering the above destinations within 1 week and special customized tour of Kaifeng, Yantai, Peilai, Zibo, Weihai, etc., to help you enjoy the most beautiful scenery and brilliant cultural glamour of Jinan and Shandong. Contact us to start your Shandong Jinan tour!
Recommended Tours
MORE