Things to Do in Jiangsu - Top Jiangsu Attractions and Activities
Jiangsu Province, located on the Yangtze River and the Grand Canal, is a worth-visiting place with many attractive cities, such as Suzhou, Nanjing, Wuxi, Yangzhou, etc. In these charming cities, there are a lot of amazing things to do. In order to help the first-timers figure out the best attractions and activities and make full of your holiday to enjoy a high-quality trip in Jiangsu, here we list the top 10 things to do in Jiangsu. If you want to add these experiences into your itinerary, feel free to tell us and we can customize a unique Jiangsu tour according to your needs and preference.
No.1: Lose Yourself in Never-ending Designs in the Classic Gardens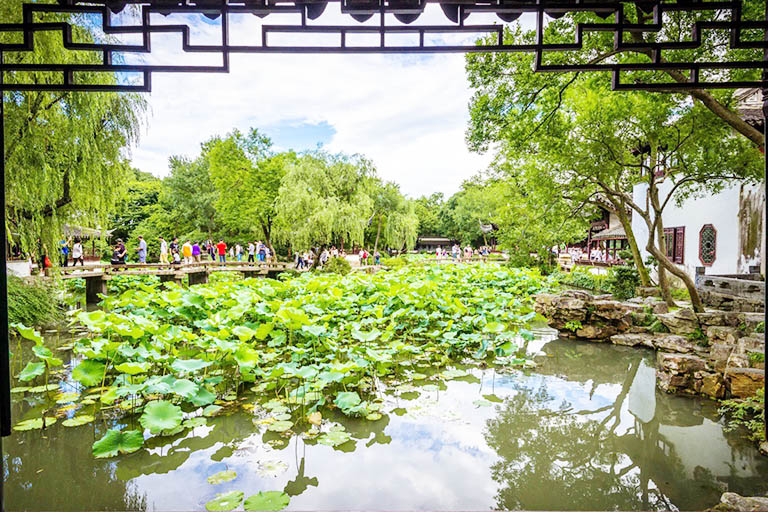 Humble Administrator's Garden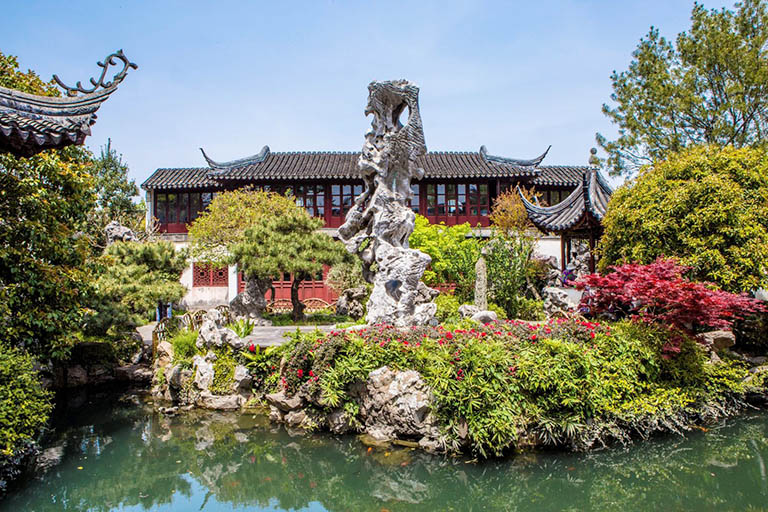 Lingering Garden
Featured with nobility, artistry and serenity, the Classic Gardens of Jiangnan (the South Regions of the Yangtze River) is the biggest essence of Jiangsu. A large amount of gardens distributed in different cities have attracted numerous visitors from ancient times. All these gardens are designed with well-constructed landscape to simulate China's scenery of rocks, rivers, bridges, pavilions, etc. For the best gardens encounter, don't miss Suzhou, the famous Garden City, whose splendor has been spoken of for hundreds of years. At present, there are over 60 gardens well-preserved in Suzhou and 9 of them are listed in UNESCO World Heritage Sites. Here we list the most recommended gardens in different cities and each one of them tells its own story.
Humble Administrator's Garden (Suzhou) – It is the largest and most prestigious garden in Suzhou. There are numerous designs, like magnificent halls, featured towers, zigzagging bridges, beautiful lotus ponds, bamboo groves and featured rockeries but it seems that all of them standing in the perfect position to offer visitors the best vista of the garden.
Lingering Garden (Suzhou) – Praised as one of the Four Greatest Gardens in China together with Summer Palace, Chengde Mountain Resort and Humble Administrator's Garden, it is known as the most poetic one. The delicate perforated windows and unconventional doors always resemble the photo frame of the scenic views.
Lion Grove Garden (Suzhou) – It is famous as the Kingdom of Rockeries because of the curiously shaped rockeries in different sizes. If you travel with kids, Lion Grove Garden is strongly recommended to offer you a delightful experience. It is possible to climb to the peak of one giant rockery or hide in the rockery interestingly.
Ge Garden (Yangzhou) – The original owner of Ge Garden was a salt trader as a private retreat, so this garden is also a display of Yangzhou merchants' wealth. The biggest highlight of Ge Garden is the ingenious design of four seasonal rockeries gardens in accordance with the passing of the years. Typical of Southern Chinese-style horticulture can be appreciated in the garden.
Zhan Garden (Nanjing) – It is a gem hidden in the hustle and bustle of Nanjing City. Just like other gardens, it is decorated with courtyards, pools, corridors, rockeries, bridges, etc. Besides, there is a small history museum with the theme of the Heavenly Kingdom and you are able to take an exploration of Chinese history.
Helpful Links: Humble Administrator's Garden | Lingering Garden | Lion Grove Garden | Classical Gardens of Suzhou
No.2: Wander through Water Towns around Suzhou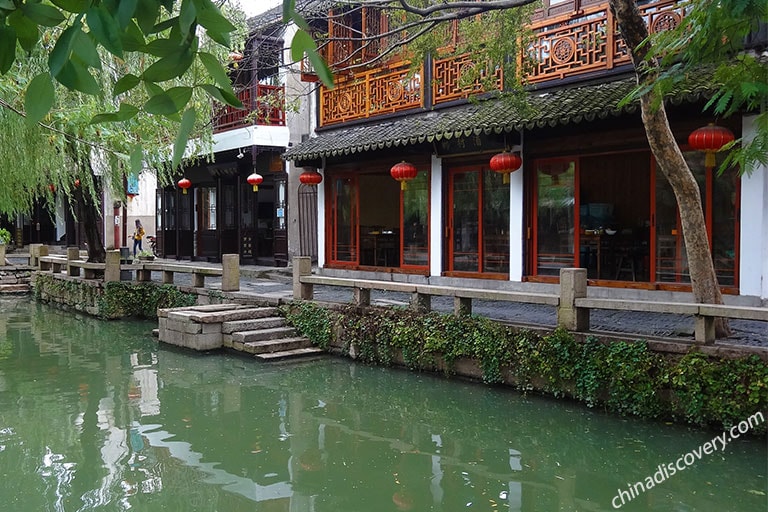 Zhouzhuang Water Town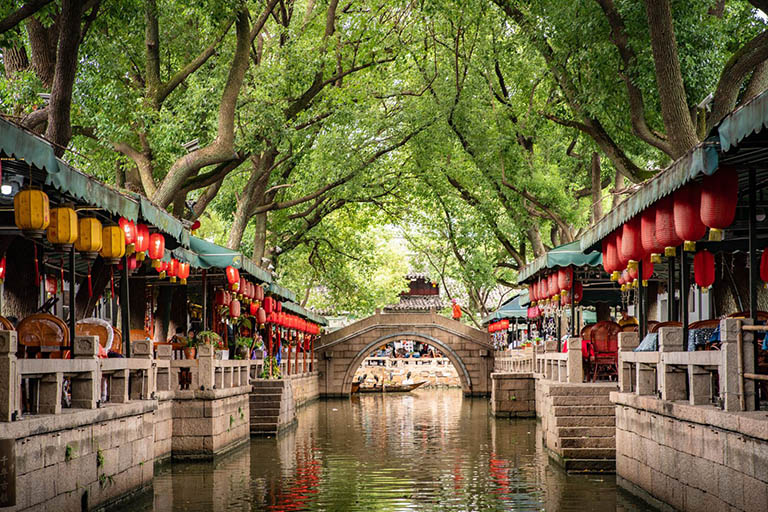 Tongli Water Town
Thanks to the rivers and lakes in Jiangsu, different elegant towns with beautiful waterscape were built in ancient times. Many water towns dotted around Suzhou are referred as the "Venice of the East". They act as a window on Suzhou's glorious past and offer a tranquil break from modern life. The residents of these ancient towns accumulated rich experience of how to live with rivers and lakes, so the atmosphere also symbolizes the harmony between the residents and nature. In the water towns, there are crookbacked bridges, old households, ancestral halls and peaceful temples, making you easily immerse yourself in the antiquity and serenity. Most popular water towns include:
Zhouzhuang Water Town (Suzhou) - Zhouzhuang is said to be the oldest water town that attracts both national and international travelers. Its remarkable architectures are peacefully submerged in the canal's flow, making the creative materials for painting. We also suggest taking a back-awning boat across the bridge openings.
Tongli Water Town (Suzhou) - Want to visit two highlights of Jiangsu - garden and water town in limited time? Just go to Tongli Water Town. Besides only bridges, lakes, alleys and residential dwellings, UNESCO-recognized Retreat and Reflection Garden is also hidden in the town.
Luzhi Water Town (Suzhou) - Luzhi is quite a lowkey water town located in Suzhou suburb. Its tranquility echoes Suzhou's majesty and many travelers prefer spending several hours' leisurely time walking on the historical brides, strolling along the river and watching an opera performance.
Huishan Old Town (Wuxi) - Honored as the open air museum for Wuxi History and culture, Huishan Old Town is a riverside town preserved with 118 ancestral hills and many other historical sites. It is also popular to visit Huishan Old Town during the Azaleas Festival (April ~ May) when lots of colorful azaleas will be exhibited.
Helpful Links: Zhouzhuang Water Town | Tongli Water Town | Luzhi Water Town
☛ 2 Days Suzhou Essence Tour with Water Town
☛ 2 Days Suzhou Zhouzhuang Water Town Tour
No.3 Feast Your Eyes on Ancient Canals & Scenic Lakes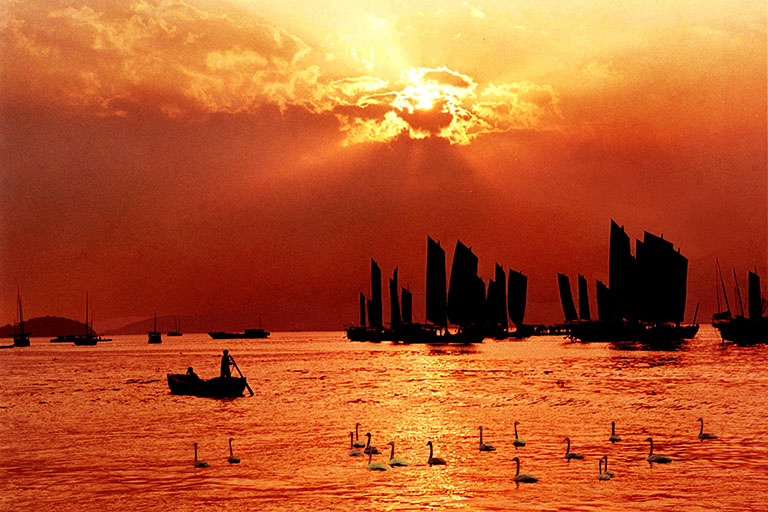 Taihu Lake in Sunset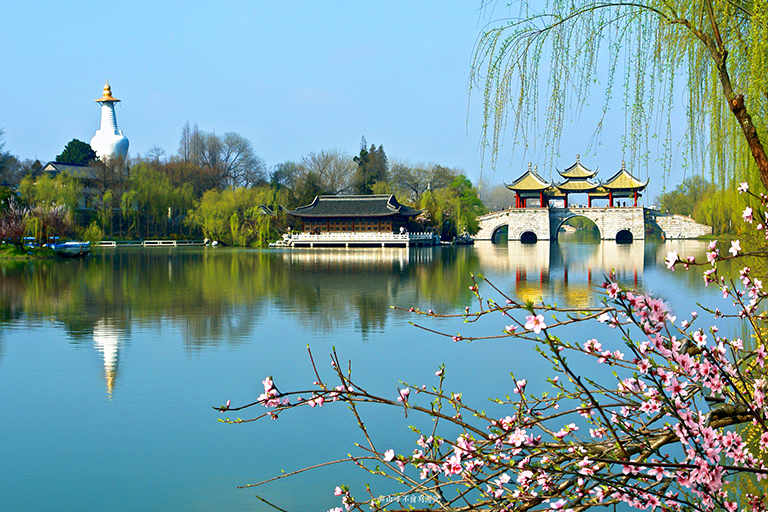 Slender West Lake
The numerous old canals, great lakes and flowing rivers occupy 16.9% of the areas of Jiangsu Province and make it the Land of Water. With so many serene waterside scenes to admire, taking a cruise is a must-do for travelers in Jiangsu. Sitting on a boat, you are able to get a moving stroll of busy streets, the natural beauty, ancient architectures and the authentic local life in the most relaxing way. Old canals, narrow rivers and large lakes are all available to provide different cruise trips to you. If you are seeking for a unique boating journey or want to savor the beautiful waterscape, you can visit:
Grand Canal (Suzhou) – Suzhou Grand Canal crossing the city center of Suzhou is an important part of Beijing-Hangzhou Grand Canal. It has been the golden waterway and prospered the economy of Suzhou for thousands of years. Cruising on the Grand Canal is not only a sightseeing but also a culture-exploring experience. Melodious Pingtan is performed on the cruise.
Xuanwu Lake (Nanjing) – Located in the old capital city Nanjing, Xuanwu Lake once was an imperial lake in Ming Dynasty. It features in a distinctive seasonal landscape – cherry flowers in spring, lotus flowers in summer golden ginkgoes in autumn and many rare species of birds in winter. Taking a cruise allows you to see the landscape from a different angle.
Taihu Lake (Wuxi) – Taihu Lake is renowned for its unique limestone which are used for the ornate rockeries in the gardens. A famous poem goes like that the superb view of the Taihu Lake, after all, lies in the Turtle Head Island (Yuantouzhu). It is strongly recommended to take boat from Yuantouzhu to Fairy Island across Taihu Lake.
Slender West Lake (Yangzhou) – Slender West Lake is Yangzhou's iconic sightwith a combination of the beautiful natural view and delicate culture. Its beauty was praised in many Chinese poems. Both walking along the lake and getting a cruise across the beautiful water which reflects the hanging trees and clear sunny skies above are quite pleasing.
Helpful Link: Suzhou Grand Canal
No.4 Get Educated and Inspired by Visiting China's Top Museums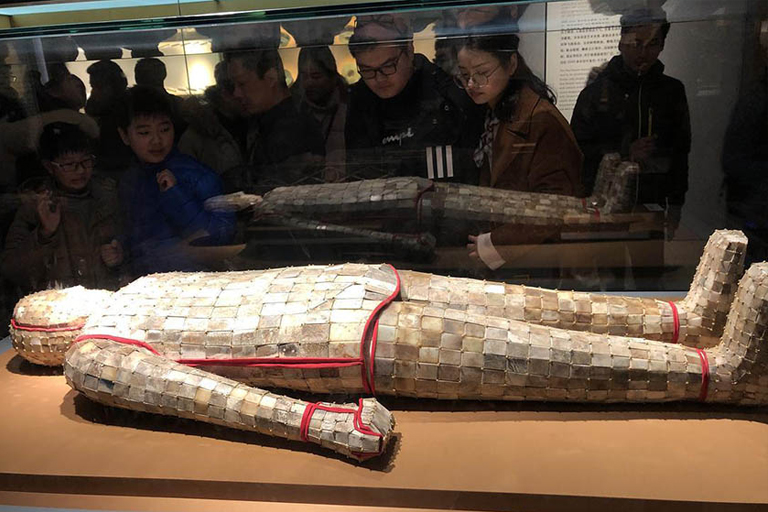 Gold Burial Garment in Nanjing Museum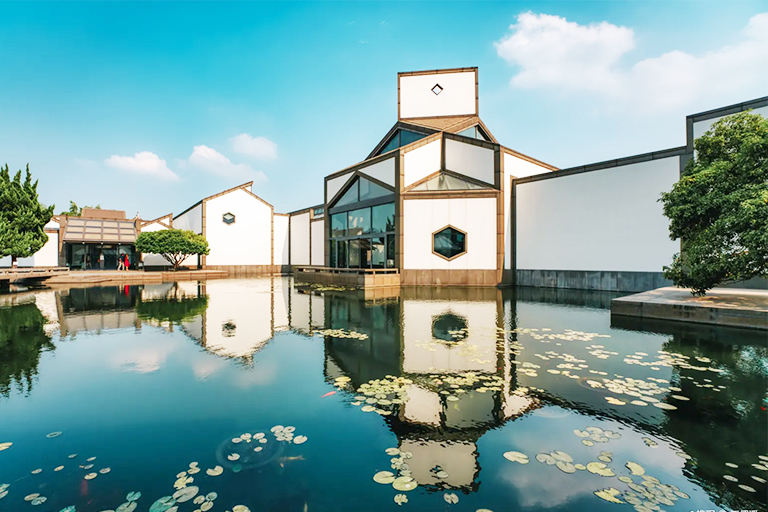 Featured Garden in Suzhou Museum
Visiting museums and galleries is one of the top priorities for travelers while visiting a new city. Jiangsu has a bunch of them, from which you probably get a better understanding of Jiangsu and its fascinating cities. There are many museums in Jiangsu, including some top-class ones delivering you an unforgettable memory. These museums exhibited with various collections are the best portals to the various aspects of the past life in Jiangsu or even in China. All the public museums are free of admission fee, but you need to make a reservation in advance, especially some popular ones. Top recommended museums are:
Nanjing Museum – Nanjing Museum is one of China's top museums together with Palace Museum in Beijing and Palace Museum in Taibei. From 432,768 pieces (sets) of collections and 371,032 pieces (sets) of precious cultural relics, you will get a feast of essence of Nanjing in its thousands of years' history. Suzhou Museum.
Suzhou Museum – Compared with its collections, Suzhou Museum is more favored for its architecture which is the last terrific work of the world-known architect leoh Ming Pe. Both typical traditional elements of Suzhou Gardens and nice lines of modern buildings are applied in the design of Suzhou Museum, so that it enjoys a very unique and delectable outlook.
Nanjing Massacre Memorial Hall – As a hall to memorize the over 300,000 victims slaughtered by Japanese Forces of Aggression during the World War II, Nanjing Massacre Memorial Hall records the most painful memory, remind visitors to look back on the history of Nanjing Massacre and encourage and calls for the forever peace of mankind.
Yangzhou Museum – Not as famous as the above museums, Yangzhou museum is quite interesting to discover as well. It exhibits the history stretching from the prehistoric to the modern age. The story of Marco Polo since he lived in Yangzhou can be learned as well. China Block Printing Museum of Yangzhou is just adjacent and they two represent a confluence of traditional local culture and modern civilization.
Helpful Links: Nanjing Museum | Suzhou Museum | Nanjing Massacre Memorial Hall
☛ 1 Day Suzhou City Highlights Tour
☛ 3 Days Hangzhou & Suzhou Beauty Tour by High Speed Train
No.5 Engage with China's Old and Modern History in Historical Nanjing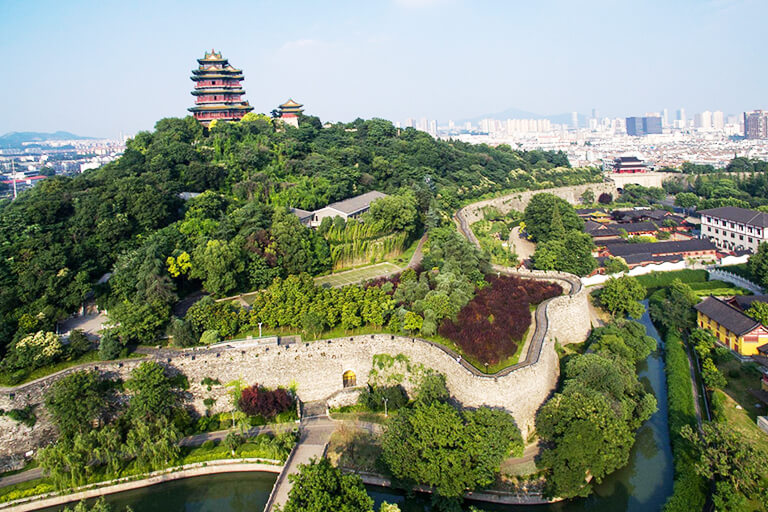 Wondering Nanjing City Wall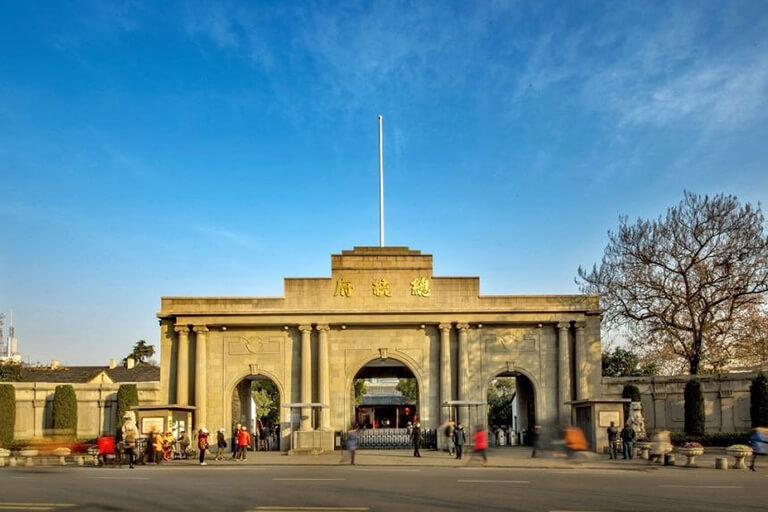 First Sight of Presidential Palace
As the capital of six imperial dynasties of China and the starting place of modern China, Nanjing is the one of the best place to explore China's old and modern history. Besides the informative museums, lots of other places tell the up and downs of this city and this country. Top historical sites of Nanjing are:
Famous Relics of the Ming Dynasty - Firstly built in Nanjing, Ming Dynasty is an imperial dynasty brilliant in culture, technology and national moral integrity. There are various historical sites tracing back to Ming Dynasty, including Ming Xiaoling – the mausoleum of the first Ming emperor, Ming City Walls – longest preserved city wall with lots of famous historical gates, Confucius Temple – 1,000 years old temple to consecrate Confucius, Yuejiang Tower – a famous tower with its distinct style of Ming Dynasty and classical royal makings…
Buildings in the Time of the Republic of China - As the place where the Modern China begins, Nanjing owns many historical sites related to the time of the Republic of China, especially old buildings, including Zhongshan Ling - the mausoleum for our "Father of Modern China" and the "Forerunner of the Revolution" - Sun Yat-sen, Presidential Palace - the Office of the President of the Republic of China, Chiang Kai-Shek's Villa in Tangshan, etc.
Helpful Links: Nanjing Travel Guide | Things to do & Top Attractions
No.6 Learn the Traditional Silk-making Process in Time-honored Factories
Visit Suzhou No. 1 Silk Factory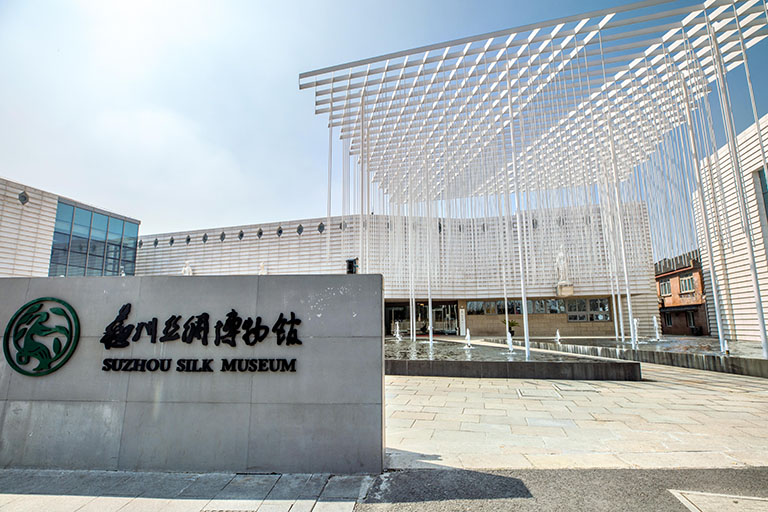 Suzhou Silk Museum
Jiangsu Province is quite known as the silk capital of China. During the Tang and Song Dynasties (618~1279), it was the center of silk production. This continued into the Ming and Qing Dynasties (1368~1912) when silk weavers in Suzhou made most of the high-grade material especially for the royal families. No visit to Suzhou is complete without investigating the provenance of its silk. There are various places in Suzhou permits you to delve into the fine craftsmanship of the most famous export and ancient techniques – Suzhou No.1 Silk Factory, Suzhou Silk Museum and Taihuxue Cultural Taihuxue Sericulture Cultural Park.
Suzhou No.1 Silk Factory - It is a near 100-year-old factory that exhibit the process of making silk from silkworms to silk garments. By visiting this informative factory, travelers could learn about the culture and history of silk, interact with the silkworm babies and silk cocoons, watch how silk is made as well as appreciate the silk's texture and luster. Silk has been used as the national gifts to the foreign friends since hundreds of year ago. If you are planning to take some souvenirs for your friends, good-quality silk products in this factory are strongly recommended.
Suzhou Silk Museum - Suzhou Silk Museum is the first museum that specializes in silk in China. It well demonstrates the thousands years' history of Chinese silk as well as the change of Chinese silk. Various silk relics, fragments, garments, tapestry, brocade and silk-weaving skills in different times can also be explored in the museum. Besides, there are temporary exhibitions with different interesting themes of silk.
Taihuxue Sericulture Cultural Park - With a theme of sericulture and silk, Taihuxue Sericulture Cultural Park interestingly exhibits the history of the silk-making process as well, such as growing mulberry, breeding silkworm, unraveling cocoons, reeling silk and making silk products. You can choose to pick mulberry leaves in the Mulberry Garden and feed the silkworms in the park if you have interests. There are many other activities available are quite friendly to family groups, like painting on the cocoons, joining in a batik class, take a box of silkworms home and rearing them, etc.
Helpful Links: Suzhou No.1 Silk Factory | Suzhou Silk Museum
☛ 1 Day Suzhou City Highlights Tour
☛ 2 Days Suzhou Culture Tour with Silk Discovery Experience
No.7: Get Your Ears Treated by Listening to the Distinctive Operas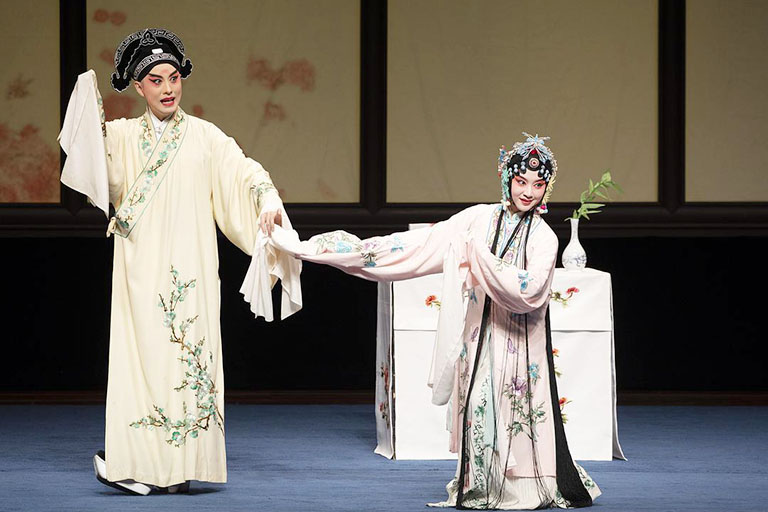 The Peony Pavilion (Kunqu)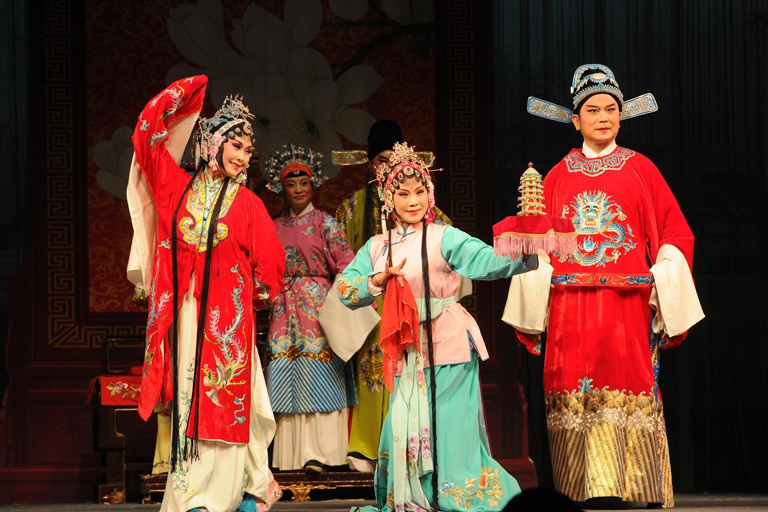 Wuxi Opera Performance
Are you interested in Chinese traditional operas? If your answer is Yes, don't miss Jiangsu where there are over 20 traditional operas well preserved. The most influential operas in Jiangsu include Suzhou Opera (known as Kunqu), Wuxi Opera, Yangzhou Opera and Huaan Opera.
Kunqu Opera - For its elegant lines from the classic poems and graceful singing, Kunqu Opera is regarded as an orchid in the garden of Chinese traditional culture and art. Also, this great cultural art is listed as a "Masterpiece of the Oral and Intangible Heritage of Humanity" by the UNESCO. Two kinds of performances are presented: selections from the classics and full production adapted for on3, two or three evenings performances. The most famous Kunqu operas are The Peony Pavilion and The White Silk Shirt. There are daily Kunqu Opera performances in Lingering Garden (Suzhou) and Master of The Nets Garden (Suzhou). If you want to enjoy more professional shows, you can visit Suzhou Kunqu Theater and Lanyuan Theater (Nanjing).
Wuxi Opera - Wuxi Opera, abbreviated to Xiju (Xi Opera), is a folk opera in the region of Wuxi and Changzhou. It is one of the main local operas that gets a reputation of "A Piece of Plum Flower in Taihu Lake". With a unique variation of upper and lower tunes, Wuxi Opera is quite favored by many opera lovers. The most famous traditional Wuxi operas include The Magic Lotus Lantern, Wu Song Kills Sister-in-Law, Xue Gang in Lantern Show, etc. Wuxi Theater is the best place to enjoy Wuxi opera but it is also available to see Wuxi Opera shows in Lingering Garden.
Yangzhou Opera - Yangzhou Opera is a traditional opera born in Yangzhou but popular in Zhenjiang (Jiangsu) as well as Shanghai and some places in Anhui province. Based on Yangzhou local folk song and dance drama – Huagu Opera, it came into shape by absorbing elements of Yangzhou ditties. Till now, there are over 400 plays in Yangzhou Opera and the most popular ones are Pearl Tower, Jade Dragonfly, and Wang Zhaojun. Yangzhou Grand Theater is the best place to enjoy wonderful Yangzhou Opera.
Huai Opera: Also known as Jianghuai Opera, Huai Opera is an old opera originating in Huaian, Jiangsu and developed in Shanghai and some places in Anhui. The language of Huai Opera is based on Huaian dialects and features in stable tone, four distinct sounds and pleasant music… Huaian Grand Theater offers the greatest Huai Opera performances.
Helpful Link:: Kunqu Opera
No.8: Enjoy the Most Lively Nightlife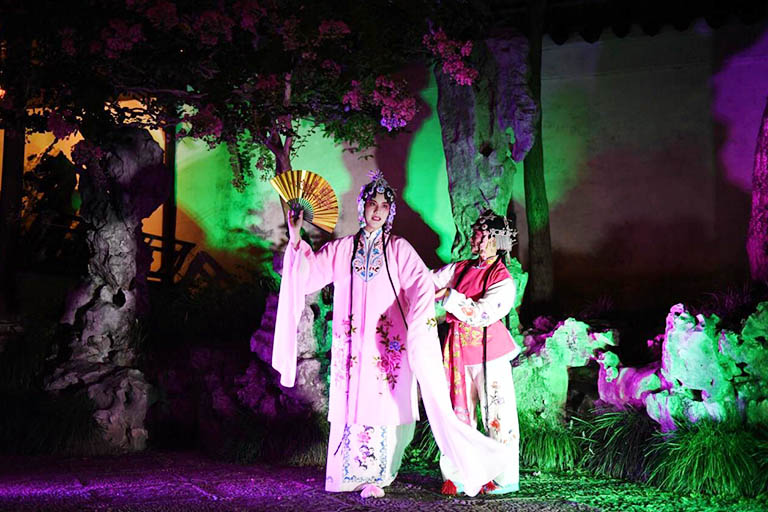 Performance in Master of the Nets Garden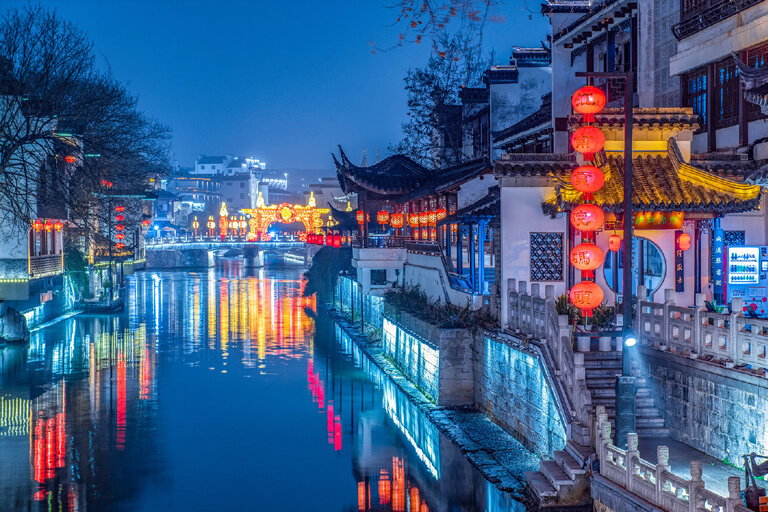 Beautiful Night View of Qinhuai River
Traveling in Jiangsu, the nightlife can be colorful and amazing. Enjoying different operas is one of the good activities at night, but there are many other choices in different cities for you.
Night Garden Performance (Suzhou) - Master of the Nets Garden in Suzhou is famous for its Night Garden Traditional Art Performance, a series of musical and acting sketches each set in a different part of the garden. When the night falls, the garden becomes a magical concert which elegantly exhibits its local art. Walking into the garden makes you imagine if you enter the world in hundreds of years ago - the staff and performers are all ancient costumes. Not only the elegant designs of the garden but also the traditional art performances (instrument show, dance, opera…) with throw you into a memorable atmosphere.
Night View of Qinhuai River (Nanjing) - Among Nanjing's various places, Qinhuai River and Confucius Temple Area is the most highlighting one for night view. Confucius Temple and the buildings on two banks of Qinhuai River are decorated with beautiful lights. Many shutterbugs go to Nanjing to take some nice shots of Qinkuai River's night view. For a better experience, we suggest you visit during Nanjing International Travel Fair when vibrant lantern shows will take place.
Night Show of Nianhuawan Buddhist Town (Wuxi) - Nianhuawan is a small town at the foot of Lingshan Mountain of Wuxi. Surrounded by mountains and lakes, it is best known for its magnificent environment with fresh air and clear water. Visitors can enjoy a wonderful night show in Nianhuawan Town on its newly built "Smile Square", featuring an 18-meter-high moveable sculpture stands at its center.
No.9: Be Amazed by the Awe-inspiring Modern Buddhist Structures
Featured Architecture of Niushou Mountain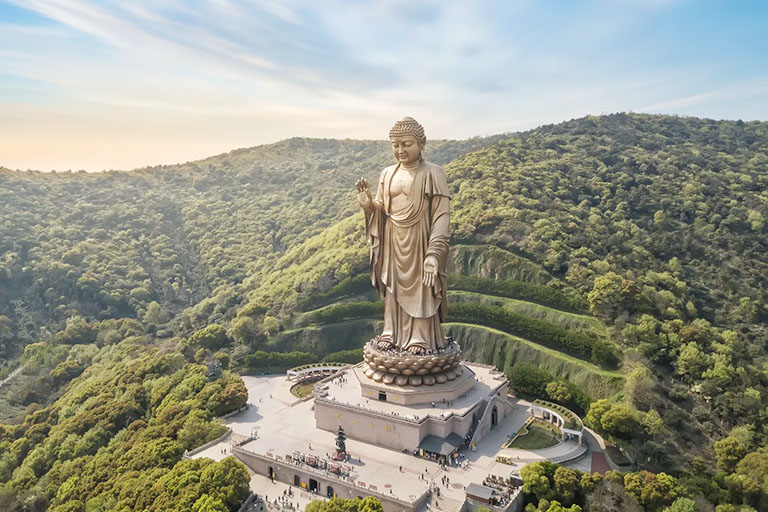 Seeing Lingshan Grand Buddha from Distance
In China, you can easily find quite a lot of Buddhist temples, pagodas, or other structures built in different times. In fact, Buddhism does not only play an important role in ancient China, but also in today. For travelers who are interested in Chinese Buddhism, especially modern Buddhist structures, Jiangsu has some places to visit as well.
Foding Niushoushan Mountain (Nanjing) – Niushoushan is a newly-developed cultural park in the southern suburb of Nanjing. It enjoys high status in Buddhism in that the world's only parietal relic of Buddha is enshrined in the palace of the mountain. Apart from paying homage to Buddha, Niushoushan also features in its extraordinary Buddhist architecture. Foding Palace, where the Buddha's parietal relic is preserved, enjoys an arresting appearance. It is elaborately designed and decorated. The whole building is divided into three parts, the large dome shaped like a Buddha's cassock, the small dome as a whole shaped like the Buddha's hair bun and the Buddha Grottoes with lots of Buddha Statues.
Lingshan Grand Buddha (Wuxi) – Lingshan Grand Buddha, standing majestically at 88 meters, is the tallest bronze Shyakyamuni Buddha in the world. At your first sight of Lingshan Grand Buddha, you are sure to be awed by his imposing sculpture. For scale, a toe nail of the statue is much bigger than the average human head. Except for the spectacular Buddha statue, Brahma Palace in magnificent. It presents a blend of traditional cultural elements and modern features in a harmonious layout.
There are many other places are recommended if you want to get more Buddhist experience such as Jiming Temple (Nanjing) – Nanjing's oldest temple with a history of over 1,700 years, Hanshan Temple (Suzhou) – an old temple in Chinese poetry, Xiyuan Temple (Suzhou) – Suzhou's only temple garden, Tianning Chansi (Changzhou) – one of the born places of Buddhist music chanting...
Helpful Links:Niushoushan | Lingshan Grand Buddha
No.10: Take A Lovely Bite of Featured Jiangsu Dishes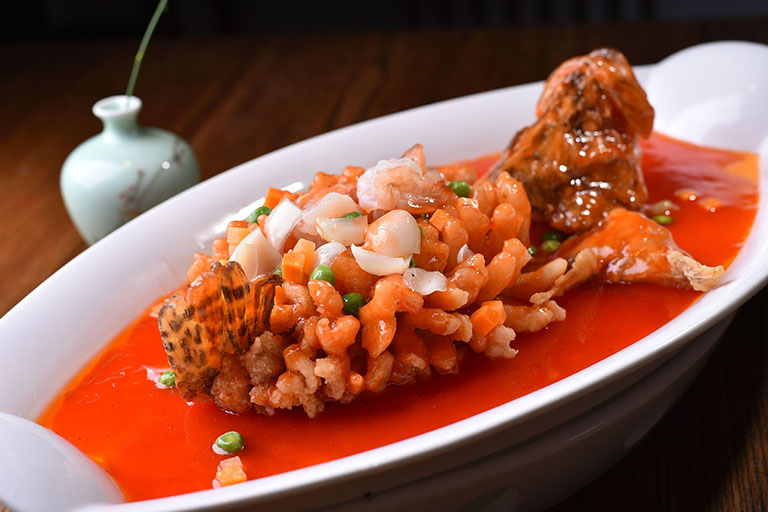 Squirrel-like Mandarin Fish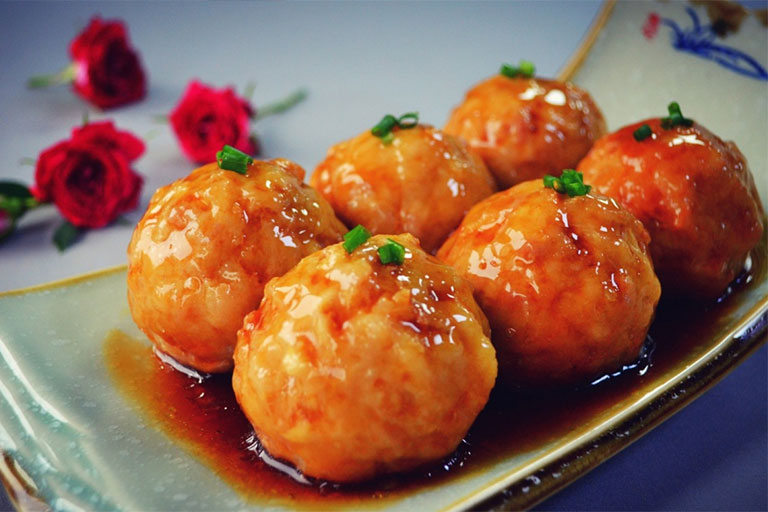 Lion Head
Jiangsu Cuisine, also known as Su cuisine, is one of the Eight Famous Cuisines of China. Because of its developed water system, Jiangsu has abundant vegetables as well as sea and river food. Two most typical features of Jiangsu food are varied cooking method and exquisite cutting skill. Focusing on preserving the original flavor of the ingredients, Jiangsu food has a light, fresh and sweet flavor. No matter which city you visit, you can find the most famous Jiangssu dishes, including:
Squirrel-like Mandarin Fish – With bone removed, the fish will be coated with egg yolks paste and be deep-fried in the oil.. This dish is tender inside and crisp outside, properly sweet and sour.
Lion head - Lion's head is a famous traditional dish in Yangzhou, Jiangsu Province. It tastes soft, fat but not greasy. Braised in brown sauce, steamed, very popular. The main raw materials are crab meat and meat balls made of minced pork. It is called Lions' Heads because of its large and round shape.
Boiled Salted Duck - Salted duck is available in all seasons, but in autumn, osmanthus is the fattest. At this time, the new duck has thin skin, white meat, unusual freshness and excellent quality, which is commonly known as osmanthus duck. Salted duck should be selected with strict procedures, such as salting, rehalogenation, hanging, soup pot and so on.
Where to eat in Suzhou: Songhelou (松鹤楼) in Guanqian Street, Xiehe Restaurant (协和菜馆) in Fenghuang Street, Deyuelou (得月楼) in Guanqian Street, etc.
Where to Eat in Nanjing: Jiangnan Wok (江南灶) in Zhongyang Road, Finnegans Wake Irish Bar & The Malt Room (芬尼根酒吧) in Xinanli Street, Nanjing Impressions Deji Plaza (南京大牌档 德基广场店) in Zhongshan Road, etc.
Where to Eat in Wuxi: Xishengyuan (熙盛源)in Jiankang Road, Red Bar & Grill (瑞德餐厅酒吧) in Taosha Lane, Mammamia Pizzeria (妈妈咪呀) in Yangchun Lane…
Where to Eat in Yangzhou:. Ye Chun ChaShe (冶春茶社) in FengLe Lower Street, DongGuan Jie XiaoChi 富春茶社 in Deshengqiao Street
How to Plan Your Jiangsu Tour
Top Places to Visit in Jiangsu: Suzhou, Nanjing, Wuxi, Yangzhou…
Best Time to Visit Jiangsu: April ~ May & September ~ November for most places
How to Get to Jiangsu: Take a high speed train to Suzhou, Nanjing or Wuxi, or take a flight to Nanjing and Wuxi.
A classic Jiangsu tours covering Suzhou, Nanjing and Wuxi needs 5~6 days.
Exploring the highlights of Suzhou takes at least 2 days and you are advised to visit Tiger Hill which records Suzhou's history, Suzhou No.1 Silk Factory where the traditional silk-making process are exhibited and at least one garden (Humble Administrator's Garden and Lingering Garden are top recommended). With more time, don't miss a canalside old town, like Tongli, Zhouzhuang, Luzhi, etc. 2~3 days are needed to explore the culture and nature of Nanjing. You can pay a visit to Sun Yat-sen Mausoleum (the tomb of Dr. Sun Yat-sen), take a walk in Confucius Temple Area along the Qinhuai River, climb up the Ancient City Wall, and know a part of heavy history... Besides, we suggest spending 1 ~ 2 days exploring the beauty of Wuxi, namely Lingshan Grand Buddha - an 88-meter-bronze Buddha statue and Yuantouzhu with Wuxi's best scenic beauty. Other worth-visiting attractions include Huishan Old Town, Jichang Garden, Plum Garden, etc.
☛ 5 Days Jiangsu Tour (Suzhou, Wuxi & Nanjing)
If you have more days, you can expand your Jiangsu trip to Shanghai - modernest metropolis in China, Hangzhou - home to picturesque West Lake, and Huangshan - magnificent Yellow Mountain and Hui-style ancient villages. Or you can contact us to customize a trip according to your own itinerary and interests. Just tell us your needs and we will take care of everything, you just need to focus on sightseeing!
☛ 3 Days Hangzhou & Suzhou Beauty Tour by High Speed Train
☛ 8 Days East China Tour by High-speed Train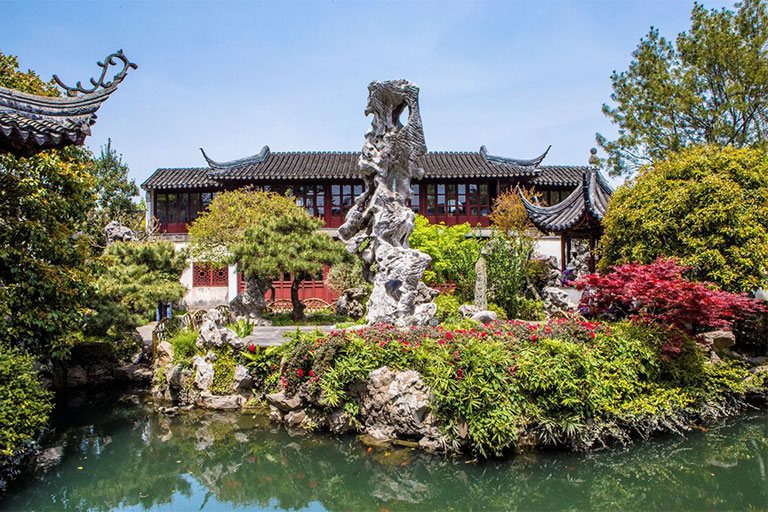 Lingering Garden in Suzhou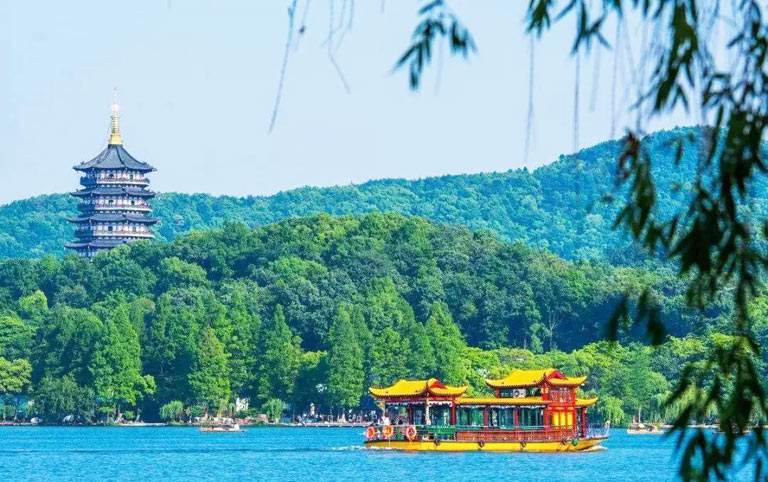 West Lake in Hangzhou
Travel with China Discovery
China Discovery is an experienced, professional and a reliable travel companion devoted to offering high-quality and the best tour services for all travelers to China. In order to have a hassle-free travel and focus on the trip itself, it's highly recommended travelling with China Discovery. So, you can enjoy convenient airport pick-up and drop-off service and transportation to all scenic spots in a safe, clean, comfortable, air-conditioned and non-smoking vehicle. You may select a favorite from our most popular Jiangsu tours or contact us to design a unique itinerary according to your personal time and preference.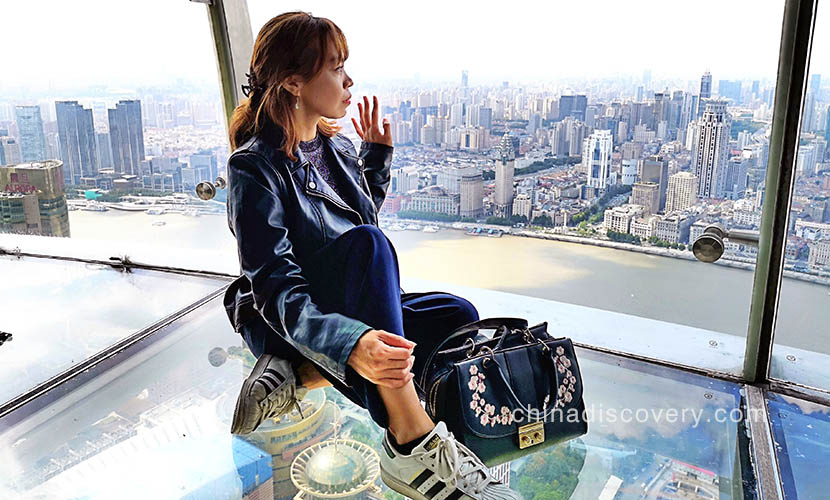 Our Customer visited Shanghai
Recommended Jiangsu Tours
Top 3 Jiangsu tours chosen by most customers to explore Jiangsu in the best way. Check the detailed itinerary, or tailor your own trip now with us.
2 Days Best Chengdu Leshan Giant Buddha Tour

Chengdu / Leshan Giant Buddha / Chengdu
5 Days Charming Jiangsu Tour (Suzhou, Wuxi & Nanjing)

Suzhou / Wuxi / Nanjing
Start planning your tailor-made holiday to China by contacting one of our specialists. Once inquired, you'll get a response within 0.5~23.5 hours.
Customize a Trip
Have a question? Get answers from our travel experts or guests
Your Question:

Your Name:

Your Email: