Where to Stay in Suzhou | Recommended Suzhou Hotels
Suzhou is an attractive city in eastern China. With the elegant gardens, ancient water towns and charming silk history, it is highly recommended to stay at least a night in Suzhou to better explore its essence.
In Suzhou, people usually accommodate in Suzhou downtown where many attractions gather. If you are going to nearby water towns like Zhouzhuang and Tongli, it is also a good choice to spend a night there and have a relaxing trip. Besides, Suzhou is only 100 km from Shanghai, you can keep traveling to Shanghai and stay there after a Suzhou trip.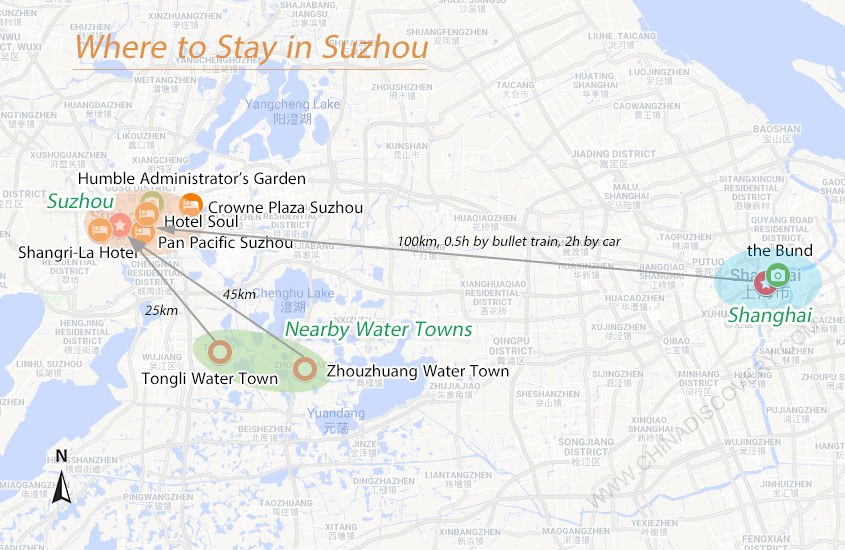 Where to Stay in Suzhou
Hotels in Suzhou City - Accommodate in Suzhou Downtown or Near Attractions
People traveling to Suzhou usually stay in downtown area from which it is very easy to get to attractions such as Humble Administrator's Garden, Suzhou Museum and Pingjiang Road. In this area, you can find hotels rated from 5 to 3 stars and there are many restaurants, malls, snack streets around. Some other luxury hotels are usually located a little far from downtown (not a big problem with the convenient transportation system in Suzhou) but has beautiful environment, which is also a good choice.
☛ 1 Day Suzhou City Highlights Tour
☛ 2 Days Suzhou Classic Garden Tour
Shangri-La Hotel Suzhou 苏州香格里拉大酒店 ★★★★★
Address: No.168 Tayuan Road, Suzhou New District, Suzhou.
Nearby Attractions: Hanshan Temple, Lingering Garden
Shangri-La Hotel, Suzhou is a prestigious international hotel in Suzhou New District. It is located on the 28th to 51st floors of the 232-metre high Metropolitan Towers from which you can have a broad view. It is the most-chosen 5-star hotel in Suzhou and surely provides satisfactory service and facilities such as wifi, swimming pool, children facilities, restaurant, sauna, fitness room, bar, dry cleaning, etc.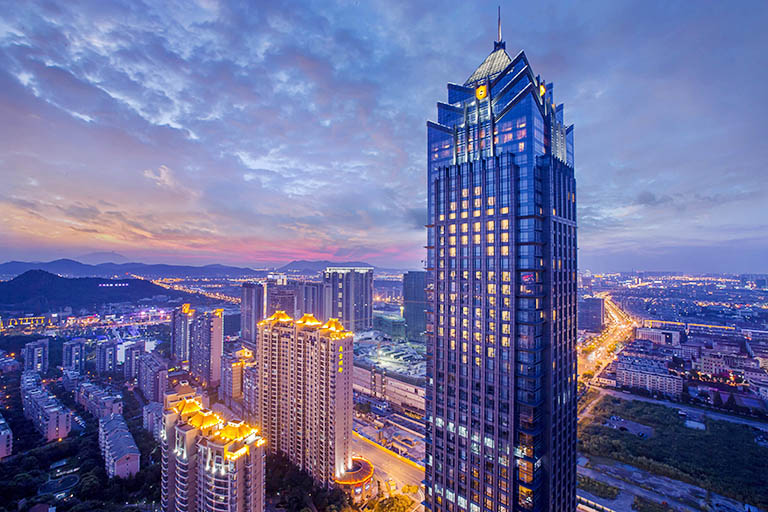 Shangri-La Hotel Suzhou
Pan Pacific Suzhou 苏州吴宫泛太平洋酒店 ★★★★★
Address: No. 259, Xinshi Road, Gusu District, Suzhou.
Nearby Attractions: Suzhou Ancient Grand Canal, Panmen Scenic Area, Master of the Nets Garden, Suzhou No. 1 Silk Factory
Pan Pacific Suzhou is located in the prosperous downtown, near Panmen Scenic Area. Designed with the features of traditional Suzhou gardens and modern aesthetics, Pan Pacific provides very pleasing environment for accommodating and dining. There are over 480 rooms and suites of advanced equipment and elegant decorations. Also, tasteful dishes, buffet, dessert are offered all day. Besides the hospitable services of hotel staff, you can enjoy your wonderful stay with the full facilities such as SPA, gym center, swimming pool, etc.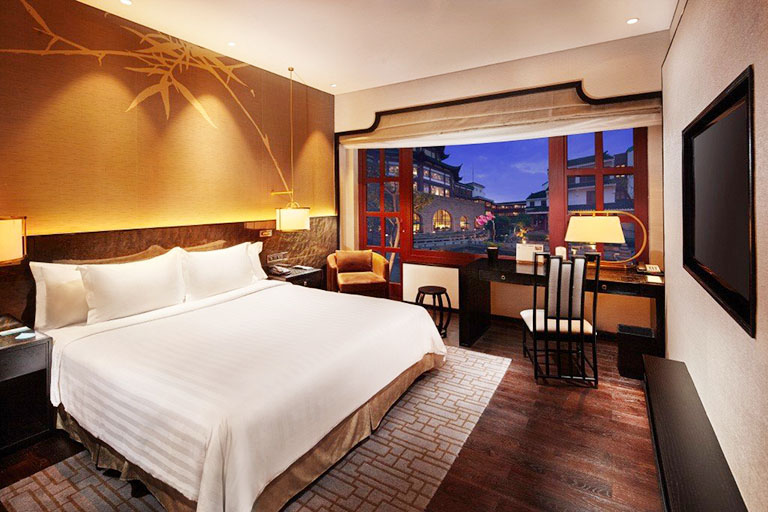 Pan Pacific Suzhou
Crowne Plaza Hotel Suzhou 苏州中茵皇冠假日酒店 ★★★★★
Address: No.168 Xinggang Street, Suzhou.
Nearby Attractions: Jinji Lake
Crowne Plaza Suzhou is ideally located in the Suzhou Industrial Park and set against the scenic backdrop of beautiful Jinji Lake. It provides a choice of 344 spacious and tastefully furnished guest rooms and each room overlook both the lake and gardens. There are 6 stylish restaurants, bars and lounges and the hotel offers a wide range of recreation such as the fitness center, indoor and outdoor swimming pool, teahouse and spa to guarantee a relaxing stay.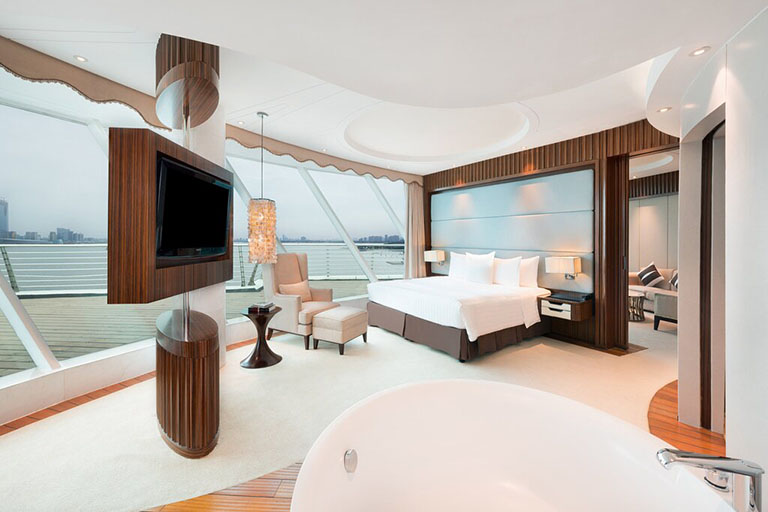 Crowne Plaza Hotel Suzhou
Hotel Soul 苏州苏哥利酒店 ★★★★
Address: No.27-33, Qiaosikong Alley, Gusu District, Suzhou.
Nearby Attractions: Humble Administrator's Garden, Suzhou Museum, Lion Grove Gaeden, Pingjiang Road
Established in May 2010, Hotel Soul is a contemporary boutique hotel in Suzhou, China. The 220 room hotel's design concept juxtaposes elements of modern and ancient China, celebrating the nation's remarkable swift modernization while paying tribute to its distinguished past. Guests at Hotel Soul can enjoy a wide range of culinary delights. Bar Soul brings a unique blend of retro and industrial elements. Hotel Soul also offers a fully equipped gym alongside leisure and meeting facilities, allowing an ultimate indulgence for leisure and business travellers.
▶Helpful Links: Suzhou Luxury Hotels | Suzhou Comfortable Hotels | Suzhou Budget Hotels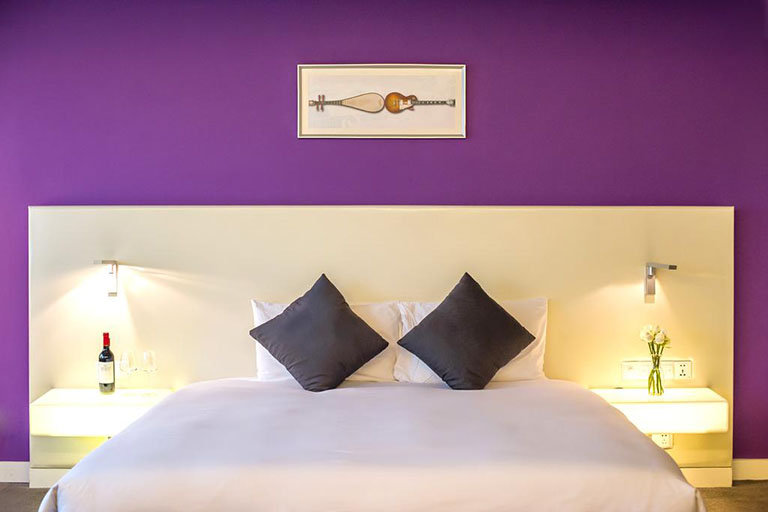 Hotel Soul
Accommodate in Zhouzhuang Water Town
Zhouzhuang Water Town is about 45 km (1 hour's drive) to Suzhou downtown. If you are not in a hurry, it is recommended to stay a night in Zhouzhuang to slow your pace down and immerse yourself in this beautiful ancient town. There are several 5-star hotels which can provide you with superb accommodation experience and multiple inns and homestays with distinctive features where you can savor more of the local flavor.
☛ 1 Day Suzhou Tour with Zhouzhuang Water Town
☛ 2 Days Best Suzhou & Zhouzhuang Water Village Tour
Pullman Zhouzhuang 水月周庄铂尔曼酒店 ★★★★★
Address: No. 88 Quanwang Road, Zhouzhuang, Suzhou
Pullman Zhouzhuang is an international upscale hotel situated in the most beautiful China water town - Zhouzhuang. It is integrated with the surrounded lake and ancient water town. The hotel has 174 rooms, gym, indoor swimming pool, children facilities, 2 restaurants, 2 bars and meeting facilities including an 820 square meters grand ballroom. If you are looking for a superb accommodation experience, Pullman Zhouzhuang is a nice choice.
Inns in Zhouzhuang
In an ancient town like Zhouzhuang, there are many boutique inns with poetic names and elegant surroundings. The inns are usually in Chinese style and do not have many rooms (usually 10-15 rooms), but each room is well decorated. They are surely not as luxury as the 5-star hotels, but the hosts are friendly and it is like you are staying in a family. Many tourists will choose an inn to have a comfortable stay. Popular inns include Zhengutang (贞固堂), Yizai Qingyun (意在青云), Bishui Yunju (碧水云居), Huanxiangjia (幻想家), Yueshang Zhouzhuang (月上•周庄), Suznian Huaijiu (素年怀旧), etc.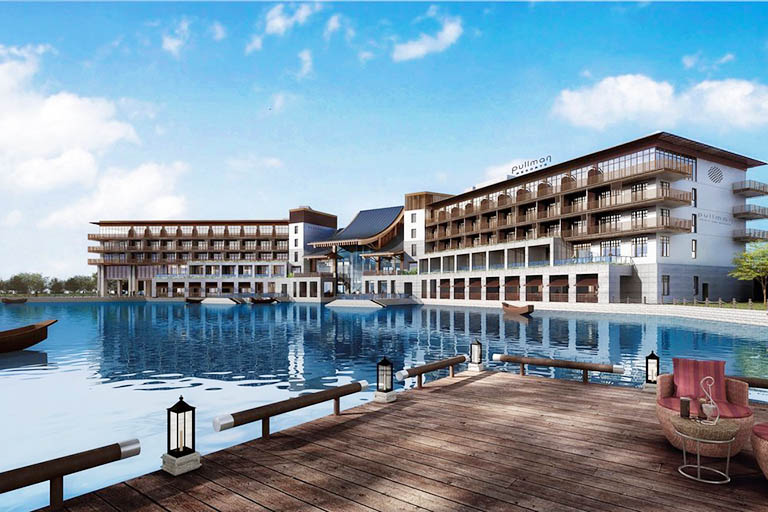 Pullman Zhouzhuang
Yizai Qingyun
Accommodate in Tongli Water Town
Tongli is also a water town near Suzhou, about 25 km, 40 minutes' drive to Suzhou downtown. Tongli is not so touristy as Zhouzhuang and there are fewer hotels. Many people will come back to Suzhou after visiting Tongli. Apart from the 5-star Tongli Lakeview Hotel, there are some inns and homestay you can choose to spend a quiet night.
☛ 2 Days Best Suzhou & Tongli Water Village Tour
Tongli Lakeview Hotel 苏州同里湖大饭店 ★★★★★
Address: No.8 Chongben Road ,Tongli Town, Wujiang District, Suzhou
Tongli Lakeview Hotel was launched in 2004, which proudly presents the Jiangnan Chinese Garden spirit in its 100,000 square meters venue. The hotel has been rated as a "Golden Leaf Green Travel Hotel" by Chinese National Tourism Administration, which means it holds a belief of sustainability, green production, green consumption and green service. It is probably the best hotel in Tongli with great lake view.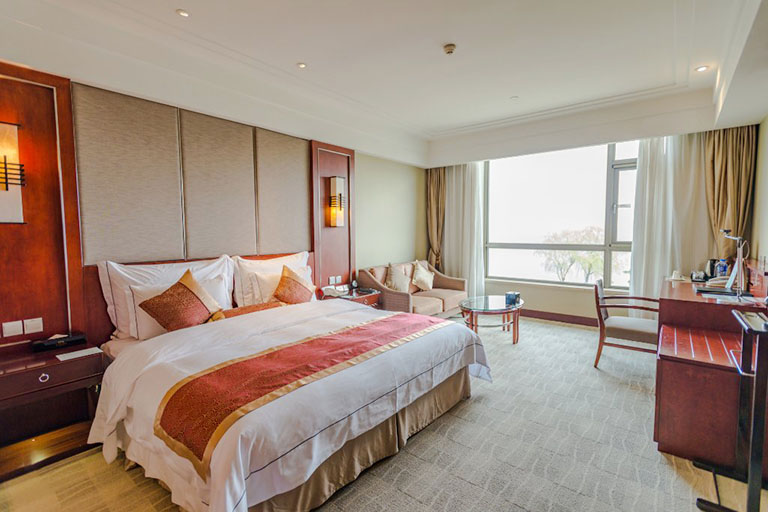 Tongli Lakeview Hotel
Accommodate in Shanghai
Suzhou is frequently traveled with Shanghai as they are only 100 km (2 hours' drive) away. There are more than 220 high speed trains running between them and the traveling time is only 0.5-1 hour. It is available no matter you want to take a day trip to Suzhou from Shanghai or keep traveling Shanghai after a Suzhou tour.
Shanghai, as a fascinating metropolis, offers you numerous accommodation choices. If you want to feel the modern charm of Shanghai, you can stay in the downtown area in Huangpu District near the Bund and Nanjing Road. There are 5-star hotels like JW Marriott Hotel Shanghai at Tomorrow Square, Renaissance Shanghai Yu Garden Hotel, Shanghai JC Mandarin Hotel Limited, 4-star hotels such as New World Shanghai Hotel and Xuhui International Executive Suites Shanghai. You can always find a hotel that meets your requirements.
▶Helpful Links: Shanghai Accommodation | Shanghai Suzhou Tours
☛ 4 Days Shanghai Suzhou Excellent Tour
☛ 5 Days Essence of Shanghai & Suzhou Tour with Zhouzhuang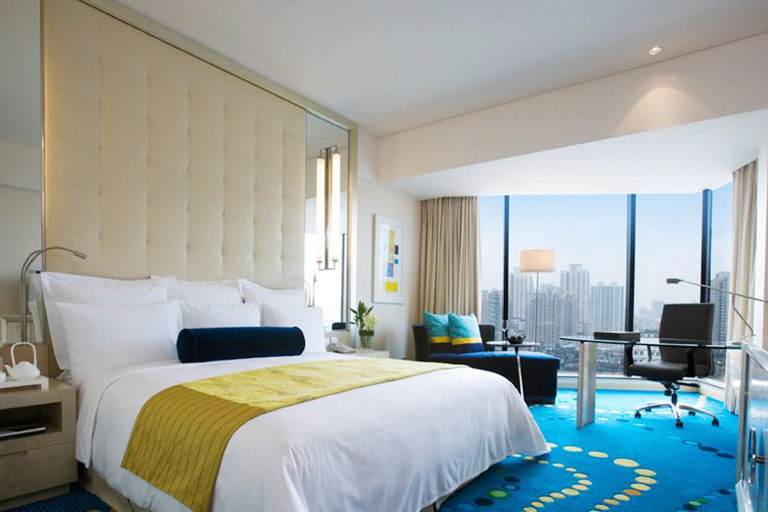 Renaissance Shanghai Yu Garden Hotel
How to Plan Your Travel in Suzhou
How to Get to Suzhou: You can easily get to Suzhou by high speed train from Shanghai (about 0.5 hour), Hangzhou (about 1.5 hours), Nanjing (about 1 hour), Beijing (about 4.5 hours), etc.
Best Time to Visit Suzhou: April to October, especially April and May in spring and September and October in autumn
Generally, a classic Suzhou tour takes about 1~2 days. Visiting Suzhou, you can't miss elegant Suzhou gardens, like Humble Administrator's Garden, Lingering Garden, Master of the Nets Garden, etc. You can choose one or two of them for a great garden delight. Other must-be-visited sights in Suzhou City include Suzhou No.1 Silk Factory from which you can watch the process of silk making from silkworms to elegant products, Tiger Hill which is known as the first sight in Suzhou, Suzhou Museum which is designed by I. M. Pei and Suzhou's old canalside roads (like Pingjaing Road and Shantang Street), etc. If you like Jiangnan watertowns, you can visit Tongli, Zhouzhuang or Luzhi to have a wonderful time.
☛ 1 Day Suzhou City Highlights Tour
☛ 1 Day Suzhou Zhouzhuang Tour
☛ 2 Days Best Suzhou & Tongli Water Village Tour
If you want to explore more about Jiangsu Province, you can travel to Nanjing - the old capital city of 6 ancient dynasties, Wuxi - a beautiful lakeshore city, Yangzhou - old culture center of southern China, etc. Check more about Jiangsu Tours>
☛ 5 Days Jiangsu Tour (Suzhou, Wuxi & Nanjing)
In fact, most people travel Suzhou with Shanghai - the best gateway city to Suzhou, and Hangzhou which has long been on a par with Suzhou since ancient times. Generally, it needs 2~3 days enjoying Shanghai's highlights and another 2~3 days appreciating the poetic beauty. Check more about Shanghai Suzhou Hangzhou Tours>
☛ 3 Days Hangzhou & Suzhou Beauty Tour by High Speed Train
☛ 4 Days Shanghai Suzhou Excellent Tour
☛ 5 Days Shanghai Hangzhou Suzhou Highlights Tour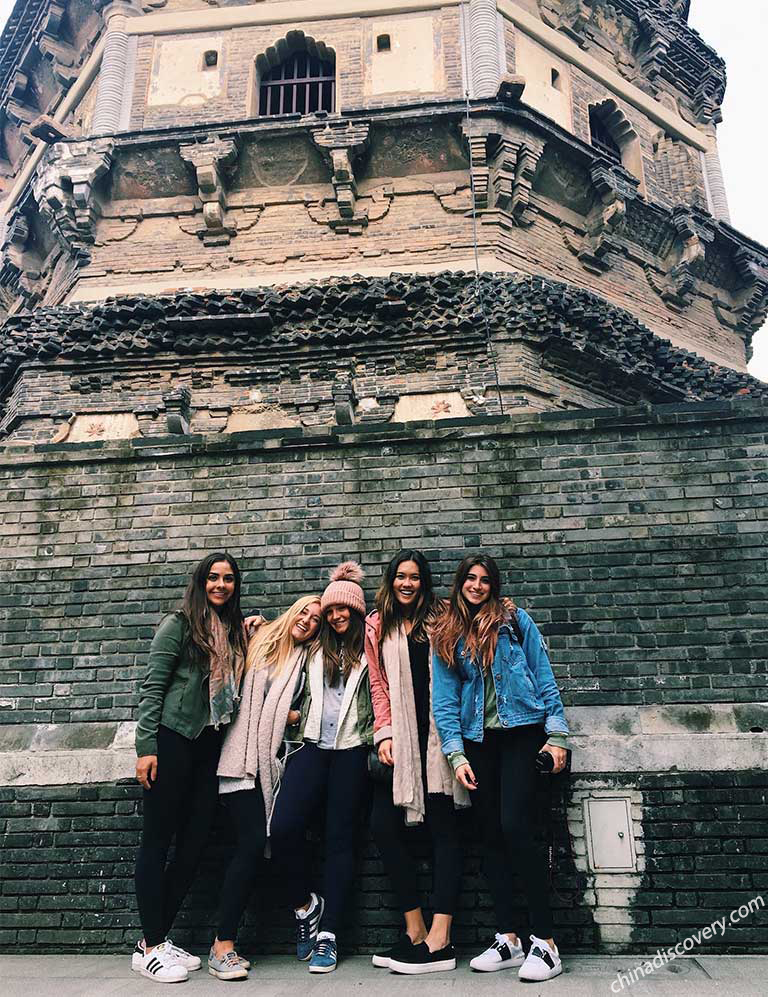 Our Customers visited Tiger Hill, Suzhou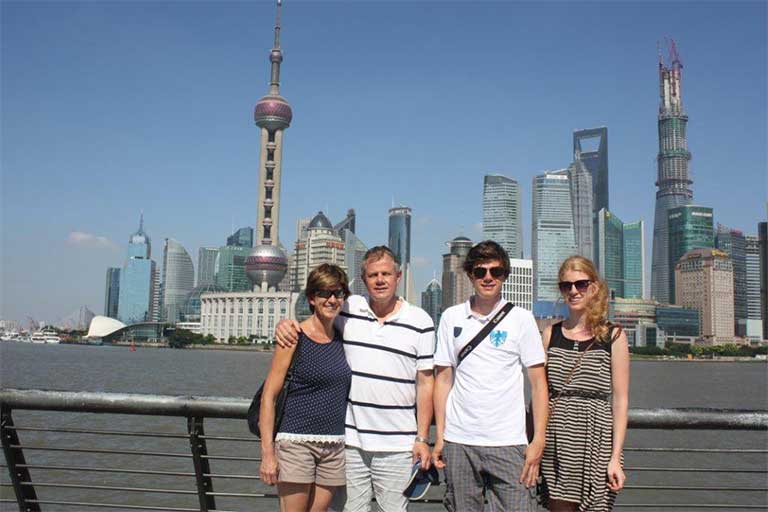 Our Customers visited the Bund, Shanghai
Get Inspired by Real Travel Stories of Our Customers
Since 2012, we have helped numerous customers visit Suzhou and surroundings. With our fully-inclusive private tour packages, all of our customers enjoyed their trips to the exquisite gardens, peaceful watertowns, informative silk factory or museum, old Suzhou streets, etc. Some of them kindly shared their precious photos and stories about their Suzhou journey, just get inspired now.
"We were lucky for being able to watch Chinese dancers at the Lingering Garden at the time of visit…" - shared by Nguyen (Check her The Pursuit of Natural Beauty with the Beloved one - 14 Days Beautiful China Exploring Tour>)
"Suzhou was the real treat at the end of the trip! Everything about Suzhou was perfect…" - shared by Elizabeth from Britain (Check her Long-lasting Memory brought by First Trip to China - 16 Days well-Organized and Wonderful First Visit to China>
Besides the wonderful travel stories, many customers who visited Suzhou with China Discovery also send us their first-hand feedbacks about their trip, feel free to read the Suzhou Reviews and learn what they say about their experience. If you want to start your Suzhou tour now, don't hesitate to contact us.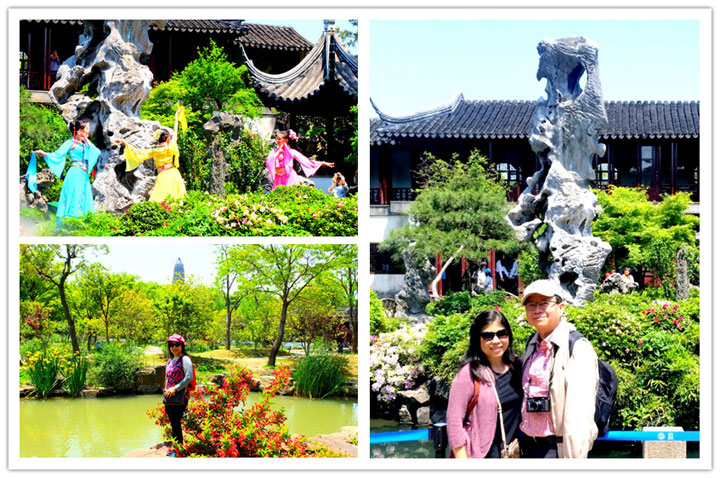 Our Customers Mrs. Nguyen and her husband from Canada visited Suzhou, customized by Wonder Wang
Recommended Suzhou Tours
Top 3 Suzhou tours chosen by most customers to explore Suzhou in the best way. Check the detailed itinerary, or tailor your own trip now with us.
2 Days Relaxing Suzhou Vacation with Tongli Water Town

Suzhou / Tongli Water Town
5 Days Shanghai Hangzhou Suzhou Highlights Tour

Shanghai / Hangzhou / Suzhou / Shanghai
Start planning your tailor-made holiday to China by contacting one of our specialists. Once inquired, you'll get a response within 0.5~23.5 hours.
Customize a Trip
Have a question? Get answers from our travel experts or guests
Your Question:

Your Name:

Your Email: