Tongli Earns Many Titles Because of its Beauty
Tongli (同里), also called Tongli Water Town, in the southwest of Suzhou, is one of the "Top Six Ancient Towns in Jiangnan (Regions South of Yangtze River)" in China with a long history of over 1,000 years. Enjoying the advantageous location of being surrounded by water and linked by old stone bridges, Tongli is the symbol of water town in southern China. Therefore, it is regarded as the "Oriental Venice" as well as a "Natural Photo Studio" by people from the whole world and is titled the "National AAAAA Tourist Attraction". Moreover, since it still well keeps a series of ancient structures from the Song, Yuan, Ming and Qing dynasties, like the "Retreat & Reflection Garden (退思园)" which is a World Cultural Heritage Site praised by many poets, Tongli is a perfect place to savor the authentic flavor of old water town in China and the real leisure life of the charming Jiangnan (江南) region.
☛ 2 Days Best Suzhou & Tongli Water Village Tour
History of Tongli
Tongli was established in the Song Dynasty over 10 centuries ago and was first named Fu Tu (富土, Fertile Land). But it changed to be called as Tong Li (铜里) so not to be too extravagant. And later people finally changed its name again into the present Tongli (同里). According to the history, Tongli is a key place in the ancient Wu (吴) region, and since it could communicate with the outside world only by boat, there were few wars or turbulence. And then, it became an ideal place for people to escape from the social upheaval and settle down.
Tongli - "Oriental Venice"
Poetic Tongli Water Town
Can't-missing Highlights in Tongli
To explore the real charm of Tongli Water Town, you can not only roam along the old streets and rivers, but also visit the famous spots such as the Retreat & Reflection Garden, Gengle Hall, Pearl Tower, Three Bridges, etc.
Retreat & Reflection Garden
Retreat & Reflection Garden or Tuisi Garden (退思园) has been listed as the World Cultural Heritage Site by the UNESCO. This garden was built during 1885 and 1887 by Ren Lansheng (任兰生) who was relieved of his office as government official for his corruption. He named this place as "Tui Si Yuan" to introspect himself. In Tuisi Garden, you can feel the very ancient charm from the historic wood buildings. However, you will be surprised to find the very fantastic water garden hidden in, where pavilions, corridors, bridges, halls, houses, rockeries, pools, old trees, lovely flowers, adorable fishes, etc. are all very harmonious and nice in this secret garden. Walking along the stone-paved path or standing on the pavilion on rockeries, you can appreciate the especially terrific sightseeing of the natural and traditional garden. For its amazing beauty, there is a Tuisi Zhuang (退思庄) in the botanic garden in New York, US, which is built according to Tuisi Garden, which completely demonstrates that the Chinese garden has already got popularity from the entire world.
Secret Garden in Retreat & Reflection Garden
Ancient Tuisi Garden in Spring
Gengle Hall
Gengle Hall (耕乐堂, Happy Farming Hall) at the middle section of Lujiadai (陆家埭) is really a super ancient building in Tongli Water Town. Built in Ming dynasty in the traditional structure of residence in the front and garden in the back, you can appreciate the more ancient houses in this hall. In the residence area, there are abundant root carving works of various shapes exhibiting in the house, such as the eagle, the flower tree, the figures, the lion, and so forth. When you come in the water garden, you can enjoy the very clear pool with red fishes, antique winding stone bridges above the water, old houses with the traces of weathering, pretty blue sky. Every blink will present you a distinct visual feast!
Picturesque Scenery in the Garden of Gengle Hall
The Pearl Tower
The Pearl Tower (珍珠塔) in Tongli Water Town is not really a tower but a mansion. It is famous for the love story named "Pearl Tower" taking place in this official censor's mansion. According to the story, Fang Qing (方卿) and Chen Cuie (陈翠娥) loved each other very much but faced with the difficulties of the wide gap between their family statuses. After the man making efforts to get the "Number One Scholar" and returning hometown with reputation, Cuie and he finally got married. Visiting the Pearl Tower, you can admire the ancient houses and the wide water garden to be amazed at the charm of old water town and feel this famous love story.
The Mansion of Pearl Tower
The Three Bridges
The Three Bridges (三桥) in Tongli refers to Taiping Bridge (太平桥), Jili Bridge (吉利桥) and Changqing Bridge (长庆桥), which is one of the must-see highlights in Tongli Water Town. Forming a shape like the character "品" in Chinese, the Three Bridges is the treasure place in Tongli. You could see people walking on the bridges and boats running below. Especially during festivals, there will be very busy and jubilant, because local people treat it very auspicious and happy to walk along the Three Bridges. So you can follow the custom to get more good fortunes and better body by walking along the Jili Bridge, Taiping Bridge and Changqing Bridge in order for one round without going back.
Besides, there are many other interesting places to visit in Tongli Water Town, like Jiayin Hall (嘉荫堂) with beautiful design and gauze-cap-like beam decorations, Chongben Hall (崇本堂) with exquisite sculptures, Mingqing Street (明清街) with various local food and shops, Luoxing Island (罗星洲) with fabulous natural scenery, etc. you can spend more time to discover deeper beauty of Tongli!
Local Grandma Walking on the Old Street in Tongli
Antique Windows in Tongli Water Town
Amazing Activities in Tongli
You deserve to try the featured activities in Tongli to get the real fun and feel the authentic charm of this famous water town.
Rickshaw Tour
Let the local carter take you to appreciate Tongli Water Town with a distinct visual angle on the ancient rickshaw. Passing through the narrow lanes and admiring the centuries-old buildings, you can imagine yourself being the people living in Tongli in ancient times.
Boat Tour
Take a sculling boat at the daytime to feel the excitement of watching the ancient buildings and people passing by, the brand-new practice of going through the old Chinese bridges. You can have the scene of ancient Tongli people communicating the outside by boat in your mind. (25 min, about CNY 90 / boat; 1-6 people / boat)
Splendid Night View
The night view of Tongli Water Town is splendid. With strings of red lanterns lighting along the river, gorgeous colorful flashes shining in the trees, sparkling lights curving the fancy lines of bridges and paths, the water town will make you immerse into its beauty.
Take a Sculling Boat to Enjoy Tongli Water Town
Splendid Night View in Tongli Water Town
Recommended Route to Visit Tongli
1-day classic tour
Enter Tongli Water Town to visit Retreat & Reflection Garden to see the secret garden, after that feel the love story at the Pearl Tower. Next walk along the Three Bridges to more fortunes. Then go to Gengle Hall to enjoy the water garden and the ancient houses. After that, take a sculling boat to appreciate the charm of Tongli Water Town.
2-day in-depth route
Day 1:
Enter Tongli Water Town to visit Retreat & Reflection Garden to see the secret garden, and then go to Jiayin Hall to enjoy the beautiful design in the old residence. After that, walk along the Three Bridges to more fortunes. Next, go to Gengle Hall to enjoy the water garden and the ancient houses. Then, take a sculling boat to appreciate the charm of Tongli Water Town.
Day 2:
Visit the Pearl Tower to feel the love story and admire the sightseeing, and see the carvings in Chongben Hall. Then, take a boat to Luoxing Island to admire the charming natural scenery.
Click to Enlarge the Sketch Map of Tongli
How to Get to Tongli
Tongli is situated in Wujiang District of Suzhou city, about 25 km from Suzhou downtown. So tourists usually get to Suzhou first and then travel to Tongli. Some will choose to start a Tongli trip from Shanghai because Shanghai to Tongli bus is available and it is not a very long distance.
From Suzhou - 25 km (about 40 minutes' drive)
Suzhou now operates metro Line 4 to Tongli. After you get to Tongli Metro Station, you need to take a 40 minutes' bus or a 10 minutes' taxi to reach Tongli Water Town. There are also frequent buses from Suzhou Beiguangchang Bus Station (苏州北广场站), Suzhou North Bus Station (苏州汽车客运北站), Suzhou South Bus Station (苏州南门汽车客运站), which take about 50 minutes to Tongli Bus Station (1.5 km from Tongli Water Town). More about How to Get to Tongli Water Town from Suzhou >
From Shanghai - 90 km (1.5 hours' drive)
You can take a tourist bus to Tongli Water Town from Shanghai Tourist Distribution Centers (上海旅游集散中心). The duration is about 1.5-2 hours. Or you can take a bullet train from Shanghai to Suzhou first, which is about 30 minutes and transfer to Tongli.
Travel with China Discovery (Top Recommended):
If you want to get rid of the hustle of public transportation and troublesome navigation, you can book a private tour package which covers sightseeing, dining and transfer from us. Our local tour guide and driver will escort you to Tongli with speed and convenience, and take care of all the details. You just need to focus on sightseeing. Contact us now >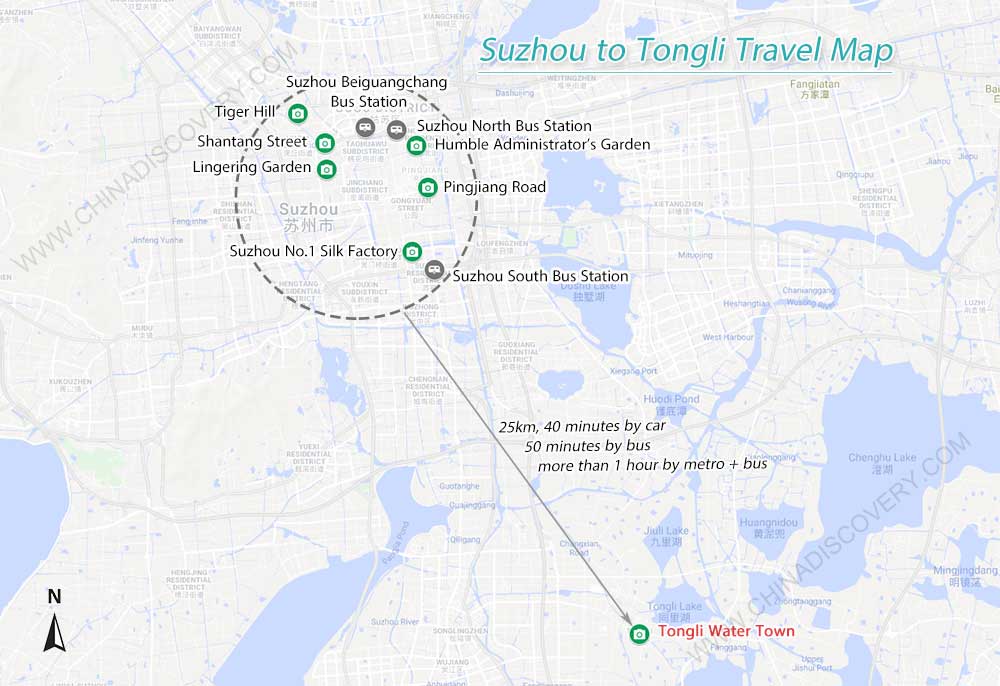 Suzhou to Tongli Transfer Map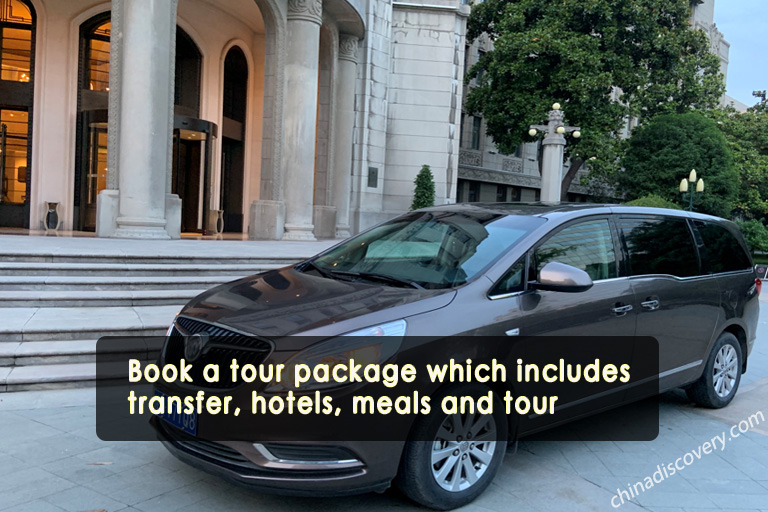 China Discovery Private Transfer
Opening Time & Fee in Tongli
Entrance Fee:
CNY 100 / person (7:30-17:30 for April - October; 7:30-17:15 for November – March; valid for 2 days and includes all the tourist attractions in Tongli Water Town, but you can visit each attraction only once.)
CNY 50 / person: (18:30-21:00; only includes the Retreat & Reflection Garden: 18:45-20:30.)
Note: the above information is for your reference only, for the detail fee information in Tongli, please contact our Travel Consultant!
Best Seasons to Visit Tongli
Tongli is suitable to visit all year round and it shows different sceneries in different seasons.
Spring: with moderate temperature, Tongli is more charming and poetic, especially in the misty rain;
Summer: a lot of local special folk activities are held in Tongli, offering you the best chance to see the folk culture of this famous Chinese water town. Furthermore, you can enjoy its fantastic night view wandering along the rivers and bridges;
Autumn: in the fresh and clear weather, the faint aroma of sweet-scented osmanthus makes Tongli Water Town like a young attractive lady under the azure sky;
Winter: with much fewer tourists, Tongli is quiet but still beautiful. Particularly after snowing, you can appreciate its pure white and elegant appearance with several red lanterns hanging along the river.
Tongli Hotels
Various types of hotels and hostels are provided in and around Tongli Water Town. You can choose the luxury Tongli Lake Resort to feel living in the ancient Chinese water town. Also, Tongli Lakeview Hotel of less than 1 km from the tourist area provides very good service and equipment. And Blossom Hill Tongli is also another good romantic choice of traditional Suzhou and modern decoration. Besides, other comfort and economy hotels and featured hostels and Inns will surely make your Tongli stay unforgettable.
Tongli Food
Tongli as a thousand-year-old water town has abundant kinds of delicious food for you. The famous Zhuangyuan Pig Trotter is very popular among visitors from the whole world for its very tender meat and great scent. Wadisu Crisp of traditional professional skills is tasteful and crispy. Moreover, other local food like Qingtuanzi, Qianshi Cake, and so on, is worth a try.
Tips to Go to Tongli
1. Take rain gears and some mosquito repel especially in summer and take enough clothes because it's a little cold in the autumn morning and night.
2. Watch out while traveling on the boat in case of falling in the water.
3. Since the day tour ticket is valid for two days, if you want to stay in Tongli Water Town for 2 days, you need to present your valid document like your passport to the staff at the ticket office and tell them your requires when collecting the ticket.
4. Tongli Tourist Center provides luggage storage service from 8:00-17:00.
5. Tongli keeps a very traditional skill of fishing which is to order the cormorants to catch fishes in the water, and that skill has kept for over 1,300 years. The local people would sometimes present this God-given show at the middle place of the Three Bridges if there are boats running by and the guests give them some reward.
How to Plan Your Travel in Suzhou
How to Get to Suzhou: You can easily get to Suzhou by high speed train from Shanghai (about 0.5 hour), Hangzhou (about 1.5 hours), Nanjing (about 1 hour), Beijing (about 4.5 hours), etc.
Best Time to Visit Suzhou: April to October, especially April and May in spring and September and October in autumn
Generally, a classic Suzhou tour takes about 1~2 days. Visiting Suzhou, you can't miss elegant Suzhou gardens, like Humble Administrator's Garden, Lingering Garden, Master of the Nets Garden, etc. You can choose one or two of them for a great garden delight. Other must-be-visited sights in Suzhou City include Suzhou No.1 Silk Factory from which you can watch the process of silk making from silkworms to elegant products, Tiger Hill which is known as the first sight in Suzhou, Suzhou Museum which is designed by I. M. Pei and Suzhou's old canalside roads (like Pingjaing Road and Shantang Street), etc. If you like Jiangnan watertowns, you can visit Tongli, Zhouzhuang or Luzhi to have a wonderful time.
☛ 1 Day Suzhou City Highlights Tour
☛ 1 Day Suzhou Zhouzhuang Tour
☛ 2 Days Best Suzhou & Tongli Water Village Tour
If you want to explore more about Jiangsu Province, you can travel to Nanjing - the old capital city of 6 ancient dynasties, Wuxi - a beautiful lakeshore city, Yangzhou - old culture center of southern China, etc. Check more about Jiangsu Tours>
☛ 5 Days Jiangsu Tour (Suzhou, Wuxi & Nanjing)
In fact, most people travel Suzhou with Shanghai - the best gateway city to Suzhou, and Hangzhou which has long been on a par with Suzhou since ancient times. Generally, it needs 2~3 days enjoying Shanghai's highlights and another 2~3 days appreciating the poetic beauty. Check more about Shanghai Suzhou Hangzhou Tours>
☛ 3 Days Hangzhou & Suzhou Beauty Tour by High Speed Train
☛ 4 Days Shanghai Suzhou Excellent Tour
☛ 5 Days Shanghai Hangzhou Suzhou Highlights Tour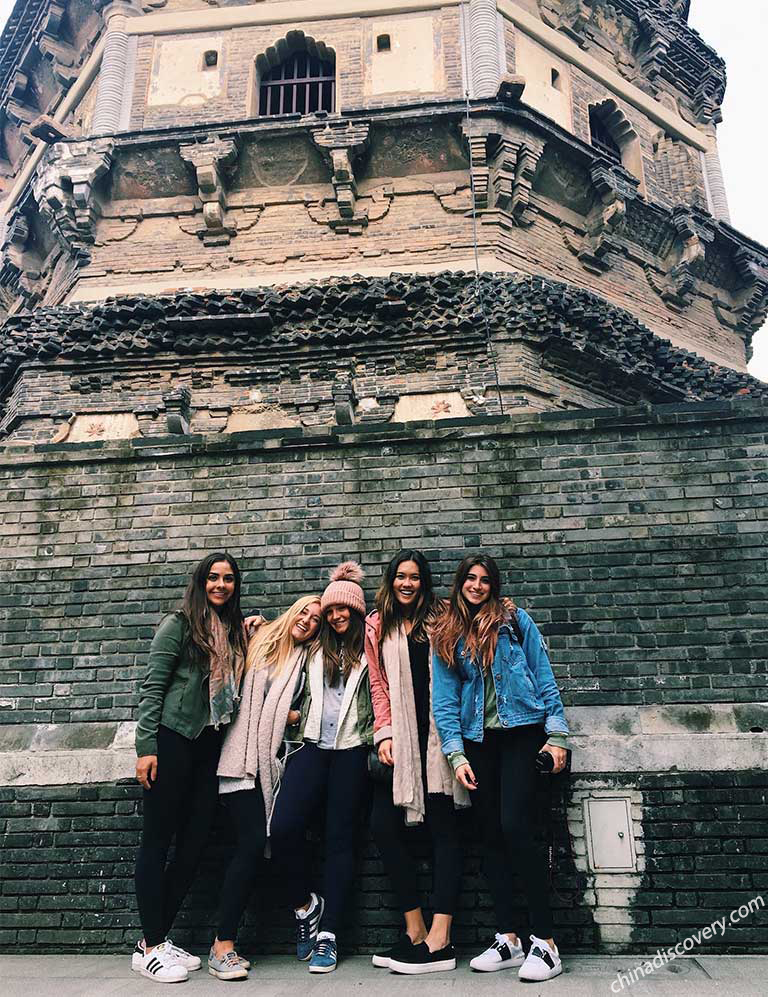 Our Customers visited Tiger Hill, Suzhou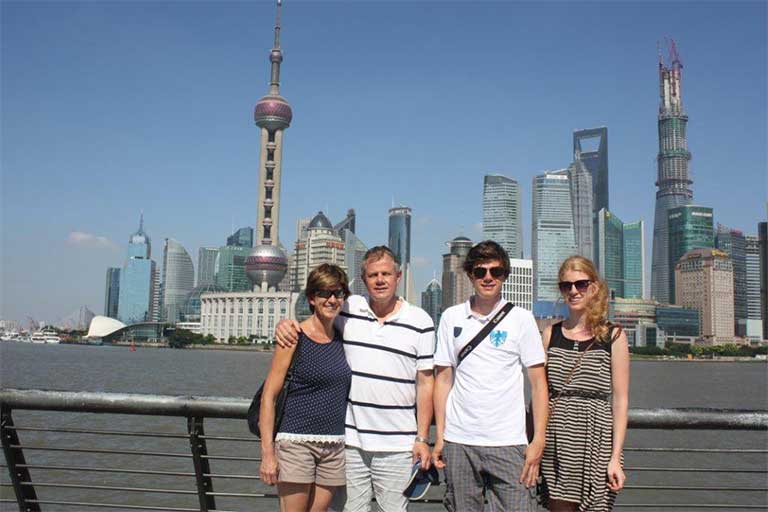 Our Customers visited the Bund, Shanghai
Get Inspired by Real Travel Stories of Our Customers
Since 2012, we have helped numerous customers visit Suzhou and surroundings. With our fully-inclusive private tour packages, all of our customers enjoyed their trips to the exquisite gardens, peaceful watertowns, informative silk factory or museum, old Suzhou streets, etc. Some of them kindly shared their precious photos and stories about their Suzhou journey, just get inspired now.
"We were lucky for being able to watch Chinese dancers at the Lingering Garden at the time of visit…" - shared by Nguyen (Check her The Pursuit of Natural Beauty with the Beloved one - 14 Days Beautiful China Exploring Tour>)
"Suzhou was the real treat at the end of the trip! Everything about Suzhou was perfect…" - shared by Elizabeth from Britain (Check her Long-lasting Memory brought by First Trip to China - 16 Days well-Organized and Wonderful First Visit to China>
Besides the wonderful travel stories, many customers who visited Suzhou with China Discovery also send us their first-hand feedbacks about their trip, feel free to read the Suzhou Reviews and learn what they say about their experience. If you want to start your Suzhou tour now, don't hesitate to contact us.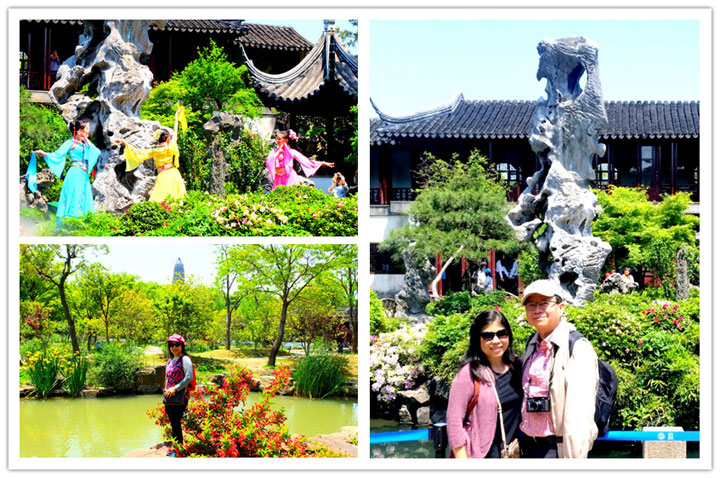 Our Customers Mrs. Nguyen and her husband from Canada visited Suzhou, customized by Wonder Wang
Recommended Suzhou Tours
Top 3 Suzhou tours chosen by most customers to explore Suzhou in the best way. Check the detailed itinerary, or tailor your own trip now with us.
2 Days Relaxing Suzhou Vacation with Tongli Water Town

Suzhou / Tongli Water Town
5 Days Shanghai & Suzhou Highlights Tour with Tongli Water Town

Shanghai / Tongli / Suzhou / Shanghai
Start planning your tailor-made holiday to China by contacting one of our specialists. Once inquired, you'll get a response within 0.5~23.5 hours.
Customize a Trip
Have a question? Get answers from our travel experts or guests
Your Question:

Your Name:

Your Email: