Cultural Significance of Tiger Hill
Tiger Hill was recorded in the Shih Chi 《史记》 which is a renowned history work. In Spring and Autumn Period (BC 770 ~ BC 476), the King of Wu State called He Lu (阖闾) died from the war against Yue State. His son Fu Chai (夫差) buried him in the Surging Sea Hill. There goes a legendary that a white tiger came to the hill three days later. So people renamed it as Tiger Hill.
Located in northwestern Suzhou, Tiger Hill Scenic Spot is a hillock about 30 meters in height. Small as it is, it enjoys enchanting natural landscape and a dozen of historical & cultural relics. Therefore, it was reputed as the No.1 Sight in Suzhou and National AAAAA Scenic Spot. Great Litterateur Su Shi once said that "What a lifetime pity it is if you have been to Suzhou without a visit to Tiger Hill".
Best Suzhou Tour with Tiger Hill: 1 Day Suzhou City Highlights Tour
Mysterious Attractions of Tiger Hill
Tiger Hill is a place full of legendary. While visiting its attractions, you can imagine what seeming unbelievable has been happened here.
Tiger Hill Pagoda (Hu Qiu Ta, 虎丘塔)
The millennium-old Tiger Hill Pagoda, also called Cloud Rock Temple Pagoda and standing on the top of Tiger Hill, is the symbol of Suzhou for it can be traced back to 2,500 year ago when Suzhou was founded. As the oldest and largest pagoda in the south area of Yangtze River, it occupies high status in the field of architecture, history and art. The pagoda leans to the north by about 4 degrees. People praised it as The Leaning Tower of Pisa in China. In fact, Tiger Hill Pagoda is constructed earlier and taller than the Leaning Tower of Pisa. Apart from its large scale and long history, the design of Tiger Hill Pagoda also makes it so distinctive. With 7 stories and 8 sides, it is a double-wall bricks pagoda. Many precious cultural relics were found in the interlayer between the two walls and now these relics were exhibited in the Suzhou Museum.
Magnificent Tiger Hill Pagoda
Sword Testing Stone (Shi Jian Shi, 试剑石)
Sword Testing Stone is a split stone in the east path to the top of Tiger Hill. In the history, He Lu is a sword fan and collector. He always ordered his officials to look for the best sword for him. One day, he asked Gan Jiang and Mo Ye who are a couple famous for making sword to cast an extremely sharp sword. In order to test the sharpness of the sword, he thrust the sword to the stone and the stone was split.
Sword Pool (Jianchi, 剑池)
Sword Pool is another landmark of Tiger Hill. Sword Pool shapes like a sword seeing above, so it got such a name. It is also said that there were 3,000 swords buried with He Lu here. Emperor Qinshihuang (秦始皇) in Qin Dynasty and King Sun Quan (孙权) in Three Kingdoms Period both came here for swords. On the stone wall out of the door to Sword Pool is inscribed with four Chinese characters "Hu Qiu Jian Chi" which is the handwriting of famed calligrapher Yan Zhenqin (颜真卿). On the tone wall close to Sword Pool is another two red characters "Jian Chi" which is said to be written by Wang Xizi (王羲之).
Broken Beam Hall (Duan Liang Dian, 断梁殿)
Broken Beam Hall is a single-eave building made by bamboo and wood only. It was constructed in Yuan Dynasty and enjoys a history of over 600 years. The main beam is made up of two sections, reflecting the wisdom and creation of the workers in ancient times. Four stone tablets are perching in the hall which record the construction and restoration of Tiger Hill and Tiger Hill Pagoda. Knocking the tablets slights, you can hear echo. Thus, the tablets are also called Echoing Tablets.
Thousand Men Rock (Qian Ren Shi, 千人石)
Located in the end of the road uphill, Thousand Men Rock is a large rock. According to the legendary, 1,000 workers were gathered in Tiger Hill to build the tomb of He Lu. As they finished their tasks, Fu Chai, the son of He Lu worried that grave robbers would come here if they knew his father was buried here. He came up with trickery. Hu Chai killed all of them and their blood colored the stone into red. Whenever it rains, the rock will turn to deep red till now.
Wanjing Villa (Wan Jing Shan Zhuang, 万景山庄)
Wanjing Villa is an archaistic garden in the southeast piedmont of Tiger Hill. Walking through the big door frame, you can view the vivid and brilliant landscape, flying waterfall, crinkling lake and undulating ridges. Going up along the steps near the lake, a diversity of well-spaced bonsai trees will catch your eyes. Divided into several sections by handrails, the bonsai trees garden has over 500 bonsais. The finest works of bonsais of Suzhou are all displayed here. One bonsai called Ancient Sageretia is the treasure of Wanjing Villa. Regard as the King of Bonsai, it is more than 40 years old and 2,000 kg in weight.
Sword Pool with Amazing Calligraphy
Broken Beam Hall
Thousand Men Rock
Picturesque Wanjing Villa
√ 1 Day Suzhou Zhouzhuang Tour
√ 2 Days Best Suzhou & Tongli Water Village Tour
Featured Activities in Tiger Hill
Artistic Flower Show
In Suzhou, what you can't miss is the colorful Tiger Hill when the spring comes. Annual Artistic Flower Show usually takes place from March to May. During this period, Tiger Hill are scattered with sweet-scented flowers. Besides admiring the beauty of flowers, you could also watch the interesting shows like tea-making performance, folk dance and music show. Focusing on different themes, Tiger Hill will be decorated in different styles. Some cartoon figures made by flowers and bamboos are waving their hands to you and the farmers made by straws are carrying a load or pulling a cart. By enjoying the Artistic Flower Show, you will find Tiger Hill is not only beautiful but also interesting.
Autumn Temple Fair
In order to carry forward Suzhou folk culture, bring back the traditional appearance, and exhibit humanistic amorous feelings of Suzhou, Autumn Temple Fair will be held in Tiger Hill periodically (always from September to October). It is the best fair to appreciate folk performance, feel folk culture and taste Suzhou style snacks. The main colors of the temple fair are golden and red, which mean harvest and happiness. When the Autumn Temple Fair takes place, Tiger Hill becomes a bustling place where the northern and southern styles of performing arts with gongs and drums can be seen. Dragon-dancing and lion-dancing are also exciting. In the west side of Broken Beam Hall, there is a food street where you can taste local food like different kinds of pastry.
Tiger Hill Decorated with Bright Flowers
Wonderful Performance in Temple Fair
How to Get to Tiger Hill
There are two routes recommended to visit the attractions of Tiger Hill, one route starting in the First Gate of the temple in in south and the other starting in the North Gate Tourist Service Center.
South Touring Route
After entering the First Gate, your first attraction is Broken Beam Temple where you can admire the excellent architectural skills. Then transfer to Hanhan Spring which is said to be sacred spring able to treat disease. After that, turn to Sword Testing Stone, Tomb of Zhenniang, Thousand Man Rock and Sword Pool to explore the old history. The next attraction Tiger Hill Pagoda is the most highlighted part that can't be skipped. With a visit to the Mahavira Temple and the 53 Steps of Stone, go to the Villa with 10000 Scenes to enjoy the bonsai trees.
North Touring Route
Starting from North Gate Tourist Service Center and having a short look at the Shrine of Sun Wu, walk to Garden of Water-side Pavilion. Visit the Broken Beam Hall and the Small Wudang Then. After that, seek for the old story of Thousand Man Stone and the Tomb of Zhenniang. Then, turn to Sword Testing Stone, Broken Beam Hall and leave.
Tiger Hill Layout map
Location & Transportation
Tiger Hill is located in the northwest of Suzhou City, with a short distance away from some charming gardens in Suzhou.
Independent Travel
By Metro: You can take metro Line 4 to Sujin Station (苏锦站, about 2.3 km to Tiger Hill) or Line 3 to Shantangjie Station (山塘街站,about 2.5 km to Tiger Hill) first, and then take a public bus to Tiger Hill.
By Bus: There are many pulbic buses running to to Tiger Hill directly, but it takes longer time.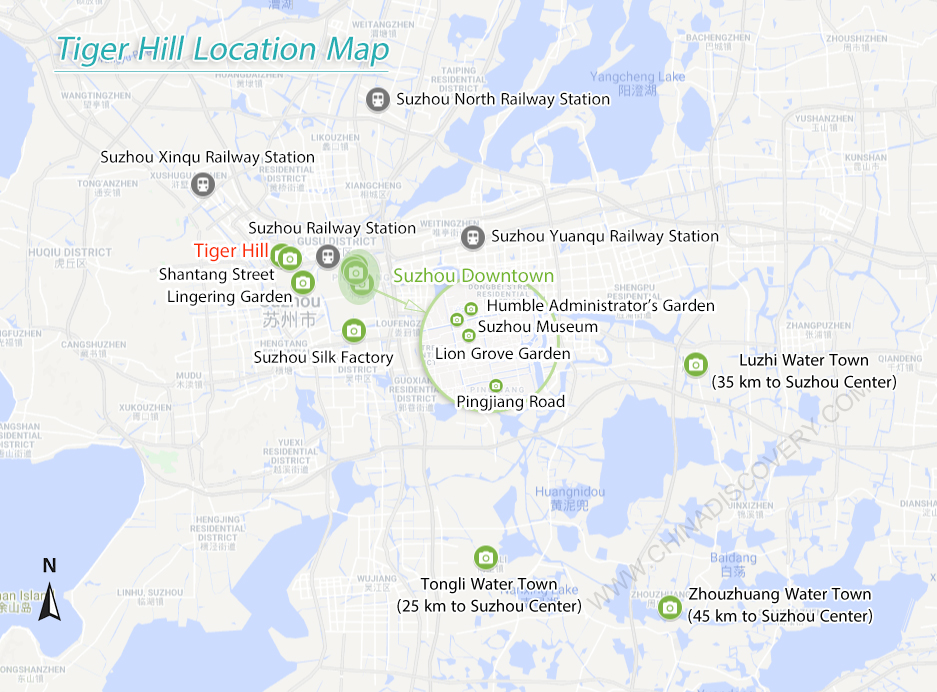 Click to Enlarge Tiger Hill Location Map
Inside Traffic
There are boat, carriage and sightseeing bus available to save you time and energy.
Boat: Taking a shuttle boat between south gate and north gate of Tiger Hill will give you an opportunity to admire a moving picture. The fee is 100 RMB per boat for single trip and 160 RMB per boat for round trip.
Carriage: It would be interesting to take a carriage which also runs between the south gate and north gate. Ticket is charged for 15 RMB per person for single trip.
Sightseeing Bus: Sightseeing Bus start from the north gate to the top of Tiger Hill at a charge of 20 RMB per person
Travel with China Discovery
If you want to get rid of hustle of public transportation and troublesome navigation, you can book a private tour package which covers sightseeing, dining and transfer from us. Our knowledgeable local tour guide and skilled driver will escort you to Tiger Hillwith speed and convenience, and take care of all the details. You just need to focus on sightseeing.
Warm Tips for Tiger Hill
In the service center, there are some helpful leaflets printed with clear map and English explanation. Free Wi-Fi and Shoe-cleaning Machine are also available.
The peak Season starts from April to October while off season includes the other months.
How to Plan Your Travel in Suzhou
How to Get to Suzhou: You can easily get to Suzhou by high speed train from Shanghai (about 0.5 hour), Hangzhou (about 1.5 hours), Nanjing (about 1 hour), Beijing (about 4.5 hours), etc.
Best Time to Visit Suzhou: April to October, especially April and May in spring and September and October in autumn
Generally, a classic Suzhou tour takes about 1~2 days. Visiting Suzhou, you can't miss elegant Suzhou gardens, like Humble Administrator's Garden, Lingering Garden, Master of the Nets Garden, etc. You can choose one or two of them for a great garden delight. Other must-be-visited sights in Suzhou City include Suzhou No.1 Silk Factory from which you can watch the process of silk making from silkworms to elegant products, Tiger Hill which is known as the first sight in Suzhou, Suzhou Museum which is designed by I. M. Pei and Suzhou's old canalside roads (like Pingjaing Road and Shantang Street), etc. If you like Jiangnan watertowns, you can visit Tongli, Zhouzhuang or Luzhi to have a wonderful time.
☛ 1 Day Suzhou City Highlights Tour
☛ 1 Day Suzhou Zhouzhuang Tour
☛ 2 Days Best Suzhou & Tongli Water Village Tour
If you want to explore more about Jiangsu Province, you can travel to Nanjing - the old capital city of 6 ancient dynasties, Wuxi - a beautiful lakeshore city, Yangzhou - old culture center of southern China, etc. Check more about Jiangsu Tours>
☛ 5 Days Jiangsu Tour (Suzhou, Wuxi & Nanjing)
In fact, most people travel Suzhou with Shanghai - the best gateway city to Suzhou, and Hangzhou which has long been on a par with Suzhou since ancient times. Generally, it needs 2~3 days enjoying Shanghai's highlights and another 2~3 days appreciating the poetic beauty. Check more about Shanghai Suzhou Hangzhou Tours>
☛ 3 Days Hangzhou & Suzhou Beauty Tour by High Speed Train
☛ 4 Days Shanghai Suzhou Excellent Tour
☛ 5 Days Shanghai Hangzhou Suzhou Highlights Tour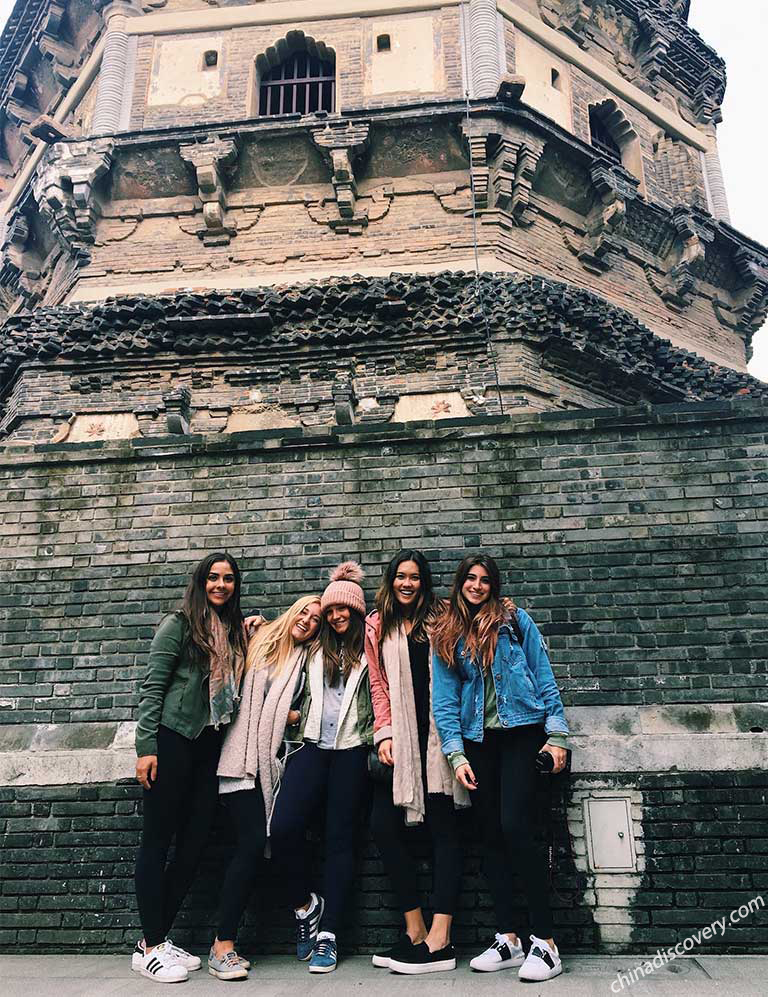 Our Customers visited Tiger Hill, Suzhou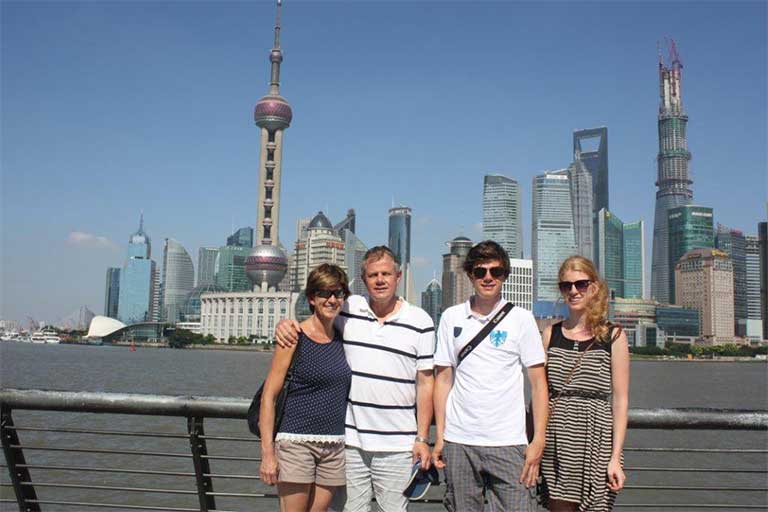 Our Customers visited the Bund, Shanghai
Get Inspired by Real Travel Stories of Our Customers
Since 2012, we have helped numerous customers visit Suzhou and surroundings. With our fully-inclusive private tour packages, all of our customers enjoyed their trips to the exquisite gardens, peaceful watertowns, informative silk factory or museum, old Suzhou streets, etc. Some of them kindly shared their precious photos and stories about their Suzhou journey, just get inspired now.
"We were lucky for being able to watch Chinese dancers at the Lingering Garden at the time of visit…" - shared by Nguyen (Check her The Pursuit of Natural Beauty with the Beloved one - 14 Days Beautiful China Exploring Tour>)
"Suzhou was the real treat at the end of the trip! Everything about Suzhou was perfect…" - shared by Elizabeth from Britain (Check her Long-lasting Memory brought by First Trip to China - 16 Days well-Organized and Wonderful First Visit to China>
Besides the wonderful travel stories, many customers who visited Suzhou with China Discovery also send us their first-hand feedbacks about their trip, feel free to read the Suzhou Reviews and learn what they say about their experience. If you want to start your Suzhou tour now, don't hesitate to contact us.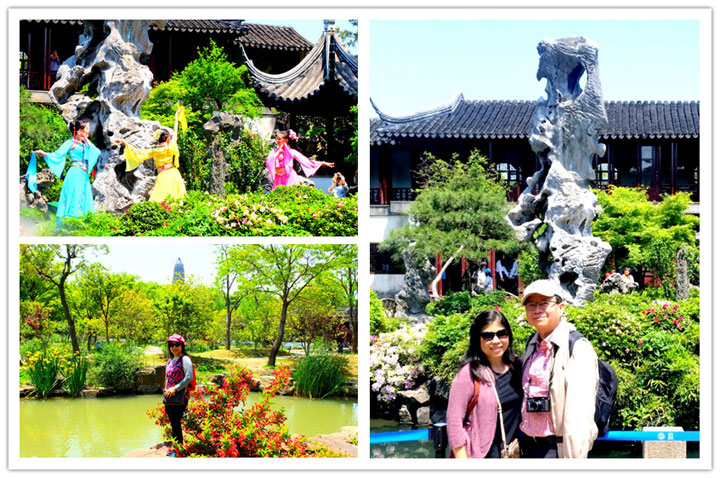 Our Customers Mrs. Nguyen and her husband from Canada visited Suzhou, customized by Wonder Wang
Recommended Suzhou Tours
Top 3 Suzhou tours chosen by most customers to explore Suzhou in the best way. Check the detailed itinerary, or tailor your own trip now with us.
2 Days Relaxing Suzhou Vacation with Tongli Water Town

Suzhou / Tongli Water Town
2 Days Best Suzhou Zhouzhuang Water Town Tour

Suzhou / Zhouzhuang Water Town
Start planning your tailor-made holiday to China by contacting one of our specialists. Once inquired, you'll get a response within 0.5~23.5 hours.
Customize a Trip
Have a question? Get answers from our travel experts or guests
Your Question:

Your Name:

Your Email: