Suzhou Silk Museum History
Suzhou is not only a city with exquisite gardens and grand canals, but also famous for the silk here. In 1958, the ancient silk fragments of the Neolithic Age excavated in Wuxing County of Taihu Lake area which demonstrated Suzhou was the birthplace of silk over 4700 years ago. In the Tang (618~907) and the Song (960~1297) Dynasties, Suzhou has been the center of silk products in China; and in Ming (1368~1644) and Qing (1644~1912) Dynasties, most of the high quality silk fabrics for royal families were made in Suzhou. Hence, Suzhou is called "the City of Silk". As for travelers, no visit to Suzhou is complete without investigation of the provenance of its silk and the one of the best places to start is the Suzhou Silk Museum.
Suzhou Silk Museum, located near the Beisi Pagoda in Gusu District of Suzhou, is the first museum that specializes in silk in China. First built in 1991, it was extensively refurbished in the spring of 2016. Now, Suzhou Silk Museum reopens just like the metamorphosis of silkworm blending a sense of ancient silk civilization with modern design. With a theme of "the Silk Road", Suzhou Silk Museum is designed in white color which reflects the original color of silk. Three elegant ladies' white marble statues - a girl plucking mulberry leaves, a girl washing gauze, a girl weaving silk, are designed on the wall of the main buildings, making this silk museum more attractive.
√ 1 Day Suzhou City Highlights Tour
√ 2 Days Best Suzhou & Tongli Water Village Tour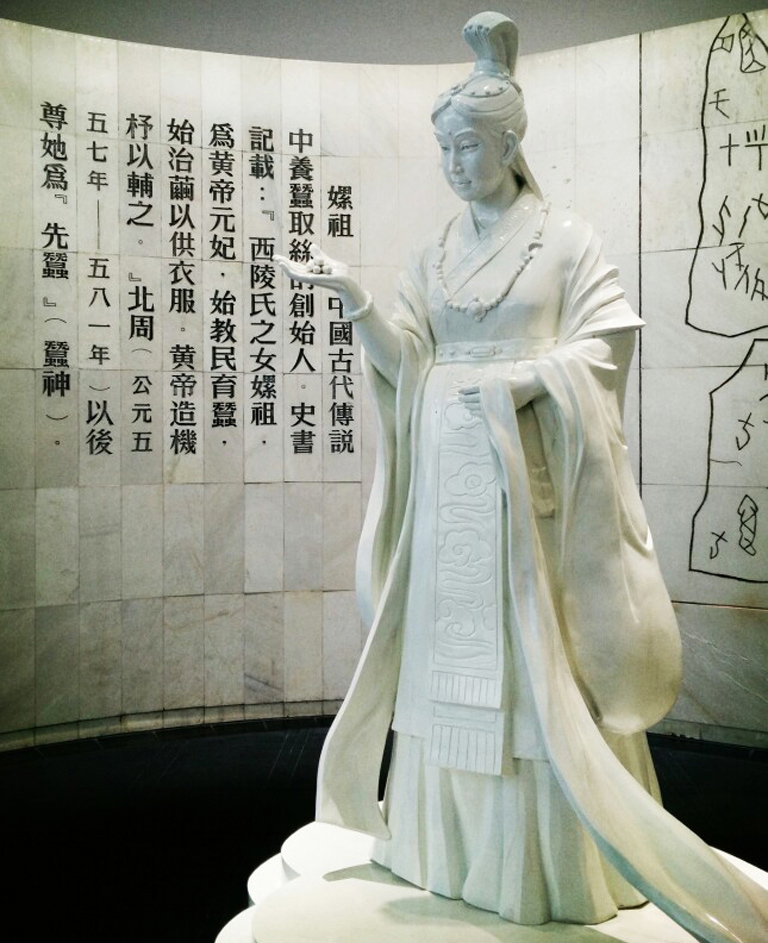 Leizu (嫘祖), wife of the Yellow Emperor, discovered silk and sericulture
Suzhou Silk Museum Layout
Suzhou Silk Museum houses many exhibition halls, such as the Ancient Silk History Exhibition, the Modern Silk Exhibition, the Special Exhibition for Children, the Mulberry Yard and the Silk Weaving Machinery Exhibition, etc. In particular, the History Hall is divided into six parts which traces the path of silk from its discovery to present day. It includes:
Gallery of Ancient Silk
Sericulture Room
Weaving & Dyeing Room
Gallery of Officially-Run Silk Production
Gallery of Republican Period's Silk Garment
Gallery of Intangible Cultural Heritage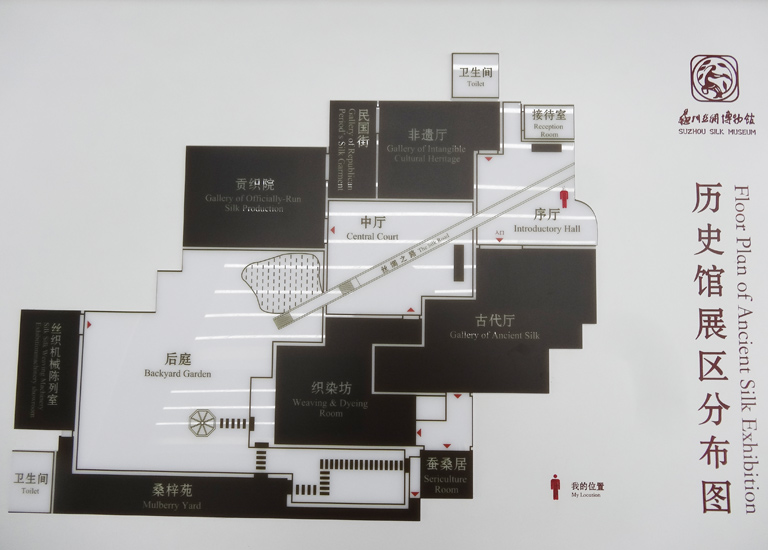 Click to Enlarge Layout Map of Suzhou Silk Museum
Explore the Highlights
Learn China's 7000 Years' Silk History
When visiting the Gallery of Ancient Silk, it tells the 7000 years' Chinese silk history through ancient silk relics, pictures and settings from its origin in the late period of the Neolithic Age to its production in the Ming and Qing Dynasties. You'll feel how glorious the silk history is. Travelers can view the model of Caoxieshan Site, the silk copies in the Spring and Autumn Period and Warring States, the Western Han & Eastern Han Dynasties and Tang Dynasty as well as silk fragments in Tang, Liao, Song, Yuan Dynasties. Moreover, the silk garments in Tang, Ming and Qing Dynasties are presented in the showcases.
Know Lifespan of Silkworms & Silk Cocoons
In the Sericulture Room, travelers can have a clear understanding about the lifespan of silkworm. The silkworm egg develops into the silkworm lave and they eat for 20-30 days, consuming large amounts of mulberry leaves. The lava moults four changes of skin and the silkworm, spins a cocoon for protection to permit the development of the pupa or chrysalis. The chrysalis emerges from the cocoon as a moth. In cultivated silk, the grub is terminated while still inside the cocoon so that the long filaments are maintained. In the wild this cycle occurs once a year, but under scientific breeding it can occur up to three times in a year.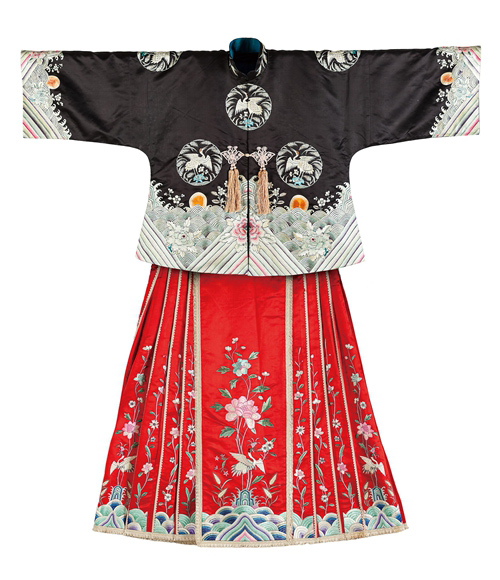 Dress for Qing Dynasty Official Wives
Watch Traditional Silk-weaving Skills
Entering into the Weaving & Dyeing Room, you'll see different kinds of ancient looms which demonstrate silk-weaving technology, offering you a rare chance to experience the greatness of Suzhou's centuries-old silk industry. Weaving ladies demonstrate the old methods on the spot, producing elegant cloud brocades, green silks and lush velvets. You'll absolutely be amazed at what you witness.
Appreciate the Officially-Run Silk Productions
In the Gallery of Officially-Run Silk Production, you can have a basic understanding about Suzhou Official Weaving Department in large scale. This official-run weaving department was first set in Yuan Dynasty, and continued running in Ming and Qing Dynasties to provide silk products for royal families. Suzhou Official Weaving Department, together with Jiangning Weaving Department and Hangzhou Weaving Department, is called the top three weaving in Jiangnan area. You can appreciate the robes, Buzi for officials and princes, as well as Su brocade for the royals.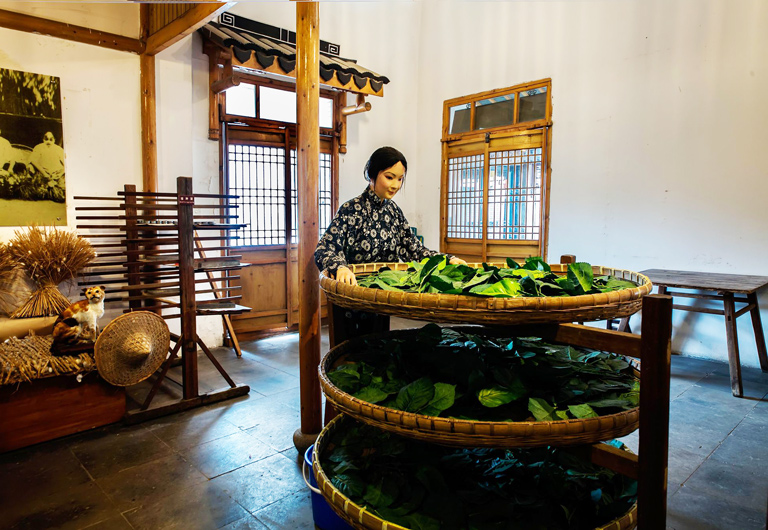 Silkworm Breeding Simulate Scene
Feel Nostalgia for Republican Period's Silk Garment
Compared with the Gallery of Official-run Silk Production in large-scale, the Gallery of Republican Period's Silk Garment is exquisite. In the hall, travelers seem to travel through to the Republican Period when people wear Qipao and mandarin jacket.
Enjoy Works of Intangible Cultural Heritage
In the Gallery of Intangible Cultural Heritage, you can view the outstanding works, like Song brocade, Su embroidery, silk tapestry, satin, made by intangible cultural heritage inheritors.
Witness the Change of Chinese Silk
In the late Qing Dynasty and the early Republic of China, the Western industrial revolution had a deep impact on China's traditional mulberry silk production. Advanced operation, management modes, emerging machinery production technologies and equipment changed the scattered production mode featuring traditional individual workshops and gave birth to modern mills featuring centralized production and management mode, creating conditions for the comprehensive industrialization of Chinese silk industry. You can enjoy the exquisite skill on silk producing, the changes of silk dresses, the silk products winning the international prize and the introduction of skill craftsmen in Modern Silk Exhibition and view lots of modern machines in the Silk Weaving Machinery Exhibition.
Interested in Suzhou Silk? Visit Suzhou No.1 Silk Factory to learn more, or Contact us to customize a Suzhou Silk Museum tour now!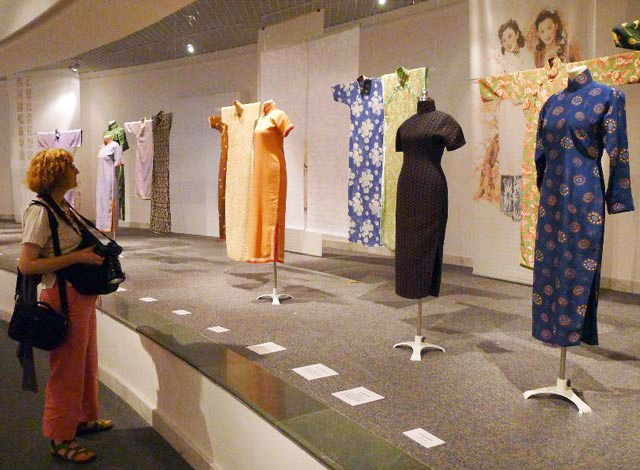 Republican Period's Silk Garments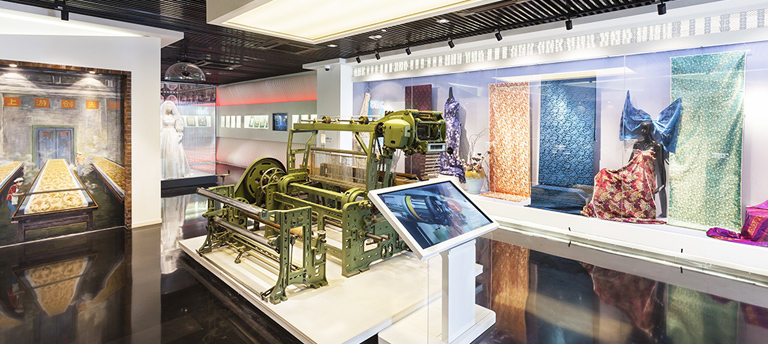 Silk Weaving Machinery Exhibition
Location & Transportation
Suzhou Silk Museum is well located near Beisi Pagoda in old town of Gusu District, closely linked with classical Suzhou gardens, railway stations, etc.
Distance from Other Main Attractions of Suzhou
Get to/off Suzhou Silk Museum
For independent travelers, you can take bus No. 101, 102, 1, 38, 54, 5, 8, Y4 to stop at Pingmen station and then enjoy a short walk into Suzhou Silk Museum.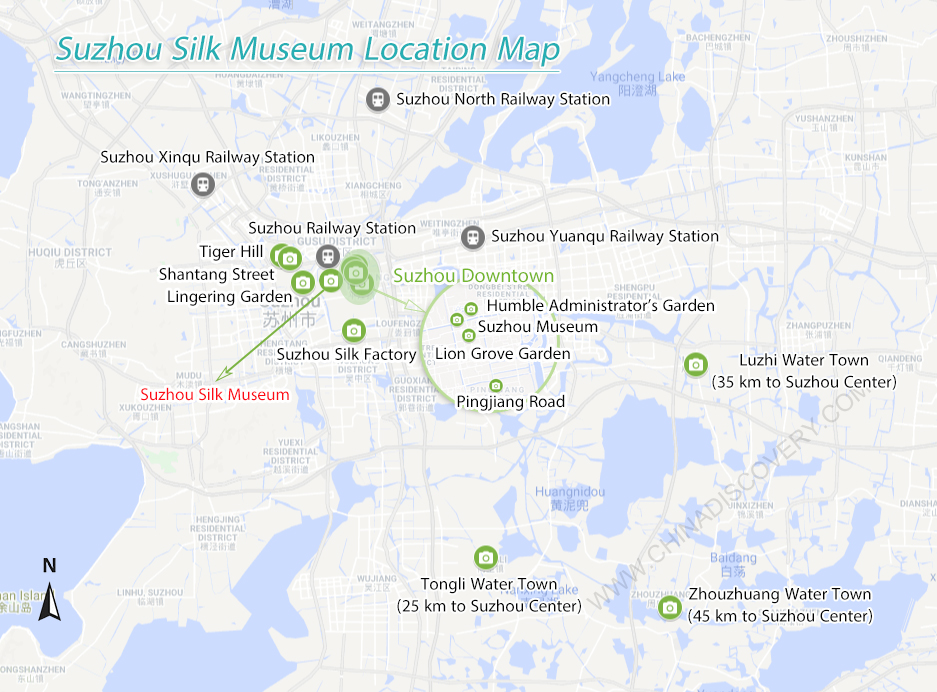 Click to Enlarge Suzhou Silk Museum Location Map
Travel with China Discovery (Recommended)
If you want to get rid of hustle of public transportation and troublesome navigation, you can book a private tour package which covers sightseeing, dining and transfer from us. Our local tour guide and driver will escort you to Suzhou Silk Museum with speed and convenience, and take care of all the details. You just need to focus on sightseeing.
Useful Travel Tips
1. Temporary Exhibitions
Temporary exhibitions with different themes are held in Suzhou Silk Museum. For example, during Sep. 29 to Nov. 29, 2016, travelers can enjoy more than 80 pieces of silk collections from Han Dynasty to modern time in the exhibition called "25 Years of Donations (1991-2016)". You may have the chance to explore more about silk when there are some temporary exhibitions.
2. More Silk Culture Exploration
To know more Suzhou silk culture, travelers can head to Suzhou No.1 Silk Factory where you can see closely the detail steps from silkworm breeding, selecting cocoons and making silk and know about how silk is made in authentic way. To know more about China Silk history, you can head to Hangzhou to visit China National Silk Museum for in-depth learning.
Recommended Suzhou Tours
Top 3 Suzhou tours chosen by most customers to explore Suzhou in the best way. Check the detailed itinerary, or tailor your own trip now with us.
Start planning your tailor-made holiday to China by contacting one of our specialists. Once inquired, you'll get a response within 0.5~23.5 hours.
Customize a Trip
Have a question? Get answers from our travel experts or guests
Your Question:

Your Name:

Your Email: