First Impression of Shantang Street
Shangtang Street (山塘街) or Seven-li Shantang (七里山塘) is praised as the "Miniature of Old Suzhou and Window of Wu Culture" for its perfect reflection of the natural and cultural charm of ancient Suzhou city. Also, having enjoyed the advantageous location of both convenient land and water transportation, Shantang Street was once one of the best well-developed street blocks in Ming & Qing dynasties in China, so it is regarded as the "No. 1 Old Street in the Divine Land" (a poetic name of ancient China).
In 825 AD, the famous poet Bai Juyi (白居易) was the feudal provincial in Suzhou who collected people to build the Shantang River and pile the banks to make the transportation better. And the Shantang Street was shaped from the banks since then. This street connecting Changmen (阊门) in the east and the Tiger Hill (虎丘山) in the west in the total length of seven li (seven miles, 3600 m), so it is also called the Seven-li Shantang. Under good preservation, Shantang Street is a great place to appreciate the antique buildings, sightseeing of old rivers, Suzhou old cultures, etc.
√ 1 Day Suzhou City Highlights Tour
Poetic Antique Seven-mile Shantang from 825 AD
Highlights in Shantang Street
In Shantang Street, you can enjoy very beautiful scenery and take some nice photos. Tonggui Bridge, Shantang Old Street, Painted Boat, characteristic old houses, etc. are all the real highlights in the Seven-mile Shantang. Don't miss them!
Capture Fine View from Tonggui Bridge
Tonggui Bridge (通贵桥) is the best place to admire the elegant old scenery of Shantang Street. This bridge made of stones above the river seems like a curved moon. Standing on this primitive stone bridge, you will see the withered houses leaning one by one off the old river. No matter raining or sunny or snowing, this gorgeous and graceful scenery of the typical Suzhou water place is completely beautiful like a classic oil painting.
A Moon-like View of Tonggui Bridge Opening
Stroll on Shantang Old Streets
The Shantang Old Street (山塘老街) of 360 m long is actually the essence of the whole Seven-mile Shantang. Regarded as the "Miniature of Old Suzhou and Window of Wu Culture", Shantang Old Street is in rich of Suzhou embroideries, exquisite silk items, tasteful food of Suzhou renowned brands, old tea houses, modern pubs and western restaurants, etc. which shows best the real prosperity in Shantang Street in that period.
Take the Ancient Painted Boat
It is said that failing to take the gaily-painted pleasure-boat (画舫) in Shantang Street is a big pity. Sitting or standing in the ancient fantastic boat, you will forget being in 21st century but going back to the old Suzhou of 1,000 years ago, where the Wu people lived peacefully in their residences side by the water. Moreover, you will hear the busy atmosphere from the near old stores on the streets, and get through the century-old bridge opening, etc.
Antique Houses in Shantang Old Street
Visit Featured Sights
Being a great historic & cultural sight of over 1,160 years, Shantang Street keeps a series of ancient featured buildings for you to know more about Suzhou history and culture. "Suzhou Chamber of Commerce Museum (苏州商会博物馆)" has been the place for the non-Suzhou people to hold gathering, sacrifice, assistance, and exchange trading communications, etc. "Jiangnan Ship Culture Exhibition Hall (江南船文化博览馆)" shows the picture, components, models of various kinds of ships and boats in ancient times in Jiangnan regions. The "Antai Fire Fighting Community (安泰救火会)" built in 1925 exhibits the historical photos, words, firefighting equipment like cloths, caps, water guns, etc. of the modern times, and reshows the vivid scene of putting off the fire and saving people at that time. Besides, you can see "Yuhan Hall (玉涵堂)" of Wu Yipeng (吴一鹏), which is the biggest and best preserved residence of Ming dynasty, and other worthy sights.
Boating through the Old River in Shantang Street
How to Get to Shantang Street
Shantang Street is situated in Gusu District of the downtown of Suzhou, and you can get there by bus, subway, taxi, bicycle, rickshaw, boat, etc.
Independent Travel:
By subway: Take the Suzhou Rail Transit Line 2 to get off at Shantangjie Station
From Tiger Hill – 15 min driving
From Humble Administrator's Garden – 18 min driving
From Lingering Garden – 10 min driving

Travel with China Discovery (Top Recommended):

If you want to get rid of hustle of public transportation and troublesome navigation, you can book a private tour package which covers sightseeing, dining and transfer from us. Our local tour guide and driver will escort you to Shantang Street with speed and convenience, and take care of all the details. You just need to focus on sightseeing.
Click to Enlarge the Location Map of Shantang Street
Fee & Opening Time in Shantang Street
Entrance Fee:Free for the street visiting
Specified Sight Package Ticket:
RMB 45 / person for the specified sights (8:00-21:00; Including: Yujan Hall, Suzhou Chamber of Commerce Museum, Taohuawu Woodcut New Year Prints Exhibition Hall (桃花坞木刻年画展览馆), Antai Fire Fighting Community, etc; only open Yuhan Hall after 17:00; stop selling tickets from 16:30)
Painted Boat Tour Fee: RMB 55 / person (about 30 min; 8:00-21:00)
Sculling Boat Tour Fee: RMB 80 / person (about 40 min; 8:30-17:00)
Note: the above information is for your reference only, for the detail fee information in Shantang Street, please contact our Travel Consultant!
Splendid Night View of Shantang Street
Tips to Visit Shantang Street
1. The night view of Shantang Street is really romantic, antique and splendid, and do not miss it if you have enough time.
2. Watch out while travel on the boat in case of falling in the water.
3. Taking a rickshaw to visit Suzhou is romantic and convenient, but it is recommended to discuss the payment with the carter before getting on in case of being cheated.
How to Plan Your Travel in Suzhou
How to Get to Suzhou: You can easily get to Suzhou by high speed train from Shanghai (about 0.5 hour), Hangzhou (about 1.5 hours), Nanjing (about 1 hour), Beijing (about 4.5 hours), etc.
Best Time to Visit Suzhou: April to October, especially April and May in spring and September and October in autumn
Generally, a classic Suzhou tour takes about 1~2 days. Visiting Suzhou, you can't miss elegant Suzhou gardens, like Humble Administrator's Garden, Lingering Garden, Master of the Nets Garden, etc. You can choose one or two of them for a great garden delight. Other must-be-visited sights in Suzhou City include Suzhou No.1 Silk Factory from which you can watch the process of silk making from silkworms to elegant products, Tiger Hill which is known as the first sight in Suzhou, Suzhou Museum which is designed by I. M. Pei and Suzhou's old canalside roads (like Pingjaing Road and Shantang Street), etc. If you like Jiangnan watertowns, you can visit Tongli, Zhouzhuang or Luzhi to have a wonderful time.
☛ 1 Day Suzhou City Highlights Tour
☛ 1 Day Suzhou Zhouzhuang Tour
☛ 2 Days Best Suzhou & Tongli Water Village Tour
If you want to explore more about Jiangsu Province, you can travel to Nanjing - the old capital city of 6 ancient dynasties, Wuxi - a beautiful lakeshore city, Yangzhou - old culture center of southern China, etc. Check more about Jiangsu Tours>
☛ 5 Days Jiangsu Tour (Suzhou, Wuxi & Nanjing)
In fact, most people travel Suzhou with Shanghai - the best gateway city to Suzhou, and Hangzhou which has long been on a par with Suzhou since ancient times. Generally, it needs 2~3 days enjoying Shanghai's highlights and another 2~3 days appreciating the poetic beauty. Check more about Shanghai Suzhou Hangzhou Tours>
☛ 3 Days Hangzhou & Suzhou Beauty Tour by High Speed Train
☛ 4 Days Shanghai Suzhou Excellent Tour
☛ 5 Days Shanghai Hangzhou Suzhou Highlights Tour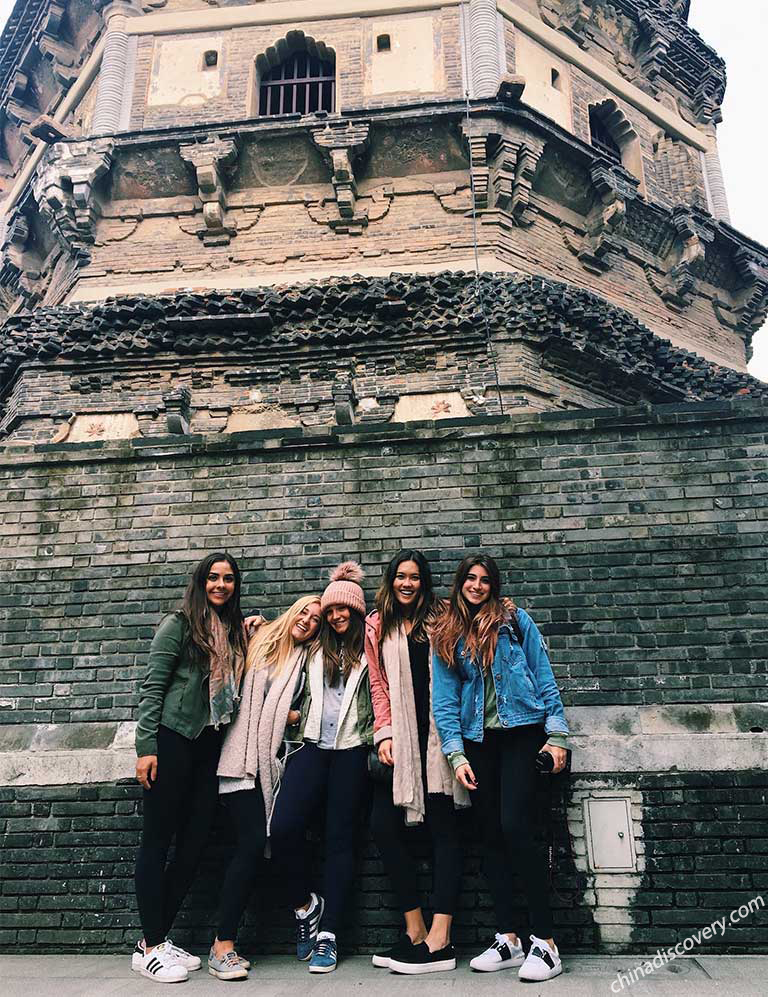 Our Customers visited Tiger Hill, Suzhou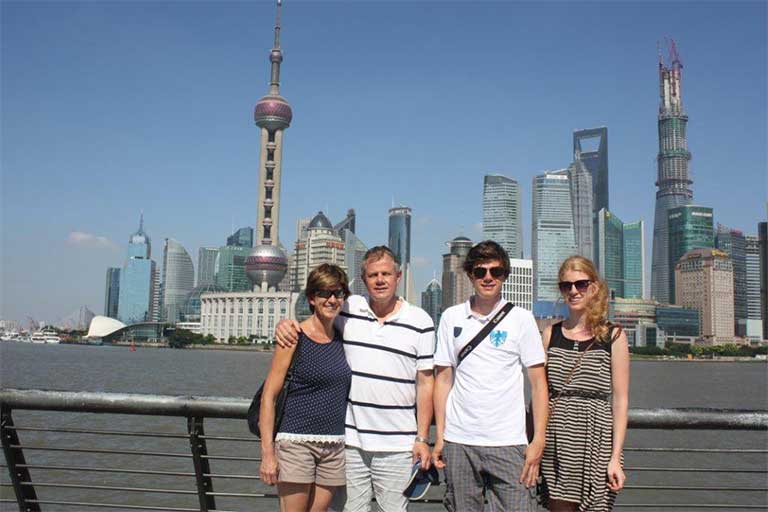 Our Customers visited the Bund, Shanghai
Get Inspired by Real Travel Stories of Our Customers
Since 2012, we have helped numerous customers visit Suzhou and surroundings. With our fully-inclusive private tour packages, all of our customers enjoyed their trips to the exquisite gardens, peaceful watertowns, informative silk factory or museum, old Suzhou streets, etc. Some of them kindly shared their precious photos and stories about their Suzhou journey, just get inspired now.
"We were lucky for being able to watch Chinese dancers at the Lingering Garden at the time of visit…" - shared by Nguyen (Check her The Pursuit of Natural Beauty with the Beloved one - 14 Days Beautiful China Exploring Tour>)
"Suzhou was the real treat at the end of the trip! Everything about Suzhou was perfect…" - shared by Elizabeth from Britain (Check her Long-lasting Memory brought by First Trip to China - 16 Days well-Organized and Wonderful First Visit to China>
Besides the wonderful travel stories, many customers who visited Suzhou with China Discovery also send us their first-hand feedbacks about their trip, feel free to read the Suzhou Reviews and learn what they say about their experience. If you want to start your Suzhou tour now, don't hesitate to contact us.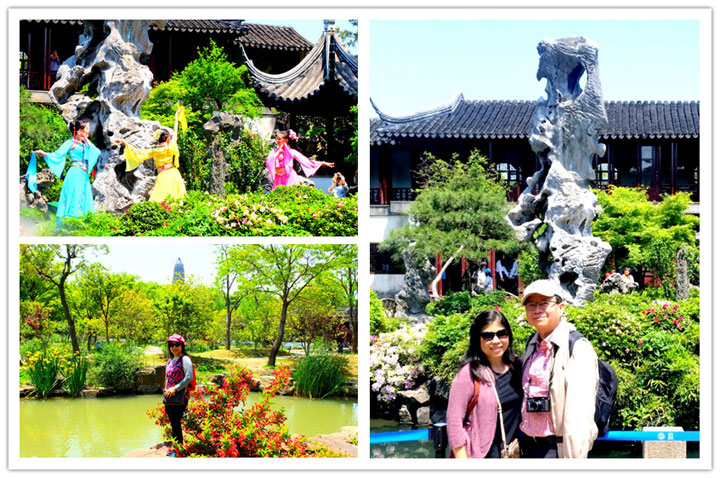 Our Customers Mrs. Nguyen and her husband from Canada visited Suzhou, customized by Wonder Wang
Recommended Suzhou Tours
Top 3 Suzhou tours chosen by most customers to explore Suzhou in the best way. Check the detailed itinerary, or tailor your own trip now with us.
Start planning your tailor-made holiday to China by contacting one of our specialists. Once inquired, you'll get a response within 0.5~23.5 hours.
Customize a Trip
Have a question? Get answers from our travel experts or guests
Your Question:

Your Name:

Your Email: