First Impression of Pingjiang Road
Paralleling with 25 centuries old Pingjiang River, Pingjiang Road is an ancient street loved by many tourists. It stretches 1,606 meters from north to south. In the south section of Pingjiang Road, on one side is lined with different various stores, delicate-decorated inns, restaurant with tastes of different countries, interesting cafes etc. and on the other side is flowing Pingjiang River. There are many stone bridges across Pingjiang River. Crossing different bridge, you will get to different antique lanes with its own history and legendary you can explore. The north section of Pingjiang Road is lined with buildings on both sides.
In an old Suzhou map called Pingjiang Map, we can easily find Pingjiang Road. As 800 years passed, the road and the river still show a great similarity with the appearance in the map. Although some old residential folk houses are replaced by the small stores or restaurants, but the flagging and time-honored buildings are still telling the long history of this road.
√ 3 Days Hangzhou & Suzhou Beauty Tour by High Speed Train
Highlights of Pingjiang Road
Tasting Delicious Food
Pingjiang Road is not only well-known for its long history, but also for the food which may make your mouth water. The food in Pingjiang Road is closely related with the ancient food culture of Suzhou. The most featured food in the street can be divided in three parts. The first is tasty cakes which are cooked by the locals on traditional clothes including Osmanthus Cake, Fermented Glutinous Rice Ball Soup, Glutinous Rice Cake in Bamboo Tube, stall tea and so on. The second is the delicious snacks sold in the small shops , like Pan Fried Pork Bun, yogurt and a diversity of meat. The last part is the traditional Su Cuisines (苏帮菜) cooked in famous restaurant with certain scale. Squirrel-like Mandarin Fish, Tofu Boiled in Chicken Broth, Crab Tofu, Minced Pork Congee with Preserved Egg are all worthy of trying.
Beautiful and Tasty Pastry in Pingjiang Road
Exploring Old Story
The tranquil atmosphere is hidden in the lanes on the other side of Pingjiang River while the prosperity of Pingjiang Road is presented in the main street. Each lane enjoys its distinguished feature and story . One most lane is Xuanqiao Lane where once lived two famous person Hong Juan (洪钧) and Sai Jinhua (赛金花). The romantic story of them is prevailing in Pingjiang Road till today. Hong Jun became the No. 1 Scholar after the imperial competitive examination in 7th Year of Tongzhi Emperor (1861) and then became a noted official. He married Sai Jinhua who was a hot geisha as his third wife. As the resided in the Xuanqiao Lane, Sai Jinhua always listens to the storytelling, ballad singing and Kun Opera in Pingjiang Road.
Hongjun's Fomer Residence
Admiring Exquisite Garden
Couple Garden (Ou Garden, 耦园) is one of the Suzhou classical gardens which are listed in the World Cultural Heritage by UNESCO. Located in the Xiaoxinqiao Lane and surrounded by the river on its three sides, Couple Garden shows a great charm with characteristic buildings, delicate bridge and flowing stream. Covering an area of 7,917 square meters, Couple Garden is divided into East Garden and West Garden. East Garden is the essence of the whole garden, with imposing rockeries which can be compared with real mountains. The main architecture is a majestic structure with double eaves. The east part is a characteristic building with Shuangzhao Pavilion on its upper floor. It is the best viewing deck of the whole garden.
Delicate Couple Garden
Learning Kun Opera Culture
Located in Zhangjia Lane of Pingjiang Road, Suzhou Opera Museum (including Kun Opera Museum of China and Suzhou Pingtan Opera Museum of China) is a professional museum displaying the history, culture and art of Kun Opera. It is equipped with exhibition hall of Kun Opera, Suzhou Opera, Suzhou Pingtan and some interesting musical instrument. Apart from appreciating the culture of Kun Operal and Pingtan (storytelling and ballad singing in Suzhou dialect), you could also have a wonderful sight of delicate buildings . Combined architecture relics and exhibition relics together, Suzhou Opera Museum shows an association of activity and inertia, view and sound, ancient and modern. There is an old stage in the museum with a classical stage with uniquely designed sunk panel. The patterns in the sunk panel is quite exquisite and the design strengthens the voice and makes the tune lingering in the house magically. In every Sunday, free Kun Opera performance will take place in the museum and performance time is 14:00 ~ 15:30.
Wonderful Pingtan Performance in Suzhou Opera Museum
Location & Transportation
Where is Pingjiang Road
Pingjiang Road is located in the Gusu District of Suzhou City. With several minutes' walk, you can get to some other hot tourists' spots like the Humble Administrator's Garden, Suzhou Museum, Lion Forest Garden, Suzhou Museum and Suzhou Gardens Museum directly.
Independent Travel
Travelers can take buses No. 301 or 305 and get off at Pingjiang Road Stop or Shizilin South Stop. Then walk about 200 meters to Pingjiang Road.
Travel with China Discovery
If you want to get rid of hustle of public transportation and troublesome navigation, you can book a private tour package which covers sightseeing, dining and transfer from us. Our knowledgeable local tour guide and skilled driver will escort you to Pingjiang Roadwith speed and convenience, and take care of all the details. You just need to focus on sightseeing. Interested in Pingjiang Road? Feel free to Contact us to customize a unique Pingjiang Road tour according to your own needs
Pingjiang Road Location Map
Warm Tips
Eating - One store called the Yogurt of Fox sells yogurt with good taste. You can have a try if you interest but be ready for the long queue.
Acommodation - Many lodges with featured decoration are in the main street and lanes of Pingjiang Road, choose one and you have a very good view of the night view of Pingjiang Road.
Admission Fee - Ticket for Couple Garden is 20 RMB on season (March ~ October) and 15 RMB off season (November ~ February). Suzhou Opera Museum is free to visit.
Opening Hours - The opening time for Couple Garden is 7:00 ~ 17:00 on season and 7:00 ~16:30 off season; for Suzhou Opera Museum is 9:00 ~ 16:30 of Tuesday ~ Sunday.
How to Plan Your Travel in Suzhou
How to Get to Suzhou: You can easily get to Suzhou by high speed train from Shanghai (about 0.5 hour), Hangzhou (about 1.5 hours), Nanjing (about 1 hour), Beijing (about 4.5 hours), etc.
Best Time to Visit Suzhou: April to October, especially April and May in spring and September and October in autumn
Generally, a classic Suzhou tour takes about 1~2 days. Visiting Suzhou, you can't miss elegant Suzhou gardens, like Humble Administrator's Garden, Lingering Garden, Master of the Nets Garden, etc. You can choose one or two of them for a great garden delight. Other must-be-visited sights in Suzhou City include Suzhou No.1 Silk Factory from which you can watch the process of silk making from silkworms to elegant products, Tiger Hill which is known as the first sight in Suzhou, Suzhou Museum which is designed by I. M. Pei and Suzhou's old canalside roads (like Pingjaing Road and Shantang Street), etc. If you like Jiangnan watertowns, you can visit Tongli, Zhouzhuang or Luzhi to have a wonderful time.
☛ 1 Day Suzhou City Highlights Tour
☛ 1 Day Suzhou Zhouzhuang Tour
☛ 2 Days Best Suzhou & Tongli Water Village Tour
If you want to explore more about Jiangsu Province, you can travel to Nanjing - the old capital city of 6 ancient dynasties, Wuxi - a beautiful lakeshore city, Yangzhou - old culture center of southern China, etc. Check more about Jiangsu Tours>
☛ 5 Days Jiangsu Tour (Suzhou, Wuxi & Nanjing)
In fact, most people travel Suzhou with Shanghai - the best gateway city to Suzhou, and Hangzhou which has long been on a par with Suzhou since ancient times. Generally, it needs 2~3 days enjoying Shanghai's highlights and another 2~3 days appreciating the poetic beauty. Check more about Shanghai Suzhou Hangzhou Tours>
☛ 3 Days Hangzhou & Suzhou Beauty Tour by High Speed Train
☛ 4 Days Shanghai Suzhou Excellent Tour
☛ 5 Days Shanghai Hangzhou Suzhou Highlights Tour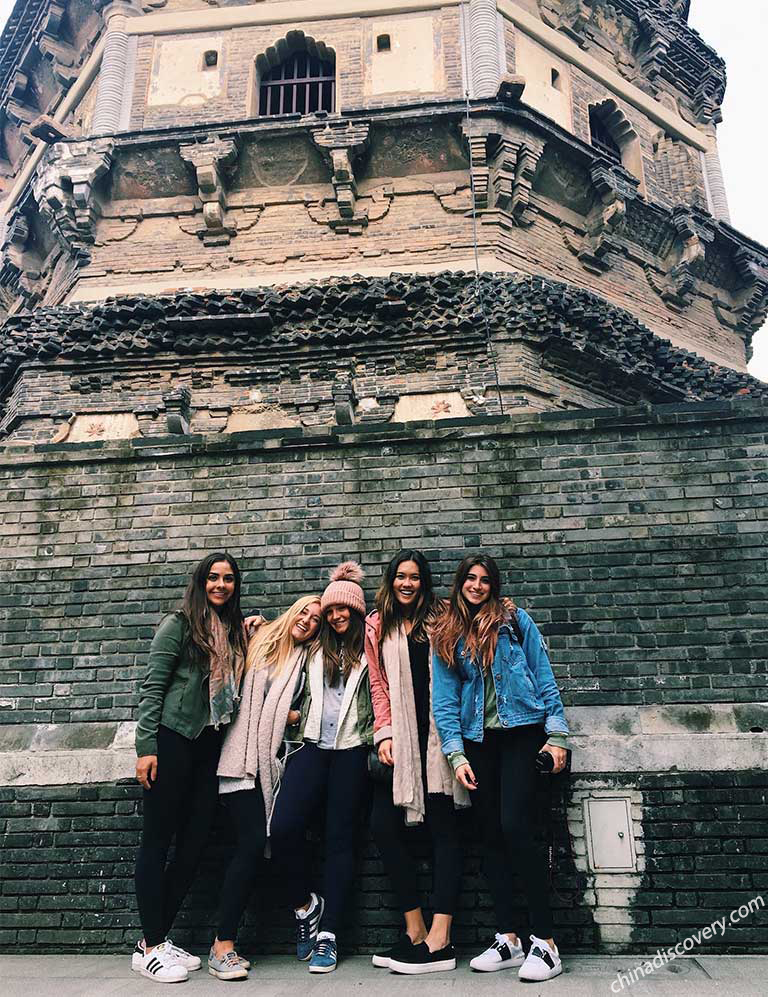 Our Customers visited Tiger Hill, Suzhou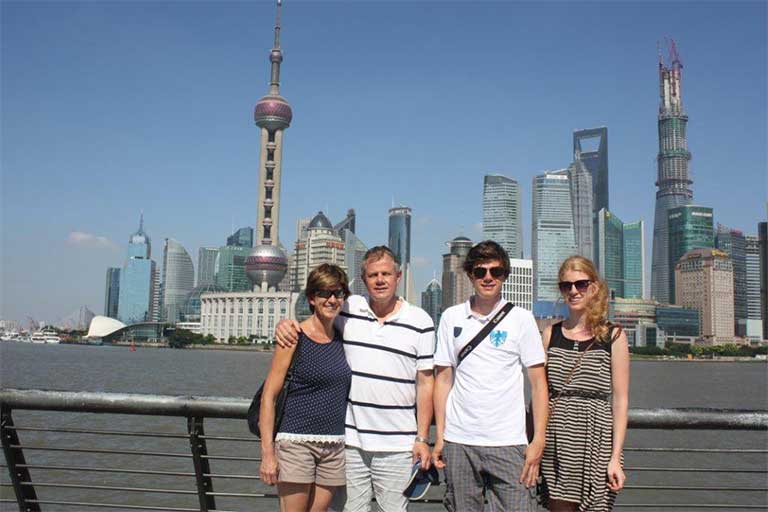 Our Customers visited the Bund, Shanghai
Get Inspired by Real Travel Stories of Our Customers
Since 2012, we have helped numerous customers visit Suzhou and surroundings. With our fully-inclusive private tour packages, all of our customers enjoyed their trips to the exquisite gardens, peaceful watertowns, informative silk factory or museum, old Suzhou streets, etc. Some of them kindly shared their precious photos and stories about their Suzhou journey, just get inspired now.
"We were lucky for being able to watch Chinese dancers at the Lingering Garden at the time of visit…" - shared by Nguyen (Check her The Pursuit of Natural Beauty with the Beloved one - 14 Days Beautiful China Exploring Tour>)
"Suzhou was the real treat at the end of the trip! Everything about Suzhou was perfect…" - shared by Elizabeth from Britain (Check her Long-lasting Memory brought by First Trip to China - 16 Days well-Organized and Wonderful First Visit to China>
Besides the wonderful travel stories, many customers who visited Suzhou with China Discovery also send us their first-hand feedbacks about their trip, feel free to read the Suzhou Reviews and learn what they say about their experience. If you want to start your Suzhou tour now, don't hesitate to contact us.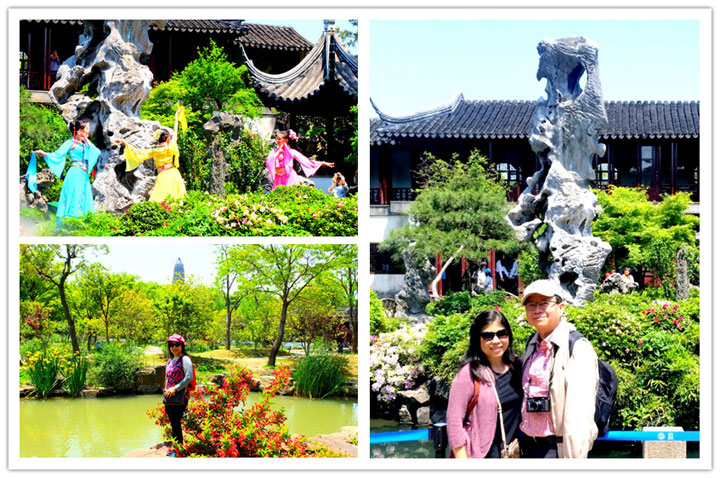 Our Customers Mrs. Nguyen and her husband from Canada visited Suzhou, customized by Wonder Wang
Recommended Suzhou Tours
Top 3 Suzhou tours chosen by most customers to explore Suzhou in the best way. Check the detailed itinerary, or tailor your own trip now with us.
Start planning your tailor-made holiday to China by contacting one of our specialists. Once inquired, you'll get a response within 0.5~23.5 hours.
Customize a Trip
Have a question? Get answers from our travel experts or guests
Your Question:

Your Name:

Your Email: