Brief Introduction of Luzhi Water Town
Luzhi Water Town located in southeastern Suzhou is an ancient water town that is not known to many tourists. Actually, it is as old as Suzhou (2500 years old) and has a longer history than Zhouzhuang and Tongli.
Luzhi was originally named Fuli because of the Fuli Pond in the west of the town. Later, there was Zhigang in the east of the town, which led to six streams. The shape of the water flow was similar to the Chinese word "甪Lu", so it was renamed "Luzhi". Its ancient culture, historic sites, time-honored bridges, streets, houses and the ginkgo trees with a history of more than 1300 years are amazing. It is a watery town with Yangcheng Lake in the north, Dianshan Lake and Chenghu Lake in the south, Jinji Lake and Dushu Lake in the west. If you are looking for a quiet ancient town near Suzhou, Luzhi Water Town is a good choice.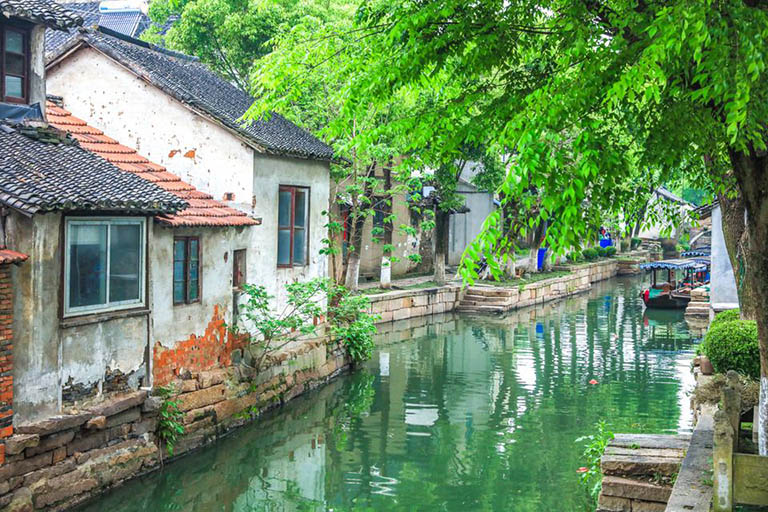 Luzhi Water Town
What to Do & See in Luzhi Water Town
Luzhi Water Town is famous for the water, bridges, and ancient residences. Not being over commercialized, you can see what the local life is really like and spend a couple of relaxing hours walking through the lanes, visiting temples, museums, buildings, and flowing with the river on a wooden boat.
Walking on the 41 Ancient Bridges above the Rivers
The 41 ancient bridges is definitely a highlight of Luzhi Water Town. They are built in different dynasties with their own characteristics. You may have heard of the Double Bridge which Zhouzhuang is proud of, here you can find 5 bridges in the same structure as Double Bridge. As the bridges are large in number and centralized in location, it is said you can meet two bridges in every three steps in Luzhi. Among them, you can see Fengyang Bridge built in the 8th century of the Tang Dynasty, Guangji Bridge built in the 9th century of the Tang Dynasty, Zhongmei Bridge built in the 11th century of the Song Dynasty, Dongmei Bridge built in the 15th century of the Ming Dynasty, Jinyang Bridge, Wan'an Bridge and Sanyuan Bridge built in the 17th century of the Ming Dynasty. All the bridges not only add classic charm to Luzhi but also form a distinctive water town.
Exploring Historic Buildings in Luzhi Water Town
With a history of over 2500 years, many historic buildings remain in this ancient town, which give us a glimpse of what the architecture is like in the old times.
Baosheng Temple (保圣寺) was built in A.D. 503, the second year of Tianjian period in the Liang Dynasty, and has a history of more than 1500 years. The nine clay sculptures of Arhats made by famous masters of Tang Dynasty in the temple are very precious. Unlike the Arhats in other temples who are listlessly listed on both sides of the main hall, the lifelike Arhats here look like they are busy doing their own things in front of the landscape carving background.
Shen's Mansion (沈宅) is a well preserved luxury residence in Luzhi. It is the former residence of educator Mr. Shen Baihan (A.D. 1884-1953). The former part is a store while the latter part is for living. The original building covers more than 3500 square meters, and restored part which is available for visiting in the west is about 1000 square meters.
Xiao's Mansion (萧宅) is another outstanding representative of Ming and Qing Dynasty residence. It was built in A.D. 1889 with an area more than 1000 square meters and later sold to Xiao Bingli, a famous family at that time. His granddaughter Xiao Fangfang (Josephine Siao) is a Hong Kong film actress. Now Xiao Fangfang performing arts hall is set up in the mansion.
Visiting Museums & Watching Performances in Jiangnan Culture Park
Jiangnan Cultural Park is located in the southeast of Luzhi Water Town covering an area of more than 150 mu (100,000 ㎡). It is a classical garden with the characteristics of Jiangnan Water Town, integrating leisure, entertainment and sightseeing.
If you are interested in traditional opera, you can come here and see the performances at 10:00, 13:30 and 15:00 every day on the ancient stage. Luzhi women's traditional dress is a little different from other places. The Museum of Luzhi Water Village Women's Apparel displays unique Luzhi women's clothing such as headbands and blue calico stitched clothes. If you want to know more about the past of Luzhi, you can pay a visit to Luzhi Historical Relics Museum, which displays the relics unearthed from the Chenghu site, confirming the long history of Luzhi. Apart from that, there are lakes and streets where you can take a leisure stroll.
Taking a Boat Trip in Quiet Luzhi Water Town
Is there any better way to get close to a water town than traveling by boat? Just imagine sitting in a wooden boat, swaying with the rhyme of the flowing river, seeing the ancient street and houses on both sides, it's like everything is slowing down.
If you want to take a boat tour (Operating Hours: 8:30-16:00; Route: Tourist Center - Wansheng Rice Shop) of the ancient town, there is a boat wharf about 100 meters east of the ticket office of the ancient town. Each boat costs CNY 150, and it is available for 4 people. It takes about 30 minutes for a tour. Note that the tour needs to be paid according to the number of boat you need, and one boat is CNY 150. There is no individual ticket. If you are traveling alone or your group has fewer than 4 people, you can find other tourists to share the boat and the fee.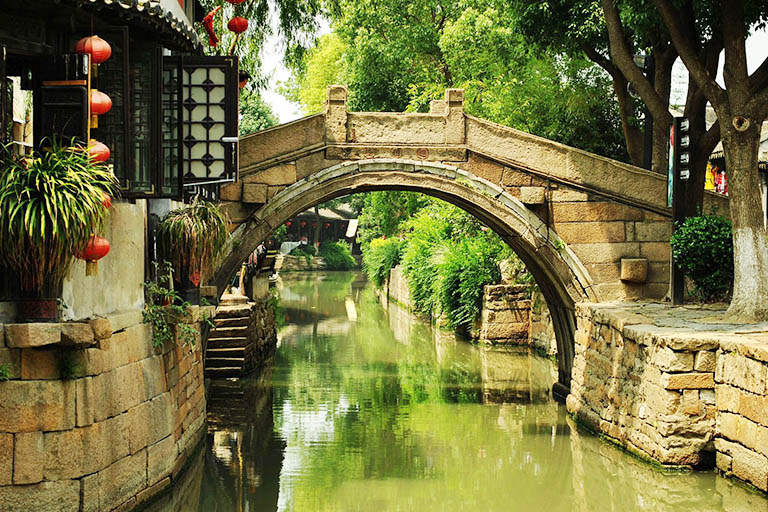 Ancient Stone Bridge in Luzhi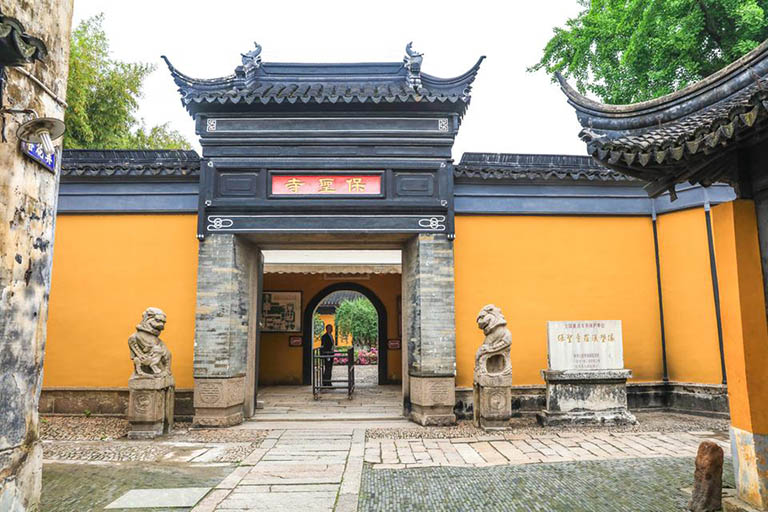 Baosheng Temple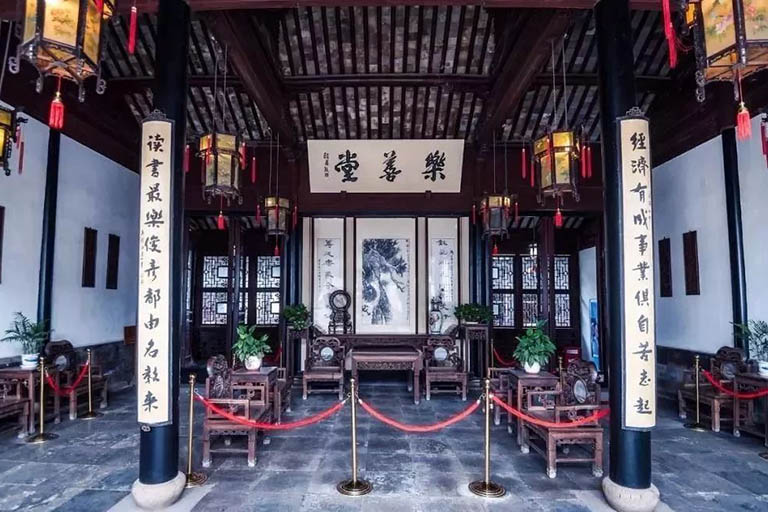 Leshan Hall in Shen's Mansion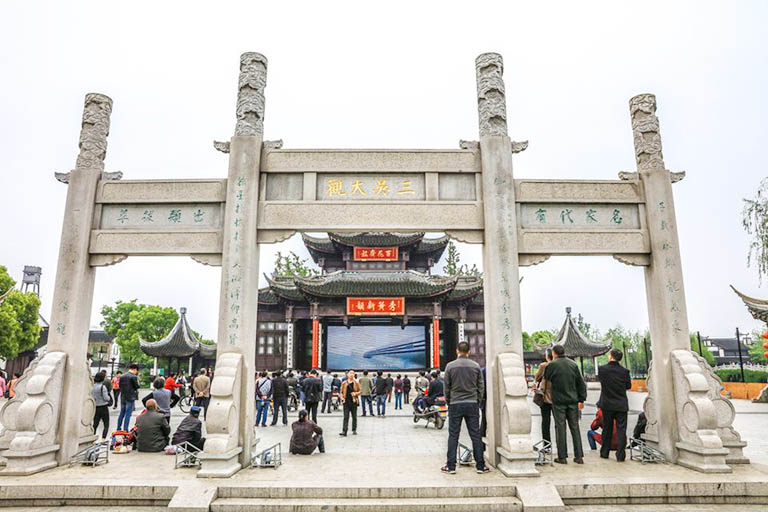 Jiangnan Culture Park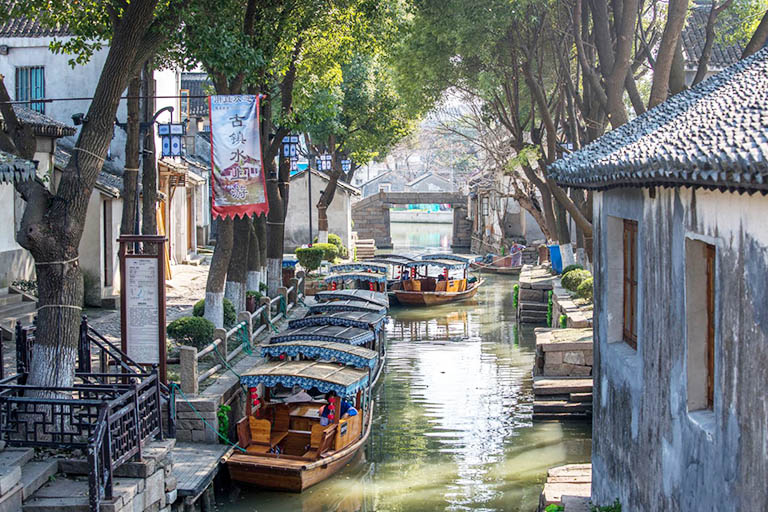 Wooden Boats in Luzhi Water Town
How to Get to Luzhi Water Town
Luzhi Water Town is located in No. 21 Xiaoshi Road, Wuzhong District, Suzhou City, about 35 km (1 hour's drive) from Suzhou downtown. People usually travel to Luzhi from Suzhou. You can get there by bus, but it is a little time-consuming and needs about 2 hours if you start from Suzhou Railway Station and take the Fast Line 5.
Luzhi can also be reached from Shanghai, which is about 70 km, 1.5 hours by car. If you plan to travel by public transportation, you need to make several transfers and the whole journey is about 3.5 hours.
Private Transfer with China Discovery - Most Recommended
In order to save your time and avoid the trouble of several transfers, traveling with a local travel agency like China Discovery is top recommended. Booking a Suzhou tour package from China Discovery, you can enjoy the best transfer service. Our local travel guide will pick you up at the railway station or your hotel. Then you will be escorted to the attractions in a spacious, clean and air-conditioned car which is equipped with a skilled and reliable driver.
More than transfer service, you will be guaranteed with a flexible customizable itinerary based on your preference. Our travel consultant will keep in touch with you all the time and take care of every detail. There is no need to worry about the transfer, accommodation, meal, tickets, or anything else. Your knowledgeable travel guide will also give you enough information of every attraction to make your trip more memorable. Feel free to contact us to start your Suzhou Luzhi tour now!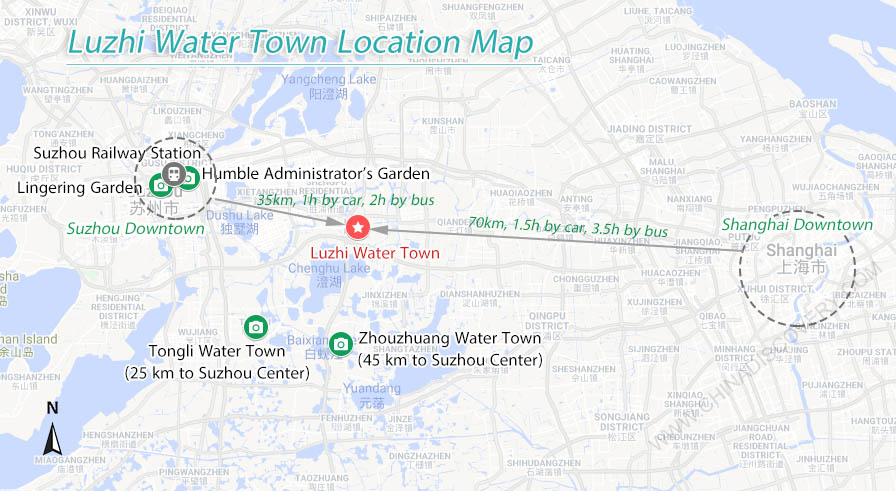 Luzhi Water Town Location Map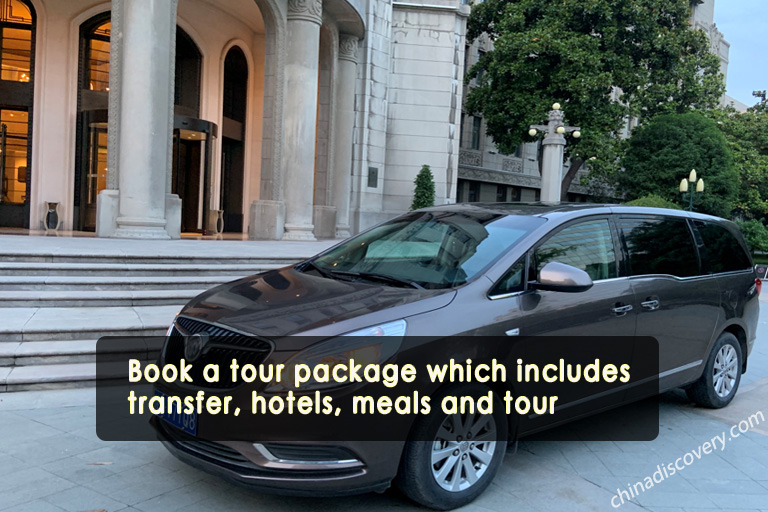 China Discovery Private Transfer
Luzhi Water Town Travel Tips
1. Ticket: Luzhi Water Town is free to enter. But the attractions such as Baosheng Temple, Shen's Mansion, Xiao's Mansion, Wansheng Rice Shop, and Ye Shengtao Memorial Hall will need a joint ticket of CNY 78. You can buy the ticket at the Tourist Center at the main entrance.
2. Accommodation: As Luzhi is not very large and the visit can be finished in half day including the transfer time from/to Suzhou, there is no need to stay a night in Luzhi. It is more recommended to accommodate in Suzhou city. If you really want to spend a night in this little town, there are also some small hotels and homestays you can choose, but the accommodation condition is not as good as Suzhou.
3. Luggage Storage: Luzhi Tourist Center provides free luggage storage service from 8:30 to 16:00.
How to Plan Your Travel in Suzhou
How to Get to Suzhou: You can easily get to Suzhou by high speed train from Shanghai (about 0.5 hour), Hangzhou (about 1.5 hours), Nanjing (about 1 hour), Beijing (about 4.5 hours), etc.
Best Time to Visit Suzhou: April to October, especially April and May in spring and September and October in autumn
Generally, a classic Suzhou tour takes about 1~2 days. Visiting Suzhou, you can't miss elegant Suzhou gardens, like Humble Administrator's Garden, Lingering Garden, Master of the Nets Garden, etc. You can choose one or two of them for a great garden delight. Other must-be-visited sights in Suzhou City include Suzhou No.1 Silk Factory from which you can watch the process of silk making from silkworms to elegant products, Tiger Hill which is known as the first sight in Suzhou, Suzhou Museum which is designed by I. M. Pei and Suzhou's old canalside roads (like Pingjaing Road and Shantang Street), etc. If you like Jiangnan watertowns, you can visit Tongli, Zhouzhuang or Luzhi to have a wonderful time.
☛ 1 Day Suzhou City Highlights Tour
☛ 1 Day Suzhou Zhouzhuang Tour
☛ 2 Days Best Suzhou & Tongli Water Village Tour
If you want to explore more about Jiangsu Province, you can travel to Nanjing - the old capital city of 6 ancient dynasties, Wuxi - a beautiful lakeshore city, Yangzhou - old culture center of southern China, etc. Check more about Jiangsu Tours>
☛ 5 Days Jiangsu Tour (Suzhou, Wuxi & Nanjing)
In fact, most people travel Suzhou with Shanghai - the best gateway city to Suzhou, and Hangzhou which has long been on a par with Suzhou since ancient times. Generally, it needs 2~3 days enjoying Shanghai's highlights and another 2~3 days appreciating the poetic beauty. Check more about Shanghai Suzhou Hangzhou Tours>
☛ 3 Days Hangzhou & Suzhou Beauty Tour by High Speed Train
☛ 4 Days Shanghai Suzhou Excellent Tour
☛ 5 Days Shanghai Hangzhou Suzhou Highlights Tour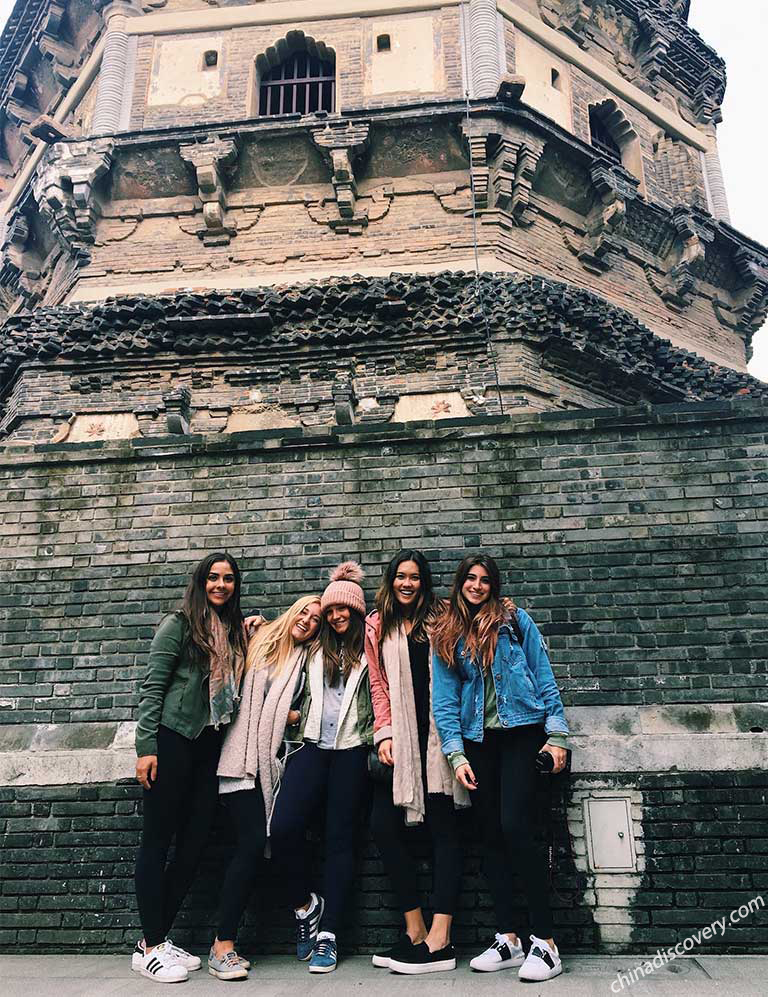 Our Customers visited Tiger Hill, Suzhou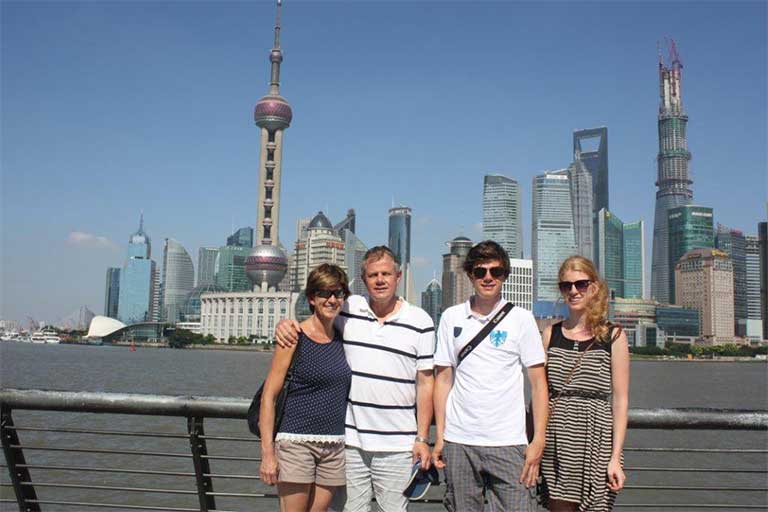 Our Customers visited the Bund, Shanghai
Get Inspired by Real Travel Stories of Our Customers
Since 2012, we have helped numerous customers visit Suzhou and surroundings. With our fully-inclusive private tour packages, all of our customers enjoyed their trips to the exquisite gardens, peaceful watertowns, informative silk factory or museum, old Suzhou streets, etc. Some of them kindly shared their precious photos and stories about their Suzhou journey, just get inspired now.
"We were lucky for being able to watch Chinese dancers at the Lingering Garden at the time of visit…" - shared by Nguyen (Check her The Pursuit of Natural Beauty with the Beloved one - 14 Days Beautiful China Exploring Tour>)
"Suzhou was the real treat at the end of the trip! Everything about Suzhou was perfect…" - shared by Elizabeth from Britain (Check her Long-lasting Memory brought by First Trip to China - 16 Days well-Organized and Wonderful First Visit to China>
Besides the wonderful travel stories, many customers who visited Suzhou with China Discovery also send us their first-hand feedbacks about their trip, feel free to read the Suzhou Reviews and learn what they say about their experience. If you want to start your Suzhou tour now, don't hesitate to contact us.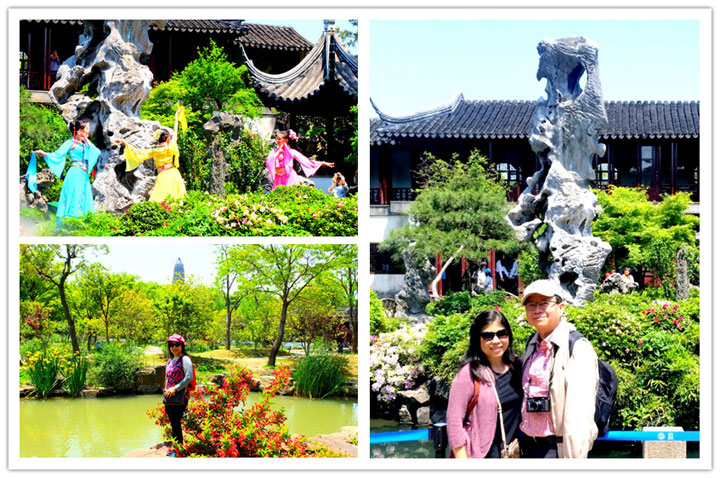 Our Customers Mrs. Nguyen and her husband from Canada visited Suzhou, customized by Wonder Wang
Recommended Suzhou Tours
Top 3 Suzhou tours chosen by most customers to explore Suzhou in the best way. Check the detailed itinerary, or tailor your own trip now with us.
2 Days Relaxing Suzhou Vacation with Tongli Water Town

Suzhou / Tongli Water Town
5 Days Shanghai Hangzhou Suzhou Highlights Tour

Shanghai / Hangzhou / Suzhou / Shanghai
Start planning your tailor-made holiday to China by contacting one of our specialists. Once inquired, you'll get a response within 0.5~23.5 hours.
Customize a Trip
Have a question? Get answers from our travel experts or guests
Your Question:

Your Name:

Your Email: