Lingering Garden History
Lingering Garden is one of the Top Four Classical Gardens in China, combined with Summer Palace in Beijing, Chengde Mountain Resort in Hebei and Humble Administrator's Garden also in Suzhou. It is also one important component of Suzhou Gardens which was a national AAAAA scenic spot. Lingering Garden attracts large amounts of tourists with its beautiful architectures and various natural landscapes. As an ancient private garden with an area of 23,300 square meters, Lingering Garden symbolizes Qing Dynasty style and consummate art of buildings. In 1997, Lingering Garden, combined with 8 other Suzhou gardens are listed in the World Cultural Heritage sites by UNESCO.
The first owner of Lingering Garden was Xutai (徐泰) who once was keen on architectures. He was framed by his fellows and dismissed after his promotion to an official. Then he went back home and engaged his skills and constructed two gardens. The East Garden is Lingering Garden while the West Garden was donated by his ascendants and became a temple - Xiyuan Temple (西园寺). As Xutai passed away, the East Garden turned to be underused. In the periods of Jiaqing, Liu Rongfeng (刘蓉峰) bought East Garden and named it Bihan Mountain Villa. Because the family name of the owner was Liu, so the local people call it Liu's Garden (刘园). Many years later, nobody takes charge of this garden again. Since visitors liked to linger in the garden for a longer time to enjoy this amazing garden, so people also called it Lingering Garden (留园).
Why Lingering Garden So Distinctive?
Exalting after eliminating: The gate of Lingering Garden is very small and humble. As you step into the garden, you will feel a little repressed because you have a way in darkness to walk. You might be suspicious that whether it is the right Lingering Garden. However, your doubt will be removed as an apparently blind alley leads you suddenly into an open space. The great view in front of you will give you a big surprise and make you feel how the magic design is.
Perfect dimensional distribution: Lingering Garden doesn't have a huge scale, but it enjoys the largest number of architectures. Though Humble Administrator's Garden also shows a great number of classical means of art expression, its layout is quite incompact. By contrast, the buildings, rockeries, corridors, pavilions, ponds and trees in Lingering Garden are all standing in the best place as if every inch of ground were taken into consideration and made full use when the owner designed this garden, never to be too crowded or too sporadic.
Movement of steps meaning shift of scenes: On the premise of perfect layout, Lingering Garden, taking advantage of traditional corridors and other landscape, offers uncountable "frames" to feast your eyes. In the same place, looking from different angles, you can enjoy different scenery. Making a step, you will get another feeling of another kind of scenery. This design is referred as the peak of designing gardens while Lingering Garden is the model of this design.
Layout of Lingering Garden
According to the different scenery, Lingering Garden can be divided into four parts with yards, gardens, rockeries and fields.
Eastern Part of Lingering Garden
Top Attractions: Celestial Hall of Five Peak (五峰仙馆), Cloud-Capped Peak (冠云峰), Worshipping Stone Pavilion (揖峰轩), Return-to-Read Study (还我读书斋)...
In the eastern part of Lingering Garden, you can enjoy a diversity of buildings, including pavilions, corridors, open halls etc. The buildings are amazingly gorgeous and splendid while the adornments are very quaint and exquisite. Passing through the hallway, you will find a small scuttle which is regarded as the crowning touch to the buildings of Lingering Garden. It brings more natural light and ventilation. What's more, it also works as a frame within bluish sky, white cloud and flying birds. Walking on, you will experience the changing area of light and darkness. Passageways in the darkness might not seem dim and rigid, but pave the way for a better view.
As you visit all the buildings, you will find many kinds of ornamental perforated windows (漏窗) which are one watching focus of Lingering Garden. Different from the stony perforated windows in Canglang Pavilion (浪沧亭)another famed garden in Suzhou, windows of Lingering Garden are more exquisite and variegated. You can see enough lively varied style of perforated windows, like stony patterns, wooden patterns, multi wooden patterns, screen etc.
Landscape of East Part of Lingering Garden
Distinctive Sight from Different Windows
Central Part of Lingering Garden
Top Attractions: Green Shade Pavion (绿荫轩), Hanbi Mountain Villa (寒碧山庄), Small Fairy Isle (小蓬莱), Haopu Pavilion (濠濮亭), Winding Stream Tower (曲溪楼)...
The central part enjoys the essence of Lingering Garden, a landscape of water and fantastic rockeries, which owns the characteristics of impressionistic garden of the literati. Surrounded by rockeries and pavilions, the corridor stretches across the lake to the center. You can appreciate the ancient calligraphy and stone inscription carved on the columns of the corridor. Walking on and looking through the perforated windows in the white wall, you will get swarms of moving and flickering pictures.
There are two ancient trees, one cypress and one tea bush, growing in the parterre with their branches intertwined together. Local people always compare theme to an embraced couple symbolizing eternal love.
The Green Shade Pavilion (绿荫轩) is also a spot can't be missed in Lingering Garden. There once to be an ancient maple tree and the pavilion is under the tree, it is named the Green Shade Pavilion. Perched near the hill and by the river, this pavilion is very poetic.
Scenery in Central Garden
Western Part of Lingering Garden
Top Attractions: Place of Liveliness (活泼泼地), Free Raring Pavilion (自在处), Delightful Pavilion (至乐亭)
The main attraction in the western part of Lingering Garden is the towering trees and buildings are quite rare. A group of maples standing in the hill nurtures to a flourishing forest. In the hot summer, it helps you enjoy the cool. While in the late autumn and early winter, it shows flamboyant fire, making you your journey more delightful. Some pavilions in the hill are partly hidden and partly visible. The western part located the highest land of Lingering Garden, so you will get a panoramic view of the western suburb of Suzhou. The Palace of Liveliness (活泼坡地) is a popular tourist resort with a peaceful environment. There are four scrolls hang in on the wall of the palace, which all are famous works by great painters and explaining their wishes of indulging themselves in natural landscape.
Western Lingering Garden in Autumn
Northern part of Lingering Garden
Top Attractions: Xiaotaowu House (小桃坞), Youyi Village (又一村)...
In the northern part of Lingering Garden, you will lose yourself in the pastoral scenery full of bamboo houses, nursery garden and lawns. Highlight of this part is an independent yard called Youyicun(literally meaning another village) and it gets its name from an ancient Chinese poem "mountains multiply and streams double back, but there must be a way to another village". In this small yard is a Bonsai Garden where you can enjoy the beautiful bonsai in hundreds of shapes. There is also a small pond in the small garden and in the center of the pond is a rockery with several pines trees. The reflection of this scene on the water adds great fun to the yard. Outside the yard, you also have enough to explore: vegetable fields, thatched cottage, fruit-bearing forest and fowls.
Bonsai Trees in Various Shapes
Highlights in Lingering Garden - Three Wonders
Cloud-crowned Peak
Taihu Stone(太湖石) kind of ornamental stones formed after long-eroding. Because of its various shapes and beauty, people always use it to decorate garden, grass land and different yards. With a character of slenderness, crinkles, transparency and easiness to penetrate, the Cloud-crowned Peak(冠云峰)onesuch among the Taihu stones. It is said that it was a tribute to the emperor. In the late Song Dynasty, the imperial place got into a great bustle of masons and carpenters under the command of Emperor Huizong. He also ordered his soldiers to collect rare jewels and precious stones all over the country. The cloud-crowned Peak is the collected treasure which fails to be sent to the emperor.
Celestial Hall of Five Peaks
Celestial Hall of Five Peaks is honored as the No.1 Hall in Jiangnan (south regions of the Yangtze River). It is the largest hall in Lingering Garden divided into two parts by a yarn-made screen. You can see furniture like tea table and wooden armchair settled in the frontier hall which covers two-third of the whole area. The timbering used in the hall is rather sophisticated. All the beams and columns are made of costly Namu, so Celestial Hall of Five Peaks is also called Namu Palace. In the east and west walls are a line of widely-open windows with simple but elegant decoration. Apart from abundant sunlight, the window helps people to open up the space field of vision.
Natural Picture of Sunshine after Rain
There is a valuable natural marble picture collected in Lingering Garden. This marble with a diameter of 1 m and a thickness of 15 mm was found in Cangshan Mountain of Yunnan Province and conveyed to Suzhou. On the surface of the marble standing against the wall, you can dimly recognize an attracting picture: surrounded mountains, murmuring stream, flying waterfalls, floating clouds and a bright sun etc. Made by uncanny workmanship of great nature, this picture just like a landscape painting of a valley after a heavy rain and you can even feel a serenity.
Cloud Crowned Peak
Precious Nanmu Palace
Painting Made by Nature
Featured Activity in Lingering Garden
Seeking Dream in Lingering Garden (留园寻梦)
Almost in every spring, there will be an activity taking place called "seeking dream in Lingering Garden". The holding time is not set in every year and it will last for nearly 30 days. During this period, there will be ushers in ancient clothes standing in the gate of Lingering Garden and giving their greetings to the visitors. Some memebers is also dressed up as the owners, steward and servants to interact and photographs with the tourists. What's more interesting, you also get an opportunity to enjoy the wonderful performance, including Kunqu Opera, Suzhou Opera, Chinese traditional music playing, Ancient Dance Show and so on. Letting tourists step into the dream across the history, all performance fully display the carefree and leisurely life of the ancient people living in Lingering Garden.
Opera Assembly (梨园荟萃)
In the Exhibition Hall, tourist can enjoy the daily opera performance including Kunqu Opera, Suzhou Opera, and Wuxi Opera. These local opera genres featuring Wu characteristics are quintessence and representative of Wu culture. Among them, Kunqu opera was recognized as Worldwide Intangible Cultural Heritage, while Suzhou Opera and Wuxi Opera are National Intangible Cultural Heritage. Combining the opera with world cultural heritage Lingering Garden together and contrasting juxtaposing of the dynamic and the static, you will have a splendid experience.
Time: 09:00 - 09:20, 10:00 - 10:20, 11:00 - 11:20, 13:30 - 14:00, 15:30 - 16:20
Poetic Performance
Kunqu Opera Performance
Opera Genres and Chapters to be Performed

Date
Sunday
Monday
Tuesday
Wednesday
Thursday
Friday
Saturday
Opera Genre
Suzhou Opera
Kunqu Opera
Wuxi Opera
Suzhou Opera
Kunqu Opera
Wuxi Opera
Suzhou Opera
Chapter
Going Home Drunk
Wandering the Garden
one chapter of Peony Pavilion
Appointment in the back
one chapter of Garden The Pearl Pagoda
Xunhuai Returing Home
Loves Impossible Dream
one chapter of Peony Pavilion
Double Mills
A Tale of Flower Fair
Location & Transportation
Where is Lingering Garden
Lingering Garden is located in the Suzhou Suzhou City, quite closed to the railway stations and bus stations.
How to Get to Lingering Garden
Many tourists tend to starting their journey from Wuxi and Shanghai where are easy to get by different transportation. Then taking a train or bus to Suzhou is advisable.
Lingering Garden Map
By Train
There are four train stations in Suzhou. Enough daily high-speed trains can take you to Suzhou from Shanghai within half an hour, from Huangzhou within two hours and from Beijing within 6 hours.
By Subway & Bus
No. 2 Metro Line and many buses can bring you to Lingering Garden from different directions of Suzhou conveniently.
Travel with China Discovery
If you want to get rid of hustle of public transportation and troublesome navigation, you can book a private tour package which covers sightseeing, dining and transfer from us. Our knowledgeable local tour guide and skilled driver will escort you to Lingering Garden with speed and convenience, and take care of all the details. You just need to focus on sightseeing.
Warm Tips
Best Seasons: All seasons are available. Lingering Garden enjoys great numbers of flowers and trees and you can have a great sight of different scenery in different seasons.
Accommodation: There are several great hotels from 5-stars international brands to economic hotels and hostels with good environment, well equipment and thought service. You can choose one you like.
How to Plan Your Travel in Suzhou
How to Get to Suzhou: You can easily get to Suzhou by high speed train from Shanghai (about 0.5 hour), Hangzhou (about 1.5 hours), Nanjing (about 1 hour), Beijing (about 4.5 hours), etc.
Best Time to Visit Suzhou: April to October, especially April and May in spring and September and October in autumn
Generally, a classic Suzhou tour takes about 1~2 days. Visiting Suzhou, you can't miss elegant Suzhou gardens, like Humble Administrator's Garden, Lingering Garden, Master of the Nets Garden, etc. You can choose one or two of them for a great garden delight. Other must-be-visited sights in Suzhou City include Suzhou No.1 Silk Factory from which you can watch the process of silk making from silkworms to elegant products, Tiger Hill which is known as the first sight in Suzhou, Suzhou Museum which is designed by I. M. Pei and Suzhou's old canalside roads (like Pingjaing Road and Shantang Street), etc. If you like Jiangnan watertowns, you can visit Tongli, Zhouzhuang or Luzhi to have a wonderful time.
☛ 1 Day Suzhou City Highlights Tour
☛ 1 Day Suzhou Zhouzhuang Tour
☛ 2 Days Best Suzhou & Tongli Water Village Tour
If you want to explore more about Jiangsu Province, you can travel to Nanjing - the old capital city of 6 ancient dynasties, Wuxi - a beautiful lakeshore city, Yangzhou - old culture center of southern China, etc. Check more about Jiangsu Tours>
☛ 5 Days Jiangsu Tour (Suzhou, Wuxi & Nanjing)
In fact, most people travel Suzhou with Shanghai - the best gateway city to Suzhou, and Hangzhou which has long been on a par with Suzhou since ancient times. Generally, it needs 2~3 days enjoying Shanghai's highlights and another 2~3 days appreciating the poetic beauty. Check more about Shanghai Suzhou Hangzhou Tours>
☛ 3 Days Hangzhou & Suzhou Beauty Tour by High Speed Train
☛ 4 Days Shanghai Suzhou Excellent Tour
☛ 5 Days Shanghai Hangzhou Suzhou Highlights Tour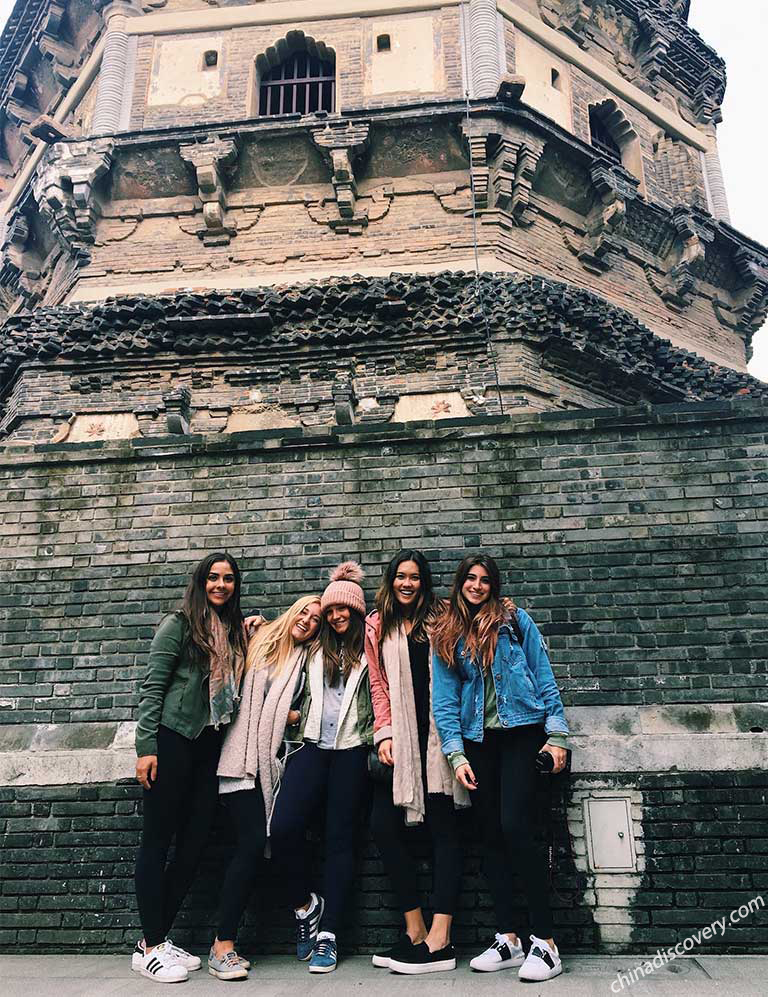 Our Customers visited Tiger Hill, Suzhou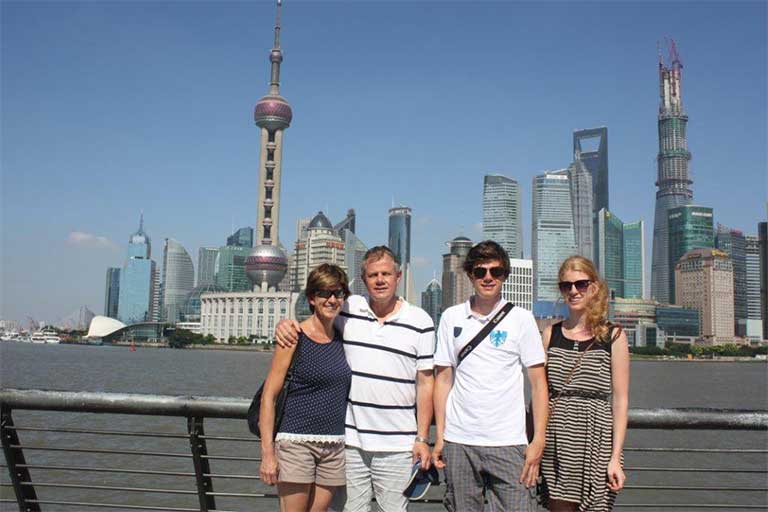 Our Customers visited the Bund, Shanghai
Get Inspired by Real Travel Stories of Our Customers
Since 2012, we have helped numerous customers visit Suzhou and surroundings. With our fully-inclusive private tour packages, all of our customers enjoyed their trips to the exquisite gardens, peaceful watertowns, informative silk factory or museum, old Suzhou streets, etc. Some of them kindly shared their precious photos and stories about their Suzhou journey, just get inspired now.
"We were lucky for being able to watch Chinese dancers at the Lingering Garden at the time of visit…" - shared by Nguyen (Check her The Pursuit of Natural Beauty with the Beloved one - 14 Days Beautiful China Exploring Tour>)
"Suzhou was the real treat at the end of the trip! Everything about Suzhou was perfect…" - shared by Elizabeth from Britain (Check her Long-lasting Memory brought by First Trip to China - 16 Days well-Organized and Wonderful First Visit to China>
Besides the wonderful travel stories, many customers who visited Suzhou with China Discovery also send us their first-hand feedbacks about their trip, feel free to read the Suzhou Reviews and learn what they say about their experience. If you want to start your Suzhou tour now, don't hesitate to contact us.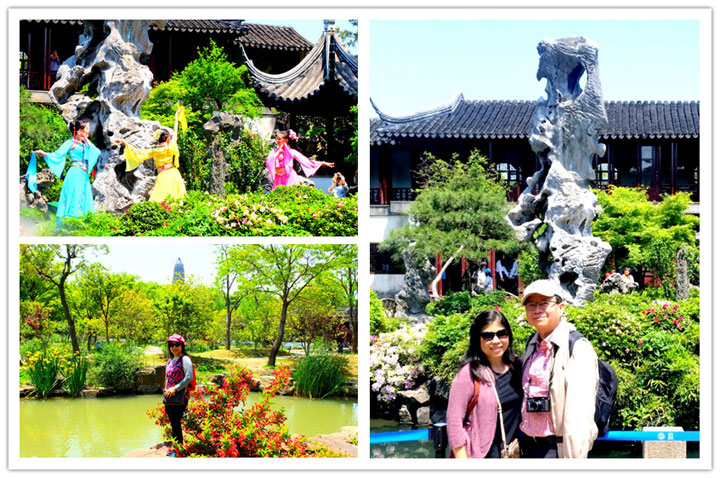 Our Customers Mrs. Nguyen and her husband from Canada visited Suzhou, customized by Wonder Wang
Recommended Suzhou Tours
Top 3 Suzhou tours chosen by most customers to explore Suzhou in the best way. Check the detailed itinerary, or tailor your own trip now with us.
5 Days Shanghai & Suzhou Highlights Tour with Tongli Water Town

Shanghai / Tongli / Suzhou / Shanghai
Start planning your tailor-made holiday to China by contacting one of our specialists. Once inquired, you'll get a response within 0.5~23.5 hours.
Customize a Trip
Have a question? Get answers from our travel experts or guests
Your Question:

Your Name:

Your Email: