What is Kunqu Opera?
Kunqu Opera originated from Kunshan in Suzhou city is an old drama style listed as a "Masterpiece of the Oral and Intangible Heritage of Humanity" by the UNESCO in 2001. It is one of the oldest traditional operas of the Han nationality and is also a treasure of the traditional culture and art. Beginning from the late Yuan Dynasty (middle period of 14th century), Kunqu is over 600 years old and is reputed as the "ancestor of Chinese dramas" and the "mother of Chinese operas".
Kunqu Opera as a Suzhou-birthed drama art is typically of rich Suzhou cultural features, but as its wide spread through the main part of China, it combines the characteristics of other famous Chinese operas. To provide the best stage effect and artistic beauty, Kunqu Opera is especially excellent with the fine makeup, soft and graceful singing, elegant actions, and traditional music, etc., which is really a hearty visual and audio feast.
Kunqu Opera - Mother of Chinese Operas
World Oral and Intangible Heritage
Features of Kunqu Opera
Costumes
Costumes of Kunqu Opera are particularly abundant with rich colors and styles. Apart from the costumes in a Yuan and Ming dynasties style, others which are similar to the very popular garments and dressings of people in that period can also often be seen on the stage, such as the martial attires, clothes of officials of different levels and positions, etc.
Characters
There are basically five characters in Kunqu Opera, namely Dan, Sheng, Jing, Mo, and Chou. Each one has their only personal characteristics and is indispensable in this artistic performance.
Dan (旦): All the women characters are called Dan in Kunqu. Among them, Zheng Dan (正旦) is usually the most important female character who plays a loving wife or chaste woman, Wu Dan (五旦) plays an unmarried miss or kind chivalrous lady, and Lao Dan (老旦) usually is an elder female actress who plays a mother or sometimes a male role.
Sheng (生): Sheng is the general name of all men characters aged from about 20 to 50 years old. It is mainly divided into Jin Sheng (巾生) and Guan Sheng (官生). Jin Sheng usually is the leading actor of a love story who is a young scholar holding a folding fan in his hand. And Guan Sheng is an official with a gauze cap on the head.
Jing (净): Jing is commonly known as the "Painted Face (大花脸)" with the colorful makeup on his whole face. All Da Mian (大面) are positive characters, and the faces are various in color, mainly are red and black, sometimes are purple and blue. Bai Mian (白面) is often a treacherous official. Except for the eye lines, the whole face is painted white. In some occasions, Bai Mian can be a female character or an ordinary character that is not absolutely good or bad.
Mo (末): Mo usually acts elder men over middle ages with long beard. Wai (外) is the eldest with white or grey beard. Lao Sheng (老生) and Fu Mo (副末) are younger and have black beard.
Chou (丑): Chou has several types. Fu Chou (副丑) acts a role that has high social status but often does evil things secretly, such as a crafty official, evil lawyer, gangster and so on. Xiao Chao (小丑) on the contrary is very comical and expresses the inner world directly through his facial expressions and body languages. Chou characters in Kunqu Opera sometimes involve martial arts performance.
Accompaniment
Since Kunqu Opera comes from southern China and has been influenced by the dramas and operas in northern China, it now has a mixing musical accompaniment of both areas. Kunqu Opera takes in a lot of different crooked cards shaped from the ancient dancing songs, poetries of Tang (A.D. 618-907) and Song (A.D. 960-1279) dynasties, folk songs of different ethnic groups, so the music is much of traditional Chinese style. Furthermore, traditional Chinese musical instruments like Sheng, Xiao, Suona horn, Sanxian, Pipa, etc. together make distinct but songful accompaniment for every Kunqu Opera.
☛ 1 Day Suzhou City Highlights Tour
☛ 2 Days In-depth Suzhou Culture Discovery Tour
"Dan" Character in Kunqu Opera
"Guan Sheng" in the Kunqu Opera
Colorful Painted Face of a "Jing" Character
"Mo" - an Elder Character in Kunqu Opera
Funny Role "Chou" in Kunqu Opera
Classic Kunqu Operas
Because Kunqu Opera is regarded as the treasure of Chinese traditional culture and art, it has a series of very excellent plays from the ancient times.
The Peony Pavilion
The Peony Pavilion (牡丹亭) is the best drama work of Tang Xianzu (汤显祖), a famous and respectable litterateur in China as Shakespeare in the UK. This classic art has been performed around the world for countless times and it is always praised by people. In October, 2016, the Peony Pavilion (Young Edition) of the famous Mr. Pai Hsien Yung (白先勇) from Taiwan appeared on the stage in London and raised a heat among the audiences.
In this opera, Liu Mengmei (柳梦梅) is a poor scholar who dreamt a lady having predestined marriage with him. Du Liniang (杜丽娘) is the daughter of prefecture chief in ancient China and she once dreamt of a scholar courted her and dated together in the Peony Pavilion. After awakening, Liniang died from terrible depression and later his father asked to build temple for her. Three years later, Mengmei accommodated in the temple on his way to attend the imperial test and met the sole of Liniang, finding she was the girl in his dream. Liniang became alive again after Mengmei unburied her. Then, after he was proclaimed the First Scholar and several difficulties, the couple finally lived together.
Besides, the "Palace of Eternal Life (长生殿)" telling about the love story between Xuanzong Emperor (唐玄宗) and his imperial concubine Yang Yuhuan (杨玉环) in Tang dynasty, the "Peach Blossoms Fan (桃花扇)" reflecting the complicated social relationships based on the love story of Li Xiangjun (李香君) and Hou Chaozong (侯朝宗), the "Fifteen Strings of Cash (十五贯)" appreciated by Premier Zhou Enlai (周恩来), etc. are all very great works of high value.
"Peony Pavilion" - A Classic Kunqu Opera
"Fifteen Strings of Cash" Praised by the Premier Zhou
Recommended Places to Enjoy Kunqu Culture & Operas
Suzhou Kunqu Theater
Established for over 60 years, Suzhou Kunqu Theater (江苏省苏州昆剧院) has cultivated a lot of excellent artists who have performed Kunqu Opera in countries in America, Eurasia, etc. In the newly built theater, there is a grand luxurious stage and auditorium that can contain 319 people, with superb visual and audio effect.
Place: No. 9 Jiaochangqiao Road, Pingmen, Suzhou
Show time: occasionally
Kun Opera Museum
Kun Opera Museum (中国昆曲博物馆) is over 30 years old with abundant treasurable materials, costumes, delicate ancient stage, etc. of Kunqu Opera. It is a good place to get an in-depth understanding of the history and culture of Kunqu Opera. Classic Kunqu Operas are performed in this museum about every Sunday, gaining good reputation among audiences.
Place: No. 14, Zhangjiaxiang, Suzhou
Opening Time: 9:00-17:00 (Tuesday to Sunday)
Show Time: about 14:00 every Sunday, for about 2 hours
Lanyuan Theater (Nanjing)
Lanyuan Theater (兰苑剧场) in Nanjing is mainly the best place to appreciate Kunqu Opera. Although the theater is not very large, the actors and actress are professional holding unplugged performance with Chinese and English subtitle on the side of the stage. Since Kunqu Operas in Lanyuan Theater is of high standard, the tickets are quickly sold out. If you want to watch the show, it is recommended to book the ticket in advance.
Place: No. 4 Chaotiangong, Jiangsu Kunqu Theater (江苏省昆剧院), Nanjing
Show Time: about 19:00 every Saturday
Note:
1. If you are interested in enjoying a Kunqu Opera, please contact our Travel Consultant for the detail show time and the ideal place in advance.
2. If you want to get a quick glimpse of Kunqu Opera, there are some Kunqu Opera houses in Shantang Street in Suzhou providing excerpts of a complete play. One excerpt performance is about 20 minutes.
Grand Auditorium and Stage in Suzhou Kunqu Theater
Students Learning Kunqu Opera in Kun Opera Museum
Excellent Performance in Lanyuan Theater in Nanjing
How to Plan Your Travel in Suzhou
How to Get to Suzhou: You can easily get to Suzhou by high speed train from Shanghai (about 0.5 hour), Hangzhou (about 1.5 hours), Nanjing (about 1 hour), Beijing (about 4.5 hours), etc.
Best Time to Visit Suzhou: April to October, especially April and May in spring and September and October in autumn
Generally, a classic Suzhou tour takes about 1~2 days. Visiting Suzhou, you can't miss elegant Suzhou gardens, like Humble Administrator's Garden, Lingering Garden, Master of the Nets Garden, etc. You can choose one or two of them for a great garden delight. Other must-be-visited sights in Suzhou City include Suzhou No.1 Silk Factory from which you can watch the process of silk making from silkworms to elegant products, Tiger Hill which is known as the first sight in Suzhou, Suzhou Museum which is designed by I. M. Pei and Suzhou's old canalside roads (like Pingjaing Road and Shantang Street), etc. If you like Jiangnan watertowns, you can visit Tongli, Zhouzhuang or Luzhi to have a wonderful time.
☛ 1 Day Suzhou City Highlights Tour
☛ 1 Day Suzhou Zhouzhuang Tour
☛ 2 Days Best Suzhou & Tongli Water Village Tour
If you want to explore more about Jiangsu Province, you can travel to Nanjing - the old capital city of 6 ancient dynasties, Wuxi - a beautiful lakeshore city, Yangzhou - old culture center of southern China, etc. Check more about Jiangsu Tours>
☛ 5 Days Jiangsu Tour (Suzhou, Wuxi & Nanjing)
In fact, most people travel Suzhou with Shanghai - the best gateway city to Suzhou, and Hangzhou which has long been on a par with Suzhou since ancient times. Generally, it needs 2~3 days enjoying Shanghai's highlights and another 2~3 days appreciating the poetic beauty. Check more about Shanghai Suzhou Hangzhou Tours>
☛ 3 Days Hangzhou & Suzhou Beauty Tour by High Speed Train
☛ 4 Days Shanghai Suzhou Excellent Tour
☛ 5 Days Shanghai Hangzhou Suzhou Highlights Tour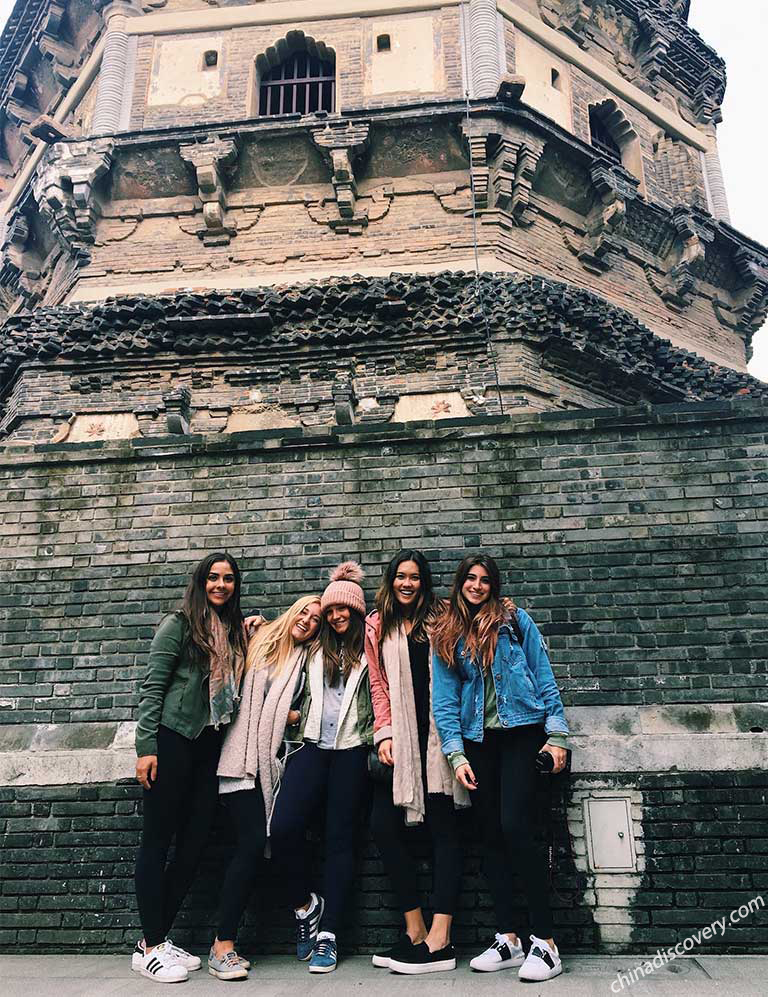 Our Customers visited Tiger Hill, Suzhou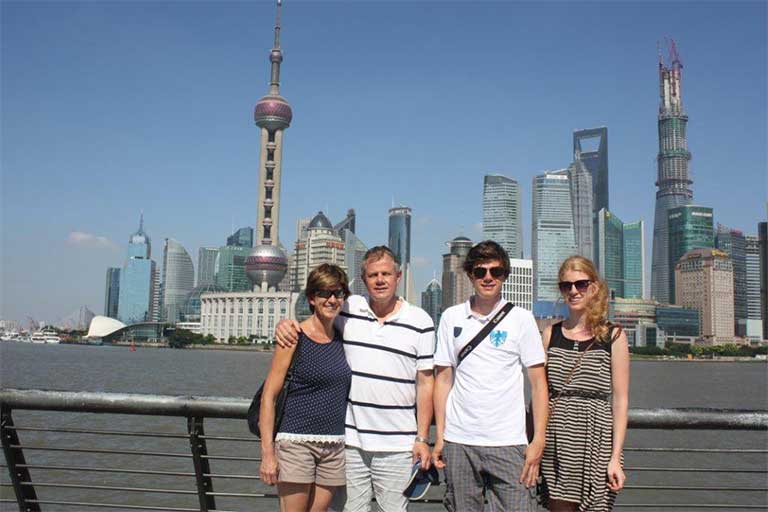 Our Customers visited the Bund, Shanghai
Get Inspired by Real Travel Stories of Our Customers
Since 2012, we have helped numerous customers visit Suzhou and surroundings. With our fully-inclusive private tour packages, all of our customers enjoyed their trips to the exquisite gardens, peaceful watertowns, informative silk factory or museum, old Suzhou streets, etc. Some of them kindly shared their precious photos and stories about their Suzhou journey, just get inspired now.
"We were lucky for being able to watch Chinese dancers at the Lingering Garden at the time of visit…" - shared by Nguyen (Check her The Pursuit of Natural Beauty with the Beloved one - 14 Days Beautiful China Exploring Tour>)
"Suzhou was the real treat at the end of the trip! Everything about Suzhou was perfect…" - shared by Elizabeth from Britain (Check her Long-lasting Memory brought by First Trip to China - 16 Days well-Organized and Wonderful First Visit to China>
Besides the wonderful travel stories, many customers who visited Suzhou with China Discovery also send us their first-hand feedbacks about their trip, feel free to read the Suzhou Reviews and learn what they say about their experience. If you want to start your Suzhou tour now, don't hesitate to contact us.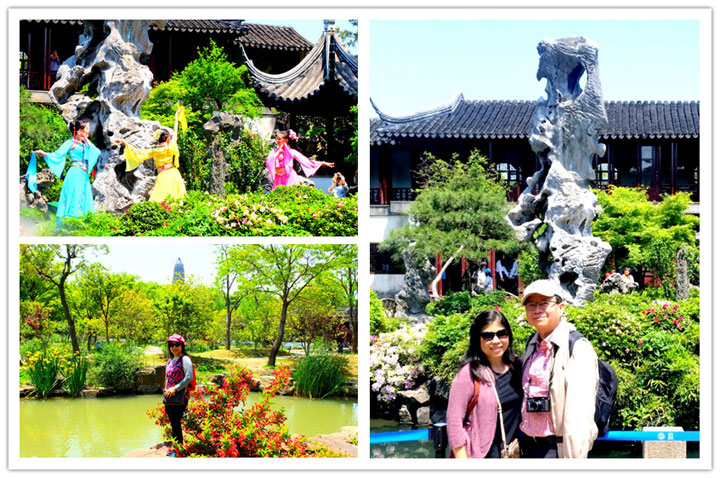 Our Customers Mrs. Nguyen and her husband from Canada visited Suzhou, customized by Wonder Wang
Recommended Suzhou Tours
Top 3 Suzhou tours chosen by most customers to explore Suzhou in the best way. Check the detailed itinerary, or tailor your own trip now with us.
2 Days Relaxing Suzhou Vacation with Tongli Water Town

Suzhou / Tongli Water Town
5 Days Shanghai Hangzhou Suzhou Highlights Tour

Shanghai / Hangzhou / Suzhou / Shanghai
Start planning your tailor-made holiday to China by contacting one of our specialists. Once inquired, you'll get a response within 0.5~23.5 hours.
Customize a Trip
Have a question? Get answers from our travel experts or guests
Your Question:

Your Name:

Your Email: