Great Status of Humble Administrator's Garden
Listed as World Heritage Site in 1997 by UNESCO, Humble Administrator's Garden in Suzhou is one of the top four classical gardens in China (the other three are Summer Palace, Chengde Mountain Resort and Lingering Garden). Located in the northeastern corner of Suzhou, Humble Administrator's Garden was origninally built in 1509 by the former imperial censor – Wang Xianchen of Ming Dynasty. From then on, the garden has been changed and reconstructed several times. Repaired and extended in early twentieth century, the garden now is a key cultural relic under state protection.
Humble Administrator's Garden is a representation of Jiangnan classical garden, and is now the largest classical garden in Suzhou, covering an area of 5.2 hectares (about 7 standard foot fields). The whole garden features in water scenery, green hills, delicate pavilions and lush flowers and trees forms a poetic picture of classic Jiangnan. It can be divided into three parts: Eastern Garden, Central Garden and Western Garden, and each features in different characteristics. The southern part of the garden is residential area, and Suzhou Garden Museum is also in here.
√ 1 Day Suzhou City Highlights Tour
Layout of Humble Administrator's Garden
Eastern Garden
Eastern Garden is the largest of the three, covers an area of 21,000 square meters. The style of Eastern Garden is more vivacious than the other two, featuring in wild and idyllic scenery. There is only one pond, one hill, two halls and four pavilions in the eastern part. The pond is extremely large and presented in a rectangular shape. An ear-shape island is located in the center of the pond, with the Far Away Looking Pavilion on it. The rest of the halls and pavilions are spreading around the pond and hill, showing its wild arrangement with pure simple style. After getting in from the South Gate, you'll enter into the Eastern Garden through Cymbidium Goeingii Hall.
Central Garden
Central Garden is the essence of Humble Administrator's Garden. Covering an area of about 23,000 square meters, the garden features in watery scenery and 1/3 of the whole area is covered with water. The pond is large and surrounded with thick trees; all architectures and artificial hills by the pond are strewn at random. The overall pattern still retains the simple and vigorous style of Ming Dynasty. The Hall of Distant Fragrance is the main and center architecture of Central Garden as well as the whole Humble Administrator's Garden. As the guest receiving place, the Hall of Fragrance has windows in the four directions, thus, the guest can see the surrounding scenery in the hall. Other main attractions including Fragrant Isle, Pavilion in Lotus Breezes, Small Canglang and Snow-like Fragrant Prunus Mume Pavilion, etc. Most of the architectures' names in the garden are related to lotus, a symbol of noble characteristics in China.
Western Garden
Covering an area of 8,000 square meters, the Western Garden is centered on a winding pond connecting to the big pond in Central Garden. The Western Garden is famed for its delicate-decorated architectures. The most famous one is the Mandarin Duck Hall in the southern part. The quadrate hall is divided into the northern part and the southern part by partition board and hangings. The northern part is called Hall of 36 Pairs of Mandarin Ducks, used to observe lotus in summer. The southern part is called Hall of 18 Camellias and the owner used to appreciate the artificial hills and camellias in winter.
Green-Embracing Pavilion in Eastern Garden
Winding Bridge in Central Garden
Heavenly Spring Pavilion in Western Garden
Well-desinged Buildings in Humble Administrator's Garden
Drifting Fragrance Hall (远香堂)
The Drifting Fragrance Hall is a four-sided hall and the main building in the central garden. Tracing back to the years of Emperor Qianlong of the Qing Dynasty, its original bluestone foundation survived. It usually attracts tourists firstly with its unique architecture that four walls are equipped with delicate panoptic windows. As you walk into the hall, you will a good view of the surrounding scenery from the windows. Drifting Fragrance Hall was built facing to the water on three sides. The north platform is rather spacious, acting as a wonderful deck for admiring the beautiful lotus in the pond. When it breezes, the scent of lotus will be wafted to the hall. That's why Drifting Fragrance Hall got its name.
Sightseeing from Drifting Fragrance Hall
Secluded Pavilion of Phoenix Tree and Bamboo (梧竹幽居)
Located in the central garden as well, Secluded Pavilion of Phoenix Tree and Bamboo Pavilion is an ingeniously designed pavilion which deserves its poetic name. Backing against the corridor and confronted with the pond, it has luxury phoenix trees and bamboos on its two sides, creating a strong atmosphere of elegance and quietness. What more magical are the four round doorways in the surrounding walls like four moons hanging on the pavilion. With good daylight, you can enjoy amazing framed scenes from different angles of the overlapping circles. On the horizontal tablet are four Chinese characters "梧竹幽居" written by Wen Zhengming (文征明) who are a great painter and the designer of the Humble Administrator's Garden. This pavilion deserves its poetic name.
Secluded Pavilion of Phoenix Tree and Bamboo
Whom-to-Sit-With Pavilion (与谁同坐轩)
Whom-to-Sit-With Pavilion is laid out in the western garden with an interesting name deriving from a poem of Sushi (苏轼) - "With whom shall sit? Bright Moon, gentle Breeze and myself." This pavilion shapes like an unfolding fan. The roof, window-openings, stone table, stone benches and horizontal tablets all look like unfolding fans, so it is also called Fan Pavilion. While you are watching from the window-opening in the back wall and finding the Hat Pavilion resembling the picture painted in the fan, you must admire the wisdom of the skilled gardener. Standing in the pavilion or looking at the distance, you call both appreciate the endless beauty.
Far View of With-Whom-to-Sit Pavilion
Featured Activities in Humble Administrator's Garden
Admiring Colorful Flowers
There are two big festivals in which you can enjoy most brilliant flowers, the Azalea Festival (March ~ May) and the Lotus Flower Festival (June ~ October). During the Azalea Festival, hundreds of rare azalea will be on display. While feeling the garden's charm in spring, tourists could also experience the poetic and pictorial splendor of the Humble Administrator's Garden decorated with blooming flowers.
The owner speaks for himself by lotus flower, expressing his noble sentiments. Therefore, there grows large amounts of lotus in the pond and Lotus Flower Festival became a traditional characteristic project of Suzhou Gardens. During the Lotus Flower Festival, different varieties of cylinder lotus, bowel lotus and other kinds of aquatic plants in the garden give off their enchanting fragrance and greetings.
Savoring Exquisite Suzhou Embroidery
Millet Fragrance Hall (秫香馆) is not only a bright and spacious hall with ancient panoptic windows but also an exhibition hall of the essence of Suzhou Embroidery art. In this exhibition hall, you can enjoy many good Suzhou embroidery made by Zhou Haiyun (周海云), an excellent folk artist. Some exhibits are theming on Suzhou Gardens. Six embroidery performances will take place here in order to let the tourists understand the Suzhou Embroidery better.
Performance Time: 09:00-09:20, 10:00-10:20, 11:00-11:20, 13:30-13:50, 14:30-14:50, 15:30 - 15:50
Lotus on Display
Suzhou Embroidery Performance
Nearby Attraction - Suzhou Garden Museum
Located in the southern part of the garden, Suzhou Garden Museum is the only garden-themed museum in China. Built from 1992 and open to the public at 2007, it covers an area of over 3000 square meters. The whole museum includes Preface, Hall of Garden History, Hall of Garden Art, Hall of Garden Culture and Conclusion. By visiting these halls, you will have a better understanding of Suzhou Gardens. They take Suzhou classical gardens as examples to show the rich connotation and artistic charm of Suzhou gardens to tourists. In the Hall of Garden Art, there is a brief introduction of the garden art, like rockery piling, water streamlining, architecture designing and plants growing
Model Garden in Suzhou Garden Museum
Recommended Travel Route
Classic route for travelling is Eastern Garden – Central Garden – Western Garden – Suzhou Garden Museum. Starting from Cymbidium Goeingii Hall, travelers can tour in clockwise direction or counterclockwise direction. Counterclockwise is more popular for you can visit all attractions and no detours in this route.
How to Get to Humble Administrator's Garden
Humble Administrator's Garden is located in the city center of Suzhou and is close to each railway stations and bus stations. Visitors can reach there by taking bus or private car. It's only about 10 minutes' walk from the garden to Suzhou Museum and Lion Grove Garden.
Travel with China Discovery
If you want to get rid of hustle of public transportation and troublesome navigation, you can book a private tour package which covers sightseeing, dining and transfer from us. Our knowledgeable local tour guide and skilled driver will escort you to Humble Administrator's Garden with speed and convenience, and take care of all the details. You just need to focus on sightseeing.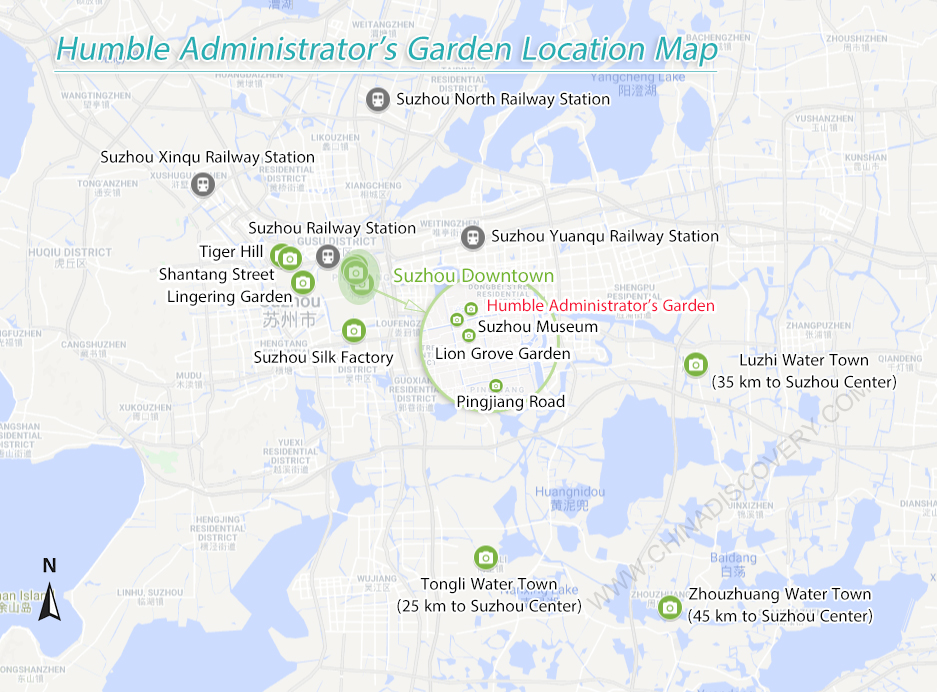 Click to Enlarge Humble Administrator's Location Map
Warm Humble Administrator's Garden Travel Tips
Best Time to Visit: March to November is good time to travel. There are azalea exhibition and lotus exhibition from April to October. The scenery in winter is not beautiful as other seasons, however, it's less crowded and you can taste the beauty of the garden quietly.
Shopping: There are many craft stores along the Dongbei Street (the street outside the Southern Gate of Humble Administrator's Garden). You can buy local specialties, Suzhou folding fan and Suzhou embroidery in here.
Other Nearby Attractions: get of the garden from the Southern Gate and walk west along Dongbei Street for 200 meters, you will get to the Mansion of King Zhong of Taiping Heavenly Kingdom and Suzhou Museum. Walk along Yuanlin Road for about five minutes and you will get to Suzhou Museum of Folk Customs and Lion Grove Garden.
How to Plan Your Travel in Suzhou
How to Get to Suzhou: You can easily get to Suzhou by high speed train from Shanghai (about 0.5 hour), Hangzhou (about 1.5 hours), Nanjing (about 1 hour), Beijing (about 4.5 hours), etc.
Best Time to Visit Suzhou: April to October, especially April and May in spring and September and October in autumn
Generally, a classic Suzhou tour takes about 1~2 days. Visiting Suzhou, you can't miss elegant Suzhou gardens, like Humble Administrator's Garden, Lingering Garden, Master of the Nets Garden, etc. You can choose one or two of them for a great garden delight. Other must-be-visited sights in Suzhou City include Suzhou No.1 Silk Factory from which you can watch the process of silk making from silkworms to elegant products, Tiger Hill which is known as the first sight in Suzhou, Suzhou Museum which is designed by I. M. Pei and Suzhou's old canalside roads (like Pingjaing Road and Shantang Street), etc. If you like Jiangnan watertowns, you can visit Tongli, Zhouzhuang or Luzhi to have a wonderful time.
☛ 1 Day Suzhou City Highlights Tour
☛ 1 Day Suzhou Zhouzhuang Tour
☛ 2 Days Best Suzhou & Tongli Water Village Tour
If you want to explore more about Jiangsu Province, you can travel to Nanjing - the old capital city of 6 ancient dynasties, Wuxi - a beautiful lakeshore city, Yangzhou - old culture center of southern China, etc. Check more about Jiangsu Tours>
☛ 5 Days Jiangsu Tour (Suzhou, Wuxi & Nanjing)
In fact, most people travel Suzhou with Shanghai - the best gateway city to Suzhou, and Hangzhou which has long been on a par with Suzhou since ancient times. Generally, it needs 2~3 days enjoying Shanghai's highlights and another 2~3 days appreciating the poetic beauty. Check more about Shanghai Suzhou Hangzhou Tours>
☛ 3 Days Hangzhou & Suzhou Beauty Tour by High Speed Train
☛ 4 Days Shanghai Suzhou Excellent Tour
☛ 5 Days Shanghai Hangzhou Suzhou Highlights Tour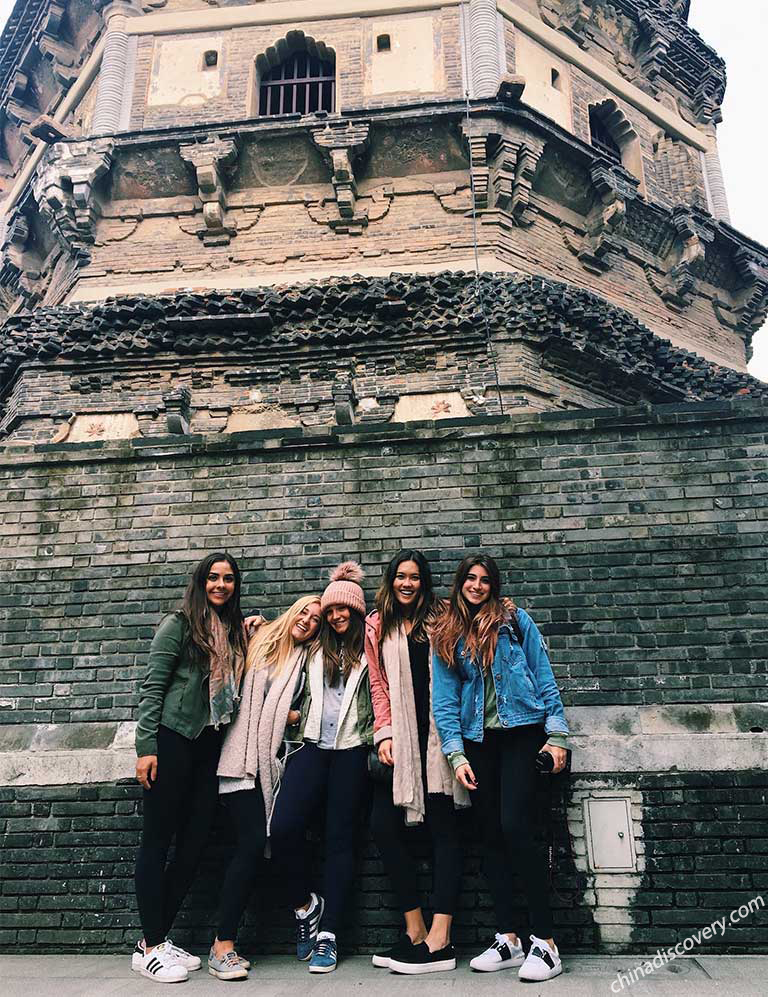 Our Customers visited Tiger Hill, Suzhou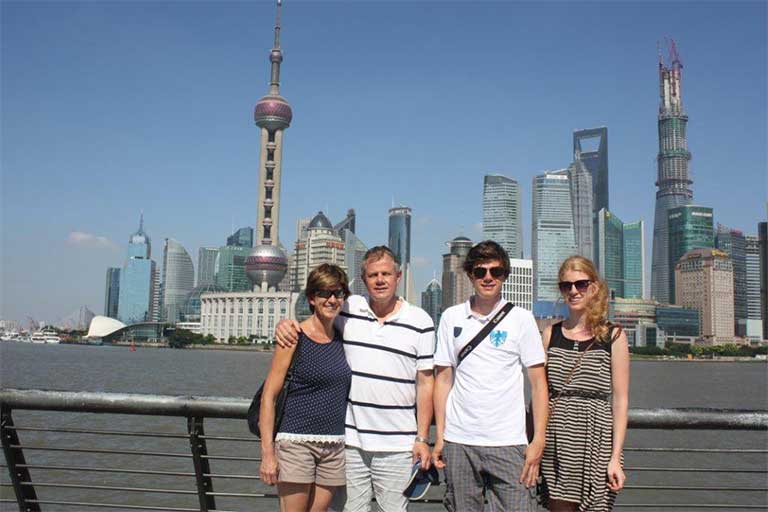 Our Customers visited the Bund, Shanghai
Get Inspired by Real Travel Stories of Our Customers
Since 2012, we have helped numerous customers visit Suzhou and surroundings. With our fully-inclusive private tour packages, all of our customers enjoyed their trips to the exquisite gardens, peaceful watertowns, informative silk factory or museum, old Suzhou streets, etc. Some of them kindly shared their precious photos and stories about their Suzhou journey, just get inspired now.
"We were lucky for being able to watch Chinese dancers at the Lingering Garden at the time of visit…" - shared by Nguyen (Check her The Pursuit of Natural Beauty with the Beloved one - 14 Days Beautiful China Exploring Tour>)
"Suzhou was the real treat at the end of the trip! Everything about Suzhou was perfect…" - shared by Elizabeth from Britain (Check her Long-lasting Memory brought by First Trip to China - 16 Days well-Organized and Wonderful First Visit to China>
Besides the wonderful travel stories, many customers who visited Suzhou with China Discovery also send us their first-hand feedbacks about their trip, feel free to read the Suzhou Reviews and learn what they say about their experience. If you want to start your Suzhou tour now, don't hesitate to contact us.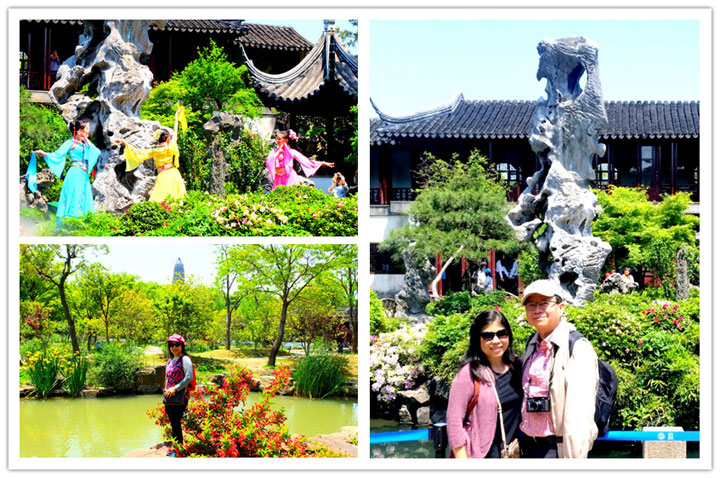 Our Customers Mrs. Nguyen and her husband from Canada visited Suzhou, customized by Wonder Wang
Recommended Suzhou Tours
Top 3 Suzhou tours chosen by most customers to explore Suzhou in the best way. Check the detailed itinerary, or tailor your own trip now with us.
2 Days Relaxing Suzhou Vacation with Tongli Water Town

Suzhou / Tongli Water Town
5 Days Essence of Shanghai Suzhou Tour with Zhouzhuang Water Town

Shanghai / Suzhou / Zhouzhuang / Shanghai
Start planning your tailor-made holiday to China by contacting one of our specialists. Once inquired, you'll get a response within 0.5~23.5 hours.
Customize a Trip
Have a question? Get answers from our travel experts or guests
Your Question:

Your Name:

Your Email: