Mongolian Yurt Experience in Inner Mongolia: Tent Accommodation 2023
Inner Mongolia's beautiful grasslands, amazing deserts, stunning wetlands, wonderful forests, picturesque lakes and more allow everyone to have fun there. And staying overnight in a Mongolian Yurt, or called Mongolian Tent or Mongolian Ger, the unique portable dwelling of the Mongolian, will add more joy to your vacation: a taste of nomadic life and culture and a chance to enjoy the serenity that comes with being totally surrounded by nature. So, where to try Mongolian yurt accommodation in Inner Mongolia? What amenities the yurts have? How much is it per night to stay? This Mongolian Yurts Guide tells you the details, which will certainly be helpful a lot for your Inner Mongolia Tour 2023!
What Does A Mongolian Yurt Look Like? – Exterior Structures
Mongolian yurts, or called tents or gers, are the primary style of home in Inner Mongolia region for thousands of years. Yurts are usually in cylinder-shaped tent-like looking structures, each of which has a round wall of about 2 meters high, 3~15 meters wide and a domed roof topping on the wall of about another 1~2 meters high. And each of the yurts can house between 2 and 15 people. For those traditional yurts, its walls are made of a lattice of wooden frames and covered with layers of felt, which make the yurts can be easily assembled, moved and reassembled. This great feature of Mongolian yurts implies the unique nomadic lifestyle of people of this grassland region, who constantly move their homes from one place to another in search of better pasture for their livestock.
Currently, most of the yurts in the tourist areas have no wooden walls anymore but concrete walls that can better insulate against the strong wind from any direction. However, both on the exterior surface of the traditional yurts and the modern ones are beautiful Mongolian-styled designs.
What Does A Mongolian Yurt Look Like? - Interior Amenities
The doors of the yurts usually faces south or southeast to avoid the harsh north-easterly winds blowing from the Siberian steppes. Entering the yurts from the doors is the spacious living area without any other walls or something else to separate it into parts. Yurts of traditional styles have a stove in the middle of the space to cook and keep warm, with a long and round chimney by the side points to the sky. The relatively modern ones have no stove nor chimney, because there is no need any more. Air-condition and other electric items make everything easier and more convenient. Beds are usually placed on the western side or in the middle area next to the wall. However, not every yurt follows this rule.
There are yurt with single beds and double beds for you to choose. Some tribes or camps even provide yurts with three beds and more. Besides the beds, there are also chairs, wardrobe and TV sets in the room. Most of the yurts you will find in the scenic area also have private bathroom with hot water and your personal closestool.
How is the Yurt Accommodation? - Quality & Price
For visitors, the modern yurts are more popular than the traditional yurts, because the traditional ones have no air-condition and private bathroom. However, though the modern yurts are far more comfortable and better than those traditional ones, they are still not that luxury as you may imagine. In Inner Mongolia Autonomous Region, even the luxury yurts only meet the standards of 3-star hotels, with several of 4-star hotels. Those in the grasslands are better than in the desert.
Some visitors who ask little about the living condition may also choose to accommodate in the traditional yurts, and then they can taste the local nomadic lifestyle up close.
The prices of the yurts vary from city to city, tribe to tribe and also type to type. Normally, the yurts in Hulunbuir charge more money than the rest, but their qualities are also the best. Those in Xilingol ask less money. Besides, the prices in the peak season in July and August are much higher than in the normal time. If the normal price caries from CNY 150 to CNY 1000, the price in peak season maybe from CNY 300 to CNY 2000.
Note: You are not really suggested to stay in the yurts in winter and in early spring, because the water may be frozen and you may get problems about shower and there will be frigid wind during then. Summer and autumn are good seasons to stay in Mongolian yurts, which are also the best time to visit the grassland and desert.
5 Best Places to Try Mongolian Yurt Accommodation
It is no exaggeration to say where there is a desert, grassland or wetland in Inner Mongolia, there are yurt tribes or yurt camps. Therefore, almost every city you visit in Inner Mongolia Autonomous Region, you can find yurts tribes or camps, such as Hohhot, Hulunbuir, Ulanqab, Xilingol, Ordos, Ejina, etc. Each city has far more than merely one camp, and each of the camps consists of 20 or even 400 or more yurts. Those in the grassland in Hulunbuir, Ulanqab and Baotao are of the best.
Which to Choose?
Hulunbuir, especially Heishantou in Hulunbuir, is always the best pick to enjoy the Mongolian Yurt Accommodation. The city offers the largest number and variety of yurts. And most of the yurts there are beyond the standard of others. The grassland and wetland are also of the best of Inner Mongolia, which also guarantee you an amazing vacation beyond the unique yurt stay. For the travels to the rest areas of Inner Mongolia, including the desert, grassland, populus euphratica forest and so forth, you are suggested to choose the yurt camps close to the attraction sites you are heading to.
Top 1: Heishantou, Hulunbuir City
Heishantou is a town in Ergun City of Hulunbuir City in Inner Mongolia. It is located at the intersection of where the grassland meets the wetlands. Tribes there are usually the best and hottest choices for Hulunbuir tourists, because of the great location sitting between Hailar and Shiwei, and Manzhouli and Ergun, and also because of the great quality of the yurts. Besides, Heishantou has the most professional Horse Ranch for visitor to try horse galloping in this vast Hulunbuir Grassland. At and around the town there are many Mongolian yurt camps, including Hongjila Tribe - the tribe with the largest groups of the most luxurious yurts of the entire Inner Mongolia, Turgus Tribe (Tonggusi Tribe), Golden Tribe, etc., while Hongjila and Tonggusi are the most popular chosen.
Hongjila Tribe (弘吉剌部蒙古大营)
Location: Near Provincial Road 301, Birch Grove Village, Heishantou Town, Erguna, Hulunbuir, Inner Mongolia, China (呼伦贝尔市额尔古纳市黑山头镇桦树林村)

Available Yurt Types: Single-bed Yurts, Double-bed Yurts, Family Yurts, Sky-view Yurts, etc.

Yurt Size (sq.m.): 17-78.5
Covering a large area of 66,000 square meters, Hongjila Tribe is a popular tourist resort that claims to be the No.1 Mongolian Yurt Tribe in Hulunbuir City. It has over 100 yurts, including about 62 standard yurts, 29 normal yurts, 2 luxury yurts, etc. There is also a large Multi-Function Hall of about 360 square meters, which allows over 300 tourists to enjoy dinning there. This tribe also provides dozens of activities like horse riding, whistling, bonfire party, etc.
Turgus Tribe (通古斯蒙古部落营地)
Location: close to the Heishantou Port, Heishantou Town, Erguna, Hulunbuir, Inner Mongolia, China (呼伦贝尔黑山头口岸)

Available Yurt Types: Single-bed Yurts, Double-bed Yurts, Tripe Yurts, etc.

Turgus Tribe is not very far from the China Mongolia border. It is also a large and popular choice for yurt accommodation. The tribe offers about 160 standard yurts, 20 single-bed yurts, 20 triple yurts, over 200 traditional wooden yurts and 25 dinning yurts. The largest dinning yurt allows about 400 tourists to enjoy dinning together. The tribe also provides diverse of activities, like grassland volleyball, football, badminton, Mongolian song and dance performance, etc.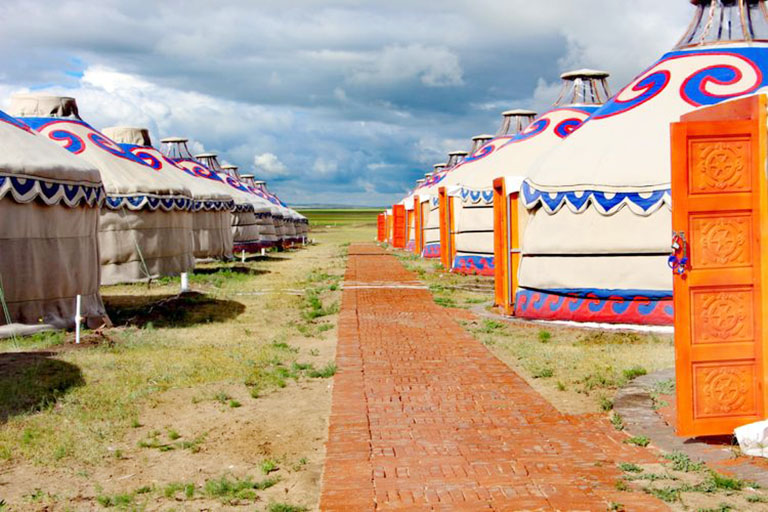 Turgus Tribe
Top 2: Huitengxile Grassland, Ulanqab City
Location: Chahar Right Middle Banner, Wulanchabu City, Inner Mongolia Autonomous Region (内蒙古自治区乌兰察布市察哈尔右翼中旗)

Available Yurt Types: Single-bed Yurts, Double-bed Yurts, Sky-view Yurts, Business Yurts, Yurt Suites, etc.

Yurt Size (sq.m.): 24-40
When it comes to Huitengxile Grassland, it normally refers to the Yellow Flower Valley, the highlight of this grassland area. Both the north scenic area and the south scenic area of the valley have Mongolian yurt camps, while the camp in the south area are more popular, because there has more yurts of different types and levels to choose. The camp is located in the Wokuotai Scenic Area and has nearly 400 yurts and yurt suites. All guarantee you a comfortable (though not luxury) living experience. In addition to the bed and TV, most of the yurts have air-condition and private bathroom and some of the yurts are even equipped with underfloor heating. Not very far from the camp is a Wooden Hotel Cluster, which is a good alternative option if you failed to book a yurt to stay.
Top 3: The Mongol Khan City, Xilingol League
Location: West Ujumqin Banner, Xilingol City, Inner Mongolia, China (锡林郭勒市西乌珠穆沁旗)

Available Yurt Types: Traditional Yurts, Family Yurts, Single-bed Yurts, Double-bed Yurts, Yurt Hotels, Yurt Suite, etc.
The grassland in Xilingol is far more primitive than the prairie in Hulunbuir, so do the yurts. In Xilingol, you can find more traditional yurts without private bathroom and requiring four people or more to share one room than modern yurts with comfortable amenities. If you are looking for modern yurt accommodation in Xilingol, we would suggest The Mongol Khan City in the West Ujumqin Banner. The Mongol Khan City has about 150 yurts, including about 30 traditional yurts and 120 modern yurts. There is even a Yurt Suite with four yurt rooms and a big sitting-room, which may be a good choice for groups with 6-8 people. The price of the yurts here vary from CNY 240 to CNY 3800.
Top 4: Xilamuren Grassland, Baotou City
Location: Daerhammao Ming Union Banner, Baotou City, Inner Mongolia Autonomous Region (内蒙古自治区包头市达尔罕茂明安联合旗)

Available Yurt Types: Single-bed Yurts, Double-bed Yurts, Business Yurts, etc.
There are many yurt camps scattered around the Xilamuren Grassland, and the most popular camps are the one next to the Xilamuren Town and another next to the Swan Lake. Those camps enjoys great reputations for the diverse interesting activities, especially the welcome ceremony and the Zhama Banquet, a unique Mongolian-style dinning allowing visitors to dress themselves up as Mongolians while trying the Mongolian dishes and enjoy the Mongolian performances. Those yurts also have private bathroom, TV set, power sockets, 24-h hot water. However, compared with those activities, the yurt accommodation in Xilamuren Grassland don't get that much praise and popularity. Visitors who want to enjoy the sun rise view over the grassland of next morning stay overnight in the yurt, while others caring much about the living condition prefer to drive back to Hohhot for night stay.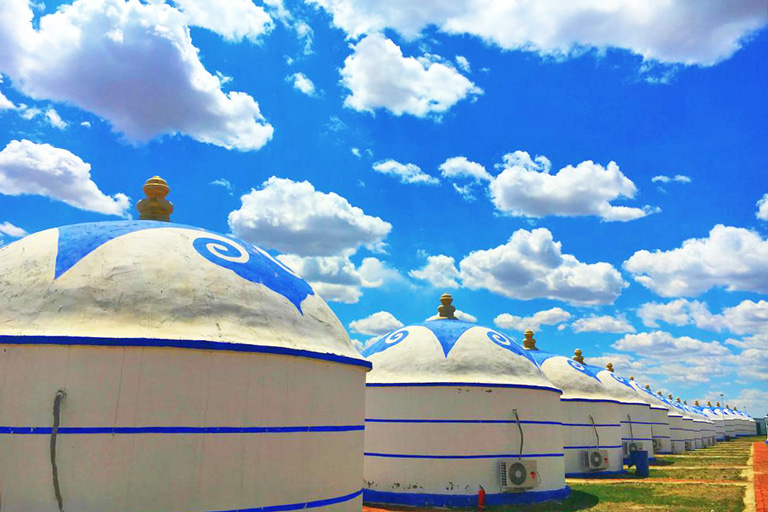 Mongolian Yurts in Xilamuren Grassland
Top 5: Badain Jaran Desert, Ordos City
Location: Alxa Right Banner, Alxa League, Inner Mongolia Autonomous Region, China 内蒙古自治区阿拉善盟阿拉善右旗

Available Yurt Types: Multiple-bedded Yurt
Badain Jaran Desert in Alxa League of Inner Mongolia, the Most Beautiful Desert in China with Colorful Lakes Inlaid, also offers Mongolian yurt accommodations, mostly are settled by the lakes, like Badain Jaran Lake (Temple Lake), Nuoertu Lake, etc. The living condition there is very limited. There is no private bathroom in the yurt. About four people share one yurt, which means you may share it with strangers. Hotels are more recommended if you prefer a better living experience. However, if you want a unique stay in a yurt in the Badain Jaran Desert or want budget options to save money, those Mongolian yurts are also good choice.
How to Plan Your Inner Mongolia Tour?
Places to Visit in Inner Mongolia: Hohhot, Hulunbuir, Ordos, Baotou, Ulanqab, Badan Jaran, Ejina, Xilingol, Chifeng…
How to Get to Inner Mongolia: International and domestic flights to Hohhot, Hulunbuir…; Domestic flights to Xilingol, Chifeng…;High Speed Train to Hohhot, Ulanqab, Baotou, Ordos, Chifeng…; Drive to Badan Jaran, Ejina…
Best Time to Visit: April to October (especially from June to September for grasslands, June to October for deserts)
Inner Mongolia is so large and abundant with diverse distinct natural and cultural highlights, therefore, you can hardly discover all the bests in one single visit. It would take 3 days to more than 1 month for various needs. And your itinerary can be decided based on your trip length, interests and a major area of this vast destination.
Classic Inner Mongolia Tours - Middle Part (Hohhot, Baotou, Ordos...)
A classic Inner Mongolia tour usually starts from Hohhot, the capital of Inner Mongolia and most convenient traffic hub. Planning 3 days is popular for an essential discovery of Hohhot city highlights with surrounding grassland like Huitengxile or Xilamuren. 1-2 days extension to Kubuqi Desert in Ordos is also frequently chosen. And a 5-6 days trip including Hohhot, nearby grassland, Ulanqab volcanoes, Baotou and Ordos are the favorite one among travelers to discover grassland, desert, historical culture of Genghis Khan, Tibetan Buddhism, etc. in Inner Mongolia.
☛ 5 Days Classic Inner Mongolia Tour
☛ 6 Days Inner Mongolia Bests Discovery Tour (Hohhot / Ulanqab / Huitengxile Grassland / Baotou / Kubuqi Desert / Ordos)
Authentic Grassland, Wetland & Forest Park - East Part (Hulunbuir, Arxan...)
If you are interested in the most beautiful grassland, arrange 4-5 days to Hulunbuir to catch Hulunbuir Grassland and all the fabulous primitive nature and in-depth nomadic tribe culture highlights in Hailar, Ergun, Genhe and Manzhouli. If you have more time, add 2 more days to Arxan National Forest Park.
A middle and east Inner Mongolia discovery to Hohhot, Baotou, Ordos and Hulunbuir usually takes about 6-8 days, which helps you savor the top representative prairie sightseeing and culture of Inner Mongolia.
☛ 5 Days Best Hulunbuir Tour with Grassland Exploration
☛ 9 Days Hulunbuir In-depth Tour with Arxan UNESCO Global Geopark
Wild Desert & Golden Populus Forest - West Part (Badain Jaran, Ejina...)
The west Inner Mongolia is favored for seeking wilder sightseeing and adventure. If you want to discover China's most beautiful desert, a 2-4 days Badain Jaran Desert trip to the west Inner Mongolia is your best choice to go! Besides, the splendid Ejina Populus Euphratica Forest is quite hot for a 2-3 days' photography tour in autumn. If you want a longer vacation, plan as many other visitors to discover Badain Jaran together with nearby hot and convenient destinations like Xining, Zhangye, Dunhuang, Jiayuguan, etc. It usually needs 7 days for a Xining Zhangye Badain Jaran Desert trip.
☛ 5 Days Zhangye Danxia Badain Jaran Desert Geography Miracle Tour
☛ 7 Days Qinghai Lake Zhangye Danxia Badain Jaran Desert Wonders Tour
☛ 4 Days Ejina Populus Euphratica Forest Photography Tour
If you are seeking more authentic sightseeing and deeper Inner Mongolia culture and history highlights, it is also popular to discover Chifeng and Xilingol for 4-5 days.
Besides, it is also a great idea to extend to more popular destinations in China to appreciate more wonderful nature, culture, history and food of this vast country, such as Beijing, Shanghai, Xian, Chengdu, Xinjiang, Gansu, Tibet, Yangtze River, Yunnan, Guilin, Zhangjiajie, Huangshan, etc.
Huitengxile Grassland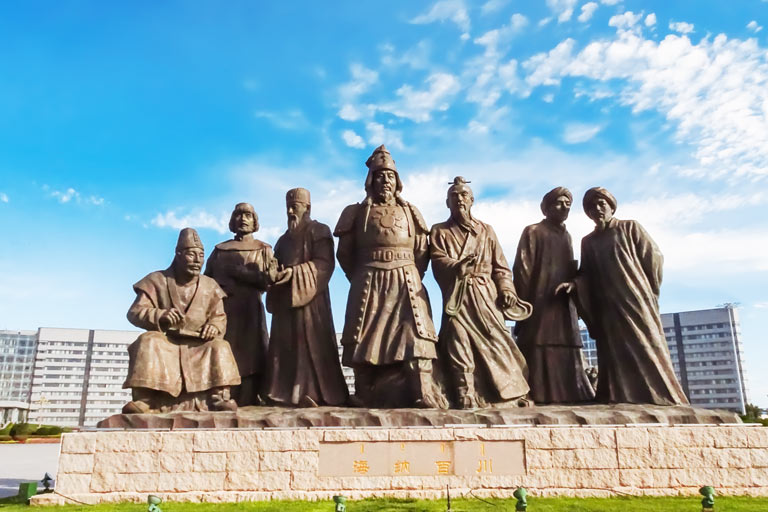 Genghis Khan Statue in Ordos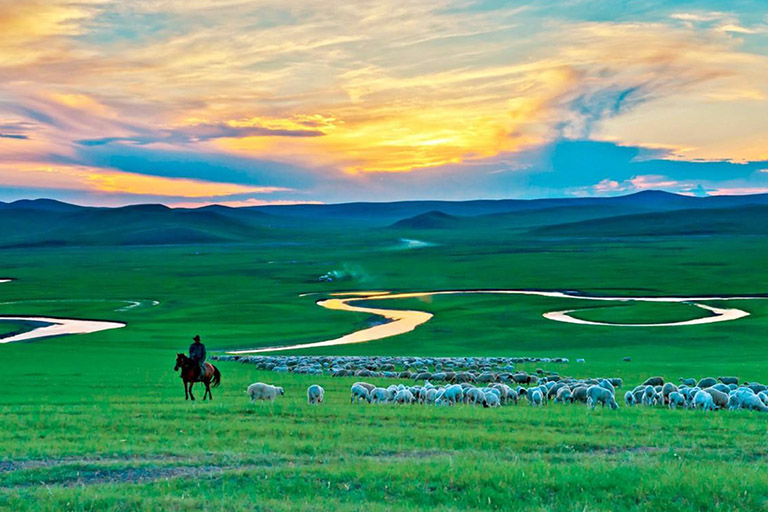 Hulunbuir Grassland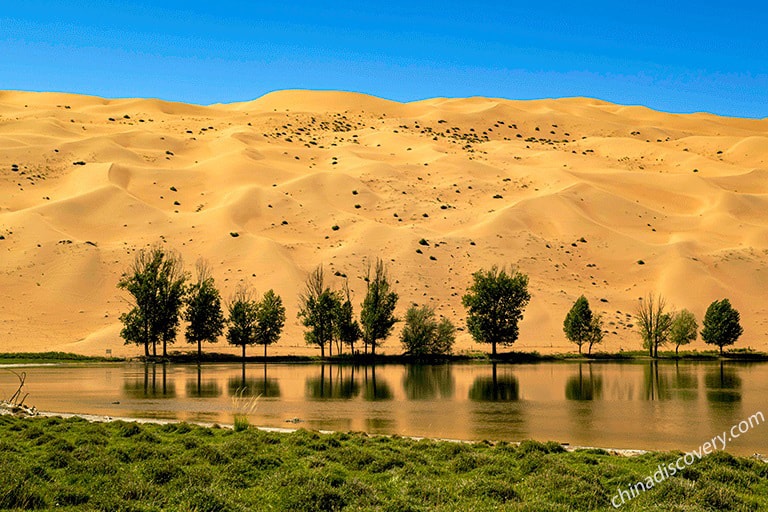 Badain Jaran Desert
Travel Inner Mongolia with China Discovery
Have your own ideas of where and what to discover in Inner Mongolia? We China Discovery offers many popular and valuable private Inner Mongolia tour packages taking you to enjoy wonderful exploration of the best highlights of Hohhot, Hulunbuir, Ordos, Baotou, Ulanqab, Badain Jaran, Ejina, Chifeng, Xilingol, etc. And our professional travel team with experienced travel expert, local English-speaking travel guide and driver and non-smoking comfortable licensed private vehicle will help you throughout the trip from the planning, navigation, hotel arrangement and scenic spot visiting. So you will have the much better travel experience in the large and beautiful Inner Mongolia. You can check our tour packages to get some inspiration. All tours can be tailor-made according to your group size, time, physical condition, plan, interests, budget and any other special need! Please feel free to contact us to customize your own Inner Mongolia trip or if you need any help!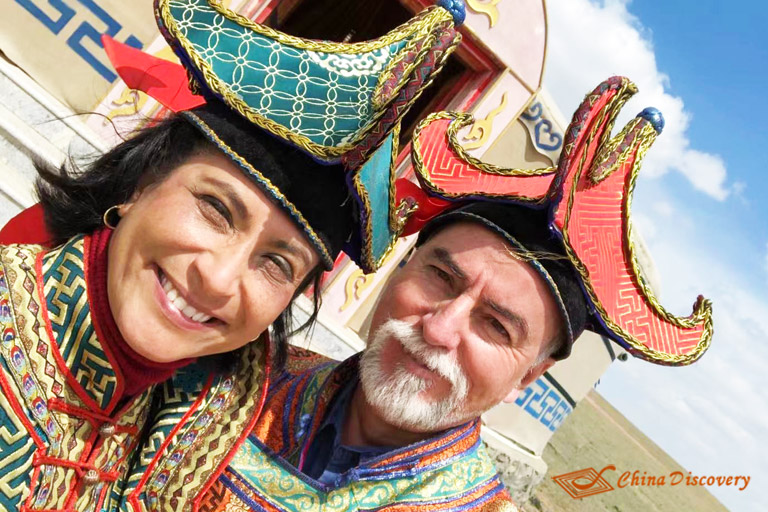 Our Customers Enjoying Their Trip to Inner Mongolia Grassland in April, 2021
More about Inner Mongolia Travel Guide
Inner Mongolia Cities' Travel Guides & Tours
Hottest Attractions in Inner Mongolia
Recommended Inner Mongolia Tours
Top 3 Inner Mongolia tours chosen by most customers to explore Inner Mongolia in the best way. Check the detailed itinerary, or tailor your own trip now with us.
5 Days Classic Inner Mongolia Tour

Hohhot / Huitengxile Grassland / Yemingsha of Kubuqi Desert / Hohhot
6 Days Inner Mongolia Bests Discovery Tour

Hohhot / Ulanqab / Huitengxile Grassland / Hohhot / Baotou / Yemingsha of Kubuqi Desert / Ordos
5 Days Best Hulunbuir Tour with Grassland Exploration

Hulunbuir / Erguna / Manzhouli / Hulunbuir
Start planning your tailor-made holiday to China by contacting one of our specialists. Once inquired, you'll get a response within 0.5~23.5 hours.
Customize a Trip
Have a question? Get answers from our travel experts or guests
Your Question:

Your Name:

Your Email: