Inner Mongolia Horse Riding: How to Ride a Horse in Inner Mongolia 2023
Riding on a horse is one of the must things to do when traveling to the grasslands around Inner Mongolia for most travelers, which is joyous, wonderful, memorable and cool and of course the ideal way to get close to the nomadic life and culture of Genghis Khan on the steppe in northern China! So how to ride a horse in Inner Mongolia, where to ride / rent a horse in Hulunbuir, Hohhot surrounding, etc., what kinds of riding and routes there are, what are the detailed horse riding prices, what important tips and safety rules you should know...? Get all the answers at below to plan your Inner Mongolia trip in 2023/2024!
Top Places for Inner Mongolia Horse Riding
People can ride a horse on the grassland in Inner Mongolia easily, but not every grassland is suitable for travelers, especially horse riding first-timers, to enjoy the special experience with professional guidance and safety protection. Here are the top places recommended for you to try the new experience on a horseback, including Hulunbuir Grassland, Huitengxile Grassland, Xilamuren Grassland, Wulan Butong Grassland, etc.
1. Heishantou at Hulunbuir Grassland (Hulunbuir)
The beautiful and luxuriant Hulunbuir Grassland is quite wonderful to enjoy a horse riding fun, and Heishantou area is the best choice for visitors. You can gallop on the horse to walk or trotter on the vast prairie to admire the surrounding emerald sightseeing and feel the really freedom and unrestrained feeling. Full facilities and multiple horse choice are available. Plus, horse riding helmets, vests, and other relative clothing and outfit are prepared here for your enjoyment at Heishantou.
Besides Heishantou, Shiwei Russian Town is also available for horse riding, for the countryside view with grassland beauty. But those provided by local herdsmen or private operated around Hulunbuir are not suggested for international travelers.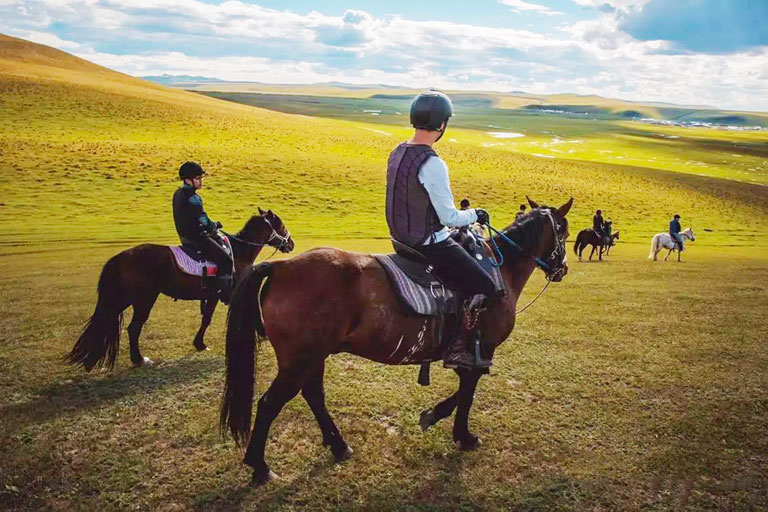 Horse Riding at Heishantou, Hulunbuir Grassland
2. Huitengxile Grassland (Ulanqab) & Xilamuren Grassland (Baotou)
Huitengxile Grassland and Xilamuren Grassland are two top grasslands to go near Hohhot, which are usually arranged in a classic Inner Mongolia discovery from Hohhot. And both grassland scenic areas offer horse riding experience, however, the standard cannot match that in Hulunbuir but is still a fresh try if you are interested in that.
Riding on a Mongol horse and let it take you wander around the flowery grassland, passing by those Mongolian yurts, Aobao hills, and so forth to have a great steppe nature and culture savory. Of course, helmets, saddles, etc. are offered for your safety!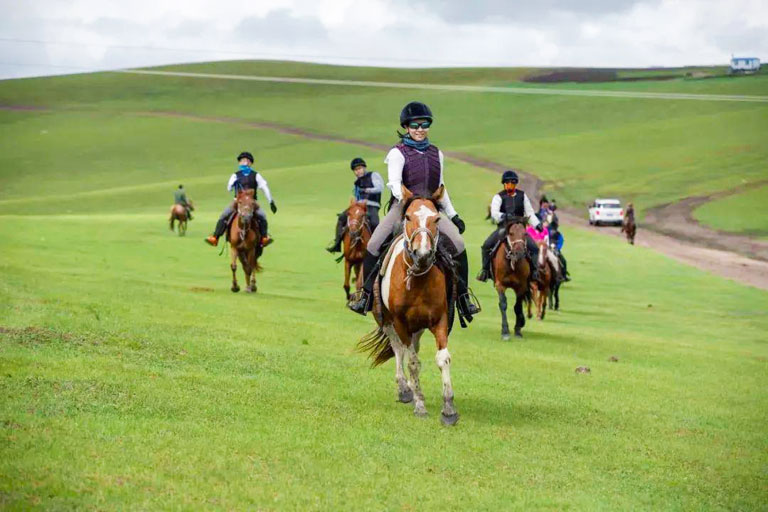 Horse Riding at Huitengxile Grassland
3. Wulan Butong Grassland (Chifeng)
Wulan Butong Grassland as a part of the well-known Bashang Grassland is another favored prairie among travelers for sightseeing, photography, entertaining, etc. While, Red Hill Military Horse Ranch at Wulan Butong is the most outstanding place for horse riding fun.
Lots of energetic horses are raised in the ranches, and you can choose based on your feeling and tacit understanding with some lovely horses. You can have a simple walk or cantering with it in the large ranch. And also, you two can enjoy a distance trek in the picturesque Wulan Butong grassland, forests, lake side and hills under the guidance and company of the professional hostler. Helmets, saddles, etc. are provided in the ranches of Wulan Butong Grassland!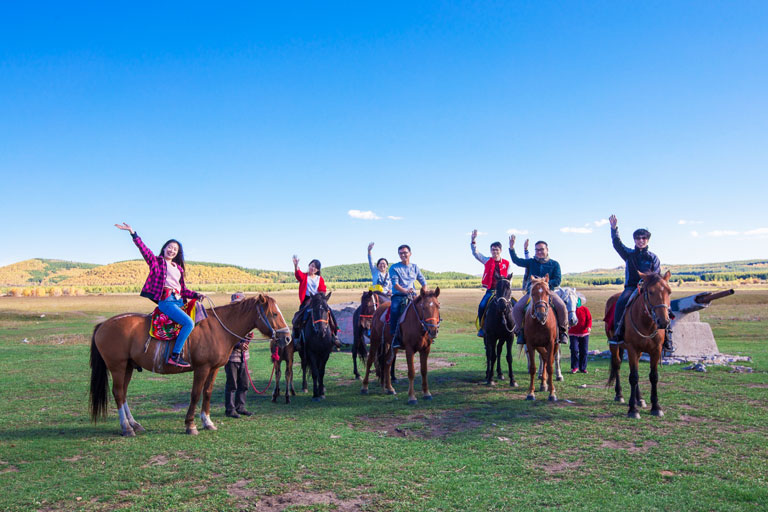 Horse Riding at Wulan Butong Grassland
Besides the above grassland scenic areas, tourist areas of some other top grasslands are also available for you to enjoy the cool horse riding, such as West Ujimqin Grassland, Bayanhushuo Grassland, Huhenuoer Grassland, etc.
Check top grasslands in Inner Mongolia
Inner Mongolia Types of Horse Riding
In Inner Mongolia, there are different kinds of horse riding experience. Choose the most suitable type based on your interest and physical condition.
• Circle around Horse Ranch
The simple one is to ride on a horseback and walk or totter around the medium or big horse ranch by circle with your friend horse. But the highlights of the route would be varied based on different grassland. Usually, in the large Huitengxile, there are several stops for you to get down from the horse and visit the sites or local Mongolian family's home. And there is a hostler riding another horse with you to control the speed of the horse and protect your safety. However, in those smaller ranches, it may mean only go by circle in bored. You need to figure out the type and detailed arrangement of the riding experience from your guide or the staff at the ranch / course. Such kind of basic riding experience needs no experience.
Suitable: almost all ages without any experience, beginners, etc.
Budget: 50-500 CNY/person for each circle (usually 20-60 minutes) based on detailed types and grasslands.
Outfit: maybe only helmet in some places.
Places: Hulunbuir, Huitengxile (Ulanqab), Xilamuren (Baotou), Wulan Butong (Chifeng), West Ujimuqin (Xilingol), etc.
☛ 6 Days Inner Mongolia Bests Discovery Tour (Hohhot / Ulanqab / Huitengxile Grassland / Baotou / Kubuqi Desert / Ordos)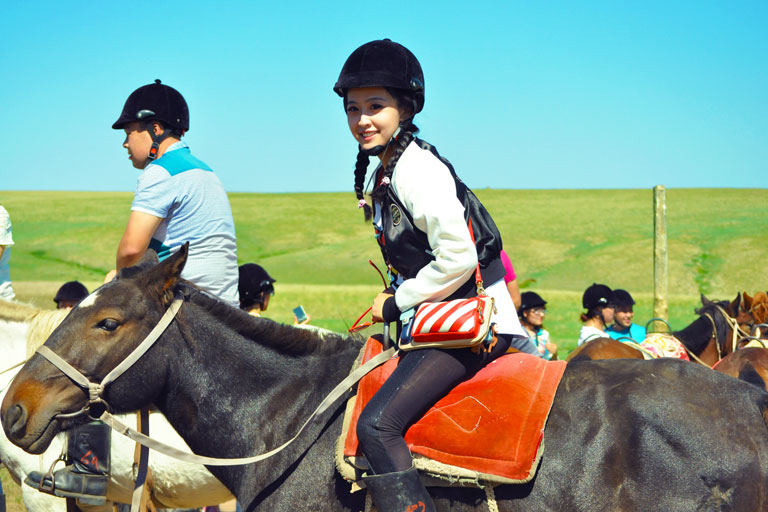 Simple Horse Riding at Xilamuren Grassland
• Distance Trekking on Grassland
Distance racing or riding through the grassland type is a more professional but authentic way favored by a lot of young and middle-aged visitors, since you can really ride a big Mongol horse and roam or canter around the vast prairie freely like in the movie. Usually, a local professional hostler will ride on a horse together with yours and take your group to trek around the grassland, through the pleasant forest, across the narrow river, at the wetland, etc., which is much closer to nature if you love this activity so much. You can decide to go slow or even run based on your experience and skill level. Remember to tell your guide and the hostler.
Suitable: kids usually above 6 years (with a hostler riding the same horse), adults with healthy physical condition, and people want wilder and authentic experience.
Budget: 500+ CNY/person (0.5-1 hour); higher based on the riding time and difficulty.
Outfit: usually riding helmet, riding vest, gloves, etc. Varied at different grasslands.
Places: Heishantou (Hulunbuir), Huitengxile (Ulanqab), Red Hill Military Horse Ranch (Wulan Butong, Chifeng), etc.
☛ 7 Days Joyous Kid-Friendly Hulunbuir Family Tour (Hulunbuir)
☛ 5 Days Best Hulunbuir Tour with Grassland Exploration (Hulunbuir)
Besides, if you want to experience riding on a horseback but dare to go further, you can also ride one and just take one picture to have a simple experience.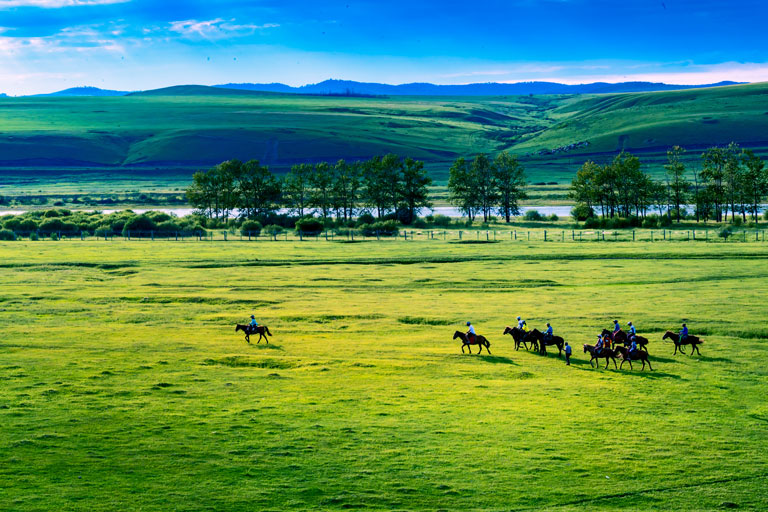 Distance Trekking at Hulunbuir Grassland
Tips & Safety Rules for Inner Mongolia Horse Riding
1. Never stand on the right or back side of the horse in case of being kicked.
2. Check if the girth is snug or not and check it during the long riding. You can tell the hostler to help you.
3. Get on and down the horse always from the left side.
4. Do not get your feet into the horse's groin.
5. The correct riding posture: make the ball of your feet on the stirrup. Sit straight on the saddle when tottering; and do not feel too nervous. Just make your legs comfortable on the horse.
6. Hold the reins in your hand or hands.
7. Wear: trousers, comfortable clothing, comfortable sports shoes or riding boots, riding helmets, sunglasses with strong ties, as light as possible for your bag. Avoid loose clothing which could be flapping in the wind and could frighten the horse.
8. Do not make sudden movements or big sounds when you are riding.
9. Stand on the stirrups as much as possible when cantering or even galloping.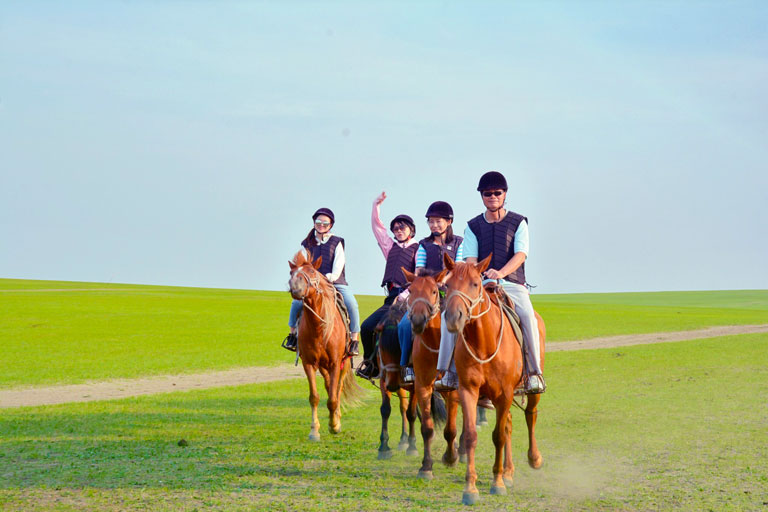 Horse Riding along Ergun River, Hulunbuir
How to Plan Your Inner Mongolia Tour?
Places to Visit in Inner Mongolia: Hohhot, Hulunbuir, Ordos, Baotou, Ulanqab, Badan Jaran, Ejina, Xilingol, Chifeng…
How to Get to Inner Mongolia: International and domestic flights to Hohhot, Hulunbuir…; Domestic flights to Xilingol, Chifeng…;High Speed Train to Hohhot, Ulanqab, Baotou, Ordos, Chifeng…; Drive to Badan Jaran, Ejina…
Best Time to Visit: April to October (especially from June to September for grasslands, June to October for deserts)
Inner Mongolia is so large and abundant with diverse distinct natural and cultural highlights, therefore, you can hardly discover all the bests in one single visit. It would take 3 days to more than 1 month for various needs. And your itinerary can be decided based on your trip length, interests and a major area of this vast destination.
Classic Inner Mongolia Tours - Middle Part (Hohhot, Baotou, Ordos...)
A classic Inner Mongolia tour usually starts from Hohhot, the capital of Inner Mongolia and most convenient traffic hub. Planning 3 days is popular for an essential discovery of Hohhot city highlights with surrounding grassland like Huitengxile or Xilamuren. 1-2 days extension to Kubuqi Desert in Ordos is also frequently chosen. And a 5-6 days trip including Hohhot, nearby grassland, Ulanqab volcanoes, Baotou and Ordos are the favorite one among travelers to discover grassland, desert, historical culture of Genghis Khan, Tibetan Buddhism, etc. in Inner Mongolia.
☛ 5 Days Classic Inner Mongolia Tour
☛ 6 Days Inner Mongolia Bests Discovery Tour (Hohhot / Ulanqab / Huitengxile Grassland / Baotou / Kubuqi Desert / Ordos)
Authentic Grassland, Wetland & Forest Park - East Part (Hulunbuir, Arxan...)
If you are interested in the most beautiful grassland, arrange 4-5 days to Hulunbuir to catch Hulunbuir Grassland and all the fabulous primitive nature and in-depth nomadic tribe culture highlights in Hailar, Ergun, Genhe and Manzhouli. If you have more time, add 2 more days to Arxan National Forest Park.
A middle and east Inner Mongolia discovery to Hohhot, Baotou, Ordos and Hulunbuir usually takes about 6-8 days, which helps you savor the top representative prairie sightseeing and culture of Inner Mongolia.
☛ 5 Days Best Hulunbuir Tour with Grassland Exploration
☛ 9 Days Hulunbuir In-depth Tour with Arxan UNESCO Global Geopark
Wild Desert & Golden Populus Forest - West Part (Badain Jaran, Ejina...)
The west Inner Mongolia is favored for seeking wilder sightseeing and adventure. If you want to discover China's most beautiful desert, a 2-4 days Badain Jaran Desert trip to the west Inner Mongolia is your best choice to go! Besides, the splendid Ejina Populus Euphratica Forest is quite hot for a 2-3 days' photography tour in autumn. If you want a longer vacation, plan as many other visitors to discover Badain Jaran together with nearby hot and convenient destinations like Xining, Zhangye, Dunhuang, Jiayuguan, etc. It usually needs 7 days for a Xining Zhangye Badain Jaran Desert trip.
☛ 5 Days Zhangye Danxia Badain Jaran Desert Geography Miracle Tour
☛ 7 Days Qinghai Lake Zhangye Danxia Badain Jaran Desert Wonders Tour
☛ 4 Days Ejina Populus Euphratica Forest Photography Tour
If you are seeking more authentic sightseeing and deeper Inner Mongolia culture and history highlights, it is also popular to discover Chifeng and Xilingol for 4-5 days.
Besides, it is also a great idea to extend to more popular destinations in China to appreciate more wonderful nature, culture, history and food of this vast country, such as Beijing, Shanghai, Xian, Chengdu, Xinjiang, Gansu, Tibet, Yangtze River, Yunnan, Guilin, Zhangjiajie, Huangshan, etc.
Huitengxile Grassland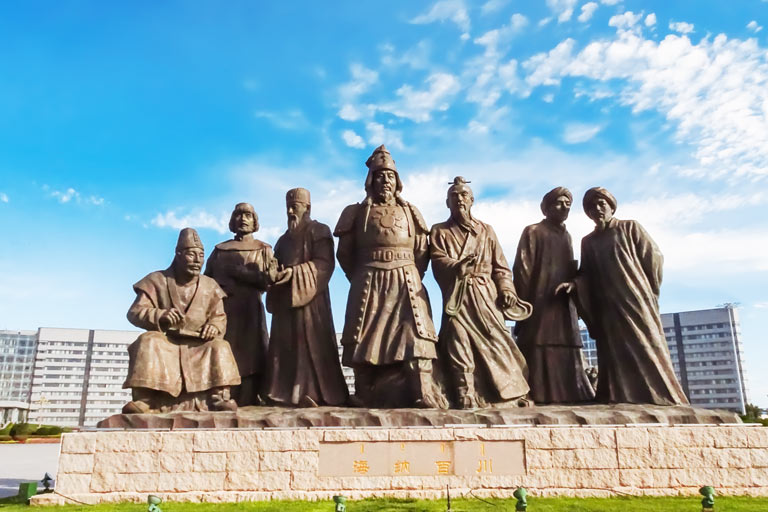 Genghis Khan Statue in Ordos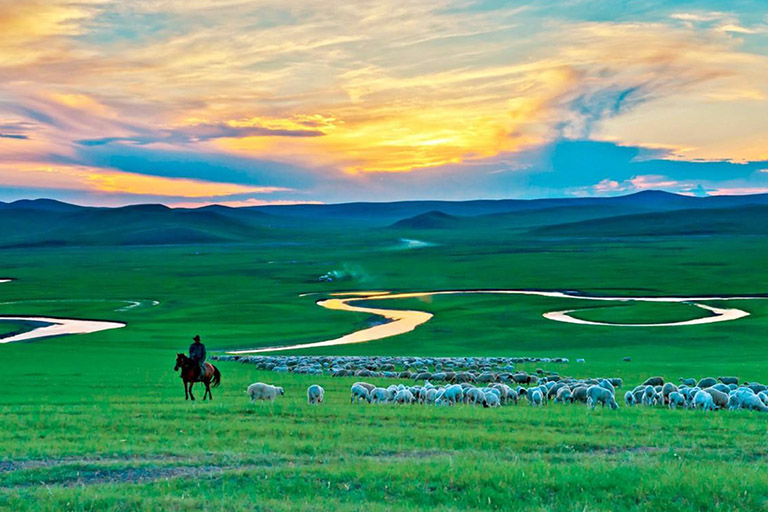 Hulunbuir Grassland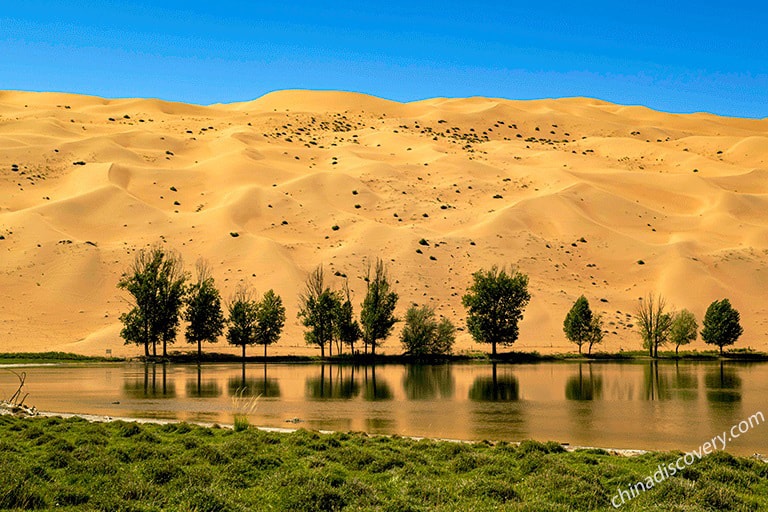 Badain Jaran Desert
Travel Inner Mongolia with China Discovery
Have your own ideas of where and what to discover in Inner Mongolia? We China Discovery offers many popular and valuable private Inner Mongolia tour packages taking you to enjoy wonderful exploration of the best highlights of Hohhot, Hulunbuir, Ordos, Baotou, Ulanqab, Badain Jaran, Ejina, Chifeng, Xilingol, etc. And our professional travel team with experienced travel expert, local English-speaking travel guide and driver and non-smoking comfortable licensed private vehicle will help you throughout the trip from the planning, navigation, hotel arrangement and scenic spot visiting. So you will have the much better travel experience in the large and beautiful Inner Mongolia. You can check our tour packages to get some inspiration. All tours can be tailor-made according to your group size, time, physical condition, plan, interests, budget and any other special need! Please feel free to contact us to customize your own Inner Mongolia trip or if you need any help!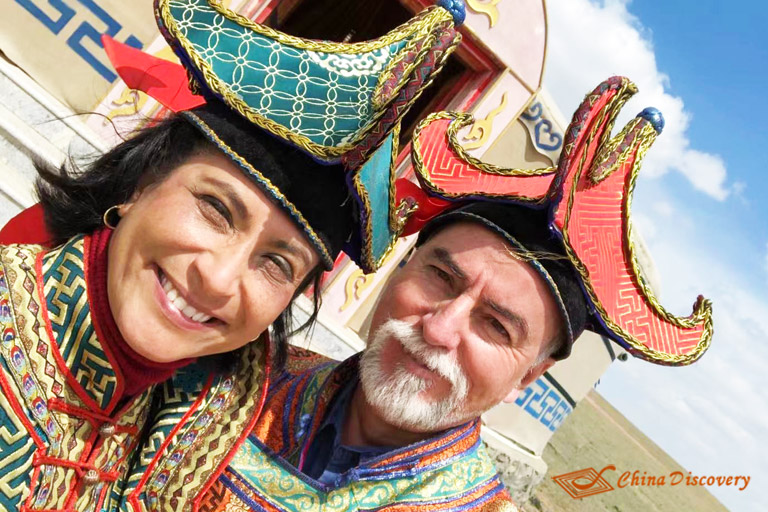 Our Customers Enjoying Their Trip to Inner Mongolia Grassland in April, 2021
More about Inner Mongolia Travel Guide
Inner Mongolia Cities' Travel Guides & Tours
Hottest Attractions in Inner Mongolia
Recommended Inner Mongolia Tours
Top 3 Inner Mongolia tours chosen by most customers to explore Inner Mongolia in the best way. Check the detailed itinerary, or tailor your own trip now with us.
5 Days Classic Inner Mongolia Tour

Hohhot / Huitengxile Grassland / Yemingsha of Kubuqi Desert / Hohhot
6 Days Inner Mongolia Bests Discovery Tour

Hohhot / Ulanqab / Huitengxile Grassland / Hohhot / Baotou / Yemingsha of Kubuqi Desert / Ordos
5 Days Best Hulunbuir Tour with Grassland Exploration

Hulunbuir / Erguna / Manzhouli / Hulunbuir
Start planning your tailor-made holiday to China by contacting one of our specialists. Once inquired, you'll get a response within 0.5~23.5 hours.
Customize a Trip
Have a question? Get answers from our travel experts or guests
Your Question:

Your Name:

Your Email: