• Chinese: 奶茶 Pinyin: nǎi chá
• Type: Drinks, Salty Milk Tea
What do Mongolians value most in their diet? It can't be without tea. If a local family has guests visiting, the hospitable host would first serve fragrant milk tea to show his sincere welcome.
Mongolia Tea, being the Mongolian's special daily drink, it embodies rich milk-tea culture. Different from hand-brewed bubble tea, which is popular among young people nowadays. Mongolians use iron pans to brew salty milk tea. Firstly, pound full dose of tea leaves from the cyan bricktea or black bricktea with a knife and bring them to a boil in a thermal pot. Then fish the tea leaves out with a yarn bag and pour the tea into the bucket. Stir-fry the millet until fragrant, then pour the boiled tea and fresh milk into the pot, add a small amount of salt, repeated stir with the ladle. After the tea and mile full blended, it is ready to serve.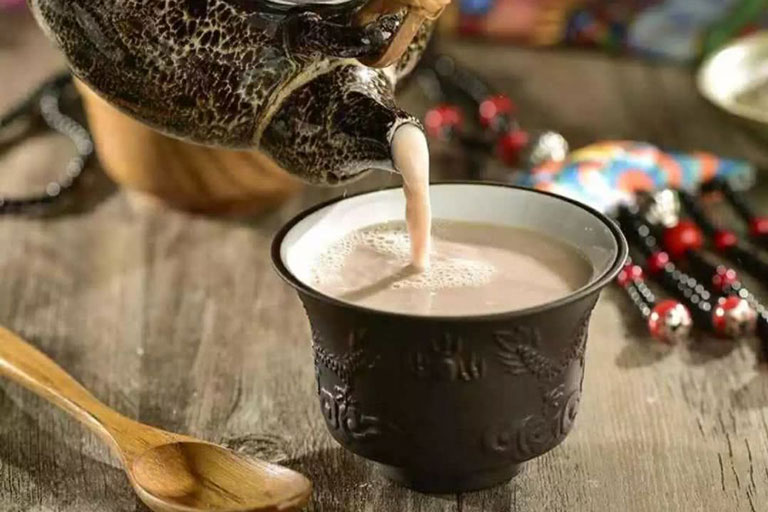 Mongolian Milk Tea ©mafengwo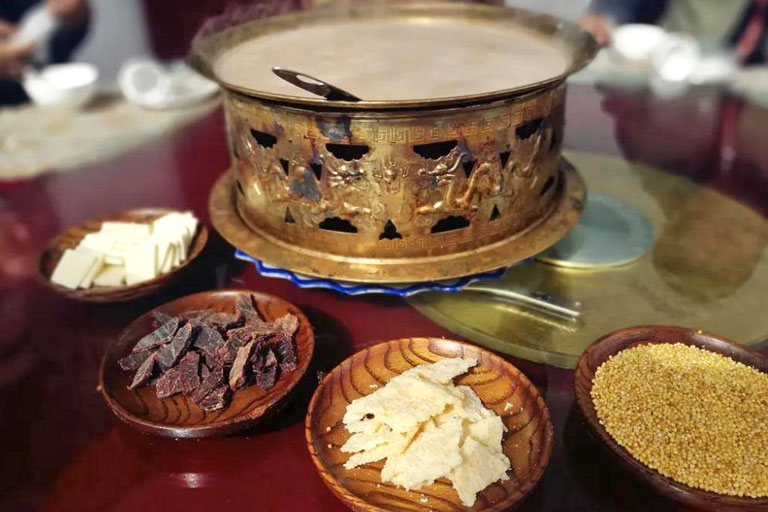 Mongolian Milk Tea with Local Snacks ©new.qq
• 蒙古酒 Pinyin: měng gǔ jiǔ
• Type: Drink; Alcoholic Beverage
Mongolian Wine is one of the main beverages of the Mongolian people. It is extracted from milk, therefore called "The Milk Wine". Mongolian Wine is thick and mellow, colorless and transparent, drinking moderately can keep health and invigorate the blood. Men, women, young and old all can drink it.
The Mongolian Milk Wine has a long history. According to the historical record, Genghis Khan drank the wine on every auspicious day to add to the festive atmosphere since 1206 A.D., the founding of the Empire of Mongolia. More than 700 years later, the original process of producing Mongolian wine has never changed.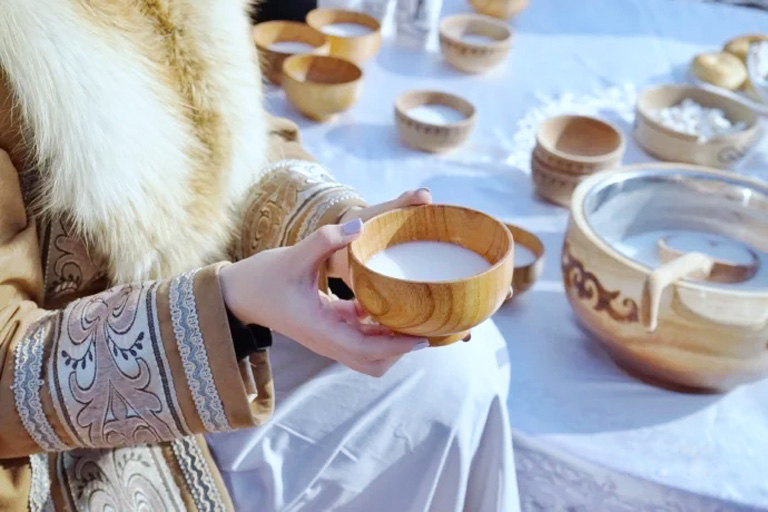 Mongolian Wine Toast ©京迹行天下&疯度 / mafengwo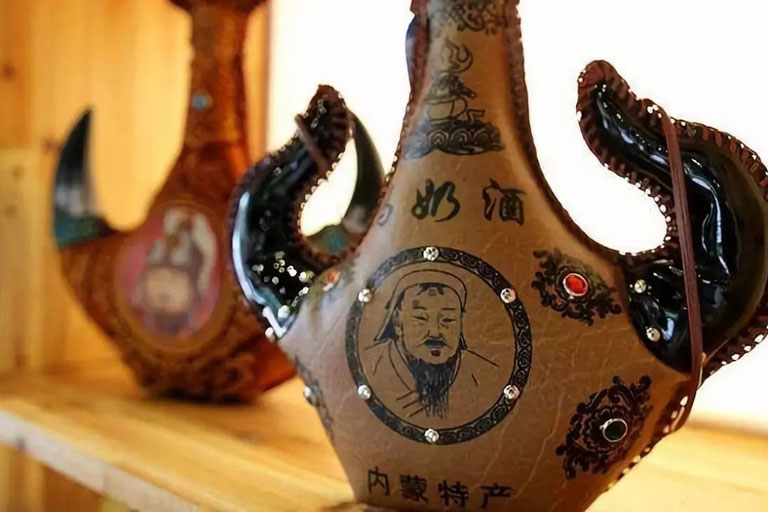 Mongolian Wine ©weibo
Where to eat the famous Inner Mongolia food that mentioned above and where can you buy authentic local snacks? First of all, if you come to Inner Mongolia for the first time, the roast lamb must not be missed. Almost all the famous grasslands in Inner Mongolia have places to enjoy the lamb feast.
If you prefer to try some other local dishes or snacks, the food streets in urban areas of major cities in Inner Mongolia offer you a massive gathering of local cuisines. Among various food streets in Hohhot, Niujie Street and Kuanxiangzi Food Street are the two most popular ones, gathering all kinds of local specialties, halal food, and time-honored restaurants and food stores. Besides, if you are planning to visit Hulunbuir and Manzhouli, don't miss the Manzhouli China-Mongolia-Russia Food Street and Hulunbuir Ancient City Pedestrian.
Hohhot Niu Jie 呼和浩特牛街
▶ Location: Xinhua West Street, Huimin District, Hohhot City 呼和浩特市回民区新华西街
Hohhot Kuanxiangzi Food Street 呼和浩特宽巷子美食街
▶ Location: Location: Kuanxiangzi, Huimin District, Hohhot City 呼和浩特市回民区宽巷子
Hulunbuir Ancient City Pedestrian 呼伦贝尔古城步行街
▶ Location: Zhengyang Street, Hailar District, Hulunbuir City 呼伦贝尔市海拉尔区正阳街
Manzhouli China-Mongolia-Russia Food Street 满洲里中俄蒙美食街
▶ Location: No.6 Huabu Street, Manzhouli City, Hulunbuir City 呼伦贝尔市满洲里市华埠大街6号
Baotou Hengshu Street 包头横竖街
▶ Location: Hengshu Street, Jiuyuan District, Baotou City 包头市九原区横竖街
Chifeng Quanning Street 赤峰全宁街
▶ Location: Quanning Street, Songshan District, Chifeng City 赤峰市松山区全宁街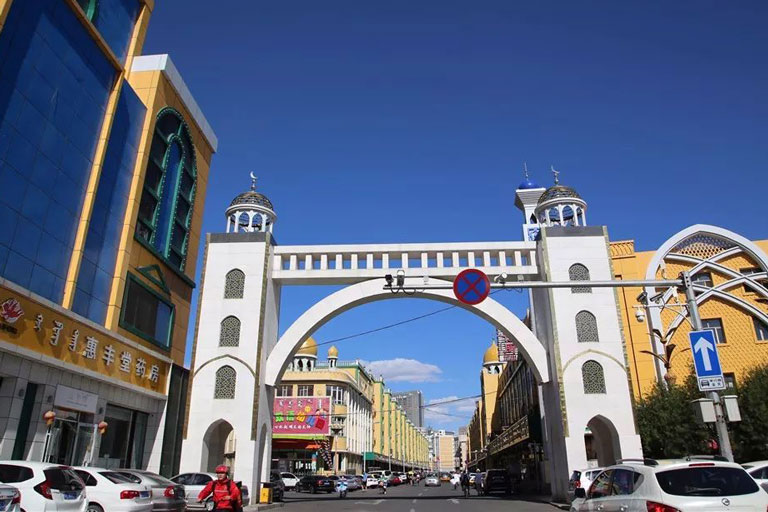 Hohhot Kuanxiangzi Food Street ©觅友旅行 / k.sina
Hulunbuir Ancient City Pedestrian ©mafengwo