A city is magnificent with mountains, lively with water and harmonious with grass. Various ethnic groups live together peacefully in Bayannur (巴彦淖尔), forming a Hetao Cultural System in which various cultures blend organically, presenting their unique temperament and soul. The endless Ulanbuh Desert, the vast and beautiful Ulad Grassland, the magnificent Yinshan Mountains and the historical relics such as the Great Wall of the Qin and Han Dynasties, rock paintings and the relics of the Western Xia Dynasty, all make up the most beautiful scenery in the Northern land of China.
Bayannur in Mongolian means "rich lakes". The place is not only rich in natural resources, but also has a long history and culture. With developed characteristic tourism industry, convenient transportation, Bayannur is praised as "Jiangnan North of the Great Wall, Pearl of The Yellow River, New City in the North, and West Hot Land". Bayannur is a good destination for those who want to experience grassland urban life, learn about the splendid Hetao Culture and feel the colorful grassland civilization.
Why visit Bayannur, Inner Mongolia?
Rich and beautiful lakes reflect the past and present lives of Bayannur - Bayannur is located at the top of the "几 (Ji)" word bay of Yellow River, the Wuliangsuhai Lake, Mirror Lake, Nalin Lake and Dongqing Lake, etc. Each is like the bright eyes of the Hetao Plain, stealthily stealing the hearts of travelers.
The fertile granary beyond the Great Wall - Bayannur has significant advantages in combination of soil, water and light and heat, enjoying exceptional advantages for planting crops and nourishing agricultural products with unique Hetao characteristics, such as wheat, sunflowers and melons. In the Sunflower Industrial Park, not far from downtown Bayannur, you can see a vast expanse of acres of sunflower fields, as if walking into a golden sea.
One of the ancient civilizations in China, the Hetao Culture - As one of the birthplaces of China's ancient civilization, Bayannur is the place to go to understand the historical panoramas of the birth, development, maturity and prosperity of the Yellow River Hetao Culture. Visit the Hetao Culture Museum and Yellow River Hetao Cultural Tourism Zone to explore the culture.
A number of moving epics created here - Bayannur has been a throat for military strategists since ancient times. It is the most important source of fine warhorses in China. On this land of 64,000 square kilometers, nomadic heroes come forth in large numbers, with outstanding martial skills, fighting all over the world. The bright moon in the Qin Dynasty reflects the great achievements of Meng Tian's construction of the Great Wall. The military pass in the Han Dynasty witnessed the pride of Wei Zheng and Huo Qubing sweeping the Huns.
Watch birds and rowing cross reed marshes at the largest lake in the Yellow River basin - Wuliangsuhai is a furiotile lake formed by the diversion of the Yellow River. It is a rare large prairie lake area in the desert and semi-desert areas of the world and the largest wetland in the same latitude of the earth. It is now an important reed producing area in Inner Mongolia. More than 200 species and 6 million birds inhabit here make Wuliangsuhai a paradise for photography lovers.
Appreciate the magnificence of the first water gate of the Yellow Rive - If you are interested in water culture, don't miss the largest water diversion and irrigation project in Asia - Sanshenggong Water Conservancy Project on the Yellow River. It is also the only large-scale plain gate dam project for irrigation on the yellow river. The coexistence of natural resources and human resources breeds unique water conservation culture, Yellow River culture and Hetao culture.
Yinshan Petroglyph opening doors to history - Yinshan petroglyph is an important element of Hetao culture. It is a thousand-mile gallery reflecting the culture and history of the northern ethnic groups in ancient China. It is also a no-word book left by the ancestors who lived in the Hetao area.
Top Attractions in Bayannur, Inner Mongolia
In Bayannur, you can appreciate the immensity of Ulanbuh Desert, listen to the pulse of the Mother Yellow River, enjoy the vastness of Urad Grassland, experience the beauty and tranquility of Hetao Plain, admire the rising layers of inky Yinshan Mountain, and take a boat shuttle in the reedfields of Wuliangsuhai to watch birds...
Wuliangsuhai Lake
Wuliangsuhai, which means "the place where rose willow grow" in Mongolian. It is a rare large multifunctional lake in arid steppe and desert areas around the world. The reed marshes, swans and waterbirds are the highlights here.
Yinshan Petroglyph
Yinshan Petroglyph are widely distributed in Bayannur City. According to research, these ancient petroglyphs hidden in the gullies date back to the Stone Age and most of them appeared in the Qin Dynasty and the Han Dynasty.
Sanshenggong Water Conservancy
It's one of the major irrigation projects built on the Yellow River, which makes the Hetao plain farewell to drought and flood and becomes "The land of milk and honey beyond the Great Wall".
Hetao Yellow River Scenic Area
With a total area of 35.2 square kilometers, the scenic area is the largest open wetland tourism area in Bayannur City. It is also a national dragon boat race site and a national water conservation scenic spot.
Million-acre Sunflower Field
This large park has the last virgin bright taiga, where the scenic train takes you to travel through the stunning forest world. The Yimujiuling platform shows the awesome panorama of Great Khingan.
Hetao Heritage Museum
The Hetao Heritage Museum of China shows the whole history of initiation, development, maturity and prosperity of the Hetao culture of the Yellow River, one of the birthplaces of ancient civilization in China.
Nalin Lake
In autumn, the reeds of Narin Lake are golden in color, echoing the euphratica on the shore, as well as the unknown red grass and white grass. Setting off by the crystal clear lake, the layers are rich and the scenery is stunning.
Dahuabei Scenic Spot
The scenic spot is named Dahuabei (Big Birch Back) because there are many birch grows on the mountain back. Besides the lush birch forest, wide flowers in summer and golden leaves in autumn make the place more stunning.
Wulashan National Forest Park
The park is surrounded by rolling mountains, overlapping peaks, crystal fountain and lush forest. The most attractive scenic spot in the park is the Dahuabei scenic spot with the reputation of "Xiaohua Mountain beyond the Great Wall".
Urad Grassland
It is one of the nine natural grasslands distributed intensively in Inner Mongolia Autonomous Region, which gave birth to many grassland nationalities, like Huns, Xianbei, Turkic and Mongolian, etc. and retained a long and brilliant nomadic culture.
Liuguai Sand Peak
Liuguai Shatou is an amazing site located on the eastern edge of Ulanbuh Desert. It is the place where the desert shakes hands with the Yellow River. Standing here, on one side are the endless sand dunes; on the other side are the wetlands and reed marshes.
Xiaoshetai Qin Great Wall
The stone Wall built in the Zhao and Qin Dynasty has a total length of more than 200 km in Bayannur city, and the most complete preserved section in Xiaoshtai has a length of 6 km. It's like a looming, galloping dragon across the Yinshan Mountain range.
Jilu Strategic Fortification
Jilusai is an important mountain pass set up in the Han Dynasty. The fortress is a cliff building, built by laying bricks or stones. It's in a square shape, standing on the west side of the gateway.
Moni Hot Spring Town
Based on the grassland, it has established the mountain spring water world, the ocean hall, the racetrack, etc. It is a high-quality resort integrating ecological tourism and ethnic customs, etc.
Wengentala Grassland
Wengentala Grassland is located at the northernmost end of the "几" word bay of the Yellow River. "Chilechuan, under Yinshan Mountain and by the Yellow River" is a vivid portrayal of Wengentala.
Bayannur Weather & Best Time to Visit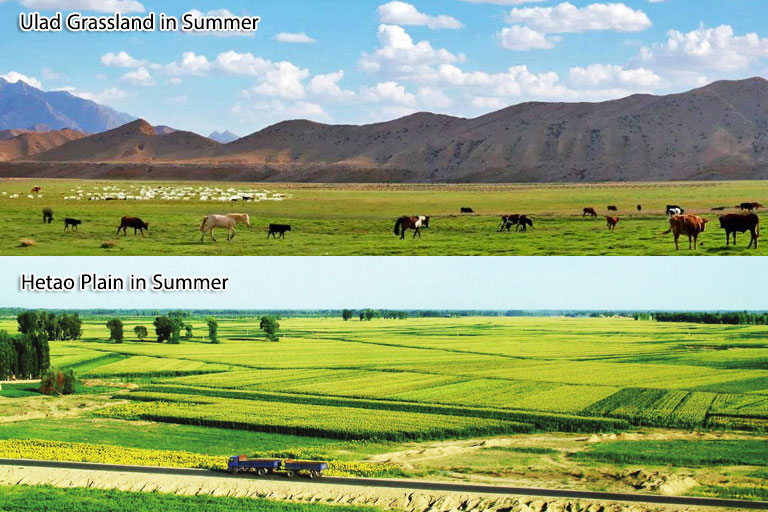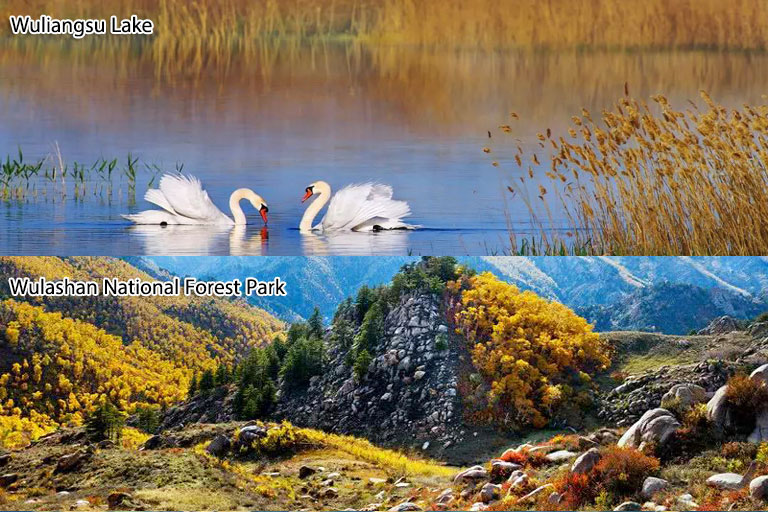 Bayannur city has a typical mid-temperate continental monsoon climate, with the annual average temperature of 3.7°C~7.6°C. The average annual precipitation of Bayannur City is 100~200 mm in Urad Plateau, 130~285 mm in Hetao Plain, and 200~300 mm in Yinshan Mountains. Most of the rainfall is concentrated in July and August in summer. The annual average sunshine hours in Bayannur city are between 3,100 and 3,300 hours. It is one of the regions with the most sunshine hours in China, which is conducive to the growth of long-sunshine crops.
Best Time to Visit Bayannur
Bayannur city is suitable to visit all year around, summer and autumn have the most stunning natural scenery. In summer, you may visit Hetao plain to immerse yourself in the golden sunflower sea, take a car to Ulad Grassland, listen to idyllic songs and count stars in the night. Autumn is the best season to meet wild birds and swans in Wuliangsuhai Lake, enjoy the oil-painting like scenery in Wulashan Forest Park and pay a visit to the nearby Ulanbuh Desert. In winter and spring, you may explore some cultural and historical sites in Bayannur, such as the great wall ruins, Sanshenggong Water Conservancy and Yinshan Petroglyph, etc.
Bayannur Transportation: How to Get to & Get around Bayannur
Bayannur city is located in the west part of Inner Mongolia with Baotou in the east, Alxa League, and Wuhai city in the west, and Ordos city across the Yellow River in the south. It's about 400 km west from Hohhot, the capital of Inner Mongolia. Travelers can get to Bayannur by train, flight, bus and car.
Get to Bayannur
By Train: Baotou-Lanzhou Railway traverses Bayannur city (Linhe Railway Station), which means it's convenient to take a train to Bayannur from cities in Inner Mongolia, like Baotou, Ordos, Hohhot and Wuhai, etc. And other hot destinations in China such as Yinchuan, Lanzhou, Beijing and Xian, etc. However, there is no high-speed train to Bayannur nowadays, which means trains to/from other provinces might take a long time.
By Flights: Bayannur Tianjitai Airport was built and operated in 2011, has direct flights to/from Hohhot (1 h), Chongqing (2.5 hrs), Beijing (2 hrs), Xian (1.5 hrs), Chengdu (3 hrs) and Guangzhou (5.5 hrs), etc.
Hohhot to Bayannur: Hohhot is the most convenient transfer city to Bayannur. The driving distance between two cities is only around 400 km, which takes 4~5 hours by car, 3~5 hours by train and 1 hour by flight.
Hohhot to Bayannur Train Schedule | Bayannur to Hohhot Train Schedule >>
Get around Bayannur
Highlights in Bayannur city are scattered and the best way to explore is by taking a private car. If you haven't been there before, you are highly recommended to book a tour package which included private car and tour guide services. Contact us to tailor-make your Bayannur tour >>
| From - To | Driving Time | Driving Distance |
| --- | --- | --- |
| Bayannur (Linhe District) - Wuliangsuhai Lake | 2~2.5 hours | 140 km |
| Bayannur (Linhe District) - Sanshenggong Dam | 1~1.5 hours | 70 km |
| Bayannur (Linhe District) - Ulad Grassland | 32.5 hours | 150 km |
| Bayannur (Linhe District) - Jilu Fortress | 1.5~2 hours | 88 km |
| Bayannur (Linhe District) - Wengentala Grassland | 2~2.5 hours | 140 km |
| Bayannur (Linhe District) - Wulashan National Forest Park | 2~2.5 hours | 180 km |
Bayannur Accommodation & Where to Stay in & around Bayannur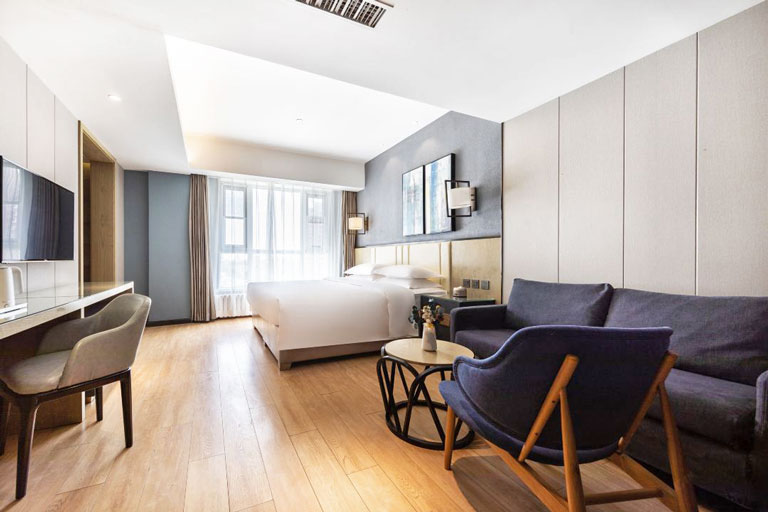 In Bayannur, the most convenient place to stay overnight is the central district of Bayannur city - Linhe District. There are a number of business hotels, budget hotels and inns around Victory Square (维克托广场), Linhe Railway Station (临河站) and Linhe Bus Station (临河汽车站). If you prefer living nearby scenic spots, you may also find accommodation in Dengkou County (磴口县), Ulad Front Banner (乌拉特前旗) and Ulad Grassland, etc.
Useful Bayannur Maps
To help you have a better and clearer understanding of the location, distribution, highlights and transfer information of Bayannur, we here collect the useful Bayannur China Map, Bayannur Transportation Map, Bayannur Attractions Map, etc. all maps are in English and downloadable for your travel!
More Destinations in Inner Mongolia
Besides Bayannur, there are also many other great places to visit in Inner Mongolia, such as Hohhot with rich Inner Mongolia ethnic and temple culture and history, Badain Jaran Desert with wild beauty and fun, Hulunbuir with the most beautiful grassland and Russian towns, and Chifeng with diverse landforms and picturesque alpine meadow, etc. Check to check the ultimate travel guide of the top popular destinations.
Other Popular Destinations in China
China is vast and diverse. You can choose your favorite destination among more than 70 tourist destinations and regions. The following are 4 popular destinations you may be interested in. Check all destinations in China.
Plan Your Bayannur Tour
It usually takes 2 days to explore top highlights in Bayannur. 0.5~1 day to meet birds and row a boat in Wuliangsuhai Lake, and 0.5 day to visit Hetao Culture Museum and Hetao Yellow River Wetland Scenic Area in downtown Bayannur. Stay overnight in Tianhe District, get up early on the next day, drive to visit the Million-acre Sunflower Field, Sanshenggong Dam and Liuguaishatou Scenic Spot in Ulan Buh Desert. If you would like to visit Ulad Grassland, you can spend 1 more day in Wengentala Grassland Tourist Zone. If you want an in-depth tour of the central west part of Inner Mongolia, you may continue your trip and spend 1~2 days visiting Wuhai - a magical city of desert and sea coexist.
If you have more time and it's your first time to Inner Mongolia, you are recommended to spend 4-6 days visiting Hohhot, Ulanqab, Ordos and Baotou in one go, enjoying all the highlights in the central area of Inner Mongolia, like the famous Buddhist temples (Dazhao, Wudangzhao and Meidaizhao, etc.), vast grasslands (Huitengxile Grasslands, Xilamuren Grassland, etc.), Kubuqi Desert, Kangbashi District buildings and amazing Ulan Hada Volcano Geopark.
Feel not enough? You can spend 4~6 days more in Hulunbuir meeting the most beautiful grassland in China and more authentic wetlands and forests and Russian flavored villages, 4~5 days more in Xilingol discovering the UNESCO World Cultural Heritage Site - Site of Xanadu, 4~5 days more in Chifeng savoring the fantastic nature colors. Do you have your own preferences about Bayannur, Inner Mongolia travel? Please feel free to tell us your likes and let our experienced travel consultant customize a tour for you!
Besides, it is also a good idea to travel Bayannur with other popular destinations in China, such as Beijing, Datong, Shanghai, Xian, Qinghai, Gansu, Ningxia, etc. All our tours can be customized according to your interests, group size, needs, travel time, budget, etc. If you are interested, please feel free to contact us for a personal Inner Mongolia tour 2023/2024!
Check more about How to Plan an Inner Mongolia Tour >>
Recommended Tours
MORE