Guoliang Village History
Locate in the north part of Henan Province, Guoliang Village is named after a fugitive riser called Guoliang (郭亮). In the late Eastern Han Dynasty (25 ~ 220), the people suffered from a destitute life due to the natural disaster added with the exploitation of the landlord and feudal official. In order to resist the oppression and pursue a better life, Guoliang, the son of a farmer, led a group of famine victims to rise in revolt. He had fought an overwhelming imperial force to a standstill utilizing the extreme terrain. Then, they transferred to a tiny village which is named as Guoliang Village by the later generations to memorize Guoliang.
Guoliang Village Present
Nowadays, Guoliang Village attracted large amounts of tourists with its arresting mountain ridges, featured stone houses, dangerous cliffs etc. The world-famous Guoliang Tunnel is praised as the Ninth Manmade Wonders by a film studio in Japan. The tourist also referred Guoliang Village as the Pearl Inlaid in Taihang Mountains. Attracted by awe-inspiring scenery, astonishing road and characteristic landform and quaint local customs, over 40 films and teleplays have been shot in Guoliang Village, including hot Chinese films Hands Up (举起手来)and Bell of Purity Temple (清凉寺的钟声). Therefore, Guoliang Village is also nicknamed as the No.1 Chinese Movies & TV Village. Many art academies and photographic associations also select Guoliang Village as a painting and photographing site.
√ 5 Days Hidden Guoliangcun Village Tour
Highlights of Guoliang Village
Guoliang Tunnel - Mannually-constructed Road Hanging on the Cliff
Guoliang Tunnel is a road linking Guoliang Village to the outside. Before it was constructed, a crude and dangerous ladder made by stones is the only exit for the villagers. In 1972, the initial development began to take place in China and "building roads is a premise of amassing a fortune" became a common ground spreading everywhere. Guided by a man called Shen Mingxin, thirteen villagers raised fund by selling goats and crops, and bought some hand-tools. Without one electric equipment or large machinery, the villagers carved a 1300-meter-long Guoling Tunnel along the side of and through the mountain. At the most difficult stage, the tunnel progressed at a rate of one meter every three days. After 5 years of hardworking, this road was open to traffic in 1st May 1977. For its steepness, Guoliang Tunnel is called one of the Top Ten Dangerous Roads in the World and one of the Top Eighteen Peculiar Roads in the World.
The wall of Guoliang Tunnel is in a diversity of shapes, some are neat and flat, some are unevenness. Guoliang Tunnel runs zigzag up the hill, and driving on the roads you will feel the flickering lights. Overlooking Guoliang Tunnel from the confronted cliffs, you will have another feeling. As if the cliff was shot by machine guns, you can figure out the "wound" left. Outside the cave is many beautiful net-like waterfalls.
Guoliang Tunnel Winding through the Mountains
Great View from Guoliang Tunnel
Amazing Nature - Grand Gorge with Red Rocks
The Grand Gorge with Red Rocks originated from Guoliang Village and winded to the Wangmang Mountain in Shanxi Province. It seems being cut by a sharp axe and shows a unique kind of landscape of beautiful red rocks, waterfalls and green plants. Looking the north side of this gorge, you can see incredible Guoliang Tunnel through the rocks and its 36 windows. In the south side, you can find some houses and some sturdy elm grown in the cliffs. There is a waterfall pouring from the cliff in to the small lake lying in the bottom of the gorge. In the winter, the flowing waterfall became a large ice block hanging on the cliff. As the spring comes, the ice blocks crack and fall into the icy lake, leaving sonic booms, just magnificent and thrilling.
There are many natural caves scattered in the gorge, among them Bailong Cave is open to public. With stalactites in various shapes to admire, you can have a peaceful but interesting experience. For the cave is rather narrow and dark, you need to take good care of yourself and visiting Bailong Cave with a waterproof torch or head lamp will be helpful. The extra admission for Bailong Cave is 20 RMB per person.
Grand Gorge with Red Rocks
Sky Ladder - Old Dangeours Road to Guliang Village
A saying about Guoliang Village goes like that you can't get to Guoliang Village without passing by Guoliang Tunnel and you never understand Guoliang Village without knowing the Sky Ladder. Sky Ladder is one long stone ladder with a history of more than 600 years, made up of scruffy rocks and the stone pit on the cliffs. It acted as the only road to leave Guoliang Village until Guoliang Tunnel was constructed. The hardship of climbing this ladder hinders the communication between Guoliang Village and the outside world, so people call it Sky Ladder. Sky Ladder once symbolizing poverty and closeness tell the past story of Guoliang Village.
At the top of the Sky Ladder, you can enjoy the most splendid sunrise in Guoliang Village. Around 5 o'clock in the moring, the clouds colored the Taihang Mountains to red. As sun rises from the horizon, the day breaks and the view at your sight became breathtaking. Far from the hustle and bustle of the modern city, you may doubt whether you are in a fictitious land of peace.
Rugged Sky Ladder
Stone Villages - Village Hidden in the Mountains
At the end of Guoliang Tunnel is Stone Village (also called Guoliang Village) surrounded by mountains, just peaceful and snug. An old willow standing at the entrance resembles an old gatekeeper. As a Film Village, Guoliang Village has a lot to explore. Cyan walls, black tiles and wood doors, quite different from the armored concrete in the city, will catch your eyes when you enter this small village. What you can see most in the residents' village is stone. The antique houses, yard walls, chicken pens and pigsty are all made by stones with irregular shapes. For the local people, especially in ancient time, stone is everything. Till now, you can also see numerous stone tools including mills, stone bowls, stone chopsticks, stone ax, stone hoes and so on.
The Old "Guard" of Guoliang Village
Location & Transportation
Where is Guoliang Village
Guoliang Village is located in the Wanxianshan Scenic Area, about 54 km to northwest Huixian City, 82 km to Xinxiang City and 172 km to Zhengzhou City.
How to Get to Guoliang Village
By Train: There is a high-speed train in every one hour from Zhengzhou to Xinxiang, and you reach to Xinxiang Railway Station within 30 minutes. With several minutes' walk, you can arrive at Xinxiang Bus Station in which coach is available to Huixian City. Then you can transfer to Guoliang Village.
By Coach: Daily coaches departing from Zhengzhou or Xinxiang to Huixian are both enough. It takes 2 hours from Zhengzhou and 30 minutes from Xinxiang. As you get to Huixian Bus Station, you have to take another coach to Guoliang Village after going through the Guoliang Tunnel. The coaches to Guoliang Village are very limited.
Guoliang Village Map
Travel with China Discovery
If you want to get rid of hustle of public transportation and troublesome navigation, you can book a private tour package which covers sightseeing, dining and transfer from us. Our knowledgeable local tour guide and skilled driver will escort you to Guoliang Village with speed and convenience, and take care of all the details. You just need to focus on sightseeing.
Best Time to Visit Guoliang Village
Guoliang Village is has a continental semi-arid climate and enjoys four distinctive seasons with warm spring, hot summer, cool autumn and cold winter. The annual average temperature is 14℃, about 10℃ lower than Zhengzhou. With an altitude of over 900 meters, the sunshine in the village is very strong in the summer.
Because of the featured climate and landform in Guoliang Village, you can experience different beauty in different season. The landscape in autumn is extremely great, the red maple leaves and the green plains make this small village more enchanting. It is necessary take enough warm clothes in autumn and winter. In the hot summer, you need sunblock and hat to protect you from being burnt.
Colorful Autumn in Guoliang Village
Warm Tips
Tickets: 80 RMB for Wanxianshan Scenic Area Admission and 45 RMB Sightseeing Bus. You are permitted to get on the bus three times.
Accommodations: There are enough basic guesthouses you can choose to accommodate and most of them are equipped with shower, telephones and television.
Wanxianshan Scenic Area contains Guoliang Village and Nanping Village. After visiting Guoliang Village, you can extend your travel to Nanping Village which is also a picturesque place.
How to Plan Your Henan Tour
Top Places to Visit in Henan: Shaolin Temple (Dengfeng), Longmen Grottoes & White Horse Temple (Luoyang), Yuntai Mountain (Jiaozuo), Guoliang Village (Xinxiang)…
Best Time to Visit Henan: April ~ May & September ~ November for most places; March ~ October for Shaolin Temple
How to Get to Henan: Take flight to Zhengzhou or high speed train to Zhengzhou and Luoyang from Beijing, Xian, etc.
As a cradle of Chinese civilization, Henan is a splendid land with innumerable cultural and historical legacies and natural sights. According to your time and personal interest and budget, your Henan tour can be flexibly arranged, from 2 days' best highlights tour of Shaolin Temple and Luoyang to essence-packed trip within 1 week.
Usually, tourists spend 2 days visiting Luoyang and Shaolin Temple together and spending 1 day each, excluding the arrival day. This classic and popular travel route will bring you to visit Longmen Grottoes and White Horse Temple in Luoyang. And then transfer to Shaolin Temple directly; use 1 full day to realize your Chinese Kung Fu dream by visiting the birthplace of Shaolin Kung Fu and watching a Kung Fu show. (Kung Fu training class are available in some martial arts schools near Shaolin Temple, please contact us to get more reliable recommendations.) If you want to travel at a leisurely pace in Luoyang or Shaolin Temple, it's suggested to have 1 to 2 more days to visit Luoyang Museum and other cultural relics in Luoyang, or try a short-term Shaolin Kung Fu training class around Shaolin Temple.
✔ 3 Days Shaolin Temple Longmen Grottoes Tour from Zhengzhou
✔ 3 Days Essence of Luoyang Tour
With 5 to 6 days and strong interests in Henan's history, you can extend trip further from Zhengzhou to Kaifeng and Anyang - two famous Chinese ancient capitals. Making a day trip is the most common schedule for each place. If you would like to see gorgeous scenic spots in Henan, maybe you can have a day tour to Yuntai Mountain or Guoliang Village which both show amazing landform, green mountains and refreshing nature.
✔ 6 Days Henan Highlights Tour (Zhengzhou/Anyang/Kaifeng/Dengfeng/Luoyang)
✔ 5 Days Henan Cultural Tour to Luoyang and Kaifeng
Close distance, convenient transportation and inherited history make Beijing and Xian perfect matches of Henan. So you can capture more brilliant cultural heritages, like the Great Wall in Beijing, Terracotta Army in Xian. A popular Beijing tour needs 3 days while 2 days is suitable for Xian. To make your China trip more meaningful, interesting and memorable, you may travel Henan with more fabulous destinations, like Shanghai (the Bund, Yuyuan Bazzar…), Chengdu (Giant Panda, Jiuzhaigou, Mount Emei, Leshan Giant Buddha), Guilin (Li River, Longsheng Rice Terrace…) and so on.
✔ 5 Days Luoyang Shaolin Temple Tour from Xian
✔ 8 Days China Ancient Capitals Tour (Beijing/Luoyang/Xian)
✔ 12 Days Unforgettable Kung Fu Panda Tour
✔ 15 Days China Kung Fu Panda Family Tour
Our Customers visited Pagoda Forest of Shaolin Temple
China Discovery Customized Luoyang Longmen Grottoes Tour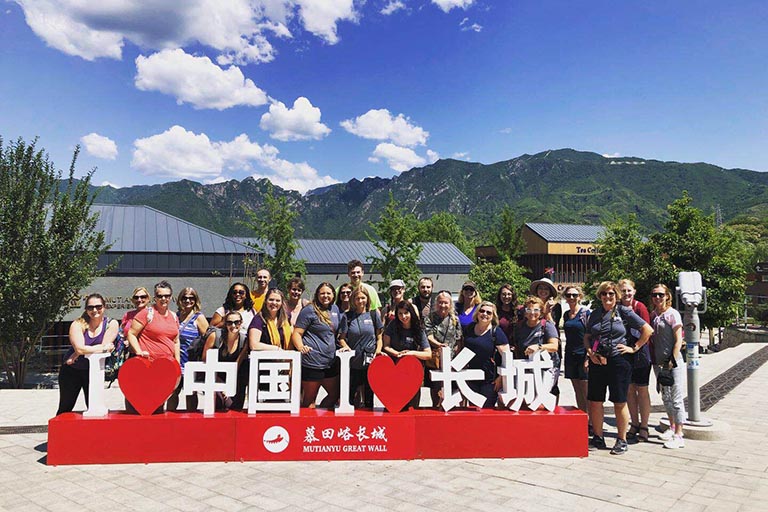 Our American Tour Group Enjoyed Mutianyu Great Wall Tour in Beijing
Travel with China Discovery
China Discovery is an experienced, professional and a reliable travel companion devoted to offering high-quality and the best tour services for all travelers to China. In order to have a hassle-free travel and focus on the trip itself, it's highly recommended travelling with China Discovery. So, you can enjoy convenient airport pick-up and drop-off service and transportation to all scenic spots in a safe, clean, comfortable, air-conditioned and non-smoking vehicle. Also, we will arrange knowledgeable local tour guide, excellent accommodation and dining arrangements to ensure you rest well and get better understanding of Buddhism, Shaolin Zen and Kung Fu culture of Henan. You may select a favorite from our most popular Henan tours or contact us to design a unique itinerary according to your personal time and preference.
We have helped many global travelers enjoy their memorable wonderful trips to Henan for the past few years. Among them, a couple from the UK traveled with us and spent 21 Happy Days in Luoyang, Dengfeng, Beijing, Xi'an and 5 Other Cities in Northern China, and shared us their special travel story!
Moreover, we got more than 1,620+ good reviews on TripAdvisor.com, and over 3,310+ China travel reviews from our customers. Travel with China Discovery to create your great China trip memories!
Keep Reading
Recommended Xinxiang Tours
Top 3 Xinxiang tours chosen by most customers to explore Xinxiang in the best way. Check the detailed itinerary, or tailor your own trip now with us.
3 Days Essence of Luoyang Tour

Luoyang / Dengfeng / Zhengzhou
2 Days Luoyang Longmen Grottoes Tour

Luoyang / Dengfeng / Luoyang
5 Days Hidden Guoliangcun Village Tour from Luoyang

Luoyang / Shaolin Temple / Guoliangcun / Zhengzhou
Start planning your tailor-made holiday to China by contacting one of our specialists. Once inquired, you'll get a response within 0.5~23.5 hours.
Customize a Trip
Have a question? Get answers from our travel experts or guests
Your Question:

Your Name:

Your Email: