Rongjiang County is located in Qiandongnan Miao and Dong Autonomous Prefecture, Guizhou, China. It is settled between Guilin, the capital of Guangxi, and Guiyang, the capital of Guizhou, with a driving distance for about 250km and 229km in separate to the two capitals. Sitting in the central area of Qiandongnan, the region of home to as many as 33 ethnic groups of China's 56 minority groups, Rongjiang is, of course, one of the core areas of ethnic minority groups of Guizhou and even China!
Rongjiang enjoys the reputation of Ancestral Source of Dong & Miao Culture. The only temple of Miao ethnic group, the highest drum-tower of Dong ethnic group, and the hometown of Grand Dong Songs can all be found in Rongjiang. A tour to Rongjiang is somewhat like a time travel to have a glimpse of the old days of ethnic Miao and Dong. Besides that, Rongjiang also introduces you other minority groups like Shui, Yao, Zhuang, etc. About 1~2 days' discovery in its ethnic villages, you will get a fuller story of China's ethnic culture!
Why Visit Rongjiang, Qiandongnan, Guizhou, China?
Ancestral Source of Dong & Miao Culture - Rongjiang is known as the origin of Dong and Miao Culture, which can be perfectly exemplified by its Temple of Miao King - the only one in the world, drum-tower at Sanbao Dong Village - the highest one in the world, and so forth.
Primitive Ethnic Villages - Villages in Rongjiang are never that famous as Xijiang Miao Village near Kaili and Zhaoxing Dong Village near Congjiang. However, they are well worth a visit, because they all in the primitive looks. A close visit to one or some of the villages in Rongjiang may show you more about the traditional life of ethnic groups in Guizhou!
Hometown to Grand Songs of Dong - Zaidang Dong Village about 26km northeast of Rongjiang downtown is said to be the hometown of Grand Dong Songs (or called Grand Dong Chorus). This Grand Folk Song Performance of Dong ethnic group once drove the world crazy when it first shown appearance at the annual Paris Autumn Festival in 1986!
Rongjiang Attractions: Things to Do in Rongijang, Guizhou
Rongjiang in central area of Qiandongnan is one of the main inhabits of ethnic groups in Guizhou. Here, you will meet with many primitive ethnic villages. Most of them are inhabits of Miao, Dong and Shui ethnic groups. The following villages are the most popular ones among visitors.
Dali Dong Village
Dali Dong Village (大利侗寨), the Pearl Hidden in the Mountains, is mainly impressed visitors with its primitive looks of wooden houses and quadrangle courtyards spreading a valley.
Sanbao Dong Village
Chejiang Sanbao Dong Village (三宝侗寨) only 5km around from Rongjiang downtown is China's most densely populated area of Dong ethnic groups. It is home to more than 2648 ethnic families.
Zaidang Dong Village
Zaidang Dong Village (宰荡侗寨) is said to be the hometown of Grand Songs of Dong ethnic group, which has been listed as a UNESCO World-class Intangible Cultural Heritage since 2009.
Baibei Miao Village
Baibei Miao Village (摆贝苗寨) is famed for its unique Hundred-bird Costume with a row of beautiful white bird feathers, which has been reputed as the Miao Epic Dressed on Body.
Kongshen Miao Village
Kongshen Miao Village (空申苗寨), as its name implies, is a Miao Village built next to a crystal-clear stream. Ladies there work and live dressing in 5-inch-long short-skirt all year around.
Temple of Miao King
Temple of Miao King (苗王庙) is the only existing temple of Miao. It was built to worship the Miao ancestors who moved the whole Miao people to nowadays Guizhou, thus saving them from floods.
Rongjiang Weather & Best Time to Visit Rongjiang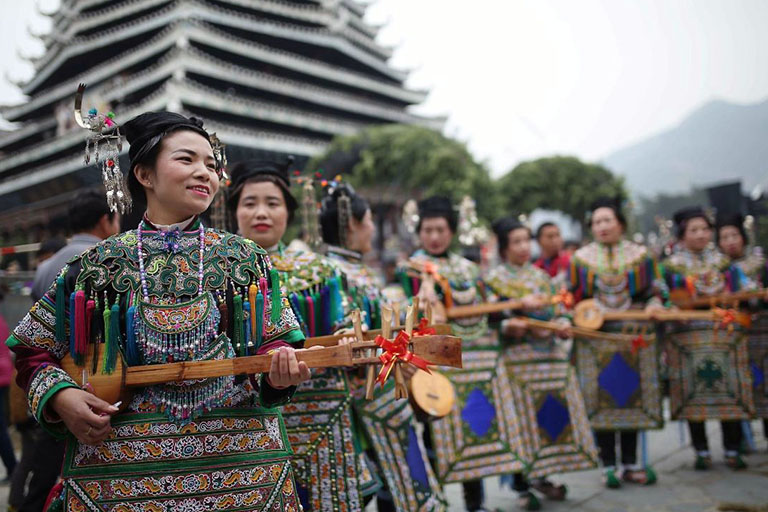 Rongjiang and the nearby Qiandongnan region (southeast of Guizhou) are all belonging to the humid subtropical monsoon climate, with a mild and moist weather throughout the year. The temperature in Rongjiang never rises above 35℃ or drops lower than 5℃. It enjoys pleasant weather for vacations all year around. The highest temperature in Rongjiang usually comes in July, with an average temperature for about 26.9℃. And the lowest temperature normally comes in January. The average temperature in January is about 7.6℃.
Best Time to Visit Rongjiang, Guizhou, China
Thanks to its pleasant weather whole year around, Rongjiang is suitable to be visited at any time as you want. And most of its colorful festivals are held during the 1st, 2nd, 3rd, 7th, 9th, 10th and 11th month of Chinese lunar calendar (normally in February, March, April, August, September, October, November and December). Therefore, if you want to explore the ethnic villages in Rongjiang with the strongest ethnic cultural atmosphere, planning a tour to Rongjiang during the festival months will be great!
Rongjiang Transportation: How to Get to/around Rongjiang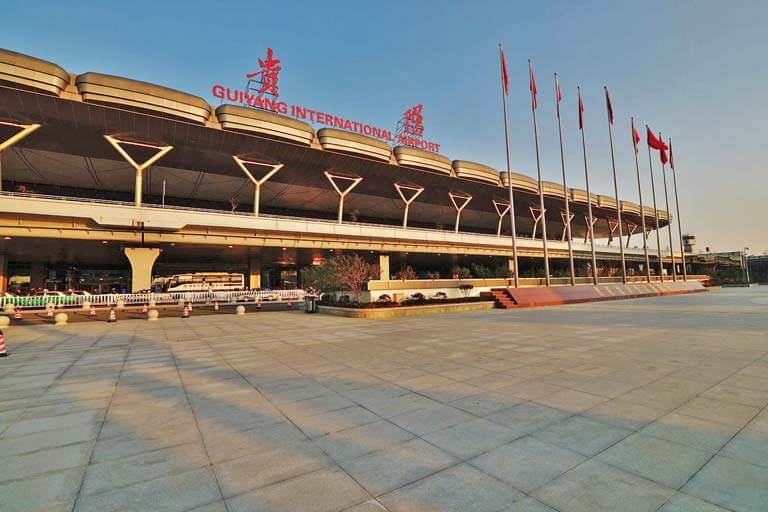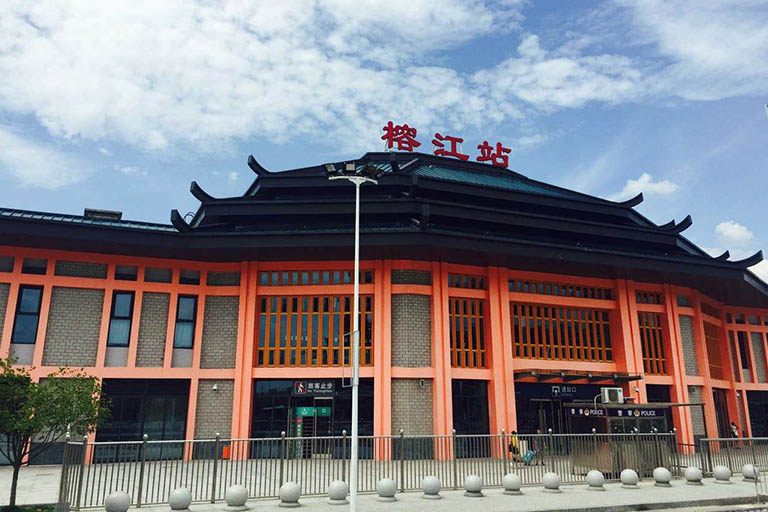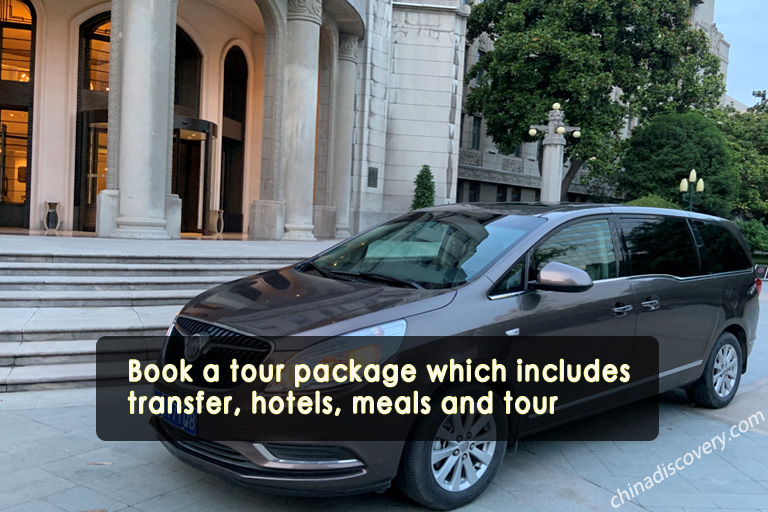 How to Get to Rongjiang
Travelers prefer to get to Guiyang first before heading to Rongjiang! Rongjiang County is located in the southeast part of Guizhou, about 230km and 3.5 hours from the capital Guiyang by car.
By Flight
Rongjiang has no airport. The closest airports to Rongjiang are Libo Airport, Liping Airport, Guiyang Longdongbao International Airport and Guilin Liangjiang International Airport. Amongst the four airports, Guiyang Longdongbao International Airport is the most popular choice, because it is the most convenient one to get to Rongjiang. Just next to Guiyang Airport there is Longdongbao Railway Station, from where visitors can change to a bullet train to Rongjiang in 1 hour or so. Driving from the airport to Rongjiang takes less than 3 hours.
By High Speed Train
Rongjiang has its own railway station, namely Rongjiang Railway Station. Riding a high speed train to Rongjiang is a popular way. The high speed rails have connected Rongjiang with Guiyang (1~1.5 hours), Guilin (1~1.5 hours), Chengdu (5.5~6.5 hours), Chongqing (4 hours around), Guangzhou (4~4.5 hours), etc.
By Coach
Coach Service is available between Rongjiang and Guiyang, Guilin, Congjiang, etc. However, the coach ride takes much more time than train ride and even car ride. And it may be canceled according to many reasons like off seasons. Therefore, it is not really a good option for visitors.
How to Travel Around Rongjiang
Rongjiang is composed of its busy downtown area and remote rural areas. In the downtown area, it is very easy to get around by taxi. However, things are much complex in the mountainous countryside. Its ethnic villages are hidden in the mountains, and there is no direct coach to get to the villages. Normally, you are required to catch a coach from Rongjiang to Liping, and get off the coach in the middle way to visit the villages. Considering almost no one speaks English and even mandarin in this remote area, it may be tough work to find the right site to get off the coach. Plus the road condition is not so good and the coaches are not fixed. Travelers are not really suggested to try the local coaches.
The best way to travel around Rongjiang is going with a local driver with licensed private car. For international visitors, we highly recommend you travel with us. We China Discovery also offer such convenient service with experienced driver and local guide to escort you all the way. If you are interested, please feel free to contact us for help!
Rongjiang Accommodation & Where to Stay in Rongjiang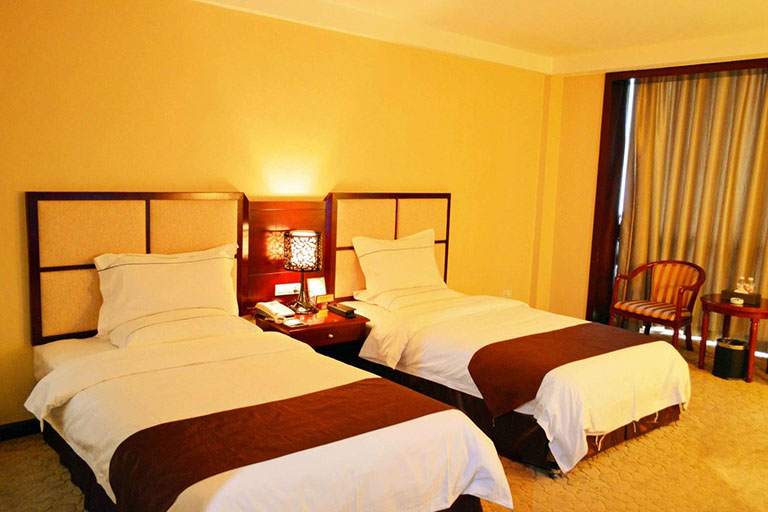 Compared with Guiyang City and Kaili City, accommodation in Rongjiang County is relatively limited. There is no 5-star hotel in Rongjiang. However, there are still 70+ hotels from luxury 4-star to budget hostels for you to choose. Most of its hotels are gathering in Rongjiang downtown, from where you can get to its nearby popular ethnic villages in less than hour by car. If you prefer to stay at the villages, there are also several guesthouses in local Miao or Dong minority style. These guesthouses can meet your basic needs like hot water and large bed, but they cannot give your more modern experiences. Usually, visitors heading to Rongjiang prefer to stay in Rongjiang downtown.
Check more about Rongjiang Hotels >>
Useful Rongjiang Maps
Here we also provide some useful English Rongjiang Maps to help you travel Rongjiang in efficient, including Rongjiang Guizhou Map, Rongjiang Tourist Map, Guizhou Ethic Villages Map, etc.
Other Hot Destinations in Guizhou Province
Besides Rongjiang, there are some other hot destinations in Guizhou, like Fanjingshan, Anshun, Kaili, Congjiang, etc. Check the travel guide of each destination and discover now!
Other Popular Destinations in China
China is vast and has a lot to discover. Besides Congjiang and the diverse Guizhou Province, you can enrich your trip to more wonderful destination to enjoy more beautiful sceneries, historical culture, etc. Following are 4 top popular destinations you may get interested in. Please check the travel guide of each destination to start. Also, you can check all our popular travel destinations in China!
Chinese Name: 榕江
Chinese Pinyin: róng jiāng
Population: 0.38 million
Language: Mandarin & Rongjiang Dialect
Tel Code: 0855
Zip Code: 557200
Time Zone: (UTC+8)
How to Plan a Rongjiang Tour
Usually, tourists spend 1~2 days to explore its ethnic villages of Miao, Dong, Shui, etc. Highlights include Dali Dong Village, Sanbao Dong Village, Baibei Miao Village, Bameng Shui Village, etc.
Such a short Rongjiang tour is just a middle part of a Guizhou tour. Travelers looking for an in-depth visit the ethnic groups of Qiandongnan region will spend 2~3 days more to explore Kaili, Congjiang, Zhaoxing, etc. And before or after the ethnic culture discovery, they will add 2~3 days more to admire the awe-spring Huangguoshu Waterfall in Anshun and sacred UNESCO World Natural Heritage Mount Fanjing in Tongren, etc.
Since Rongjiang and other popular Guizhou destinations like Kaili, Guiyang, and Anshun are all well-connected with the rest China by bullet train & flight, you are highly suggested to extend your Guizhou tour to more China wonders. The nearby Guilin, Chongqing, Chengdu, Zhangjiajie, Kunming and Lijiang are all fantastic choices. It is also a good idea to visit Beijing, Shanghai, Xian, Hong Kong, etc. Just tell your likes and interests, China Discovery is here ready to help customize your own China Guizhou Tour with best prices!
Recommended Rongjiang Tours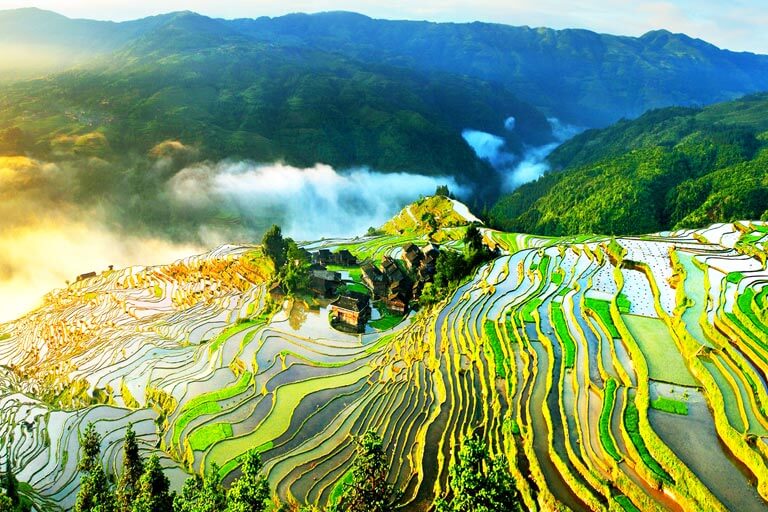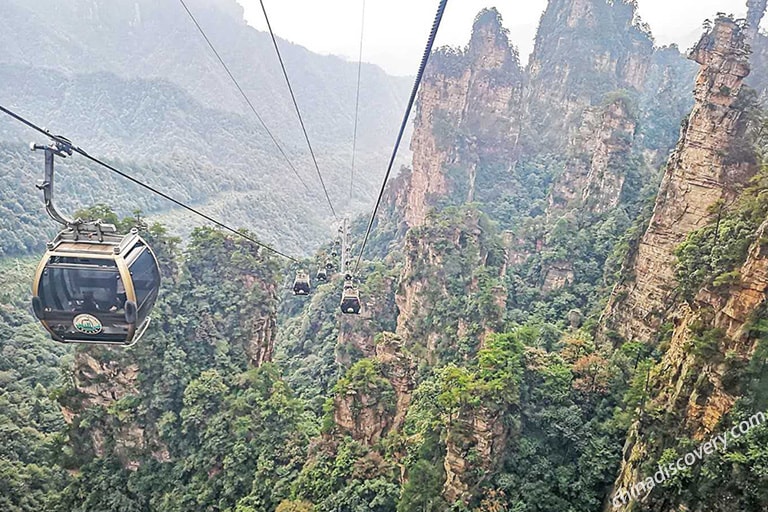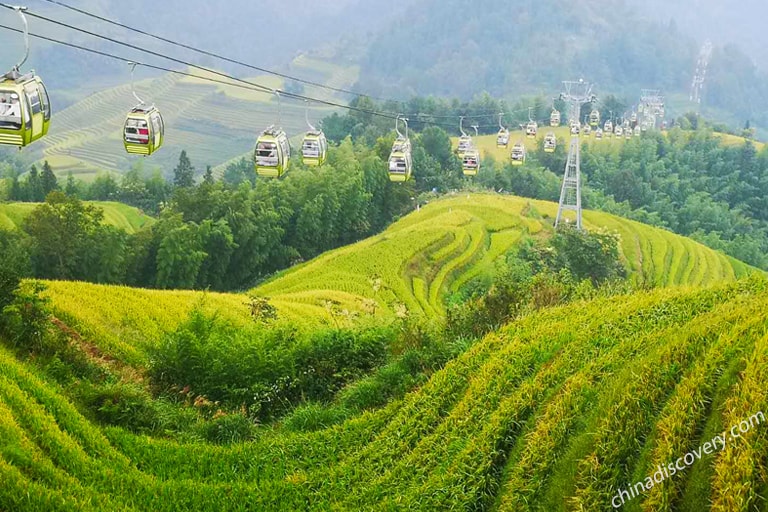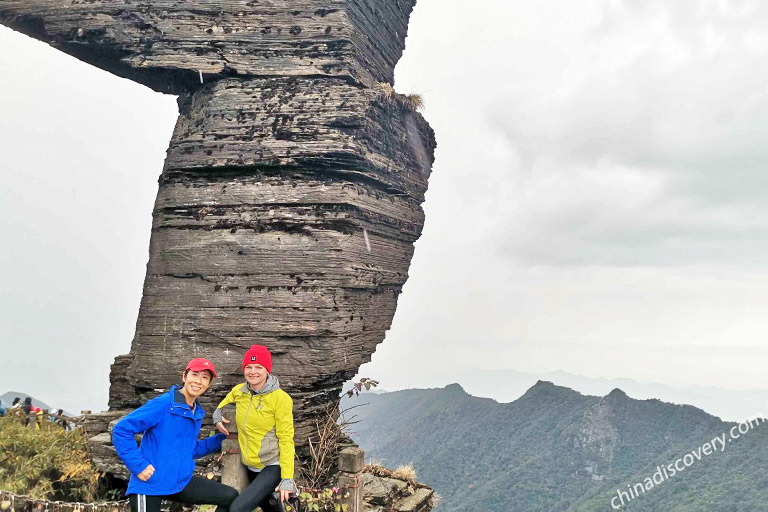 MORE