Libo County, subordinate to the Bouyei and Miao Autonomous Prefecture of Qiannan of Guizhou Province, is located on the southern edge of Guizhou, the transition zone from Yunnan-Guizhou Plateau to Guangxi foothill. Libo may not be as famous as Huangguoshu Waterfall, however as a part of the South China Karst UNESCO World Heritage Site inscribed in 2007, makes Libo the first world natural heritage site in Guizhou.
As the unparalleled Karst forest on the same latitude in the world, Libo is praised as "The Emerald on the Belt of the Earth". Strolling around the Karst natural landscape at Seven Small Arches and Maolan National Nature Reserve in Libo, apart from the exquisite scenery of "Head up like Zhangjiajie, Head down as Jiuzhaigou", there are also rich ethnic customs. Primitive villages of Bouyei Minority, the peculiar culture of Shui Minority, the strange customs in Yao villages and the exquisite clothes and handicrafts in Miao villages are all very appealing. When summer is coming, why not invite your friends to conquer the water in Shuichun River, experience the thrill of going up and down with the waves. When the sun goes down, ramble around local snack street, drink a bowl of cool bayberry juice and taste sour foods and fresh fish dishes. That is the full accomplishment of the Libo tour.
Why Visit Libo County, Qiannan, Guizhou?
Appreciate Emerald Water and Fiery-red Leaves in Libo Seven Small Arches Scenic Area - In summer, rivers and lakes in Seven Small Arches are dyed into blue and green, the 68-level Xiangshui River waterfall and The Laya Waterfall are cascading down like silver chains. Even if only the sound of water is heard, together with the surrounding lush mountains will also make tourists wonder whether they are entering paradise. Fiery-red leaves in autumn dress up Libo, makes the place becomes a delicate and charming beauty.
Wander around the Virgin Forest in Maolan - Maolan, as the world's largest Karst virgin forest, not only has the most original natural landscape, hikers can fully draw pleasure from wild life, but also has strong ethnic customs, Bouyei, Shui, Yao village scattered in the scenic area. A more leisure way to travel is to find a farmhouse and live there for a few days. Waking up in the morning by animals' chirping and surrounded by flower sea and lush forest, it is also a worthy lung wash trip!
Seek the Mysterious Yao Tribe at Yaoshan Ancient Village - If you go to the Libo Seven Small Arches Scenic Area, don't miss Yaoshan Ancient Town nearby. It's the place where the Bai Ku Yao minority has lived for generations. Explore the "Living Fossil of Human Civilization" and admire the mysterious tribe known as the "Eastern Indian".
Take a Trilling Rafting Adventure at Shuichun River - As long as it's a full-summer day with abundant water flows, there's no doubt that the thirteen waves and seven beaches of Shuichun River will be filled with cheers and laughter. More than 3 hours of adventure, the rapids but subdued beaches are full of adventure and excitement. Steep cliffs on both sides of the river are sparkish and majestic, flowers and grasses blend together perfectly, enthralled every visitor.
Libo Attractions: Things to Do in Libo County, Guizhou
Scenic spots in Libo are mainly located around Libo county, featured with the splendid natural scenery with strong ethnic characteristics. Seven Small Arches Scenic Area, Da Qikong Scenic Area and Maolan National Nature Reserve are main attractions in Libo. Besides, you can also visit some local villages to appreciate the ethnic history and culture, trying local special dishes...
Libo Seven Small Arches Scenic Area
Seven Small Arches, the UNESCO World Heritage Site, can be said to be the highlight of Libo. Fantastic natural scenery of 68 levels of waterfalls, primitive forest, emerald lakes and ancient seven arches bridges combining together, forms a super bonsai!
Daqikong Scenic Area
Different from Xiaoqikong, natural scenery in Daqikong Scenic Area is steep but magnificent. Canyon, underground river and lakes accompany your way. The plank roads twists, sags and crests, towering natural bridge there is one of the top Karst wonders.
Maolan National Nature Reserve
Maolan karst forest stretches for hundreds of miles and is by far the largest and most intact karst primeval forest in the world. Besides the beautiful scenery, there are ethnic minority villages scattered in and around. A wonderful place for hiking and camping.
Yaoshan Ancient Town
Yaoshan Ancient village is the place where the Bai Ku Yao ethnic group has lived for generations. Pay a visit to the mysterious village known as the "Eastern Indian". Admire Yao folk houses, ancient ruins, featured dance performances, handicarfts and Yao flavor dishes.
Libo Anicent Town
Libo Town was rebuilt on the site of Libo Stone Town. The ancient town retains the cultural characteristics of Bouyei, Shui, Miao and Yao minority, combining Hui architecture and garden art together is a good place to appreciate the charm of the old town.
Yaogu Village
Yaogu Village is one of the most preserved Bouyei villages in southern region of Guizhou. The plain stilted complex, the ancient wine brewing method, the melodious sound of cloth weaving, the houmous folk dances, etc. all carries the profound culture of Bouyei minority.
Zhangjiang Scenic Area
Zhangjiang River flows gently surrounding Libo county. Fields are picturesque, sepia peaks like screens, scattered Bouyei villages are embraced by mountains and rivers, distance Guanyin peak wreathes by mist and fog. What a charming idyllic landscape!
Ethnic Minorities in Libo County, Qiannan
Visiting different minorities in Libo is another top thing to do. There are four main typical minorities in Libo county, which are Shui minority, Yao minority, Bouyei Minority and Miao minority. Each minority has their own culture, customs and festivals.
Shui Minority
The Shui minority is one of the oldest ethnic minority in Libo. Ancient Shui characters are shui minority own language. Shui minority also has the world's longest festival - Duan Festival and a unique marriage custom.
Yao Minority
Yao ethnic group is a mysterious ancient ethnic group, which has been recognized by UNESCO as one of the most intact ethnic groups with national culture preserved. Monkey and copper drum dance are typical there.
Bouyei Minority
Bouyei is the main ethnic group in Libo County. Bouyei people maintain their own unique language, writing, ancient books, folk houses, costumes and customs. It is an ethnic minority that is skilled in singing, dancing and spinning.
Miao Minority
The Miao minority in Libo is mainly distributed at the foot of the Moon Mountain. Costumes in Miao Minority are exquisitely decorated in silver. Lusheng dance and the Drum Funeral Festival will make you intoxicated.
Libo Weather & Best Time to Visit Libo County, Guizhou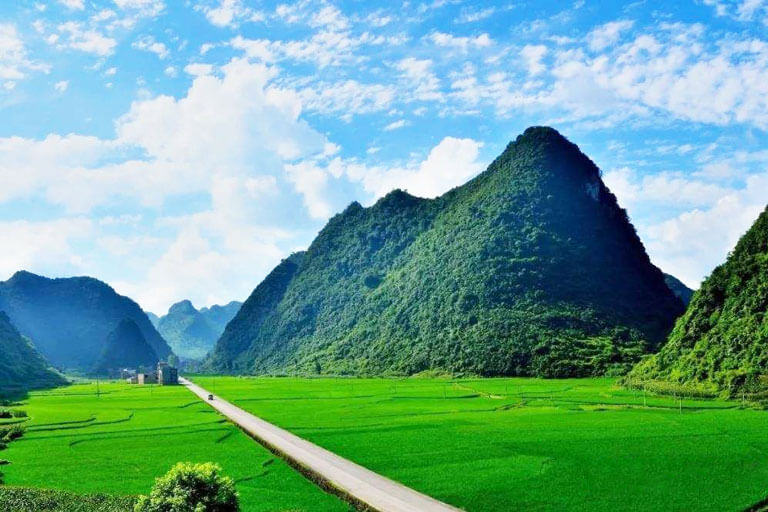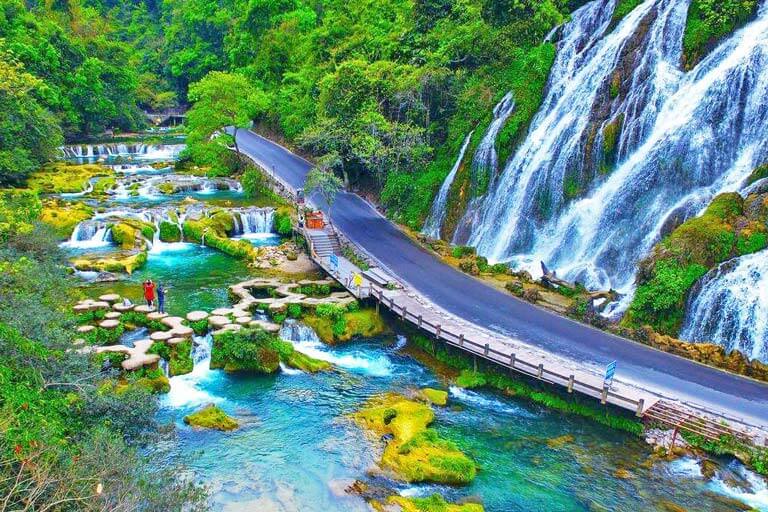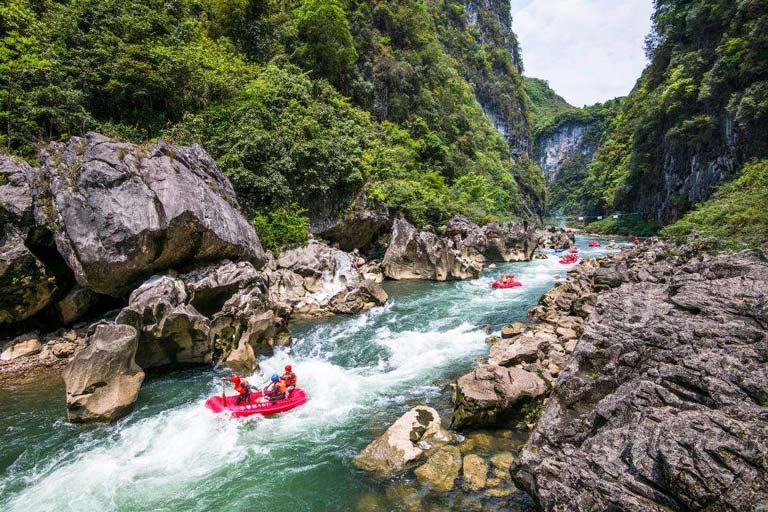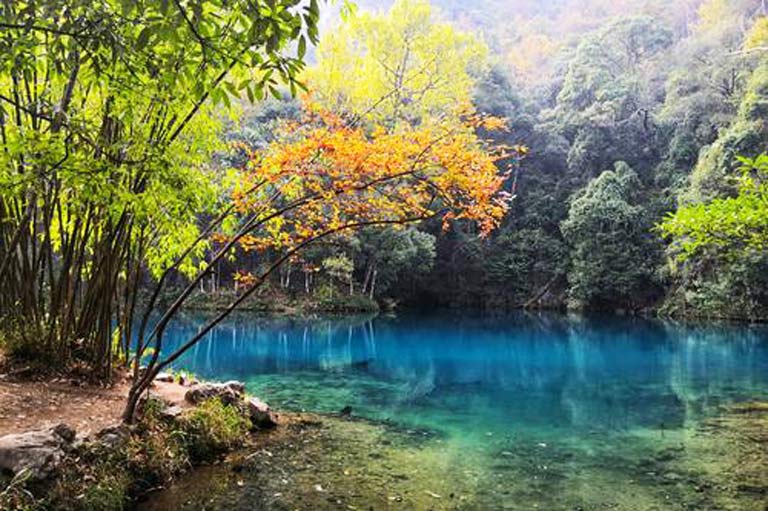 Libo County belongs to the subtropical monsoon humid climate zone. The annual average temperature of the county is 18.3℃. July is the hottest month, the coldest month is January. However, thanks to the high plants coverage, even in the hottest month - July, the average temperature is still below 27.0℃. The average temperature in January is about 5.5℃. Most rainfall occurs in summer. The monthly rainfall from June to August is all above 2000mm, accounting for about 50% of the total annual rainfall. There is less frost in Libo County, the frost-free period is more than 270 days a year.
Best Time to Visit Libo, Guizhou
Libo is suitable to visit all year around, especially in spring, summer and autumn. In summer, the water of Seven Small Arches Scenic Area glows blue under the sunshine. Emerald water flows through lush mountains in the overwater forest of Maolan. From May to August, romantic purple lavenders, orchid and salvia compete to blossom at the valley bottom of Herboland. The Shuichun river rang with cheers and laughter from drifters.
Spring is from March to May. The ancient building of Bouyei hid under the sea of golden rape flowers in March. Around the Qingming Festival, pink and red peach blossoms along the Zhangjiang River, Qijing River. The sky is high and clear during autumn (from September to November), golden and fire-red leaves, floating, swaying, spinning around and around then falling to the ground becomes a new garment of the earth. Autumn scenery in Seven Small Arches and Daqikong is splendid. In winter, from the beginning of January to the end of February, colorful plums are blooming gracefully in Maolan Nature Reserve, adding radiance to the folk customs of Yaoshan.
Dressing Tips when Traveling around Libo
T-shirts, shorts and sandals are enough for Libo's summer. The UV index is high on summer days, therefore suncream is a must. The rainy season is from April to August. Don't forget to bring rain gears with you when visiting Libo during these months. The temperature difference between day and night might be distinct in early spring and late autumn, tourists are recommended to bring some thick cloth to keep warm.
Libo County Transportation: How to Get to & around Libo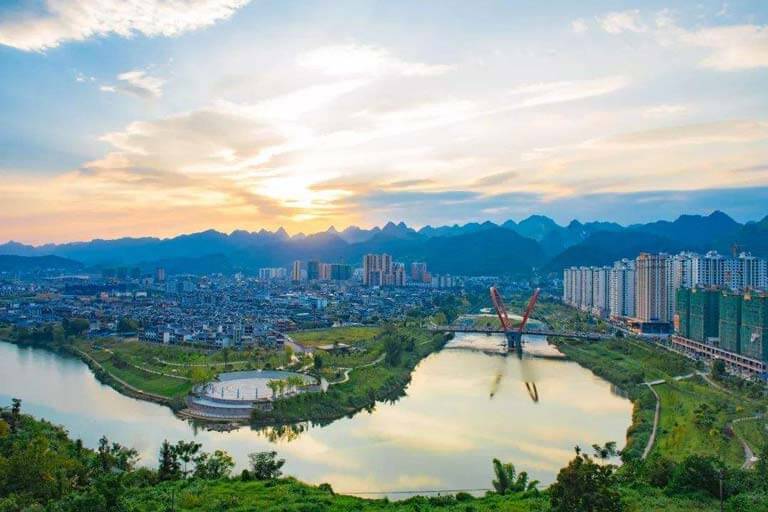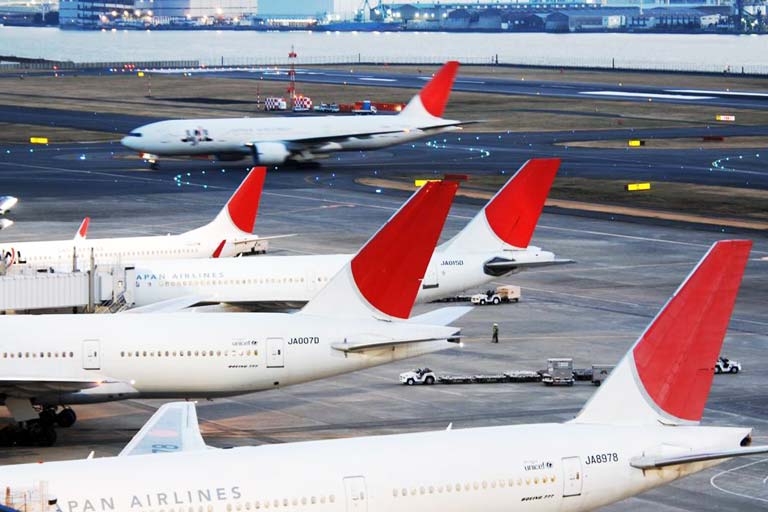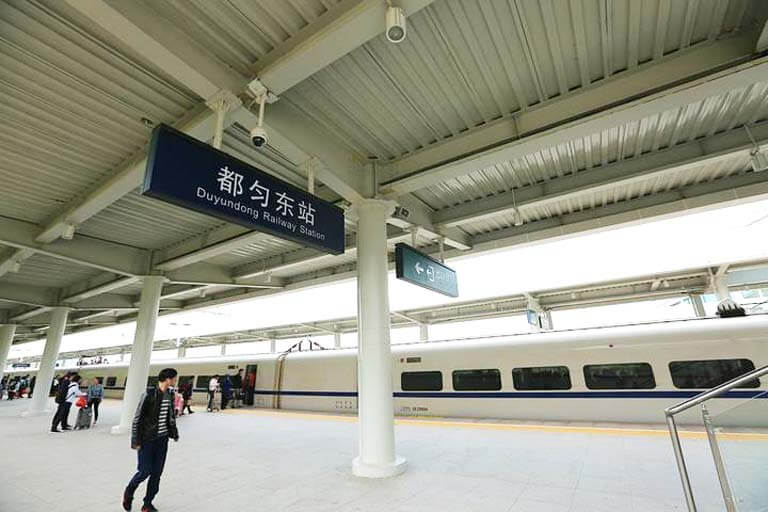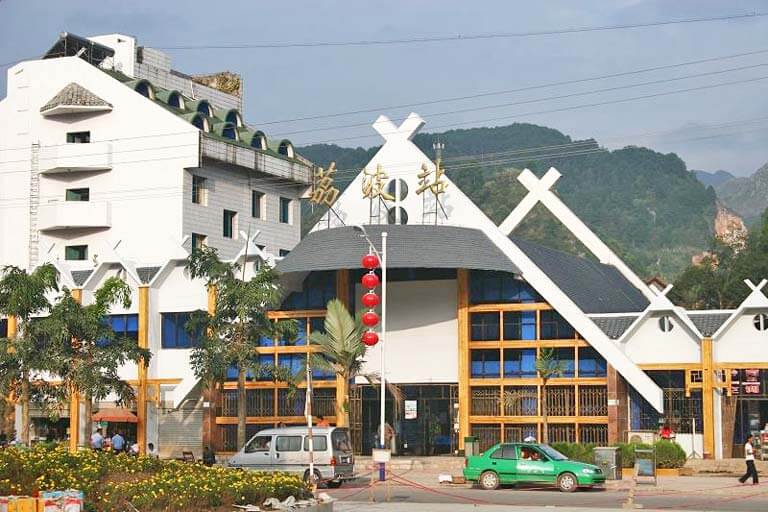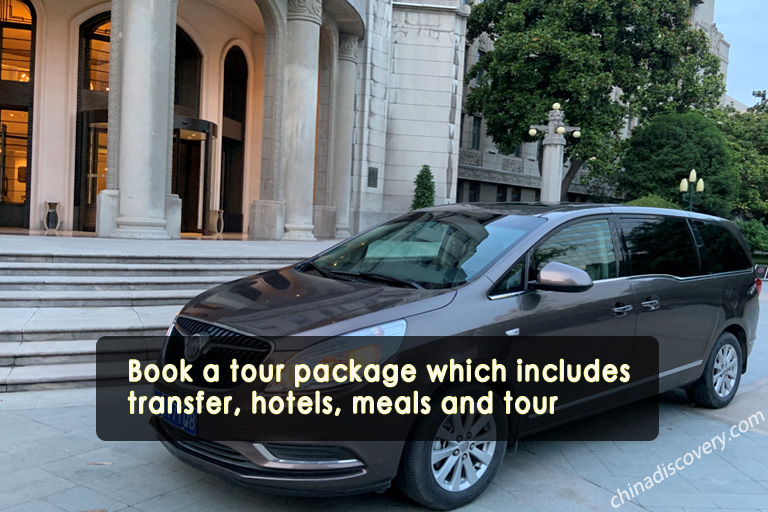 How to Get to Libo, Guizhou
Libo is located in the southern edge of Guizhou Province. The driving distance from Guiyang - the capital of Guizhou is about 247km, which takes about 3.5-4 hours. Transportation in Libo is relatively inconvenient, there is no railway station around Libo county, the nearest railway station is Mawei Statiion (麻尾站), about 56km away from Libo county, which takes about 1 hour by car. However, there is a small airport in Libo, about 15km away from Libo county.
Get to Libo County by Flight
Libo Airport is a small airport, currently there are only direct flight from Guangzhou, Shenzhen, Guiyang, Changsha, etc. to Libo. After landing at the airport, visitors can take the airport shuttle buses to get to Libo county directly.
Get to Libo County by Trains + Buses
There is no train station in Libo county, travelers need to get off at Duyun East Station, Dushan Train Station or Mawei Train Station and then transfer to buses to get to Libo County.
★ Bus Driving from Dushan to Libo: around 81km, takes about 2 hours
★ Bus Driving from Mawei to Libo: around 55km, takes about 2 hours
★ Bus Driving from Duyun East Station to Libo: around 121km, takes about 2 hours
(Note: Information about distance and estimated time that given above are only for your reference.)
Get to Libo by Coach
Nowadays, there is only one bus station in Libo, can reach Guiyang (6-8 shifts a day), Kaili (4 shifts a day), Duyun, Dushan, Mawei, Chongqing, etc. directly. Generally visitors who would like to take a buses to get to Libo would arrive at Guiyang first. Every day there are 6-8 buses running between Guiyang and Libo from 9:30 in the morning to 18:00 in the evening.
How to Travel around Libo
Libo county is about 23km away from Seven Small Arches and 33km away from Maolan National Nature Reserve. Public transportation is limited, so if travelers want to go to scenic areas from Libo county, it's better to book a private car or hire a taxi in advance.
Travel with China Discovery by Private Car
If you want to have a worry-free travel without concerning about transportation, here we strongly recommended you to book a private car service with us. Our experienced private car drivers will pick you up from no matter where you are landing in Guizhou and send you directly to hotels or other places you would like to visit. Drivers would choose the best driving route to save you from the troublesome traffic jam. Our professional local guides will introduce all culture, attractions and highlights of Libo on the way. If you are interested in our private transfer service and would like to know more, please feel free to contact us.
Libo Accommodation & Where to Stay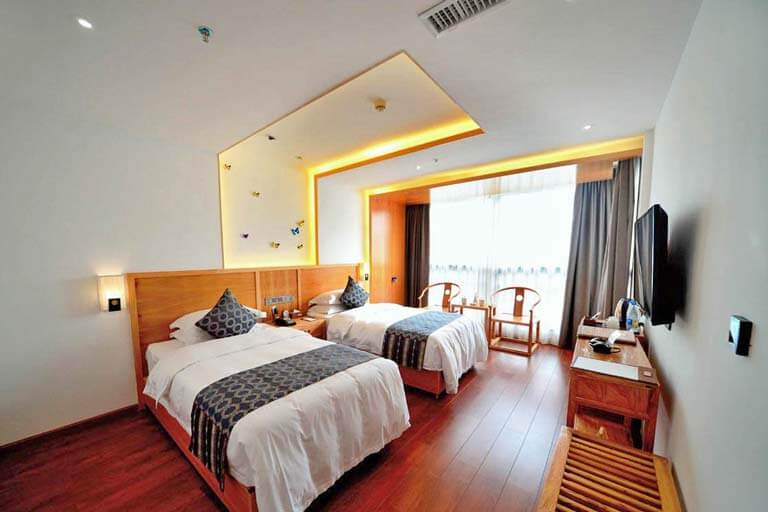 Downtown area is the most chosen places to stay in Libo. Libo county is only 26km away from Seven Small Arches, which takes less than an hour by car. Even though the county is not large, it is convenient to live anywhere, from 5-star resorts and hotels to budget hostels, all types of hotels for you to choose from. Hotel prices might double during festivals, therefore travelers are recommended to book in advance. Visitors may also find guesthouses and agritainments near the entrance of Seven Small Arches Scenic Area and Daqikong Scenic Area. It's suitable for early morning hikers and self-driving travelers.
Hotels like Kew Green Hotel, Shanshui Villa Holiday Hotel, and Four Season Garden Hotel are good choices. And if you travel with us, we will book the best hotel for you according to your needs and budget. If you are interested, please feel free to contact us!
Useful Libo County Maps
To help you have a better understanding about Libo, now we've collected some useful Maps of Libo, including Libo China Map, Libo Guizhou Map, Libo Tourist Map.
Other Hot Destinations in Guizhou Province
Besides Libo, there are some other hot destinations in Guizhou Province, like Anshun (Huangguoshu Waterfalls), Tongren (Fanjingshan), Kaili (Miao & Dong Villages), Guiyang, Rongjiang and Congjiang , etc. Check the travel guide of each destination and discover now!
Other Popular Destinations in China
China is vast and has a lot to discover. Besides Libo and the diverse Guizhou Province, you can enrich your trip to more wonderful destination to enjoy more beautiful sceneries, historical culture, etc. Following are 4 top popular destinations you may get interested in. Please check the travel guide of each destination to start. Also, you can check all our popular travel destinations in China!
How to Plan a Libo Tour
Most tourists would plan a 2-day tour to travel around Libo. Visiting the UNESCO World Heritage Seven Small Arches and Daqikong Scenic Area for one day, staying one night in Libo county, then continuing to hike to Maolan National Nature Reserve on the second day. For those who visit Libo during summer, you can add one day exciting rafting tour on Shuichun River Valley and enjoy the performance of the real landscape - Rhyme Zhangjiang River.
Being the No.1 province in China with the largest number of natural relics, Guizhou has more natural wonders to offer, like Huangguoshu Waterfalls, Mount Fanjing, Jiabang Rice Terraces, etc. Besides that, Guizhou is also the home to ethnic groups, and there are numerous unique Miao Villages and Dong Villages in Kaili, Rongjiang and Congjiang waiting for your steps. You are highly suggested to add more wonderful Guizhou sites to your Libo tour! If you are interested, please feel free to contact us to customize your tour!
Recommended Guizhou Tours
MORE