12 Helpful Tips for Longsheng's Longji Terraced Fields Tour
To help you know more about Longsheng travel, we China Discovery have collected all the Longsheng travel tips here, including its location, weather, transportation, ticket price, best time to visit, accommodation, hiking routes, photography spots, etc.
Longsheng Travel Tips
Longsheng is under Guilin's administration. Driving from the downtown area of Guilin to Longsheng County takes about 1-1.5 hours (85km), and from Guilin to the Longsheng Rice Terraces Scenic Area takes about 2.5-3 hours.
At present, there are no flights and trains available to the mountainous area Longsheng. Travelers who want to visit the Longsheng Rice Terraces usually arrive at Guilin first and then transfer to Longsheng by taking private cars or local mini coaches.
Recommended Tour:
▶
4 Days Highlights of Guilin, Yangshuo & Longji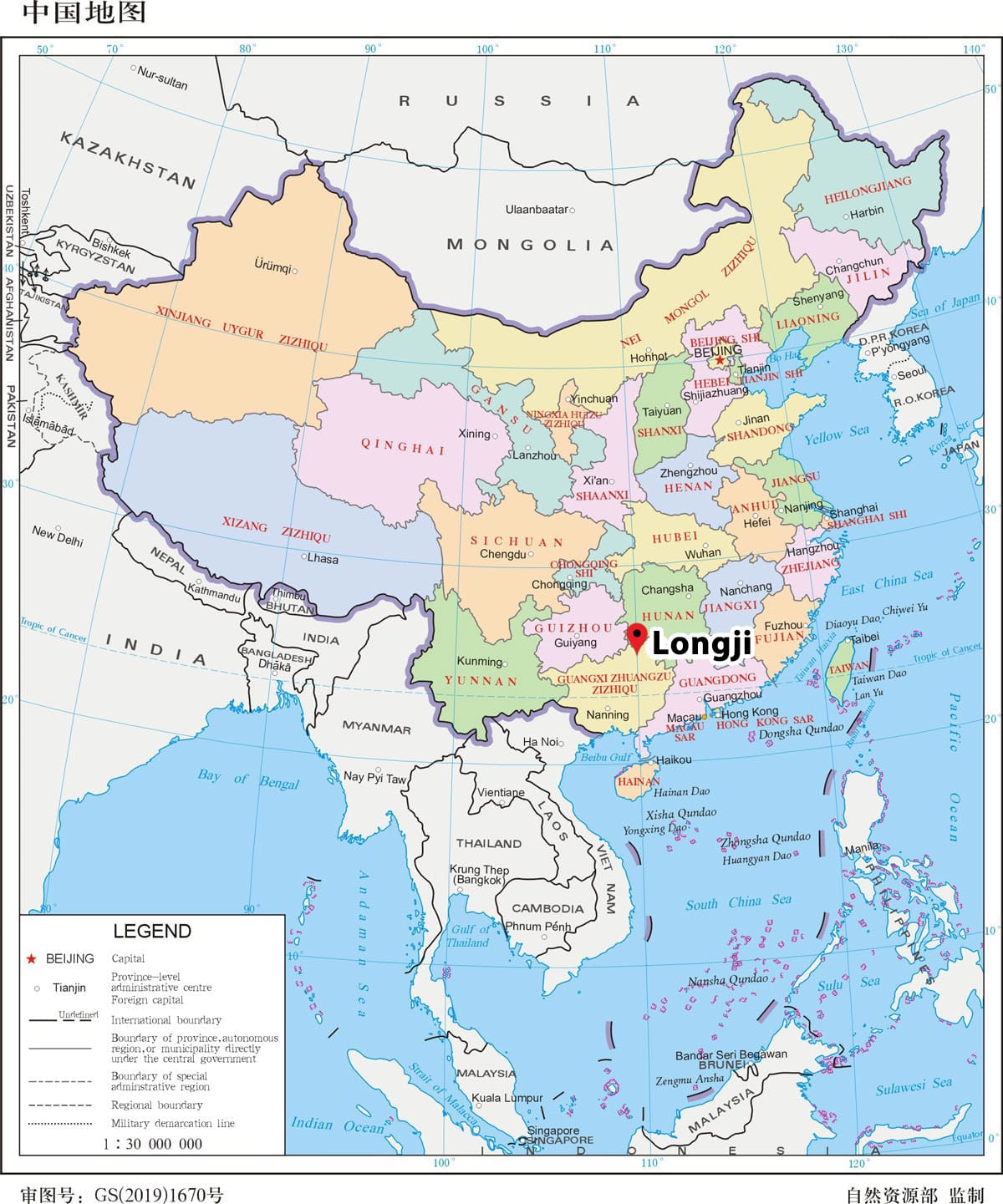 Longsheng Rice Terraces, which is also called Longji Rice Terraces and the Dragon's Backboon Rice Terraces, mainly consists of three terraces areas, including Ping An Rice Terraces, Jinkeng Rice Terraces and the Ancient Zhuang Rice Terraces. Three terraces areas share with one main tourist gate, but they also have their own separate gates.
Ping An Rice Terraces is the most popular area of the whole scenic area, and it enjoys the most convenient guesthouses, restaurants and other modern amenities like foot bath center. Ancient Zhuang Rice Terraces is where Longji Rice Terraces started, and even the most popular Ping'an Village was once part of Longji Ancient Zhuang Village. Jinkeng Rice Terraces is the largest and also most wild rice terraces area, most of the breathtaking pictures on the website are shoot there.
The ticket price is about 80 RMB per person. After booked the ticket, you can go sightseeing of the whole Longsheng Rice Terraces, including Jinkeng Rice Terraces, Ancient Zhuang Rice Terraces and the most popular Ping 'an Rice Terraces. Keep your ticket carefully. Each terraces area has its own ticket checking gate and you should show your ticket when you want to get inside for sightseeing. The opening hours of those ticket gate is usually from 9:00am to 18:00pm.
The best time to visit Longsheng is from late-April to the mid-October. From late-April to mid-June, you can enjoy the beautiful watery fields which are just like glitter mirrors scattered across the mountain. From mid-June to mid-September, the grain seedlings have green leaves, making the whole Longji Mountain a fairyland with lush greenery. From mid-September to mid-October, the green leaves gradually turn yellow, forming golden waves among the mountain. The harvest work starts at the mid-October, so at that time you can meet with numerous farmers harvesting rice in the field. After the harvest, nothing will be grown in the terraces until the next May.
Recommended Tours:
▶
5 Days Best Guilin In-depth Vacation (Li River, Yangshuo & Longji Terrace)
You never feel too cold or too hot in Longsheng, but the weather in Longsheng is changeable. There are many sunny days, but also many rainy days or foggy days. Sometimes, you may meet with bright sunshine and misty fog at one day. If you want a broader view of the scenery, you can go there during the sunny days, which are also the top recommended. Check more about Longsheng Weather and Climate>>
There are many trails in the Longsheng Rice Terraces Scenic Area, providing many hiking options for you. Aside from the normal hiking routes in each terraces area, there are also two special hiking rotes, including the route from Ping An Village to Ancient Zhuang Village and the route from Ping An to Jinkeng via Zhongliu Village. The former route takes about 1-1.5 hours and the latter one takes about 3-4 hours.
Yes, there are many uneven and jagged steps, especially in the Jinkeng Area. Hiking around the Ancient Zhuang Rice Terraces is maybe the easiest as there is a relatively wider and flatter road for sightseeing.
Recommended Tours:
▶
6 Days In-depth Guilin Tour from Hong Kong
Yes. Jinkeng area has cable cars traveling between Dazhai Village and the no.3 viewpoint named Golden Budda Peak. Ping'an Rice Terraces and the Ancient Zhuang Rice Terraces have sightseeing buses. The sightseeing buses in Ping'an only travel between its parking lot and the no.1 view point named "Nice Dragons and Five Tigers". In the Ancient Zhuang Rice Terraces, the sightseeing buses only travel between the parking lot and the visitor center in the Ancient Zhuang Village.
The cable cars in Jinkeng charge about 55RMB per person for one-way trip and 100RMB for a round-trip. The sightseeing buses in Ping an charge about 30 RMB per person every time. And the sightseeing buses in the Ancient Zhuang Village take about 20 RMB per person every time.
In Ping An area, there are two best photography locations: no.1 viewpoint Nine Dragons and Five Tigers and no.2 viewpoint Seven Stars around the Moon. And in Jinkeng Area, there are three best locations. They are the no.1 viewpoint West Hill Music, no.2 viewpoint Large-scale Thousand-Layers Terraces and the no.3 viewpoint Golden Buddha Peak.
Recommended Tour:
▶
6 Days Guilin In-depth Photography Tour;
Though the hotels in Longsheng Rice Terraces area are not that good as in the downtown area Guilin, they all can meet your basic needs. All the hotels there have already equipped with private washrooms. Hot water, free Wi-Fi, hair dryer, etc. are also provided. The hotels in Longsheng County (about 10km away from the Longsheng Rice Terraces) are a little bit better than those hotels in the scenic areas. Check more about Longsheng Accommodation>>
For the travelers with heavy luggage, you can ask the locals with pack basket in the entrance of Jinkeng area for help. It may charge you about 40-80 RMB. For there may be language barrier, you can prepare the Chinese name of your destination in advance.
Enough cash is a must if you have no WeChat pay or Alipay, because there is no ATM on the rice terraces scenic area. The weather changes quickly, so you are suggested to pack up your raincoat, sunscreen creams, comfortable antiskid shoes and trekking poles. At least one bottle of water is needed too. Besides, you are suggested to put on a rain shade for your cameras.
Generally, about 2-5 days are needed when visiting Longsheng. The classic 2-day tour is going sightseeing at the most popular Ping An area. If you want to visit more rice terraces areas and villages, you need 1-2 days more. Better not schedule flights or trains at the last day of your Longsheng Tour. There is only one road available to get in and out Longsheng, so you may miss your flight once you encounter with a traffic jam, especially during the holidays like the National Holiday (10.1-10.7) and the Holiday of Labors Day (days around May 1st).
Recommended Tours:
▶
4 Days Guilin Highlights Tour (Li River, Yangshuo & Longji Terrace)
▶
5 Days Best Guilin In-depth Vacation (Li River, Yangshuo & Longji Terrace)
▶
6 Days In-depth Guilin Tour from Hong Kong
▶
4 Days Guilin and Yangshuo Memorable Tour from Hong Kong
If you have more questions about the Longsheng travel, please feel free to contact us with your queries. Our experienced travel consultants are very glad to help you. Then you can pay more attention about the beautiful scenery along the way, without any trouble about the transportation, accommodation, dining, hiking routes, etc. All will be tailored according to your interests and needs. Just contact us and get your personated Longsheng Tour now!
Useful Guilin Travel Guide Info
Extending Readings for Guilin Travel Planning
Recommended Tours
Top 3 city tours chosen by most customers to explore in the best way. Check the detailed itinerary,or tailor your own trip now with us.
4 Days Guilin Highlights Tour (Li River, Yangshuo & Longji Terraces)

Guilin / Yangshuo / Longsheng
5 Days Best Guilin In-depth Vacation (Li River, Yangshuo & Longji Terraces)

Guilin / Longsheng / Guilin / Yangshuo
6 Days In-depth Guilin Tour from Hong Kong

Hong Kong / Guilin / Longsheng / Yangshuo / Guilin