Why Visit Yulong River?
Yulong River (遇龙河), a tributary of Li River in Guilin, winding for about 43.5 kilometers in total is praised as the best essence of Yangshuo to fully savor the beauty of Guilin typical rising mushroom-like hills of Karst landform, pleasant landscape resembling Chinese ink brush paintings, and a rich array of outdoor activity experience to enrich your Yangshuo days with the best merry mood! Furthermore, highly treated by experts home and abroad as "first-class natural heritage of human in the world" and the "Little Li River", Yulong River is a remarkable ideal getaway to leave all your pressure and worries behind and soak in the poetic countryside leisure, rebuild the enthusiasm to our simple life and close up to every life created by our nature. As the charm of Yulong River is hard to describe perfectly by words, you are always welcomed to visit it and feel it in person. Yulong River, you are always waited for to discover!
Yulong River History & Legend
Yulong River was originally called Anle Water (literally: Peace and Happiness), so why has it changed to be called so? According to a legend, there is a Chinese dragon from East Sea cruised there and settled down there after moved by the so beautiful landscape of the lovely place, which could not be seen at the East Sea. At the very beginning, it just came out from the water to enjoy the view at night, but later it appeared at daytime occasionally, so many villagers have seen it after that, hence, it began to be named as Yulong River to mean Dragon Meeting River. Nowadays, it is nearly impossible to meet that dragon, but the stunning landscape of Yulong River is still attractive for your enjoyment and compliment.
What to Experience at Yulong River
As it will be a pity if you travel to Yangshuo but fail to visit Yulong River, there you will get a lot to see and do at the Yulong River Park, including the fascinating sightseeing, flavored old buildings and bridges, idyllic countryside life scenes, diverse entertaining activities, etc.
Recommended Hot Tours in Guilin & Yangshuo:
>> 3 Days Classic Guilin & Li River Cruise
>> 4 Days Highlights of Guilin, Yangshuo & Longji
Admire Fairyland Scenery
What is a fairyland like? Probably you can see it at Yulong River, particularly the part from Yulong Bridge down to Gongnong Bridge. This scenic area boasting the extremely dream landscape to show the best gift for the joy of both your eyes and minds, with the glittering and translucent stream twisting down with emerald toothing hills lining both sides, bright yellow and green farming lands and rice paddies connecting each other to form the harmonious geometric painting, inverted images of riverside bamboo forests, mountains and trees being melted by wind's kiss, bees and birds flying among various colored blossoms and fresh treetops, etc. With every step moving, you will admire different traditional Chinese ink brush landscape paintings. Furthermore, there are three major views at Yulong River, nice landscape view at noon, kitchen smoke at dusk and morning glows at dawn. As Yulong River shows distinct sceneries in spring, summer, autumn and winter, you will meet your own surprising river view in different time you go!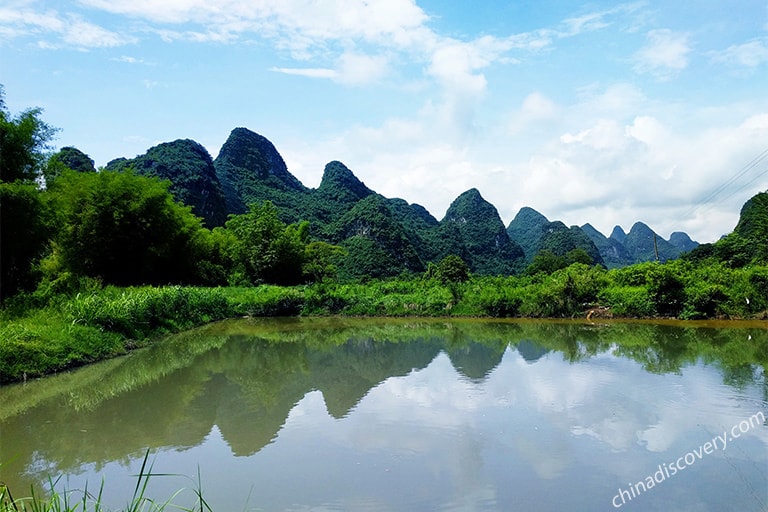 Fancy Yulong River Scenery
Savor Historical Buildings
As an ancient county, Yangshuo maintains a large series of old bridges, houses, and relics to testify its long history to the world.
Fuli Bridge
Built in Yongle Period of Ming Dynasty, Fuli Bridge (富里桥 Wealth County) is about 600 years old and one of the top 3 oldest bridges in the whole Yangshuo. The stone structured bridge with single archway is 30 meters long, 5 meters wide and 10 meters high. Presenting the elegant appearance, it seems from afar a full moon with its reflection on the river surface, so it is also called "Full Moon Bridge". With the two old trees on both ends, Fuli Bridge is really ideal to seek the ancient southern Chinese flavor no matter you walk on it or just see it in a distance. Also, it is a favored place by shutter bugs for shooting in Yangshuo.
Yulong Bridge
Yulong Bridge (遇龙桥) is where Yulong River got its name because of the legendary of meeting a dragon there. It is built in 1,412 AD in Ming Dynasty, but it still keeps well through the 600 years. There is a stone tablet recording the history of local villagers conflicting for over 10 days in the anti-Japanese war in 1944. Nearby is Yulong Village, where you can see the local people doing daily chores, groups of ducks swimming across the river, old houses with black tiles standing quietly, etc. to feel the life of Chinese countryside.
Xiangui Bridge
Xiangui Bridge (仙桂桥) is the oldest stone arch bridge in Guangxi Province, from 1,123 AD in Song Dynasty, with a height of 2.2m, length of 26m and a width of 4m. After experiencing the denudation by wind, rain, and floods for more than 800 years, this stone bridge constructed by 218 stones still preserve very well to let present people to admire its original look. From the bridge, you can enjoy the jubilant scene of bamboo rafting and the view of the wider Yulong River.
Jiuxian Village
Jiuxian Village (旧县) enjoys a great fame among international travelers to Yangshuo. Having a long history of over 1400 years, this village is antique, quiet and beautiful. Nowadays, you can see its many old stone dwellings with exquisite carvings, Ma Tau Wall, and black tiles left from the Qing Dynasty, old wells still using today, former residence of army commander Li Xingshu, officials and successful imperial examination candidate in old times to feel the ancient flavor of Yangshuo Yulong River.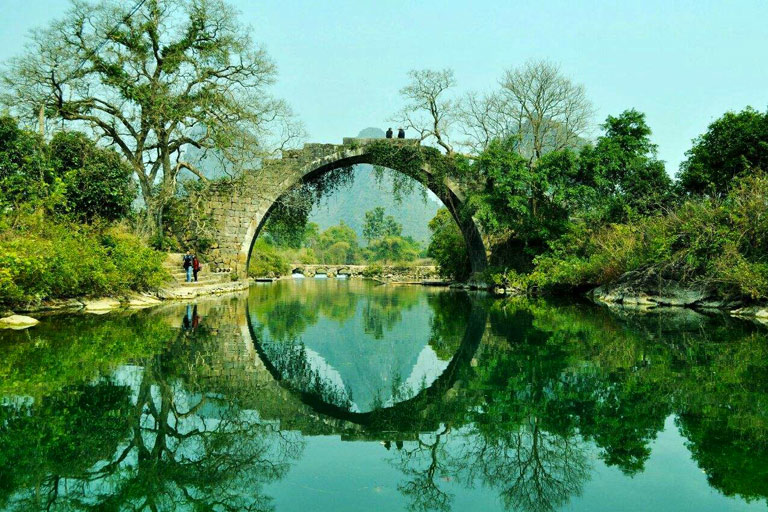 Fuli Bridge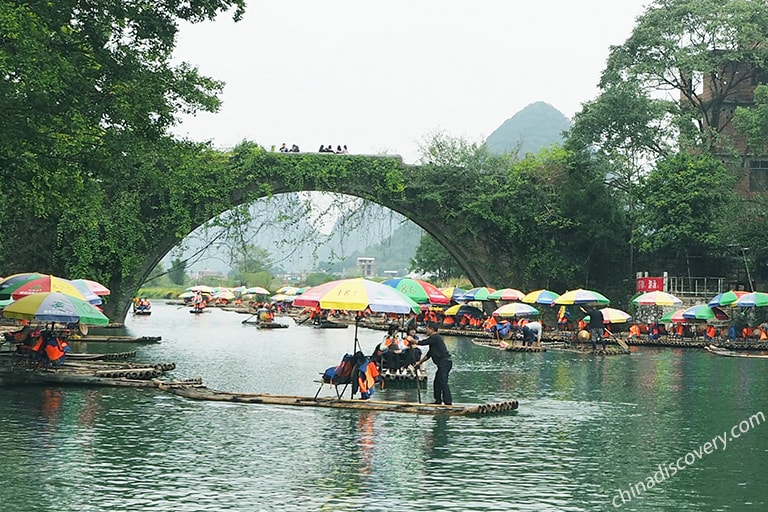 Yulong Bridge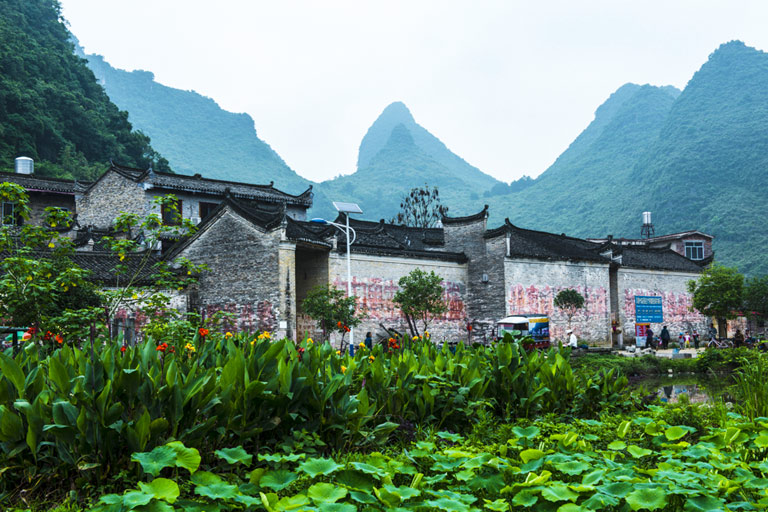 Jiuxian Village
Lay back with Countryside Life
Life is really simple and ideal for people living in Yangshuo. Time is changed comfortable during your visiting along Yulong River with the authentic local countryside life scenes. Local farmers are tending their crops and vegetables in their farmlands, or herding their Buffaloes to daze or drink off the stream. Housewives are doing their daily laundry and cooking for their family, which make the white chimney smoke flow into the air. Chickens wander along the paths in fields to find their food. I guess you will smile while encountering with those people, those domestic animals, and those simple but nice life moments at Yulong River.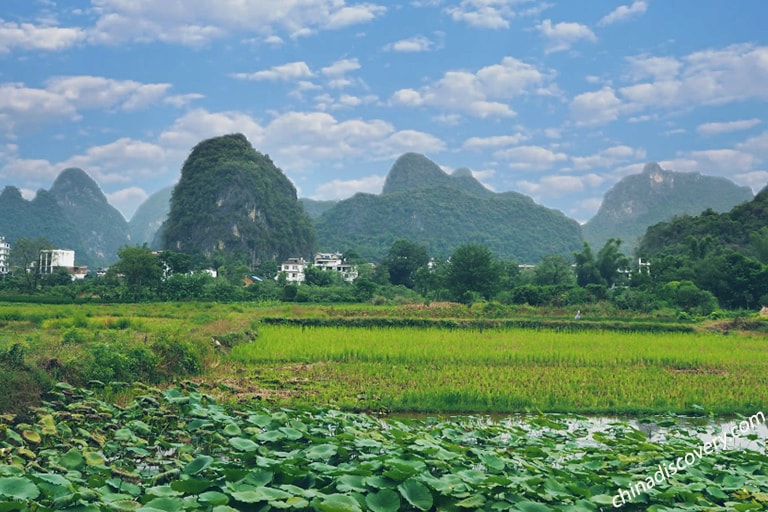 Local Farmer Cultivating at the Field
Have Fun with Diverse Outdoor Activities
Yangshuo regarded as the paradise for outdoor activities. Furthermore, Yulong River collects a large number of the most classic items for your relaxing, joyous and exciting experience there, such as bamboo rafting, cycling, scooting, hiking or walking, bus touring, etc.
Bamboo Rafting
Bamboo Rafting along Yulong River, which is leisure, relaxing and scenic to enjoy the highlights of this beautiful river, is one of the must-dos for Yangshuo travelers. Sit back on the bamboo chairs to drift down to enjoy the crystal clear water, appreciate the elegant reflections of hills, groves, trees, cottages, etc. in a different angle and feel traveling in a landscape painting with the fancy views of both sides passing by. Moreover, every time your raft passes the weirs, the sprays aroused in the sky will also arouse your laughter and screaming excitingly. Along the whole Yulong River, there at present are several rafting routes at different docks, which present you different types of views to enjoy. And among them, there are three most popular, including Shuiedi - Gongnong Bridge (工农桥), Jima (骥马) - Gongnong Bridge, and Jinlong Bridge (金龙桥) - Jiuxian County, which shows the best sceneries of the river with appropriate time of 50 or 90 minutes. (Note: Yulong River bamboo raft can hold only 2 passengers every time. Children less than 1 meter and elders more than 70 years old are not allowed to take the bamboo rafts.)
Bamboo Rafting: Yulong River vs. Li River
Li River and Yulong River both offer bamboo rafting experience for Yangshuo visitors. However, they are different a lot. Compared to the primitive rafts needed to be pulled by the boatman to move on Yulong River, those on Li River are motorized with more sounds and move faster. Besides, Li River is wider than Yulong River, and it is typically to appreciate the Karst mountains on banks, while Yulong River enables you to get closer to the bankside sightseeing in a more leisure and quieter way. Furthermore, Li River bamboo rafting needs to return along the same route your go, however, Yulong River contains only single ways drifting down.
>> Check more about Yulong River & Li River Bamboo Rafting
>> Check more about Three Best Ways to Visit Li River
Biking & Scooting
If you are able to ride a bike or scooter, you shall not miss this activity at Yulong River, as numerous international Yangshuo expats and visitors choose it and enjoy the biking and scooting experience a lot! Getting on your vehicle, you can visit anywhere in the scenic park to admire the sceneries along the river, in the old villages, on the field paths, etc. to both treat your eyes and childlike innocence with your partners. Just forget what on your mind with the gentle breeze, aroma of flowers, and music of birds.
>> Check more about Yulong River Biking, Routes & Bike Rental.
Hiking & Walking
This is another popular way to admire Yulong River. With the wide sea of flowers covering many places along, it is absolutely happy to see the best combination of verdant mountains backing the rich bright floras off the shimmering emerald stream. Since there are well paved path available in some sections, walking there you can enjoy the pretty scenery, watch local countryside life, encounter with bamboo rafting and biking tourists and say hello to nature. As Yulong River is in fact very long for walking its full length, it is recommended to experience the part from the Waterwheel Path (水车步道) to Shuiedi Dock (水厄底码头), which needs about 0.5 hour to admire the primitive waterwheel on working, fancy reflections on the river, colorful sea of flowers, farmlands, domestic animals, folk houses, bamboo rafting scenes, and so forth.
>> Check more about Yangshuo Hiking.
Sightseeing Bus
Sightseeing buses may be the most relaxing way to visit Yulong River. Getting on the bus, you can sit leisurely to admire the passing sceneries, buildings, people, and other things clearly from the large glass windows. If you are attracted by the highlights at somewhere on the middle way, you can get off to walk closer to appreciate. The mainly chosen bus line to admire Yulong River is from Jima to Gongnong Bridge, which usually takes about 0.5 hour. And along the route, there are some specific stops for scenic enjoyment, however, you can get off anywhere you want by telling the driver and get on anywhere by waving and showing your bus ticket. Keeping your ticket, you can take the sightseeing bus all day long without limitation of times.
Travel Idea of Yulong River Outdoor Activities
Since there are rich kinds of activities and sections to enjoy at Yulong River, it is a little hard to choose and plan your outdoor experience for your first time there. However, for most people who successfully admire the best essence of Yulong River activities, they usually first bike on the path by the river and then take a bamboo raft to drift on the river. We suggest you bike from the upper part from Jiuxian or Xiangui Bridge to Shuiedi Dock and experience bamboo rafting from there to Gongnong Bridge. And if you are excellent at biking, you can extend your biking route longer beginning from Jinlong Bridge and even Fuli Bridge.
>> 2 Days Guilin Ideal Li River Cruise with Yangshuo Essence Tour
>> 3 Days Classic Guilin Tour - Guilin Brief Vacation
>> 4 Days Guilin Highlights Tour (Li River, Yangshuo & Longji Terrace)
Classic Yulong River Bamboo Rafting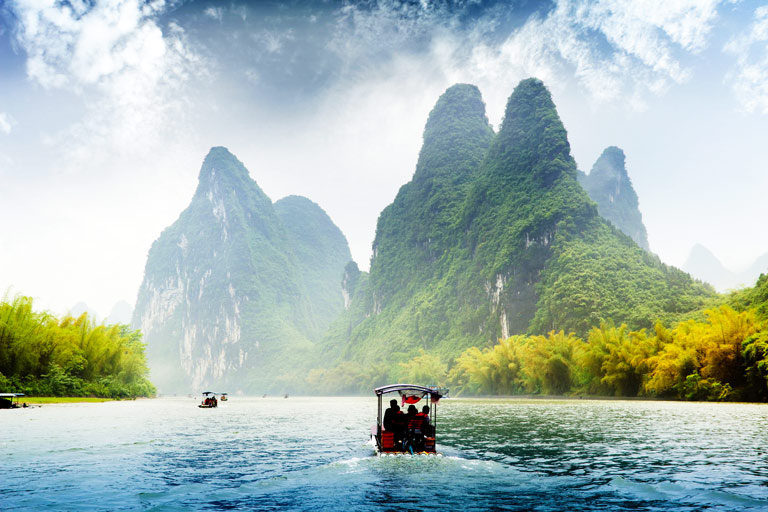 Li River Motorized Bamboo Rafting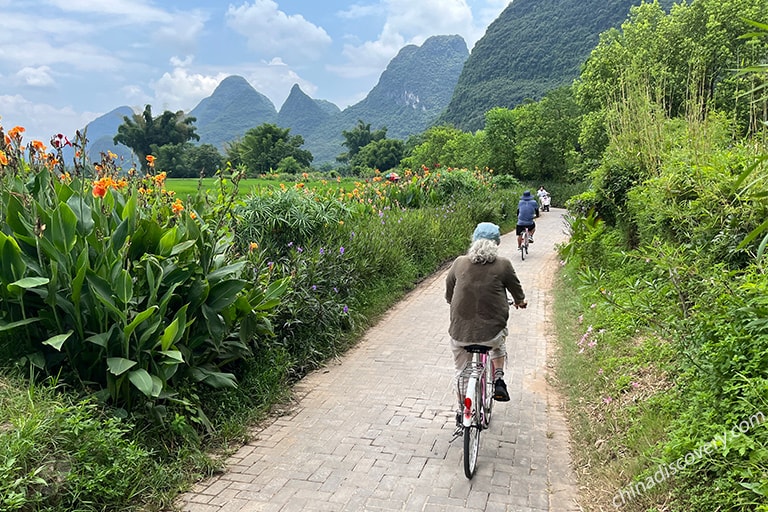 Biking to Encounter with Buffaloes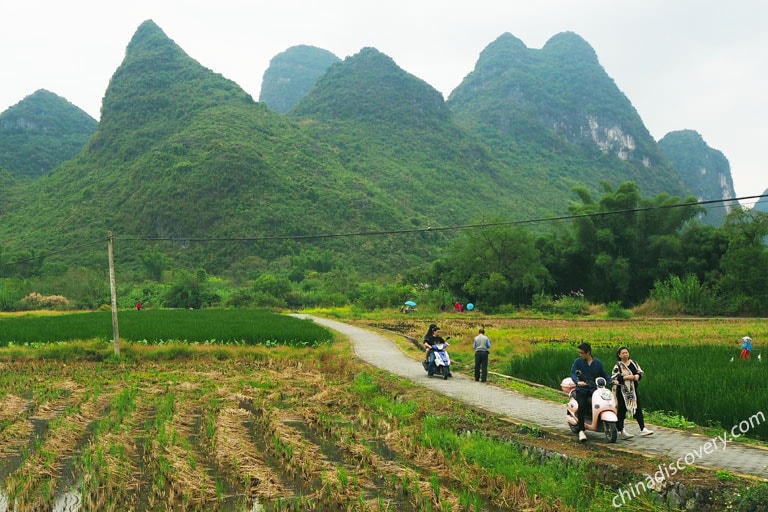 Scooting in the Fields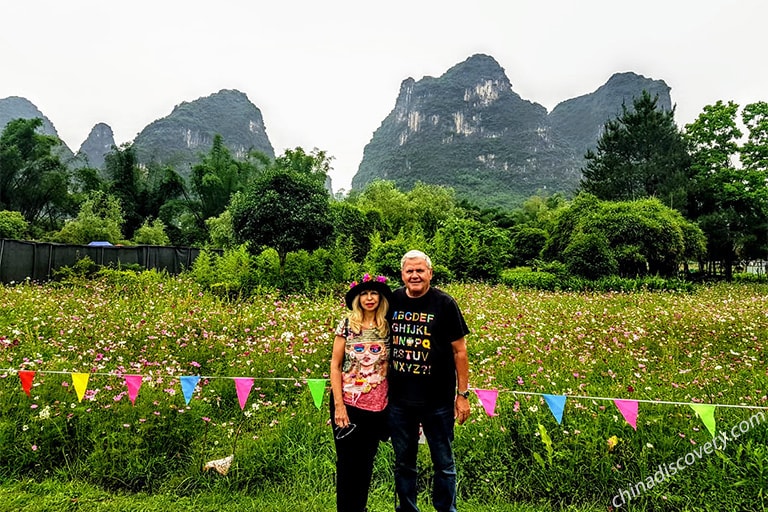 Hiking to Admire Sea of Flowers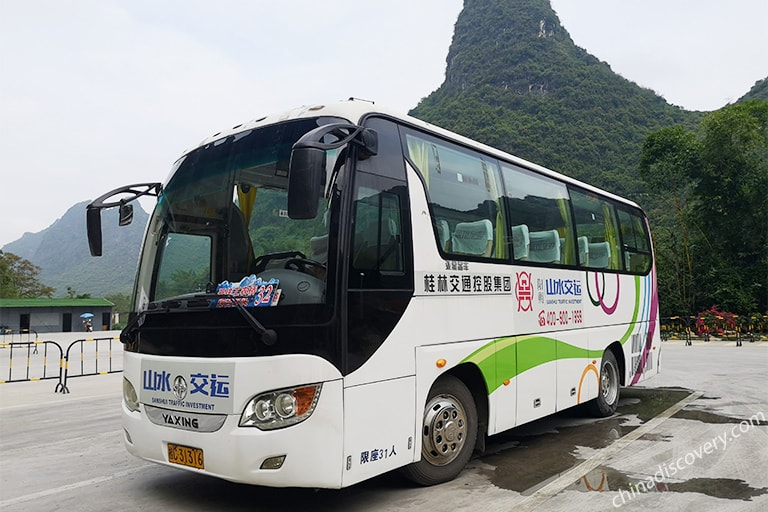 Yulong River Sightseeing Bus
Location Map & How to Get to Yulong River
Yulong River is located in Yangshuo County, Guilin City in Guangxi Province, about 12km driving distance for 20 minutes from West Street, the county center. You can get there by bike, scooter, bus, car, etc.
By Bike / Scooter
From West Street, you can directly bike or scoot to visit Yulong River. To reach Jima to see its best essence, it takes about 35 minutes. To reach Yulong Bridge to enjoy the upper part of the river, it needs about 1 hour. To reach Jiuxian County, it needs 45 minutes. And you can also go to Gongnong Bridge for about 35 minutes.
By Bus
From West Street, you need to take bus 801 / 602 to Fengming Passenger Center (凤鸣游客咨询中心) and transfer on the Ten-mile Gallery Sightseeing Bus to Gongnong Bridge, which usually takes about 1 hour.
By Car
It usually needs about 25 minutes from West Street to Fuli Bridge and 20 minutes to Jinlong Bridge by car. From West Street to Jima, it takes about 15 minutes by car. However, as you can only reach Jima Parking Lot, you need to transfer on the sightseeing bus to get to the bank of Yulong River, which usually takes about 8-10 minutes.
>> Check more about How to Get to Yangshuo from Guilin.
Yulong River Tourist Map
Private Transfer from China Discovery
As transportation to Yulong River is complicated, you are highly recommended to take our private transfer service to enjoy traveling Yulong River and Yangshuo with our comfortable private vehicle, and our local guide and driver will escort you from your hotel to the nearest entrance of Yulong River and help arrange the bike / scooter / bus ticket well for you, so you do not have to worry about anything but just focus on the highlights on the way! If you are interested, please contact us to your needs directly!
Best Time to Visit Yulong River
Yulong River is suitable to visit all year round, and April to October is the best time to appreciate its natural sceneries and experience its outdoor activities. In spring, it is great time to admire the green rice paddies and bright golden sea of rape flower, biking at such time is really a great joy. In summer time, the marvelous landscape painting of Yulong River is best to see. In autumn, the fall foliage dresses the river and countryside to a romantic place with more ancient and tranquil charm, which is also a great opportunity to see a great harvest of local farmers. Winter is not so good for rafting or biking experience.
However, during July and August, it is a little hot for biking or walking or bamboo rafting long, and if you visit from July to September, sun cream and hat is highly recommended. Mosquito repellent is always suggested. Besides, to avoid too many tourists, you are advised not to visit during the Labor Day holiday at the beginning May and National Holiday week at the beginning of October.
>> Check more about Yangshuo Weather & Best Time to Go.
River View Hotels at Yulong River
To stay by Yulong River in a scenic hotel with the tranquil and idyllic view outside window accompanying you to sleep and wake is planned and recommended by a large number of visitors to Yangshuo. Along the river, there are countless hotels, hostels and homestays for different needs. Among them, the Mountain Resort facing the river near Shuiedi is really awesome to lay back with praisable preparation of everything. Besides, the Secret Garden Yangshuo in Jiuxian Village has long been famed with exquisite decoration in the authentic local folk house of over 100 years old. Furthermore, Yangshuo Tea Cozy is an outstanding boutique hotel with featured stilted houses to feel the classic and comfortable life in Yangshuo countryside.
>> Check more about Where to Stay in Yangshuo & Best Accommodations.
>> Check more about All Recommended Yangshuo Accommodations.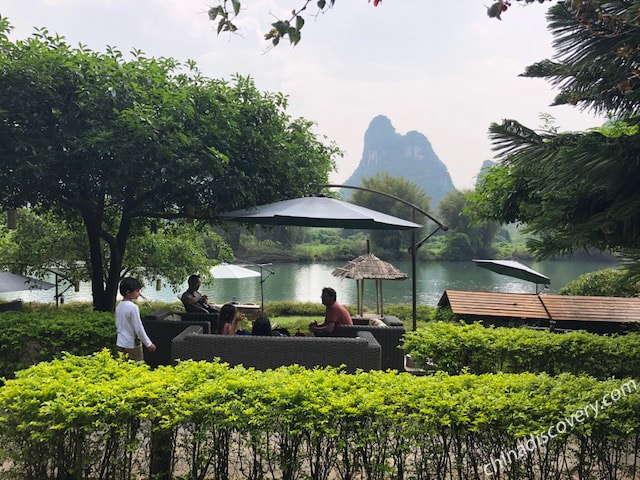 Yangshuo Mountain Retreat by Yulong River
Yulong River Travel Tips
Tourist Map
There are many small paths from Yangshuo to Yulong River if you bike, it is highly suggested to bring a tourist map or use mobile navigation in order not to get lost. Besides, you can draw your biking route on your map in advance to ask local people in case you are lost. Check more about Yangshuo Maps.
Protect from Getting Wet for Bamboo Rafting
Since the bamboo raft will arouse sprays when passing weirs along Yulong River, you are super advised to protect your mobile phone, camera and any other digital devices and also lift your feet from getting wet. Besides, it is best to prepare some clothes to change after rafting.
Top Attractions in Guilin
Extending Readings for Guilin Travel Planning
Recommended Yangshuo Tours
Top 3 Yangshuo tours chosen by most customers to explore Yangshuo in the best way. Check the detailed itinerary, or tailor your own trip now with us.
4 Days Guilin Highlights Tour (Li River, Yangshuo & Longji Terraces)

Guilin / Yangshuo / Longsheng
3 Days Classic Guilin Tour - Guilin Brief Vacation

Guilin / Yangshuo
5 Days Best Guilin In-depth Vacation (Li River, Yangshuo & Longji Terraces)

Guilin / Longsheng / Guilin / Yangshuo
Start planning your tailor-made holiday to China by contacting one of our specialists. Once inquired, you'll get a response within 0.5~23.5 hours.
Customize a Trip
Have a question? Get answers from our travel experts or guests
Your Question:

Your Name:

Your Email: