Yangshuo Photography - Top Shooting Spots & Tips
Guilin has long been worldwide famous for its characteristic landscape of typical Karst landscape mountains and lovely water, which has been attracting lots of travelers to appreciate real beauty. However, Yangshuo County, southeast of the city, is actually another favored darling for photographers. No matter you are planning to capture the glamorous sunrise and sunset, or the superb foggy waterscape, colorful scenery in a clear fine day, etc. in your camera memory card, we China Discovery have it all to take you to see based on your interests to Li River, Yulong River, famous photography mountains including Xianggong Hill, and so forth!
Top Yanshuo Photography Spots
Since Yangshuo is a nice place to take great pictures, there are countless spots for your choice. But among all, there are some top spots including some iconic shooting places to create your awesome works. Please check them below and know the best time and angle to catch the best image of the highlights!
Li River
Li River surely belongs to the list of top Yangshuo photography spots! Once you take the classic Li River cruise from Guilin suburb, your shutter will be pleasant to be on service with the continuous fine view along the around 83 kilometers' riverway to Yangshuo, including the crown-like Crown Cave, fascinating inverted images at Langshi Landscape belt. However, you won't miss the top renowned landscape points.
>> 3 Days Classic Guilin & Li River Cruise
● Nine Horses Fresco Hill
Famous for its looming yellow, white and black images of lively horses naturally created on the cliff, it never stops to arouse the curiosity of travelers to Li River to count how many horses indeed are "painted" there and record such magic scene by their camera.
What to shoot: Nine Horses Fresco Hill, Karst Landscape
Address: Putao Town, Yangshuo;
Best time: clear day in good light; May to September
Best sites: on Li River, mountaintop along Li River
Camera lens: wide-angle lens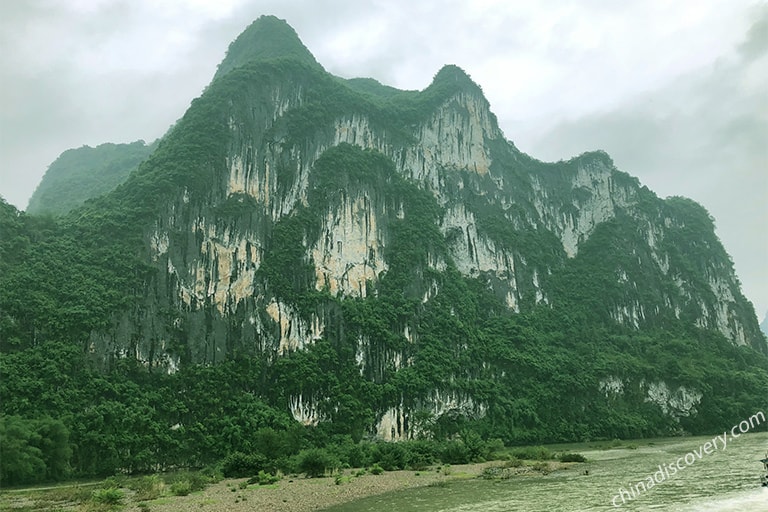 Li River Nine Horses Fresco Hill
● Yellow Cloth Shoal
This is regarded as the most stunning point of Li River and is rightly the image printed on the back of the 20 RMB Chinese note. The peaceful water surface presents a heart-pleasant enjoyment with the clear inverted images of the ups and downs hills, bamboo groves, and clouds, dropped onto the yellow-cloth-like huge stone beneath the water. The Yellow Cloth Shoal has always been a beloved place for visitors and shutter bugs for its real strength in all four seasons, including misty Li River in spring, sunny view with blue sky and white clouds and serene reflections on mirror-like water with front lighting, morning fogs and rosy morning glow with back lighting in summer and autumn, and also frosty Chinese ink brush alike scene in winter.
What to shoot: Yellow Cloth Shoal, fisherman, fishing light, cormorant, sunrise, Karst Landscape, Li River, etc.
Address: opposite to Xingping Town, Yangshuo;
Best time: all four seasons;
Best sites: Yellow Cloth Shoal viewing deck on Li River;
Camera lens: wide-angle lens, standard lens, etc.
Tips: you can ask a local fisherman with cormorant and rosy fishing light on a traditional bamboo raft to create more inspiration and charm to your photos as other famous photos on the Internet. (Needs extra payment and reservation at least 1 month)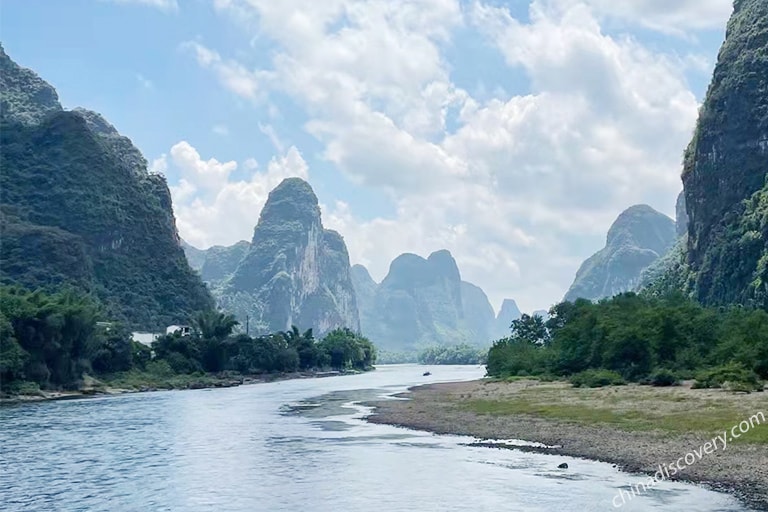 Yellow Cloth Shoal
>> 4 Days Guilin Highlights Tour (Li River, Yangshuo & Longji Terrace)
● Xingping Old Town
One of the top popular ancient towns in Yangshuo and Guilin. Why not take your camera while strolling along the ancient streets and alleys? This more than 1-thousand-year old town still elaborately maintains its quaint flavor with some dwellings, bridges, temples dating back to 1700s. Press your shutter to frame the elegant and classic structure lines of the black, grey and white residential houses and the authentic folk life of locals.
What to shoot: Xingping Old Town, local people, old architectures, etc.
Address: Xingping Town, Yangshuo;
Best time: all four seasons, avoid heavy foggy days;
Best sites: on the streets, on top of buildings;
Camera lens: standard lens;
Tips: suggested to shoot in the early morning to escape from crowds.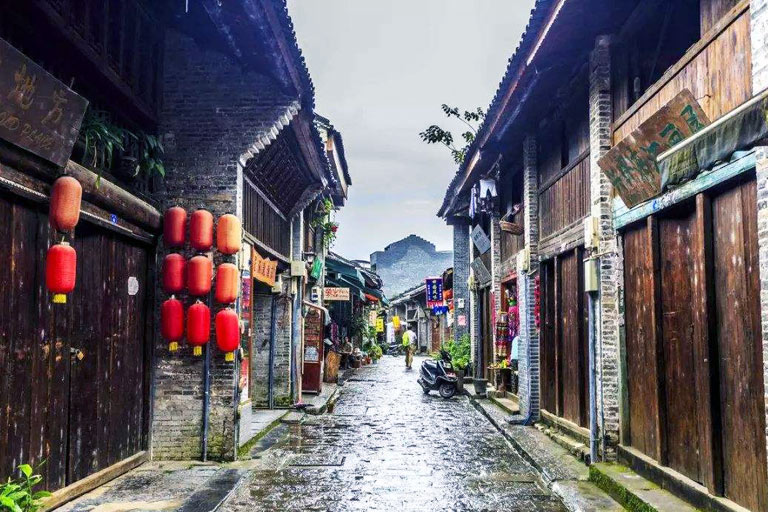 Xingping Old Town
Besides the recommended top photography spots, there are still some outstanding spots giving great views for record, such as Langshi Landscape, Xialong Landscape, Zhuobi Peak (Zhuo Pen Peak), Chaoban Hill, etc. You are also advised to get more charm of Li River at those places if you have more time in Yangshuo.
Yulong River
Yulong River as the essence of Yangshuo shows the fascinating sightseeing to please numerous domestic and overseas travelers and photographers. When you roam on bank of the stream, you can enjoy the mushroom-resembling Karst hills, verdant bamboos and trees, hundreds-year ancient bridges, etc. and their fine reflections on the crystal clear water surface. Furthermore, you can shoot other visitors bamboo rafting through the weirs with flying sprays, passing the groups of ducks having fun at the waterwheel to form the ideal countryside fun, etc. Moreover, the buffalos grazing in the emerald field, local peasants farming outside their houses, sunrise and sunset sunlight igniting the stream with pieces of shimmering paillettes, etc. will help you create a great number of awesome scenic photography works.
What to shoot: Yulong River, bamboo rafts, Karst Landscape, buffalos, old villages, old bridges, countryside view, farmland, etc.
Address: Yulong Scenic Area, Yangshuo;
Best time: March to November;
Best sites: Yulong Bridge and many other places along the river;
Camera lens: wide-angle lens and other types according to the detailed needs.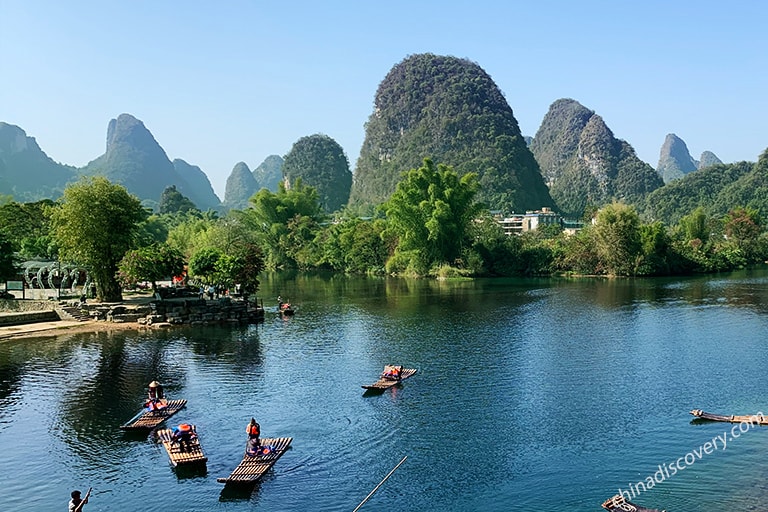 Yulong River Karst Landscape
Xianggong Mountain
Being the shooting site of an international prize gained photograph, Xinggong Hill is one of the must-visit places for photographers to Yangshuo. Sitting between the Yellow Cloth Shoal and Nine Horses Fresco, on the west bank of Li River, Xianggong Hill enjoys the advantaged location surrounded by rolling Guilin Karst hills. This iconic shooting site boasts fabulous blends of lights and shadow, sea of clouds, and its most famous sunrise and morning glows for the wowed admiration of countless visitors coming by. In a clear sunny day, you can see layers of protruding mountains lying in front of you to the remote end of the world, and with the smoke rising from local kitchen chimney off the winding Li River, it extremely seems a fairyland with idyllic countryside life scene.
What to shoot: Li River, Karst Landscape, sunrise, sea of clouds, mists, etc.
Address: Xianggongshan Scenic Area, Hebaoshan Village, Yangshuo;
Best time: morning, April to November;
Best sites: on the viewing deck on Xianggong Hill
Camera lens: bugeye lens, wide-angle lens, medium telephoto lens, standard lens, etc.
Tips: 1). You usually need to get up early (usually 05:00 in winter season and 04:00 in summer season) to shoot the sunrise, sea of clouds and morning glow there, and there would be so many people for shooting especially in a day with fine weather, you are advised to get up earlier to find a great place, besides, please remember to take a head torch. 2). A tripod is recommended to prepare. 3). Sea of clouds often appears when the sun shines again after raining.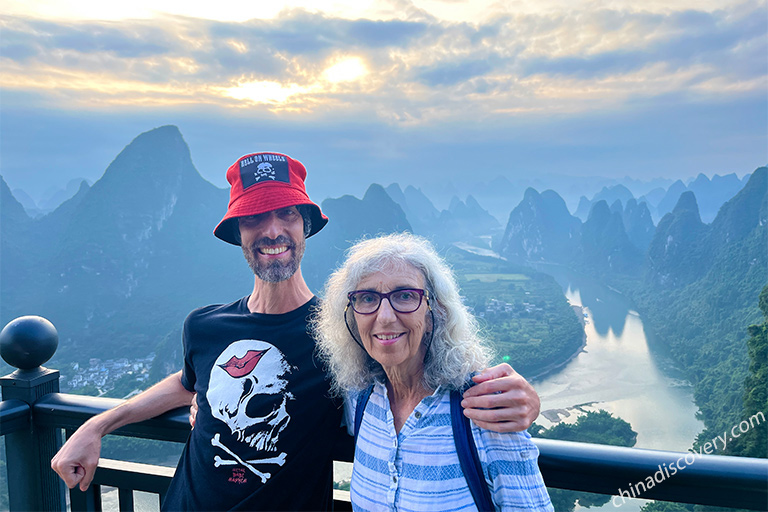 Xianggong Hill Sunrise
Cuiping Five Fingers Mountain
This mountain scenic area has been a magnet for both photographers and travellers for over 20 years after its exposure to the public. Prepare well your camera, lens and tripod, as the incredibly gorgeous panoramic landscape of the boundless adorable Karst landform mountains, mirror-like geometric pools and curving streams, visually pleasant countryside fields and simple squat cottages, etc. will excite your mind strongly to shoot ceaselessly. It must point out that Cuiping Hill is one of the super excellent spots to take photos of sunset, since it enjoys the pantoscopic location to enjoy all it with the attractive sunset glow to draw the subtle outline of every mountain into diverse levels to entertain your heart and eyes.
What to shoot: Yangshuo countryside view, Karst Landscape, sunset, etc.
Address: Cuiping Village, Putao Town, Yangshuo;
Best time: dusk, April to November;
Best sites: on the top viewing deck on Cuiping Hill;
Camera lens: wide-angle lens, medium lens, etc.
Tips: 1). If you shoot the sunset there, you are highly advised to prepare a head torch. 2). A tripod is recommended to prepare.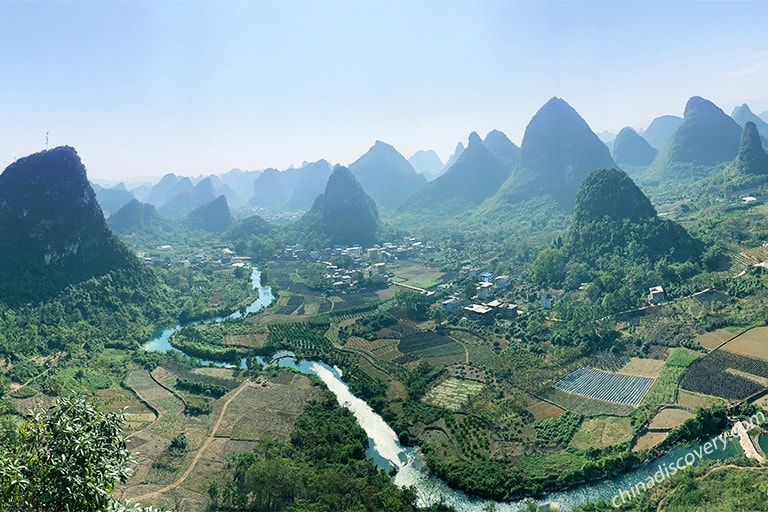 Cuiping Mountain
Moon Hill
Moon Hill is actually an Internet famous spot with the special and amazing moon-like hole on the top mountain, and that is why you may find many pictures of this place before visiting Yangshuo. Walking to Licun Village at Ten-mile Gallery, you can shoot the complete crescent moon. Besides, hike up to the mountain top "Palace of the Moon", you will see the moon hole in front of you and admire the in-brush-like panorama of Yangshuo countryside.
What to shoot: Moon Hill, Karst Landscape, Yangshuo countryside view, etc.
Best time: morning, clear day in good light, all four seasons;
Best sites: on the top viewing deck at the "Palace of the Moon";
Camera lens: wide-angle lens, medium lens, etc.
Tips: 1). It is suitable to shoot with front lights; you can shoot the moon hole just by the road, and on the way from Shangyue Road to Licun Village. 2). To add more interests to you photo, you can hold the moon on your hand, kiss it, etc. at the villages or mountain foot. 3). It usually needs more than half an hour to hike up to the mountain top and all the paths are steps, so you can decide to go up or not according your physical condition.
>> 2 Days Guilin Ideal Li River Cruise with Yangshuo Essence Tour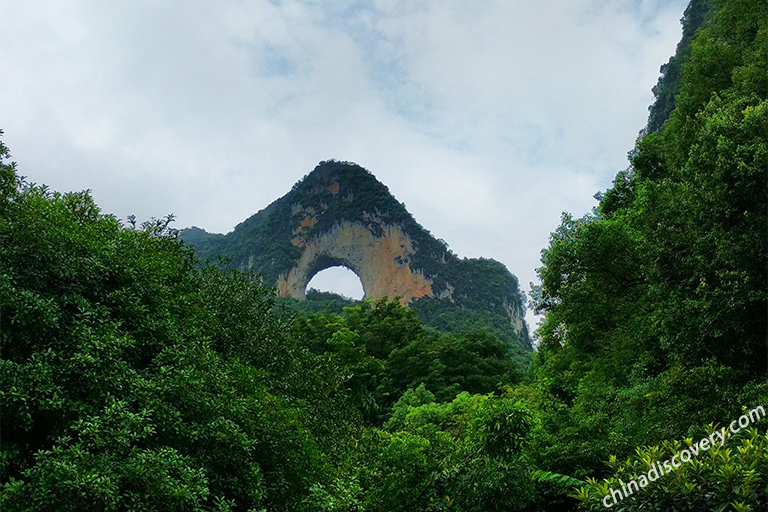 Yangshuo Moon Hill
How to Plan Your Yangshuo Photography Tour
It's flexible to plan a Yangshuo Photography tour to shoot the scenic, cultural, historical and other highlights of this lovely and popular destination in Guilin. Usually, for your first time there, you can spend 3 to 4 days to take great photos of the famous Li River, Xingping, Yangshuo Yulong River, Xianggong Hill, Cuiping Hill, etc., which may be based on the fine weather every day. Therefore, you may need some extra days in case of not-so-good weather conditions. Furthermore, as Guilin is a satisfying sightseeing City boasting a lot of scenic surprises, many people also travel Yangshuo with Guilin and Longsheng to shoot the iconic Elephant Trunk Hill, Longji Rice Terraces and more natural wonders in one trip! Please check our best popular Guilin photography tour for reference.
>> 6 Days In-depth Guilin Photography Tour
Travel with China Discovery
As you may take a lot of heavy photographic equipment to visit Yangshuo and Guilin and do not want to hold them on the long way transferring by the public transportations, why not travelling with us China Discovery? Our local driver will escort you from your hotel to the shooting scenic area and send you back for rest, and our professional tour guide will give nice introduction of all the highlights and best tips for photography, so you can focus all your energy and attention on the sceneries. Moreover, if you are interested to take photos in more beautiful destinations in China, such as Zhangjiajie, Huangshan, Yunnan, Beijing, Shanghai, Sichuan, Yangtze River, Hong Kong, Lhasa, Guizhou, etc., our pro travel expert can also help you to customize your personal China photography tour with sincerity. Please feel free to contact us directly!
More Popular Guilin Travel Articles
Extending Readings for Guilin Travel Planning
Recommended Tours
Top 3 tours chosen by most customers to explore in the best way. Check the detailed itinerary, or tailor your own trip now with us.
4 Days Guilin Highlights Tour (Li River, Yangshuo & Longji Terraces)

Guilin / Yangshuo / Longsheng
6 Days Guilin In-depth Photography Tour including Xianggong Mountain

Guilin / Longsheng / Guilin / Yangshuo / Guilin
6 Days In-depth Guilin Tour from Hong Kong

Hong Kong / Guilin / Longsheng / Yangshuo / Guilin
Start planning your tailor-made holiday to China by contacting one of our specialists. Once inquired, you'll get a response within 0.5~23.5 hours.
Customize a Trip
Have a question? Get answers from our travel experts or guests
Your Question:

Your Name:

Your Email: