Yangshuo Cooking Class: Learn Traditional Chinese Cuisine in Yangshuo
To keep the stunning Yangshuo alive and give the Yangshuo visitors an in-depth exploring experience, the locals of Yangshuo customized many interesting activities, such as the compelling Yangshuo cooking class. Engage in an authentic class at Yangshuo Cooking School, you will have an opportunity to closely listen to Chinese cuisine stories and personally create Chinese dishes from scratch.
Yangshuo Cooking Class Highlights:

Explore the local traditional Chinese Market up close;
Hands-on cooking of authentic local Chinese cuisine & flavors for a modest fee;
Learn from pro chefs in a friendly and fun atmosphere (without any language barrier);
Enjoy the Chinese dishes cooked by yourself with your family or friends after the class.
Where to Take a Cooking Class in Yangshuo
There are many cooking schools in Yangshuo, while our top recommended is the Cloud 9 Cooking School. The Cloud 9 Cooking School is almost the first cooking school of Yangshuo, and their professional chefs are very patient and keen on spreading Chinese culture to others. Their Main Chef Linda even did a TV cooking show with famous Hong Kong chef Martin Yan before. Usually, the cooking classes of the Cloud 9 Cooking School are taken at the Cloud 9 Restaurant (Jufulou) on the West Street, which was recommended by the Rough Guide and Lonely Planet too.
Cloud 9 Restaurant (Jufulou) Address: Yangshuo West St.100 - 1#.
Recommended Tour: 5 Days Best Guilin In-depth Vacation with Optional Yangshuo Cooking Class Experience >>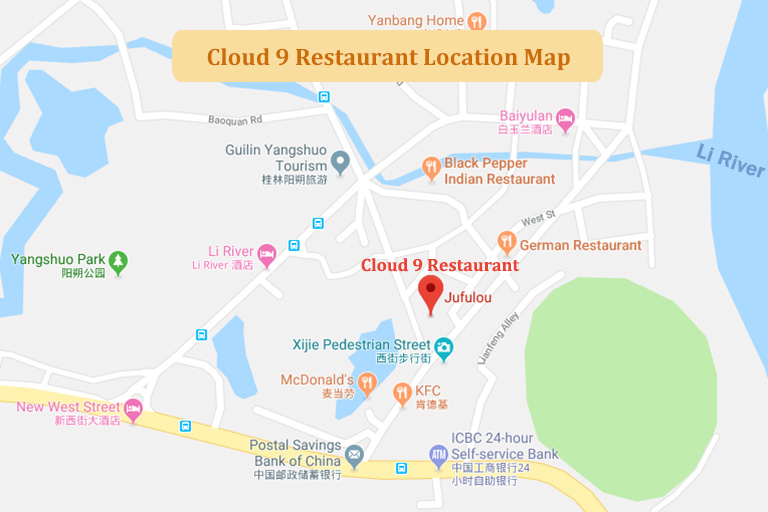 Cloud 9 Restaurant Location Map
Yangshuo Cooking Class Process
The cooking class lasts for about 3 hours. Before your formal class, you will visit the traditional market near Yangshuo Park together with your chef. Then return to the Cloud 9 Restaurant to cook the vegetables and meats you booked at the market. After the class, it's your sweet lunch or dinner time with your family or friends.
Visit Local Traditional Chinese Market
The Yangshuo Cooking Class will start with an interesting local market exploring experience. So you can have a close visit of the lively Chinese Market and learn about the ingredients that you will use in your dishes. Rows of stalls were lined up in the giant hall displaying fresh fruits and vegetables.
Warm tip: Rows of stalls are lined up in the giant hall displaying fresh fruits, vegetables and also meats in the traditional Chinese Market. If you are not keen to visit the meat area, you can tell your Chef in advance.
Prepare the Cooking Class
After visit the market, get back to the Cloud 9 Restaurant and take a little break. Every one of you will warmly get a bottle of mineral water during the time. The staff of the restaurant will wash the ingredients and divide them into small portions, so you can find your fresh and clean ingredients when you get into the fully decked out classroom. Wash your hand and wear your apron and "chef hat", then start your class formally, your chef is waiting for you in the classroom on the 3rd floor.
Hand-on Cooking with Professional Chef
The professional chef will carefully explain how to use the gas burner, chopping block, etc. on your personal cooking station and then instruct you on all the "secret" techniques to employ to guarantee the tastiest outcomes for your labor. During the class, you will learn how to properly chop the ingredients by a "heavy" Chinese cleaver, how to sear fish in a smoking hot pan, how to cook vegetables and meats over a sizzling and smoking wok, etc.
Enjoy the Dishes with your Family and Friends
When the class ends, enjoy the Chinese meal cooked by yourself with your family and friends, and ask them if it is much better than any other Chinese Cuisine they ate before. However, the amount of meal you cooked during the class is just enough for you, so you may need to order more local dishes at the restaurants if you treat it as your formal dinner or lunch.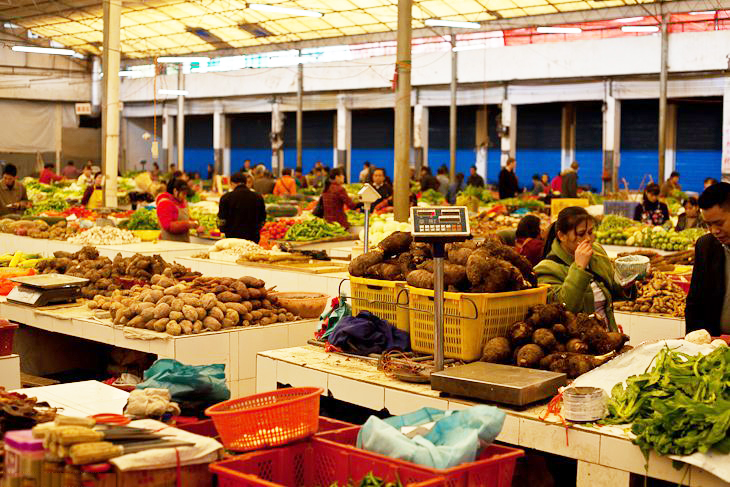 Traditional Chinese Market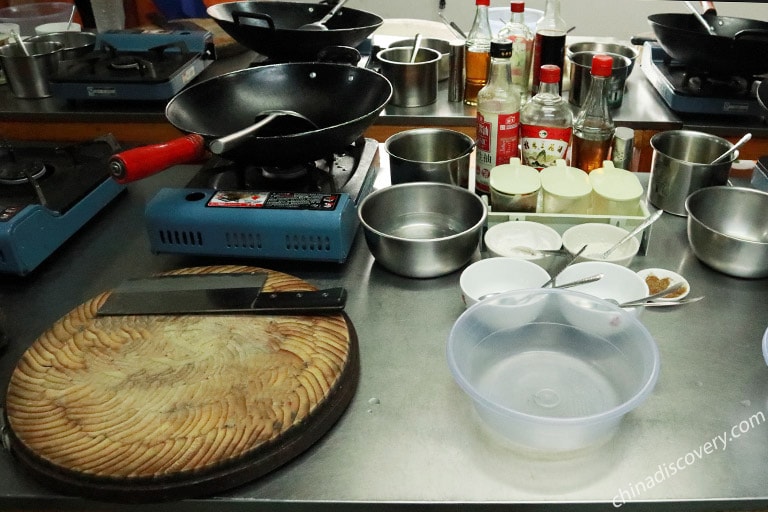 Personal Cooking Stage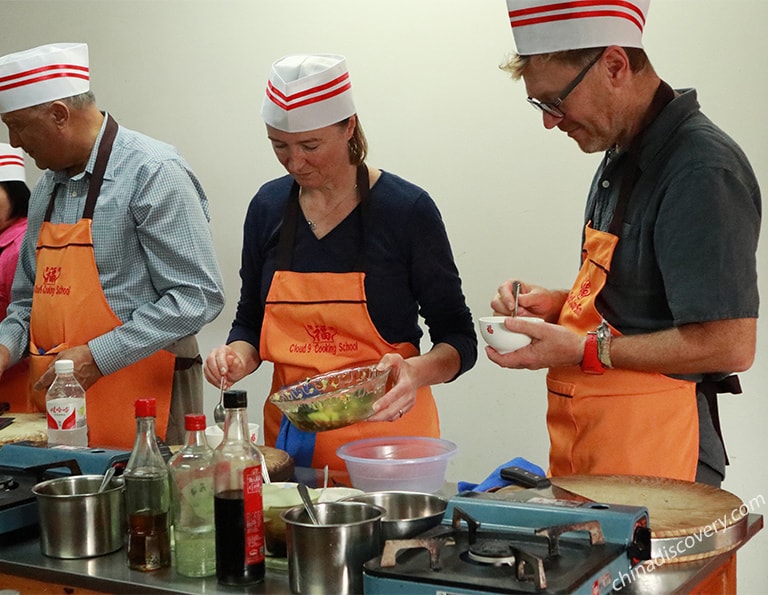 Yangshuo Cooking Class
Yangshuo Cooking Class Schedule, Recipes & Price
There are about 2 daily cooking classes at the class room situated within the Cloud 9 restaurant. The morning class is available from 9:30 to 12:30 and the afternoon class starts from 15:30 to 18:30. The price of the classes varies according to the number of your team member, but usually it charges for a modest fee for about 100 RMB per person. You can learn for about 3 or 4 dishes each class. You can not only have a chance to cook the grateful local Yangshuo Beer Fish, but also for some other popular dishes from Chinese Cuisine Menu like Shredded Cucumber with Sauce, Kung Pao Chicken, Shredded Pork with Garlic Sauce, Fried Eggplant Pie, Mapo Beancurd, etc.
During the class, the chef will intensively teach you step by step to make sure you have understood it, so there is no need for a recipe. But if you want one after the class, you can ask your chef for help.
Warm tip: The price of the cooking class may be slightly changed sometimes, please feel free to contact us for the real-time and detailed information.
How to Plan a Yangshuo Cooking Class Tour
A Yangshuo Cooking Class can be arranged at any time during your Yangshuo tour, because the class school is just located on the West Street that is not very far away from your hotel. Usually, you are most suggested to take the cooking class in the afternoon on the day you arrive at Yangshuo from Guilin by taking the amazing Li River cruise, which usually arrive at the docks near the West Street at about 14:00 in the afternoon. You can take the afternoon class which is available from 15:30 to 18:30. After the cooking class, you can free yourself with some leisurely waking around the West Street or enjoy the splendid evening performance Impression Liu Sanjie directed by famous Chinese editor Zhang Yimou.
Recommended Tour: 5 Days Best Guilin In-depth Vacation with Optional Yangshuo Cooking Class Experience >>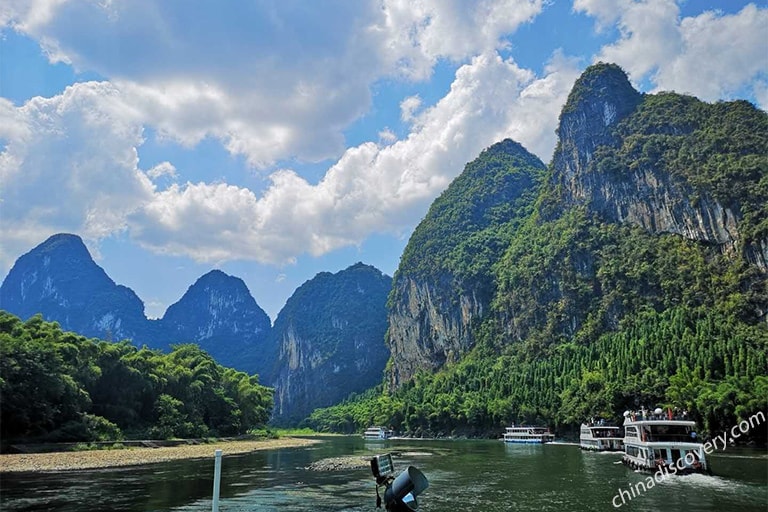 Guilin to Yangshuo Li River cruise
Travel Yangshuo with China Discovery
Apart from the interesting cooking class, you can also take part in many other popular and compelling activities in Yangshuo, like Yangshuo countryside cycling, the Moon Hill hiking, Yulong River bamboo rafting, and so on. We China Discovery have many in-depth explore of Yangshuo and have already made hundreds of tours for Yangshuo visitors. If you are interested about more Yangshuo highlights and featured activities, please feel free to contact our experienced tourist consultants and customize your personal Yangshuo tour.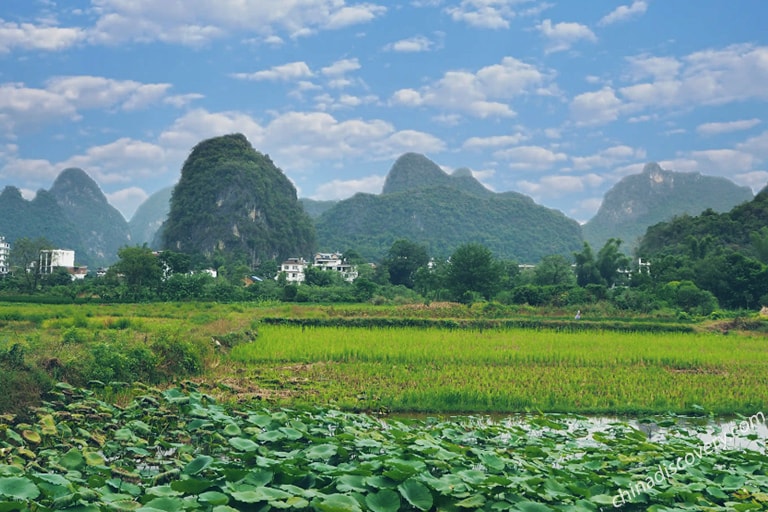 Yangshuo Countryside
More Popular Guilin Travel Articles
Extending Readings for Guilin Travel Planning
Recommended Yangshuo Tours
Top 3 Yangshuo tours chosen by most customers to explore Yangshuo in the best way. Check the detailed itinerary, or tailor your own trip now with us.
4 Days Guilin Highlights Tour (Li River, Yangshuo & Longji Terraces)

Guilin / Yangshuo / Longsheng
3 Days Classic Guilin Tour - Guilin Brief Vacation

Guilin / Yangshuo
5 Days Best Guilin In-depth Vacation (Li River, Yangshuo & Longji Terraces)

Guilin / Longsheng / Guilin / Yangshuo
Start planning your tailor-made holiday to China by contacting one of our specialists. Once inquired, you'll get a response within 0.5~23.5 hours.
Customize a Trip
Have a question? Get answers from our travel experts or guests
Your Question:

Your Name:

Your Email: