Yangshuo Climbing: Guide about Top Places, Routes, Best Time & Tips
Yangshuo is not only the paradise for scenic fans with its fantastic display of dream landscape of streams and mountains. Situated in the advantageous location with typical Karst landscape tooth-like mountains, it is also listed as one of the best destinations for rock climbing in China and enjoys a high fame in world climbing field. Therefore, adventurous climbers and interesting climbing beginners can enjoy it to the most to ascent from the mountain foot to the peak of the cliff and know how powerful and flexible you can be on your own hands and feet in your holidays in Guilin!
Top 5 Popular Yangshuo Climbing Places & Routes
There may be at least hundreds and even up to over a thousand Karst hills and caves suitable for rock climbers, and most of the sites are along the two sides of the way from Yangshuo to Gaotian, which enjoys short time transfer by bus, bike, car, etc. Among all the choices, Moon Hill, White Mountain, Wine Bottle Hill, Gold Cat Cave and Swiss Cheese area are the top 5 popular climbing places in and around Yangshuo County.
Moon Hill - For Intermediate and More Professional Climbers
Elevation: about 380 meters
Difficulty: 5.9-5.13c
Number of Routes: 15
Almost the most famous climbing site in the whole Yangshuo. Moon Hill climbing has been a shining diamond regarded by numerous rock climbers since the hill is the earliest climbing site in the county after the first climbing route tried by the skillful American rock climber Todd Skinner in 1992. Also, since it has the highly special huge arched structure at the "Palace of Moon" crossing over 30 meters on the peak part, which requires high strength, endurance and boldness, this mountain is absolutely a great place to challenge oneself even for amateur climbers.
Recommended Hot Tours in Guilin & Yangshuo:
>> 3 Days Classic Guilin & Li River Cruise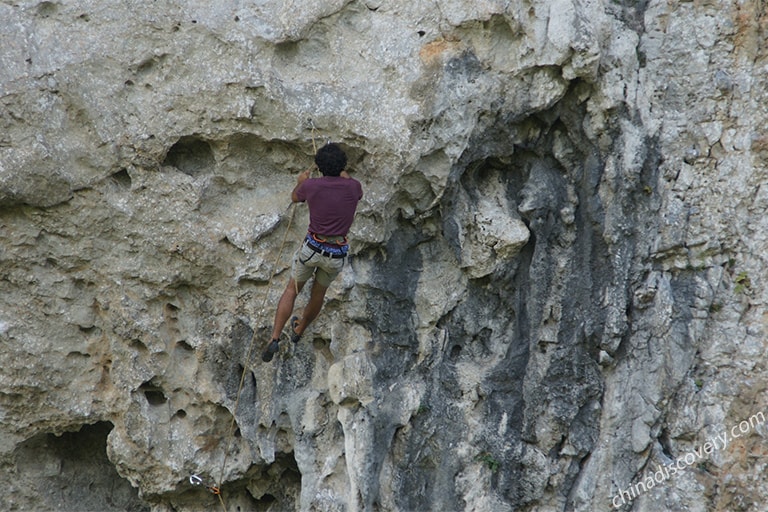 Moon Hill Climbing
White Mountain - For Professional & Skillful Experts
Elevation: 60 meters
Difficulty: 5.9 -5.14d
Number of Routes: 35
Yangshuo White Mountain Cliff is relatively precipitous among all the developed Yangshuo climbing mountains, the whole crag is about 60 meters in height and about 200 meters in length. As the mountain overhangs up to 15°, it is hard for sticking on, however, which also enables to climb in light raining days. Since it is challenging for techniques and strengths, this mountain in fact attracts climbers from the whole world to prove themselves during their travelling in Yangshuo.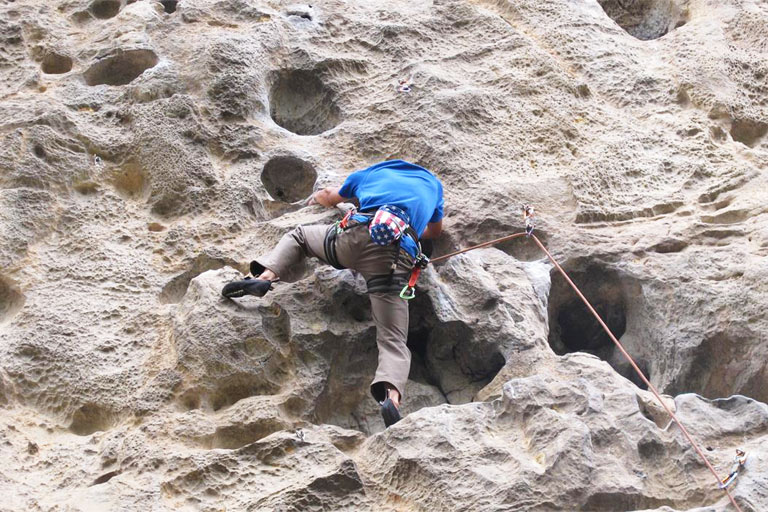 Yangshuo White Mountain Climbing
Wine Bottle Hill - For Intermediate Climbers
Elevation: about 150 meters
Difficulty: 5.7-5.10
Number of Routes: 20
The hill is named for its behind peak look like a wine bottle. The whole mountain cliff appears in yellow, which is outstanding from afar. This is the classic training site for rock climber beginners. About 20 routes are prepared to suit the different needs from 5.7 to 5.10a for beginners and technical climbers to Yangshuo.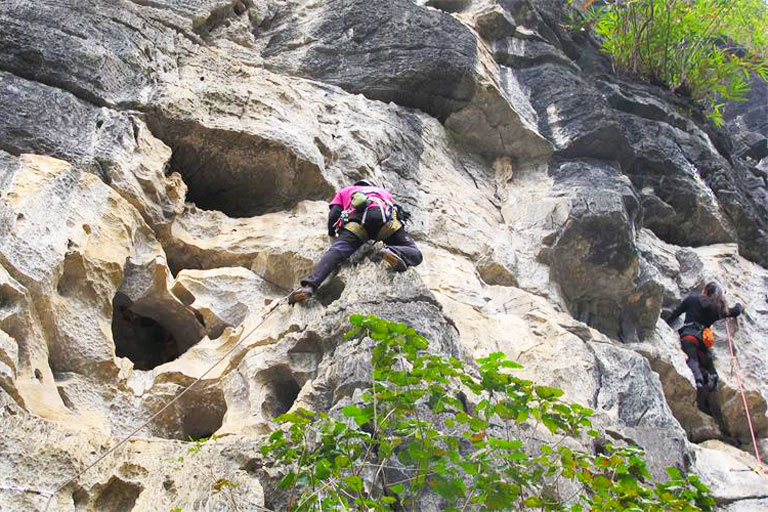 Yangshuo Wine Bottle Hill
Swiss Cheese - For All Types of Climbers
Elevation: 261 meters
Difficulty: 5.6-5.10a
Number of Routes: several
Not the real cheese, but got its name for there are many pits on the mountain cliff, which results in the look like the Swiss Cheese. For bamboos directly grow on surface of the cliff, it provides relatively comfortable shades for climbers to avoid long time sunning. Besides, as it offers several routes at grades from basic to difficult at its Right Hand Wall and recently developed Left Hand Wall, Swiss Cheese is really popular for climbers. Also, many expats and international travelers in Yangshuo favor to gather at this site to enjoy rock climbing activity and close up to nature.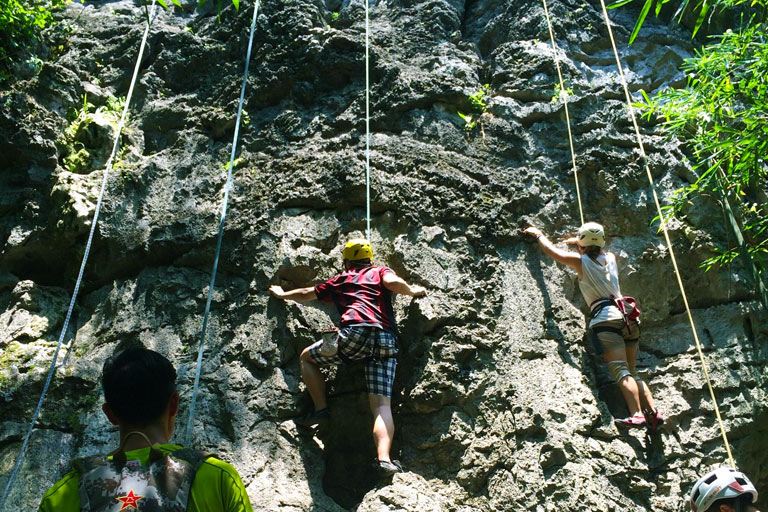 Swiss Cheese Mountain Climbing
Gold Cat Cave - For New Learners
Difficulty: 5.6-5.10c
Number of Routes: 6
Gold Cat Cave is also called Maochudong Cave (Cat Coming Out). It offers the simplest climbing routes in Yangshuo, therefore, this climbing site is very great for green hands. 6 routes are prepared at the grades of 5.6, 5.8, 5.91, and 10C. A lot of tourists are often attracted by the climbing scene and come to the mountain foot, so you don't have to be nervous and just get encouraged by their cheer.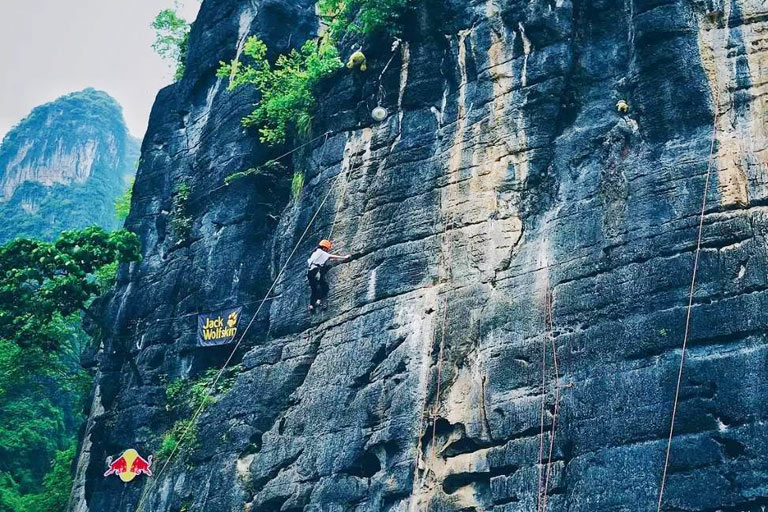 Gold Cat Cave Climbing
Yangshuo Climbing Festival
Since 2008, Yangshuo Climbing Festival is usually held for about 1 week in late October to early November every year (It was held during November 9th - 11th in 2018). As a world class mecca with over 60 climbing places and over 1,000 various climbing routes for rock climbing, this festival draws the attention and visit of thousands of people home and abroad to exchange climbing experience and get higher challenges in Yangshuo. During this exciting festival, diverse activities are held for people to know how charming rock climbing is, such as climbing competition, climbing training, climbing culture exhibition, etc.
When is the Best Time to Climb in Yangshuo?
Yangshuo Climbing Festival days is suitable to experience climbing in Yangshuo. Besides, autumn (during late September to November) is comparatively the best time, when the weather is really comfortable with lower temperature, and lest rainfall. Spring (mid-March to mid-May) has monsoon. Summer season is the high time for heavy rains. Winter months are a little cold for climbing. Check more about Weather & Best Time to Yangshuo.
Yangshuo Climbing Tips
1. What to Pack & Prepare for Climbing?
Gear for climbing: usually would be prepared if you join a professional local climbing club. If not, you need to prepare main rope, harnesses, carabiners, climbing protection, quickdraws, belay device, anchor kit, chalk, crash pad, climbing helmet, climbing clothing, rock climbing shoes, climbing gloves, etc.
Sun cream: to avoid sun burn, especially for fair skins.
Mosquito repelling: to drive away mosquitos and bugs, even in winter.
2. What are the Climbing Grades?
According to the USA Yosemite Decimal System, climbing difficulty is mainly classified into 5 levels.
5.0-5.7: Just walking with low opportunity to get injured. No need to keep balance through hands. Perfect for beginners;
5.8-5.9: Occasionally using hands, beginners and inflexible people don't need to use ropes for protection;
5.10: Usually the highest level amateur climbers can reach. Needs certain climbing techniques. High danger if falling. Ropes are necessary;
5.11-5.15c: ropes and protections are must. Very professional climbers can reach this level with high talent and a lot of hard training.
3. Trim your nails, tie up your hairs and do not wear any ornaments during climbing, including necklace, ring, bracelet, watch, etc.
Travel Yangshuo with China Discovery
Are you considering to travel Yangshuo but no more time and effort on the public transportation choosing and waiting? Travel with China Discovery, and our professional local tour guide and driver will escort you among your ideal tourist areas with comfortable private car, therefore, you can save your energy for the exciting rock climbing in Yanghshuo and fully enjoy your every minutes on the highlights on the way and the introduction from the guide.
Since at present, there is no tour package including Yangshuo climbing, if you are interested, please tell us directly to customize your own Yangshuo climbing tour. Besides, our travel expert will help you plan your own tour according to your interests and needs, even a vast China tour including Beijing, Shanghai, Hong Kong, Xian, Chengdu, Chongqing, Yangtze River Cruise, Lhasa, and so forth. If you are interested, please feel free to contact our travel expert!
More Popular Guilin Travel Articles
Extending Readings for Guilin Travel Planning
Recommended Tours
Top 3 tours chosen by most customers to explore in the best way. Check the detailed itinerary, or tailor your own trip now with us.
4 Days Guilin Highlights Tour (Li River, Yangshuo & Longji Terraces)

Guilin / Yangshuo / Longsheng
3 Days Classic Guilin Tour - Guilin Brief Vacation

Guilin / Yangshuo
5 Days Best Guilin In-depth Vacation (Li River, Yangshuo & Longji Terraces)

Guilin / Longsheng / Guilin / Yangshuo
Start planning your tailor-made holiday to China by contacting one of our specialists. Once inquired, you'll get a response within 0.5~23.5 hours.
Customize a Trip
Have a question? Get answers from our travel experts or guests
Your Question:

Your Name:

Your Email: