Overview and History of West Street
In the center of Yangshuo County, there is a 1,400-year-old road named West Street. West Street is the oldest and busiest street in Yangshuo, with a length of about 500 meters and a width of about 8 meters. For years, West Street has attracted numerous tourists coming from all over the world. It is said that you can encounter with three foreigners out of every four people strolling at West Street, hence West Street is also called the "foreigner's street" and the biggest "foreign language corner and global village in China".
Why West Street is so popular among foreigners? Since the 1980s, the foreign visitors came into West Street because they were sincerely admired by the marvelous karst landscape and tranquil countryside life of Yangshuo. Some of those visitors totally were immersed in the beautiful scenery and leisurely life after the visiting, and finally stayed in Yangshuo. Over the past years, those foreign residents have deeply affected by traditional Chinese culture and also gradually brought their own culture to the locals and other visitors, forming a charming flavor of the mix of global culture. West Street is the main spot for the east and the west cultural exchange in Yangshuo. Therefore, in addition to beautiful scenery and unique life, more and more foreigners gather in West Street in order to experience the charm of different cultures.
>> 4 Days Highlights of Guilin, Yangshuo & Longji
Things to Do at West Street
West Street is alive with an array of bars, souvenir shops, craftworks shops, cafes, Chinese and Western restaurants, language teaching schools, Chinese cooking schools, etc., thus there are a lot of activities you can experience throughout day till late at night.
Strolling & Shopping at West Street
Stepping the ancient and flat full-bodied flagstone road and doing some shopping around at West Street are the highly recommended ways to drive all of your pressures and burdens away. All the vehicles are prohibited to enter into this area, thus you can walk around along the street freely and safely. Aside from the main road, there are also many side alleys waiting for you to explore. Stepping into the side ways, you'll not only find more bars and restaurants with live music, but also more stretching lines of stalls selling everything from souvenirs to jewelry, minority handicrafts and embroidery as well as delicious Chinese-style snacks.
Usually, you are highly recommended to take a leisure walk around West Street in the evening. When the night comes, the whole West Street area is decorated with colorful and bright lights, driving the night and darkness away and presenting you a lively life scene. And when you look up, you will have a unique view of karst peaks at night, which are in red and green because there are special lights casting on them.
>> 3 Days Classic Guilin & Li River Cruise
Dinning at West Street
With numerous restaurants and bars catering for everything from American hamburgers to Indian food at West Street, you can easily find something to eat there even at the mid night. If you are visiting West Street for the first time, we strongly recommend you to have a try of the appetizing local Beer Fish there, which has a unique crispy fresh flavor. This specialty dish uses big fresh carps selected from the nearby Li River and is firstly fried with camellia oil and then braised with superior beer produced in Guilin.
Don't worry about the language barrier when ordering meals at West Street, because all the restaurants and bars there provide menus in several languages and the staff can provide good English service.
Taking Yangshuo Cooking Class at West Street
If you fall in love with the delicious Chinese style food you have tasted during your Yangshuo tour or you are curious about Chinese cuisines, you can take an instructive Yangshuo Cooking Class at West Street. There are many cooking schools for you to choose, while our most recommended one is the cooking class taking at the Cloud 9 Restaurant, which has the most experienced chefs to help you creating Chinese dishes from scratch. Once you take the class there, you can learn how to properly cook 2 or 3 your favorite Chinese dishes and you can also have a chance to explore the local traditional Chinese Market with the chef.
Recommended Tour with Optional Yangshuo Cooking Class Experience: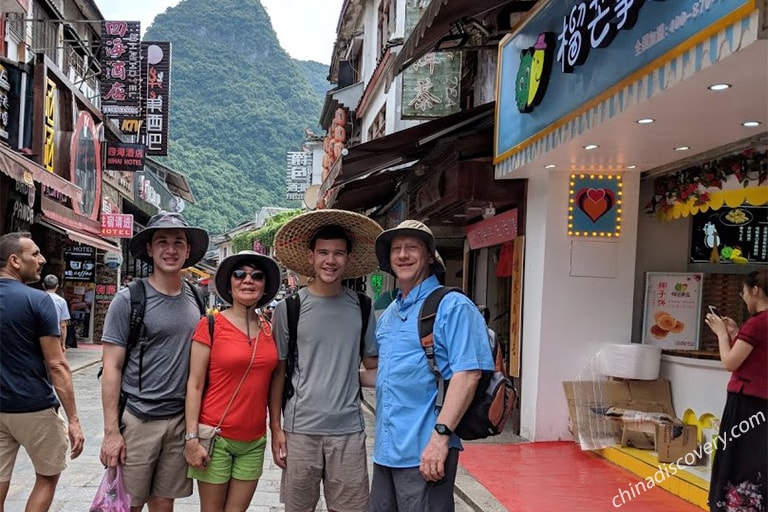 West Street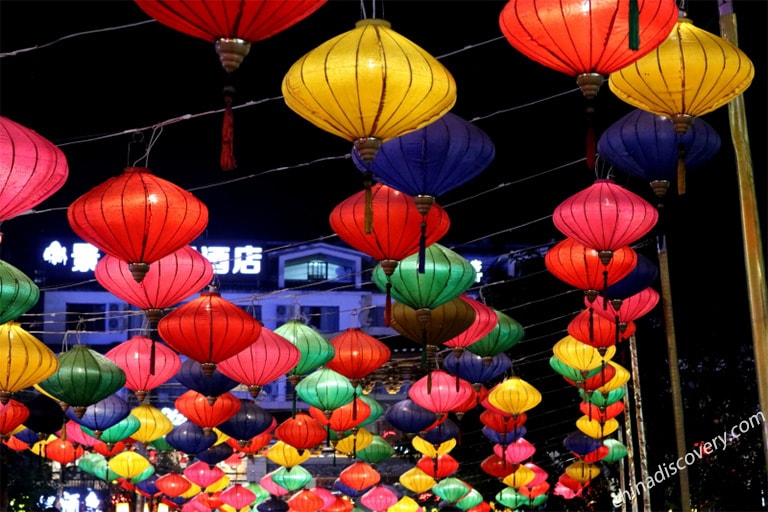 West Street Night Lights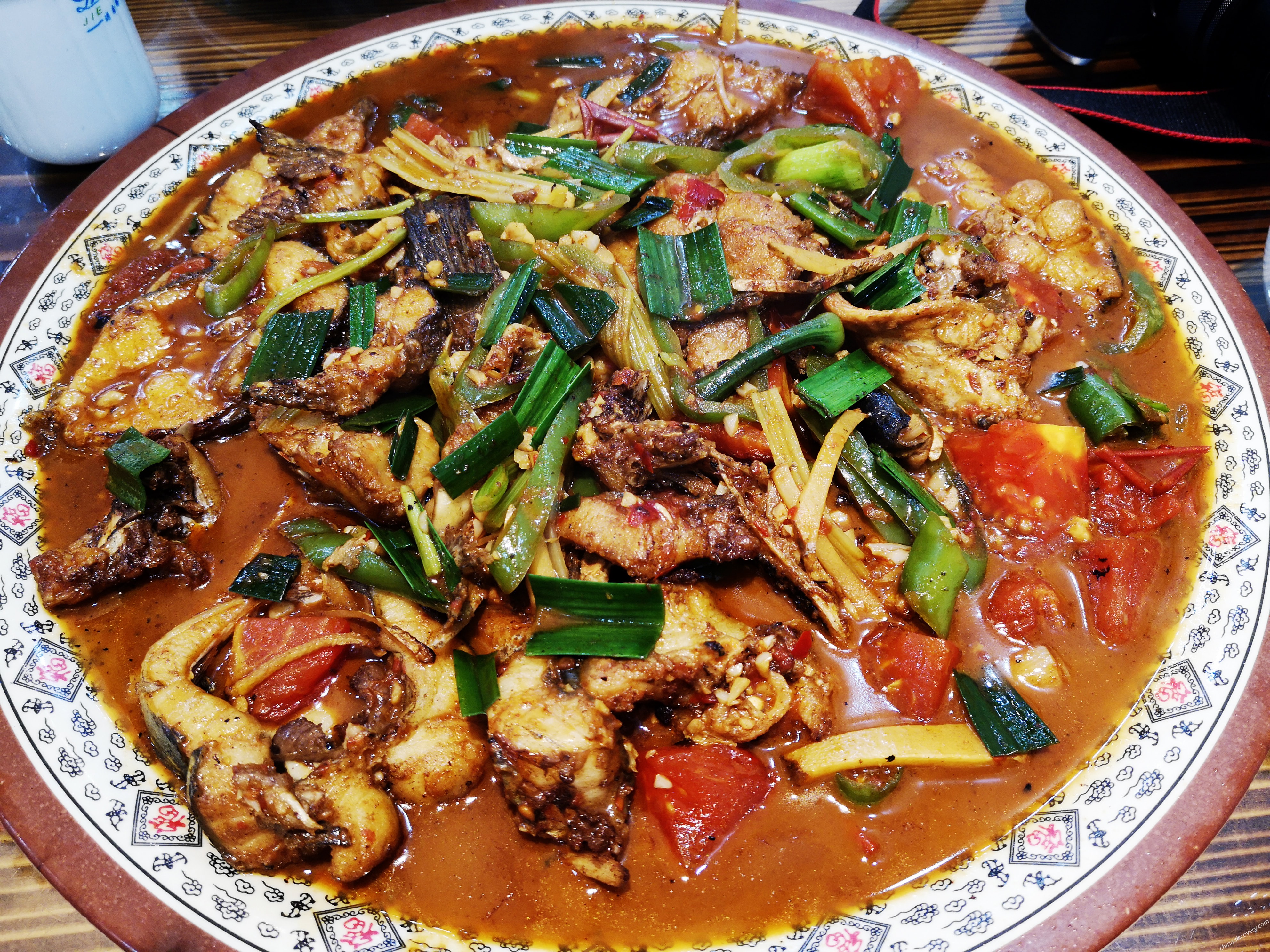 Yangshuo Beer Fish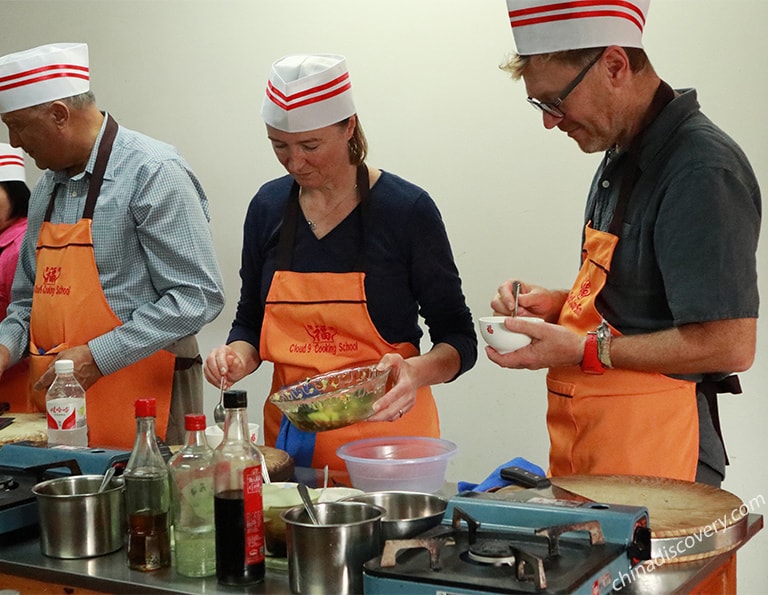 Yangshuo Cooking Class
West Street Accommodation
There are more than 1,000 hotels can be found at and around West Street. However, considering the "busy night" at West Street, which may disturb you from a nice sleep, you are more suggested to choose a hotel that is not too close to West Street. The top recommended hotel near West Street is the Green Lotus Hotel Yangshuo, a 5-star hotel that has dedicated for providing excellent service for global tourists for decades. It has a very convenient location on the mid-way from West Street to the Impression Sanjie Liu venue. Some of its rooms also provide elegant river views of the stunning Li River.
Check more about Where to Stay in Yangshuo >>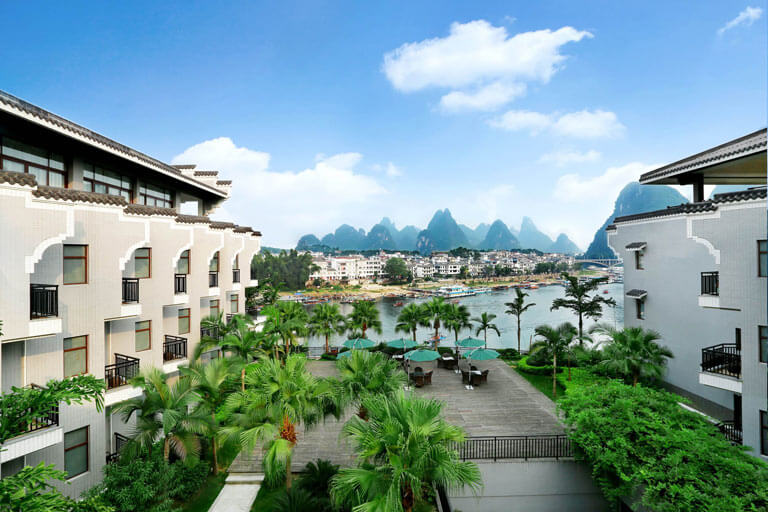 Green Lotus Hotel Yangshuo
West Street Location & Transportation
West Street is the end point of Li River cruise sailing route and is just a 2km away from the bus station of Yangshuo. It is now not accessible by direct flights because there is no airport in Yangshuo. Besides, it is a little bit far (about 37 km) from the high speed railway station in Yangshuo, thus travelers usually arrive at Guilin downtown first and then transfer to this place.
From Guilin to West Street in Yangshuo
There are many ways for you to choose to get from Guilin to West Street in Yangshuo, including Li River cruise, airport shuttle buses and local mini buses. Usually, most of the travelers choose the leisurely Li River cruise to get to West Street. Taking Li River cruises offers a close chance to enjoy the marvelous scenery of the Li River, which enjoys the reputation of "A Hundred Mile of Art Gallery".
Useful Links:
Guilin to Yangshuo Li River cruise | How to get from Guilin to Yangshuo | Yangshuo Transportation
Most popular Tours with Li River Cruise to West Street:
>> 2 Days Guilin Ideal Li River Cruise with Yangshuo Essence Tour
>> 5 Days Best Guilin In-depth Vacation (Li River, Yangshuo & Longji Terrace)
Get Around West Street
To get around West Street and find for more highlights for sightseeing, you can take a leisure walk or ride a bicycle and electric Two-wheelers. Taxi is seldom used in Yangshuo, but you can still easily find one near the roads next to the West Street if you are in need. Not on the West Street, because all the vehicles are forbidden to enter into this area. There is also golf car service provided between the Impression Liusanjie Venue to almost all the hotels near the West Street.
If you have arrived at the Yulong River and Ten-mile Gallery scenic area, you can also take sightseeing buses. The sightseeing buses from Jima (骥马) to Gongnong Bridge (工农桥) along the Yulong River allow you to get off and on at anywhere on the middle way, so you can go sightseeing at anywhere you are interested. And the sightseeing buses along the Ten-mile Gallery will make stops at every tourist spot along the way, such as the Big Banyan Tree and Moon Hill, so you can get off at the tourist spots you want to visit.
Useful Links: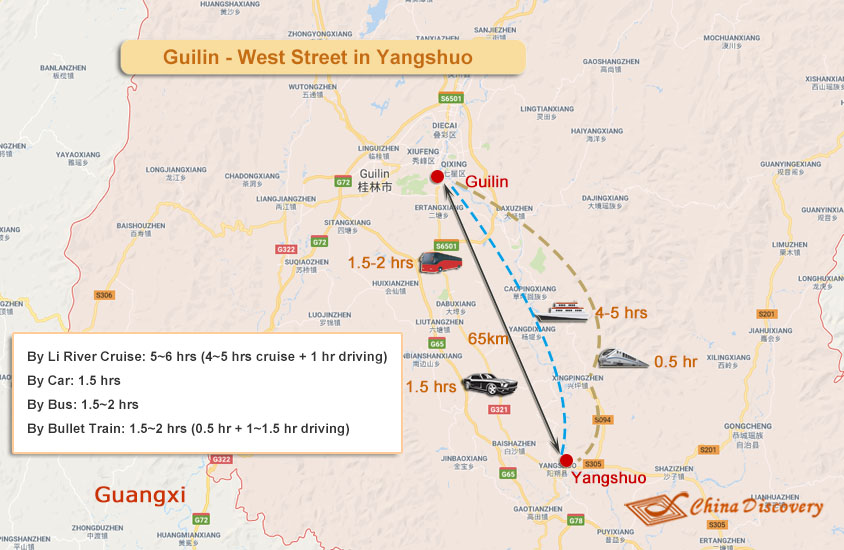 West Street Location Map
Yangshuo Countryside Biking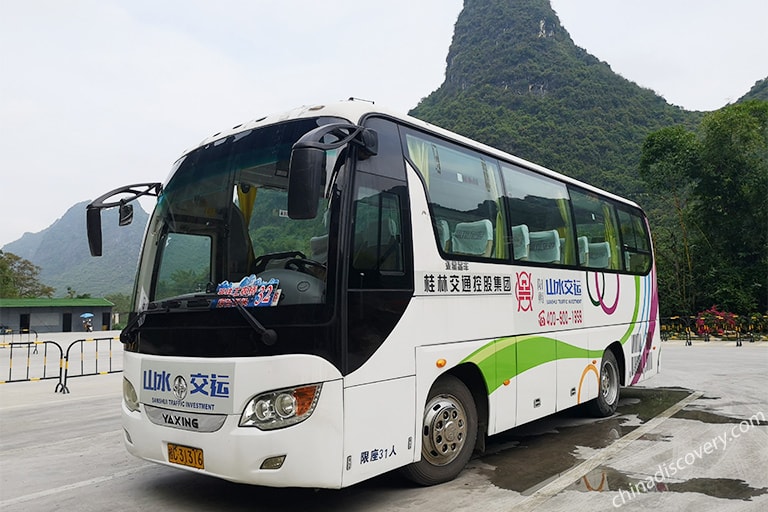 Sightseeing Buse on Ten-mile Gallery
Nearby Attractions of West Street
Thanks to the convenient location, you can easily start your further exploring tour of Yangshuo from West Street. There are many marvelous nearby attractions waiting for your visit, such as the world-renowned Li River, Yulong River, Ten-mile Gallery and Xingping Ancient Town.
Li River
Li River (Lí jiāng) is a green ribbon linking Guilin downtown and Yangshuo. You can easily find its lower reach at the east end of West Street. To explore this wonderful site, you can take the Li River cruise (classic one-way service from Guilin to Yangshuo directly), stroll beside the river or have a try of the Li River bamboo rafting at the Xingping Ancient Town.
Useful Links:
Top 3 Best Ways to Visit Li River
Yulong River
Yulong River is a tributary of the Li River. It stretches for about 43.5km, with many small ancient villages and bridges settled on its bank against a backdrop of limestone peaks. There are diverse kinds of outdoor activities you can do along the river, including leisure walking, biking and also bamboo rafting.
Ten-mile Gallery
As the name implies, Ten-mile Gallery is a picturesque road for about one hundred miles long. When you sauntering down the road you will feel like travelling in a painting. This famous road starts from Yangshuo to the Moon Hill, covering lots of natural scenic areas such as Big Banyan Tree, Assembling Dragon Cave, Butterfly Spring Park, etc.
Xingping Ancient Town
Xingping Ancient Town is the biggest and most beautiful ancient town along Li River. Both Nine Horses Fresco Hill and Yellow Cloth Shoal (image on back of 20 RMB Chinese note) are very close to this scenic area. Since the former US president Clinton and the first president of China, Sun Yat-sen both have visited here, Xingping Ancient Town is also titled as the president fishing village.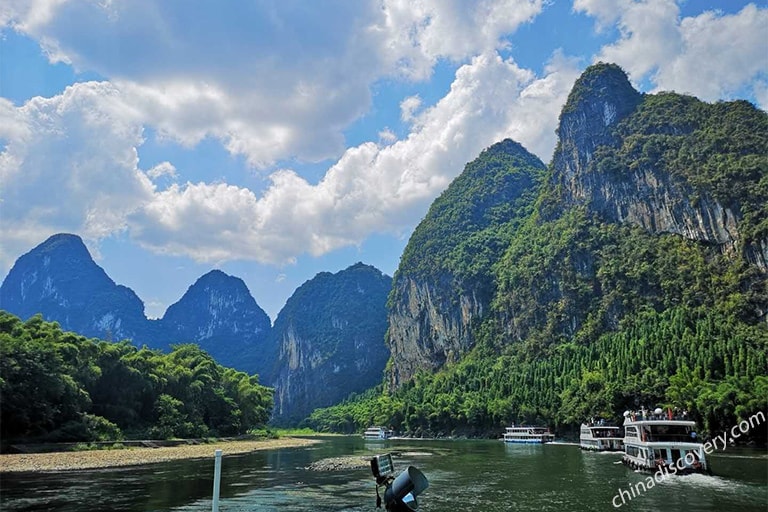 Li River cruise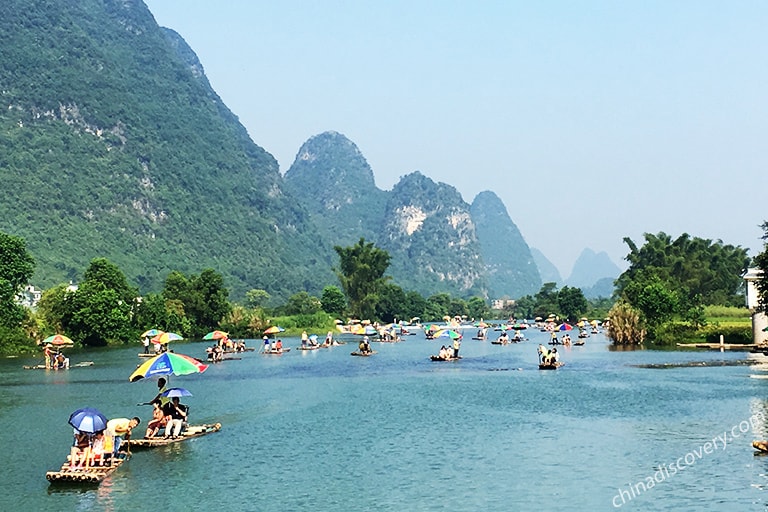 Yulong River Bamboo Rafting
Moon Hill at Ten-mile Gallery
Touring More Highlights of Yangshuo with China Discovery
Want to explore more highlights of Yangshuo and feel annoyed about the complex traffic? Want have a personal Yangshuo tour according to your interests and do not know how to plan it? Don't worry, travel with we China Discovery and our professional travel consultants will solve all your problems and customize memorable journey for you. Then you can focus all your energy on the beautiful scenery along the way. If you are interested, please feel free to contact us for detailed help.
Top Attractions in Guilin
Extending Readings for Guilin Travel Planning
Recommended West Street Tours
Top 3 West Street tours chosen by most customers to explore West Street in the best way. Check the detailed itinerary, or tailor your own trip now with us.
3 Days Classic Guilin Tour - Guilin Brief Vacation

Guilin / Yangshuo
2 Days Guilin Ideal Li River Cruise with Yangshuo Essence Tour

Guilin-Yangshuo
6 Days In-depth Guilin Tour from Hong Kong

Hong Kong / Guilin / Longsheng / Yangshuo / Guilin
Start planning your tailor-made holiday to China by contacting one of our specialists. Once inquired, you'll get a response within 0.5~23.5 hours.
Customize a Trip
Have a question? Get answers from our travel experts or guests
Your Question:

Your Name:

Your Email: