Impression Sanjie Liu, First Real Landscape Show of Yimou Zhang
Impression Sanjie Liu always receives the applauses of audiences from every corner of the world to Yangshuo. For its excellence at lighting, music, usage of natural landscapes, and modern special effects, this impression show is highly regarded as a not-to-miss night activity for staying in Yangshuo. It is the first creative masterpiece of Impression Shows by the famous director Yimou Zhang who is the chief director of the opening and closing ceremony of 28th Beijing Olympic Games in 2008. Mr. Zhang elaborately designed the performing stage at Li River, taking the natural lovely Li River and the 12 characteristic mountains of Karst landform as the best backdrop, which offers the almost never-seen and inspiring visual feast for every visitor to the beautiful Yangshuo County.
Highlights of Impression Sanjie Liu
The Impression Sanjie Liu is not only a show to enjoy lights and backdrop sceneries. But it consists of 7 parts to express the story of Liu San Jie and the real life of local ethnic minority people, with 5 distinct themes in different colors:
Part 1: Prologue - Landscape Legend
As the classic and famous folk song rises, the beautiful legend of Sanjie Liu and her song gradually present in front of you.
Part 2: Impression of Red - Folk Songs
Wide range of red bright red color is used. With local men shaking the fishing net on the river, it forms the vivid and vigorous musical notations changed to the background music.
Part 3: Impression of Green - Family
This part is the best expression of local daily life of Yangshuo ethnic people. With the real scenes of laundry, returning fishing boats, elder men driving groups of buffalos back home, rising chimney smoke, sunset glows, etc. You will see the typical and authentic local lifestyle to feel its purity and passion to life and nature.
Part 4: Impression of Blue - Love Songs
This part tells the love story of Sanjie Liu and his lover who is a boy of a poor family from a local village. From their encounter, to love, to struggle against traditional pressure, to the escape from their hometown and live together finally, it shows the touching deep love of the two young people and the value of marriage at the past time in China.
Part 5: Impression of Gold - Fishing Fire
The atmospheric scenes of the fishing in Yangshuo and Li River are approaching in this part. You will see a harmonious image of the fishermen in straw rain cape with their cormorants on their bamboo rafts with rosy fishing fire sailing forwardly. With the golden reflection on the water, the primitive and simple fishing life of locals is easy to feel.
Part 6: Impression of Silver - Grand Ceremony
This part shows the ceremony scenes of local people in the legend of Sanjie Liu. Hundreds of ethnic minority ladies in silver festive ethnic costumes appear like shining stars and diamonds, presenting the utmost pleasing enjoyment for your eyes.
Part 7: Epilogue - Ode to Heaven and Earth
As the fishing rafts disappear and colorful lights get weaker, the song of Sanjie Liu still linger around the mountains and stage to express their true gratitude to the gifts from nature and all guests to their hometown as in the lyrics.
>> 2 Days Guilin Ideal Li River Cruise with Yangshuo Essence Tour
>> 3 Days Classic Guilin Tour - Guilin Brief Vacation
>> 4 Days Guilin Highlights Tour (Li River, Yangshuo & Longji Terrace)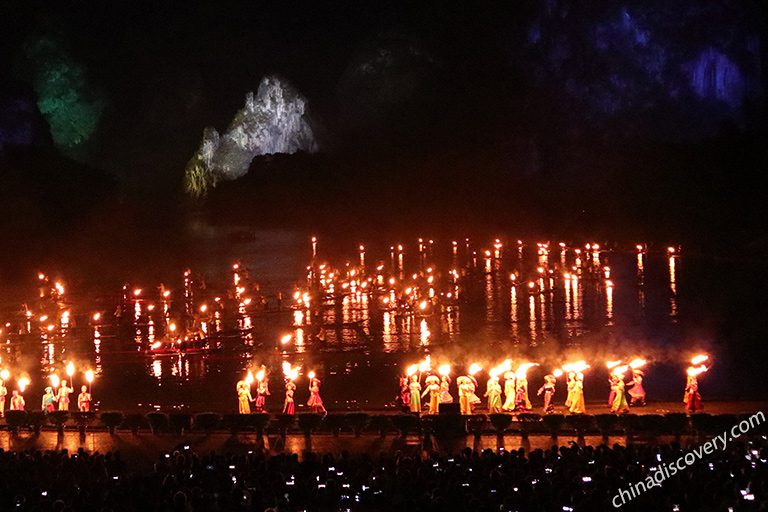 Featured Ethnic Minority Singing (Part 1)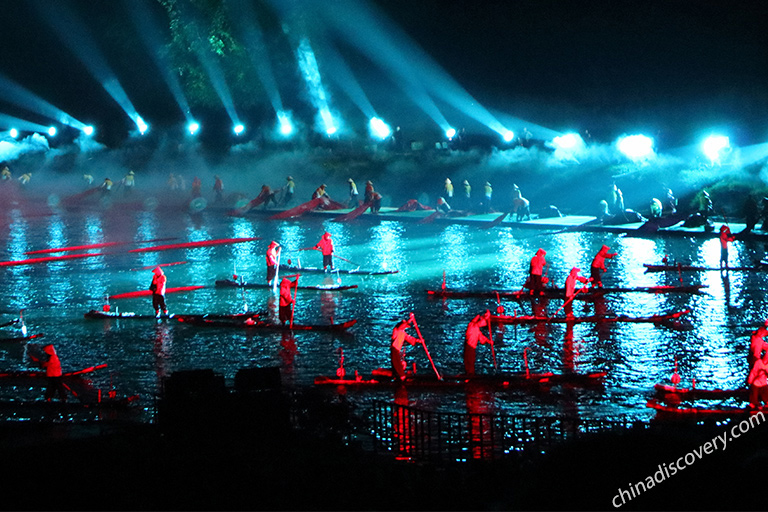 Part of Fishing Life (Part 3)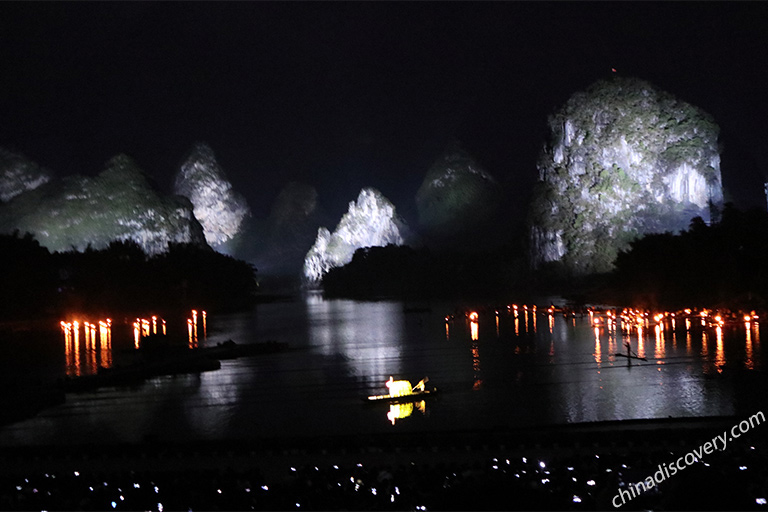 Wonderful Backdrop of Li River and Karst Hills (Part 4)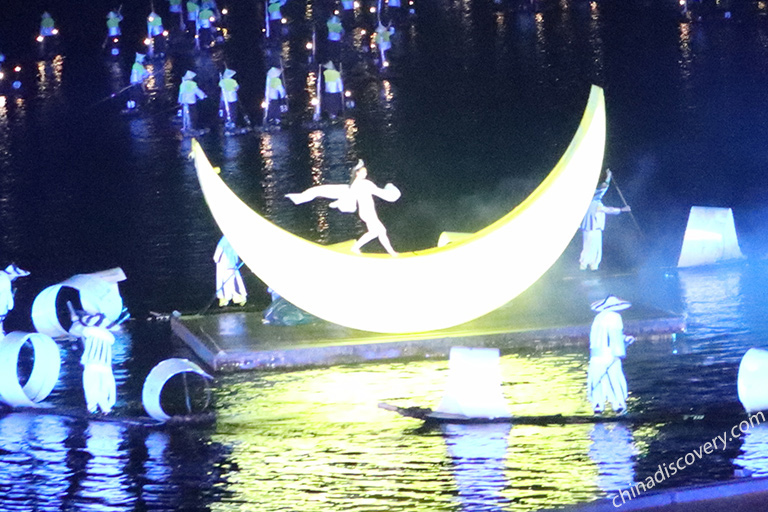 Dancing of Sanjie Liu (Part 4)
Where to See Impression Sanjie Liu?
The venue to hold the Impression Sanjie Liu is the China Li River Landscape Theater, which sits at No.39 Tianyuan Road in Yangshuo County. It is very close to the West Street, which usually needs about 10 minutes by car, about within 25 minutes' walking. Local buses are available, but you still need walk nearly 1km to get to the entrance.
However, if you travel Yangshuo with us China Discovery, our local guide and driver will take you from your hotel to the venue with private car. please tell us directly if you are interested in.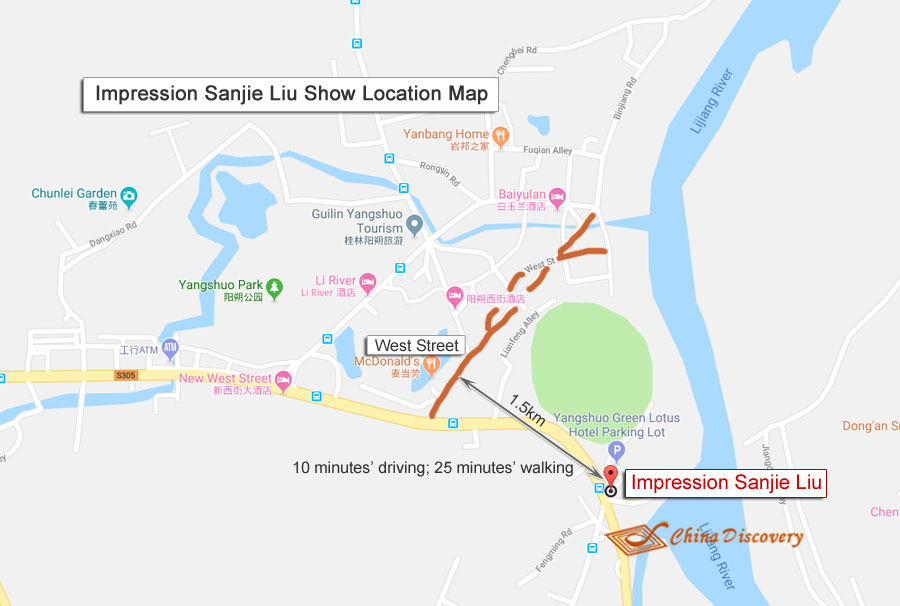 Impression Sanjie Liu Show Location Map
When is the Showtime of Impression Sanjie Liu?
Usually the Impression Sanjie Liu performs twice every day from lunar January 3rd to the end of lunar November, and is arranged at around 19:30 for the first show and 21:05 for the second show. However, in summer time from around middle May to early October, it will be adjusted to 20:00 and 21:30. Detailed performing time is changeable according to practical situation.
Tickets & Seats of Impression Sanjie Liu
Within the Impression Sanjie Liu venue, there are 5 types of seats arranged in 3 areas, each with a different ticket price. The more expensive seats offer better vision to appreciate the full backdrop of Li River and karst landscape. Please check the detailed ticket types and prices:
VIPs Areas
Distinguished Guest Areas
Ordinary Ticket Area
A1 Ticket
A2 Ticket
B1 Ticket
B2 Ticket
C Area
CNY828 / person
CNY628 / person
CNY368 / person
CNY268 / person
CNY198/ person
Tips to See Impression Sanjie Liu
Mosquito repellent: there are some mosquitos and bugs in Yangshuo, especially in summer time, so you are highly suggested to prepare mosquito repellent to enjoy the show.
Rain coat in rainy days: there may be some light rain days, and if it does not influence the performance, you are suggested to take your rain coat. And if the it rains heavily or the weather is too bad, the show will be cancelled.
Close in winter: the Impression Sanjie Liu is usually closed from the lunar December to the next lunar January 2nd every year due to the cold water and too low temperature. We will update the closing time in 2019-2020 winter as soon as we get the notice.
Travel Xianggong Mountain with China Discovery
Travel with us China Discovery, and our local travel guide will handle with the tickets booking and collection and our driver will escort you from your hotel to the venue of Impression Sanjie Liu with comfortable vehicle, so you can pay more attention on the highlights. Besides, we suggest you spend 2 more days to visit more essences in Yangshuo, like Yulong River, West Street, Ten-mile Gallery, Moon Hill, etc. Furthermore, our travel expert will help you customize your own tour to visit more places in Guilin and Longsheng, and other popular destinations in China, including Beijing, Shanghai, Xian, Hong Kong, Chengdu, Zhangjiajie, Huangshan, Yunnan, Yangtze River, Lhasa, etc. with professional and helpful suggestions. If you are interested, please feel free to tell us directly.
Top Attractions in Guilin
Extending Readings for Guilin Travel Planning
Recommended Yangshuo Tours
Top 3 Yangshuo tours chosen by most customers to explore Yangshuo in the best way. Check the detailed itinerary, or tailor your own trip now with us.
4 Days Guilin Highlights Tour (Li River, Yangshuo & Longji Terraces)

Guilin / Yangshuo / Longsheng
3 Days Classic Guilin Tour - Guilin Brief Vacation

Guilin / Yangshuo
5 Days Best Guilin In-depth Vacation (Li River, Yangshuo & Longji Terraces)

Guilin / Longsheng / Guilin / Yangshuo
Start planning your tailor-made holiday to China by contacting one of our specialists. Once inquired, you'll get a response within 0.5~23.5 hours.
Customize a Trip
Have a question? Get answers from our travel experts or guests
Your Question:

Your Name:

Your Email: