Top Guilin Old Towns & Villages
There are more than Karst landform sceneries to expect for Guilin. This favored tourist destination in southern China also houses an outstanding array of old towns and villages for your seeking of its long history, interesting culture, exquisite timeworn old buildings and hidden lifestyle. Therefore, leave all your stress in the bustling city behind and comfort your mind and vision peacefully with what you are going to encounter with in those ancient places in Guilin.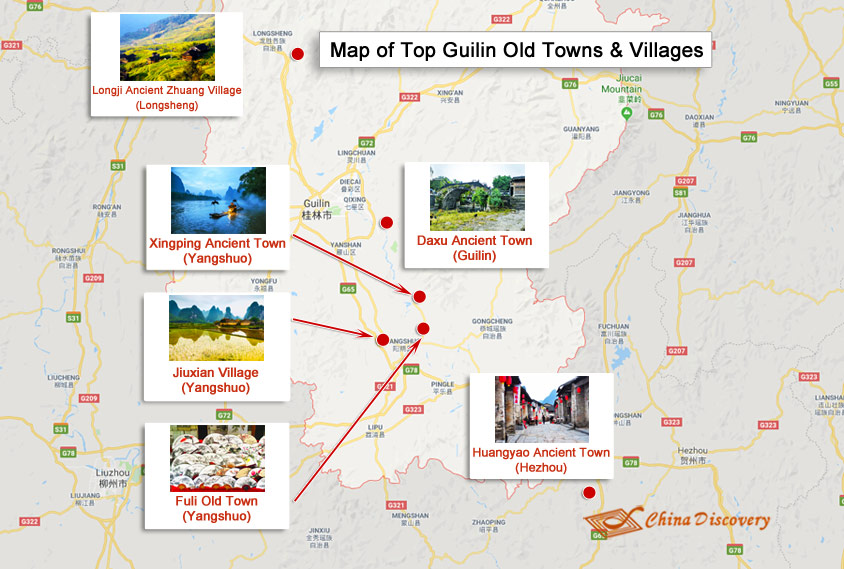 Top 6 Old Towns & Villages in Guilin
There keep a large number of old towns and villages in and around Guilin, among them all, Xingping, Daxu, Huangyao, Jiuxian, Fuli, and Longji Old Zhuang Village are the top 6 recommendations of most visitors in Guilin. Check the highlights of each one to plan your cultural, historical, or architectural visit.
Travel with China Discovery
The top old towns and villages in Guilin are really worth visiting to get relaxed away from the bustling city and return to the quiet place for a cultural, historical and viewing enjoyment, however, transportation to some of them is a little complicated with limited public vehicles. If you are planning to discover Guilin old towns and villages to admire all their shining points, you could travel with China Discovery. Our private transfer service will save your time for waiting for the vehicles and other parts along the road. Besides, our professional local guide will give wonderful introduction to let you enjoy the real essences of the towns and villages. You just have a relaxing rest on the private car and focus on the highlights.
Furthermore, for your fruitful trip to China with more to see and less to pay, our sincere travel expert will help you with the tour customization to let you travel to more destination around Guilin including Yangshuo and Longsheng, and other destinations in China, such as Beijing, Shanghai, Xian, Zhangjiajie, Chengdu, Hong Kong, Hangzhou, Suzhou, Huangshan, Yunnan, Guizhou, etc. For more details about private tour with China Discovery, you could contact our professional Travel Consultant who would help tailor make your tour best suitable for your needs and budget.