Guilin Photography Tips - What, When & Where to Shoot
Guilin, the dream destination for scenic seekers and photographers, is extremely outstanding with the famous marvelous landscapes for centuries. However, among so many popular places published on the Internet, what are the best shooting places, when is the best time and what themes will be shot in Guilin City, Yangshuo and Longsheng counties? Check the tips below, and you will know everything you need about the most beautiful photography themes and where and when to shoot them best before your photographing tour in this lovely place in China!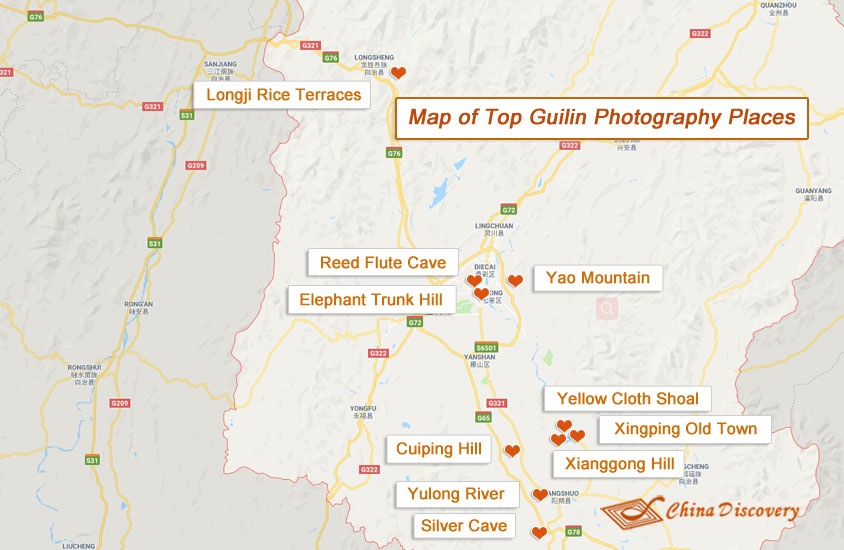 Top 10 Photography Themes in Guilin, Yangshuo & Longsheng
Due to the particular Karst topography, fast changing weather in a day, plentiful rainfalls, and multiple ethnic minority groups living there, Guilin boasts a wide range of fabulous views to rank top in Chinese tourist destinations. For common tourists and professional photographing enthusiasts, we list the top 10 photography themes for your great creation of lights, shadows and colors!
Travel with China Discovery
The photography places in Guilin are really very great for shooting outstandingly beautiful pictures, however, transportation to some of them is a little complicated with limited public vehicles. If you are planning a Guilin photography tour to visit the top places, you could travel with China Discovery. Our private transfer service will save your time for waiting for the vehicles and other parts along the road. Besides, our professional local guide will give wonderful introduction and guide for photography of each site. You just have a relaxing rest on the private car and focus on the highlights.
Furthermore, for your fruitful trip to China with more to see and less to pay, our sincere travel expert will help you with the tour customization to let you travel to more destination in and around Guilin, including Yangshuo and Longsheng, and other destinations in China, such as Beijing, Shanghai, Xian, Zhangjiajie, Chengdu, Hong Kong, Hangzhou, Suzhou, Huangshan, Yunnan, Guizhou, etc. For more details about private tour with China Discovery, you could contact our professional Travel Consultant who would help tailor make your tour best suitable for your needs and budget.