Longsheng is a hot tourist destination in Guilin. One of the top three rice terraces in the world - Longji Rice Terraces, which is also known as dragon's backbone rice terraces, is just located in Longsheng. Few people knew this remote mountainous area in about 20 years ago, but now, according to incomplete statistics, about half of the Guilin visitors will visit Longsheng. Aside from the spectacular rice terraces, Longsheng is also a good place for a taste of the multi-ethnic culture and unique stilt-style wooden houses. This Longsheng Travel Guide article will help you know everything of the top reasons to visit Longsheng and all its fun things to see and do, best time to go, how to get there and around, useful travel maps and more to help with your Longsheng trip planning 2023/2024! Let's Go!
Why Visit Longsheng:
Marvelous Dragon's Backbone Rice Terraces - The rice terraces among the Longji Mountain resemble a dragon's scales, while the summit of the mountain range looks like the backbone of the dragon, hence Longsheng Rice Terraces is also called the Dragon's Backbone Rice Terraces. The curvaceous terraces there almost spiral from the bottom to the top of the mountain. In spring, the terraces look like glitter mirrors scattered across the mountain, in summer a fairyland with lush greenery, in fall golden waves and in winter white pleated skirts.
Rare and Real Rural Life with Unique Ethnic Culture as Backdrop - The population of ethnic nationalities in Longsheng accounts for about 76% of the total population. Most of the locals still live in traditional lifestyle that grows rice and potatoes to feed their families on a daily routine. The local women also do embroidery in their spare time.
A Heaven for Hiking & Photography - Unique flagstone trails, beautiful seasonal scenery, lively farming work scenes like irrigation, planting, harvest, etc. make it a heaven for hiking and photography.
Near to Guilin - With a driving distance of about 85km (53 miles) away from Guilin, it is not difficult for you to travel from Guilin to Longsheng within 1.5 hours.
Where to Go in Longsheng
The most popular tourist destination in longsheng is the Longsheng Rice Terraces, which consists of three separate rice terraces areas including Jinkeng Rice Terraces, Ping An Rice Terraces and the Ancient Zhuang Rice Terraces. Each of the three terraced fields has not only beautiful and seasonal rice terraces scenery, but also traditional villages with unique stilt-style wooden houses, such as the Huangluo Yao Village, Ping An Village, Dazhai Village, Ancient Zhuang Village, etc.
Top Longsheng Activities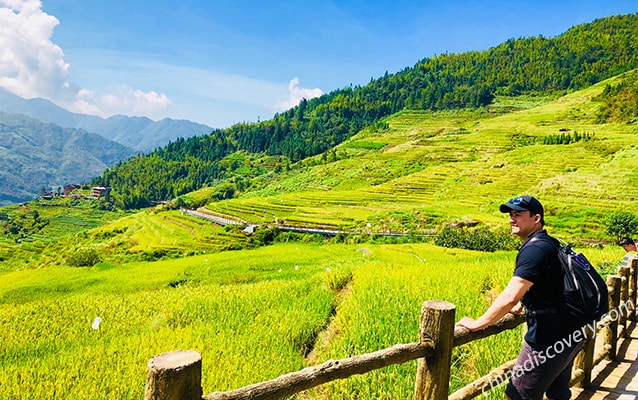 Hiking
Undoubtedly, hiking in the marvelous Longsheng Rice Terraces must be the top choice when visiting Longsheng. As you hiking along the flagstone roads between the rice terraces, you can completely immerse yourself in the magnificent scenery surrounding you. When you arrive at the top, you can have a panorama of the mountains and villages.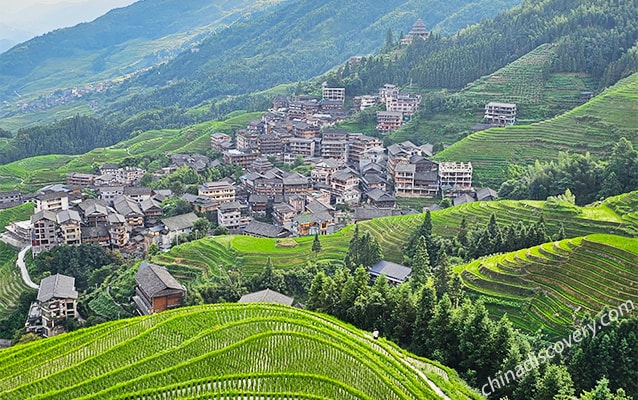 Photography
Longsheng Rice Terraces is also a fantastic place for photography. The spectacular rice terraces, sparkling sunrise & sunset and miraculous traditional stilted buildings form a mysterious rural world that is worth to be engraved in your memory forever. Do not feel much trouble about the rainy days. The misty world shows you another beauty there.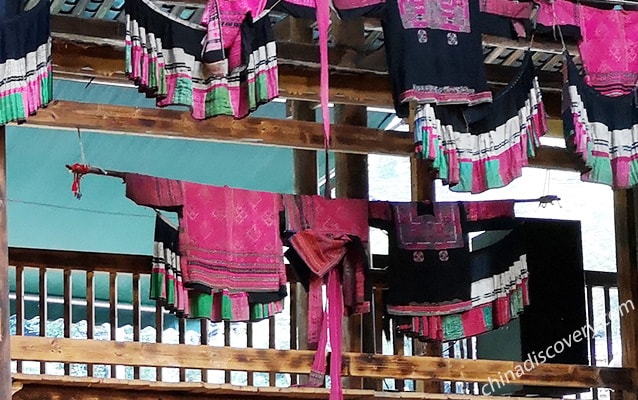 Festivals and Cultural Performances
There are about three important annual festivals. Cultural singing, dancing, wedding and farming, etc. will be held on the Kaigeng Festival in Ancient Zhuang Village and Shuyang Festival in Ping An Village. Besides, many beautiful embroidered dresses will be displayed one the day of Red Clothes Festival in Jinkeng Dazhai Village.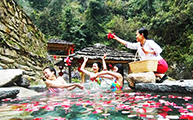 Hot Spring
After the hiking experience among the mountain areas of Longji Rice Terraces, there is nothing better than having a hot spring. Besides, longsheng Hot Spring Resort has unique ethnic customs, presenting impressive folk culture atmosphere, so just lose yourself in the charming world and leave all your trouble behind.
Longsheng Weather & Best Time to Visit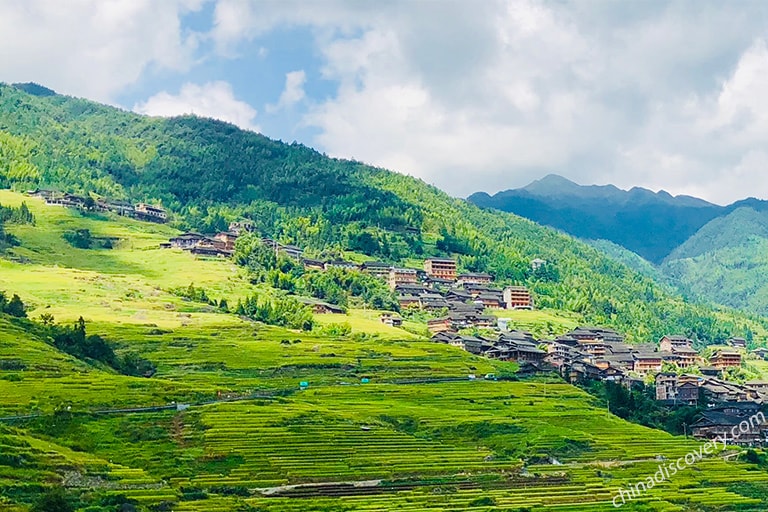 The weather in Longsheng is very similar to that in Guilin - a mild climate, plenty of rainfall and sunlight. The year round average temperature in Longsheng is about 18.6 °C (65 °F) and the average rainfall is about 1568 mm.
There is no a harsh winter or scorching summer, but the best time to visit Longsheng is from April to October, when the scenery is acknowledged to be the best. You are not recommended to visit Longsheng in winter, partly because there is almost nothing in the terraces in winter and also the mountain roads of Longsheng are really slippery in winter.
Learn more about Longsheng Weather >>
Longsheng Transportation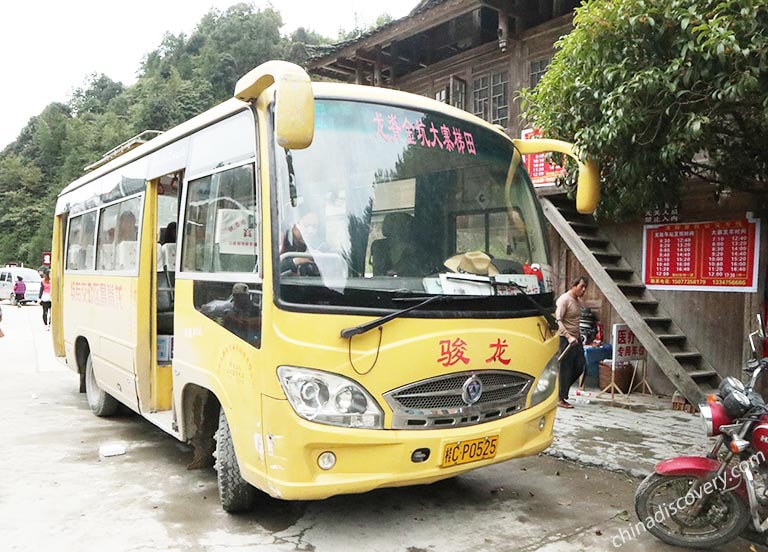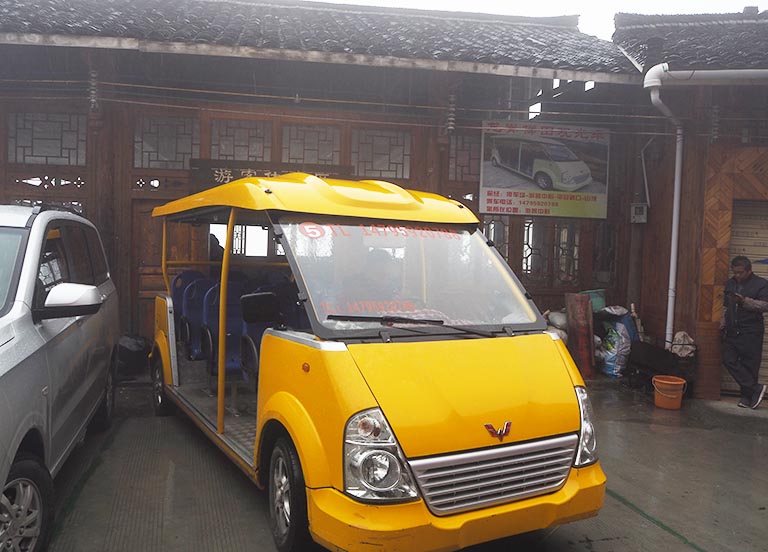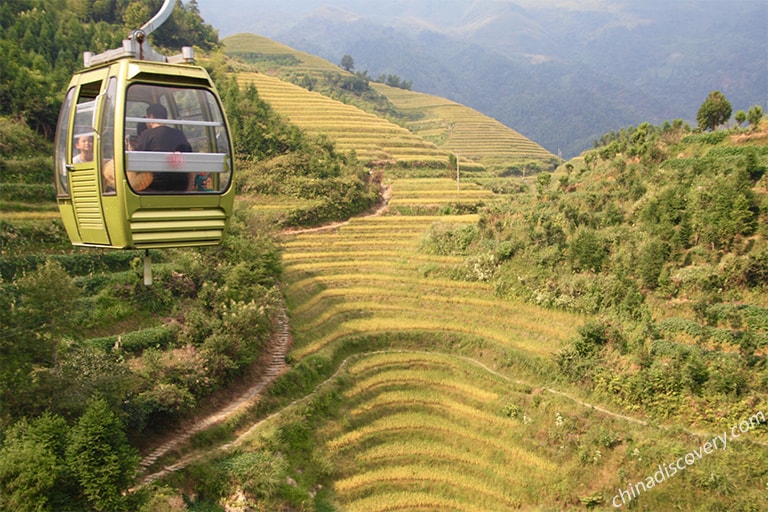 Get to Longsheng
Longsheng is now not accessible by flights or trains, but only private cars or coaches. Usually, you are more suggested to travel Longsheng directly by private cars. Driving from Guilin to Longsheng County takes about 1.5 hours. However, you are not very suggested to travel between Longsheng and Yangshuo directly, but make a one-night stop at Guilin, which is just located in the middle way. Driving from Longsheng to Yangshuo or Yangshuo to Longsheng is a long time journey, which takes about 4-5 hours.
Learn more about How to Travel From Guilin to Longsheng>>
Learn more about How to Travel From Yangshuo to Longsheng>>
Get Around Longsheng Rice Terraces
Driving from Longsheng County to the entrance of Longsheng Rice Terraces takes about half an hour. After arrive at the entrance, it needs about another 30 minutes to Longji Ancient Zhuang Village, about 40 minutes to the Ping An area and about 1 hour to the Jinkeng area. All the private cars, mini coaches can only stop at the parking lot of each terraces area.
Inside the scenic area, hiking is main travel way for sightseeing, but there are also sightseeing bus available in Ping An and Ancient Zhuang Village, and cable cars in the Jinkeng Rice Terraces.
Learn more about Longsheng Transportation>>
Where to Stay in Longsheng
Among the whole Longsheng, the downtown area enjoys more comfortable hotels. However, you are more suggested to book the hotels located in the Longsheng Rice Terraces. All the hotels in the scenic area meet the basic needs with hot water, private bathroom, free Wi-Fi, etc. Besides, living in the rice terraces area is such a convenient thing that you can easily enjoy the sunrise and sunset if the weather permits. Each terraces area in Longji has its hotels. The main hotels areas are the Ping An Village in the Ping An Rice Terraces, Ancient Zhuang Village in the Ancient Zhuang Rice Terraces, Tiantouzhai and Dazhai in the Jinkeng Rice Terraces.
However, if you arrive at Longsheng in the late afternoon, you are more recommended to live in the downtown area of Longsheng County, because the driving road from Longsheng to Longji Rice Terraces area has no street lights, and it is dangerous to drive uphill at night.
>> Learn more about Longsheng Hotels>>
Useful Longsheng Travel Maps
Longsheng is located in the mountainous area, thus you may fell trouble if you have no preparation about its location, transportation, etc. Do not worry much about that, we have collected the useful Longsheng Travel Maps for you, including the Longsheng Location Map, Longji Rice Terraces Map, Guilin to Longsheng Map, Yangshuo to Longsheng Map, Longsheng Transportation Map, etc. For more maps of Longsheng, please check at Longsheng Maps 2023>>
Other Popular Destinations in China
For most visitors planning a longer in-depth China travel, they usually extend their Longsheng tour to explore more hot destinations of China to enjoy scenic, cultural, historical and ethnic highlights of this vast country. Below are the top four destinations we suggested to you after careful consideration of the traffic with Longsheng, you can also check all destinations in China to get more travel ideas.
Plan your Longsheng Tour
Usually, you are suggested to spend 2-4 days to explore its highlights and do some hiking and photography activities there. The classic 2-day Longsheng tour is going to visit the Ping An Rice Terraces of Longji Terraced Fields. And the 4-day tour is talking in-depth visit of the rice terraces area, including Jinkeng, Ping An, Ancient Zhuang Rice Terraces and the Huangluoyao Village in the bottom of Longji Mountain.
After your Longsheng Tour, you can extend your journey back to Guilin to take the Li River Cruise to Yangshuo, or you can travel to Sanjiang of Guizhou, which is close-linked with Longsheng (about 62km away). Also, you can back to Guilin and plan tours to Shanghai, Beijing, Hong Kong, Chengdu, Zhangjiajie, Huangshan, Yunnan, etc. Choose your favorite destinations and let our experienced travel consultant customize a China Discovery Tour for you!
Travel with China Discovery
We have helped many global travelers enjoy their memorable trips to Guilin for the past few years. Among them, Vijay's family and friends have traveled China for about 20 times with us and visited Guilin for many times, and also shared us their travel story. Travel with China Discovery to create your wonderful Guilin trip memories!
Recommended Tours
MORE