Huangluo Village, Where to See the Guinness Long Hair Women
Huangluo Village or Huangluo Yao Village, attracting large groups of visitors is mainly because of its super reputation of the World's Longest Hair Village by the Guinness Record. According to the research data, among the 60 households, there are about 60 women having natural black hairs stretching up to more than 1 meter long, with the longest of about 1.7 meters. So why do the Red Yao women grow and keep their so long hairs? This is related to their tradition. For females of Red Yao ethnic group, long hairs means longevity and prosperity, so they would have their hairs cut for only twice during their whole life, one is when she comes to the world for 100 days, another is on her coming-of-age ceremony at 18 years old. After they get married and give birth to their babies, they would wear it up to a bun symbolizing a kid. So far in Guilin and the whole China, Huangluo Yao Village in Longsheng County is nearly the only site to see Red Yao ladies with very long hairs.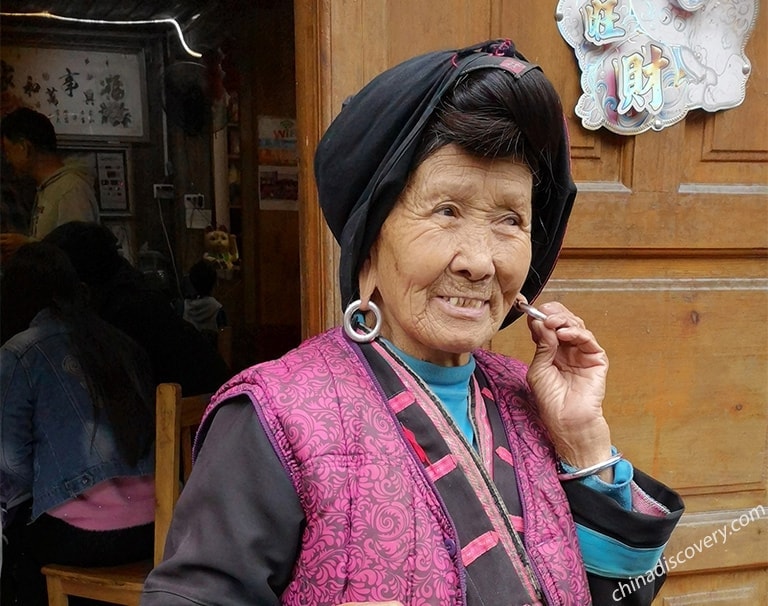 Huangluo Village Elder Lady with Long Hair

Routes:
Longsheng, Guilin, Li River, Yangshuo, Guilin
Highlights:
2-day unique trip to Longji Rice Terraces in Longsheng which is an ideal place for experiencing curvaceous rice terraces, ethnic culture, hiking and photography.
Huangluo Yao Village Song & Dance Performance
The show is the best highlight of Huangluo Yao Village. As most of the time, Red Yao women wear their hairs up, so you cannot see the long hairs down when you just hanging in the village. However, during this performance, you can see the local women let their long hairs down to touch the ground. Besides, during the several parts, you can enjoy their featured ethnic songs, dances and folk customs really express their traditional beauty. On the part of Red Clothes Drying, local girls would take out their red clothes to dry which is the typical characteristic scenes on Red Clothes Festival. Furthermore, the real experience to see the women combing and wearing their long hairs into different hairstyles side by the river and waterwheel will show on there, so you will see their very simple and primitive life scene. More highlight is that you will see the traditional wedding customs of Red Yao girls from the token to the entering the bridal chamber on the wedding date.
Performance Ticket: 80RMB/person
Performance Time: about 30 minutes (Usually at 11:00 every day)
Please note: In some festival days such as the Red Clothes Festival, this performance will be held more frequently a day. And during other hours of non-festival days, the performance can also be held if there are more than 12 audiences.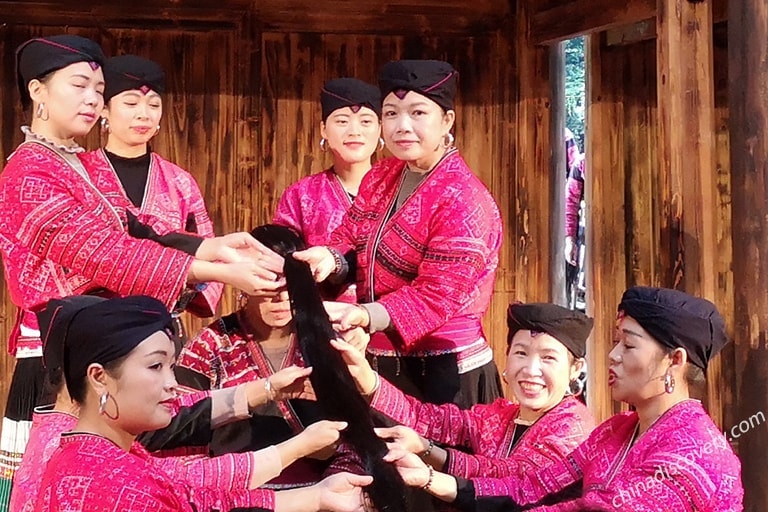 How to Get to Huangluo Yao Village
Huangluo Yao Village is situated at Longji Mountain in Longsheng Rice Terraces Scenic Area, about 55 kilometers direct distance from Guilin City center. At present, there are not many convenient public transportations linking with Guilin are available. We suggest you go by coach, by car or choose our private transfer service.
By Coach
First, take a coach from Guilin to Longsheng County, and then transfer to a local bus (from Longsheng to Ping'an) to get off at Huangluo Yao Village on the middle way. The whole transfer need about 2-2.5 hours. Please check the detailed time schedule for reference.
From - To
Departure
Arrival
Schedule
Duration
Price
(RMB/p)
Guilin - Longsheng
Guilin Qintan Bus Station
(桂林琴谭客运站)
Longsheng County
(龙胜县)
6:10-19:00
About 1-1.5 hours
About 40
Longsheng - Huangluo Village
Longsheng County
(龙胜县)
Ping'an Parking Lot
(平安停车场)
7:40-17:00
About 40 minutes
About 20
(Note: the above bus time, number and tickets are only for your reference, which may be adjusted according to practical situation.)
By Car
From Guilin to Huangluo Yao Village, there is a long mountainous way. Usually, if you hire a car there, it needs about 2-2.5 hours riding, with a driving distance of about 90-100 km according to different routes.
Travel with China Discovery
To travel Huangluo Yao Village with better transportation, you can choose our private tour service, and our professional and hospitable local guide and drive will take care of you and your luggage along the way to the site on comfortable and clean private car to avoid your wasting of time for vehicle waiting or choose. Furthermore, our guide will share detailed local culture and folk customs for your better knowledge of Longsheng. If you are interested, please tell us directly!
▶ 4 Days Highlights of Guilin, Yangshuo & Longji
Click to enlarge Huangluo Village Location Map
Attraction Nearby Huangluo Yao Village
Longji Rice Terraces
Just located in the same tourist area with Huangluo Yao Village in Longsheng County, Longji Rice Terraces attract numerous world travellers and photographers to come and see her awesome terraced fields in diverse appearances, including the mirror-like, green, golden, etc. in different seasons. Among all, the major three villages, which are Ping'an Village, Dazhai Village (Jinkeng), and Old Zhuang Village are top chosen and recommended to see the magnificent and eye-pleasing sightseeing created by local ethnic people. For most travelers to Longsheng, they will arrange their tour to Huangluo Yao Village first on the way, and then go to one or two of the rice terraces villages. Check more about Longji Rice Terraces.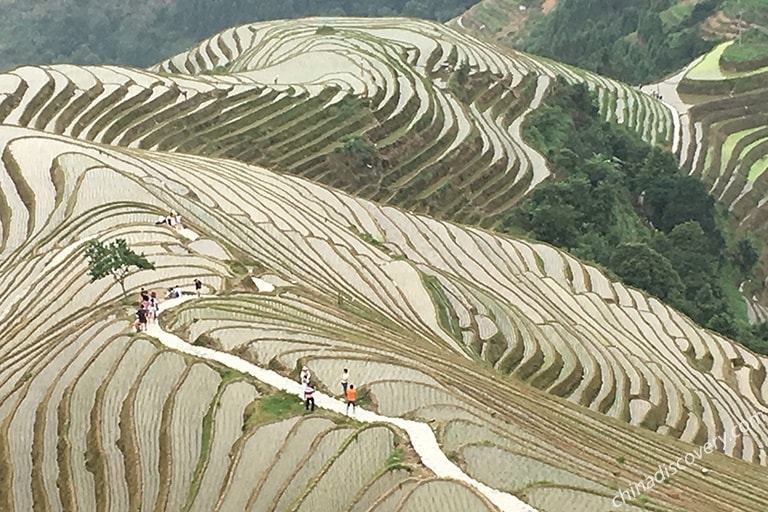 Rice Terraces View at Ping'an Village
Warm Tips to Visit Huangluo Yao Village
Ticket: 80 RMB/person for the whole Longji Rice Terraces Scenic Area.
Pinch Your Hip: for Longsheng Red Yao people, pinching one's hip means you like the person. So do not get panic if somebody, especially a Red Yao lady pinches your hip.
Meaning of Their Hairstyle: Red Yao women would wear their hairs according to their marital status. Unmarried girls would wear their hairs with a head cloth wrapping. Married women without children would wear hairs into a plate shape. For women having married and having their children, they will wear it into the shape of a ball.
Huangluo Yao Long Hair Secret: many people are curious about how the Red Yao women have so black, strong and shiny hairs. Local girls from around 10 years begin to grow long hairs, and more importantly they usually use the special self-made shampoo made of wild plants and washing water of rice, etc., but seldom use the products sold in the shops.
Recommended Tours:
▶ 4 Days Highlights of Guilin, Yangshuo & Longji
▶ 5 Days Guilin Tour with Yangshuo & Longji Rice Terrace
▶ 6 Days In-depth Guilin Tour from Hong Kong
Top Attractions in Guilin
Extending Readings for Guilin Travel Planning
Recommended Guilin Tours
Top 3 Guilin tours chosen by most customers to explore Guilin in the best way. Check the detailed itinerary, or tailor your own trip now with us.
4 Days Guilin Highlights Tour (Li River, Yangshuo & Longji Terraces)

Guilin / Yangshuo / Longsheng
5 Days Best Guilin In-depth Vacation (Li River, Yangshuo & Longji Terraces)

Guilin / Longsheng / Guilin / Yangshuo
6 Days In-depth Guilin Tour from Hong Kong

Hong Kong / Guilin / Longsheng / Yangshuo / Guilin
Start planning your tailor-made holiday to China by contacting one of our specialists. Once inquired, you'll get a response within 0.5~23.5 hours.
Customize a Trip
Have a question? Get answers from our travel experts or guests
Your Question:

Your Name:

Your Email: