How to Visit Li River: Cruising, Bamboo Rafting and Hiking 2023
The world-renowned Li River flows 83 kilometers from Guilin to Yangshuo, winding its way tranquilly like a green ribbon, with dramatic karst peaks rising majestically on its banks. Every of those peaks even has its name and associated legend, making Li River the "A Hundred Mile of Art Gallery".
So, how to explore such an idyllic paradise? There are 3 best recommended ways - Li River cruise, bamboo rafting and hiking. Taking a 4-hour Li River cruise starting from Guilin to Yangshuo is the most classic and leisure way to seek for all the stunning highlights of Li River. While, the short bamboo rafting experience gets you close to emerald water or you'll melt into nature when hiking freely along the riverside in Xingping to see the beautiful countryside landscape. Do you want a thorough exploration of the Li River or just to visit its essence part? How is your style, leisure or adventurous? Check the top 3 recommended ways to visit Li River with detailed features, routes, tips and maps at below and select your favorite way!
>> Learn more about Li River in Guilin
Top 1: Li River Cruise - the Most Ideal Way for Everyone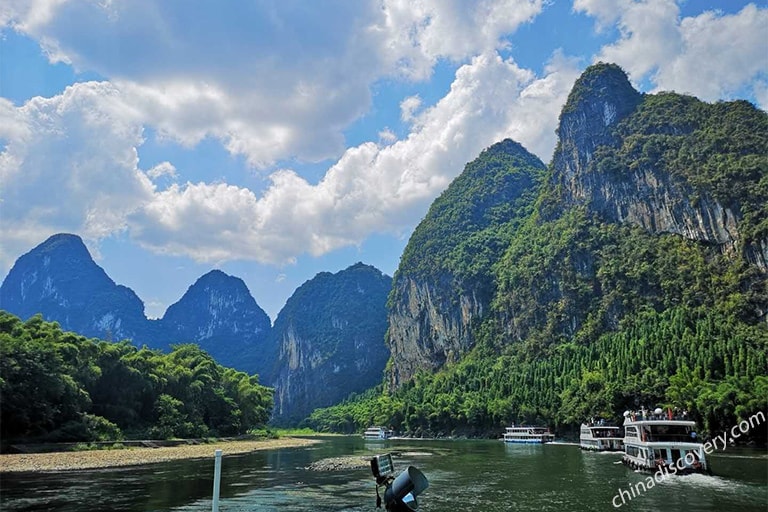 Amazing Li River Cruise
Touring Li River on a cruise is undoubtedly the most ideal and classic way to discover the beauty and wonder of Li River. This 4-hour journey is also the sole purpose of most travelers coming to this area. When cruising down to Yangshuo from Guilin, you will pass through the Karst mountain landscape in total leisure, you can shoot the farmers who are tending their crops against a backdrop of limestone peaks and evergreen fengwei bamboo and you can have the perfect angle to enjoy the real scenery on the back of 20 RMB Note.
Please notice that the Li River cruises only travel from Guilin to Yangshuo, no cruise gets back from Yangshuo to Guilin available now. And there are 2 kinds of cruise boats on service, one is the 3-Star cruise and the other is the 4-star cruise. All the 3-Star and 4-Star cruises sail through almost the same section of Li River (the finest part) with the same beautiful scenery and all have standard facilities and included lunch service.
Top Recommended Guilin Tours with Li River Cruise Experience:
4 Days Guilin Highlights Tour >>
5 Days Best Guilin In-depth Vacation >>
Warm tips:
1: Though the 4-Star cruises are more luxury and offer a much better buffet lunch, you are more suggested to take the 3-Star cruises. All the 3-star Li River cruises are managed by the government, which make them safer and more reliable, while the 4-Star ships are all privately managed. Check more about Li River Cruise Types >>
2. The piers the cruises used are different. Usually, 3-Star cruises depart from Guilin Mopanshan Dock (磨盘山码头) and arrive at Longtoushan Dock (龙头山码头) in Yangshuo. The 4-Star cruises start from Zhujiang Wharf (竹江码头) in Guilin and arrive at Shuidongmen Dock (水东门码头) in Yangshuo (closer to the West Street). However, that may be slightly changed according to practical situation. You can contact us for the real-time and detailed information.
3. Usually, it requires an overnight stay in Guilin if you coming to Yangshuo via Li River cruise, because the cruises depart at 09:30 - 10:00 in the morning and it is really a long distance from Guilin airport or railway stations in Guilin to the departure docks (about 1-2 hours by driving) directly.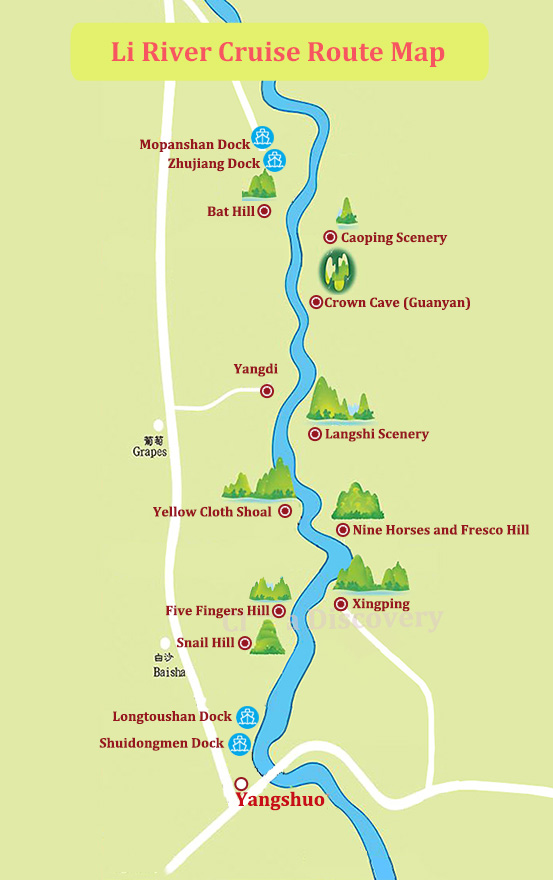 Li River Cruise Route Map
Top 2: Li River Bamboo Raft - Explore the Essence in a Short Time Leisurely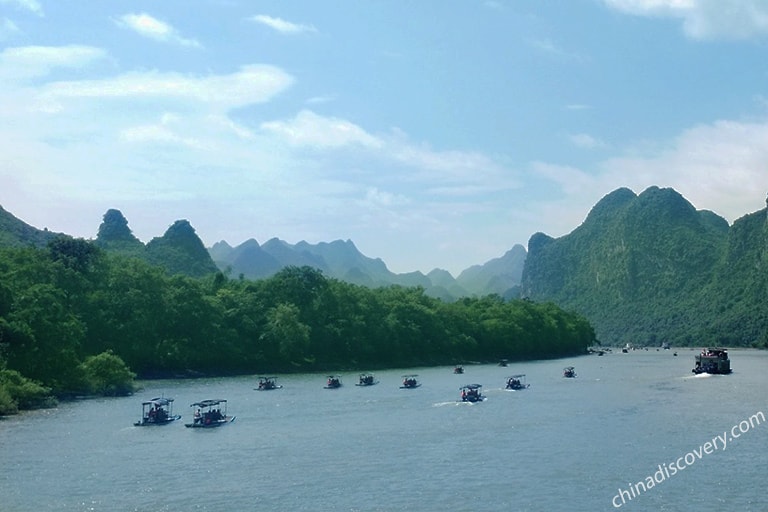 Leisure Li River Bamboo Rafting
Some travelers also hold the view that a tour to Yangshuo would not be complete without a bamboo cruise on the Li River. Li River bamboo rafting allows greater flexibility for those want to experience a different type of cruise on the lower reach of Li River. There are now 2 sailing routes on the Li River for bamboo rafting. One route menders about 5km up from Xingping Ancient Town to the Nine Horses Fresco Hill (round Trip), and the other one menders about 18km up the Li River cruise from Xingping Ancient Town to Yangdi (round trip). Each bamboo raft can hold 4 passengers every time.
/
Route 1#
Xingping - Nine Horses Fresco Hill - Xingping
Route 2#
Xingping - Yangdi - Xingping
Sailing Route
Xingping Town - Yellow Cloth Shoal - Nine Horses Fresco Hill - Backtrack
Xingping Town - Yellow Cloth Shoal - Nine Horses Fresco Hill - Apple Hill - Writing-brush Peak - Child-worship Guanyin - Yangdi Village - Backtrack
Highlights
Nine Horses Fresco Hill, Yellow Cloth Shoal (image on back of 20 RMB Chinese note), Xingping Landscape, etc.
Immortal-turning Millstone, Yangdi Landscape, Writing-brush Peak, Langshi Landscape, Xialong Landscape, Nine Horses Fresco Hill, Yellow Cloth Shoal (image on back of 20 RMB Chinese note), Xingping Landscape, etc.
Duration
50 minutes
2 hours
Docks
Xingping Town Dock
Xingping Town Dock
Time available
/
12:30-16:00
Price
80 RMB/person
170 RMB/person
Notice: 1) During monsoon season (May - June) and some rainy days in other months, bamboo rafts might be suspended due to the bad weather condition. 2) Children less than 1.2 meters and 7 years old and elders more than 70 years old are not allowed to take the Li River bamboo rafts. 3) The boatman cannot speak English, so you'd better have your own guide with you.
Learn more about Li River Bamboo Rafting Routes & Experience >>
Top 3: Li River Hiking - Idyllic Countryside Visit Recommended for Hiking Enthusiasts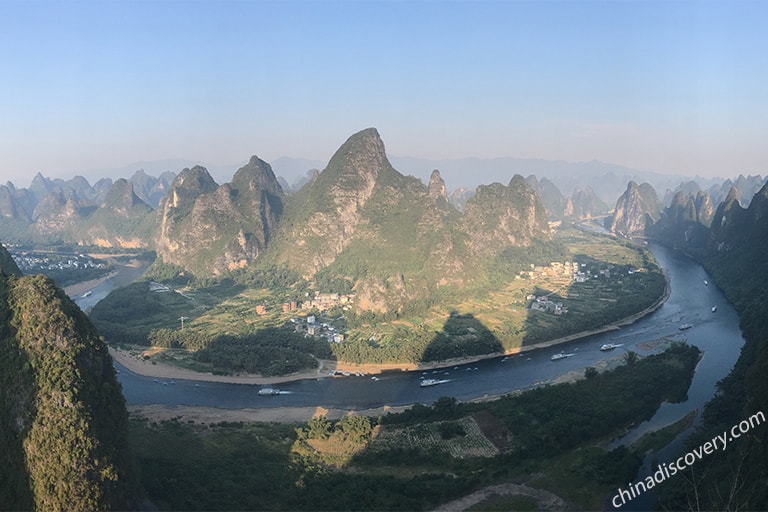 Panorama View of Li River on Xianggong Mountain
Hiking along the riverside is the freest way to visit the stunning Li River, because you can take a walk around at anytime and anywhere as you like. If you walk near the Xingping Ancient Town and get tired in the midway, you can also rent a bamboo raft to float up to the Nice Horses Fresco Hill or Yangdi for more beautiful scenery and charming legends.
However, the in-depth hiking of Li River is highly recommended for the hiking enthusiasts. There are now two wild hiking routes along the Li River, one is from the popular Xianggong Mountain to Xingping Ancient Town, Which takes about 4 hours, and the other is from Quanjiazhou (全家洲) to Xingping Ancient Town, which needs about 8 hours. The old Yangdi to Xingping hiking route is no longer available now because some of the ferry crossings needed when hiking from Yangdi to Xingping have been closed due to a purpose of ecological protection.
Which to Choose? Li River Cruise, Bamboo Raft or Hiking
Usually, for the travelers at your first touch of China or Guilin, you are mostly suggested to take the cruise to explore the splendid Li River. By taking the cruise, you can have the most completely explore of the whole River in the most leisure way. And you can worry free about your luggage because you can take it with you all the way and avoid of getting wet. Taking Li River cruise is also the only choice for the children less than 1.2 meters and 7 years old and elders more than 70 years old, as you cannot take a bamboo raft on the Li River.
For the people who have already experienced the Li River cruise before, you can have a try about the bamboo rafts. You will still have an impressive and pleasing experience about Li River by taking bamboo rafts, because the rafts will also sail through the most popular Nine Horses Fresco Hill, Yellow Cloth Shoal (image on back of 20 RMB Chinese note), Xingping Ancient Town, etc.
Hiking is mostly recommended for the hiking and photography enthusiasts and also the travelers who are curious about the local lifestyle or want a unique view of Li River. When walking around the riverbank, you have more chance to meet with local working fishermen and grazing buffaloes up close. When you climb up the top of some mountains like Xianggong Mountain, you will have a unique panorama view of the bay of Li River flanked by numerous jutting karst peaks.
Li River Cruise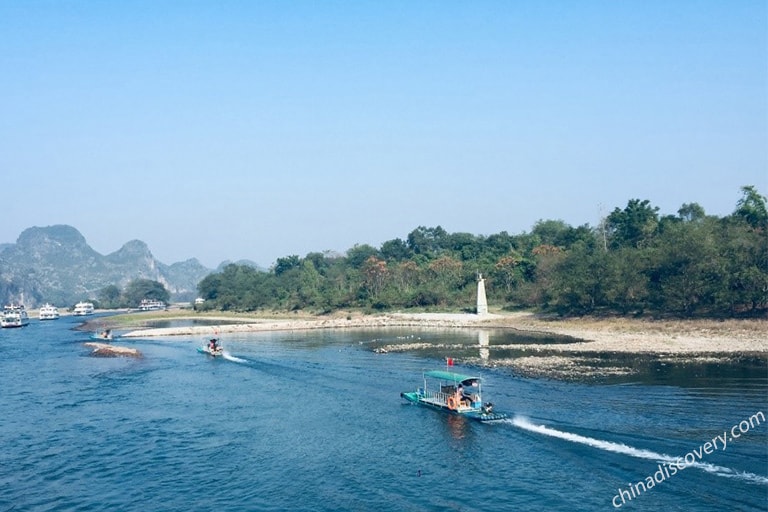 Li River Bamboo Rafting
How to Plan a Li River Tour
A Li River cruise tour is usually the hot choice after the visit of Longsheng Rice Terraces and the Guilin downtown attractions like the Elephant Trunk Hill and Reed Flute Cave. After the exploring of Guilin downtown and Longsheng, travelers will then take the leisurely Li River cruise to Yangshuo County, and spend about 2-3 days in Yangshuo after arriving. For more details, you can check our Most Popular Guilin Tour with Li River Exploring: 5 Days Best Guilin In-depth Vacation as reference.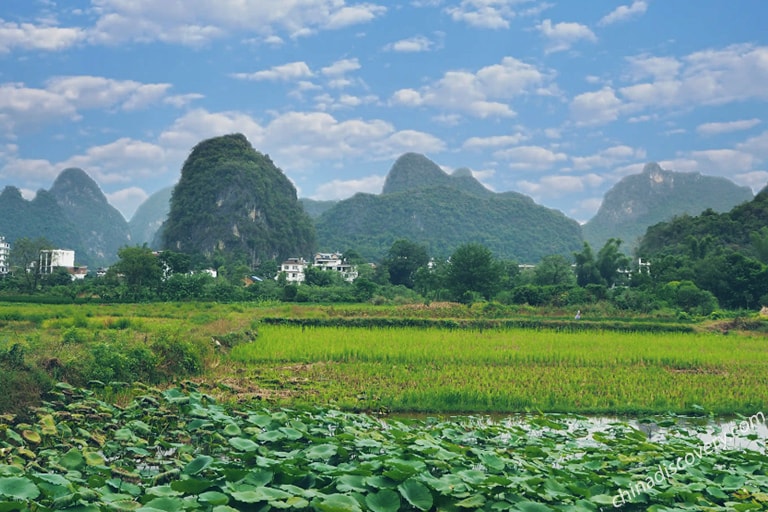 Yangshuo Countryside
Touring Li River with China Discovery
Want to visit Li River and feel annoyed about the complex traffic? Want have a personal Li River tour according to your interests and do not know how to plan it? Don't worry, travel with we China Discovery and our professional travel consultants will solve all your problems and customize memorable journey for you. Then you can focus all your energy on the beautiful scenery and charming legends of Li River. If you are interested, please feel free to contact us for detailed help.
We have helped many global travelers enjoy their memorable trips to Guilin for the past few years. Among them, Vijay's family and friends have traveled China for about 20 times with us and visited Guilin for many times, and also shared us their travel story. Travel with China Discovery to create your wonderful Guilin trip memories!
More Popular Guilin Travel Articles
Extending Readings for Guilin Travel Planning
Recommended Li River Tours
Top 3 Li River tours chosen by most customers to explore Li River in the best way. Check the detailed itinerary, or tailor your own trip now with us.
4 Days Guilin Highlights Tour (Li River, Yangshuo & Longji Terraces)

Guilin / Yangshuo / Longsheng
3 Days Classic Guilin Tour - Guilin Brief Vacation

Guilin / Yangshuo
5 Days Best Guilin In-depth Vacation (Li River, Yangshuo & Longji Terraces)

Guilin / Longsheng / Guilin / Yangshuo
Start planning your tailor-made holiday to China by contacting one of our specialists. Once inquired, you'll get a response within 0.5~23.5 hours.
Customize a Trip
Have a question? Get answers from our travel experts or guests
Your Question:

Your Name:

Your Email: