Beihai city is located in the south of Guangxi province and on the northeast coast of Beibu Gulf. The city is surrounded by the sea on three sides (North, South and West) and has 2 islands, which are Weizhou Island and Xieyang Island. Beihai is a romantic city with beautiful scenery and pleasant weather. Sunshine, beaches and sea are the three most impressive things about the city. The sand of the silver beach is soft as a carpet, paved a corridor straight to the sea. The wistful smoke of Weizhou Island gives people a feeling of going back to their hometown, making people forget all the worries of the bustling world.
Why Visit Beihai City:
Authentic Volcanic Island Scenery - Rated as "the most beautiful island in China" by National Geographic of China, Weizhou Island is about 20 nautical miles away from the urban area. It is the largest island in Guangxi and the largest and youngest extinct volcano island in China. The dreamlike and picturesque scenery, natural and simple island custom make it the most popular tourist resort in Guangxi.
Long Beaches, Soft Sand and Sea Breeze - If warm sunshine and clean sea water are not rare, then the Silver Beach in Beihai is undoubtedly a "tourism trump card" of Beihai city. Baihai Silver Beach ( Beihai Yintan) is characterizes by "long flat beach, fine white sand, clean warm water, soft waves and no sharks". The sandy beach area of Beihai Yintan even exceeds the sum of beaches in Dalian, Yantai, Qingdao, Xiamen and Beidaihe.
Arcaded Streets & Mouth-watering Seafood Snacks - In Volcano Park in Tengchong, you can climb to the top of Dakongshan to look far in a distance or take a hot air balloon to overlook panoramic view of volcanoes. The spectacular volcanic geological landscape, gentle and beautiful mountains and rivers, and the residential buildings in the fields will definitely leave a great memory for you.
Island Cycling, Strolling and Angling - Renting a scooter is the most leisure and artistic way to travel around Weizhou Island. With the glorious setting sun and salty sea breezes, riding a scooter with your friends, families and sweethearts, overlooking the beach not far away, just like entering a clip of romantic movies.
...
Beihai Attractions & Things to Do
Most of the scenic spots in Beihai are sea-themed, letting you fully enjoy the blue world. The attractions on the mainland are concentrated in the Yinhai District and Haicheng District. With beach, coast, harbor scenery as the highlights, representative scenic spots in Yinhai District include Beihai Silver Beach, Guantouling Park, Qiaogang Style Street, etc. The cultural attractions are mainly concentrated in Beihai Old Street in Haicheng District. At present, the top highlights in Beihai should be Weizhou Island. The island has extraordinary scenery, better to stay for a few days, to fully explore the real sea paradise.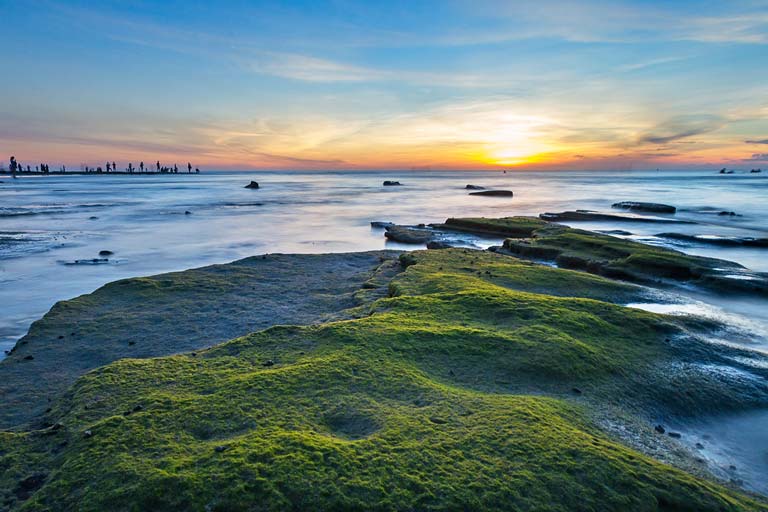 Weizhou Island
Weizhou Island is the largest sea island in Guangxi and the largest extinct volcano island in China. The island is famous for its beautiful seascape scenery and simple folk customs. The island also has a variety of recreational facilities. Visitors can try fishing, diving and surfing, etc.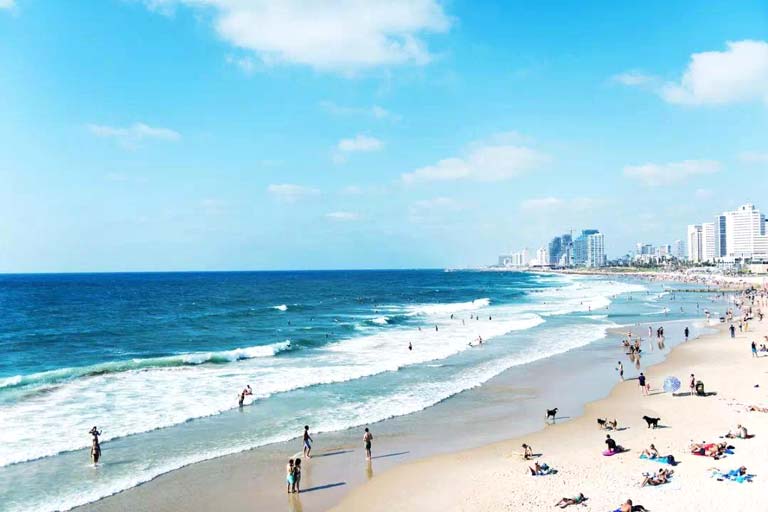 Beihai Silver Beach (Yintan)
Beihai Silver Beach (Beihai Yintan), one of the ten most beautiful beaches in China, stretches about 24 kilometers from east to west, covering an area of over 38 square kilometers. Under the sunshine, the fine and smooth beach radiate silver, so called the Silver Beach.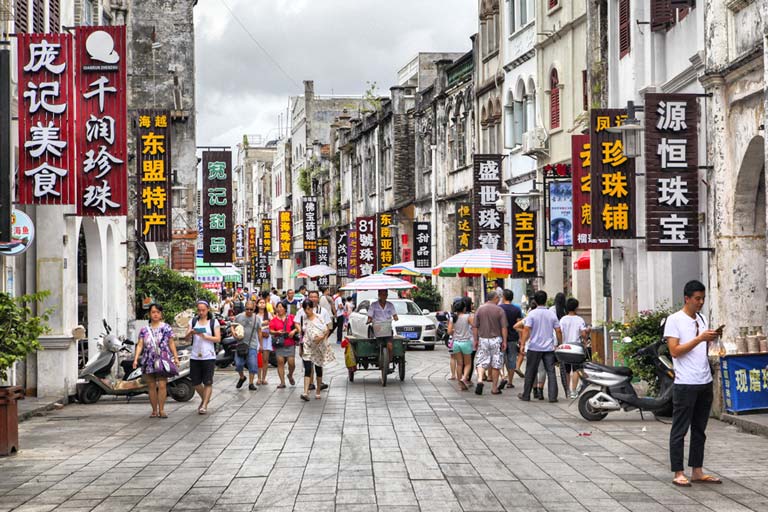 Beihai Old Street
Beihai Old Street is a century-old street built in 1883. The unique combination of Chinese and Western arcade style architecture is the highlight of Beihai. Along the street, there are old sites of consulates, churches, post offices and teahouses, etc., telling the former prosperity of Beihai.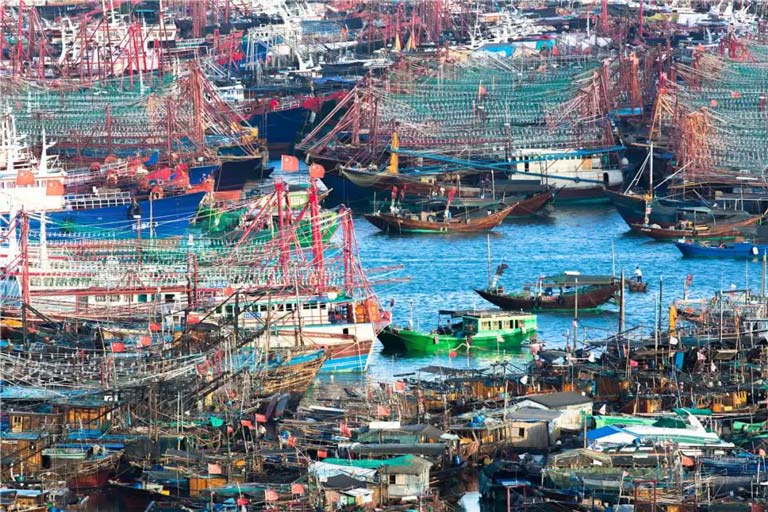 Qiaogang Style Street
Beihai Qiaogang Style Street is a popular special snack street in Beihai. There are many Vietnam overseas Chinese doing business here, so there are all kinds of Vietnamese food, such as chicken slices with bean jelly, crab rice noodles and rice starch rolls, etc.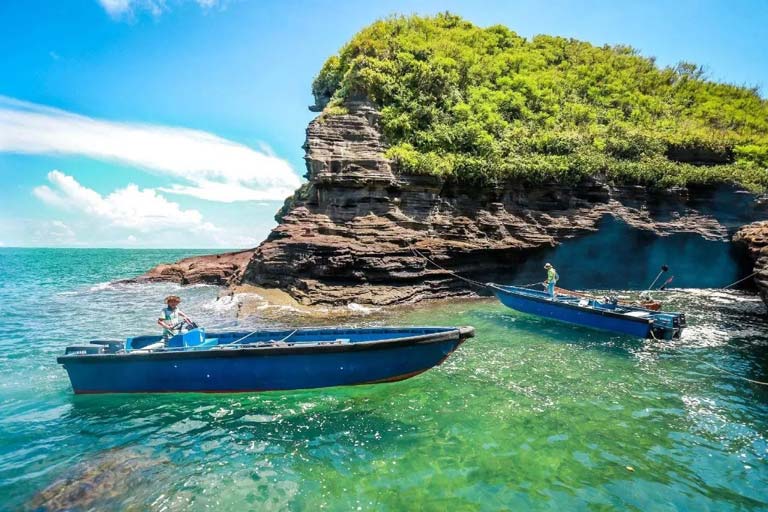 Xieyang Island
Xieyang Island is located in the southeast sea of Weizhou Island, about 9 nautical miles away. Compared with Weizhou Island, Xieyang Island is more primitive. The air on the island is fresh and pleasant, the sea is blue and clear. There are also many sea erosion and accumulation wonders to see.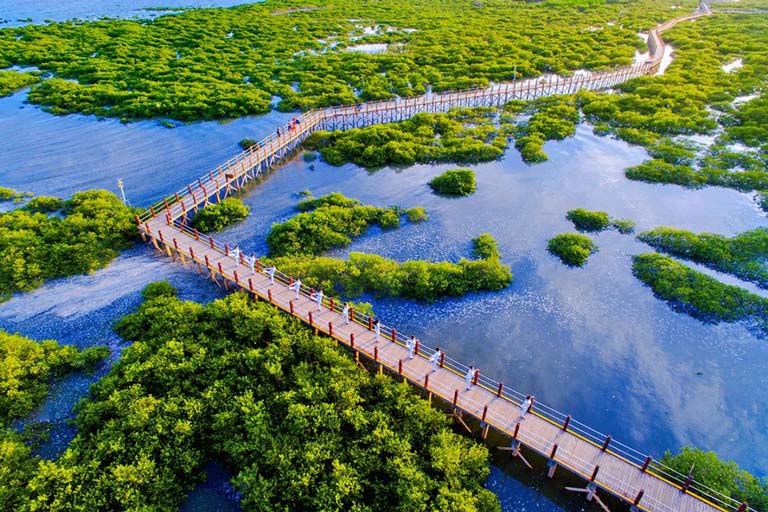 Golden Bay Mangrove Scenic Area
The scenic area is connected to Silver Beach and close to the city. There are more than 2,000 mu of mangroves in the zone, where 100 species of birds, shellfish, fish, shrimps, crabs and other creatures breed and inhabit, making it a rare marine biodiversity reserve in China.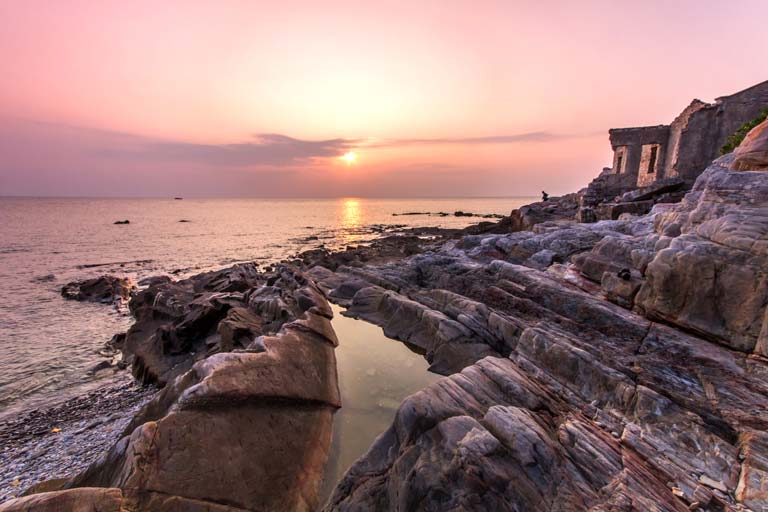 Guangtouling Park
Guantouling is the highest peak of Beihai city. Climb the peak to enjoy the beautiful scenery of sunrise and sunset, the vast expanse of ocean waves and the enchanting scenes of nightlights on fishing boats. At the foot of the mountain, there is a huge reef group and sea erosion platform steep rocks, strewn at random and various in shapes, very suitable for tourists to take photos.
Beihai Weather & Best Time to Visit Beihai
Beihai city is located in the southernmost part of Guangxi in low latitude. The climate type of Beihai is the maritime monsoon climate, with characteristics of a typical subtropical zone. The seasons in Beihai are mainly divided into the winter-half-year (December to March) and the summer-half-year (April to November). Spring and Autumn are connected with summer, and there is almost no winter in Beihai. The annual average temperature is 23°C and the average annual rainfall is around 1670 mm. The annual sunshine hours are over 2000 hours. In normal years, northerly wind prevails from October to March of the next year, and southerly wind prevails from April to September.
The average temperature of the sea water in Beihai is relatively high. Travelers can swim here in spring, summer and autumn (summer-half-year). Therefore, from April to June and September to November is the best time to visit Beihai (Avoid Typhoon Months, July and August), during which there is sufficient sunshine, the water is warm, and it is also the best time to enjoy the island sunrise, seascape and cycling.
Dressing Tips: If you plan to swim, get your swimsuit ready in advance. In summer, the temperature in Beihai is high. People easily get sunburned under strong ultraviolet rays in Beihai, so pay attention to sun protection. In November, the temperature difference between day and night is large, so it is recommended to bring a thin coat during the trip.
Beihai Transportation & How to Get to & around Beihai
Beihai city, located in the south of Guangxi province and the east coast of Beibuwan Bay, has very convenient transportation. Beihai has both direct flights to/from major cities in China and high-speed rail links with hot destinations in the province.
Get to Beihai
By Flight: Beihai has one of the three main airports in Guangxi - Beihai Fucheng Airport. The airport is about 25km away from the city center, which takes about 40~50 minutes by car/taxi. The airport runs direct flights from/to Beijing (3 hours), Shanghai (3 hours), Changsha (2 hours), Guangzhou (1.5 hours), Shenzhen (1.5 hours), etc.
(Notice: Since there are not many flights operating in the airport each day. If the direct flights are sold out, tourists can also fly to Nanning Wuxu International Airport or Guilin Liangjiang International Airport first and the transfer to bullet trains to reach Beihai.)
By High Speed / Bullet Train: There is only one train station in Beihai - Beihai Railway Station, about 3 km away from the city center. At present, Beihai has opened D-series High-Speed train with Nanning (about 1.5 hours), Guilin (about 4.5 hours) and Liuzhou (about 3.5 hours). There are frequent trains every day and it is one of the most convenient ways to travel in the province.
• Nanning to Beihai: Nanning is the most frequent-choose transit city to Beihai. The distance between two cities is around 200 km, which takes 1.5~2 hours by bullet train, 3.5~4 hours by car and 3.5~5 hours by coach.
• Guilin to Beihai: Beihai is about 520 km south from Guilin. It takes 6~6.5 hours to transfer between 2 cities by car, about 4.5 hours by bullet train and 8~10 hours by coach.
Get around Beihai
The main public transport in Beihai city is taxis and buses. Renting a bike or motorbike and cycling along the coastline is another popular way for tourists to fully enjoy the scenery of Beihai city and Weizhou Island. The only way to get to Weizhou Island is by passenger ship. Beihai International Passenger Port is the only ship port to Weizhou Island.
• Beihai City to Weizhou Island: The distance between Beihai City and Weizhou Island is about 27 nautical miles, which takes around 1 hour and 45 minutes by ship/cruise.
Beihai Hotels, Accommodation & Where to Stay
Weizhou Island is the main destination for most tourists who come to Beihai. For those who arrive early in the morning, they can choose to take a ship to the island directly and find hotels, hostels or inns on the island. For those who have higher requirements for hotel standards, they can choose to stay in the city. Luxury hotels in Beihai are mostly located in Beibuwan in Haicheng District and Silver Beach Avenue in Yinhai District. Hotels and resorts in these areas have complete services and numerous entertainment activities. Many hotels around Beihai Silver Beach have seascape rooms. Besides, Qiaogang Town also has some budget hotels and youth hostels.
• Recommended Hotels on Weizhou Island: Weizhou Island Rian Oriental Hot Spring Guesthouse (花筑奢·涠洲岛日冉东方温泉酒店); Kafuka Bespoke Hostel (涠洲岛卡夫卡定制酒店); Weizhou Island Fanjian Villa (涠洲岛繁简别墅); Weizhou Island Shanhai Culture and Art Hotel (涠洲岛山海文化艺术酒店)...
Other Hot Destinations in Guangxi
Besides Beihai, there are many other hot destinations in Guangxi, like the peerless landscape in Guilin, idyllic and picturesque Yangshuo, sparkling paddy fields in Longsheng County, Chengyang Wind and Rain Bridge in Sanjiang and magnificent Detian Waterfalls in Chongzuo, etc. Check the travel guide of each destination and discover now!
Other Popular Destinations in China
China is vast and diverse. Besides Beihai and amazing Guangxi, you can enrich your trip to more wonderful destination to enjoy more beautiful sceneries, historical culture, etc. Following are 4 top popular destinations you may get interested in. Please check the travel guide of each destination to start. Also, you can check all our popular travel destinations in China!
How to Plan a Beihai, Guangxi Tour?
The biggest highlight of Beihai is Weizhou Island. Generally, travelers would choose to stay on the island for around 2 days, enjoy the beautiful sunrise and sunset at beaches, explore the magical volcanic island landforms, ride a bike along the coastline and feel the fresh sea breeze, find a barbecue to eat seafood at night... If you have more time, you can also stay on the island for 2 nights (3 days) and try some sea activities, such as scuba diving, sea fishing and angling, etc. If you are interested in arcade and old street, you can also spend half a day to visit Beihai Old Street and Beihai Silver Beach before or after your Weishou Island tour.
If you have never been to Guangxi before and have extra days to travel, do not miss the biggest highlight of Guangxi - Guilin, one of the hottest tourism destinations in China with the world-top landscape. It takes 3 ~ 5 days to explore the highlights of Guilin, including Li River, Yangshuo County, Longsheng Rice Terraces, Elephant Trunk Hill… Besides, there are many other highlights in Guangxi worth visiting, like the Chengyang Wind and Rain Bridge in Sanjiang County (1 day), Detian Waterfall in Chongzuo City (2~3 days), etc.
Travel with China Discovery
We have helped many global travelers enjoy their memorable trips to Guangxi for the past few years and received 4,050+ comments. All tours can be tailor-made according to your group size, time, physical condition, plan, interests, budget and any other special need! Please feel free to contact us to customize your own Guangxi trip or if you need any help!
Recommended Beihai Tours