Greater Bay Area China Map
Guangdong-Hong Kong-Macao Greater Bay Area, also known as Greater Bay Area (GBA) for short, refers to the vibrant cluster in the farthest South China, which is made up of Hong Kong, Macau and 9 cities of Guangdong Province (Guangzhou, Shenzhen, Zhuhai, etc.).
This area hosts a variety of opportunities and attractions for business people and tourists. In the offices of the towering buildings in Hong Kong, Guangzhou and Shenzhen, business conversations are proceeding round the clock. And for tourists, the stunning skyline scenery, orgiastic casinos, Cantonese food, Kung Fu, Linnan culture, overseas Chinese culture, etc. make them linger on and almost forget to return.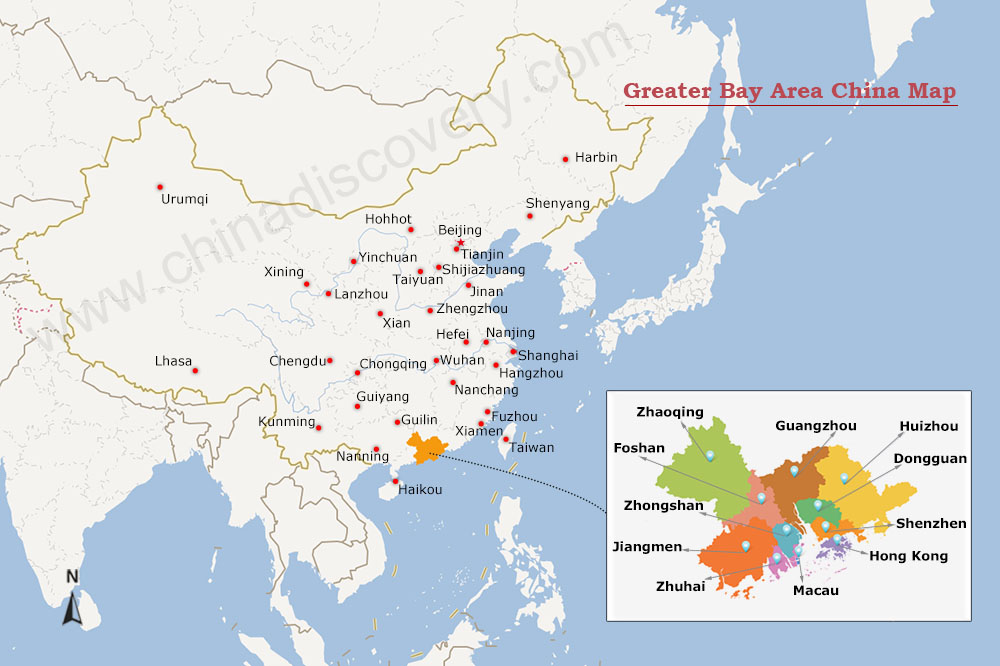 Click to Enlarge Greater Bay Area China Map
There are many traveling routes in Greater Bay Area. You can travel cities like Guangzhou, Shenzhen, Zhuhai, etc. in mainland China first, and then transfer to Macau and Hong Kong for a visit and find a convenient flight to go back your home. Also, you can land at and visit Hong Kong and Macau first, and then explore cities in Guangdong. Usually, a tour in Greater Bay Area needs about 7-9 days, including 2-3 days in Hong Kong, 1 day in Macau, 2-3 days in Shenzhen, 2-3 days in Guangzhou and its nearby Foshan and Shunde.
Tourist tip: Considering Hong Kong has more daily international flights, you are more advised to land at Hong Kong first.
>> 8 Days Amazing Greater Bay Area Tour
Travel Greater Bay Area with Other Popular Tourist Cities in China
Since China has a massive air and railway network, it is really easy for you to make extension journeys to other wonderful sites from Greater Bay Area. Therefore, you can make longer China explore tour from this area if you have time. The closest Guilin and Guizhou are our top recommends. Other hot tourist destinations like Beijing, Shanghai, Xian, Chengdu, Zhangjiajie, Kunming, Yangtze River, etc. are also great choices to create lifelong memories.
>> 6 Days In-depth Guilin Tour from Hong Kong
>> 7 Days Vibrant & Ancient China Tour from Hong Kong
>> 8 Days Hong Kong, Xian & Beijing Essence Tour
>> 21 Days China Holiday with Yangtze River Cruise Tour
Click to Enlarge Popular China Tourist Destinations on Map
Travel Hong Kong & China with China Discovery
To travel Greater Bay Area and China more easily and conveniently, you can travel with China Discovery! We will make the best sue of your visa and customize the tour according to your plan, time, interests and budgets! In your whole journey, our professional local guide and driver will escort you from your hotel, train station, airport to all attractions with comfortable private car with speed and convenience and let you catch the highlights of every site and the city, so you can get really relaxed on the way and focus on what you are interested. If you are interested, please feel free to contact us and tell us your needs, and we will creat a memorable tour for you!
Panoramic View from Victoria Peak
Useful Maps in Greater Bay Area
Extension Reading of Greater Bay Area
Recommended Greater Bay Area Tours
Top 3 Greater Bay Area tours chosen by most customers to explore Greater Bay Area in the best way. Check the detailed itinerary,or tailor your own trip now with us.
3 Days Hong Kong & Macau In-depth Cultural Tour

Hong Kong / Macau / Hong Kong
6 Days Hong Kong Macau Shenzhen Fusion Tour

Hong Kong / Shenzhen / Macau / Hong Kong
8 Days Amazing Greater Bay Area Tour

Hong Kong / Guangzhou / Shenzhen / Macau / Hong Kong