Maijishan Grottoes on the Cliff
Maijishan Grottoes, also called Maiji Mountain Grottoes or Maijishan Caves, is located in Maiji District, Tianshui City, Gansu Province, northwest China. Together with Longmen Grottoes, Yungang Grottoes and Dunhuang Grottoes, they are the "Four Greatest Grottoes in China".
Maiji in Chinese means "piled sheaves of wheat". That's what Maiji Mountain looks like and why it got the name. Maijishan grottoes were firstly built in A.D. 384-417 and expanded in the following dynasties such as Northern Zhou (A.D. 557-581) and Tang (A.D. 618-907). Now there are 221 caves, 10632 clay sculptures and more than 1300 square meters of murals. It is famous for its exquisite clay sculpture art in the world and is renowned as the Oriental Sculpture Art Exhibition Hall.
Though Maijishan Grottoes is not as famous as the other three great grottoes, it is the one that is best-preserved. Because all the caves are chiseled on the steep cliff of the mountain, they are not easily accessible hence escape much destruction in the troublous history. Nowadays, people can get to admire the Buddha sculptures and murals on a narrow path along the cliff, which is still a challenge to some people. But the scene you see will be totally worth the climb.
What to See in Maijishan Grottoes
The clay sculpture of Maijishan Grottoes is famous at home and abroad. The thousands of sculptures here can be as high as 16 meters and as small as only 10 centimeters, reflecting the sculpture characteristics in various times and the development of Chinese clay sculpture art over the past thousand years.
Maijishan Grottoes today can be roughly divided into western cliff and eastern cliff. The diverse Buddhist statues, valuable murals, and architectures built on the cliff are all worth a visit. In order to protect those cultural relics, some caves are selected as special caves and need to buy extra ticket. The following caves are just a part of Maijishan Grottoes.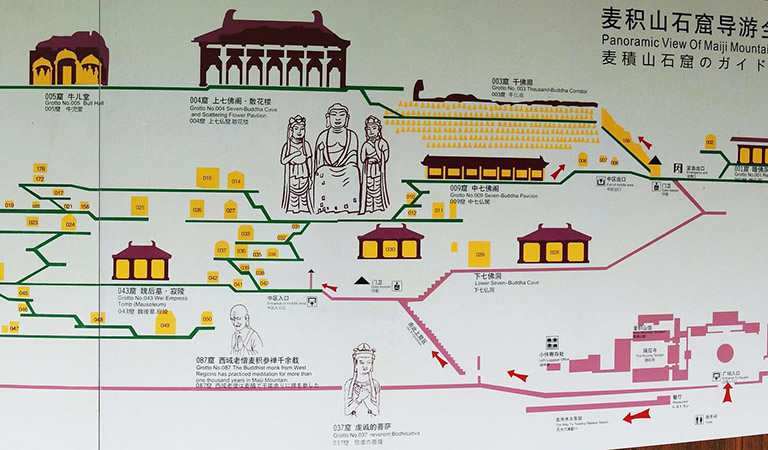 Maijishan Grottoes Tourist Map
Grotto No. 004: Seven-Buddha Cave or Scattering Flower Pavilion
It is located above the three great Buddha on the Eastern Cliff, about 70 meters from the ground. It is the largest, highest, and most magnificent cave in Maijishan Grottoes with 31.7m in width and 13m in depth. It looks like a great palace with 7 rooms, in each of which stands a Buddha and decorated with apsara murals painted in Northern Zhou Dynasty (A.D. 557-581). Different from other murals, these in Cave 4 present a combination of mural and relieve, which endows the flying apsaras a strong three-dimensional sense and it looks like they will fly out of the wall at any moment.
Grotto No. 003: Thousand-Buddha Corridor
Built in the Northern Zhou Dynasty (A.D. 557-581) and rebuilt in the dynasties of Song (A.D. 960-1279) and Ming (A.D. 1368-1644), Thousand-Buddha Corridor is 36.5m in length with 6 rows of 297 Buddha in total. All of them are stone-frame clay sculpture and about 0.9m in height. It is quite a magnificent scene when you walk along the corridor.
Grotto No. 013: Eastern Cliff Great Buddha
Grotto No. 013 is commonly known as the "Eastern Cliff Great Buddha", 17 meters high and 18 meters wide. It was chiseled in Sui Dynasty (A.D. 581-619) and rebuilt in Southern Song Dynasty (A.D. 1127-1279). This is the largest group of clay sculptures in Maiji Mountain with 15.7m high Amitabha Buddha in the middle, 13m high Avalokitesvara Buddha on the left and also 13m high Mahasthamaprapta Buddha on the right. In 1982, Maijishan Grottoes researcher group found a manuscript of Golden Light Sutra written in late Tang Dynasty (A.D. 618-907) on the right cheek of Amitabha Buddha. This precious script is neatly written, well-preserved, and the earliest handwritten sutra found in Maiji Mountain.
Grotto No. 121: Whispering Bodhisattva and Disciple (Special Cave)
Grotto No. 121 is located at the west end of the upper layer on the Western Cliff. It was created in the Northern Wei Dynasty (A.D. 386-534) and rebuilt in the Song Dynasty (A.D. 960-1279) while the original works of Northern Wei are still well preserved. The most famous of this grotto is a group of statues of a Bodhisattva and a disciple. They lean towards each other's shoulders and smile sweetly, seeming like they are whispering quietly. Unlike our ordinary impression of solemn Bodhisattva, they are like a pair of friendly sister and brother talking about something interesting. Based on real life, ancient craftsmen created this group of immortal works that can arouse people's infinite imagination.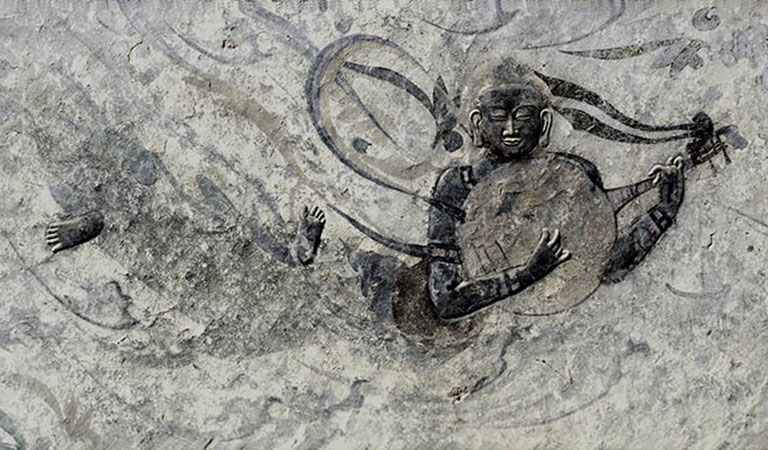 Flying Apsara in Grotto No.4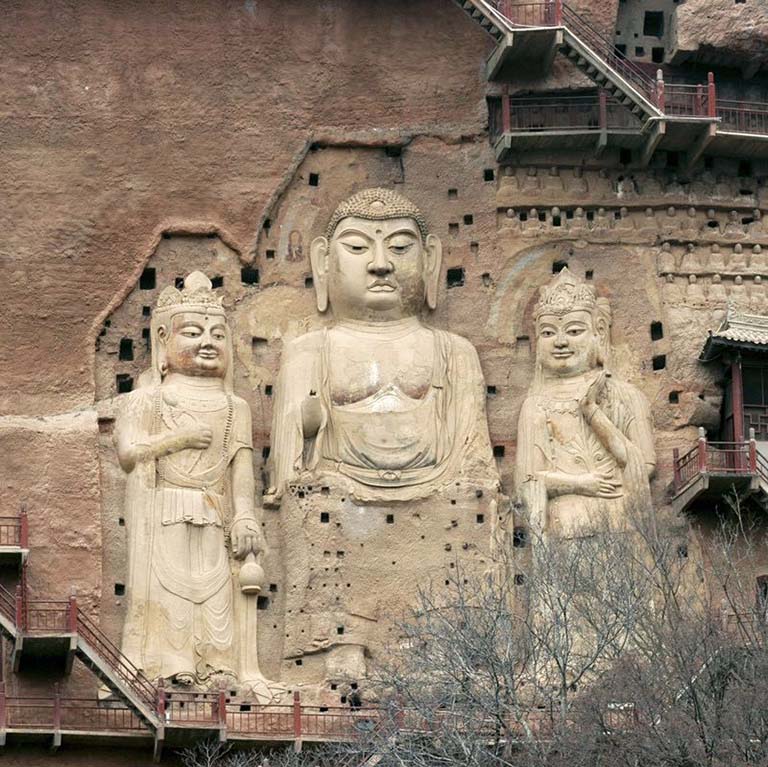 Eastern Cliff Great Buddha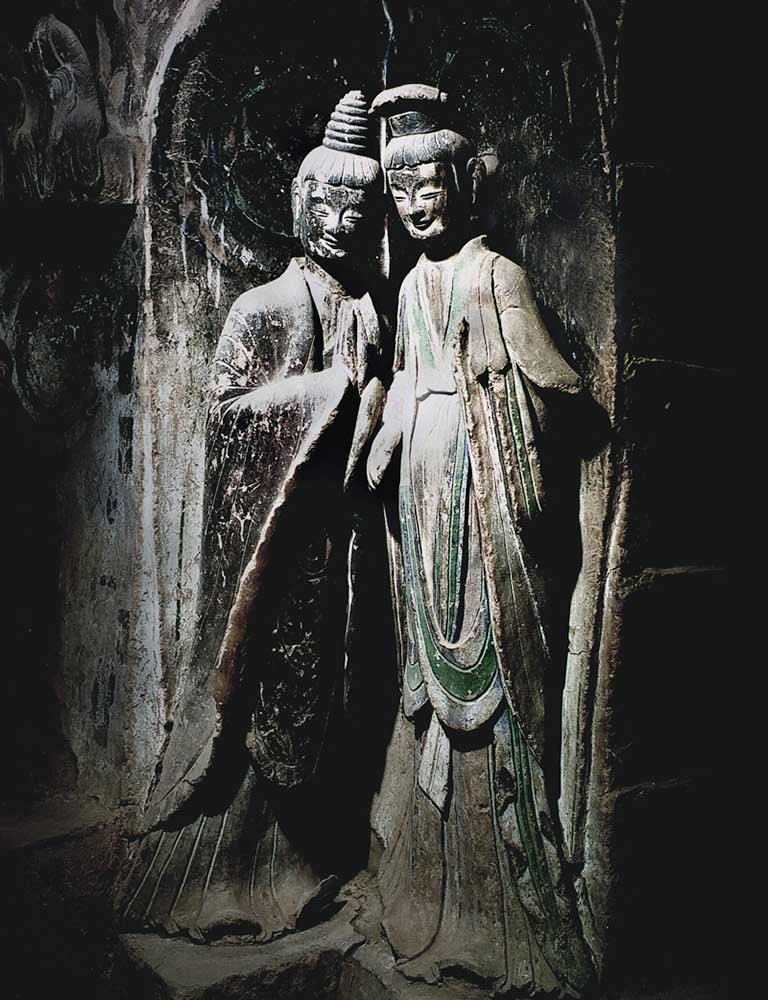 Bodhisattva and Disciple in Grotto No.121
Where to Buy Maijishan Grottoes Ticket
To avoid being overwhelmed by tourists, Maijishan Grottoes only release 6400 tickets (CNY 80 per person) a day. Tourists can book it through official account of Maijishan Tourism on WeChat or buy the ticket at the tourist center with valid ID card or passport.
Please note that the ticket only covers the common caves. For special cave No. 133, No.135, and No. 127, each of them will need an extra fee of CNY 400 (within 5 people) or CNY 600 (6-10 people). For special cave No. 43, No. 44, No. 62, No. 74, No. 78, No. 102, No. 115, No. 121, No. 123, No. 155, No. 76, and No. 142, each of them will need an extra fee of CNY 300 (within 5 people) or CNY 500 (6-10 people).
The cost of a guide (English-speaking guide is available) is included in the fee of special caves. If you want to hire a guide for common caves only, it will cost CNY 50 (within 5 people) or CNY 10 per person (more than 5 people).
How to Get to Maijishan Grottoes
Maijishan Grottoes is in Maijishan Scenic Area. Maijishan is about 44km, 75 minutes' drive (2h by bus) to the south of Tianshui downtown, about 1 hour's drive (1.5h by bus) from Tianshui Railway Station, Tianshuinan Railway Station, and Tianshui Maijishan Airport.
When you get to the entrance of Maijishan, there is a distance of about 3km to the grottoes, you can walk there or take a shuttle bus (CNY 8 for one-way ticket and CNY 15 for round-way ticket).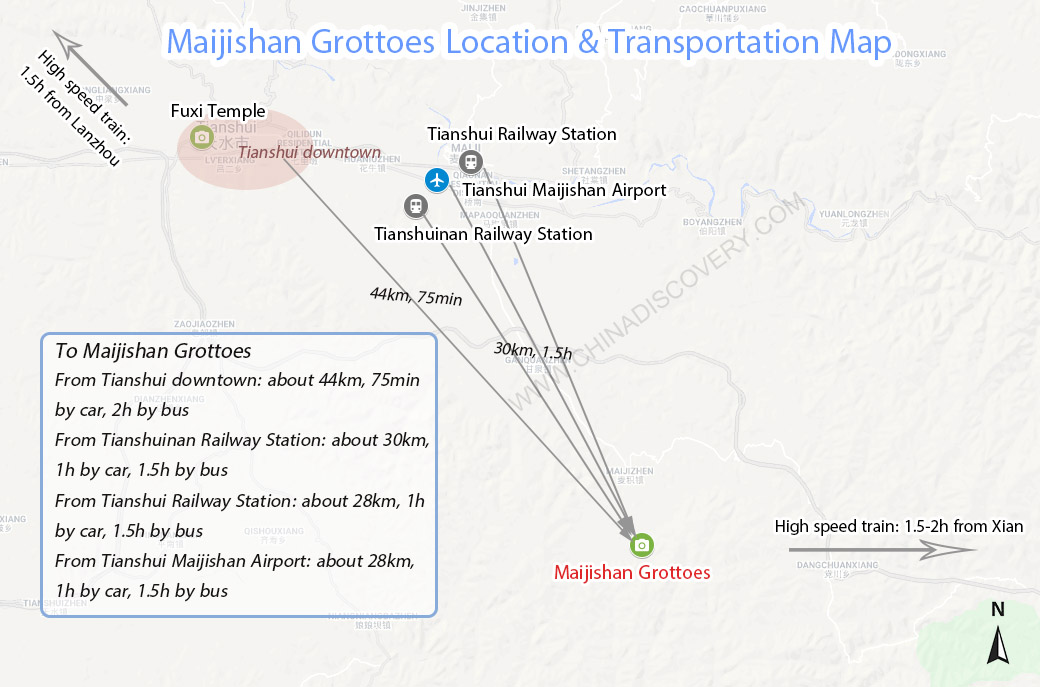 Maijishan Grottoes Location & Transportation Map
Get to Maijishan Grottoes from Xian and Lanzhou
Tianshui city is well connected with Xian and Lanzhou by high speed train.
Every day from early morning to late night, there are more than 40 high speed trains (2h) running between Xianbei Railway Station and Tianshuinan Railway Station, over 50 high speed trains (1.5h) between Lanzhouxi Railway Station and Tianshuinan Railway Station. If you travel to Maijishan Grottoes from Xian or Lanzhou, you can get to Tianshuinan Railway Station and then take a bus or taxi to the grottoes.>>Real-time Xian to Tianshui Train Schedule
Travel with China Discovery
If you want to avoid all the transfer troubles, you can consider travelling with us China Discovery. Our professional local guide and driver will escort you from your hotel, train station, airport to all attractions with comfortable licensed private car, so you can get really relaxed on the way and focus on what you are interested in. The tour can be tailor made according to your plan, time and interests and demands. If you are interested, please feel free to contact us and tell us your needs, and we will customize a memorable tour for you!>>Contact Us Now
How to Plan a Silk Road Tour with Maijishan Grottoes
If you just want to travel Tianshui, 1-2 days will be sufficient for you to have a basic understanding of this ancient city and its highlights - Maijishan Grottoes and Fuxi Temple, a temple firstly built in A.D. 1483-1484 to worship the ancient legendary "Fuxi Emperor", who was very knowledgeable, created the Eight Diagrams and made a great progress in Chinese civilization.
But if you have more days, it is highly recommended to extend your trip to one or more other cities on the ancient Silk Road from Xian via Tianshui to Lanzhou, Zhangye, Jiayuguan, and Dunhuang. In this way, you will encounter the eighth wonder of the world - Terracotta Warriors, treasure of Buddhist arts - Mogao Grottoes, amazing rainbow mountain - Zhangye Danxia Landform Geographical Park and the westernmost point of Ming Dynasty Great Wall - Jiayuguan Pass at the same time.
If you have more questions or ideas about a Maijishan Grottoes tour, please feel free to contact us. We can provide you with customized tours according to your own interests, requirments, travelling time and budget, etc.
★ Recommended Maijishan Grottoes Tour:
>>7 Days Ancient Silk Road Treasure Tour from Tianshui
Once in a Lifetime Silk Road Trip
Keep Reading
Recommended Gansu Tours
Top 3 Gansu tours chosen by most customers to explore Gansu in the best way. Check the detailed itinerary, or tailor your own trip now with us.
4 Days Maijishan Grottoes & Zhangye Danxia Tour

Tianshui - Lanzhou - Zhangye
7 Days Ancient Silk Road Treasure Tour from Tianshui

Tianshui - Lanzhou - Zhangye - Jiayuguan - Dunhuang
8 Days Miraculous Land Tour from Dunhuang to Zhangye Xining

Dunhuang - Jiayuguan - Zhangye - Xining
Start planning your tailor-made holiday to China by contacting one of our specialists. Once inquired, you'll get a response within 0.5~23.5 hours.
Customize a Trip
Have a question? Get answers from our travel experts or guests
Your Question:

Your Name:

Your Email: